This article is part of a larger series on how to paint the Thousand Sons. To return to that article, click here.

Even with their Pre-Heresy scheme, the Thousand Sons can be daunting to paint. Just ask Colin Ward, who submitted not one but two schemes for painting Pre-Heresy Sons – one using Contrast Paints and the other using Tamiya. In this article you'll find both methods, starting with the Contrast method Colin used to paint his "Lion of Tizca," converted from the Lion El'Johnson plastic miniature.
The Lion of Tizca
My goal with this paint scheme was to recreate the Thousand Sons' Horus Heresy color scheme using Contrast paints instead of Tamiya (mainly because I was intimidated by the Tamiya process). I think this method turned out pretty well, and in the end was a metallic red paint scheme, but it lacked that 'candy' red metallic look that is iconic to the Horus Heresy era scheme. I think it's a good alternative though. Most of the application was done with an airbrush.
Painting the Armor
I started by priming the model black, then I gave the model an overall basecoat of Scale75 Decayed Metal, followed by highlights of Scale75 Dwarven Gold and Scale75 Moonstone Academy. 
After laying down the metallics the model was given an overall layer with a 50/50 mix of Blood Angels Red Contrast Paint and Contrast Medium. Then it was shaded with Flesh Tearers Red Contrast Paint while the deepest shadows were painted with Sigvald Burgundy Contrast Paint.
The edge highlights were a mix of Scale75 Crimson Ink and Silver (any bright silver is fine). The model was varnished with AK Satin Varnish.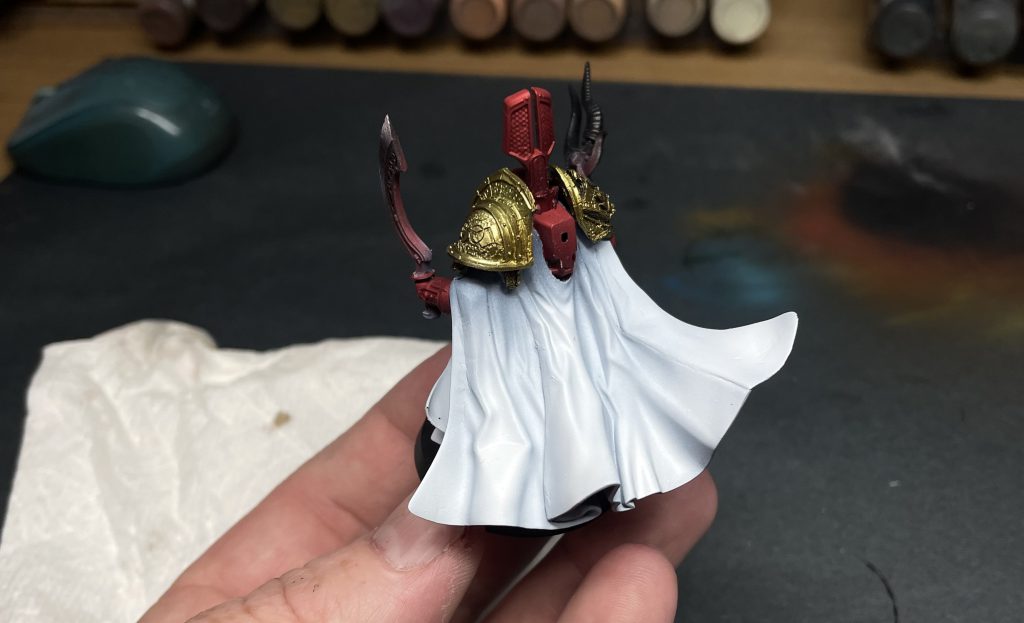 Painting the Cape
This is all done with an airbrush. Do not touch the cloak with a brush! Spray directionally into the shadows after the first progression through the recipe to even out the blends.
Prime Black
Basecoat Vallejo Game Color Sombre Grey
Highlight Vallejo Game Color Wolf Grey
Highlight Vallejo Model Color White
Shadows: very thin glaze of Sombre Grey
Shadows: *VERY* thin glaze of GW Stegadon Scale Green
Another pass of highlights with thinned White
Painting the Flames and Weapon OSL
Basecoat Vallejo Model Color White
Basecoat Vallejo Model Color Turquoise
Highlight Vallejo Model Color Blue Green
80/20 White/Blue Green for the base of the flames
Glaze thinned Blue Green in the middle area, leaving the lower area untouched
Glaze Stegadon Scale Green near the tips
Glaze 80/20 Stegadon Scale Green/Black for the very ends of the flames
Candy Red Thousand Sons
This is a scheme I have spent a lot of time thinking about. It is such an iconic scheme in the Horus Heresy. That bright candy red armor really jumps out on the table and is a great challenge to paint. The not-so-secret sauce for this scheme has always been Tamiya Clear Red. Tamiya Clear Red is an Acrylic paint, but it doesn't behave like hobby paints from GW, Vallejo, etc. It's a very 'sticky' paint that is a challenge to work with. To thin it, you need to use Tamiya's X-20 thinner or Isopropyl Alcohol. For clean up you also have to use Isopropyl.
I tried to develop a candy red scheme using contrast because I was hesitant to work with the Clear Red, though in the end that didn't give me the result I wanted for my Thousand Sons Legion project. That scheme is outlined elsewhere in this article.
The scheme gets its depth from a metallic Gold pre-shade that is applied before the Clear Red. The Clear Red then gives that high gloss 'candy' finish to the paint scheme. One of the advantages of doing this scheme is that the finish is so glossy that you really don't need to edge highlight or shade/pin wash the finish. That being said, one of the disadvantages is that you do need to apply a couple of coats when basecoating the other elements of the model as the adhesion to the Clear Red is not great. I finish the scheme with a Satin Varnish to maintain that shiny finish but also protect the candy coat. I do hope you give this scheme a try, as it is a lot of fun and very rewarding!
Here is the step-by-step:
Prime Black
Basecoat Scale75 Decayed Metal
Highlight Scale75 Elven Gold
Highlight Scale75 Citrine Alchemy
Tamiya Clear Red*
AK Satin Varnish
*Do not thin the Clear Red!! I applied the Clear Red using a Badger Patriot 105 airbrush with a super fine needle. (In the future I will use the 'fine' needle which is roughly a .3mm needle) You want to make a couple of very light passes with the Clear Red to establish the basecoat. Once you have a little coloration on the gold pre-shade, you really want to hose the model with Clear Red and develop a noticeably glossy layer of paint. The tricky part is to find that fine line between getting a nice candy coat and just obliterating detail with Clear Red. I highly recommend doing some test models before starting in on your legion.
This article is part of a larger series on how to paint the Thousand Sons. To return to that article, click here.