In March of 2021 I began to see posts in my Instagram feed about Slug Wizard Spring. It was an open online event inviting people to kitbash, sculpt, or otherwise create their own Slug Wizard. The concept had gained a lot of traction among the creative types involved in the Inq28/DIY/sculpting community on Instagram. It immediately got the creative gears turning, just the right amount of whimsy and weirdness to get my attention.
What is Slug Wizard?
A slug wizard could be any kind of common shell-less terrestrial gastropod mollusc imbued with magical abilities. Does that mean your slug wizard can't have a shell? Of course not! Who is to say what a Slug Wizard can or cannot be.
The inspiration for this event was sparked when Bryan Ruhe saw this model by prolific kitbasher extraordinaire @totally_not_panicking.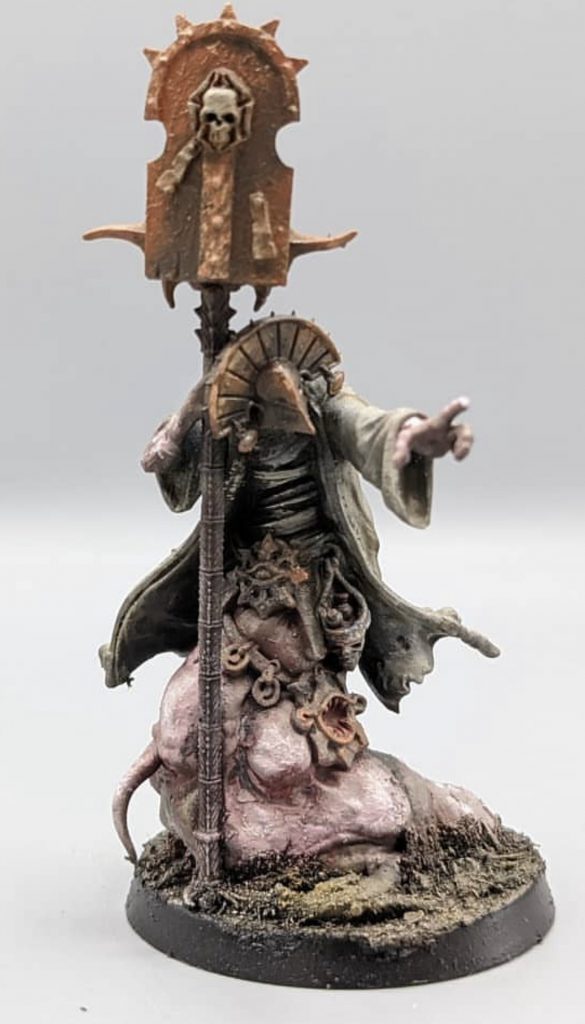 Initially the first event was conceived of as a creative prompt for the instagram hobby community, with anyone welcome to jump in and share their creation. It was set to begin on the Spring Equinox and last until the Summer Solstice. As more people became engaged with the idea, it grew into a full contest with several independent judges and prize support. Though it's billed as a competition, it's not about who is the best sculptor or painter! it's about taking the theme and doing something fun and creative with it. Bryan also had enamel pins, stickers, and even a zine made using contributions from artist in the community. Over sixty entries were submitted by the end of the event.
My Slug Wizard
Before I had started working on my entry I had a pretty good idea of what I wanted to make. The image I had in mind was a classic big hat wizard with a beard, and I began trawling Ebay for old metal wizards. The old Empire Grey wizard was just what I was looking for. I went with the mounted version because it would be easier to sculpt in a slug body with minimal modification.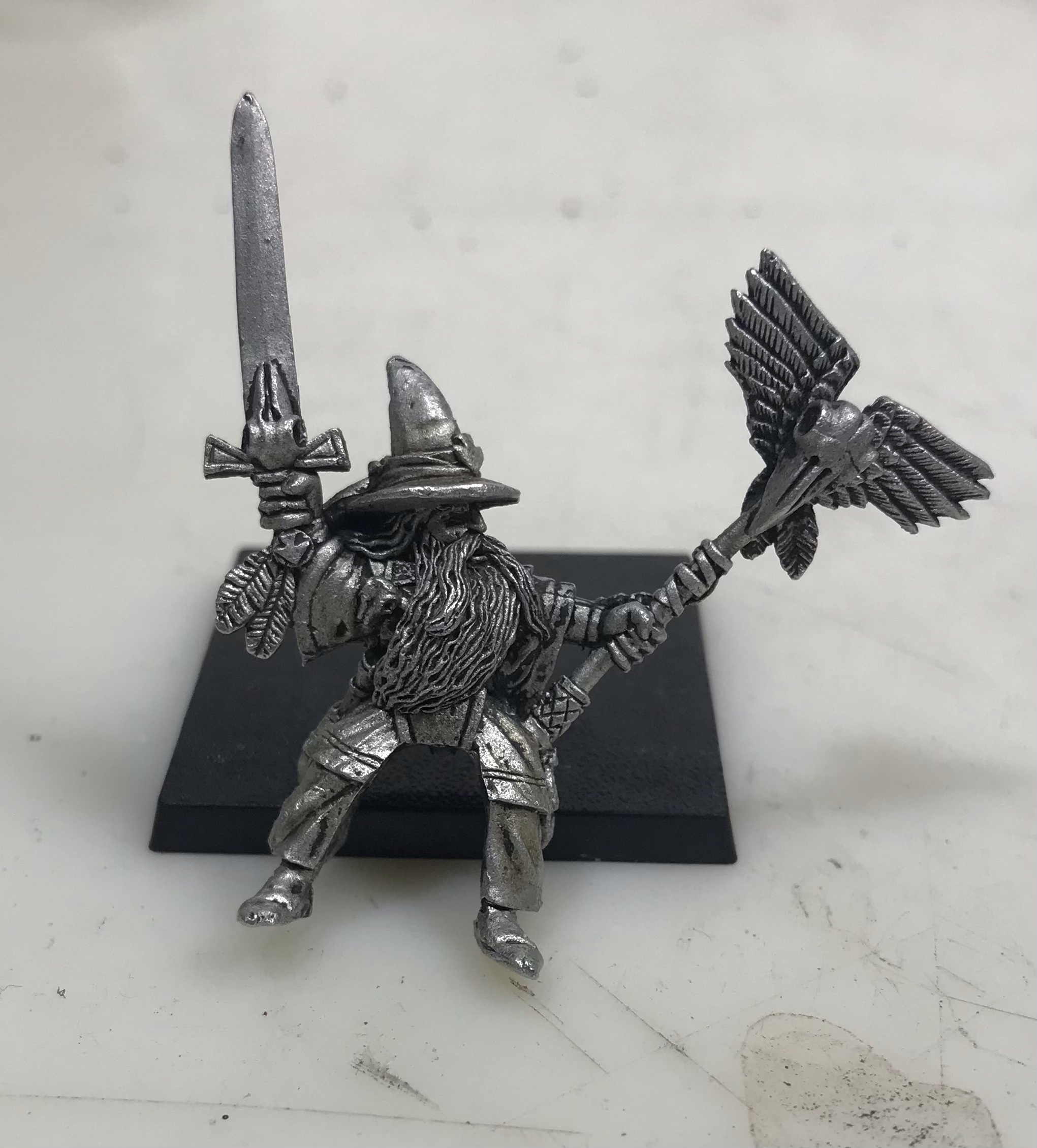 From here I did some minor modifications to the model. His feet were taken off with a jewelers saw, along with the staff and sword. To go along with the sort of seasonal nature theme of the event I added a branch and owl to his hands from the dryad kit. The bulk of the slug body was roughed in with tin foil, and paper clips were used for the eyestalks. A bit of greenstuff was added to the ends of the paper clips to make them look a little bulbous.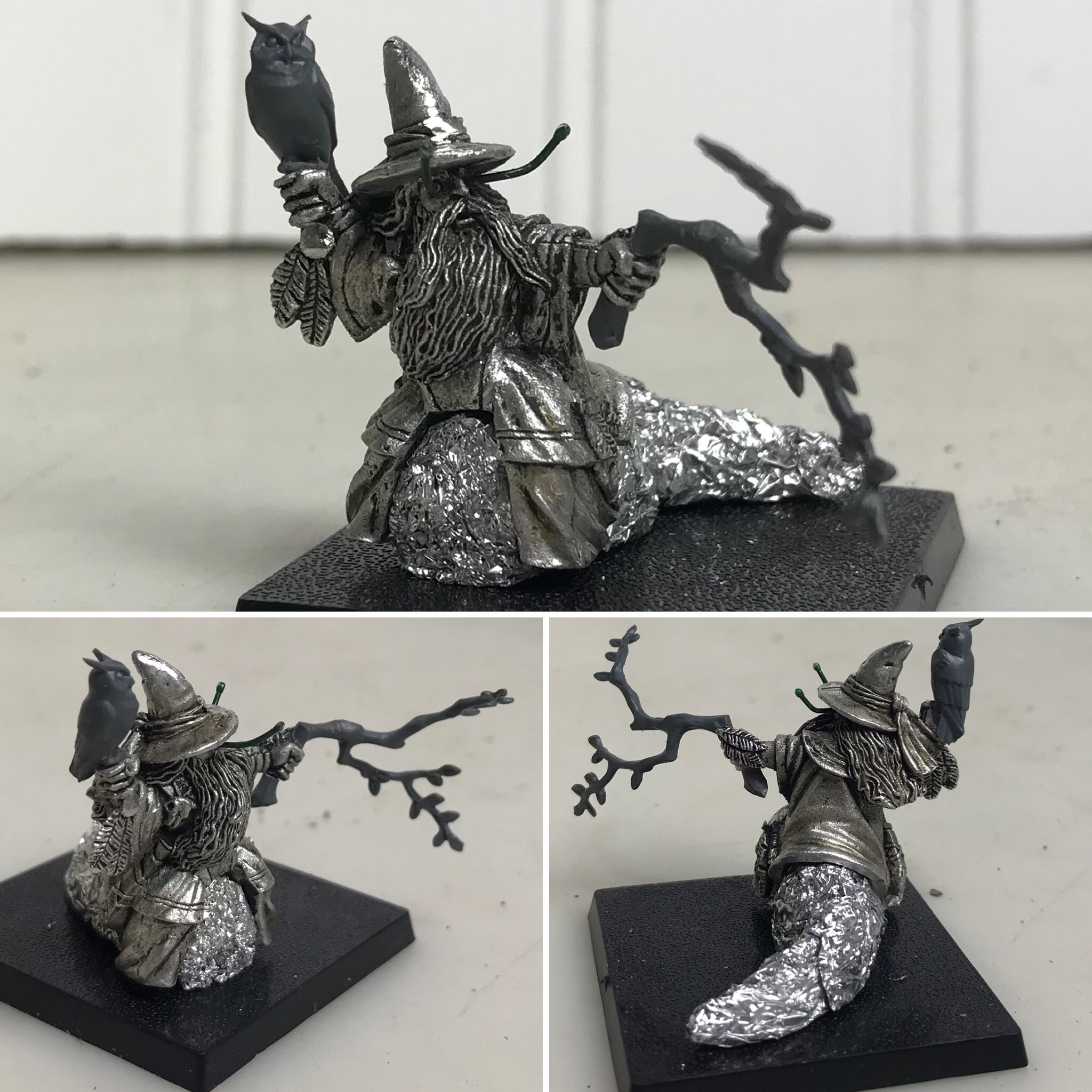 Greenstuff was used to sculpt in the slug body and robes were sculpted across the gap between his legs where the horse would have been. The model originally had an arrow symbol on his hat and sword pommel, these were cut off and a snail shell sculpted in their place.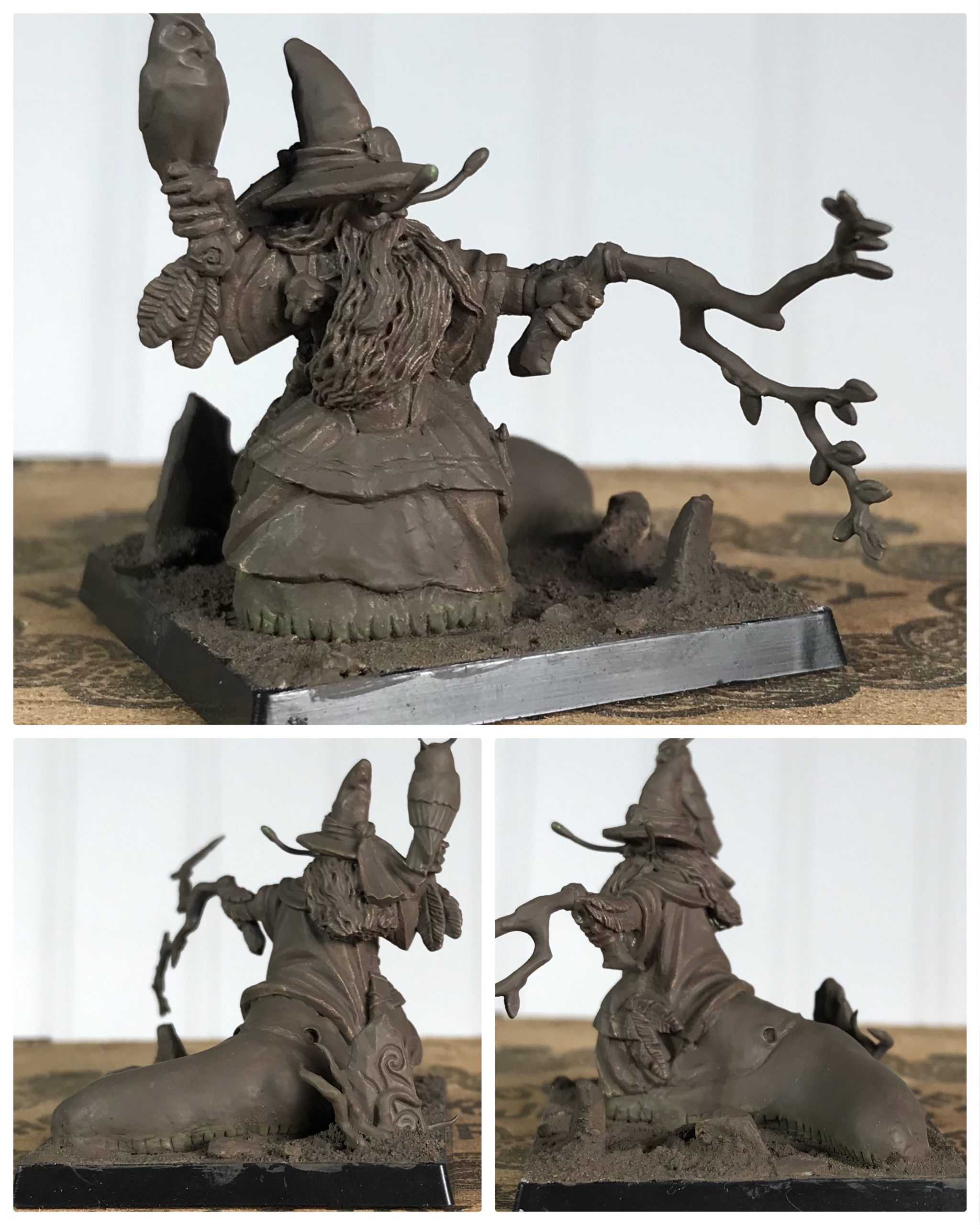 For the paint job I wanted to do bright vibrant colors- yellow sash, bright green robes, pink and purple body. The hat and cape got the classic wizard van treatment with stars and planets.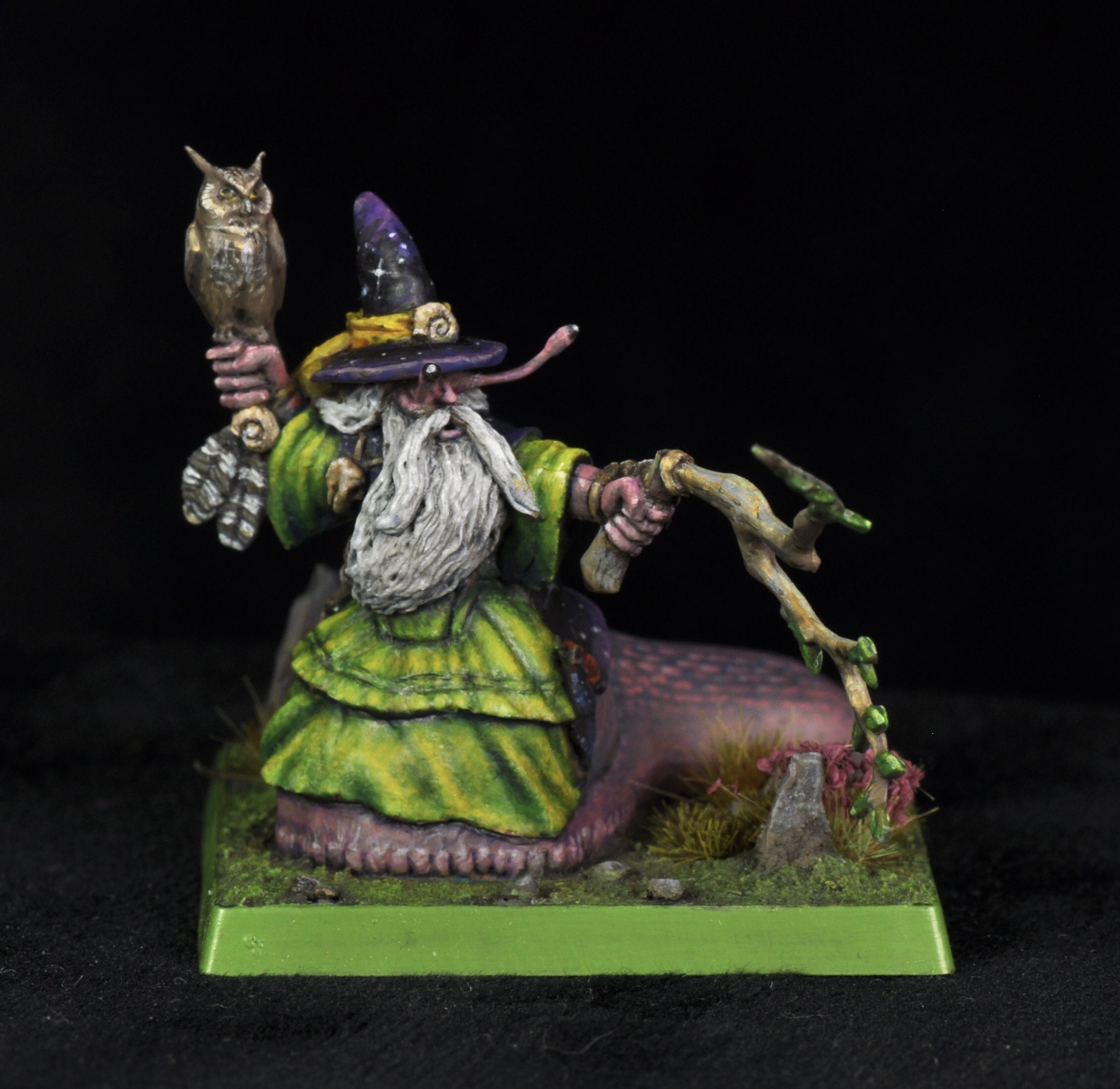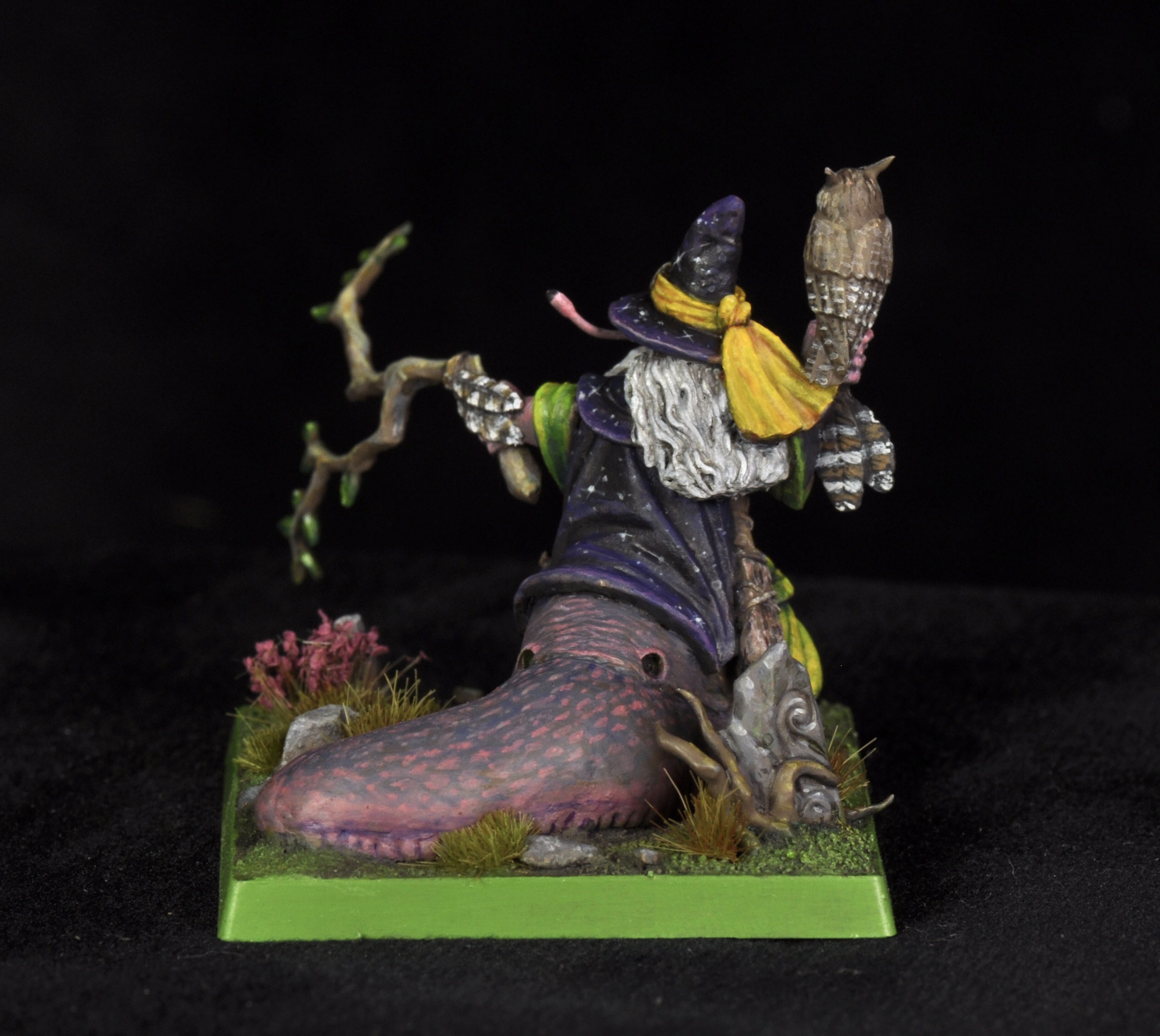 Slug Wizard Spring Winners
Judges for this event included @sympomatic_chaos and Nic Evans (founder of Mammoth Miniatures).
1st Place
This diorama of a fully realized Slug Wizard chamber by @simpsominiatures is chock full of great details.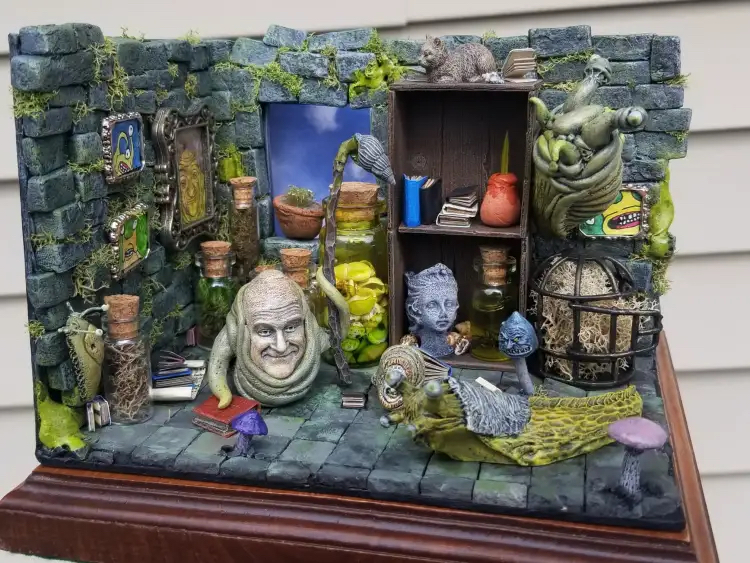 2nd Place
@gdbmakesweirdthings entered this wild piece. I particularly like the little wheels on the shell and real looking hair.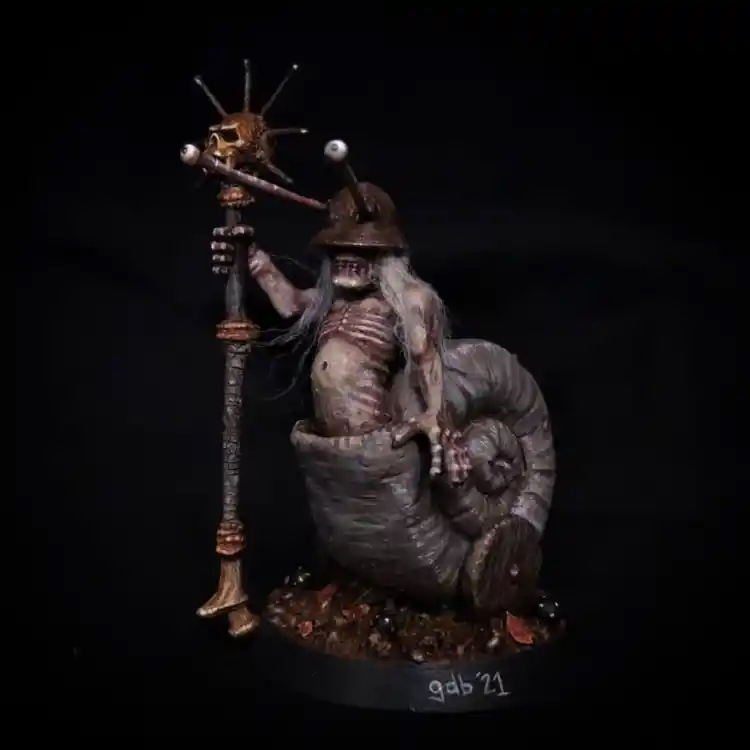 3rd Place
@4ydra's entry has this incredible floating Slug Wizard. Love all the details on the base here.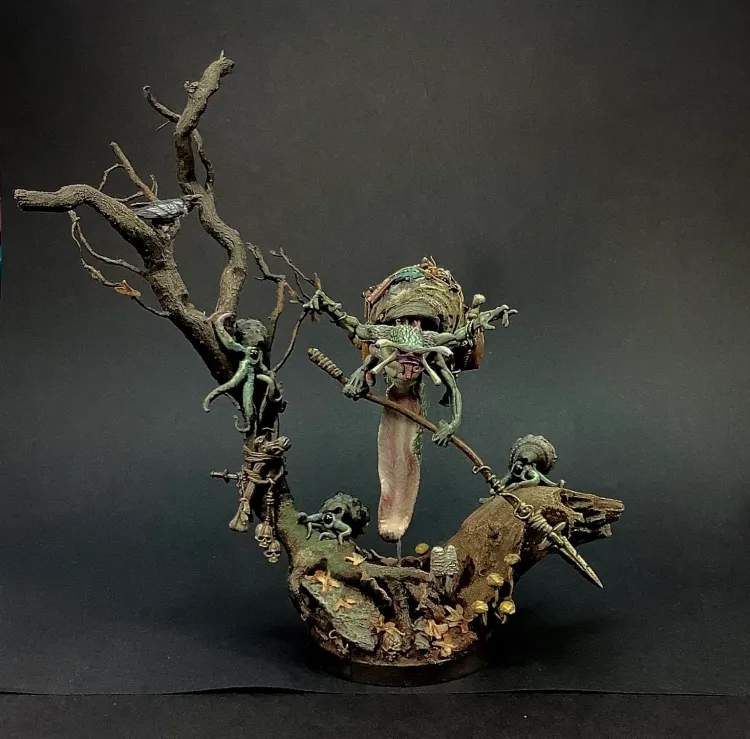 You can see a gallery of all the entries here: Slug Wizard Spring on the Slug Wizard site. There is so much great stuff here!
Slug Wizard II: Rise of the Squid Gnomes
Rise of the Squid Gnomes was the theme for the second season and ran from June 21, 2022 through September 21, 2022. Judges for this year were @moldmoldmold, @simpsominiatures, and Bryan Ruhe.
1st Place
@lukewarm_reception took first with this duel between a massive slug wizard and three squid gnomes. The treasure on his back and bubble pipe are fantastic touches.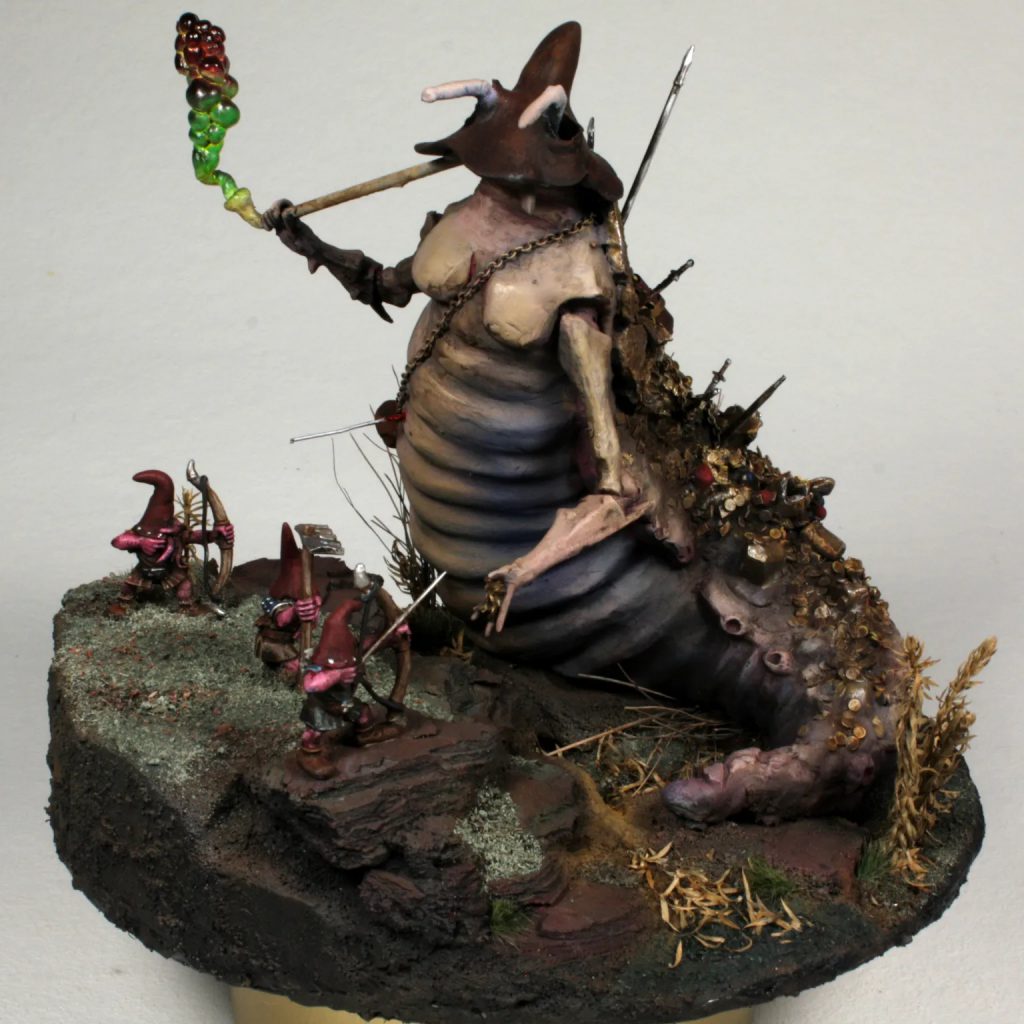 2nd Place
Another duel, this one by @ddpaints, took second. Great shield effect and ink spray here. And is that a snailrat!?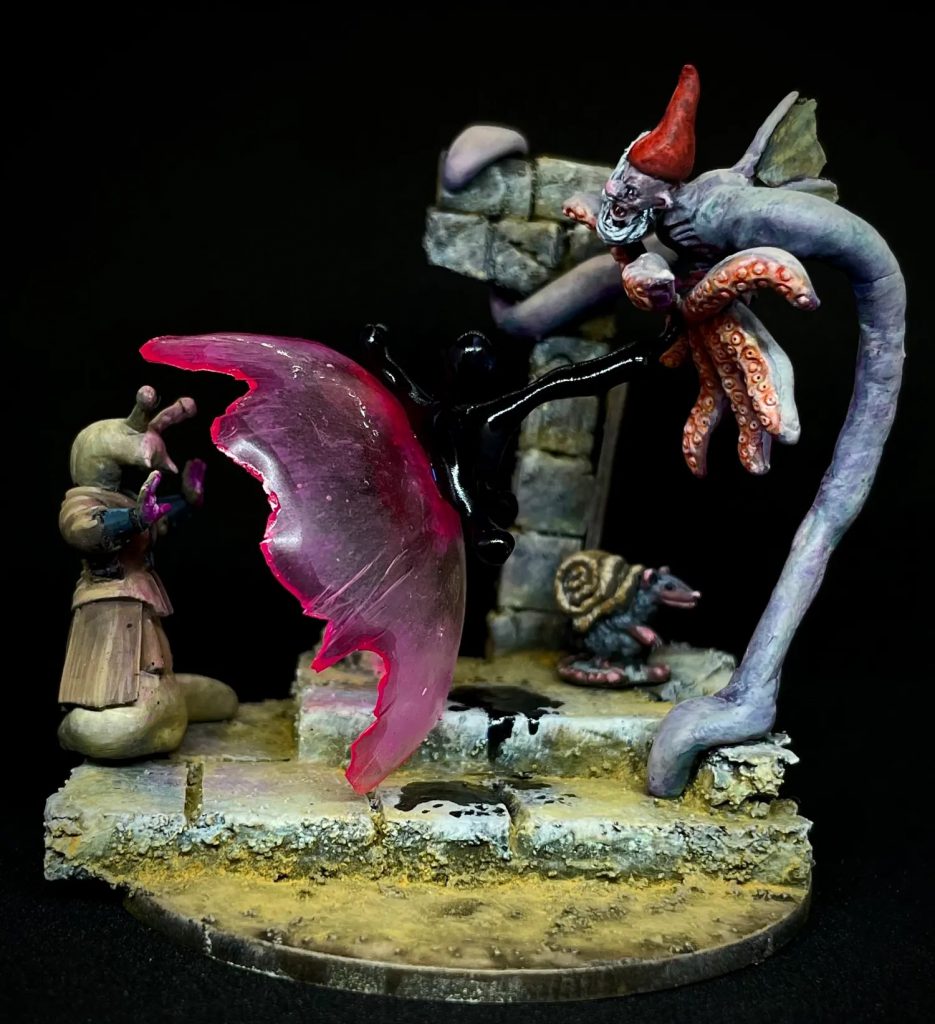 3rd Place
In third was @kavernofcuriosities with this awesome squid gnome riding a squid! Great sense of movement in this one.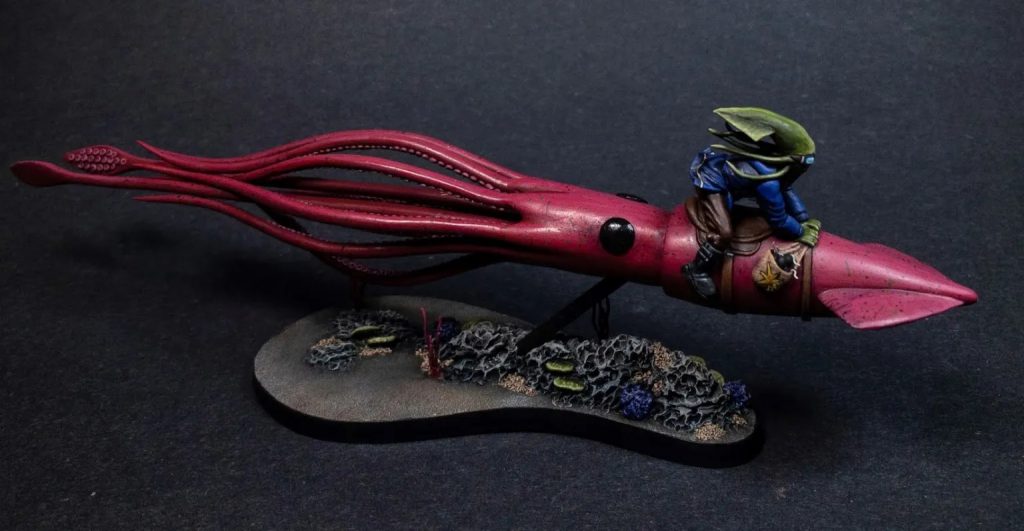 All the rest of the entries can be seen here on the Slug Wizard site!
Slug Wizard III: Hunted
That brings us to this year, which will be the third season of Slug Wizard. The theme for this summer's event is Hunted and will run from June 21st to September 21st. Inter-dimensional travelers are hunting slug wizards for their magical mucopolysaccharides. Follow Slug Wizards on instagram or check the website to keep up with the event or just to see all the weird stuff people make.
Zines
Bryan has put together a supplemental zine for each season of Slug Wizard, and after a limited physical print run, are now available as a free PDF on the Slug Wizard site. These contain lots of great thematic content contributed from the community.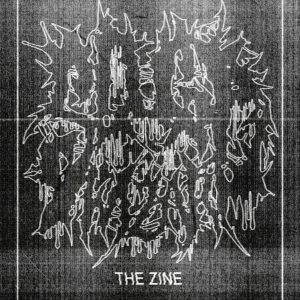 The first one has a strong madman with a xerox machine vibe. It includes a bit of slug wizard lore, quite a few game agnostic slug themed spells, illustrations by @pencilsanddungeons, and a gallery of all the Slug Wizard Spring entries.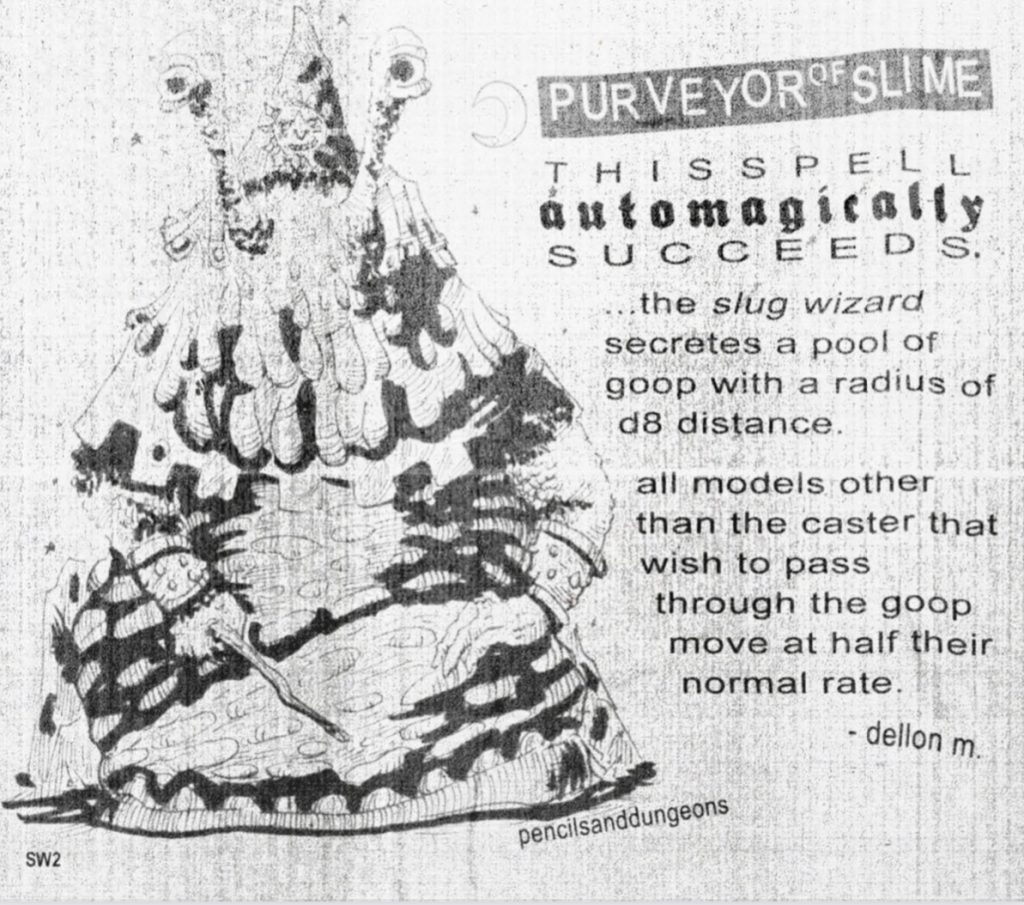 The second issue of the Slug Wizard Zine goes hard into a retro gaming magazine direction.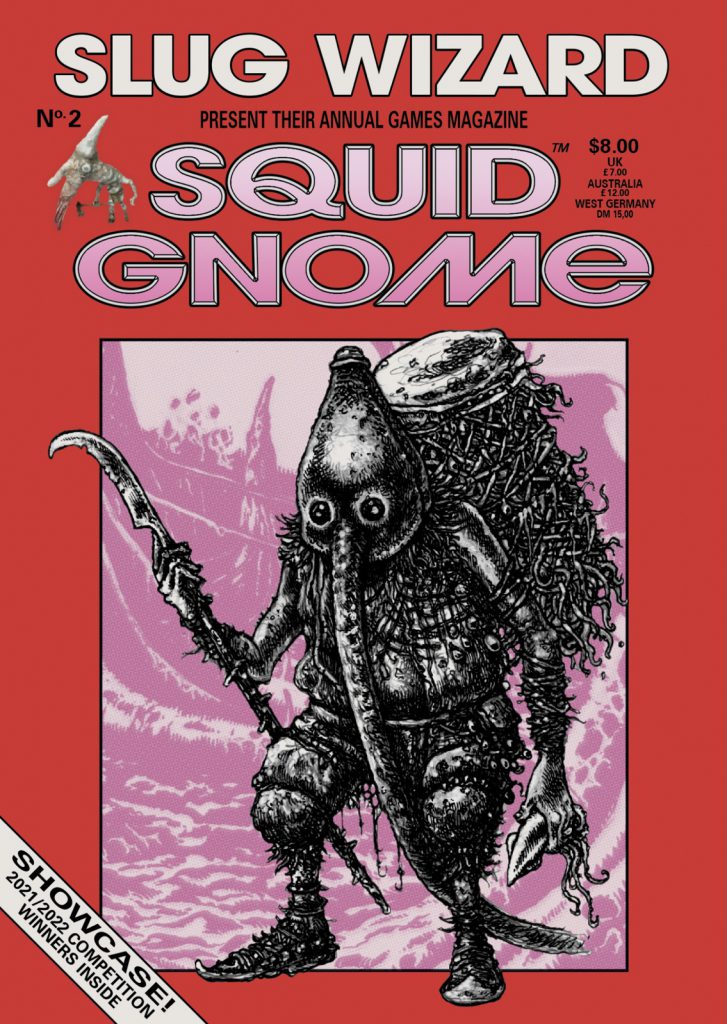 Inside this issue is expanded Slug Wizard and Squid Gnome lore, miniatures showcase, themed advertisements, rule supplements for using your Slug Wizard in several indie games, and more! This issue really nails the early 90's/late 80's aesthetic.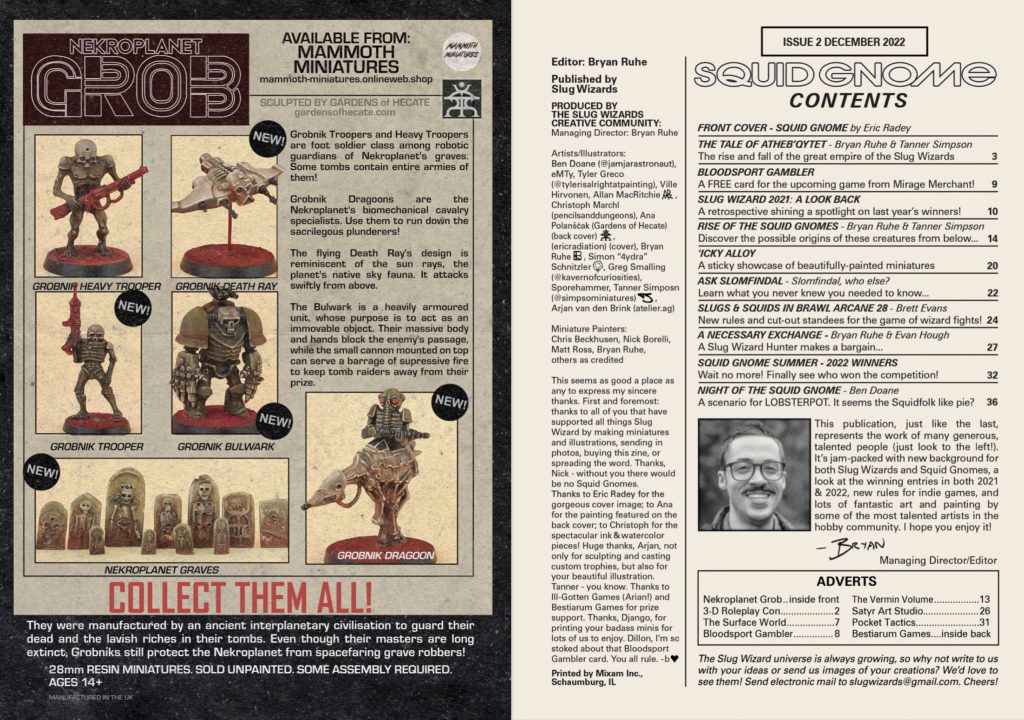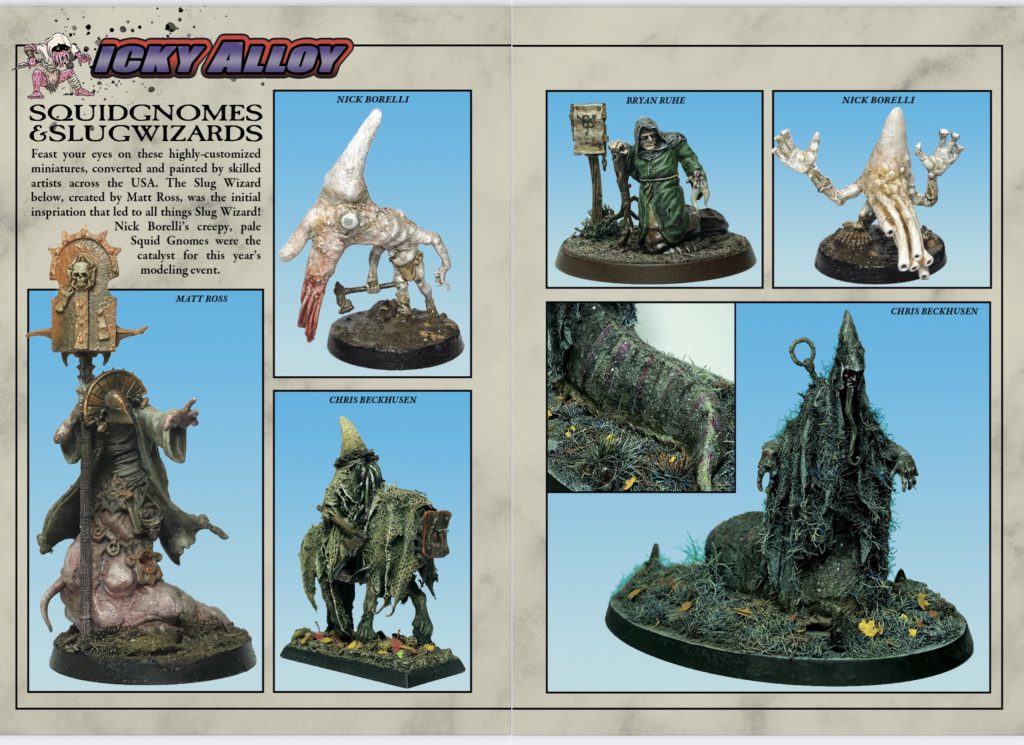 Links
To keep up with the latest Slug Wizard news or get some inspiration for building your own, check out these links. As the new season draws closers more info about the event will be revealed.
Have any questions or feedback? Drop us a note in the comments below or email us at contact@goonhammer.com.