This past weekend I played in the 1,000 point newbie-friendly AdeptiCon Dawnbringer tournament. It was a great time, built from the ground up to be for more casual first-timer GT players. I've played AOS since Beasts of Chaos got their first battletome, mostly casually, mostly with my kids or once in a while in a friendly game, very rarely a tournament. I've really wanted to get into the game – playing often and learning a lot more about all the different armies – and this year I'm trying to make progress on that goal. I'm going to detail some of my preparation, vendor hall stuff, and then the games and overall thoughts.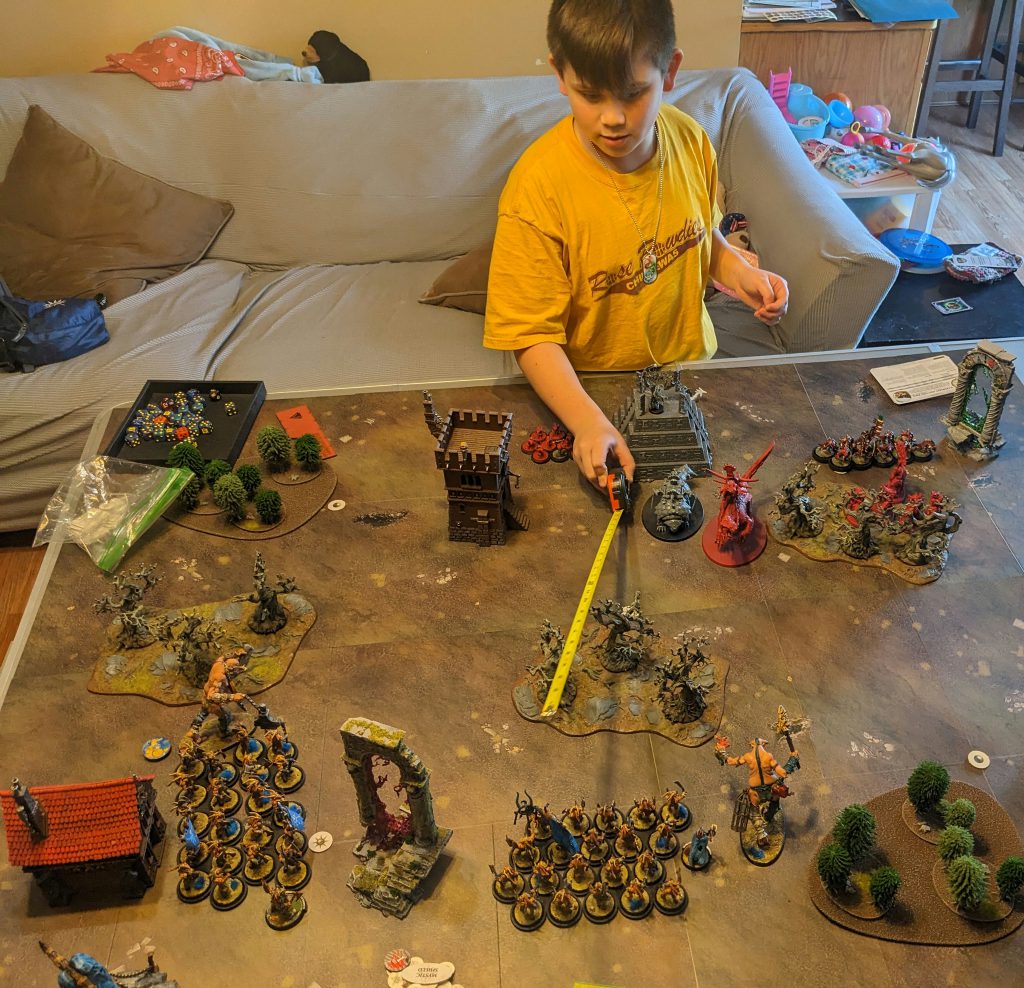 Prep
I've had almost all of my Beasts of Chaos painted for years, and rebased them when the first BoC Battletome came out. I did have to paint one new gargant, as I only had one and wanted to bring two to the event. Here's my list:
My List - Click to Expand
– Army Faction: Beasts of Chaos
– Subfaction: Allherd
– Grand Strategy: Protect the Herdstone
– Triumph: Inspired
LEADERS
Beastlord (145)
– General
– Command Traits: Skullfray Gorehorn
– Artefacts of Power: Brayblast Trumpet
– Aspects of the Champion: Fuelled by Ghurish Rage
Great Bray-Shaman (95)
– Spells: Tendrils of Atrophy
BATTLELINE
Gors (220)*
– Paired Hacking Blades
– 2 x Banner Bearer
– 2 x Brayhorn Blower
Gors (220)*
– Foe-render
– Paired Hacking Blades
– 2 x Banner Bearer
– 2 x Brayhorn Blower
BEHEMOTH
Chaos Gargant (145)
Chaos Gargant (145)
ENDLESS SPELLS & INVOCATIONS
1 x Doomblast Dirgehorn (30)
TERRAIN
1 x Herdstone (0)
CORE BATTALIONS
*Galletian Veterans
TOTAL POINTS: 1000/1000
Created with Warhammer Age of Sigmar: The App
I love Gors a lot since WHFB, so I was excited to bring them out. I like their tech of 3+ fight last for an enemy unit they hit a ton, which allows them to likely hit first, hit hard, and not take a lot of retaliation. With Allherd I'm bringing back D3+3 to each unit after every battleshock phase and hopefully rallying back some on 5+ as well. In 1,000 points they'd be hard to remove all in one turn. Gargants are just great value for points, and their special rule of +1 attack near heroes is nice force multiplication in a small point game. Further, their -1 Armor Save for enemies is amazing.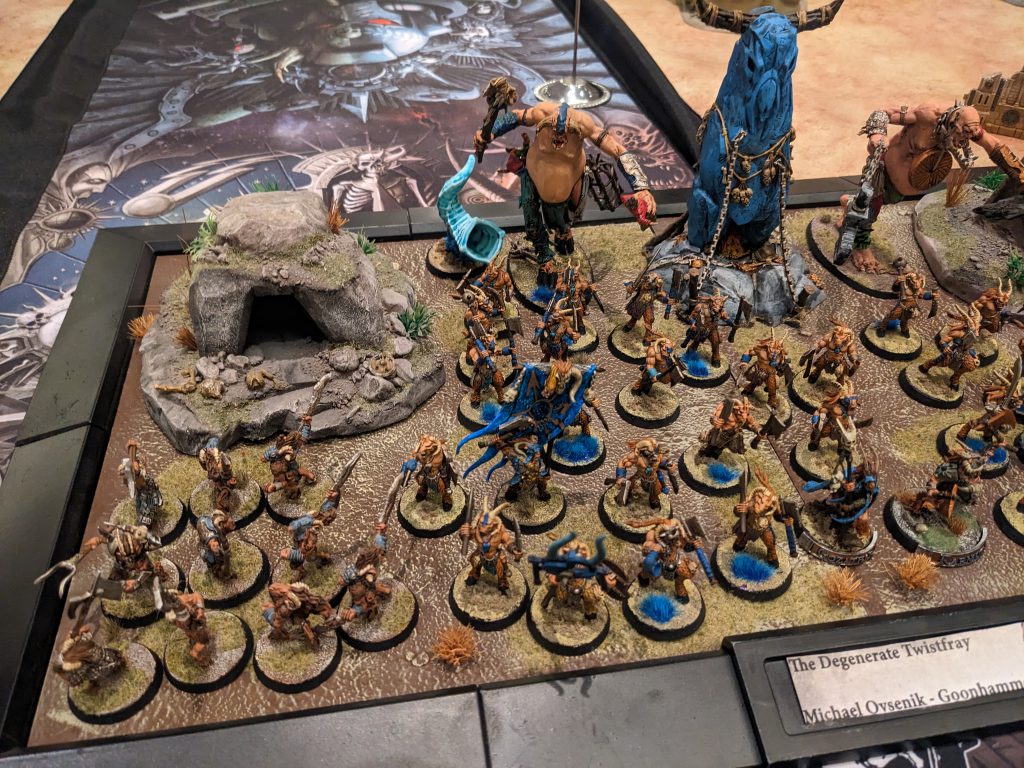 I also finished my display board – I had some Rolling Fields Tablescape tiles to paint so I sprayed, drybrushed, and flocked them. They fit nicely in the display board holder from SWM.
This slideshow requires JavaScript.
I played a few prep games with my son and daughter but honestly it's tough to play a game where you're basically doing the rules for both sides. It was enough to help me remember some of my new rules for the BoC battletome.  
Vendor Hall Stuff
There wasn't a ton to look for in the vendor hall for AOS – there is a very large GW booth, obviously, but 99% you can get from your regular store. I did pick up the Event Exclusive Model darkoath chieftain and the GW dice tray. While the tray isn't AOS, it has a huge 40k logo on it, it's very well done and at $40 I didn't feel like I was getting my wallet obliterated.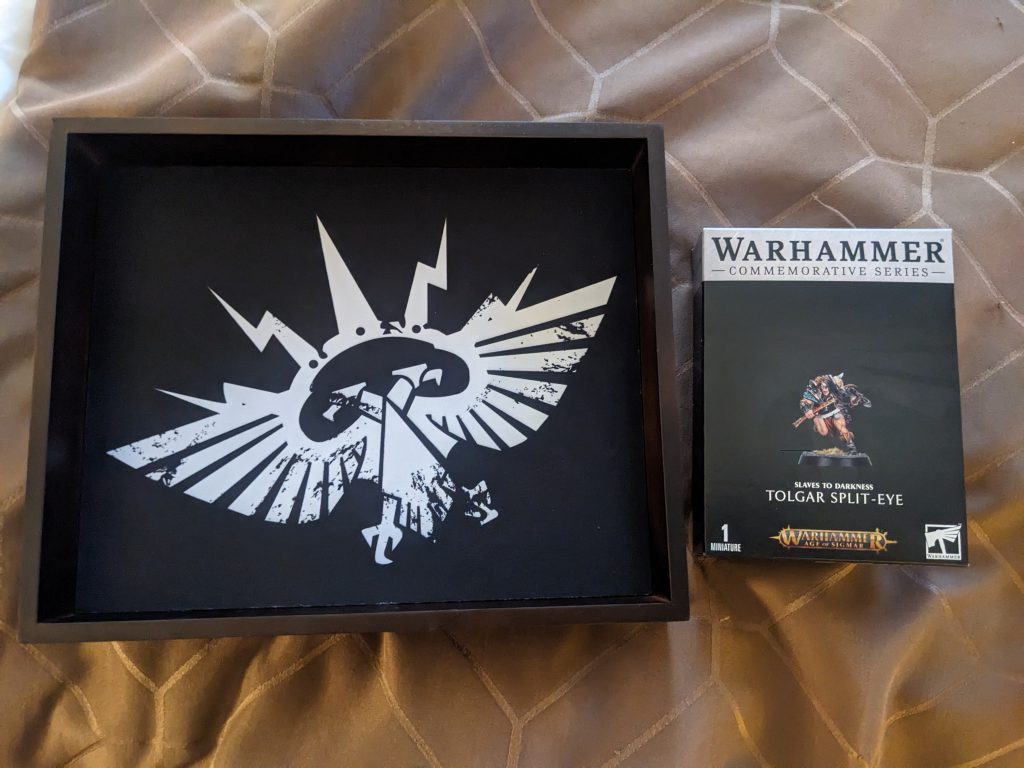 I spent some time in the tubs at Toledo Game Room out in the main hall and found a bunch of cool Beasts of Chaos stuff I wanted. In the past I've looked at stuff and waffled hardcore but this time I just grabbed stuff that I knew I couldn't find elsewhere or would cost $$ on eBay.
This slideshow requires JavaScript.
I managed to grab some metal Khornegor, a metal 6th Edition Giant that I'll convert a bit to be a beastman gargant, and a bunch of other gors and Mordheim beastmen. I love these to sprinkle into my units of almost entirely plastic stuff to give a little character to them.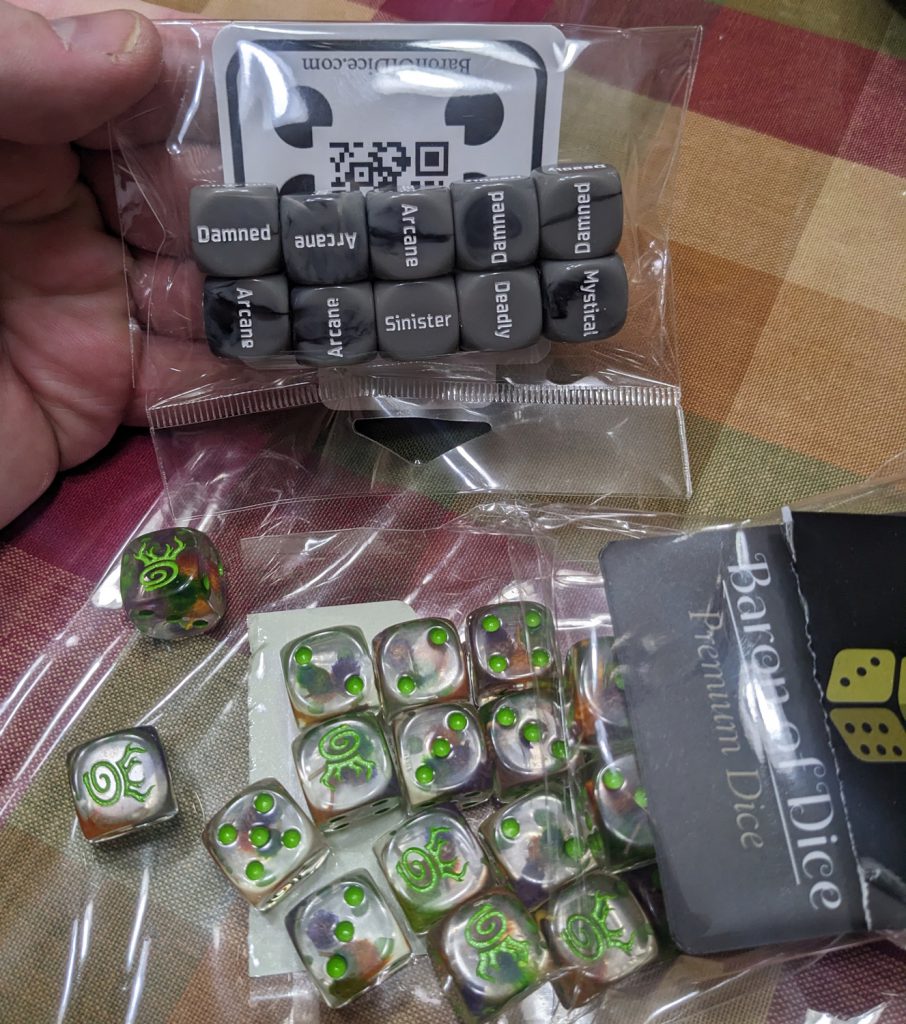 I was also really happy to grab some more scenery dice, as I only have six. I need more especially because I'll be running a Path To Glory at our shop soon. The Baron of Dice had these great Slyvaneth dice with flowers in the middle that I knew my daughter would love – so I grabbed those for her and he brand new Sylvaneth army.
Age of Sigmar Team Tourney Displays
This slideshow requires JavaScript.
The 1,000 Points Dawnbringer Tournament
On Saturday I played in the Dawnbringer tournament at AdeptiCon. It was setup to be a first time tournament / GT for newer players. I knew at 1,000 points AoS could be very swingy – I had played games of it with people and things can go bad fast if you screw up. I felt like this could be a start to me playing more AoS this year and getting out to more events. I know my competitive Warhammer days are behind me, but I'd love to use tournaments and stuff as ways of getting more games in.
This tournament was four games in one day. We used missions straight out of the General's Handbook, no special rules or anything which was nice because we'd all learn to play the game better that way. I had printed a few things to try to play better – a quick reference sheet, a sheet from aosreminders, and the Beasts of Chaos reference from AOS Shorts.
Game 1
In Game 1 I played against Maggotkin of Nurgle. The player went 4-0 on the day and used this list:
Army List - Click to Expand

– Army Faction: Maggotkin of Nurgle
– Subfaction: Blessed Sons
– Grand Strategy: Defend What's Ours
– Triumph: Inspired
LEADERS
Rotbringer Sorcerer (140)*
– General
– Command Traits: Master of Magic
– Artefacts of Power: Arcane Tome
– Spells: Blades of Putrefaction
–
Rotbringer Sorcerer (140)*
– Spells: Magnificent Buboes
– Aspects of the Champion: Tunnel Master
BATTLELINE
Rotmire Creed (130)*
Putrid Blightkings (250)*
OTHER
Plague Drones (200)*
Nurglings (100)*
ENDLESS SPELLS & INVOCATIONS
1 x Shards of Valagharr (40)
TERRAIN
1 x Feculent Gnarlmaw (0)
CORE BATTALIONS
*Battle Regiment
TOTAL POINTS: 1000/1000
Created with Warhammer Age of Sigmar: The App
This slideshow requires JavaScript.
I don't know if I've ever played against Maggotkin before. I felt like I had a good shot – I outnumbered them pretty heavily and I felt my Goats could get in there with a ton of attacks and overpower the wounds and saves. I got caught off guard by the mortal wound mechanic they use – when they hit stuff, they put rot points on stuff and at the end of the turn it's possible you can take mortal wounds from it. The Rotmire Creed cultists from Warcry help add a lot to that, which I wasn't expecting.
I did manage to wipe out the drones and nurglings, but the blightkings held me up and eventually wiped a unit of gors. We went to time and it was an interesting game – he won but I did learn a bunch. I managed to forget to bring in my ambushers on Turn One which was a mistake that cost me. I got double turned, I believe, which was tough.
Game 2
In Game 2 I went up against Idoneth Deepkin. I'm familiar with them a bit as I intended to play them at one point.
Army List - Click to Expand

Allegiance: Idoneth Deepkin
– Enclave: Ionrach
– Grand Strategy: The Creeping Gloomtide
– Triumphs: Bloodthirsty

Leaders
Akhelian King (250)*
– General
– Bladed Polearm
– Artefact: Armour of the Cythai
– Mount Trait: Voidchill Darkness
– Aspect of the Champion: Tunnel Master

Battleline
3 x Akhelian Ishlaen Guard (180)*
3 x Akhelian Ishlaen Guard (180)*

Units
1 x Akhelian Allopexes (170)*
– Razorshell Harpoon
1 x Akhelian Allopexes (170)*
– Razorshell Harpoon

Core Battalions
*Battle Regiment

Total: 950 / 1000
Reinforced Units: 0 / 2
Allies: 0 / 200
Wounds: 47
Drops: 1
This slideshow requires JavaScript.
It was really funny because my opponent hadn't played much so he brought as much as he could that would make it so he didn't have to do anything except fight and shoot. I think he said 'I don't have anything that does anything in the Hero Phase', lol. I was out-dropped in every game this tournament and here is where I felt it a bit – I was given first turn, I think so he could try to get a double turn. In his turn he failed a few very short charges that was just bad luck.
I charged in and almost took down both allopexes, but they made a bunch of saves. I actually used the Rituals of Ruin Warping Curse to put 5 mortals on a shark – that was pretty sweet. The Ishlaen Guard were tougher than I thought – I figured my buckets of Gor attacks would just pull them down but it didn't happen. We ended up drawing even which was totally cool with me – I was just hoping to break even at best on the day, to be honest.
Game 3
In Game 3 I went up against another Michigander, which was sweet. We talked comic books and had a good time.
Army List - Click to Expand

++ **Pitched Battle GHB 2023** 2,000 (Death – Nighthaunt) [1,000pts] ++

+ Core Battalion +

Core Battalion: Galletian Veterans

+ Leader +

Guardian of Souls [150pts]: Spirit Drain

Knight of Shrouds [120pts]: General, Reaper of Sorrows, Ruler of the Spirit Host

Spirit Torment [120pts]

+ Battleline +

Bladegheist Revenants [180pts]: 10 Bladegheist Revenants, Galletian Veterans – 2-4 Infantry units

Bladegheist Revenants [180pts]: 10 Bladegheist Revenants, Galletian Veterans – 2-4 Infantry units

Grimghast Reapers [160pts]: 10 Grimghast Reapers, Galletian Veterans – 2-4 Infantry units

+ Other +

Chainghasts [90pts]: 2 Chainghasts

+ Allegiance +

Allegiance
. Allegiance: Nighthaunt: The Scarlet Doom

+ Game Options +

Game Type: 2000 Points – Battlehost

Grand Strategy: Feed on Terror

++ Total: [1,000pts] ++

Created with BattleScribe (https://battlescribe.net)
This slideshow requires JavaScript.
My opponent played Nighthaunts. I have never played against them before but knew my Rend bonuses would not help me as they can't modify their saves. They also have the ability to bring back models beyond just Rally, so I was worried about that. I was given second turn – my opponent moved up and took objectives and scored a battle tactic, but I felt had overextended himself. I charged in with basically everything and wiped one unit of Bladeghasts and took out a bunch of Chainghasts. I did live the dream with my Gors making everyone fight last that turn so it made it a lot easier.
My opponent did bring some models back from their character and unit abilities but it wasn't enough – I killed a lot more and started scoring more points. I did manage to bring my ambushers in correctly this game. It was a good game – I felt my opponent had some bad luck at some points but I did manage a win.
Game 4
Game 4 was against Idoneth Deepkin again, which I wasn't expecting. Moreso I wasn't expecting that my opponent would keep his entire army off the board except for the Eidolon – I thought I was the ambusher! He gave me first turn, so I brought on my ambushers including 20 gors and a Beastlord to try to grab his Eidolon out first turn at the back of his lines. I charged my Beastlord in but failed with my gors – I really felt like they would have taken out the Eidolon, or at least bracketed him down a bunch.
I took a few wounds off the Eidolon and he almost killed my beastlord in return. During his turn the Eidolon teleported away then brought in the rest of the army with ambush. This redeployment really hurt me as I had a large portion of my army in a corner now far away from objectives or enemies – but YOLO, I suppose. I ended up losing this one.
This slideshow requires JavaScript.
Army List - Click to Expand

Player Name: Steve Dillon
List Name: IDK DawnBringer List
Allegiance: Idoneth Deepkin
– Enclave: Briomdar
– Grand Strategy: The Creeping Gloomtide
– Triumphs: Bloodthirsty
LEADERS M S W B
Eidolon of Mathlann, Aspect of the Sea (325) 12″ 3+ 12 10
– General
– Command Trait: Endless Sea Storm
– Lore of the Deeps: Steed of Tides
Isharann Soulscryer (150) 6″ 4+ 5 8
– Artefact: Arcane Tome
– Lore of the Deeps: Counter-current
– Universal Prayer Scripture: Heal
UNITS M S W B
Includes Akhelian King, Musician, & Standard Bearer (180)
3 x Akhelian Morrsarr Guard 14″ 4+ 4 7
Includes Champion (130)*
10 x Namarti Thralls 6″ 5+ 1 7
Includes Champion (170)*
10 x Namarti Reavers 8″ 5+ 1 7
CORE BATTALIONS
*Galletian Veterans
TOTAL: 955/1000 WOUNDS: 49
LEADERS: 2/3 BATTLELINES: 2 (2+) BEHEMOTHS: 0/2 ARTILLERY: 0/2
ARTEFACTS: 1/1 ENDLESS SPELLS & INVOCATIONS: 0/2 ALLIES: 0/200
REINFORCED UNITS: 0/2 DROPS: 5
Faction terrain Scenery piece – Gloomtide Shipwreck
Overall Thoughts
I felt like I did better than I had expected – in Overall points I ended up 24/48, which was great for me. I learned a ton about other armies and scenarios, especially choosing battle tactics and how important that is. I also realized that without something helping them hit better, gors are still great but not as great I thought they were – since they hit on 4s.
I would definitely advise playing in this if you're getting into AOS – it was a great time and every single person I played was chill and willing to help each other out. I feel like a three game casual 2,000 point tourney would be great – it would be closer to a 'standard game' of AoS and could lead to players moving toward more competitive play if they wish.
This slideshow requires JavaScript.
I did well on my painting score, which I was really happy about. I know there are some things I could work on to get a better score, specifically conversions. I also received these cool Battle Tactics cards that they gave out at the GT. I can use these at home for my kids to learn the tactics better.
It was pretty funny at the beginning of the tournament, the Best Coast stuff got screwed up and the Team Tournament teams got assigned to the tables we were on that our TO had been told were ours. We got aggressively questioned by team tournament players as to why we were on their tables and if it wasn't their table then what should they do, lol. We kept setting up and Best Coast reassigned their tables. AGAIN they came back and wanted our tables, and so again Best Coast had to reassign. Our TO asked us to move to different tables which wasn't a big deal, we just moved our stuff and went to a quieter less crowded part of the hall. It was just really funny, and involved a lot of shouting into the microphone at the AOS team tournament table.
Thanks for reading – I am planning on continuing to play AOS as much as I can this year – please come back later to follow my journey through the Mortal Realms.