Ever since their release in March 2021, Drukhari have been the faction to beat in competitive 40k, with some frankly astonishing win rates and the most consistent top 4 placings we've seen in recent history. Several targeted nerfs to the faction have made it a bit more managable, but each time the sheer depth and flexibility of the Codex has produced some new unholy terror to keep them firmly at the top tables, even as their erstwhile competitors – Ad Mech, Orks, Grey Knights, Crusher Stampede – have stumbled.
The Drukhari didn't, however, manage to go all the way on the biggest stage of them all, the Las Vegas Open, with multiple great players running them but none of them making it into the semi-finals. On the same weekend, the new Chapter Approved 2022 pack launched, kicking off the new seasonal approach to 40k, and a few days later we got the latest Balance Dataslate which hit a key Drukhari build very hard indeed. With Custodes riding high, T'au Empire revving their grav-engines, and the near-term prospect of Codex: Aeldari coming into view, are we finally going to see the end of the Drukhari reign of terror? Let's talk about what the new season means for the Commorites, starting with the implications of the Balance Dataslate and then moving on to the new rules and missions from Chapter Approved.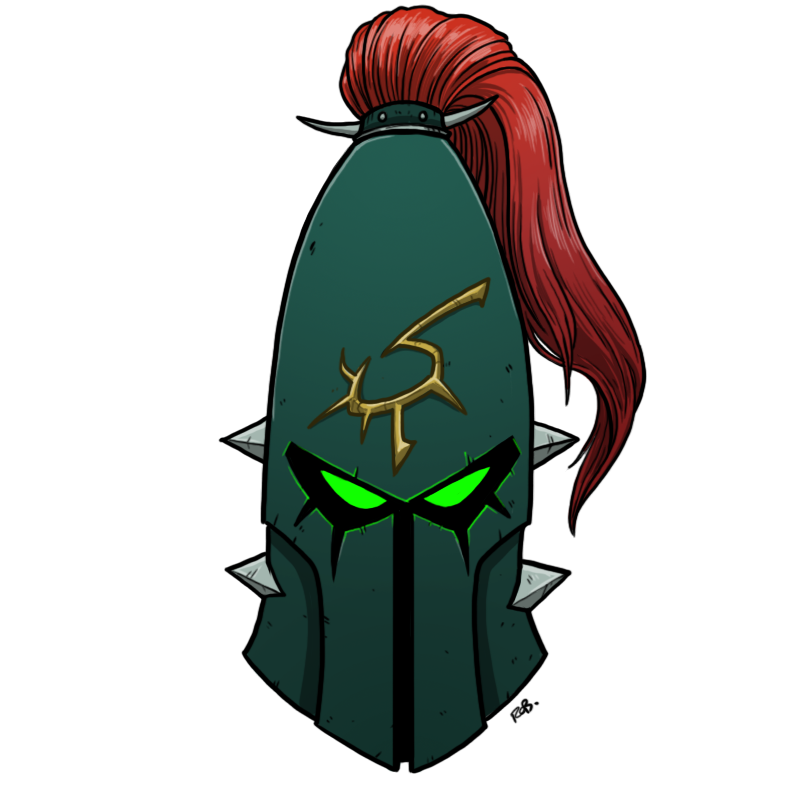 The February 2022 Balance Dataslate
Unlike a lot of factions, Drukhari didn't get any points changes in Chapter Approved 2022 – those had all been pulled forwards into the November dataslate. This had good and bad effects; it did a lot to reduce the power of the classic Drukhari Goodstuff builds which had been running the tables for the prior 8 months, but it also brought unexpected points drops for Haemonculus Covens units, specifically Grotesques and Talos. These units already looked relatively better in a world where the rest of the book had gone up a few % in cost, and were also already seeing play, so it was quite a surprise to see them get real points cuts as well as just relative ones. It proved to be a mistake, with many Drukhari players pivoting to what was inevitably christened "Thicc City," a build heavy on the newly-cheap Talos and Grotesques, all played as Artists of the Flesh so that they could be -1 damage. As has been proven a few times, -1 damage is a good ability when used sparingly, and a very bad one when it can be widely applied to units which get significant benefit out of it, and it turns out that latter category very much includes "cheap, tough units with lots of wounds and a Feel No Pain." Cronos, which had been star performers in the old book, did get a mild points bump, but plenty of people were still squeezing them in to take advantage of the other degenerate Drukhari faction trait, Dark Technomancers. What was meant to be a nerf to Drukhari, with a little raising up of poorly-performing units to compensate, ended up just altering the way they won, and in a world where their main competitors had been hit far more severely.
With the new dataslate, then, GW set out to fix their mistake. First, a change to Artists of the Flesh – like Ramshackle, this now only reduces damage against weapons S7 or below, meaning heavy-duty firepower has a better chance of just blowing your Talos and Grotesques away. Second, Talos and Cronos had CORE removed from their datasheets. This has some minor impacts – they're no longer eligible targets for a couple of Stratagems, and they can't benefit from the Archon's Raid Mastermind ability if they're in a Realspace Raid – and one major one, which is that they no longer benefit from the Haemonculus' Master of Pain aura, capping them at T6 rather than their former T7.
As hits go, these are pretty brutal. Was it warranted? Yes, in the sense that Drukhari definitely needed toning down; there was no two ways about it, and Talos were at the forefront of things where mistakes had been made. Were these change the right ones? Let's start with the CORE change first; speaking personally (and openly as a massive Talos fan, who owns 9 of the things), I would have much preferred to keep CORE and just reverse the Chapter Approved points changes, and probably add another 5-10pts on for the heat lance/ichor injector combo. I can't help but feel that GW realised they'd screwed up with the points drops, but didn't want to immediately errata the new book, and so they went for the CORE change instead. We've seen this particular lever pulled before, with Ironstriders, and to me it emphasises what a poorly thought-through piece of design CORE is, because it becomes so binary. Drukhari aren't as awash with CORE-locked buffs as Ad Mech are, but it's a little hard to believe that with a faction like Covens that only has 5 real datasheets (excluding the transports shared by all Drukhari subfactions), that Master of Pain was really only ever intended to apply to 2 of them, especially when Wracks seem to have problems of their own right now.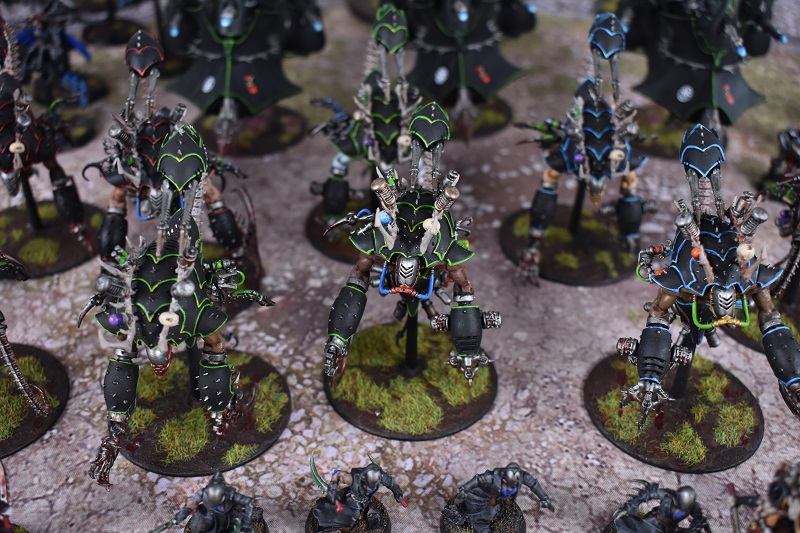 Moving on to the Artists of Flesh change, again, very much warranted – it was oppressive both to other players, but also in terms of internal balance, where you either ran Artists of Flesh or you didn't run Covens (with the exception of Dark Technomancers Cronos). Much like we talked about with Ramshackle in the past, however, GW seem to have fundamentally misunderstood the problem here. Big guns were generally fine at shooting buggies or Talos (with the exception of heavy psycannons), but the problem was that these light vehicles/monsters could merrily shrug off light or medium D2 guns that are the exact thing that should be shooting at them. This change does nothing to help your heavy bolters or autocannons or regular psycannons or whatever else, which are the weapons that needed the help. An idea that's been floating around as a thought in our heads for a while now courtesy of Jamie B from the UK scene is to change all of these kinds of traits to be "to a minimum of 2" instead of "to a minimum of 1", so that you still get some protection from heavy guns (which also get a slight lift since they no longer have a 33% chance of doing just 1 damage) but don't completely neuter the entire category of S5-S7 damage 2 guns that are exactly what should be pointing at these units and trying to drown them under weight of fire. Also, as a general side-thought; -1 damage is oppressive wherever it's found, especially where it can be massed to the point of being most or all of an army, and the dataslate would have been a good time to adjust all those kinds of traits to work similarly (with the exception of Death Guard, where it's their Thing). I don't think widely-distributed -1 damage is any more enjoyable to play against when it's on Crusher Stampede and not Talos.
In any case, that's pretty much it in terms of the changes in the dataslate, and of course I expect no sympathy at all for complaining about the shape they took; I agree that Talos were a problem and needed fixing, it's just disappointing that they're probably back on the shelf for good now. The changes aren't completely fatal to them, but Drukhari Goodstuff is still right there and still good, and Grotesques have escaped unpunished and seem like a likely place for players to pivot. Let's talk about the new missions first and then cover likely list evolution in full after that.
War Zone Nachmund – GT Missions
Drukhari may have been the single best faction in terms of playing the 2020/2021 GT missions, with excellent options on playing the objective game, a strong faction secondary, great options on scoring Deploy Scramblers/Retrieve Octarius Data, and list archetypes which generally don't give up many points to other opponents – the most that "kill" secondaries would typically give up is 13 for Assassination, and while Drukhari characters are fairly fragile they're mostly utterly vicious in combat and so your challenge is to be able to engage with them without them murdering you first.
The new missions change several of the key components that make this plan work. There's fewer points available for just holding objectives, with bonus primary scored from a variety of different sources including 3 missions where Actions are vital, and concomitantly the mission secondaries have gone away so it's no longer as easy as picking Herd/ROD and then filling in with one of those where they're good. The other secondary changes are mostly fine – Bring It Down now properly scopes in Raiders, but the days when you might run 6 of those are past, and with the possible exception of Investigate Signal it's unlikely too much else impacts on Drukhari builds.
Let's talk about Investigate Signal briefly, actually, before we turn our attention to the new missions. The way this works now is that you can score 3pts each turn, by starting an action with one INFANTRY unit from your army that contains 3 or more models and is wholly within 6″ of the centre of the board. As long as that unit is still wholly within 6″ of the board centre and there aren't any enemy units there to get in the way, the action completes at the end of your turn.
There's lots of factions where this is likely to be an improvement; Space Marines are a notable example where they already wanted to be putting stuff in mid-board, and being able to rack up more points with the same plan is great for them. This might also have some strong application for Drukhari, though. Mandrakes give you a strong option on being able to kick this off on turn 1, and one component of the Drukhari army is its exceptional damage output – clearing the enemy from the centre of the board isn't a particularly tall order, unless they're literally all piled up there, and if that's the case then to an extent you're doing just fine because if they're that close to you then you can probably unleash your melee units to dive in and start hammering them and things like "points" can become a bit academic. You aren't always going to want to do this – against Custodes, for example, piling everything into the centre and making you fight them there is kind of the their whole plan – but it opens up a different use for the small, cheap action monkeys Drukhari can bring to the table than using them for the new Retrieve Nachmund Data. RND, incidentally, does open up a slight difference in approach; at least in my experience an easy way to score ROD was to use a 5-model unit of Mandrakes, to hit one if not two of the more difficult quarters thanks to their ability to infiltrate and then redeploy. 5 models can just fail at that now, never mind the quite common case where 2-4 of them would die and then you redeployed the survivors to manage a second one. If you're confident in being able to keep them safe then upping your unit size to 6 and punting for the double quarter hit is certainly a thing you can do, as is bringing multiple units (so you can hide one at the back and redeploy it out with a much higher chance of enough models surviving to actually complete the action). Alternatively, maybe they start being used as mentioned above to kick off Investigate Signal, or maybe they fall out of the list entirely and get replaced with something else. That last option might be ill-advised, though, as we're about to see.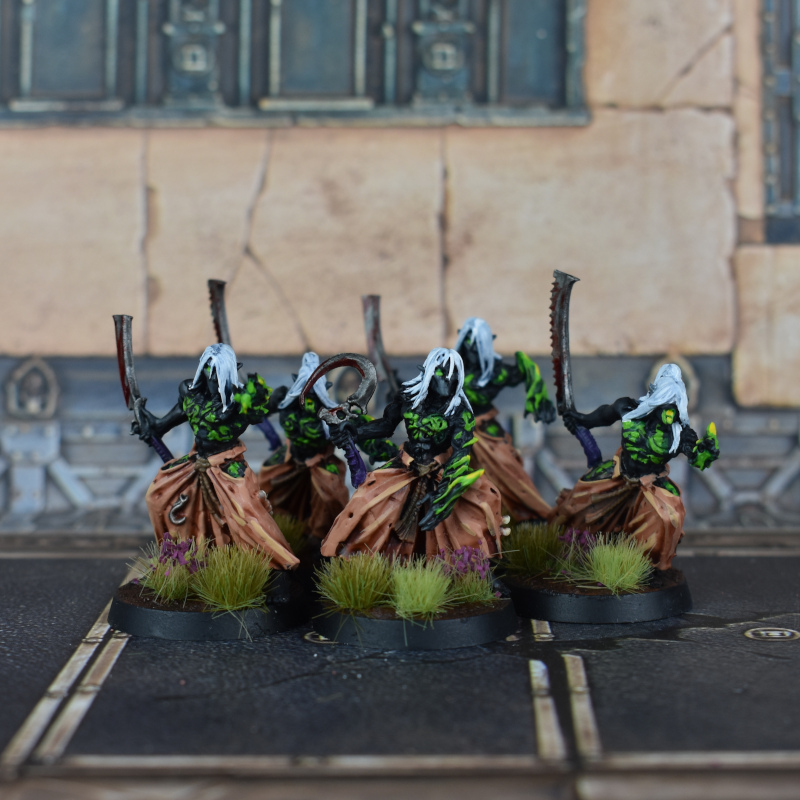 Looking at the primary, we have 9 new missions (well, 8 new missions plus The Scouring, which is a hilarious thing to be the sole survivor even if it is much better now). As mentioned above, the primary scoring for holding objectives is now 4/8/12pts rather than 5/10/15pts, so while it's still possible to max your primary just from holding points, it's gotten harder. The other possible primary points now come from bonus objectives, unique to each mission and with different conditions for each one.
Broadly these fall into 3 categories (with a couple of missions overlapping two); "hold specific objectives" where your bonus points are awarded not holding specific objectives rather than any of them, "kill points" which pretty much work as you might expect, and "actions" where your units can complete a mission-specific action.
Hold specific objectives: Abandoned Sanctuaries*, Conversion, Tide of Conviction, Death and Zeal**, Secure Missing Artefacts
Kill points: Recover the Relics, Abandoned Sanctuaries*, Death and Zeal**
Actions: Tear Down Their Icons, Data Scry-Salvage, The Scouring
*2pts for either kill a unit within 6″ of the centre or holding the centre, 5pts end-game for holding the centre
**2pts for either control every marker on the board or controlling a new objective, or destroy an enemy unit in range of an objective marker, or 3pts for both
The first two categories should fit pretty well with the Drukhari game plan. As one of the fastest armies in the game, with high killing power, it's likely that Drukhari armies will be able to quickly adapt to whatever conditions they have to meet. Death and Zeal in particular looks like a strong mission for the Dark Kin, with lethal melee units being a great resource for meeting both conditions simultaneously by sweeping enemy units off points and capturing them.
The actions are a bit more interesting. We talked above about Drukhari's wealth of small, cheap units for performing actions, and the ability to get those units where they need to be – 5 guys out of the Webway or Strategic Reserves or a Venom can easily get into position, and notably also the mission objectives can be completed by any unit rather than just INFANTRY, opening up scope for using Reaver Jetbikes to do this, or even potentially vehicles. We mentioned units coming out of a Venom, but it's easy to see the Venom itself being able to hop into a ruin in your opponent's territory in Tear Down Their Icons, for example, and then priming explosives in safety.
There's two further wrinkles to these new missions, the first of which is that a few of them mess with CP generation, preventing you from getting your battle-forged CP each turn unless you meet a specific condition – Recover the Relics requires you to hold an objective marker not in your deployment zone (and gives you a bonus one if you hold the one in your opponent's deployment zone), Conversion requires your Warlord to be on the battlefield (or in a transport) to get it, and Tide of Conviction reverses the version in Recover the Relics, requiring you to hold the one in your deployment zone. Second, Death and Zeal and Data Scy-Salvage have the "locked" objectives from their predecessor missions, where you can continue holding it without needing a unit physically present, but you can only now do this is your unit had Objective Secured – so again, returning to Mandrakes, you can't use them to "lock" one and then teleport away any more. Finally, and in reference specifically to the 'drakes in the Drukhari book, Abandoned Sanctuaries blocks pre-game moves and Infiltrates.
Overall, Drukhari look very well placed for this new world. They should continue to be great at playing the basic primary mission, and able to pick up bonus points across all three categories fairly easily; if you're struggling with Actions there's nothing quite like a 40pt unit of Kabalites or Wracks (or a 60pt unit of Scourges, if you need to be able to deep strike) to fill that particular gap. The main threat is not from the missions changing, but instead from other armies, in particular the Craftworlders, who may well be just as fast but also tougher and killier, with a broader range of threats and a toolbox of new tricks learning all the best lessons of 9th edition so far.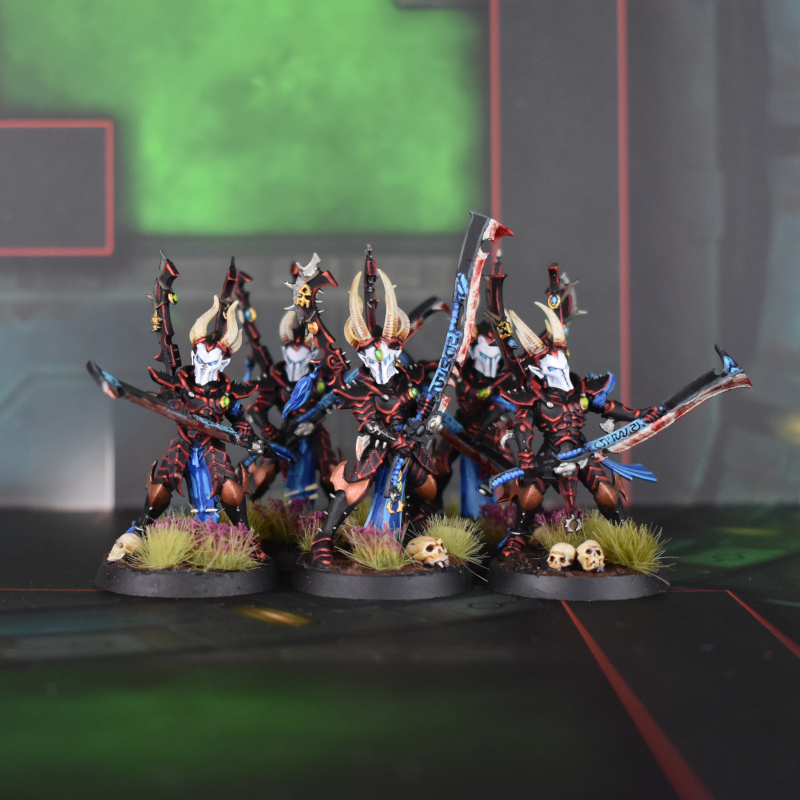 Lists
So what do lists look like in the world to come? My initial thoughts are something like this, which I'll be trying out at Beachhead Brawl this weekend assuming I can get the Grotesques painted in time:
Corrode's Post-Dataslate Drukhari
++ Patrol Detachment 0CP (Aeldari – Drukhari) [47 PL, 12CP, 890pts] ++
+ Configuration +
Battle Size [12CP]: 3. Strike Force (101-200 Total PL / 1001-2000 Points)
Detachment Command Cost
Raiding Forces – CP Refund
Gametype: Matched
Obsession: Kabal of the Black Heart: Thirst for Power
+ HQ +
Archon [5 PL, -1CP, 90pts]: As Detachment (Kabal), Hatred Eternal, Huskblade, Overlord, Splinter Pistol, Stratagem: Tolerated Ambition, The Djin Blade
. Splintered Genius (Black Heart): Splintered Genius
+ Troops +
Kabalite Trueborn [8 PL, 145pts]: As Detachment (Kabal)
. 6x Kabalite Trueborn: 6x Splinter Rifle
. Kabalite Trueborn w/ Heavy Weapon: Dark Lance
. Kabalite Trueborn w/ Special Weapon: Blaster
. Kabalite Trueborn w/ Special Weapon: Blaster
. Trueborn Sybarite: Splinter Rifle
+ Elites +
Incubi [4 PL, 90pts]
. 4x Incubi: 4x Klaive
. Klaivex: Klaive
Incubi [4 PL, 90pts]
. 4x Incubi: 4x Klaive
. Klaivex: Klaive
+ Heavy Support +
Ravager [8 PL, 130pts]: As Detachment (Kabal), 3x Dark Lance
+ Dedicated Transport +
Raider [6 PL, 115pts]: As Detachment, Dark Lance, Phantasm Grenade Launcher, Shock Prow
Raider [6 PL, 115pts]: As Detachment, Dark Lance, Phantasm Grenade Launcher, Shock Prow
Raider [6 PL, 115pts]: As Detachment, Dark Lance, Phantasm Grenade Launcher, Shock Prow
++ Patrol Detachment 0CP (Aeldari – Drukhari) [23 PL, -2CP, 495pts] ++
+ Configuration +
Detachment Command Cost
Obsession: Cult of Strife: The Spectacle of Murder
Raiding Forces – CP Refund
+ Stratagems +
Stratagem: Prizes from the Dark City [-1CP]
+ HQ +
Succubus [4 PL, -1CP, 95pts]: 1 – Adrenalight (Combat Drug), As Detachment (Wych Cult), Competitive Edge, Stratagem: Tolerated Ambition, The Triptych Whip
. Agoniser & Archite Glaive
. Show Stealer (Strife): Show Stealer
+ Troops +
Hekatrix Bloodbrides [8 PL, 155pts]: 2 – Grave Lotus (Combat Drug), As Detachment (Wych Cult)
. Hekatrix: Agoniser, Splinter Pistol
. 9x Hekatrix Bloodbride: 9x Hekatarii Blade, 9x Plasma Grenades, 9x Splinter Pistol
+ Elites +
Mandrakes [3 PL, 75pts]
. 4x Mandrake: 4x Baleblast, 4x Glimmersteel Blade
. Nightfiend
+ Fast Attack +
Hellions [4 PL, 85pts]: 1 – Adrenalight (Combat Drug), As Detachment (Wych Cult)
. Helliarch: Hellglaive
. 4x Hellion: 4x Hellglaive, 4x Splinter Pods
Hellions [4 PL, 85pts]: 1 – Adrenalight (Combat Drug), As Detachment (Wych Cult)
. Helliarch: Hellglaive
. 4x Hellion: 4x Hellglaive, 4x Splinter Pods
++ Patrol Detachment 0CP (Aeldari – Drukhari) [37 PL, -2CP, 615pts] ++
+ Configuration +
Detachment Command Cost
Obsession: The Prophets of Flesh: Connoisseurs of Pain
+ Stratagems +
Stratagem: Prizes from the Dark City [-1CP]
+ HQ +
Haemonculus [4 PL, 70pts]: As Detachment (Coven), Master Regenerist, The Vexator Mask, Warlord
+ Troops +
Wracks [3 PL, 65pts]: As Detachment (Coven)
. Acothyst: Electrocorrosive Whip, Liquifier Gun
. Wrack w/ Special Weapon: Liquifier Gun
. 3x Wracks: 3x Wrack Blade
Wracks [3 PL, 65pts]: As Detachment (Coven)
. Acothyst: Electrocorrosive Whip, Liquifier Gun
. Wrack w/ Special Weapon: Liquifier Gun
. 3x Wracks: 3x Wrack Blade
Wracks [3 PL, 65pts]: As Detachment (Coven)
. Acothyst: Electrocorrosive Whip, Liquifier Gun
. Wrack w/ Special Weapon: Liquifier Gun
. 3x Wracks: 3x Wrack Blade
+ Elites +
Grotesques [12 PL, 175pts]: As Detachment (Coven)
. Grotesque w/ Monstrous Cleaver
. Grotesque w/ Monstrous Cleaver
. Grotesque w/ Monstrous Cleaver
. Grotesque w/ Monstrous Cleaver
. Grotesque w/ Monstrous Cleaver
Grotesques [12 PL, 175pts]: As Detachment (Coven)
. Grotesque w/ Monstrous Cleaver
. Grotesque w/ Monstrous Cleaver
. Grotesque w/ Monstrous Cleaver
. Grotesque w/ Monstrous Cleaver
. Grotesque w/ Monstrous Cleaver
++ Total: [107 PL, 8CP, 2,000pts] ++
What's new here? In reverse detachment order, it's the Grotesques, as you might have guessed. These were good before, and now they're probably the best angle Covens have. Cheap, still reliably quite tough, INFANTRY which means they're flexible for something like Investigate Signal – you might well find that their best use in an early turn is just being a big brick of wounds in mid-board – and with decent damage output to boot.
Accompaying them as Covens are the three Wrack units with a whip and two liquifiers; the alternative here tends to just be a swarm of Wracks, but I like these as cheap units that can punch surprisingly above their weight, and the liquifiers open up some options for anti-infantry which are likely to be relevant in a world with decent numbers of GSC, and AP-2 gives them surprising impact against other things, too. Again, also quite good just for being cheap guys to do actions with. I've switched the Coven here to Prophets of Flesh, which provides a similarly good defensive buff here while also healing both units of Grotesques each turn, which could come in handy; it also unlocks the Vexator Mask for the Haemonculus, giving me a reliable source of Fight Last without the Archon having to give up his trait for it. Something worth thinking about here is finding 20pts (probably from Wrack liquifiers) to bump the Haemonculus up to a Master, giving him the ability to revive on death and also to take Twisted Animator, so that he can bring back Wracks. I think if I was going to do this I'd want to also think about switching those three 5s for a big brick of 15, though, which has its own value but isn't exactly what I'm thinking about doing here.
In the Cults detachment we have the standard Succubus and then a unit of Bloodbrides – more expensive than they used to be, but still quite lethal and great for blitzing something off a point – and a couple of small units of Hellions, excellent at the aforementioned requirement for leaping around the table hitting specific objectives at high speed. The Mandrakes stay in as hangers-on, ready to do Mandrake things.
Finally we have the Kabals – essentially just a melee Archon, a unit of Trueborn, a Ravager, and three Raiders, plus Incubi to fill them. Agents of Vect continues to be powerful, and this is where the army's shooting lives; 6 dark lances on the boats plus the lance and blasters in the Trueborn.
The aim for the whole package here is to stay focused on what makes Drukhari great – play the mission, trade units efficiently, and be able to rapidly switch play to wherever the opponent is weakest.
Boon Thoughts: I was going to weigh in with some peanut gallery comments and then throw my own spin on a list into the article, but honestly, I'm 100% in agreement with everything Liam wrote here. My own list is similar, but I upgrade one full squad of Wracks to Haemoxytes (10) and replace Master Regenerist on the Haemonculus with Twisted Animator for some resurrection utility on an already excellent Haemoxyte unit. I also bring two Venoms for my Incbui and only 2 Raiders for the Trueborn/Bloodbrides (or Wyches, still undecided but I think higher AP is increasingly more important).
My thoughts on Master Regenerist are that it was great for Talos when every wound counted, but with Prophets of Flesh I think the default d3 wounds is enough on a unit whose models are only 4W total and regain 1 automatically. The extra utility Twisted Animator gives for objective shenanigans (it's a command phase ability) or for extra movement (resurrect a daisy chain then move/advance/charge) offers a lot to the coven that's already packing utility with a Fight Last and Ignore Overwatch on that Vexator Mask. While Liam went with the Hatred Eternal on the Archon for a combat monster, my personal preference is to keep Ancient Evil for the second Fight Last and facilitate two major assaults a turn rather than hamstringing one to an opponent's interrupt.
Conclusion
That's about it for the Drukhari. We may, finally, see the win rate drop a little and the top 4s become less frequent; Drukhari partly escaped their nerfs on the back of Talos last time, and now that option has been closed down the points increases may start to bite a bit more. It's still a strong faction though, with a lot to recommend, and great angles on playing the Nachmund missions – and playing the mission is the way to consistently win games of 40k. With the first few weeks of tournament play using the pack coming up soon, it's an exciting time to see how the meta will evolve.