If you've ever painted any miniatures you've probably used some metallic paint. If you paint Chaos Space Marines or Titanicus titans then you probably spend more than half of your painting time doing metallic trim and you've probably googled or asked on a forum of some kind "what is the easiest/best metallic paint?"  
Well, today we're looking at the only product put out by DarkStar Miniatures, which is metallic paint. That's it. Just metallic paint. And it rocks.
So what is DarkStar Miniatures?
It wouldn't be surprising if you haven't heard about this company before. If you check out their website, you'll greeted by a mere five options to click on, a Contact button, and your shopping cart. That's it. This company specializes in metallic paint; if fact that's all they do, and they do it very well. There are 27 different colours of paint, their own metallic thinner, and an MDF or Acrylic paint rack to hold 30 bottles (so you have spare room for an extra bottle of two of your favorites along with the thinner). The full set clocks in at £80 (or right around $110 USD), which is somewhere between Vallejo and GW paints in price. 
Condit: Shipping to the US wound up being around $30, which is pretty reasonable for transatlantic shipping, though it did push the price slightly north of what I'd be paying for the same number of paints from GW. That said, I find these a lot easier to work with, and the variety of metal colors is great.
The colors are basically what you'd expect, a range of silvers, golds, copper, bronze, etc., and really cover basically any metal color you could need, even a very dark "blackened brass" which is a particular favorite along with a verdigrised silver. There's a wide variety of each of the "categories" of metallics. Just in the golds, you can look to Braid Gold, Royal Gold, or Imperial Gold for a nice, bright gold color that wouldn't be out of place on Stormcast Eternals or Custodes, or you could go for Antique Gold or Victorian Gold for something that looks a little worn or antiqued. The silver colors range from nice dark steel tones to bright pewter and silver to some really unique tones like Blue Steel and Silver Verde.
Bair: I've been using DarkStar paints pretty exclusively since I was turned onto them by my friend Joe (instagram: joe_paints_stuff), a better painter than me, over a year ago. Definitely has made my painting life much easier and have made painting trim on all my Titans a more enjoyable (read: not terrible) experience. 
In addition, several of the paints are organized into "triads," which are essentially groups of three shades that can be blended together or layered and highlighted to create some really cool finishes. You can definitely do more, but if you're looking for a starting point for which of the metals will go well together to create the effect you're looking for, this is an excellent resource. And if you find yourself leaning on a particular triad frequently, DarkStar also sell their paints in three-bottle sets of those triads, so it's easy to keep yourself stocked up on your go-tos.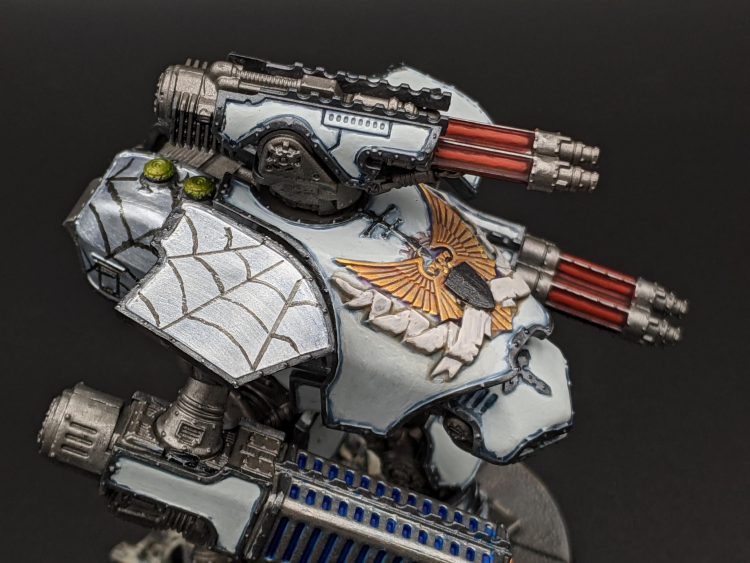 Condit: In addition, the full set comes with a flyer that identifies which paints are in which triads. The colors in the pictures on the one I got aren't quite exact for a couple of the colors, but they're close enough to give you a feel for what you're dealing with. I don't always use the suggested colors in the triad, but it's a nice reference to have. You can also find it on their website.
The Company
It's no surprise that the man behind the scenes is a hobbyist himself, just looking for good metallic paint to use in his own hobby. I reached out to Darkstar to find out more about them and received an email back from the owner of Darkstar Miniatures Company first apologising for the (rather short) delay. The owner, Steve, told me about the beginning of Darkstar and I'll use his own words here:
"I have been a modeller all my life and I started Darkstar Miniatures as I was fed up with modellers being ripped off with over expensive poor quality models for sale. We originally only sold model kits, but we could keep the price low as we sculpted, cast and boxed up our own products.
I had used various metal paints, but all good metal paints were solvent based and I loathed the smell. By sheer luck one day I came across a metallic paint that was water based,  easy to use and could be polished. They were not being used for the model industry, so picked up the phone and asked if they would let us have the sole licence to reproduce them for our industry, to my surprise they said yes and Darkstar Molten Metals was born." 
Darkstar is a surprisingly small company as well, consisting only of Steve, his partner, and their grown son who has helped out. They started in 2013 with the Molten Metals range coming out in 2014, starting with only 18 colours at the time, eventually expanding to the 27 available today. 
The Good
Bair: Here are my top 4 points:
Excellent coverage

Very real metallic look

Take shades easily 

Metallic thinner works great
Before using these paints I tried a wide variety of metallic paints, having mostly used Citadel paints for the majority of my painting up to this point I took the normal advice of getting some Scale75 and Vallejo metallic paints to use and try, and they were definitely good and had as good of coverage as Citadel's, and sometimes better depending on the particular shade and what it was going over. However, when I started painting tiny Titans I really wanted to get some amazing metallic paint that wouldn't be too much work because of all of the trim on these things. Joe had started using DarkStar's Blackened Brass for his Night Lord trim, which on numerous occasions in well lit rooms I commented about how silver the edges looked because they were still works in progress and he hadn't shaded them down yet, and they were simply that reflective.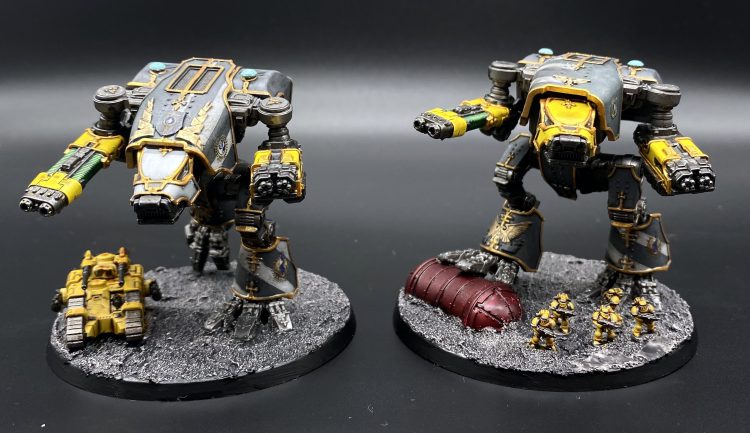 Condit: Nearly everything about these paints is great. They have wonderful colors and come in a lot of shades that I honestly never would have even thought to use – some of the more unusual golds and silver have been invaluable in re-painting my Haemonculus Covens with the release of the new codex, and Baroque is just amazing for battle-worn close combat weapons or armor.
In addition to just being great on their own, they're also really easy to shade as they tend to have a pretty smooth finish. This also means they're incredible bases for GW's Contrast paints and similar washes, so long as you start with the right base color before throwing something on top. Try Graphite or Silver for cooler colors, or Royal Gold or Regency Gold for warmer colors.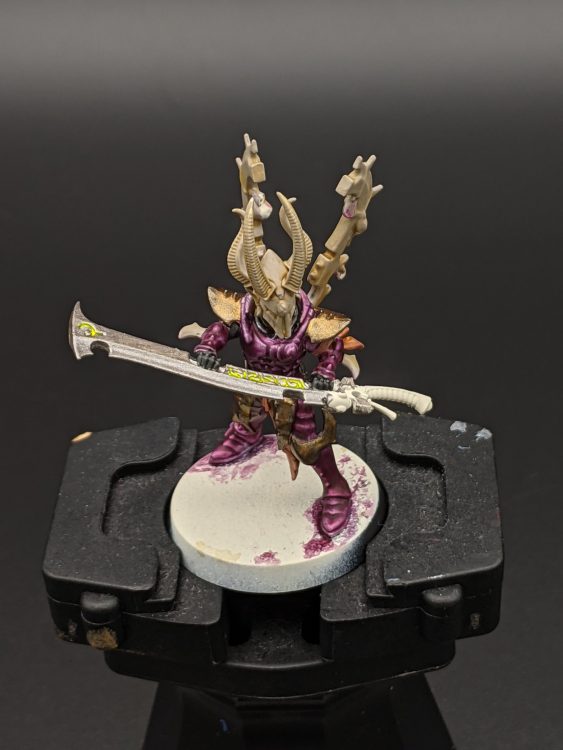 Finally, I love the bottles these paints come in. Not only are the dropper tips great, but the lids go on nicely in a way that keeps them shut without sealing to the top of the bottle, and each bottle comes with an agitator already included in it, which is really necessary here. As Bair points out, they are a non-standard size, which is kind of annoying if you have a paint rack with pre-cut slots in it, but you can get around that with a little foresight.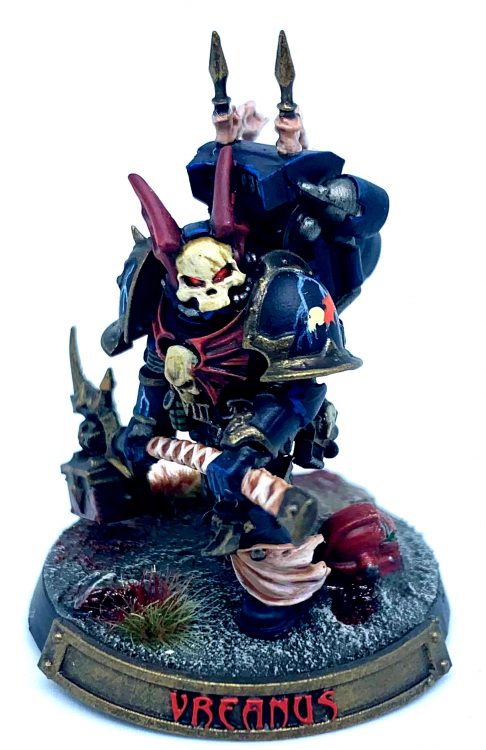 The Bad
Bair: My only complaint about these paints is the bottle itself: it's ever so slightly wider than other dropper bottles so might not fit in your paint storage rack that you already have and the nozzle can occasionally collapse making it a bit of a chore to fix. That's it. That's the only complaint, nothing to do with the paint. Before getting one of the DarkStar racks I just took a knife to my MDF paint racks I had already had and widened the hole a smidge to make them fit, which was easy done although a bit arduous. I do now have one of their custom-made DarkStar-branded stands [Editors' Note: This stand was provided by the manufacturer] instead to use for them which works (unsurprisingly) much better. 
Condit: I've got a few issues, but they're relatively minor. First, the paints tend to settle out if you leave them on the rack for too long between uses. They'll also be pretty well settled-out when you first get them in the mail, so you'll either need to put them on a vortex mixer or similar tool or just spend a significant time shaking the things before you can use them – the included agitator really comes in handy for this. The lighter-colored paints seem to suffer from this more, and in my experience have required even more shaking before they're ready to go.
I'm also not the biggest fan of the thinner – the paint is already pretty thin out of the bottle, and if you're not extremely careful with how much thinner you add it's very easy to wind up with paint so runny it's barely usable. You can solve this by putting a drop or two of the thinner in a small container and adding it bit by bit with the brush, but, again, this is a fairly minor annoyance.
Are they worth it?
Bair: Most definitely. You don't need to pick up a full set of them, but you should definitely try out a colour or two that you'll use often enough, especially if you're painting a lot of metallic trim. I really cannot understate how much time I saved painting all of my 24 Titanicus-scale Titans using these golds, and just how good they look especially for the time. I mean to the point where I painted (after building same-day) each of the Gryphonicus Titans below in a single day each, the trim taking 2 hours tops on the larger ones. The aged copper on the leg pistons is one of my favourite part of these too, the shine on them next to the drab grey armour plating makes a big difference.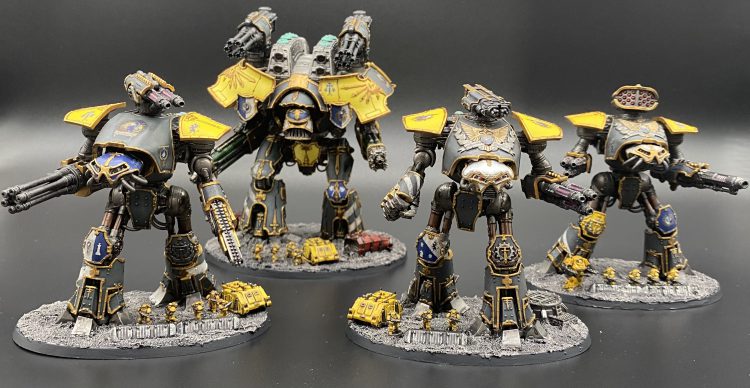 I'm not suggesting here that you throw away all of your current metallic paint and just restock with this range instead, but next time that you're looking to buy some metallic paints definitely consider picking some up and trying out. Most people won't need to get the entire range, and there's probably 1 or 2 shades that I haven't used nearly as much as I've used Baroque or Royal Gold, but they're worth trying and fitting a few into your go-to selection of paints.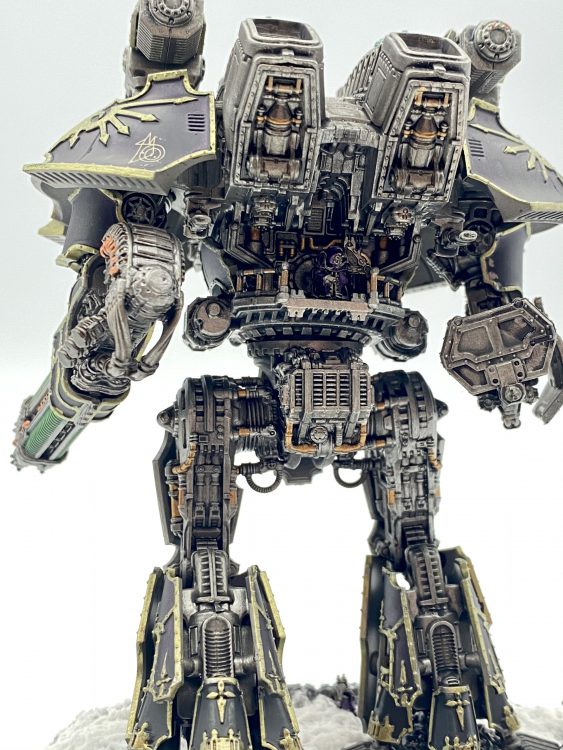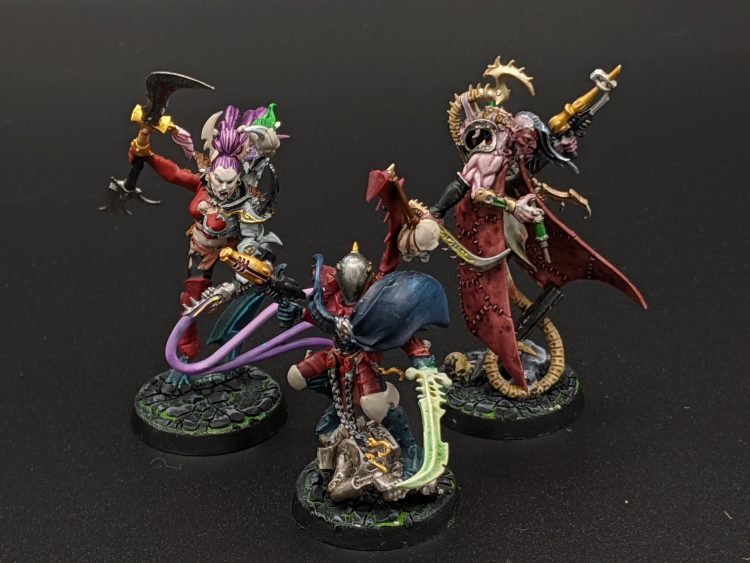 Condit: Outside of spray leadbelcher for priming a few specific things, I literally have not touched another metallic paint since I got these, and I honestly can't see myself doing so any time in the future. And while you don't need all the paints in the range, if you've got room in your budget, I'd recommend it. I've only had these for a few months, but between my various projects I've found myself having cracked open 20 or so of the bottles in the full 27-paint set, and the colors I've found myself liking the most are definitely not the ones I would have thought: Baroque is incredible for swords, knives, and other weapons; Blackened Bronze is just plain liquid magic; and Victorian Gold has a nice slight green tinge that meshes very nicely with my Coven of Twelve Wracks. All in all, if you're looking for an amazing metallic paint that is straightforward to work with, you'll be hard-pressed to find something better.
DarkStar Miniatures products can be found online at their website. The paints reviewed in this article were purchased by the authors and were not supplied by the manufacturer, though Bair did receive an MDF paint rack from the manufacturer.