In similar fashion to some recent army releases – most notably Orks and the Sisters of Battle – Games Workshop are releasing Chaos Knights first as a boxed set, containing both the Codex and the new models from the Chaos Knights range. In this article we're going to talk about the new boxed set and its contents, with a particular focus on the new models. If you're interested in reading about the Codex itself and the new rules, you can find our review of the codex here.
Before we begin we'd like to thank Games Workshop for sending us a preview copy of the boxed set for review purposes.
What's in the Box?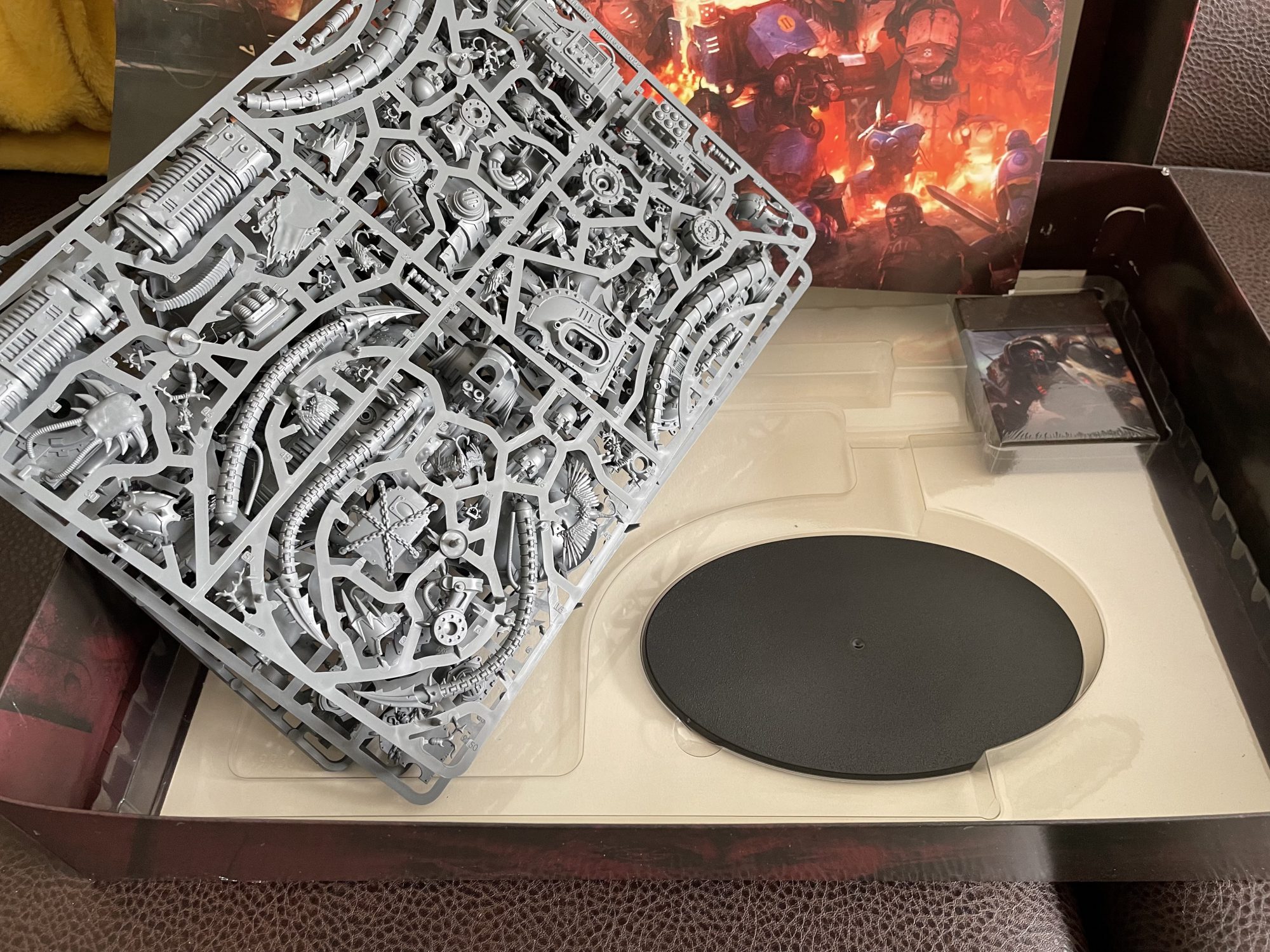 Like many of the recent releases, this is a pretty hefty box, and comes with a special edition variant of the Chaos Knights Codex, the faction datacards, and three kits: Two of the new Chaos War Dog kits and the new Knight Abominant kit. The War Dogs are all new kits that share a lot of common design features with the existing Armiger/Helverin kits, while the Abominant is essentially an add-on sprue for the Chaos Knight Desecrator/Rampager kit we all know and love. Although it's a small count of models, it's a great combination of new kits, and it's possibly one of the best "army" boxes we've seen so far. It'll combine very well with the new Combat Patrol box, which is just a trio of War Dogs.
With that out of the way, let's talk about the new models.
Abominant
They've done it, Games Workshop has given us a big ole psychic knight with eyeless birds on it, like that is so 40k that you just gotta love the concept of the thing. It is built on the existing Desecrator/Rampager kit so you might already be feeling the repetition of the leg pose but they differentiated the rest of the model enough to make that less of a concern then I might have had previously. Between birds, a new tilting plate, iconography and a new cover for the cockpit you should find the model pretty distinct even amongst the five desecrators you bought after one too many drinks.
The new volkite gun is great looking, with the right balance of chaos and normal gun for my tastes, although I will mention its coils are a bit more plasma looking then I would normally associate with volkite but that might just be me. As for the other weapons, I am still not totally sold on the posing for the flail, it's… fine. It looks weird if you have it doing anything but just hanging roughly down, they don't really have enough force to look good pointing forward and they would have to bend up a bit for that to look natural as well. The tail is slightly following the path of the knights gait and it might be a bit subtle for some, but at least it won't look too goofy if you build multiple Abominants.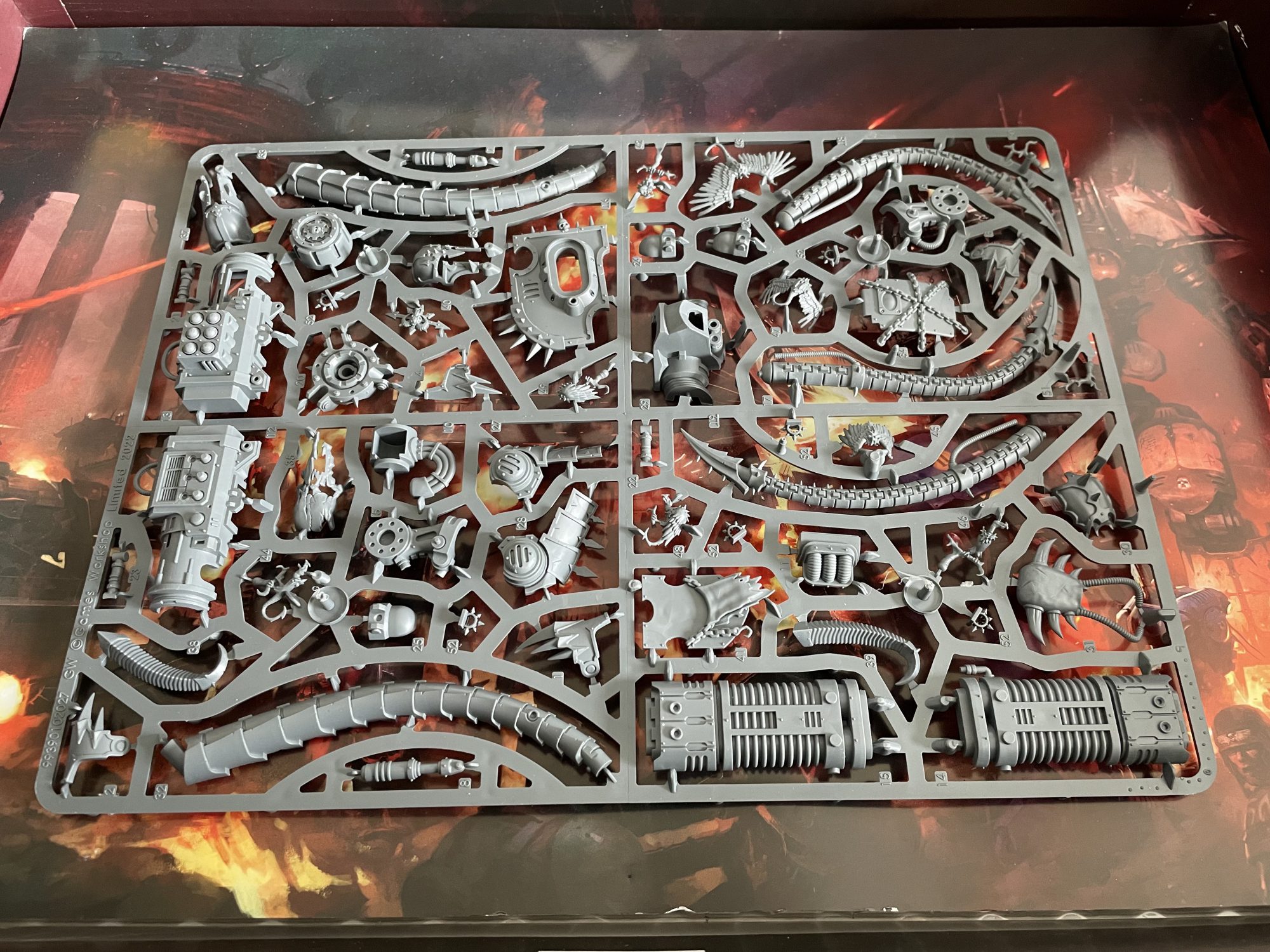 Beyond the pieces specific to the new build, the sprue also come with a few extra face options, while the bony/fleshy face is not bad and there is a decent spiky one. I will declare that you are doing it wrong if you don't do the big fuck off tusks because that is objectively the best head any knight has ever gotten. (Don't @ me, you're wrong and should feel bad.)
Ok now for the bad news, if you want to magnetise this thing it's going to be a (k)nightmare. There is an entirely separate back half of the groin to attach the tail to, which would means that you will either be substantially impacting the structural integrity of the model or doing some goofy thing with pulling the tail itself off. I am sure some of you people will figure this out, but I think it's probably more effort than it's worth given you will probably have a worse aesthetic for it too.
I will note that they only give you the instructions for the Abominant in this box despite giving you all the bits for the other two, but I am sure you can find the instructions for the other builds online if you so desire.
Rob: The one thing that's worth noting about the Knight Abominant is that it has its own unique pelvis piece to accommodate having a tail. I didn't realize this as I assembled mine on auto-pilot, leading me to have to make some cuts and greenstuff on the tail afterward. Note that this all worked out fine – you can't tell the difference – but it was a pain in the ass so make sure you use the correct pelvis when you assemble yours!
War Dogs
Honestly, these are the best bit of the box in my opinion, they sold me on the faction like nothing else has. They are just dripping with the flavor that the Desecrator/Rampager kit offered into the void of basic knights and armigers, those just didn't deliver that chaos punch without a bunch of kit bashing or a expensive forgeworld upgrade.
The War Dogs aren't really much different posability wise then the existing Armigers kit, just the same left or right step, waggle of limbs and a twist of the head. What they do have though is bits, three distinct head options including one with different faces along with a ton of little pointy bits in different flavors and even a bird for the carapace means that you can do a ton of decently unique versions of the same model. Given how many you might consider bringing, that's an incredibly good move, particularly when you glance over at the imperial side of things where you get faces and that's it.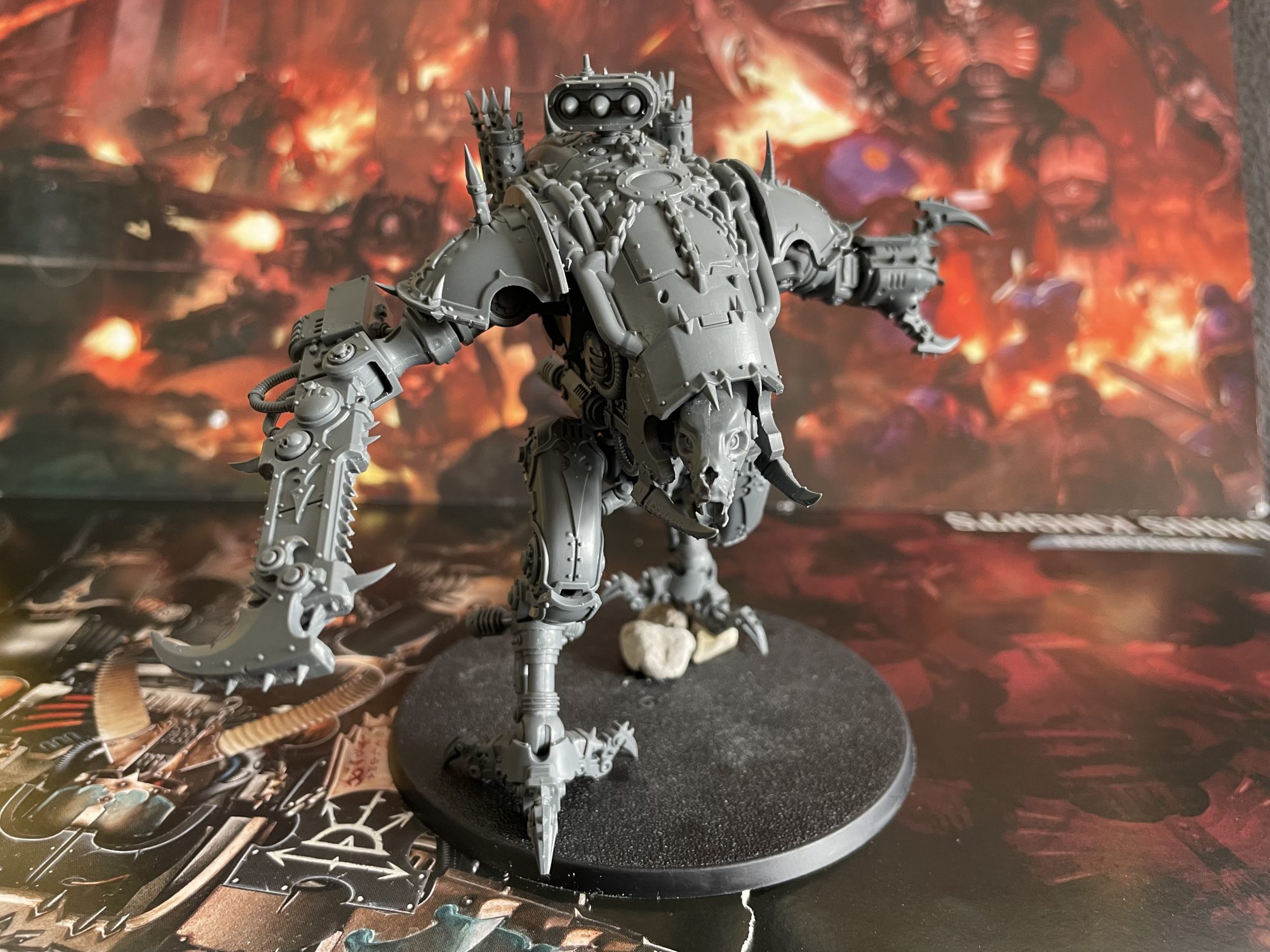 They have decided to lock these fellows to exactly the weapons that can be done from one set of sprues, thankfully they do let you make your choice of combination from each of the weapons you can find in it as legal loadouts at least. I will strongly suggest magnetizing these, it's about as easy as it gets. With how many loadouts the kit makes, I expect even if you don't find a use for a weapon now you will in an edition or two.
Its worth mentioning is that you can almost exactly replicate the old Warglaive box in this kit, the only thing you are missing is a melta gun, you otherwise have a chain weapon and a melta arm gun. The carapace melta gun doesn't look out of place on them either, so that gives you a nice option for keeping all your little knights looking chaos-y if you have any spare already or go diving into your bits box.
Speaking of your bits box, these kits come with a ton of extras that are perfect for making the existing armigers look just a bit chaos-y without too much effort. You could probably find plenty of ways to make use of a few birds in any of your other chaos armies for example, a chaos lord with a pet on his shoulder is a bunch of flavor for not much effort.
Should you buy it?
If you intend to start Chaos Knights I would say this box is pretty far up there in things you would consider, there is nothing in this box you wouldn't want as either a casual or competitive player. For existing players it's almost certainly worth it as well, you probably want an Abominant, you definitely want the war dogs, and you will need the book anyway. The kits are great quality and I am sure this bundle will be cheaper than it's contents individually, but I won't lie, this isn't a cheap box.
Have any questions or feedback? Drop us a note in the comments below or email us at contact@goonhammer.com.