In Gaming Spaces, we look at the spaces we've built to game in, talking about how they were built and how we're improving them. In today's first article of a two-part series, we're looking at Dylan Gould's space, starting with the hobby space.
I've been fortunate to have dedicated hobby spaces for the last 10 or so years. When renting apartments we'd find places with 3-bedrooms and one would be used to contain my hobby stuff. When we bought our first house, I got half the basement and spent time semi-finishing it, building it out including a display cabinet built into a wall. It was a great space, despite the lack of headroom (I'm 6'4″, so lots of ducking happened). It was around 270 sq ft and housed my collection and allowed for dedicated hobby and play space. It was a hard space to truly make nice, with a raw concrete floor, no extra space (read: closets), and no place to hide anything.
We moved last year and part of the new property included a semi-detached barn, that had its upstairs finished in the 1920s. Varnished beadboard as far as the eye can see and TALL ceilings. I was bequeathed two rooms from the house; one became the hobby room and the other became the game room.
Planning the space came organically, and after determining which room would house which activity, it came down to sorting furniture and seeing what would fit where. A lot was determined by my existing furniture and the contents of my collection. After a few months, I ended up swapping out an existing bookcase for a pair of new ones from Ikea which allowed for the gaming table to sit just right (moved it 2 inches and opened up the room), and so I could condense all my hobby supplies into the hobby room.
Walking into the hobby room you're greeted by my hobby area. My desk is nearly 10 feet long and is made from a WWII camp desk and an Ikea desk. It's the same setup I had in my last space, and fits perfectly. It allows me to have a dedicated painting and assembly station so I can bounce between projects and leave WIP stuff out. I added a rack to the front of the desk for my most-used paints and there's room for my bits organizers and tools so everything is easily at hand. I have an Ikea rolling drawer unit that holds the rest of my paint, rivets, and assorted tools. My paint collection runs the gamut from early 90s to modern stuff.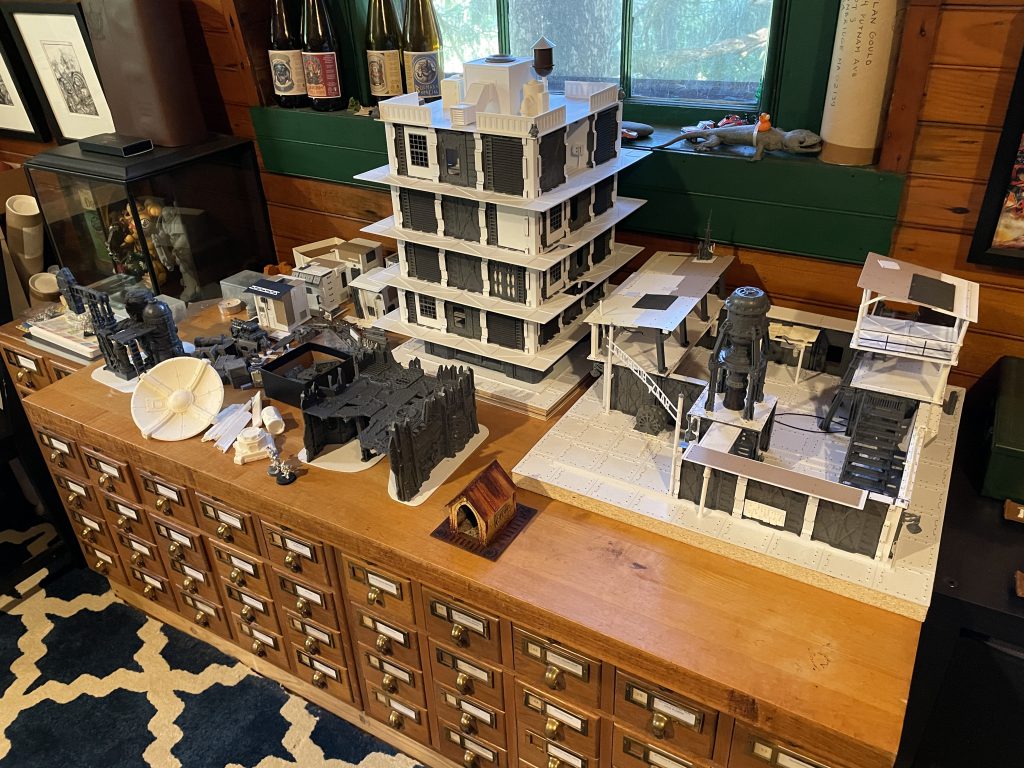 One wall is just bookcases and contains what I refer to has "The Archive". It's my collection of old White Dwarf magazines, ranging from issue 90-300+, Citadel Journal, Warhammer Monthly, Inferno, the complete range of rule books and codecii from Rogue Trader and Second Edition 40k, and various other Warhammer adjacent reference and art books. Also housed are a selection of new in box kits from the mid-90s and all my large box games. On the top is a variety of ephemera that I've collected over the years and my Lego Star Wars collection. Oh and my Armorcast Great Gargant.
On the wall to the right sits a pair of card catalogs which were gifted to me from a friend. These contain all my loose metal miniature, which is a massive collection encompassing pretty much every sculpt that was produced for Warhammer 40k from 1988-1997. I used to have them in flat cardboard boxes, which was fine, but not very visually attractive, nor easy to find everything quickly without having to moved a bunch of stuff. Every drawer is labeled which makes finding everything very easy. On top sits an old butcher block and that's been designated for all my work in progress projects. Large terrain pieces that I'm taking a break from while I work on other stuff, minis waiting attention, etc. Also on there is a little display box that has a Bandai marine, a McFarlane Marine and one of the old Sideshow Collectable marines. Above sit the empty bottle of beer that you can get at Warhammer World, which a friend brought back from England years ago.
Next to that sits a small bookcase with some hobby and terrain materials in it (a few of the aforementioned cardboard boxes) and on top, yes, my metal Thunderhawk. I do plan to build it one year.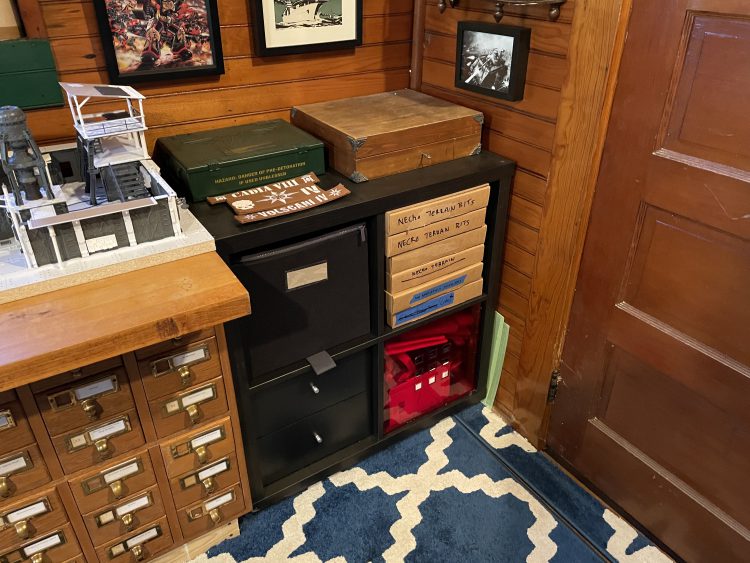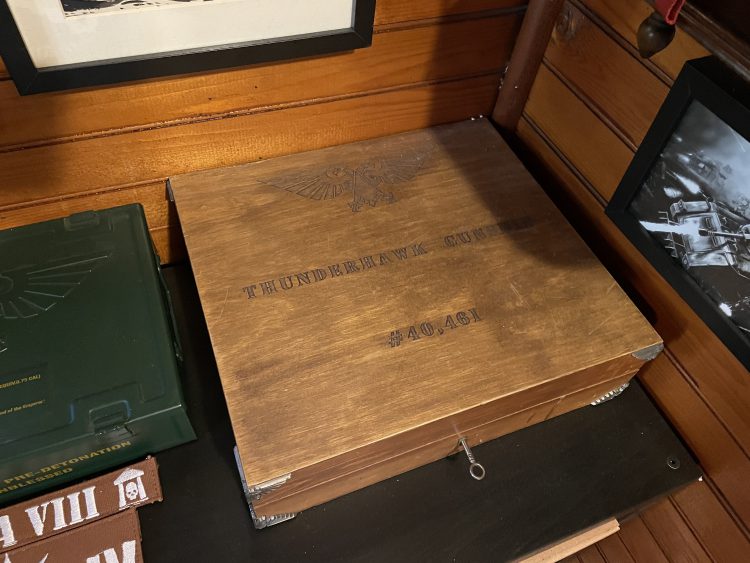 The walls hold some very old and very cool posters, some of which I've had framed, prints from Nerdgore, and with a few pieces of original GW art from Tony Hough. I have a small collection old GW mugs (there's a couple out there that I'd still love to get, hot wheels and loads of other stuff. I even had a friend hook me up with the cardboard Thunderbolt. The sheepshead mask is from a TV commercial that was shot at the last advertising agency I worked at.
The biggest gain for the new space are two very large closets, which allow me to contain (read: hide) most of my unbuilt kits, or boxes containing loose bits and loose minis. I have plans for a shelf in there, but we'll see how that transpires.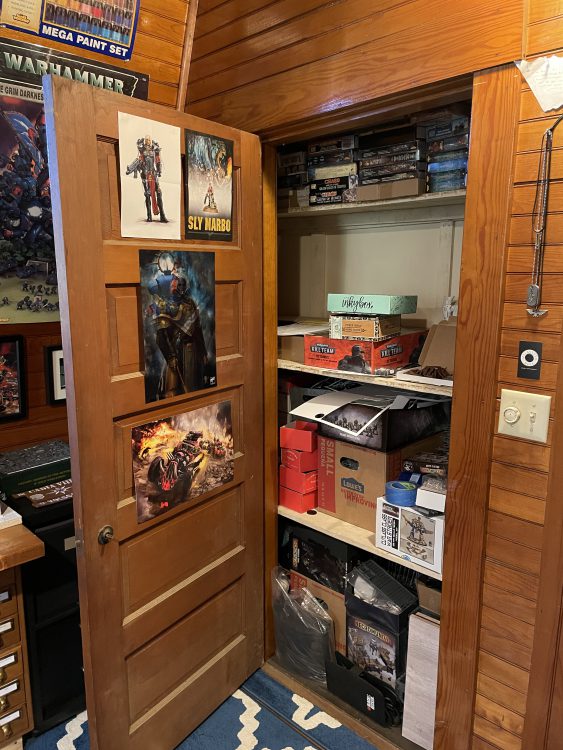 As for future plans for the hobby room, electrical updates are coming soon along with insulation, as if was getting pretty chilly last winter. Otherwise, short of some additional art or posters, it's just getting used.
Next Week: Part 2, the Gaming Room
That wraps up the look at the hobby space. Come back next week when we look at the gaming room and revisit the massive underhive battlefield Dylan's put together. If you want to see more of Dylan's hobby work, you can follow along with his progress by following him on 40k Hamslam on Instagram. In the meantime, if you have any questions or feedback, drop us a note in the comments below or email us at contact@goonhammer.com.