At Goonhammer we've devoted a lot of words to talking about how to compete and take your game to the next level. In "Getting Started," we look at how to get started with an army – the basics you need to know, how to start collecting models that will leave you with a serviceable army, and what the best deals are.
OY YA GIT! Ya like large barbarian hordes in a fantasy setting but think humies are boring? Do ya like big green murder machines? Do you just want to run at your opponent and give em a good krumpan?! Den boy oh boy do I have the army for you! So sit back and give dis ere a read for getting started with da Orruk Warclans!
Who are the Orruk Warclans?
Strengths
Everything has at least 2 wounds so your army is meaty.
Can be made into a massive horde of cheap weaker models, or a slightly smaller horde of tougher models, or both at the same time!
Surprisingly a Lot of mobility for a horde
A huge amount of command traits, buffs, relics, and abilities.
Can unleash an massive number of attacks, both in ranged and melee.
Weaknesses
Your basic boys have the Lowest armor saves. If you want good armor, you're paying a premium
Quality of attacks overall are weak to compensate for the massive quantity
Good variety in units but not too much variety in their purpose or special abilities. Most of the units are just meant to run forward and hit stuff in slightly different ways and that's about it.
Da Clanz
Before we get into what to buy, first we need to talk about the clans. First off, there's the poster boys and arguably the most popular, the Ironjaws. These guys are the biggest and the baddest of the orks! They are covered head to toe in lots of armor and big metal weapons! They are more in favor of having a slightly smaller force of tougher and stronger orks rather than a massive horde of runty boyz. You will see these guys on advertisements of this army most of the time as they were the first set of models made for the orks during the beginning of Age of sigmar.
Next we got da Bonesplitterz Tribes! This is the tribe mostly made up of the old school fantasy savage orks from Warhammer Fantasy Battles. This is the army that loves massive numbers over quality troops. This is the tribe to play if you want to just drown the board in green at the cost of having low armor saves and weaker attacks. Drown your opponent in so many attacks both in range and melee that the quality of the attacks won't matter.
Finally, and my personal favorite, is the Da BIG WAAAAGH! This is if you want the best of both worlds and to make an army using everything in the book. The only downside is you won't have access to the more specialized clans, relics, and command traits that both Bonesplitterz and Iron Jaws can get if they stay as their clan. However, now you have access to the massive amounts of buffs from da Big WAAAAGH! a unique mechanic to this subfaction. As the fight goes on, or if you have certain models on the board, you gain more WAAAGH! Points. These points can be used almost like mini command traits and army abilities you can give to the whole army. That's right, not just a single unit but the WHOLE ARMY on the board.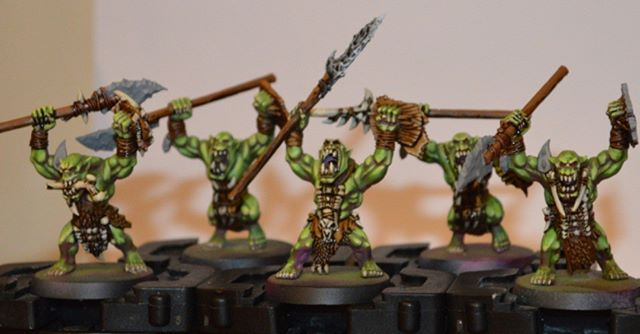 Starting Your Army
Naturally, first you need your Battletome. Orks are one of those armies you need to watch out for because they received a battletome near the launch of the game that is currently completely obsolete, so make sure you grab the one that looks like this: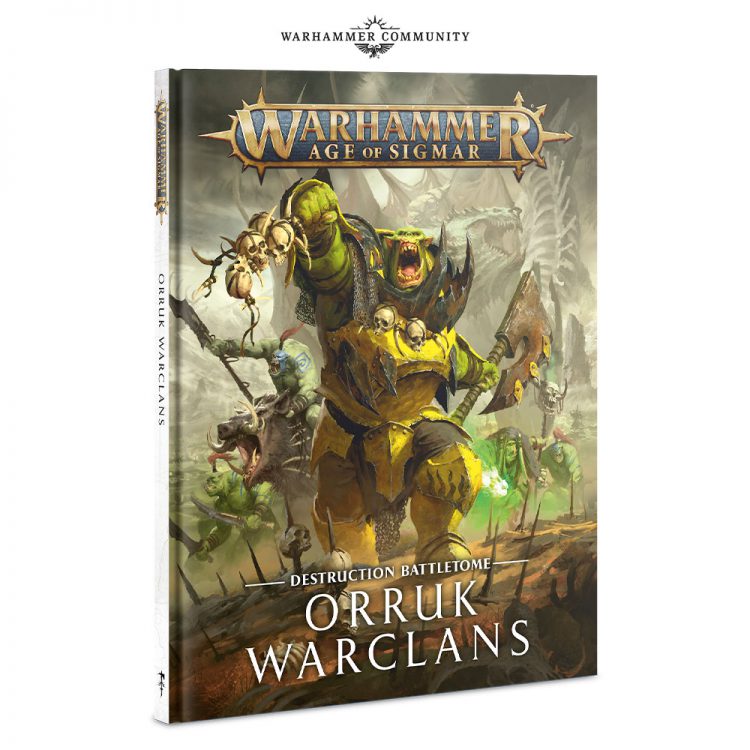 Next, your models: the army's go to Start Collecting is Start Collecting: Ironjaws. This box comes with 3 Gore-gruntaz, which are big orks on giant boars that look like they came from Australia, 10 'Ardboyz which are one of the battleline of the Ironjaws, and a Warchanter, which is basically their form of a cheerleader. Overall, this is a great box, especially if you want to just play the Ironjaws! You can safely buy two of these and be pretty set for a while. Beyond the start collecting I would reccomend another keystone character, such as the Megaboss, who is the biggest and baddest of warbosses, and the Weirdnob, who is their spellcasting shaman.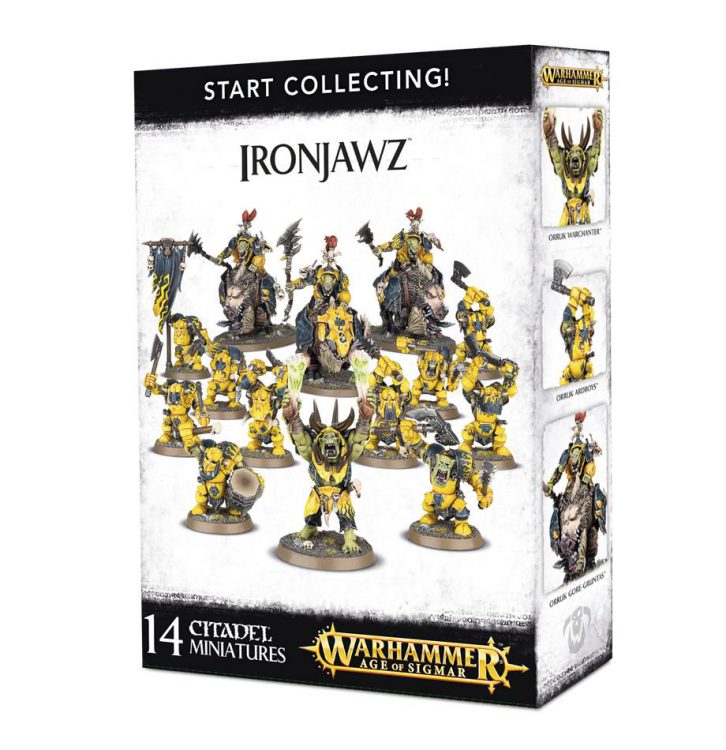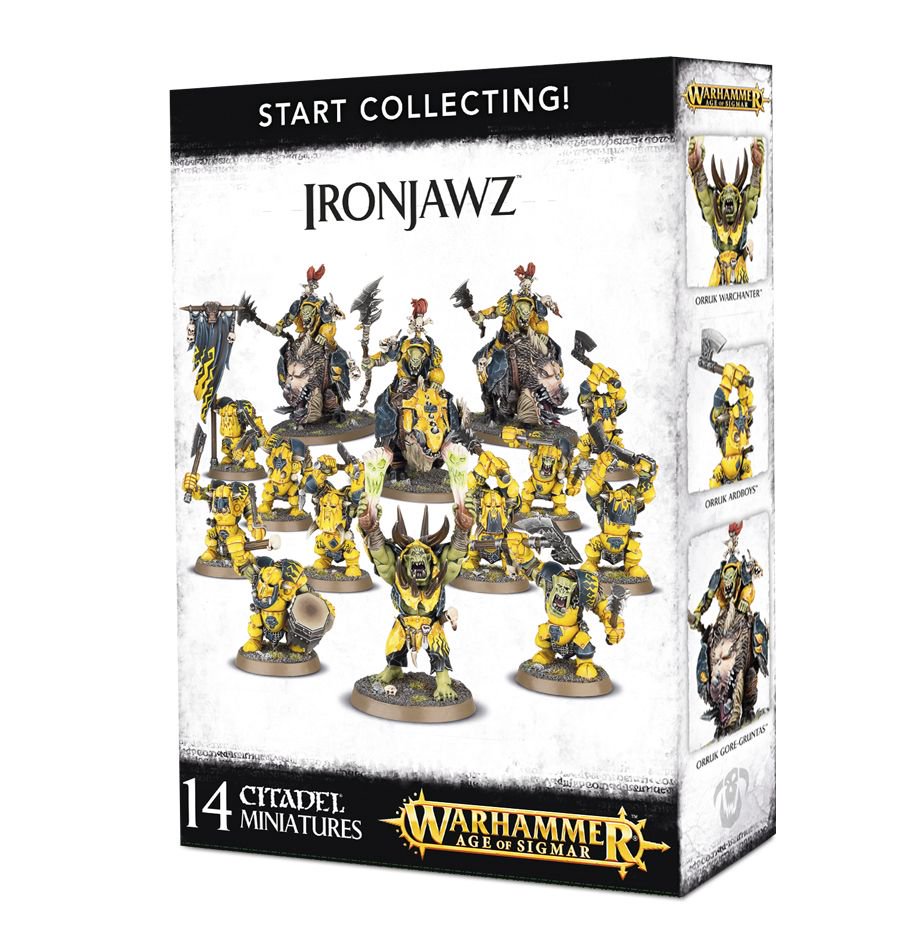 If you want to focus on Bonesplitterz you're unfortunately going to have to collect each unit box by box as there is no Start Collecting for them. Fortunately, their boxes do come with a hefty number of models in one box. If you are able to find one of the old Christmas Battleforce box known as the Thunderfist box, definitely grab them as they are a great deal for a lot of models.
Expanding your Army
So you decided to keep going into the big greens aye?! Well here are some units worth mentioning to add into your collection! And also some notes on the ones you probably already have. Note that if you're electing to play a Giant WAAAGH! list you can absolutely take from either one of these.
Bonesplittaz
Savage Orruks – These are the cheapest and most numerous of all your units. They have the Lowest armor save in the game but there's a lot of them and they get loads of attacks the more there are! This kit can be made into the archer version and also the upgraded version known as the Morboys. It can even make the "Big Stabbas" which is literally 2 orks holding a giant spear the size of a tree and chucking it at enemies. Its pretty rad and also probably the only real high damage unit in the army outside of the Mawkrusha.
Boarboys – Same as the regular savage boys but now they are riding boars! They still have a super low armor save but now they are rocking 3 wounds a pop on top of being faster! They also much like the on foot boys have an upgraded version called Boarboy Maniaks!
Savage Big Boss – This guy is just a Savage ork that's here to kick ass and help his little boys kill stuff better! He has a nice ability that can help his boys fight before the enemy has a chance to strike back. Pretty nice if i do say so my self! His command ability also lets a unit of boys do double the attacks on a 6 to hit. Again, also a pretty helpful ability if you just wanna throw two buckets of dice at your opponent.
Wardokk, Wurrgog Prophet, and and Maniak Weirdnob – All of these are your spell casters that come in 3 flavors. The Wardokk is a shaman that also does 3 special dances you can pick from to buff other orks. Maniak is a mounted caster with a lot more offensive capability, from his+1 to hit and wound on the charge to his spell that turns 6s into 2 hits. Wurrgog is arguably the best of all the shamans though it comes at premium, he gets some nice extra abilities to help your army (such as the ability to generate more CP) and also is tougher with 7 wounds.
Ironjawz
'Ardboys – These are the main infantry of the Ironjaws. Smaller in number then their more common brethren, but they are a lot tougher and have better stats. They actually have good armor, they hit and wound better, and can get insane levels of bravery. They can even take shields to ignore damage on a 6 which is also nice.
Orruk Brutes – Now these guys are the biggest and meanest of the Ironjaws. They have 3 wounds instead of 2 and have a large variety of weapons to use. They also have an ability called "Duff up da big thing!" where they can hit better if they are attacking a single model with 4 or more wounds. So these guys are very useful at killing monsters. One word of warning however, as tempting as it may be, do not make a full army of just these guys. They don't do too well against mass infantry and also have poor bravery. Get mostly 'Ardboys and then have a unit or 2 of these guys. Also because of their low bravery don't have a squad of more than 5 otherwise those bravery tests are gonna sting.
Gore-gruntas – Now these guys are the Brutes but now they are riding giant boars! These things are the toughest unit you got with their 5 wounds a pop and good armor. They are also pretty fast for what they are. The normal boars will still outrun them but these things will take forever to kill. Their only weakness is that their damage is not so great but they make up for it by having a decent number of attacks.
Orruk Megaboss – This is the warboss of all Ironjaws, and oh my is he a big model! Hes also very strong in combat with his 7 wounds, higher than average armor, and 2 damage per swing (before buffs!) axe. He also gains more wounds and attacks if he kills any enemies making him progressively stronger as the fight goes on.
Weirdnob Shaman  – Your Ironjawz wizard. A wizard is basically mandatory in AOS (when possible) and while his signature spell is so-so you dont want to miss out on the buffs that come with your spell lores and the ability to deny your opponent to cast on you.
Warchanter – As said before he's the Cheerleader of the army. He rattles them bones of his about to pump up da Ironjaw boys! Basically he picks a unit of Ironjaws and just gives them a flat +1 damage. That seams small on paper but that is absolutely nuts! Your mob of 10 ard boys or 5 brutes are now gonna do a bare minimum 2 damage a swing when they already have a lot of attacks. And since wounds carry over in Age of Sigmar, those boys become an infantry blender.
The Megaboss on the Mawkrusha, and the big man Gordrakk himself! – Now take the Megaboss from before and now put him on a giant muscle dragon. Thats right you heard me. A. GIANT. MUSCLE. DRAGON. Not some dumb cliche, firebreathing, talking, magical dragon, no! Muscle dragon, complete with gigantic meaty fists the size of minivans. This is the biggest heavy hitter in the entire army, obviously. He even has a nice ability where if he kills all enemies just on his charge alone, he can then charge another target immediately right after. Meaning if you charge the right targets, you could ping pong him all over the board because yes, you can do this more than once in a turn as long as he wipes out his targets on the charge. This box also makes a named variant: the leader and baddest of all with no equal; Gordrakk the Fist of Gork! He is the same as a Megaboss on a Mawkrusha but now even more killy. He has two choppas called Kunnin and Smasha! Kunnin lets you do more damage if you're attacking a wizard and Smasha does more damage to all other non wizard heroes. So he's really good at killing not only a bunch of infantry with his Mawcrusha mount but he's also a reliable character killer. He even gets his awesome command trait "The Voice of Gork!" He can just add one to hit rolls for three units at once. So it's like the Warchanter but he can do it to three units at the same time, pretty cool!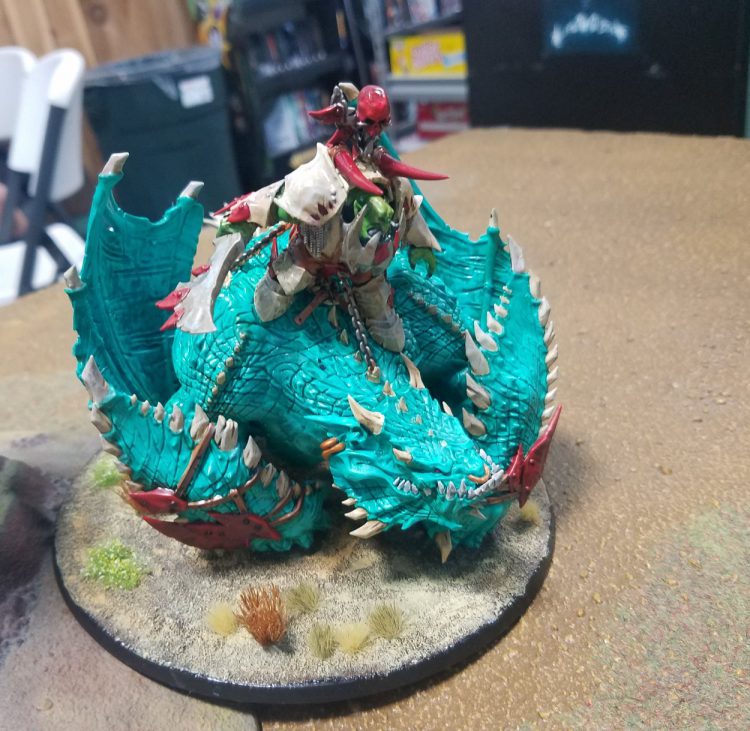 List Building
And now the big finale! Here are some list examples for any new aspiring warbosses! Bear in mind this is based on your average 2000 point list. Also word of warning, at the end of this I will put up a Big Waaagh! List. this list is only recommended if you really plan on investing hard in this faction.
Bonesplittaz
Leaders
Savage Big Boss (General) (100)
Savage Big Boss (100)
Wardokk (80)
Battleline
Savage Orruk Arrowboys x20 (240)
Savage Orruk Arrowboys x20 (240)
Savage Orruk Arrowboys x20 (240)
Savage Orruks x20 (240)
Savage Orruks x20 (240)
Savage Orruks x20(240)
Other
Savage Big Stabbas x2 (100)
Battalion
Kunnin' Rukk (140)
Total Points: 1960/2000
This is for you if you just want to have a massive swarm of models. The Kunnin' Rukk will allow you to move or shoot 1 unit during the hero phase, effectively giving them 2 move and shoot phases. This can be very useful if you want to just darken the sky with arrows because Arrowboys already have 2 attacks with their bow and as long as they stay over 15 boys they get another shot. Or you can just use it to make your combat squads get up the field faster. Savage Orruks remain your bread and butter and hold the line against enemies trying to get at your soft belly ranged troops. The big Stabbas were mostly added to give the army a bit more hitting power, and to make use of leftover points
Ironjawz List
Leaders
Orruk Megaboss (General) (150)
Orruk Warchanter (110)
Orruk Warchanter (110)
Orruk Weirdnob Shaman (110)
Battleline
Orruk Ardboys x10 (180)
Orruk Ardboys x10 (180)
Orruk Ardboys x10 (180)
Orruk Ardboys x10 (180)
Orruk Brutes x5 (140)

(with Jagged gore hackas, Gorechoppa, and Boss with smasha and claw)

Orruk Brutes x5 (140)

(with Jagged gore hackas, Gorechoppa, and Boss with smasha and claw)

Orruk Gore-gruntas x3 (160)
Orruk Gore-gruntas x3 (160)
Battalion
Total Points: 1960/2000
This one makes use of the Start Collecting box and is also a pretty decent list to boot. Your 'Ardboyz will hold the line, the Brutes will provide some nice offensive killing power (especially after being buffed by the Warchanters), and the Gore-gruntas will provide the speed! Now in this battalion, you can pick any squad leader of your Battleline squads to be a "Big boss" if you do they get 2 extra wounds and once in your hero phase the big boss can use the "Mighty Destroyers" special rule without using a command point! This allows a unit in combat to fight again or make a unit that's not in combat move or charge immediately. This means you can give a unit a lot of mobility or the ability fight twice as the situation demands, and it's free! Just make sure that big boss does not die or is close to a unit where he can make use of it. I would probably say put it on either a brute or gore grunta boss cause then they will be very hard to kill.
Big WAAAGH! list
Leaders
Orruk Megaboss (General) (150)
Orruk Savage Big boss (100)
Orruk Warchanter (110)
Orruk Weirdnob Shaman (110)
Wardokk (80)
Battleline
Savage Orruk Arrowboys x30 (360)
Savage Orruks x30 (300)
Orruk Ardboys x10 (180)
Orruk Ardboys x10 (180)
Orruk Gore-gruntas x3 (160)
Savage Boarboyz x10 (180)
Total Points: 1990/2000
Skip the battalion this time, since they can be expensive and Big Waaagh already gives you an enormous amount of buffs. Be warned, Big Waaagh is only recommended if you plan on really investing hard into Orruk Warclans as this can get expensive from a cost perspective. This is a list where you can take basically the best of both worlds: You have the massive numbers of Bonesplittaz, you got quality troops of Ironjawz, and you get the buffs from the heroes of both tribes. You will be drowning in massive amounts of abilities already with the Waaagh points and it can be a bit hard to keep track of them for a new player, but with some practice you'll get it.
Anyway that's about it! Now get your choppas ya big green killin' machine cause its time for a right and propa WWWWAAAAAAGGGGGHHH!!!!!!
Tell us about your WAAAGH! adventures, email us at contact@goonhammer.com or on social media!