Time comes for us all.
In this case, it is demonstrated by the fact that I have been painting historicals off and on in the last couple of years, a pastime clearly only reserved for the oldest of our hobby. Woe is me. I guess I am staring down the barrel of being thirty in a few months, so it was clearly going to happen at some point, but this feels too soon to be picking up things that Greg should doing at his ripe old age of forty. Although he is starting to show interest in model trains and ships, so I guess he is pivoting to dad hobbies leaving more space for others to take up that mantle.
My particular old person vice has been a small WWII British force that is being built up with Victrix's twelve-millimeter range, you might have seen their occasional appearances in our Hobby Roundups. I've mostly been painting their vehicles as armor has always held an interest to me, probably as a side effect of playing World of Tanks in high school, and I had ordered the entire British range in one go a while ago as a result.
Well, what had been the entire range, this was closer to two years ago at this point and we've seen some more stuff slip its way into Victrix's offerings in recent times. One of which is the subject I've been meandering towards for the last couple of paragraphs, Victrix recently released the Loyd Carrier and 6pdr and they were kind enough to send us a preview copy of the kit!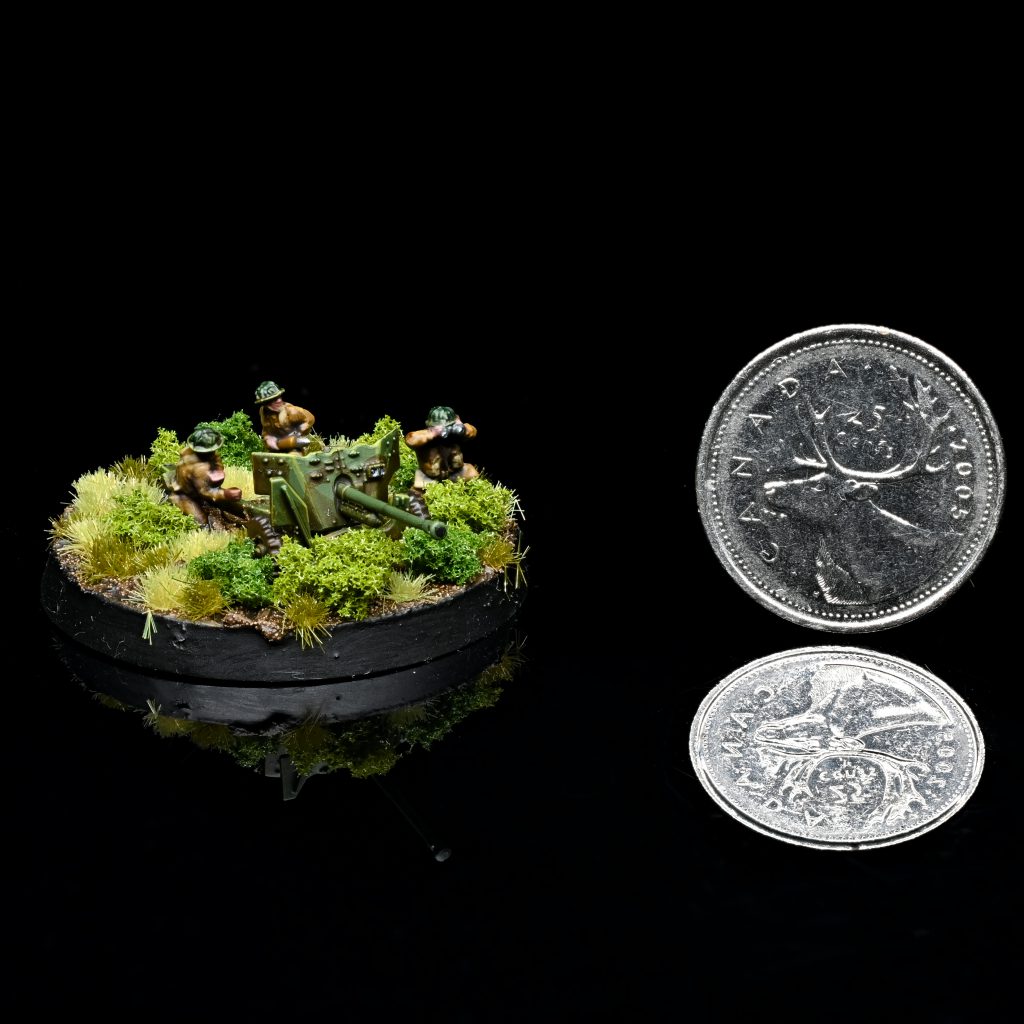 Starting with the sprue you will find this is a bit of a hybrid of how Victrix usually breaks down their models, usually their vehicles come in packs of three sprues with two models each whereas infantry kits are made up of a combination of a few different sprues to get the full force organization. Here though they have elected to have a sprue with the carrier on one side and the gun plus crew on the other, in theory, the two sides could be separated similarly to how some of the Leviathan sprues got separated in 40k's recent launch box as the pieces aren't spread amongst the two halves. This makes for a more interesting set than one of just guns or carriers but does mean you might end up with a bunch of extra models if you really want a ton of just the gun/carrier, I could see this coming up if you were using them to haul infantry rather then guns for example.
Lenoon's editor note: The sprue layout also frees the Loyd carrier up for other variants – perhaps the dedicated troop carrier version, or to produce sets for the 2lb gun or 4.2 inch mortar on the other "side" of the sprue.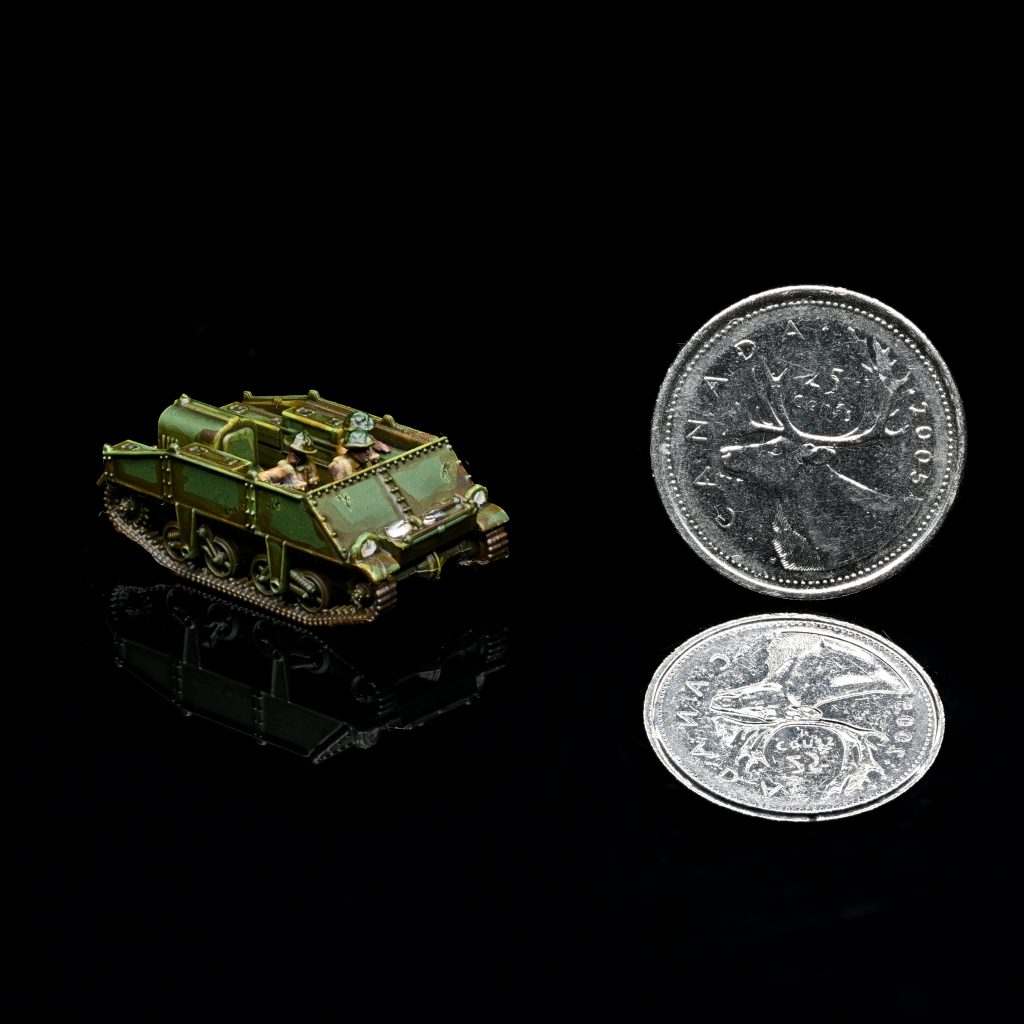 Once you get the pieces off the sprue everything is simple to get together, this is good given the instructions that Victrix gives tend to be like GW's from the turn of the century, simple diagrams with pieces rendered without a final shot to show how they should be once assembled.  I tend to make use of their painted pictures to figure out when a gap is my fault or intended, and they are particularly helpful for the optional pieces or alt assemblies. I wouldn't say this is a major issue given that Victrix usually strikes a decent balance of part count to detail in their vehicles, which minimizes any risk of assembly going wrong and they've kept to that here.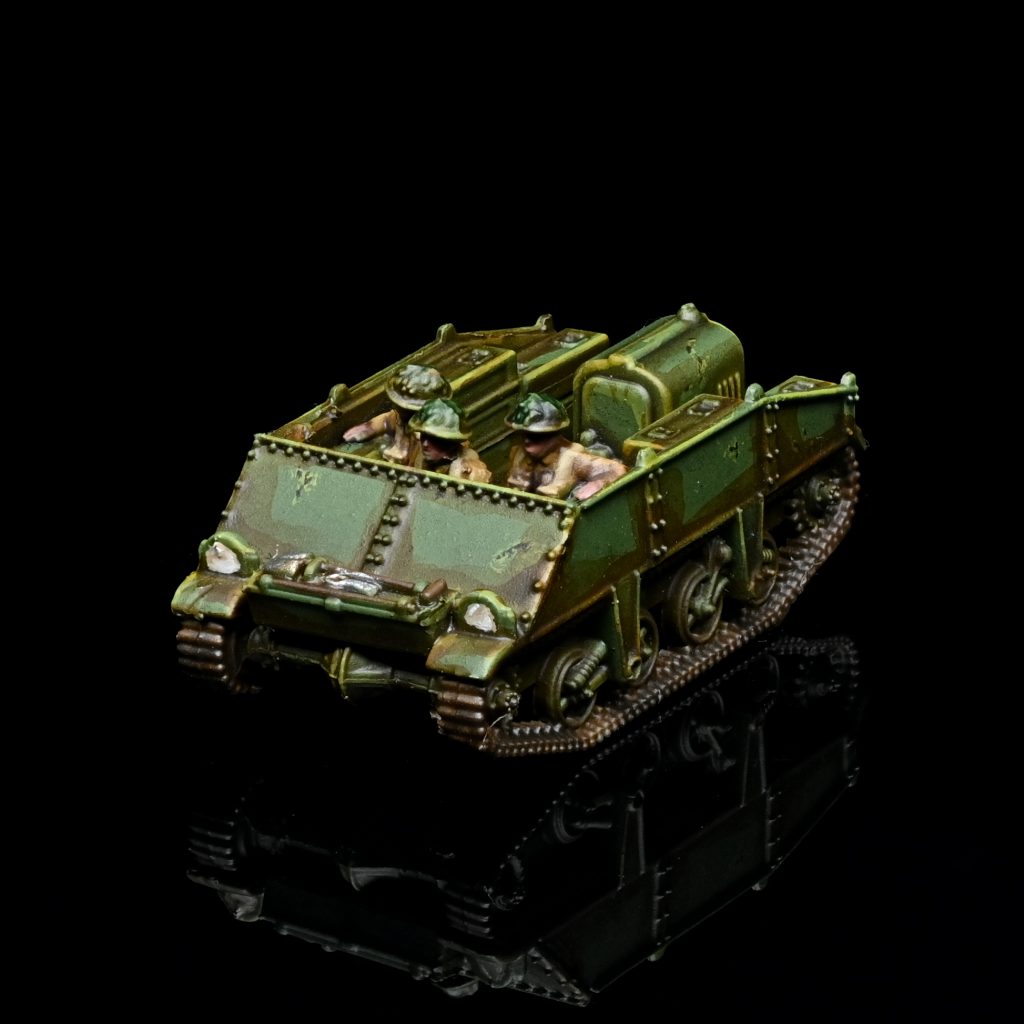 Beyond the minimum of getting stuff onto the table, Victrix has included a decent number of ways to differentiate each of your carriers and crews with various extra bits or options. The vehicles get two front panels and a handful of different pieces of stowage, with fuel tanks, ammo boxes, a fabric cover, and some boxes for the hardware choices. The only piece that will significantly change the visual profile here is the cloth cover, everything else is relatively small but that is probably appropriate to the historical vehicle. You also get a handful of crew options beyond the driver, a couple of dudes that are just hanging out along with a trio of infantry riders that can sit on the seats in the back.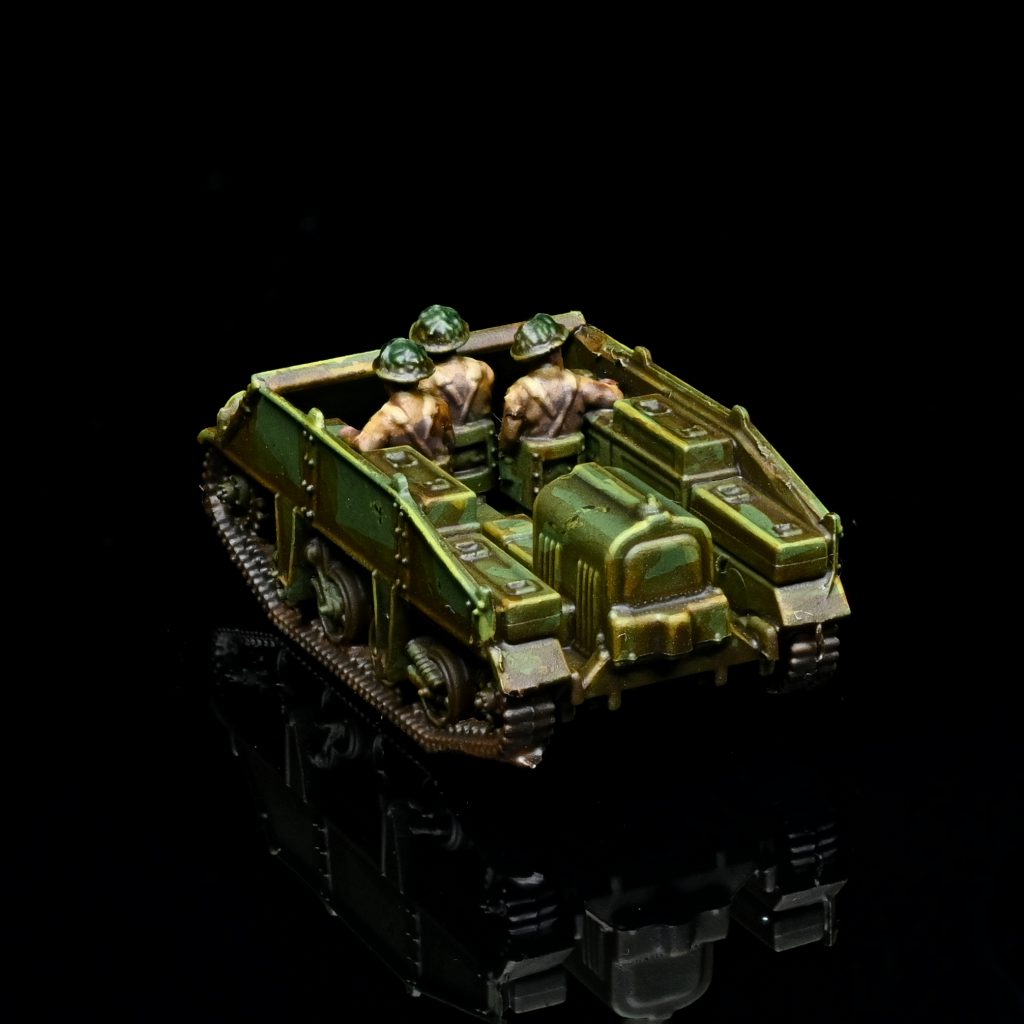 The 6pdr itself only has the choice between being towed or set up, and the crew options are only okay. You get a choice of airborne or basic infantry guys, where each has loader(s), a gunner, and a commander. You get a few extras that go with either crew, a pile of shell casings, and some ammo crates. This means that you are probably going to see some repetition amongst your crews, but you can probably leave a few of the distinct options aside or take some suitable models from the infantry kit. I will also make a minor comment that the crew have camo netting helmets unlike the existing infantry, which might dig at you from the inconsistency point of view.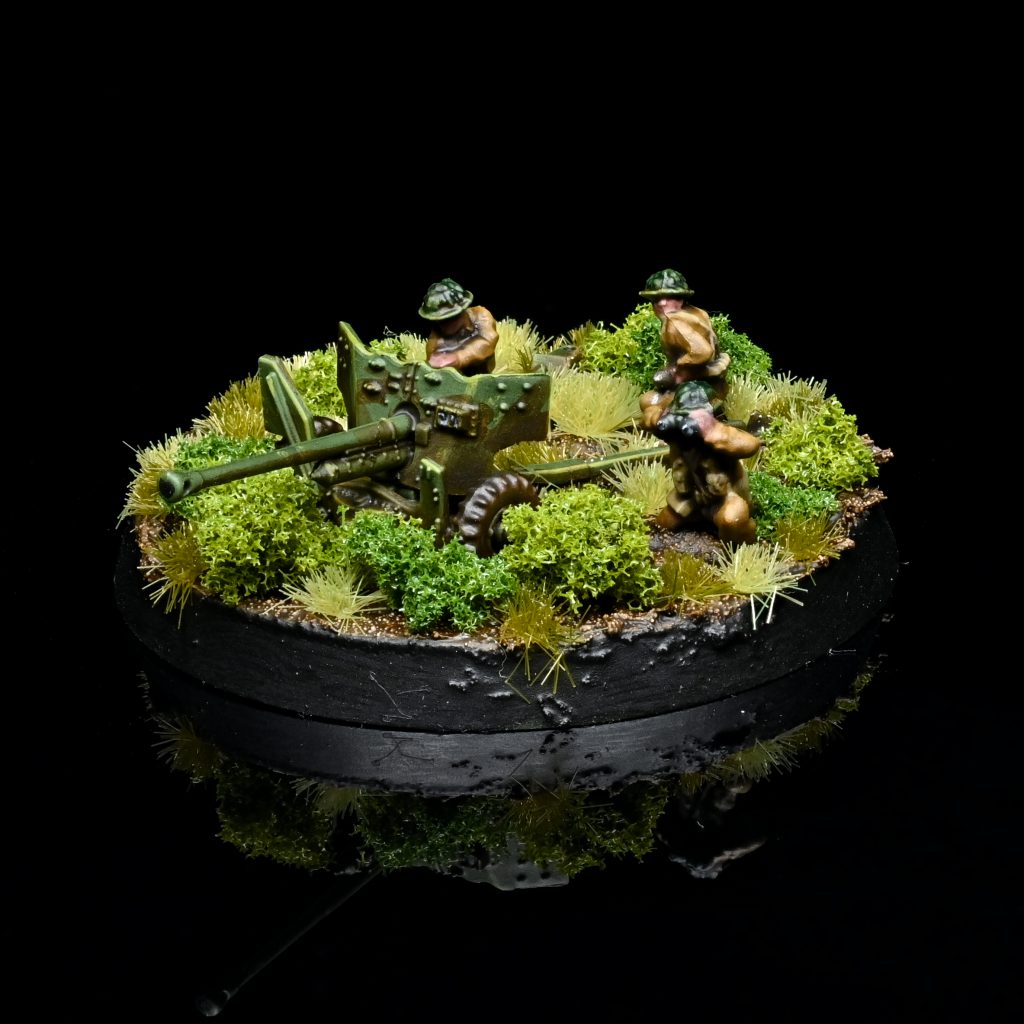 From the perspective of a painter, brush accessibility is good, and the models are detailed enough to facilitate simple or advanced techniques.  These are twelve-millimeter models so expect to either be spending a lot of time on a per-model basis or just accept you won't be doing every detail, and I am inclined towards the latter. If you want to maximize access to the details that Victrix have provided it should be simple enough to sub-assemble, the people are all single piece and would slot into place without fuss once painted. It's worth making a small digression on the point of single-piece infantry, these 12mm guys probably beat out a solid chunk of multi-part 28mm models with their excellent details and poses, it's genuinely impressive what they've managed to do with these, and their other human models.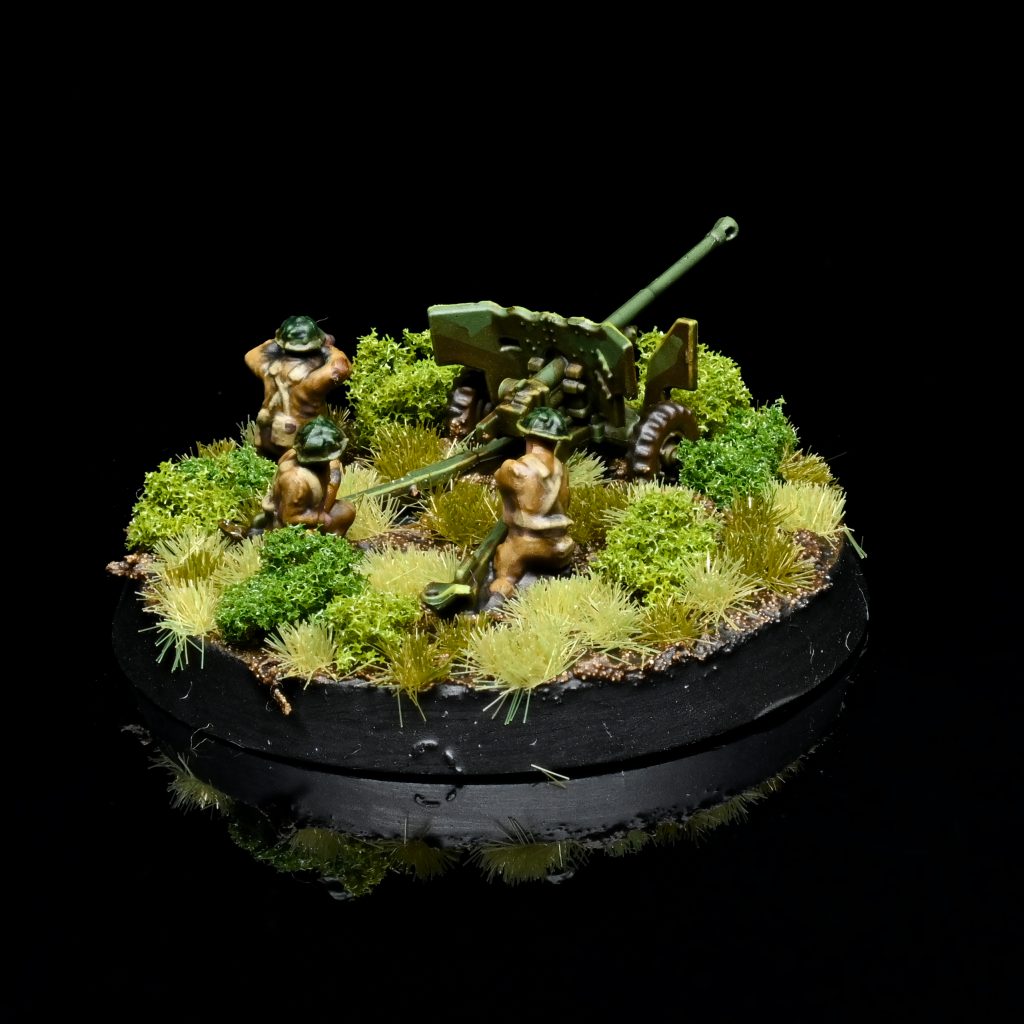 I think it's hard to have genuine complaints as to the quality of the models, every detail is crisp, they go together well and there is no drama to expect in painting.  This makes for a pretty easy-to-recommend kit from the perspective of a painter, but I will admit that I am not particularly knowledgeable about WWII. I needed to check the painted models on their website to differentiate the airborne from regular infantry when I was building the gun. In turn, this means that I am not going to be able to tell you if there are historical accuracy issues here, but they also don't look particularly far off from what a quick Google search will present.
As always, you can pick these up from Victrix, and look out for more coverage of their 12mm range.
Questions, comments, suggestions? Building up your own preposterously large Victrix 12mm force? Let us know! contact@goonhammer.com or leave a comment below.