Dark Fantastic Mills was incredibly kind and provided the Super Heavy Crawler for review.
There's a million people out there making cool models for a myriad of games systems these days. A couple years ago, I had chance to work with Imperial Terrain on their train model. Dark Fantastic Mills is a 3D designer, modeler, and printer – based out of the UK – making a wide range of kits across fantasy and SciFi genres. As one of Go On Hammer's resident Necromunda-perverts, their Firebase range has been on my radar.
Near the end of 2022, I finally got my shit together and ordered the Mk1 Land Crawler. It's four large tracked motor sections and massive cargo platform give me Star War Sand Crawler vibes that I'm extremely here for. And then the Royal Mail got hacked. While I waited for that to be sorted out, I reached out about reviewing the new Super Heavy Crawler. Dark Fantastic Mills was excited about it, so, once the Royal Mail unscrewed itself, these massive hunks of 3D printed goodness crossed the pond and showed up on my porch.
Details and Assembly
The Super Heavy Crawler comes in fourteen (14) pieces. Apologies here for not taking a picture of the all the parts laid out. Everything goes together intuitively, with the tracks marked for which side they go on. I assembled the main body completely, including walkways, and left the tracks off for painting.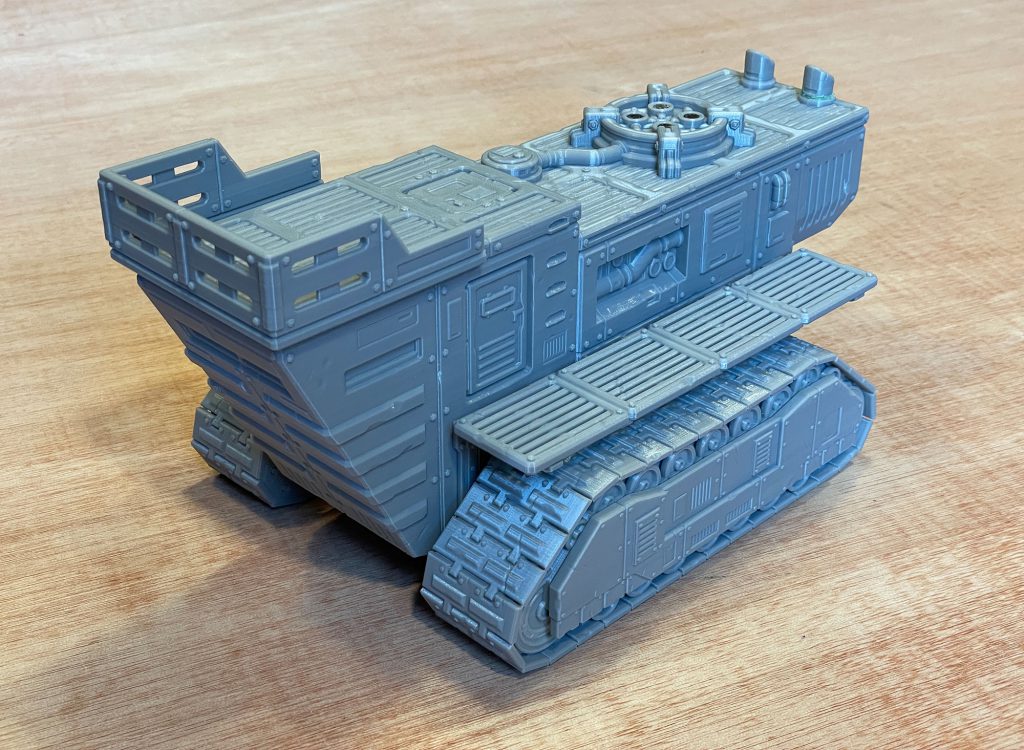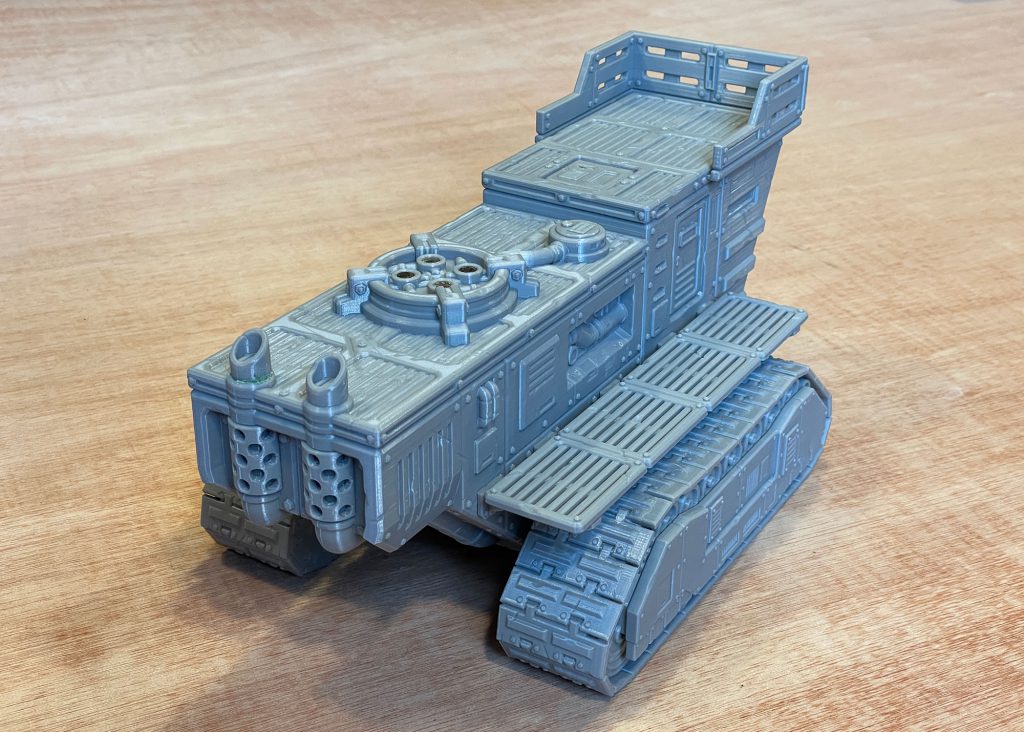 The Mk1 Land Crawler comes in eleven (11) pieces. The hardest part of this kit is getting the deck glued together and flat. I had a little trouble with that and some trouble with getting the track mounts to adhere to the platform. I forgot that PLA isn't the easiest to glue together with super glue, but with some patience, they stuck together. I ended up having to chop the track mounts a little to get all four track sections to lay flat on the ground. Minor thing due to my construction, but an area to take care with.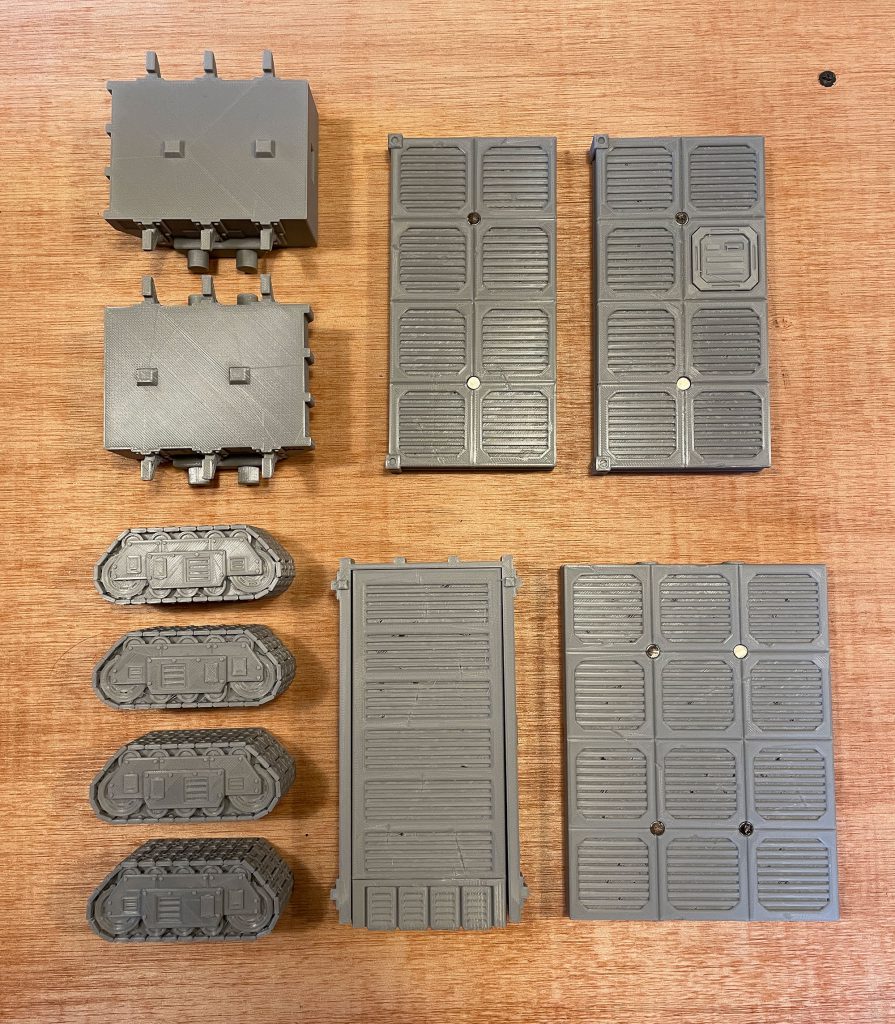 I'm always a little hesitant with 3D printed stuff and especially with PLA printed stuff. The previously mentioned train needed a fair amount of sanding work to get it to the point where it was ready to prime and paint. These two kits were quite good, still having some visible print lines, but nothing that warranted me getting the sand paper out. There was a little clean up to do, but these were basically ready for priming after assembly.
One very cool thing with these, is that they come with rare earth magnets preinstalled into the decking and other places for attachment of things. The Mk1 Land Crawler has a slot that it's ramp sits in and attaches to the magnets when you slide it out.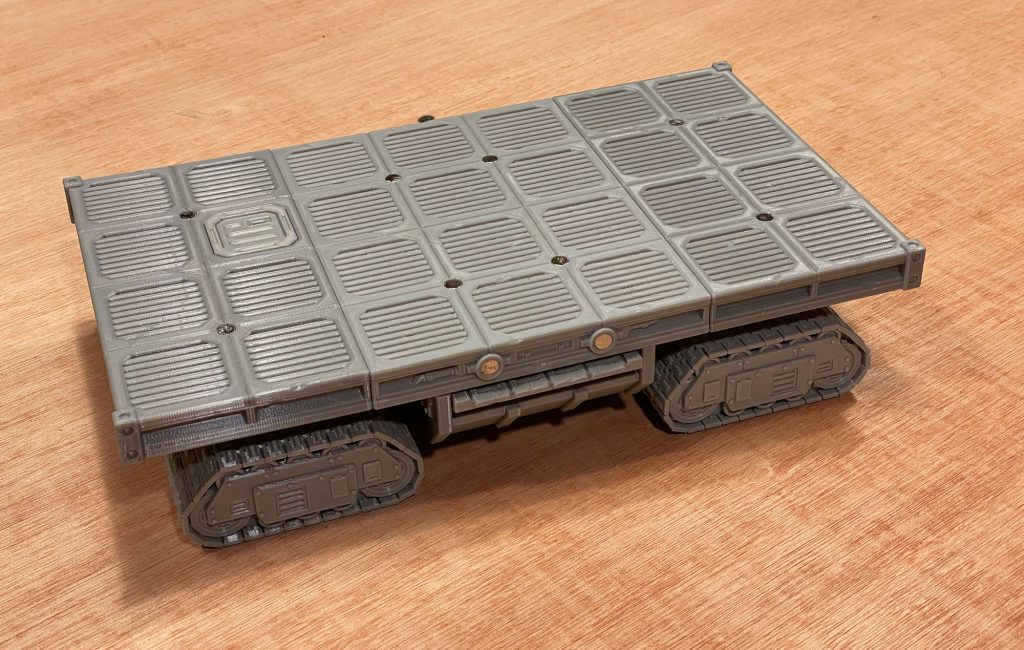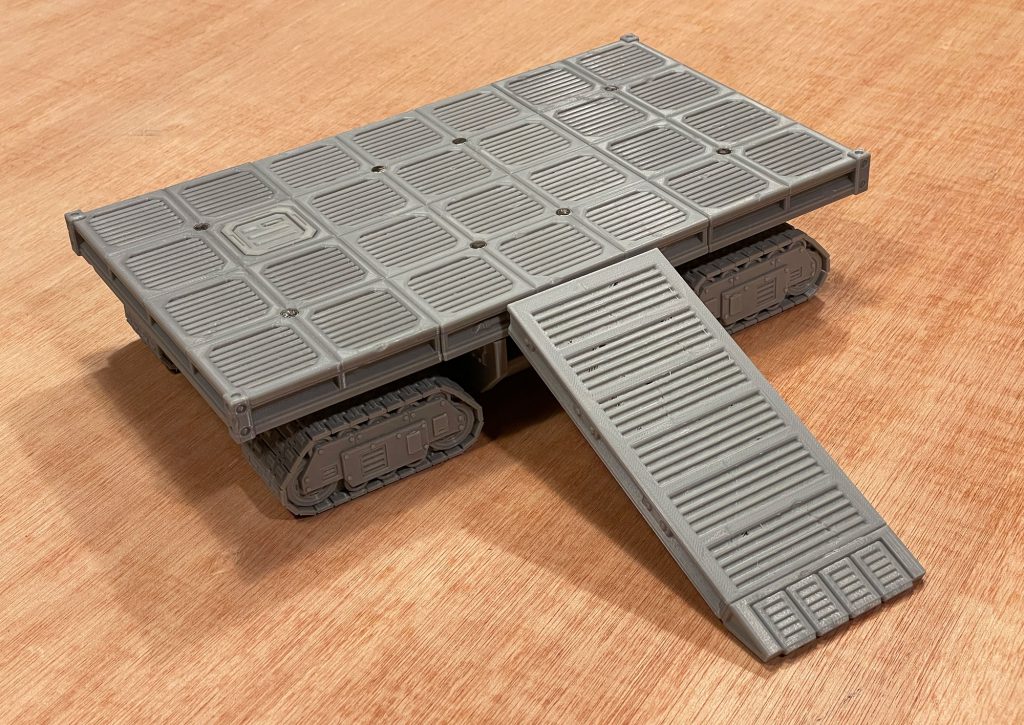 Size-wise these things are BIG. For use in games they might be a stretch to use as a Cargo-8, but could easily be used for custom vehicles or as terrain. I can totally see a pair of gangs fighting on and around these two machines, whether as abandoned equipment in the wastes or an around an Adeptus Mechanicus excavation site.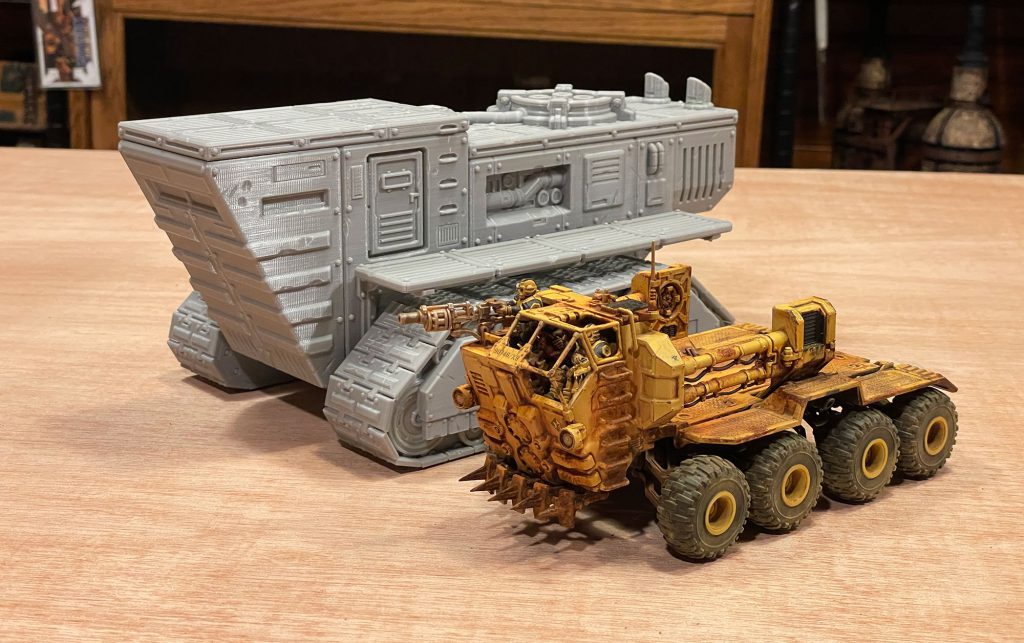 Painting and thoughts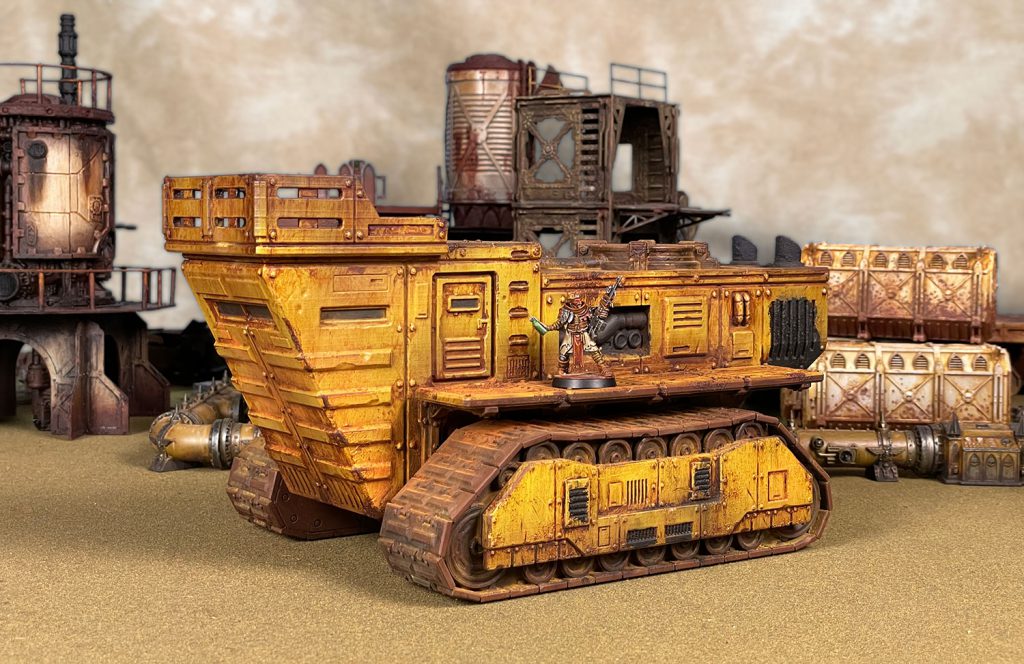 I used my usual Rustoleum Ruddy Primer, which is pretty high-build, that covered over most of the print lines. I used Army Painter Daemonic yellow spray, oil weathering and weathering powders, which is the same process I used on my Cargo-8 Trailer.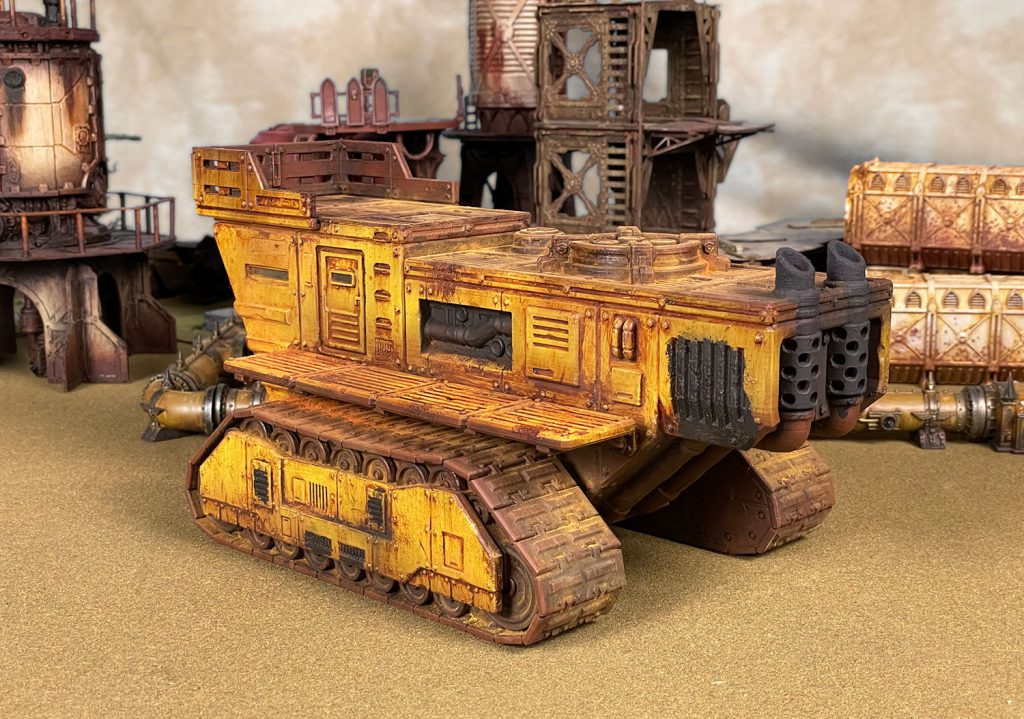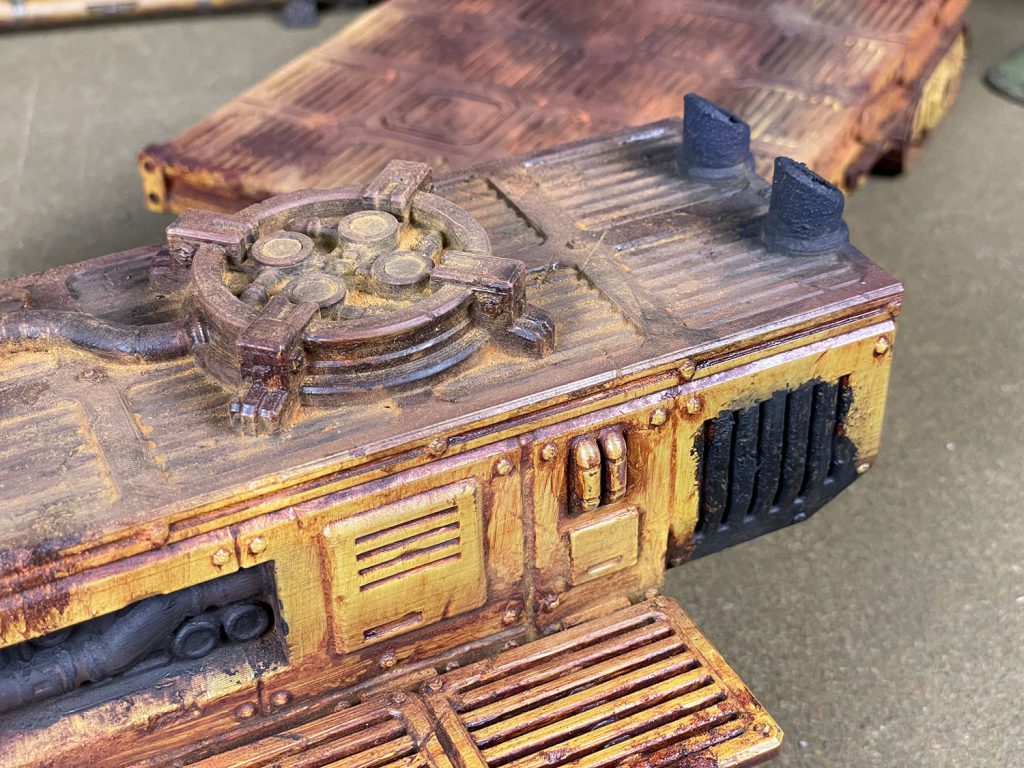 I love these things. I think these were designed with the Star Wars universe in mind but they fit perfectly for the Ash Wastes. I see myself using them more as terrain, stationary or otherwise, with large areas for gangers to fight across.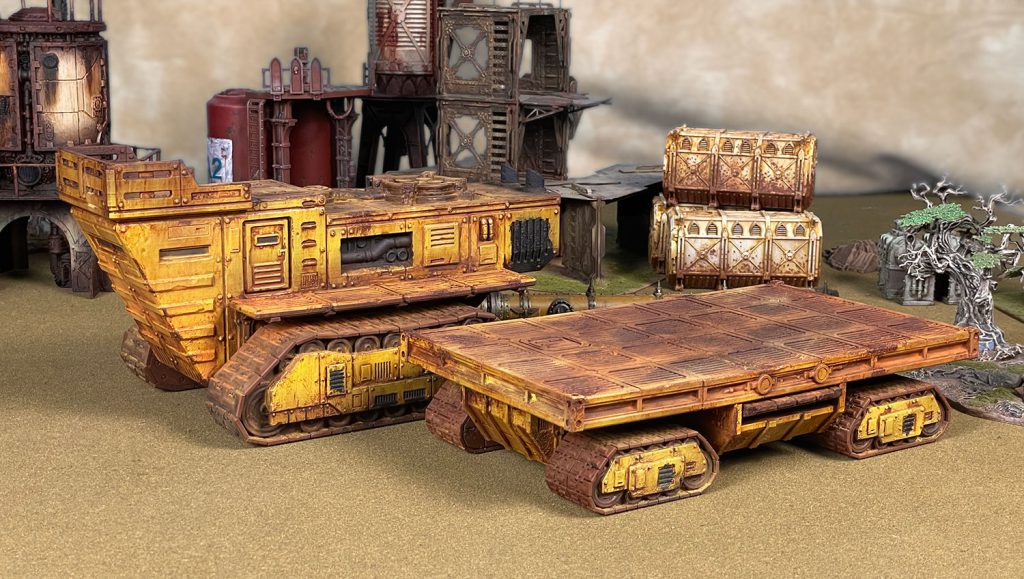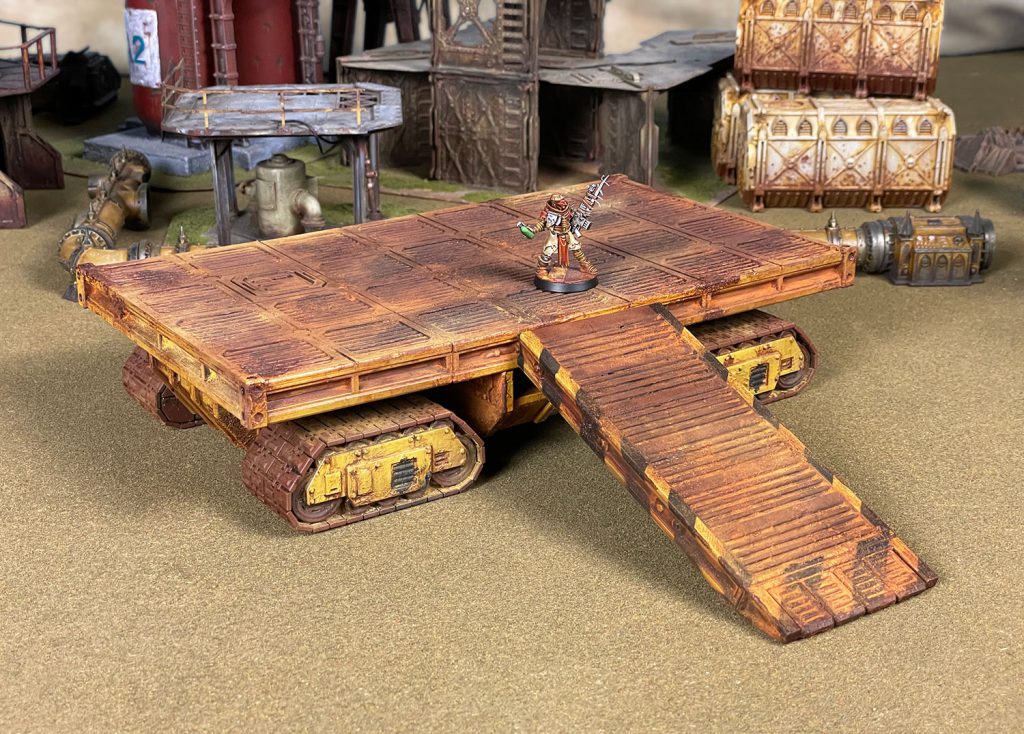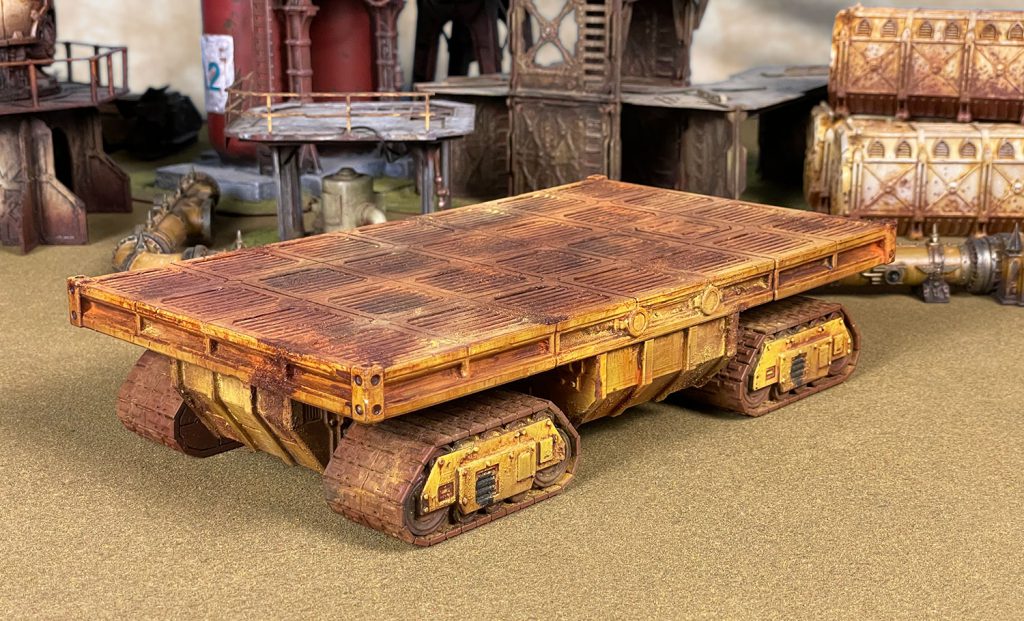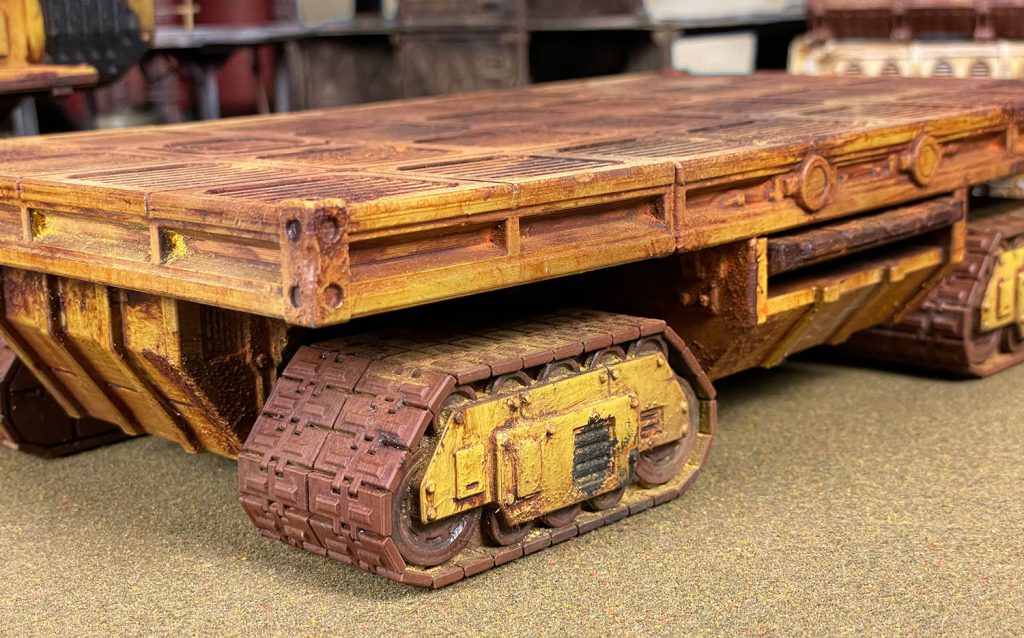 And that's it, massive thanks to Dark Fantastic Mills for sending the Super Heavy Crawler and their patience in waiting for me to review it.
Thanks for reading, scummers! If you have any questions for us, want to suggest a future article, or just want to show us pictures of your kickass gangs, drop us a line over at Necromunday@Goonhammer.com.