This one's a little late but November was a big month for our hobby crew!
Primaris Kevin
I finished up my Repulsor Executioner and feel really good about how the model turned out, no matter how much the unit sucks. The biggest challenge was figuring out how to get the purple to cooperate, and I want to give Dan Boyd credit for helping me figure out a recipe that worked over such a large surface. What worked best was a base coat of a 1:6 mixture of VMA Silver to Liquitex Ink! Dioxazine Purple, a silver edge highlight, and then a glaze of a 1:1 mixture of the Liquitex Purple and water. The satin finish is actually Rust-Oleum Matte Varnish (which is definitely not matte) and then the bone is hit with Testor's Dullcote after masking the purple.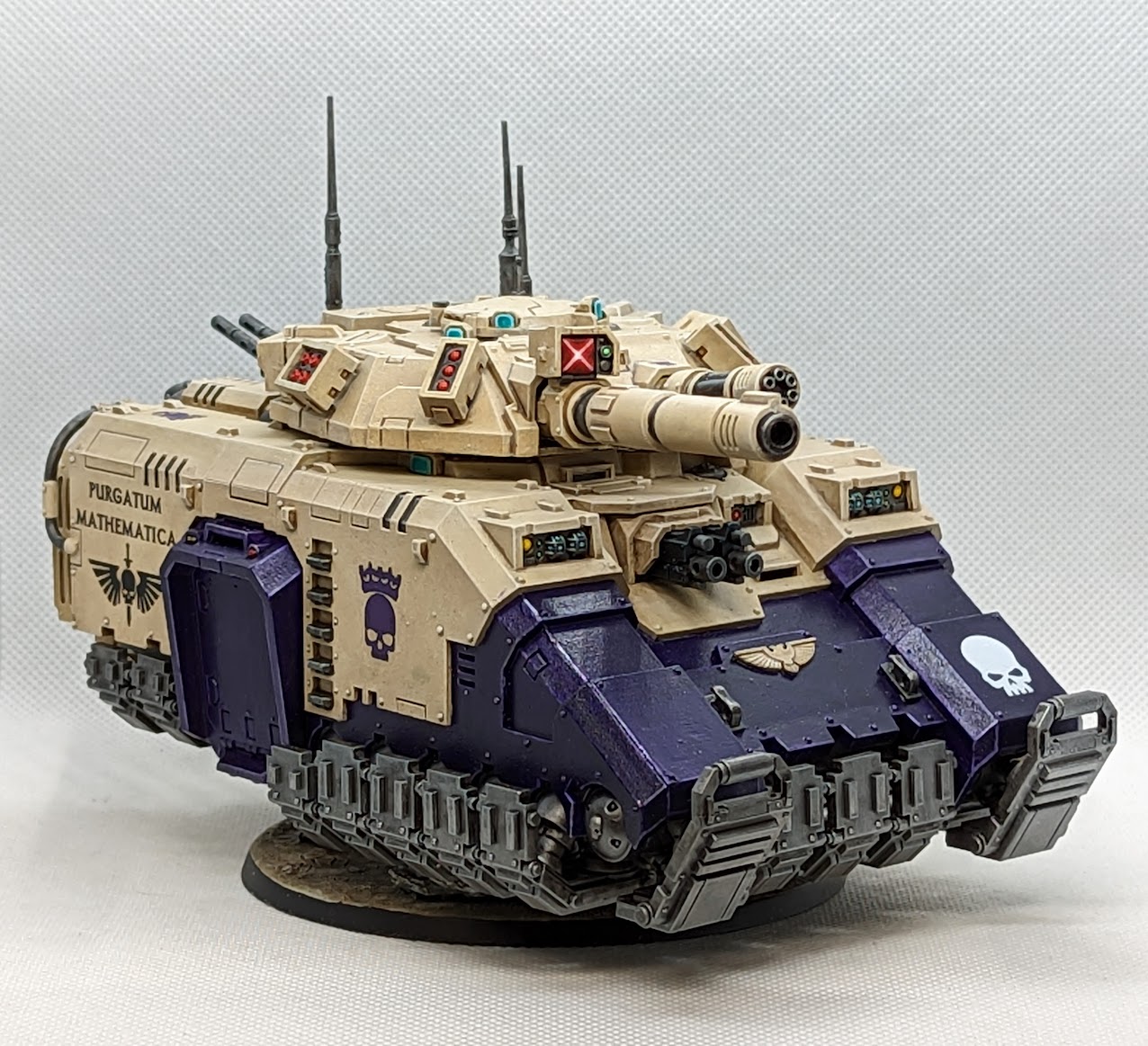 I also put painted an Escher Cutter that I painted for my daughter as part of our preview article. Using a variety of Contrast paints made it go fast, although the one thing I regret is that the skin ended up being a bit too blue. She looks more like an Avatar cosplayer than a reanimated corpse, but my daughter is happy and that's what really matters. I played with it a little bit after these shots but it's still a work in progress.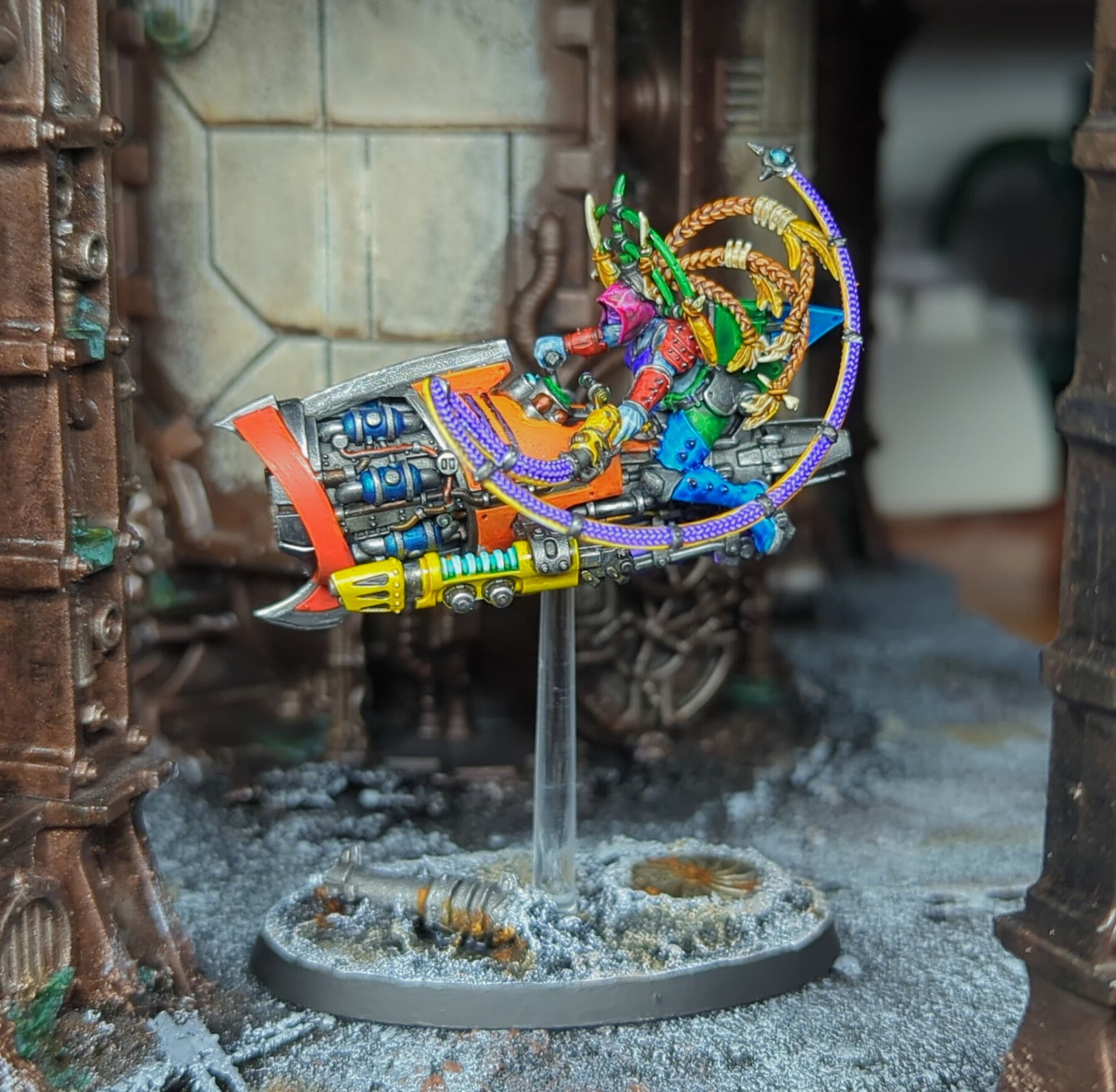 At the same time that I did that I also worked on a version of the Death Maiden who would be on foot. Kitbashing the shock whip into a laspistol was a challenge but I think the end result worked out well. I also did my best to match the clothing to that of the biker.
I also had an immense amount of fun putting together a Secret Santa gift for one of the 40k Discords. I took the Adeptus Mechanicus logo, used Inkscape to vectorize and clean the image up, and then used the resulting file to make a 3D model using Fusion 360. From there I printed it on my Prusa Mk3S+ with layer stops so that I could change the color at different transition points. When stacked together you get result below, with some Rub n' Buff used on the metallic section to really make it pop.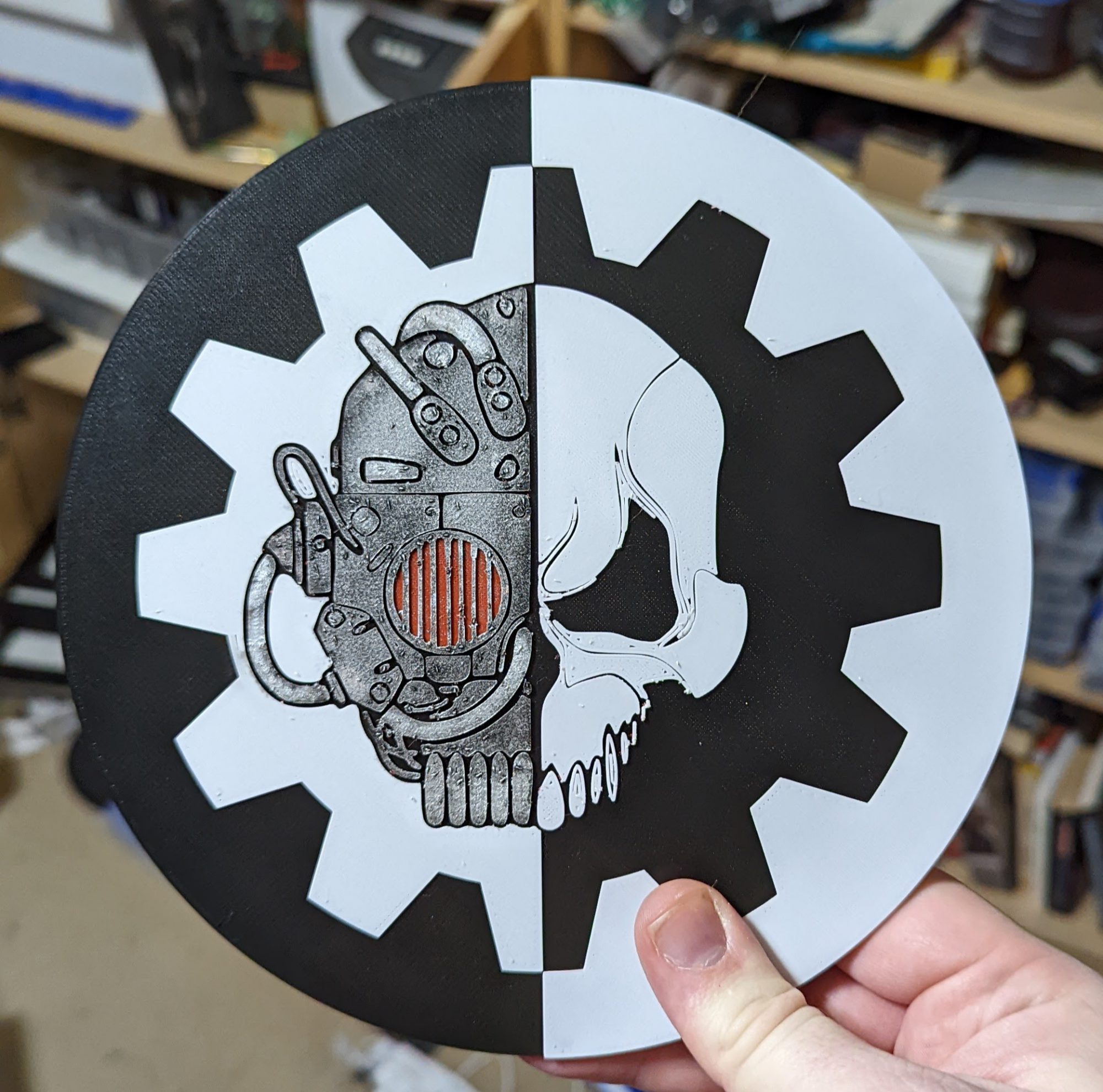 That same method also worked really well on an even bigger challenge; taking the picture my daughter drew of the sign she wanted and converting it into an actual sign. The process for this is the same; take a picture, convert it to vector format, reference that in CAD, print it with different layers. Cleaning up the text was more of a challenge, but I think the end result turned out great.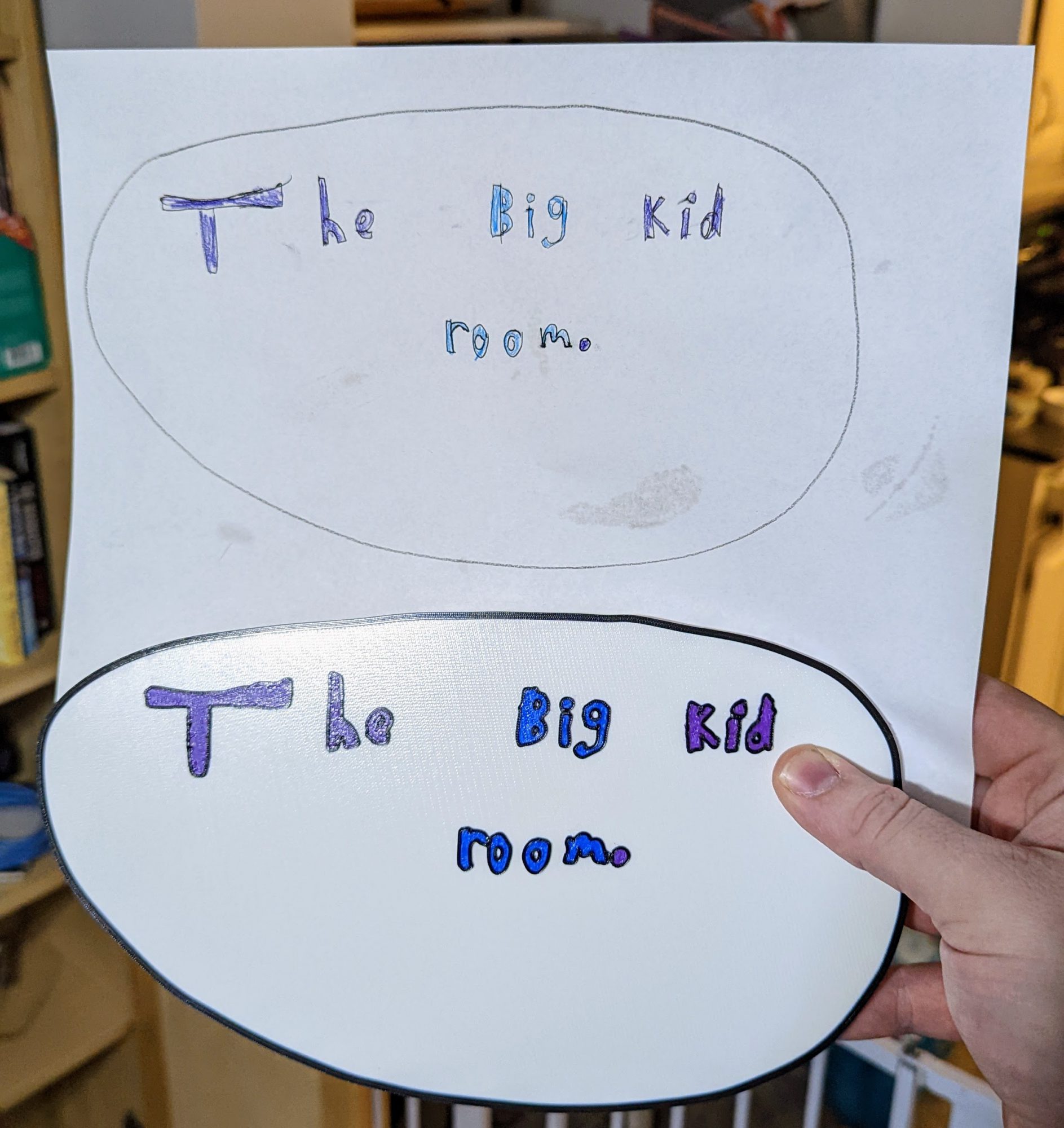 SRM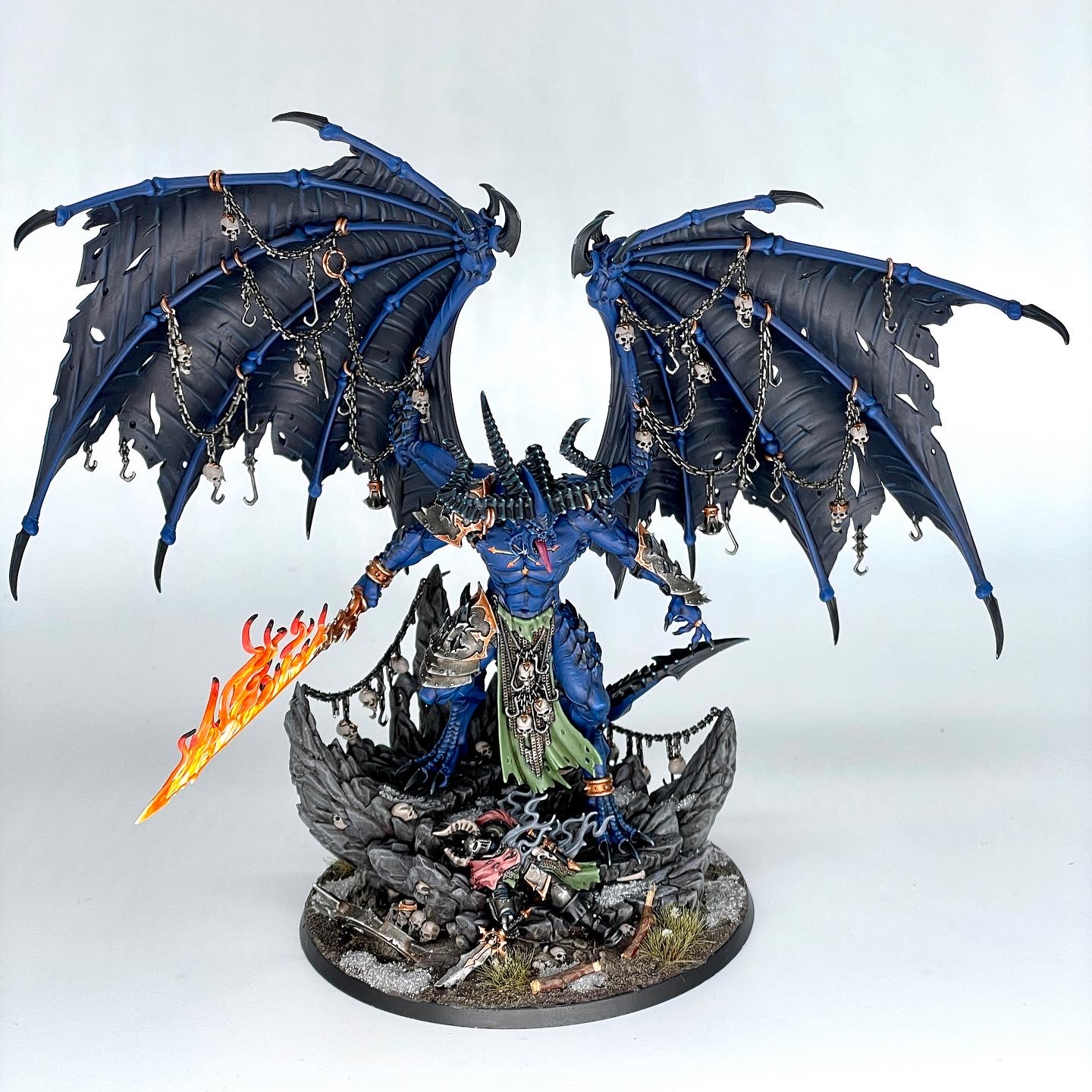 As I mentioned last month, this one was going to be a spiky one! I ended October working on Be'lakor, and wrapped him up early this month. I was thrilled to bits with how his skin came out, and the flames proved a real challenge. Fortunately, the Citadel Master Class on the Avatar had a pretty easy to grasp tutorial on painting big flaming swords, and it made the whole process much smoother.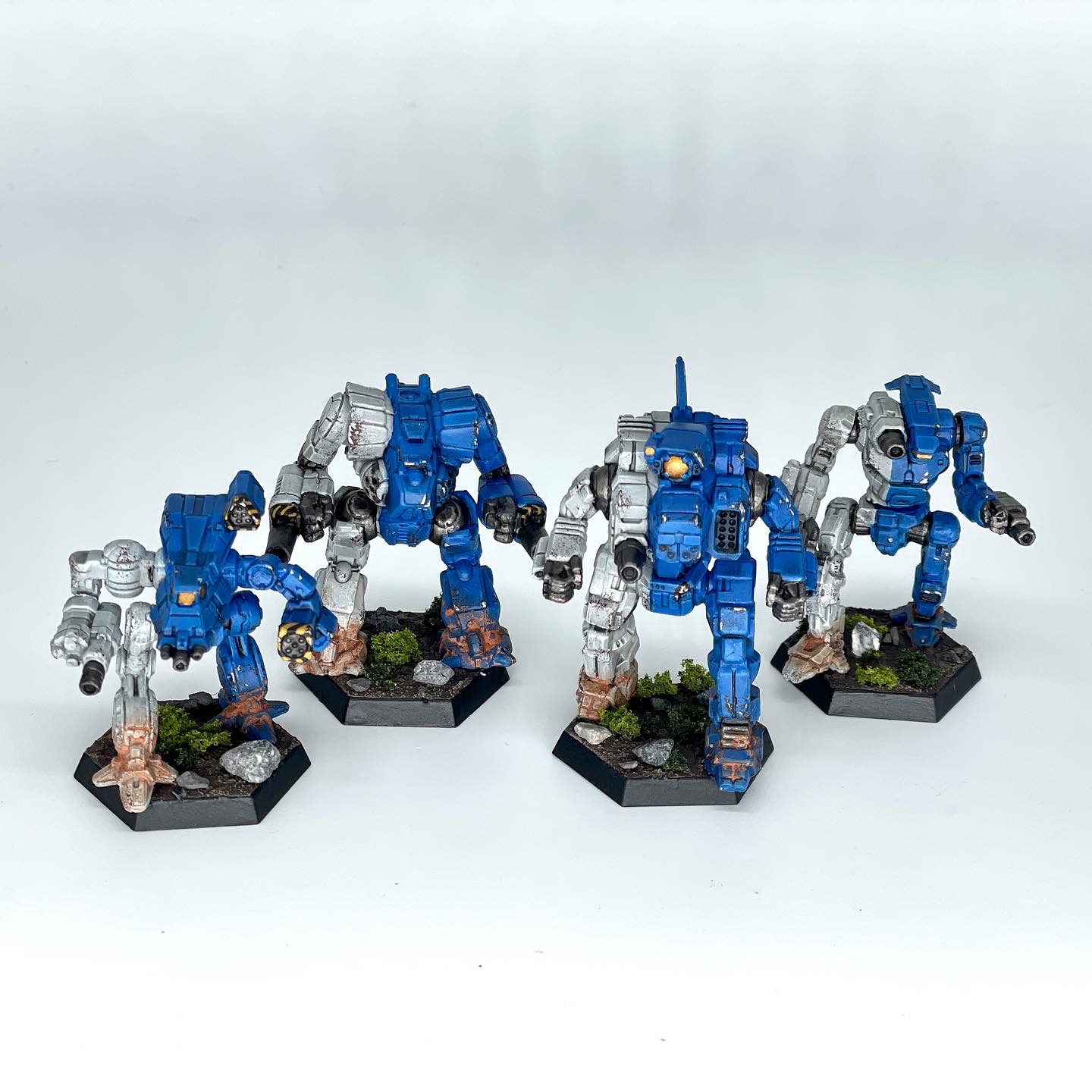 Naturally, I followed up this giant jerk with something quick and easy in the form of a few Battlemechs. I was still figuring out how to do weathering on their feet at this point, but I think I get a good technique down on my next batch. These clankers are so fun to paint up, and serve as a wonderful palate cleanser between huge centerpiece models. Speaking of…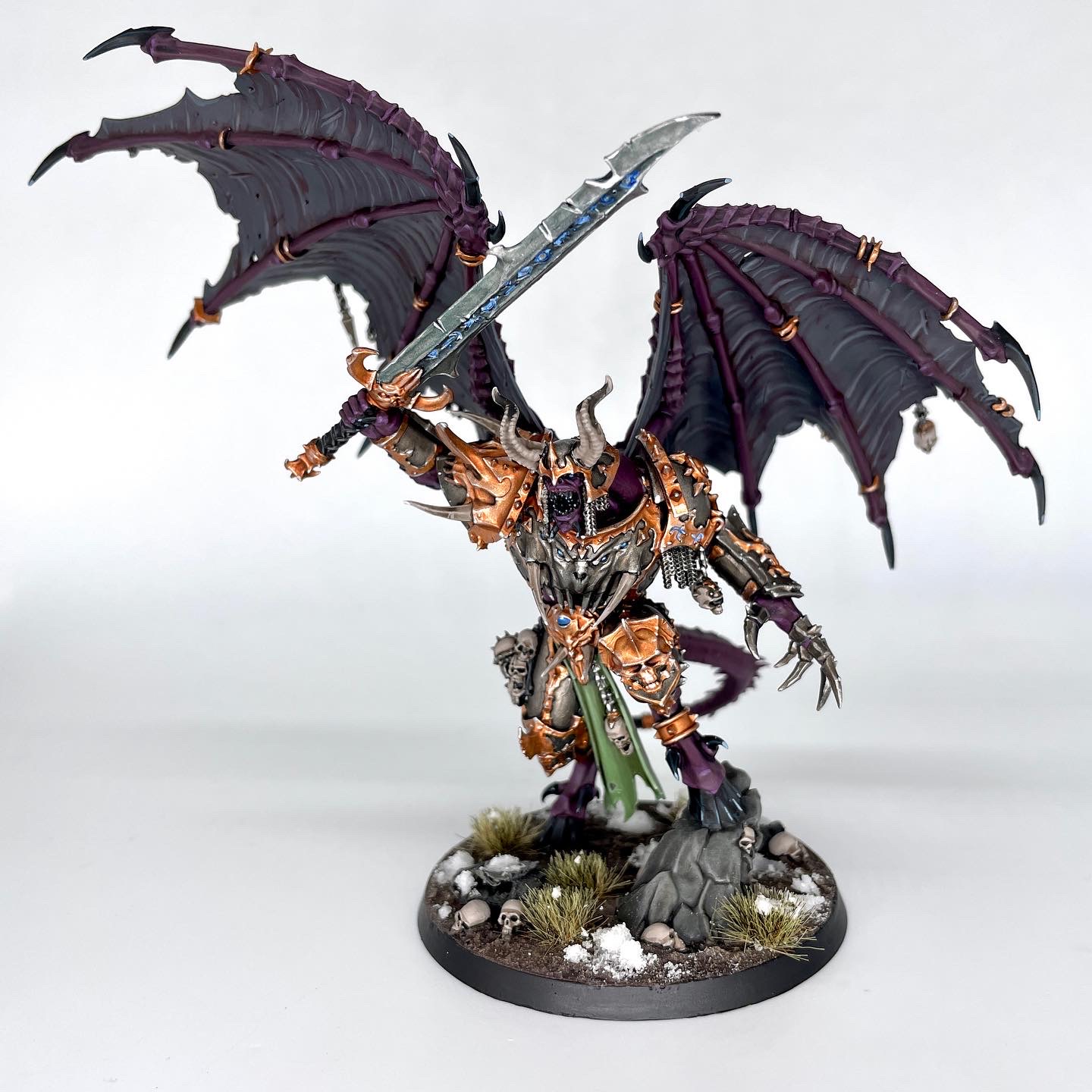 It was my pleasure to review the new Daemon Prince in the new Slaves to Darkness army box. I've got more from that box to review and I built the whole thing already, so keep your eyes peeled in the future. For the most part he was a pretty easygoing beastie compared to Be'lakor, and in a lot of ways just felt like a scaled down version of the big blue meanie. These are my first big centerpiece models for Age of Sigmar, and I think I'm starting to see the appeal of models like them.
After that it was off to New Mexico for the US Open, a cursed venture that gave me 5 good games, 3 days of good hangs, 1 case of Covid, 1 potentially totaled car, and at least 40 hours of combined travel time. You can read my whole breakdown of that trip if you want to find out more and see pictures of all my great games. As for December: expect more mechs, more Chaos, and more eclectic malarkey from my backlog!
Dylon
November saw the completion of a project that I started back in September for none other than Dan Badcast himself. Dan assembled all his Necromunda terrain over the summer and shipped it to me at the end of August. I hit the ground running, stealing as much time as I could early in the fall to maximize the good weather. Countless rattle cans, tubes of oil paints and pots of acrylics later I was able to deliver a shed-load of terrain.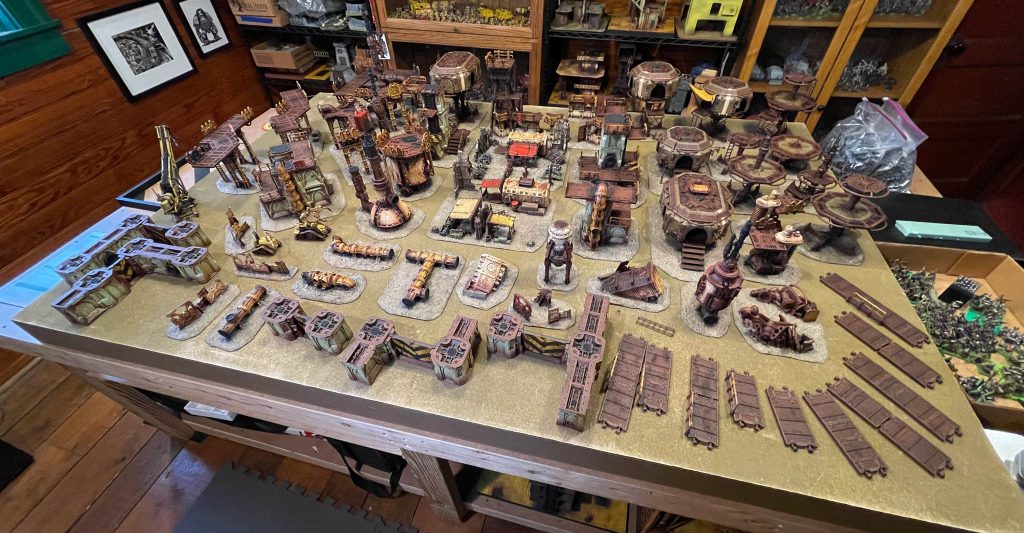 I painted it all up in the same method outlined in the HTPE: Sector Mechanicus article. I was much more deliberate with this stuff, using masking tape to separate out colors and save me time with touch ups.
While working on that stuff, I also had time to work on a few previews for Goonhammer. The Cargo 8 trailer with Promethium tanks and an Escher Cutter.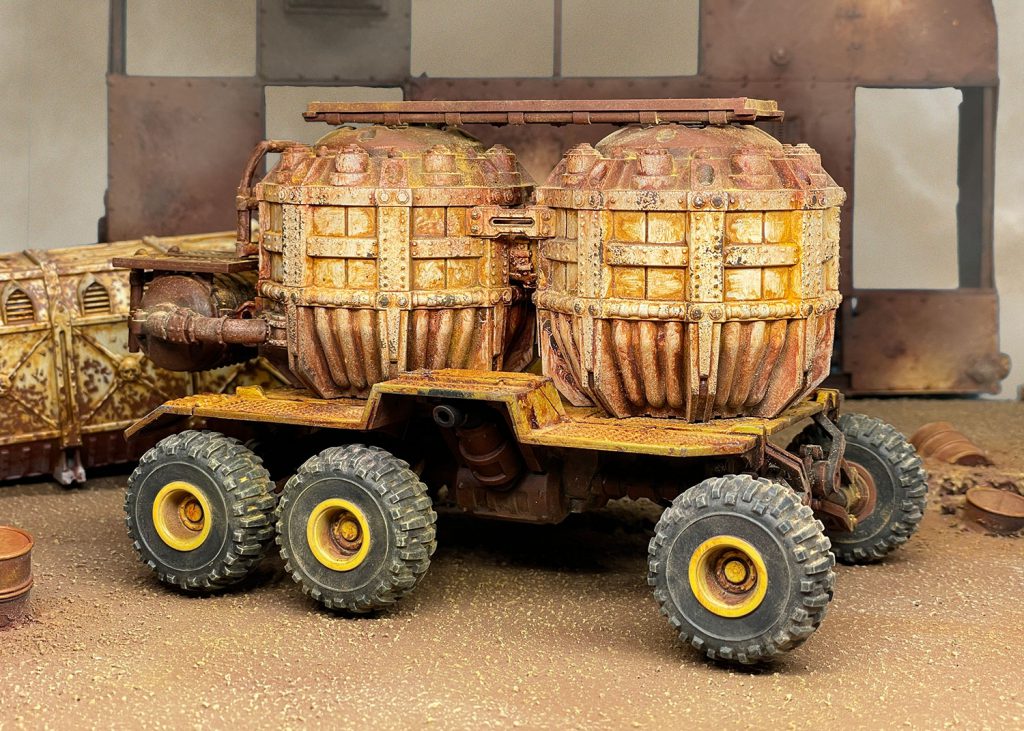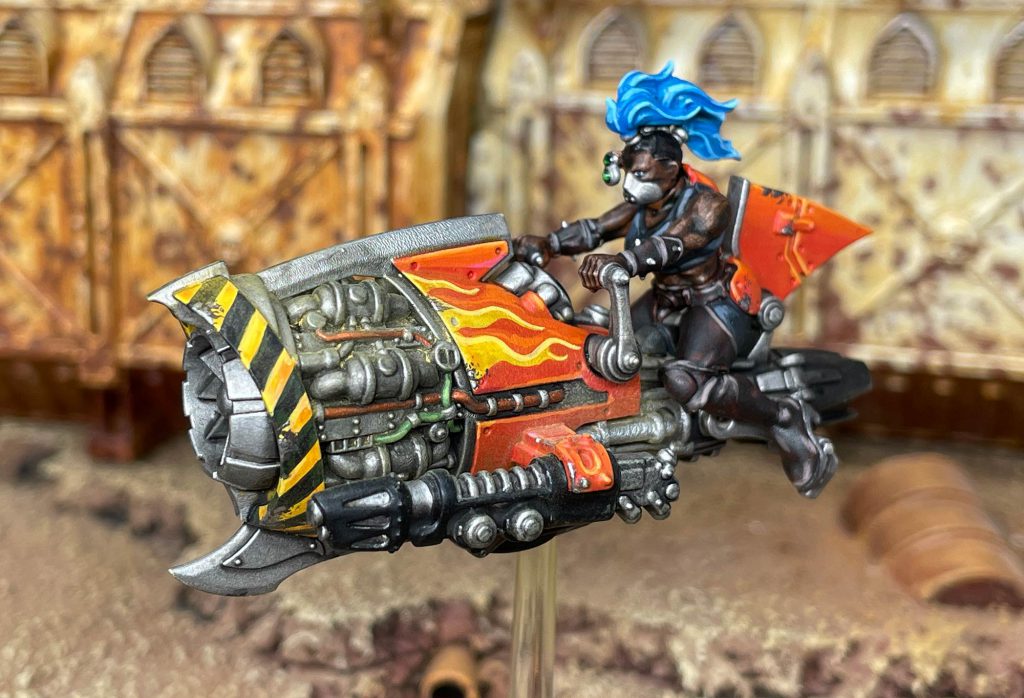 And then I also managed to paint up a whole host of battlemechs.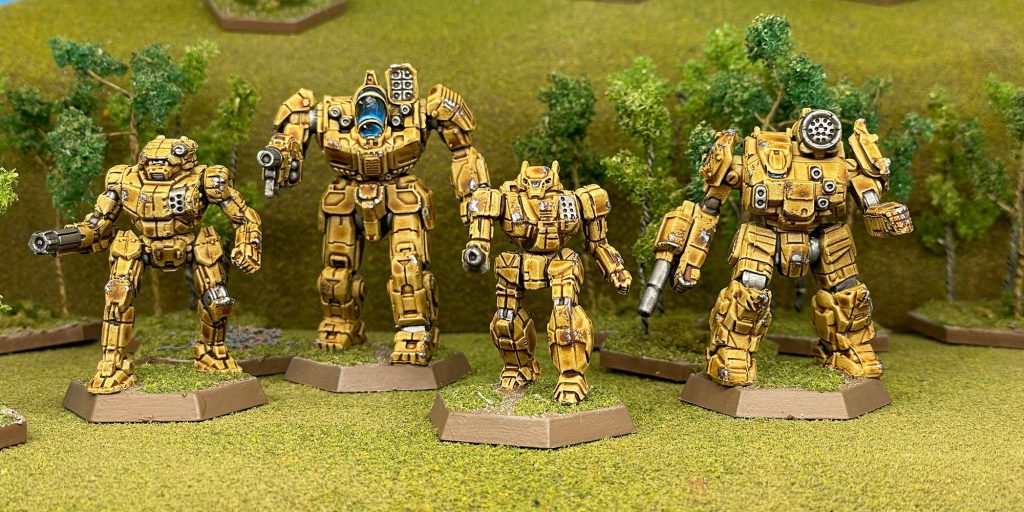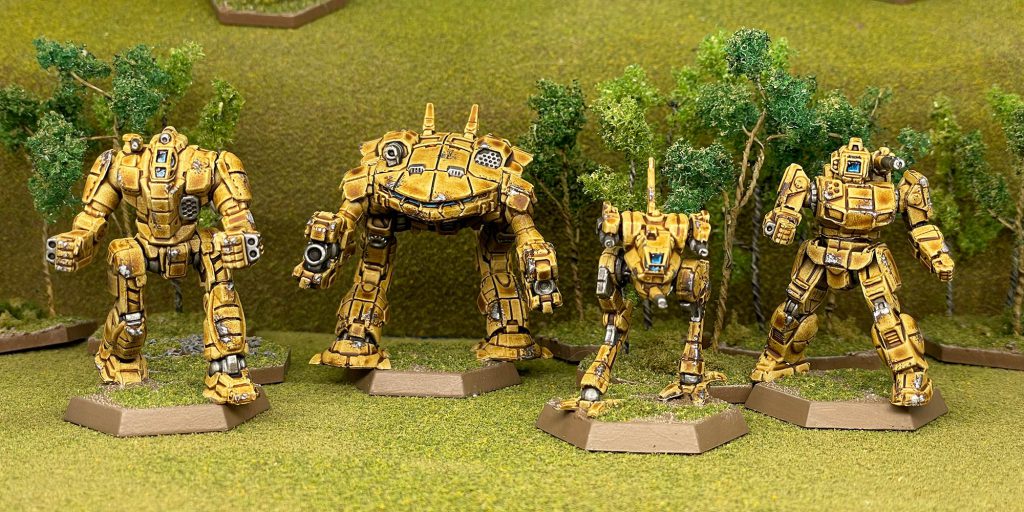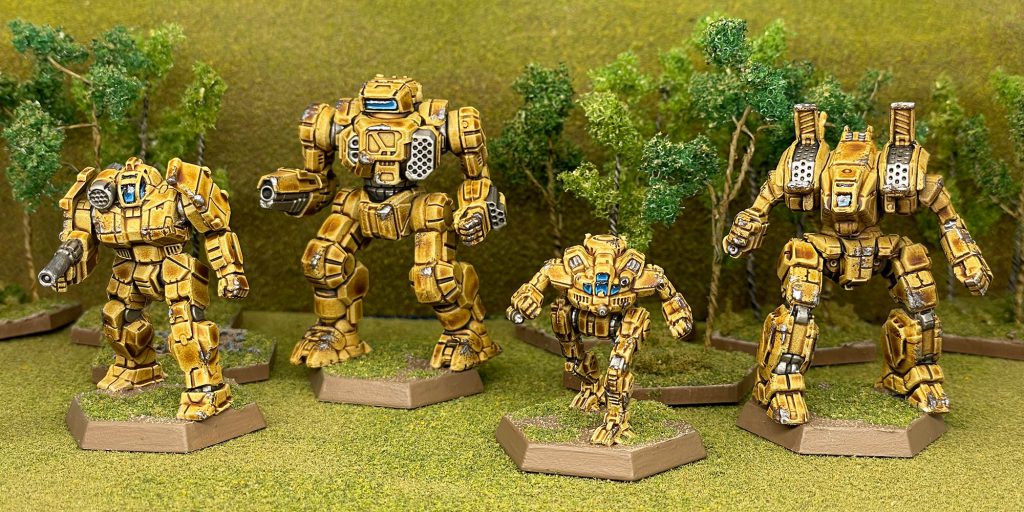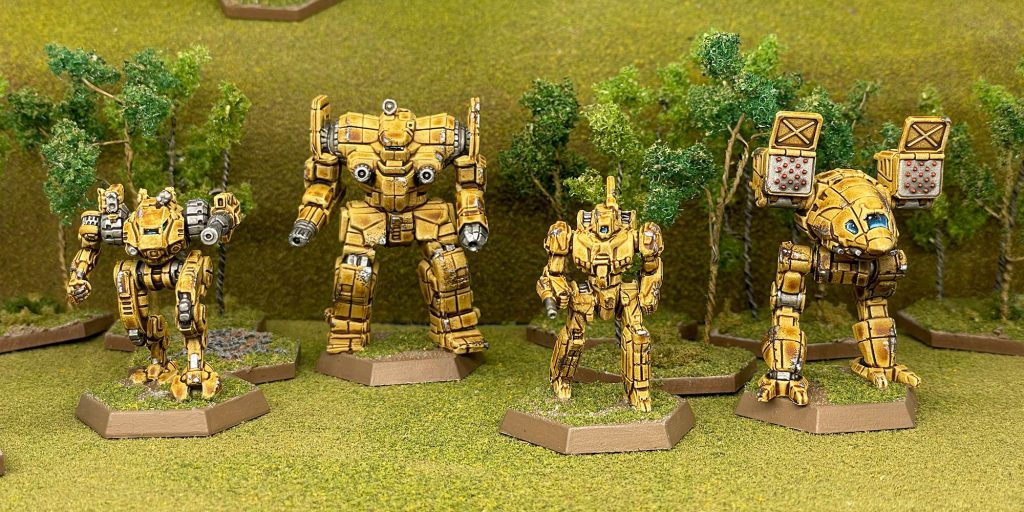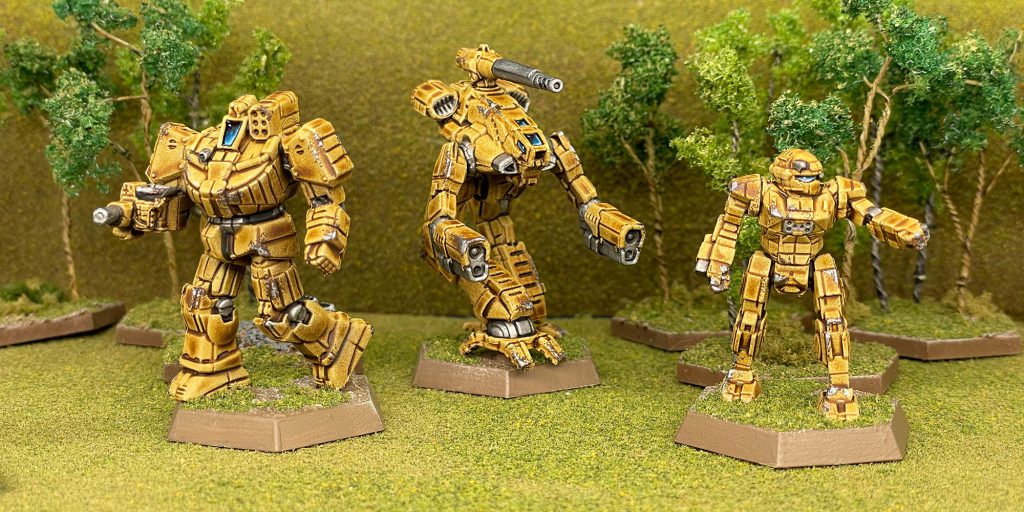 And related to Battletech, I created a test for hills. Years ago, I bought a box of carving foam and dug it out. It's super soft and easy to work with and after a coat of artist's acrylic paint, it firms up and doesn't weigh much.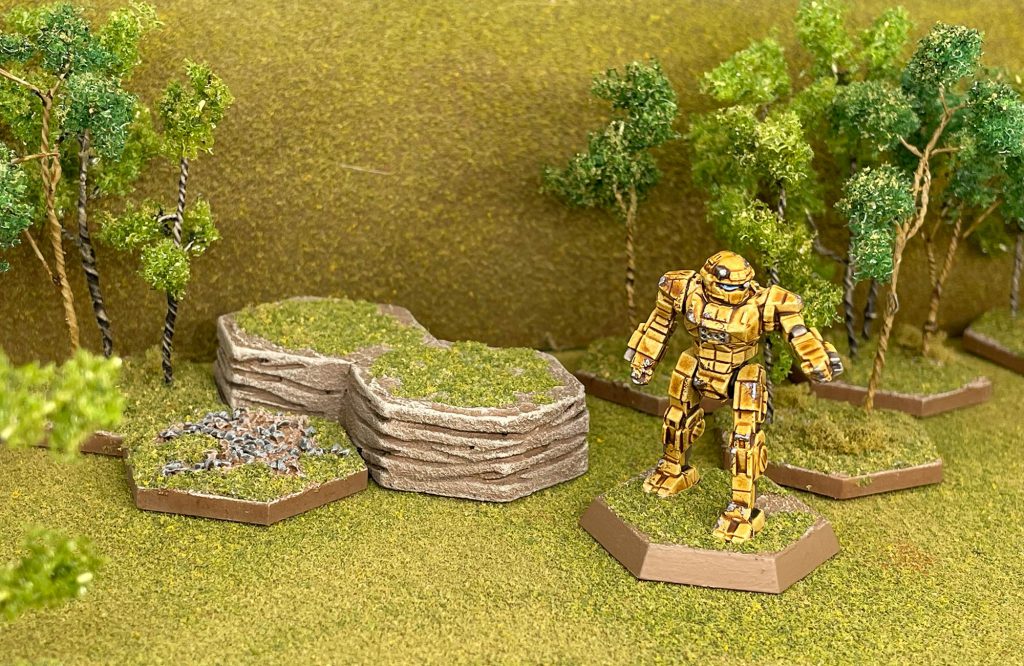 Rockfish
So I got a bit more done this past month! It was quite heavily weighted towards the Astra Militarum army box of course, if you've seen our coverage of that book then some of these will be familiar to you!
This slideshow requires JavaScript.
Its pretty funny to be back at painting guard, I technically started them with a handful of models in the lead up to the GSC book last year which acted as a great base line for how much better these new models are.
This slideshow requires JavaScript.
They really didn't spare any details though, which makes these rather time consuming models given their point cost!
This slideshow requires JavaScript.
They do make for some nice looking troop models though.
This slideshow requires JavaScript.
The command squad is probably the best example of a recent kit which I really loved, but have absolutely no desire to do repeats of. Packed with details and that flag was remarkably time consuming despite being relatively basic.
I get some other preview models done beyond my guard, in this case a couple of fancy skinks that were a nice change of pace…
This slideshow requires JavaScript.
And who could forget the Ork Rocker! They were a bit higher effort then most of my other recent models, why I spent a who two nights throwing paint on.
This slideshow requires JavaScript.
Beyond the advance models I also swung back to get a couple more mechs done, starting with a Mad Cat!
This slideshow requires JavaScript.
Then a Grasshopper that lurked around half done for most of the month before being finished while watching a weird Canadian art film.
This slideshow requires JavaScript.
To finish off the month I did a quick Hive Tyrant so I could take it to a cereal hammer tournament!
This slideshow requires JavaScript.
Charlie B
Since converting the bejesus out of a librarian I've been comparatively quiet lately as regards painting productivity. Partly this is because I've been hammering away at a particularly meaty write-up for this very website, and partly because I've been working on some hellblasters that remain, as I write this, stubbornly un-finished. That said a light smattering of hobby has made it through the cracks.
First up, here's High Speed Brrt flying his dakkajet and having a lovely time doing it: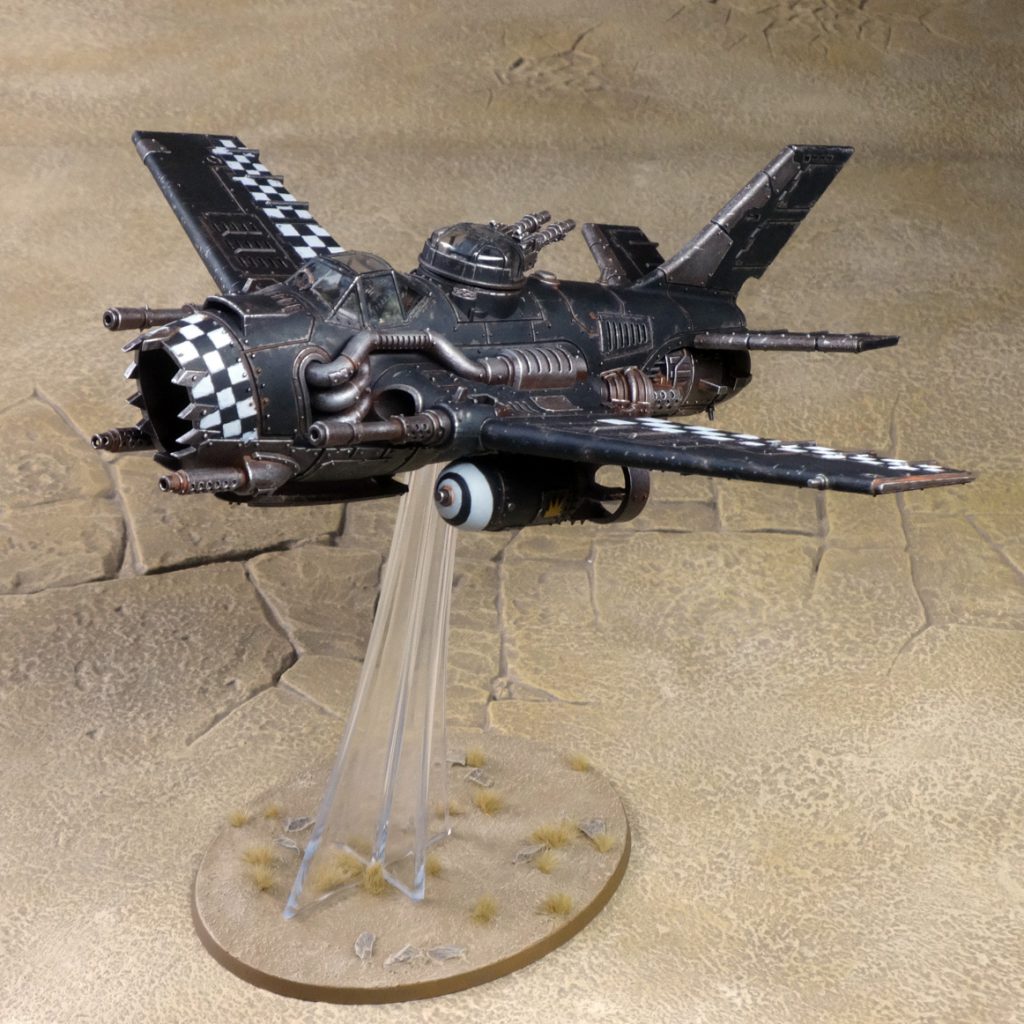 The keen-eyed among you will note that dakkajets don't traditionally have either bombs or turrets, but I wanted that classic fighta-bomma look, and the bomber rules are all tragically pointless. The dakkajet is one of the least bad options, and the turret looks cool, so it does at least have six guns of some sort. If my opponent is confused, I can take the bombs off for a downgrade in charm and an upgrade in WYSIWYG.
I'm also running a roleplaying wargame campaign for a couple of mates set in the Old World. The End Times never happened so far as I'm concerned, and instead the players are tasked with rebuilding the half-ruined State of Hochland in the wake of Archaon's failed invasion. They get to make decisions like which new regiments to found, which ones to reinforce, and where to send folks. First on the 'please reinforce this' list was a regiment of only 8 Knights of the Silver Drake. A brace of pony botherers was thus required to round out the unit to 10 and give them an actual rank bonus.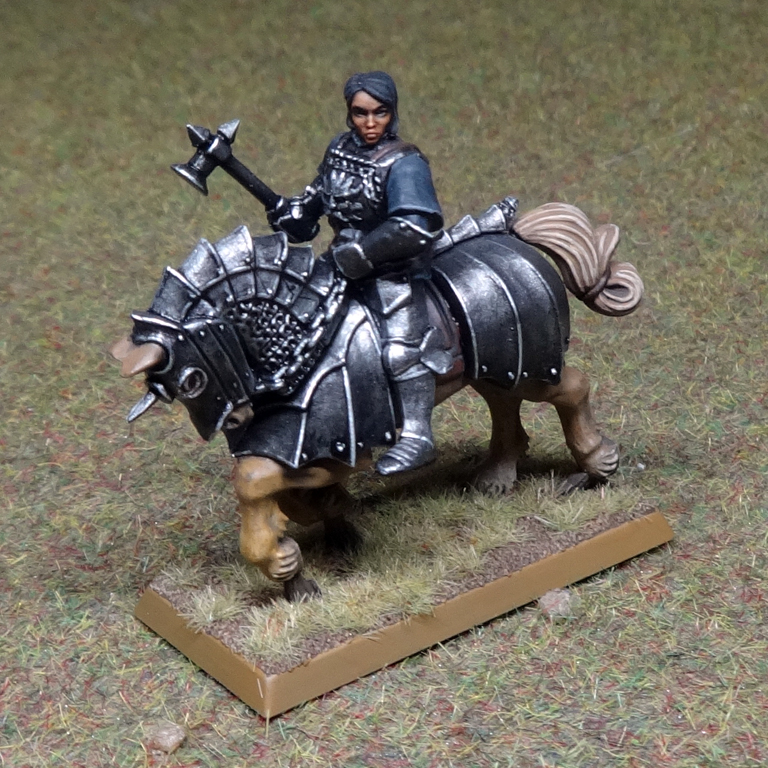 Naturally a campaign also required a map.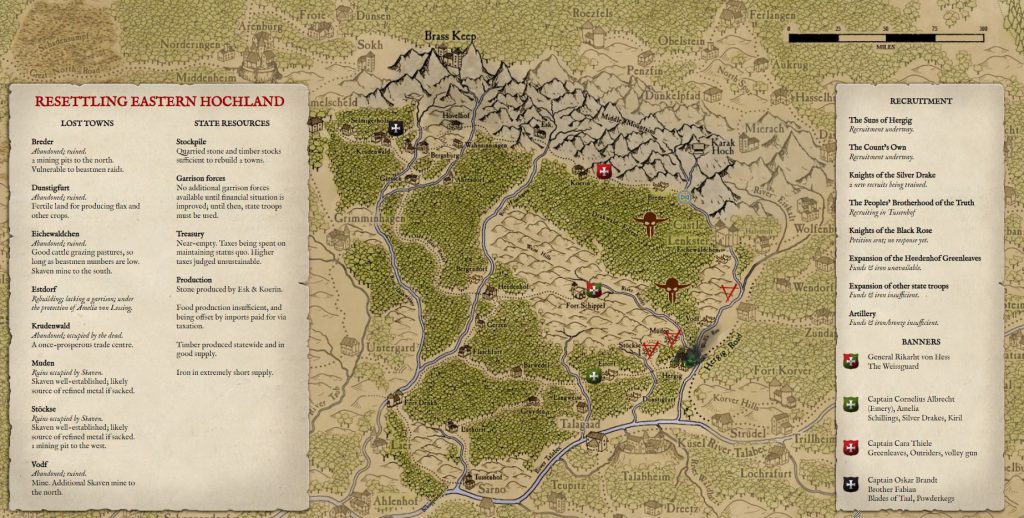 If you're Old World-curious (I grant you, statistically, most people aren't) then I go into more detail over at the Beard Bunker.
Finally, someone was disappointed that I didn't have icons for every Chaos Legion, so to my surprise and delight, parted with cold hard money to make the others exist. They wanted Heresy-era insignia, and here's what they got:
I guess technically I'm now a semi-profesh illustrator? Ehhh, I'm not exactly advertising my services, and I can't actually illustrate most things, so probably not.
Jack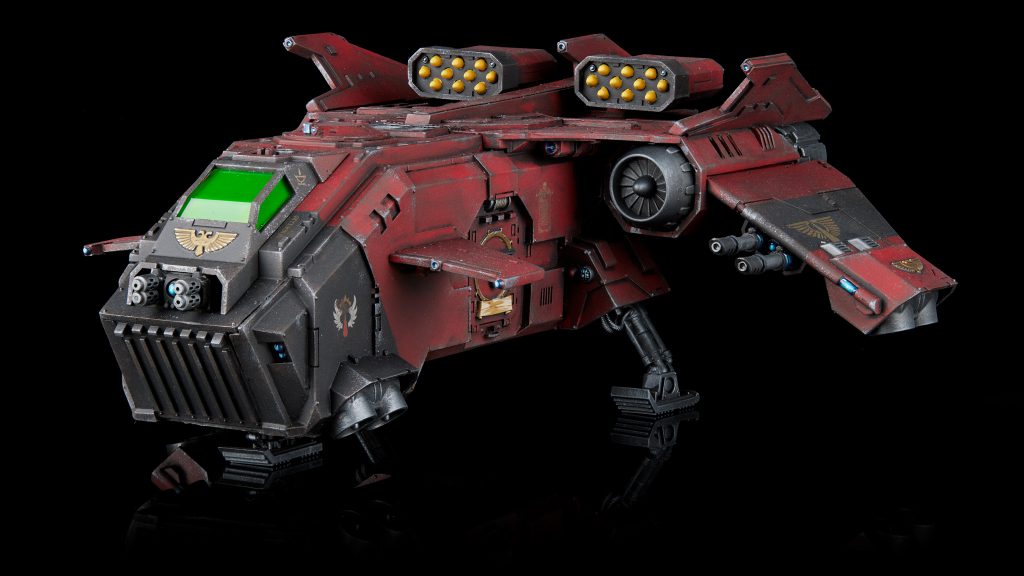 I started off November finishing out things for the New Mexico Grand Narrative – a storm eagle to carry my Blood Angels around in and finishing out my squadron of Aeronautica Imperialis, not that I ever ended up using them.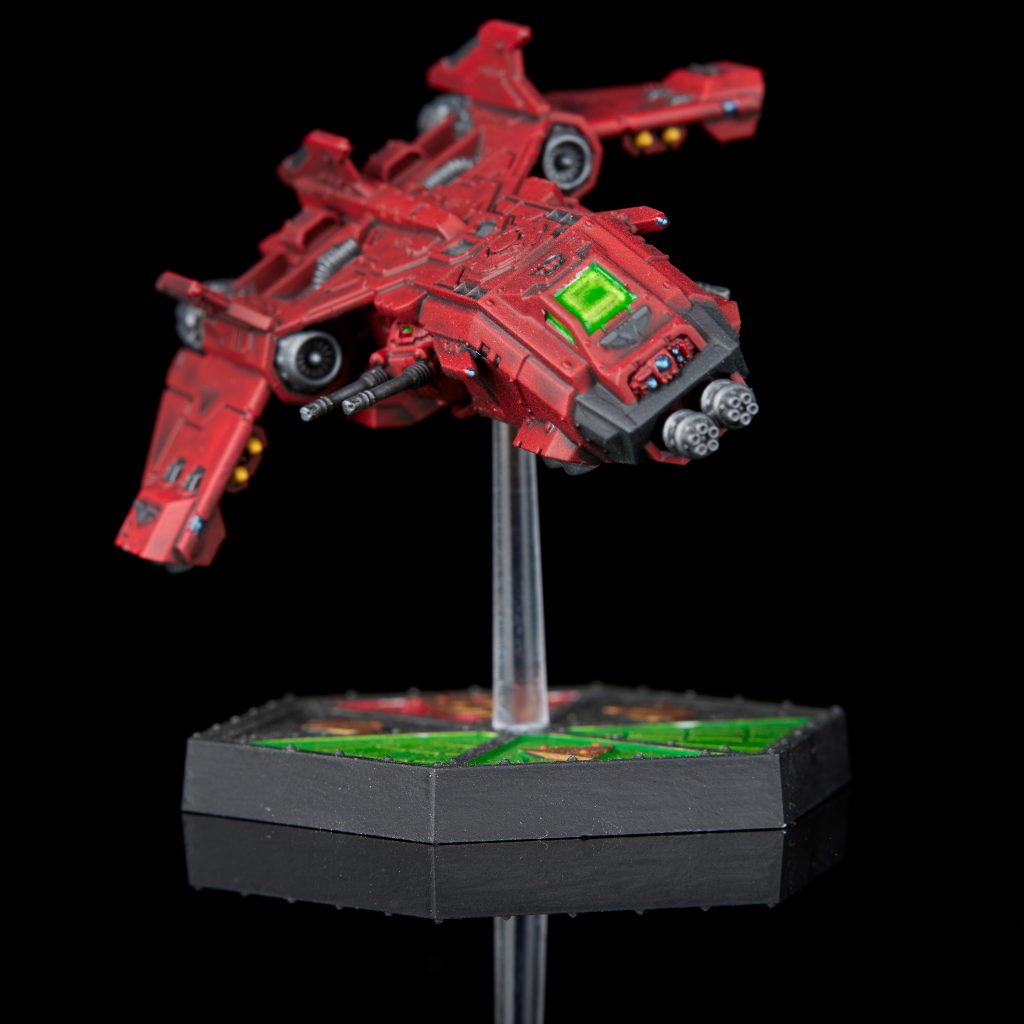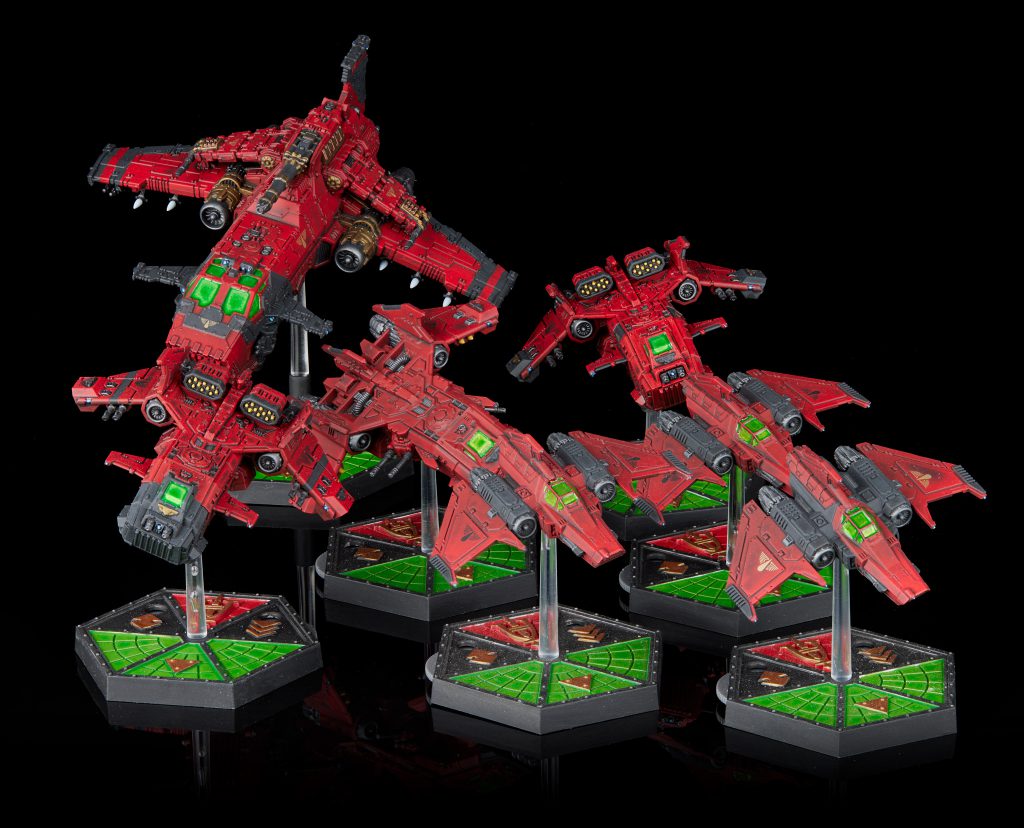 After I got home, it was Battletech time. The storm eagle was rather tiring to paint, and I wanted to work on something quick, especially as my flgs was starting an escalation league.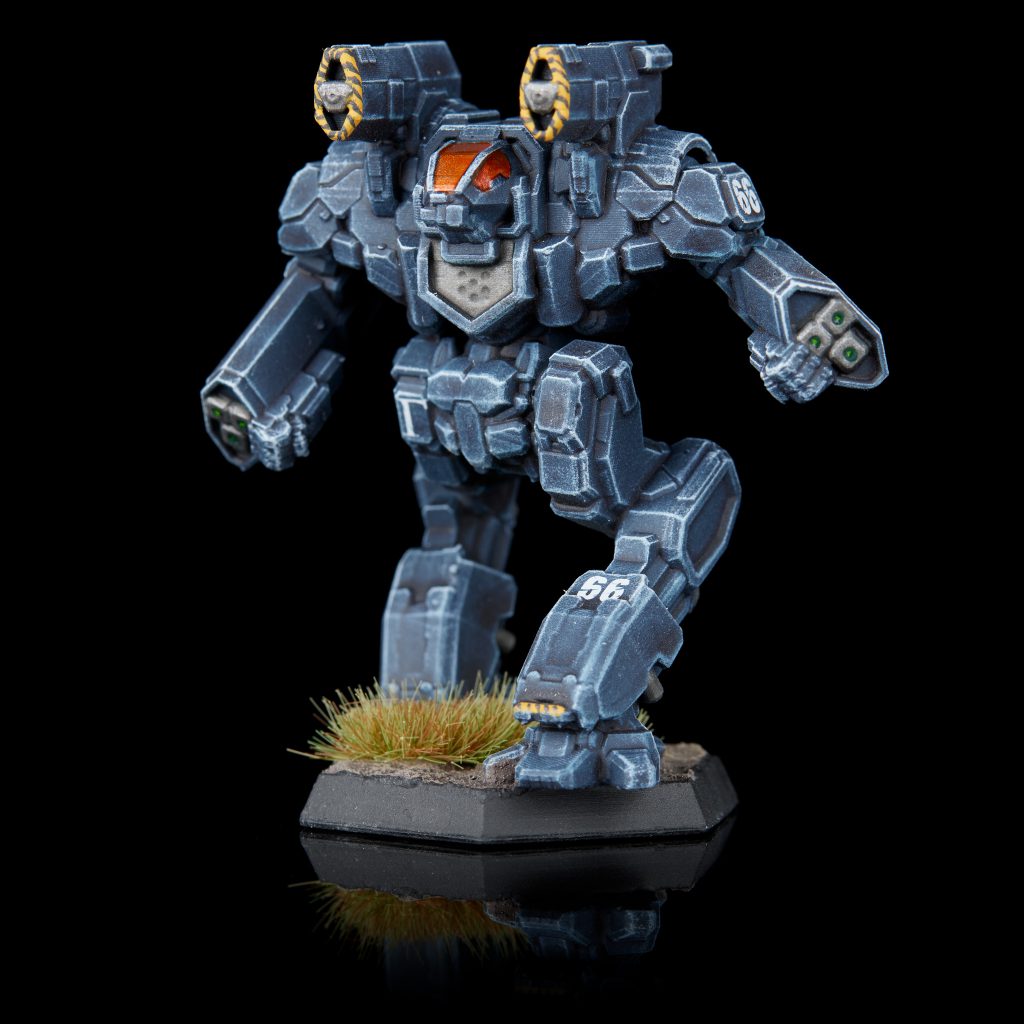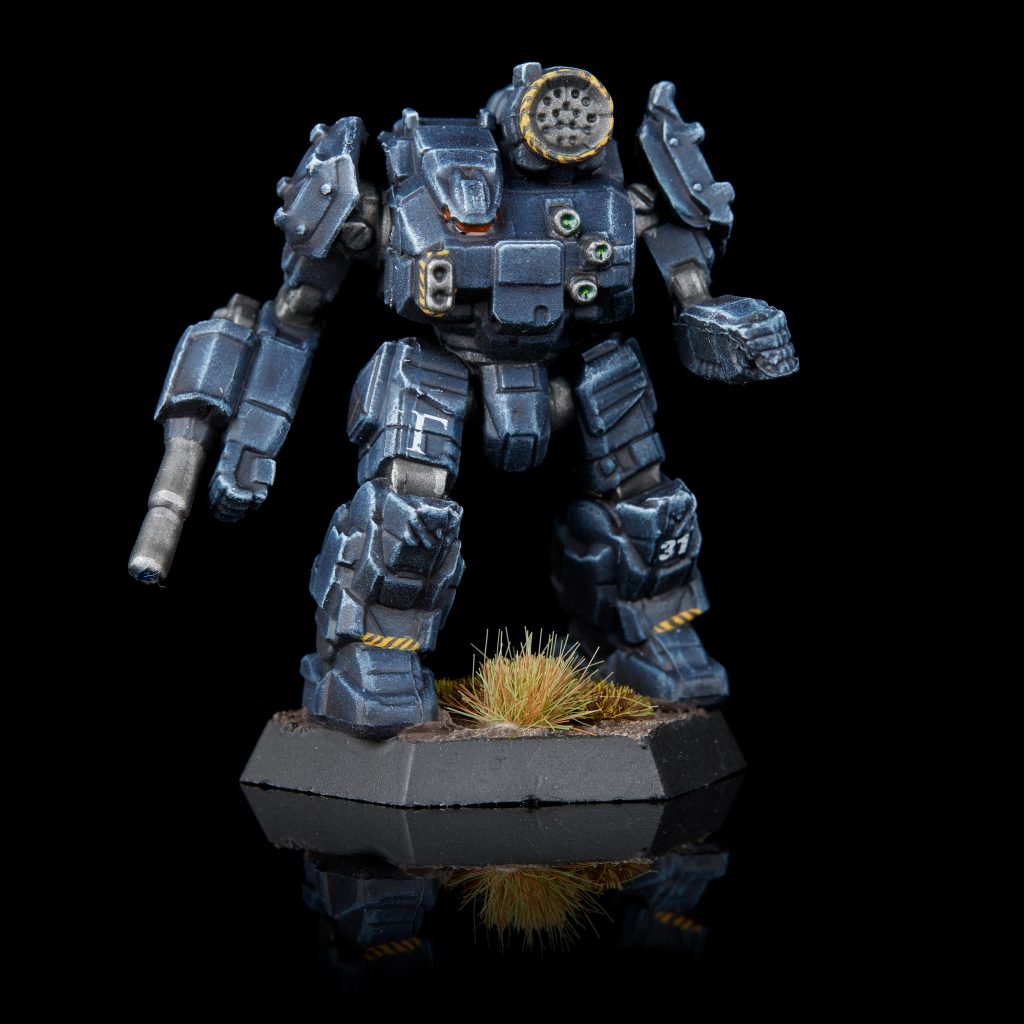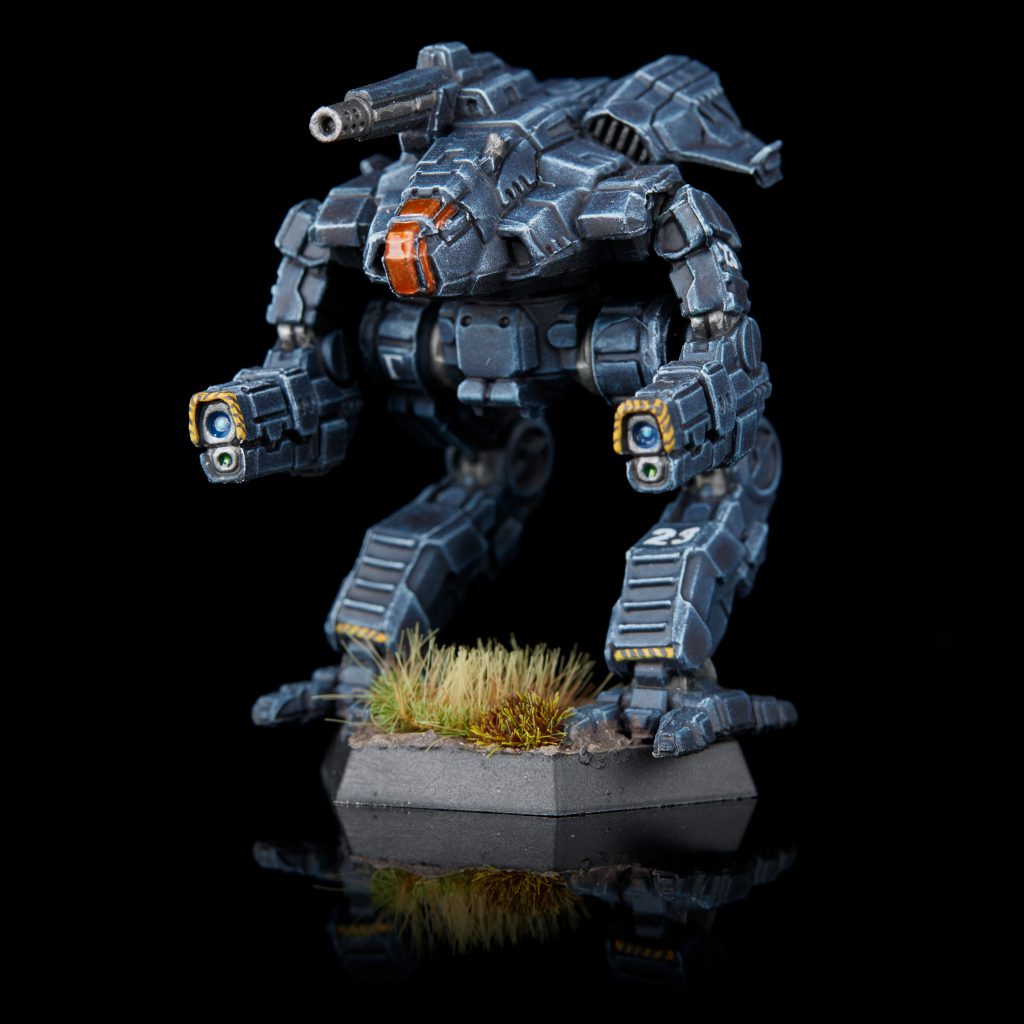 Bair
I painted a few models this month. Started with some Oldhammer-Middlehammer dwarfs to play some 6th edition Warhammer fantasy with, I expected to get just the characters done but instead painted well over 3k points (about 137 models) in a couple weeks instead. I'm also putting together a more in-depth article on this army and my journey back to an older edition of fantasy. Dwarfs were my first foray into fantasy gaming and are still by far my favourite but as a young teen I didn't really get to put together a full army; it's incredibly cool to be able to now, especially with some of the units in my throng!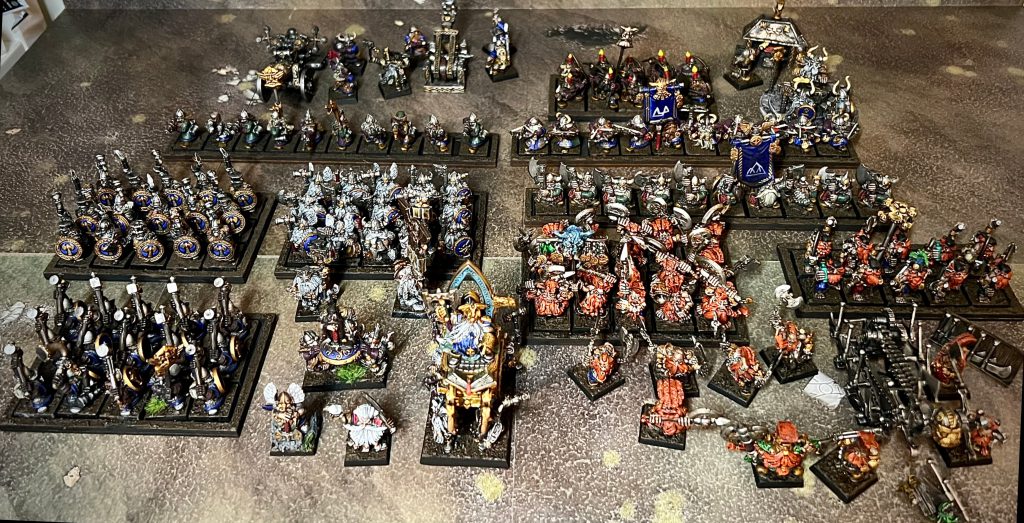 I also painted more Star Wars Legion to finish off my Separatist army, it's nice not having a backlog for one of my projects! Until I buy an AAT battle tank of course. And then there's the Shadow Collective that I got during Black Friday sales and need to paint….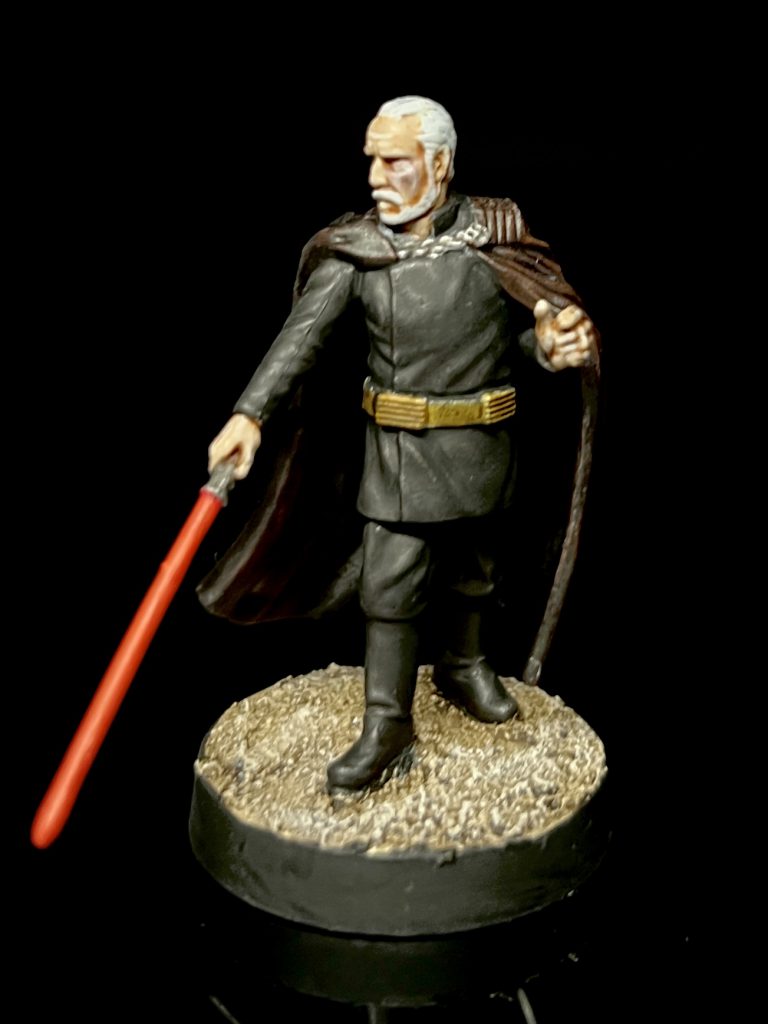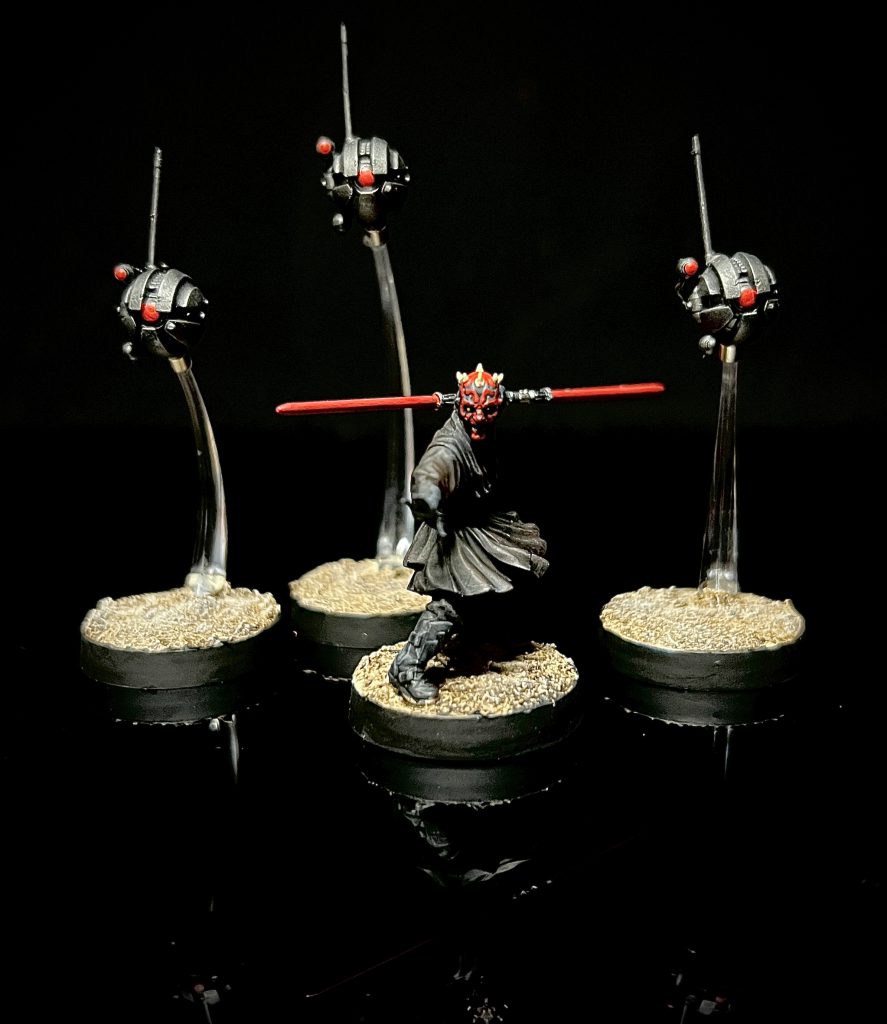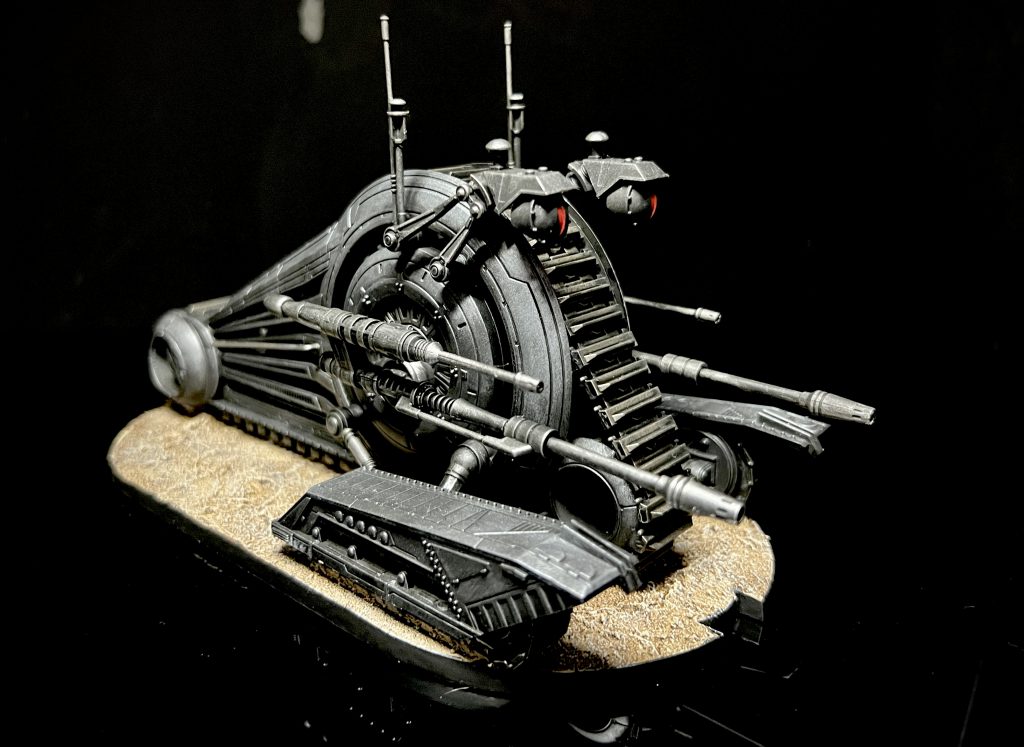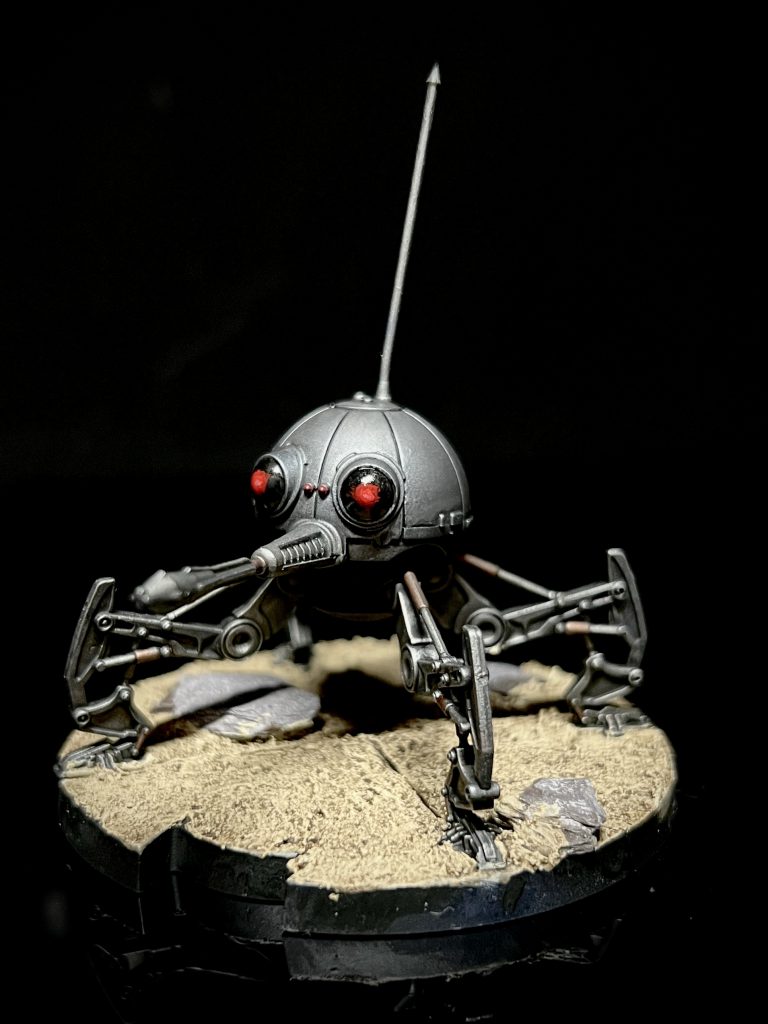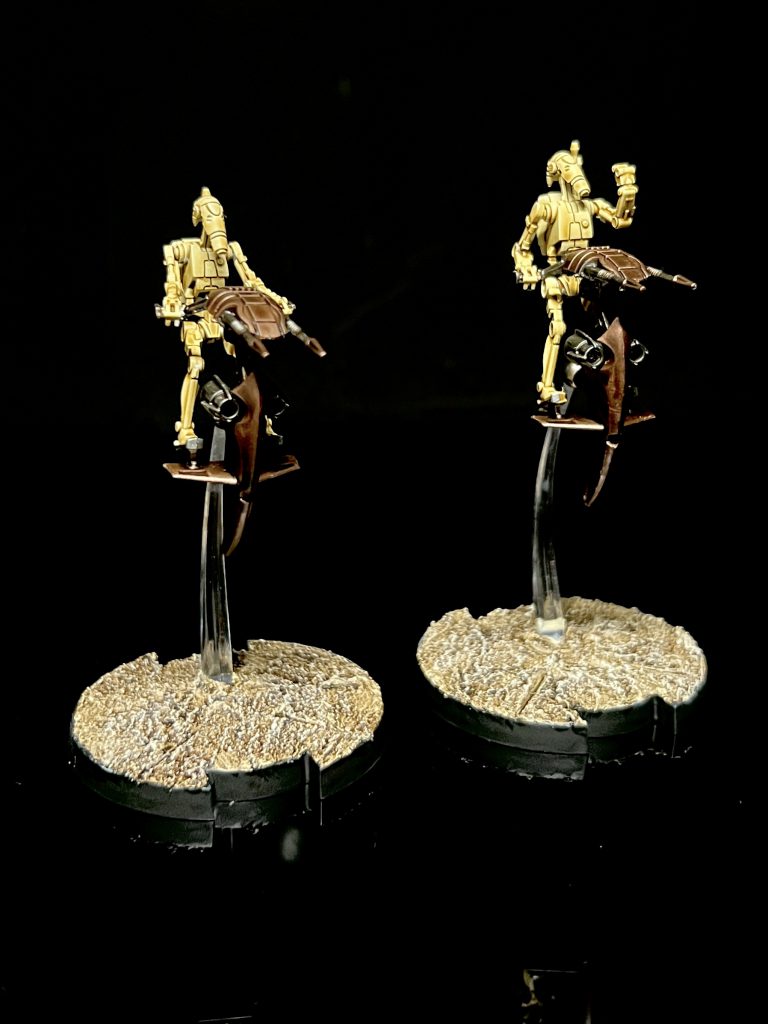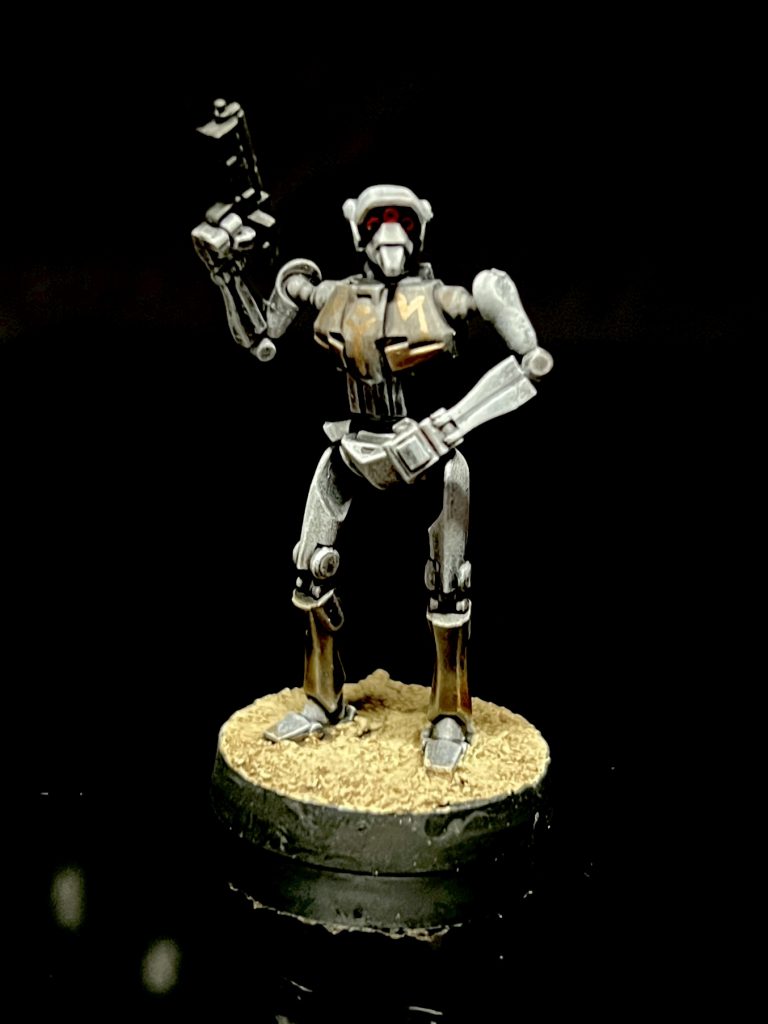 Musterkrux
After something like 6 months hiatus I came back to my Biel-Tan vehicles and painted two Wave Serpents. Because, secretly, I hate myself. Unlike the Crimson Hunter, I declined to try and outline the black vines with white to improve contrast, as that was the most time instensive step of that proof of concept piece.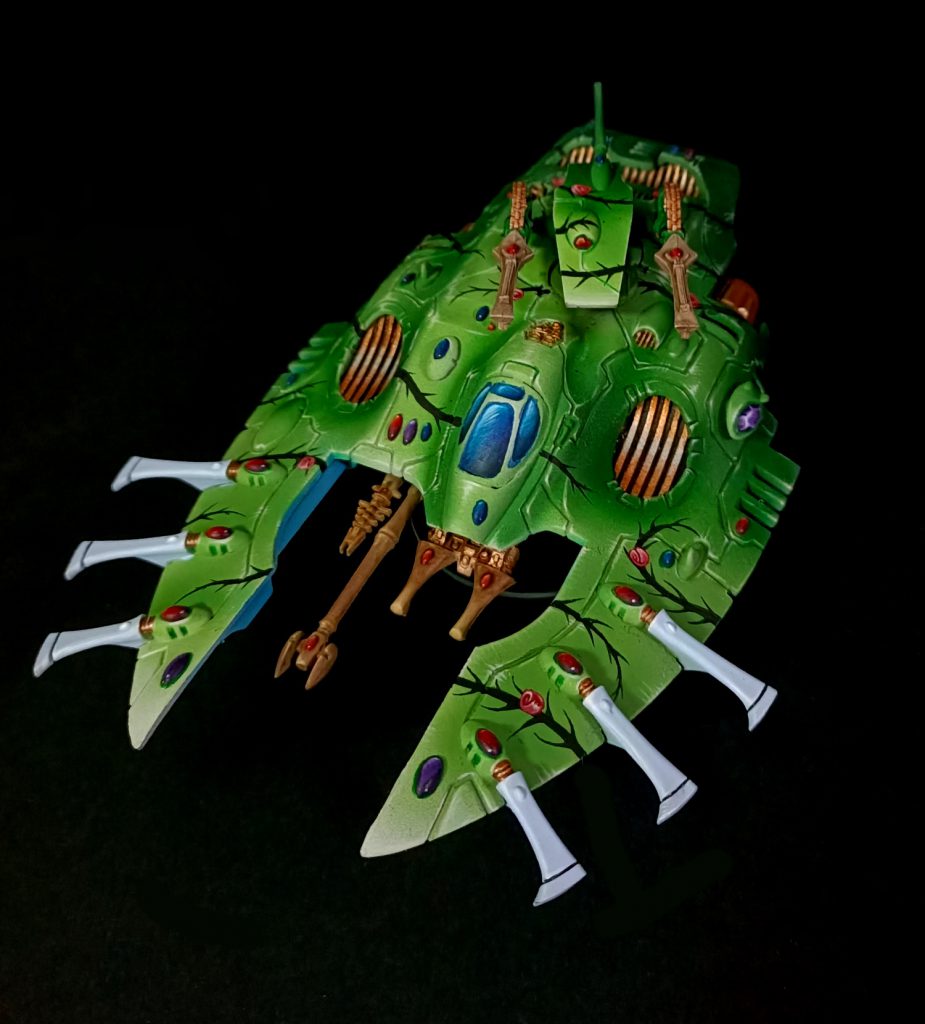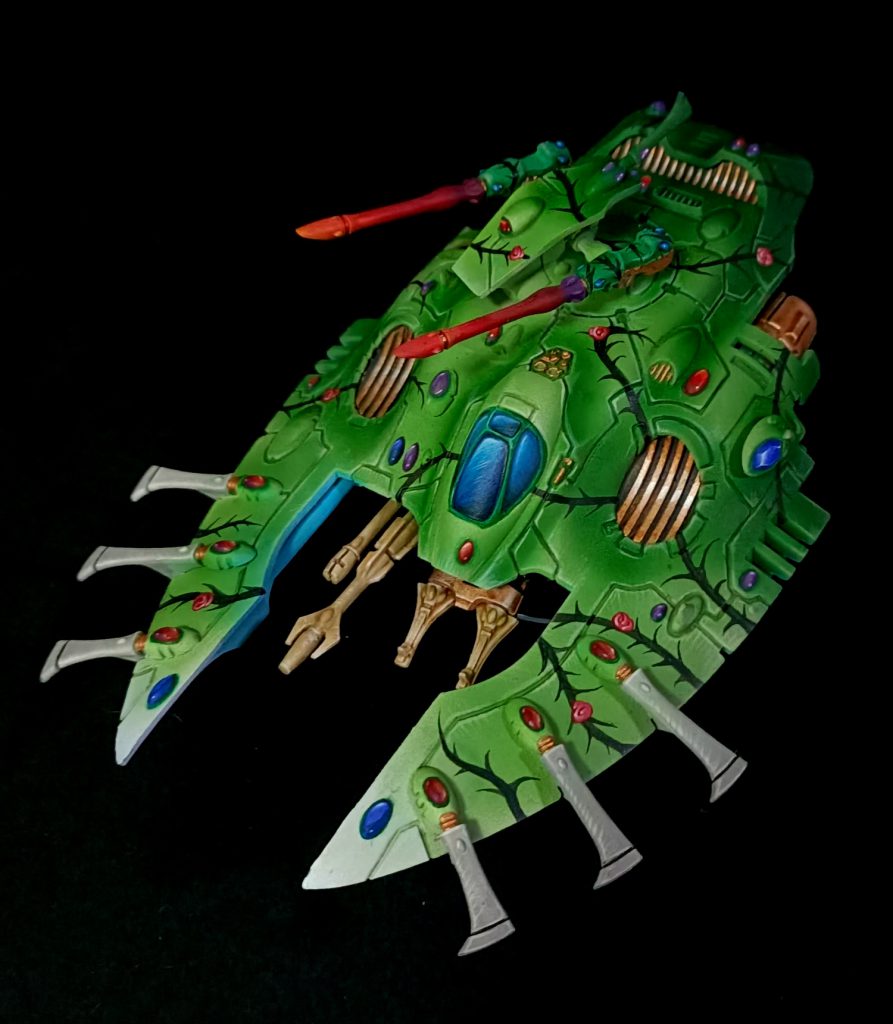 On top of that, in the excitement leading up to the Astra Militarum codex release, I painted some Catachans and Scions.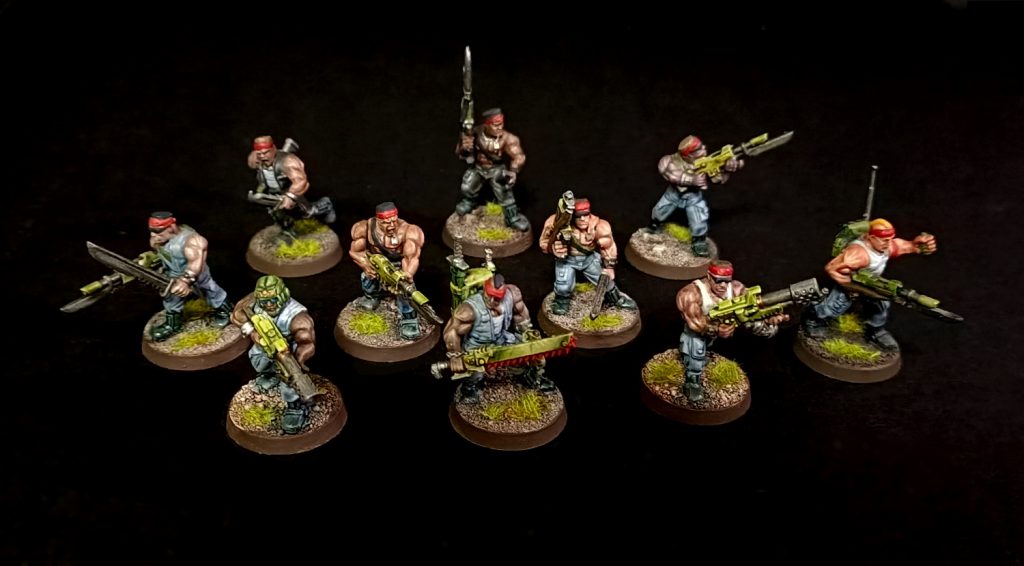 The Catachans were somewhat of an experiment in using Contrasts (and the Army Painter equivalent) to do as much work as possible so I coulf focus on doing the skin tones for the squad without burning out. I still curse GW for having failed to send me a Contrast that does fleshtones to my satisfaction but I can't fault the greens or grey Contrasts.
Then we have the Scions, done in a cheeky homage to Jin-Roh.

The intent here was to try and emulate the Jin-Roh aesthetic of heavily armoured infantry in very drab uniform and bright red visors/googles. I decided that in order to convince other people that my models were fully painted I'd have to go a little ham on the OSL effects, which is why the red glow vastly more prominent than it is in the source material. Still, for a technique that is relatively easily to implement the result is certainly unique and interesting enough to warrant doing another squad in a similar fashion.
Have any questions or feedback? Drop us a note in the comments below or email us at contact@goonhammer.com.