This week we're going to mix up the usual crossword a bit, by going to another universe entirely! This week I, RagnarokAngel, have prepared a crossword themed around the Mortal Realms. As the crosswords thus far have stuck to the grim darkness of the 41st millenium, this crossword is a bit simpler. Test yourself on the various places, peoples and deities you have crossed in your journey through the world of Warhammer: Age of Sigmar. Don't rest on your laurels though, it's going to get harder!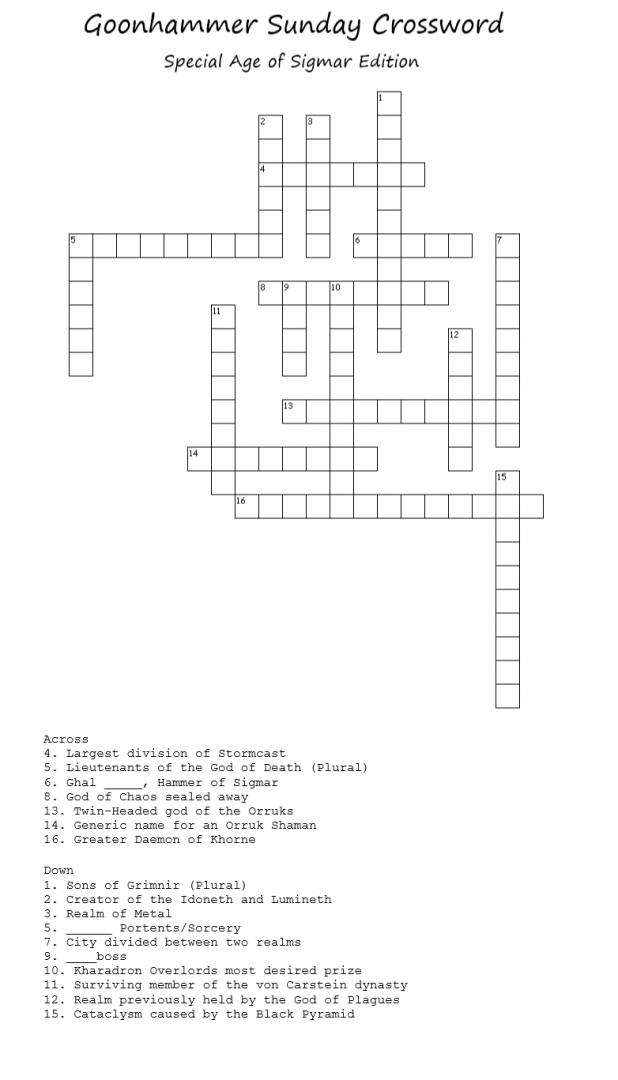 Last Week's Answers:
Across:
3. PalantineEnforcers 4. Forgeborn 5. Ambot 9. CorpseGrinderCultGang 12. GrendlGrendlsen 13. CawdorGang 14. GoliathGang 15. PalantineSubjugators
Down:
1. RagnirGunnstein 2. KalJerichoandScabs 6. OrlockGang 8. EscherGang 10. GoliathStimmers 11. VanSaarGang
Due to an error, 7 down was not given a clue. But if you guessed DelaqueGang by process of elimination, good for you!