In our How to Paint Everything series, we take a look at different armies of the Warhammer universe, examine their history and heraldry, and look at several different methods for painting them. In this article we are returning to the baby planes of Aeronautica Imperialis for a look at the T'au planes!
The most recent release for AI was the Skies of Fire box set, bringing more Imperial planes and a new faction – the T'au Air Caste! These are some absolutely fantastic models, adding a third faction to a game that was previously all about the Imperial Navy and Ork Air Waaagh. There's some great models in the new release, and a bunch of our authors have painted theirs up – and now they're here to tell you all about it!
Rockfish's Method
When I was last working on my T'au 40k army, I looked at getting a 28mm barracuda or tigershark but their shear scale and price intimidated me. So when I saw that the T'au were getting a release for AI I knew I had to get some, unfortunately I think this may have backfired somewhat as now I want 28mm ones as well…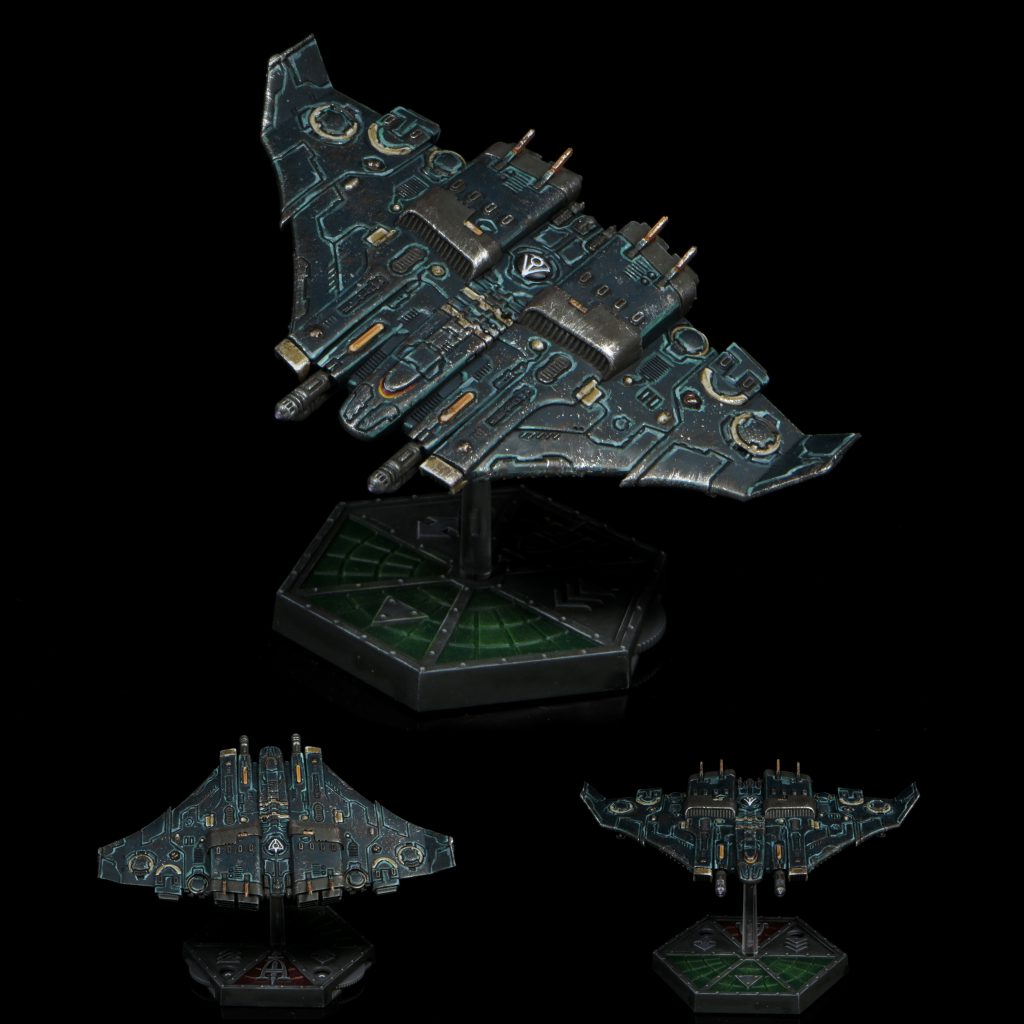 This is essentially just my normal T'au scheme applied to these smaller models, I think it looks pretty sharp at either scale and is not actually that time consuming to do. (Other then the first stage of edge highlights, that takes a while)
The wash of Coelia Greenshade is primarily to provide a tint to the colour more then than anything else as the initial the base coat is a bit too dark for it to really shade the recesses perceptibly.
One could go nuts with picking out tons of details with the sept and trim colours but fewer strategically placed areas are a bit less optically noisy, and more importantly less effort.
The metal and grey panels are drybrushed to provide a different texture and save a bit of time. In this case I did iconography with just a stark black/white without any highlights, but you could definitely expand on it if that is a bit too plain or stark in your eyes! Perhaps using a less solid black like corvus and a more cream white like pallid wych or wraith bone, then you could wash and highlight as normal.
The primary highlights probably took as long as the rest of the model combined, but T'au look really sharp with all the details picked out. It's worth mentioning that I would strongly advise against going to that much effort on the underside, not only will it not been seen typically, it is more detailed if anything!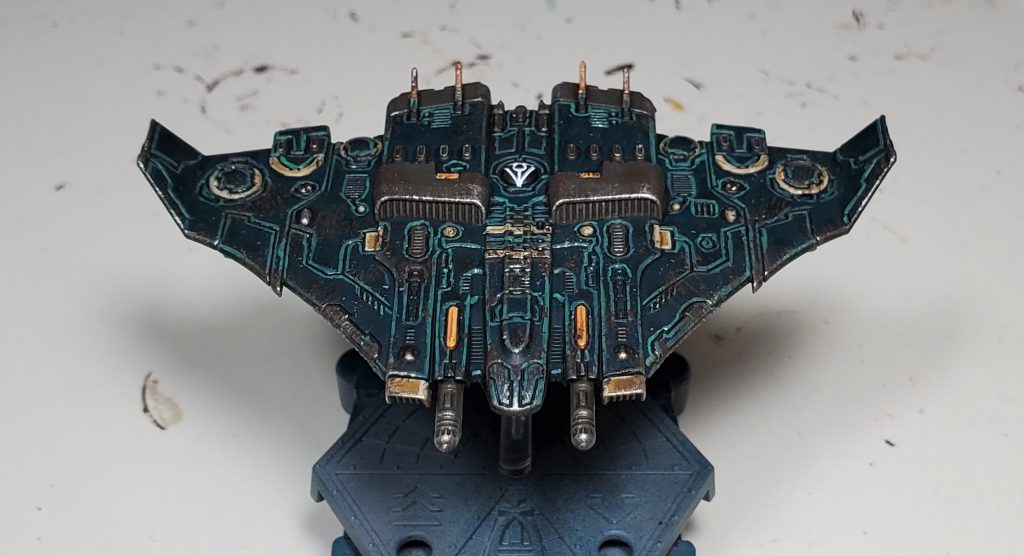 I threw on some quick damage by dabbing Dryad Bark and Storm Host Silver with a small piece of sponge, I typically make this a bit directional by adding a few streaks in a fore to aft direction.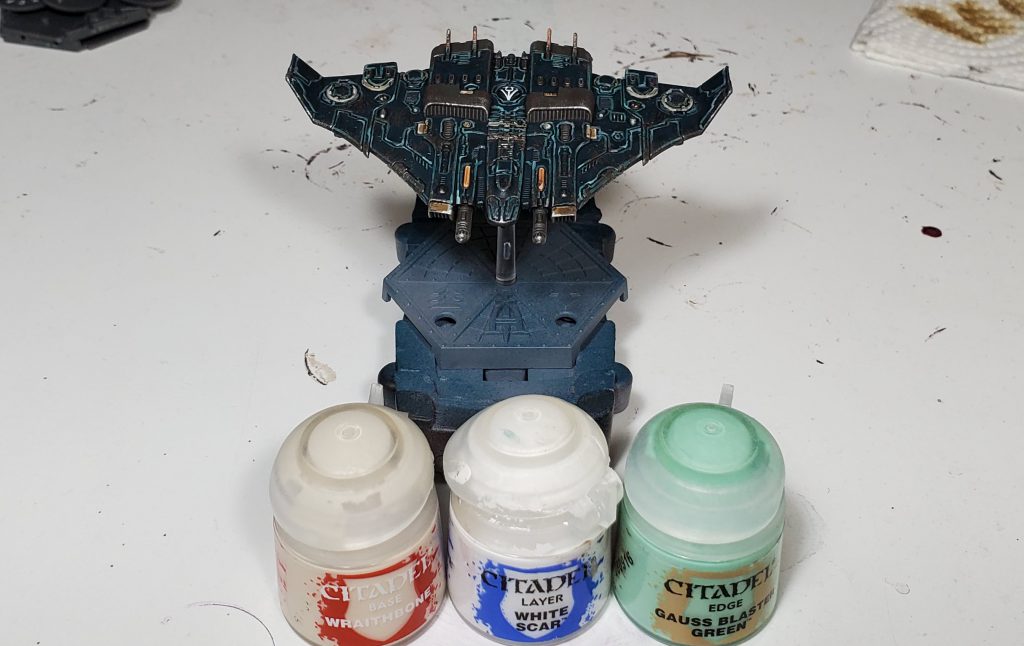 I went back with a second edge highlight to place emphasis on some more points and restore key highlights that were obscured.
I was initially unsure of the placement and shape of the gem effect on the cockpit I wanted here, but in the end I went for a simple crescent centered to the front to try and maximize clarity.
As a final quick detail on the plane, I added a bit of a glow to the weapon tips so that they are not just flat faces.
The bases are essentially a simplified version of SRM's that you can find here, I mostly just wanted something good enough that is fairly faction independent so I can reuse the bases across any other factions I pick up.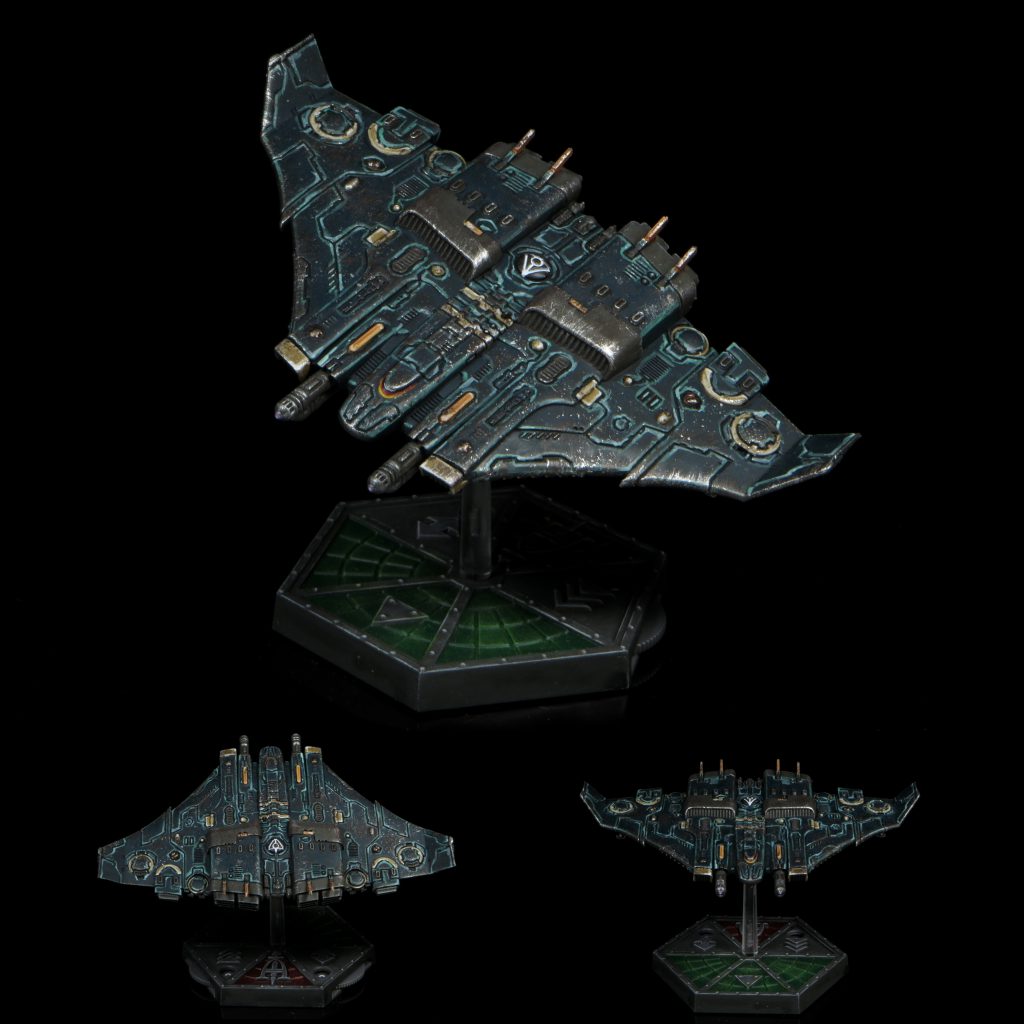 Cowie's Method
I bought myself some barracudas just to practice some schemes on, 6 for £20 is a pretty good deal when talking about GW models! These aren't the most in-depth schemes but that should make them easy for anyone to reproduce if they wish.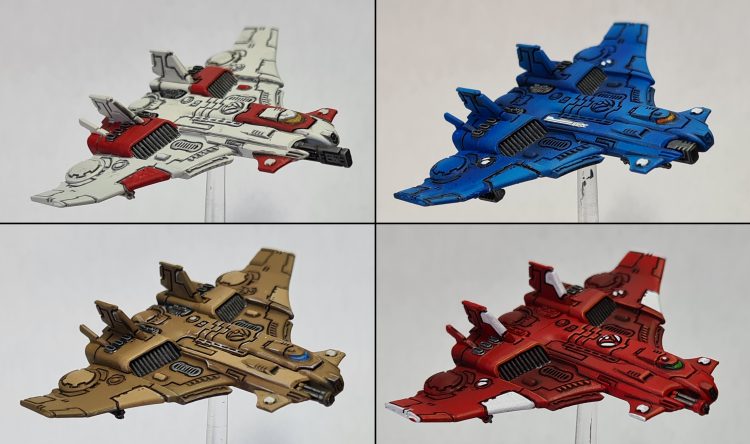 White (Vior'la sept)
Mostly based on the boxart. I based with VMC Silver Grey, then used GW Mephiston Red for the accent colours.
I felt pure Nuln Oil was too dark for the panel lines, so I used a mid-grey heavily diluted with Lahmian medium to create a grey wash. I reckon gryph charger grey contrast paint would probably work fine as well.
Blue
This was a simple attempt at an airbrush fade. The entire model was basecoated with VMA French Blue via airbrush, then I added a few drops of VMA White to about a 3:1 ratio and sprayed this on the leading edges. This looks very good for how quick it was! I probably took as long painting the canopy as I did the rest of the model.
Tan (T'au sept)
I'm quite nostalgic for the classic T'au sept colours (one of my first GW books was Imperial Armour 3: the Taros Campaign), though painting this one and putting it next to the others makes it clear why GW swapped away from this as their show-scheme, it's rather dull.
I undercoated the model in white then sprayed GW XV-88 over the whole model. I pinwashed with Agrax Earthshade, then mixed VMC Ivory into the XV-88 in about a 2:1 ratio, and picked out some details and panels. I would guess the closest GW paint is Ungor Flesh but I don't have any of that to hand. I picked out some edges with pure Ivory to make them pop.
If I was to try this scheme again I would lean far more into the digital camo effect that can be seen on the older Tau vehicles, the flat brown is pretty uninspiring.
Red (potentially Farsight Enclaves)
Definitely the most sci-fi, the red here uses the same technique I use for my Orks. In contrast to my usual techniques following the GW "base -> shade -> layer" system, I thought I would try preshading, a technique where shadows and highlights are applied before the final colour. Credit to the technique i'm using goes to The Mighty Brush, who have the honour of being the #1 google result when you google "preshade red armour".
Prime white

Airbrush the dark sections with light blue (here

GW Contrast Aerthermatic Blue

for the transparency)

Airbrush everything with a yellow filter (here

VGC Sun Yellow

)

Airbrush everything again with

VMC Red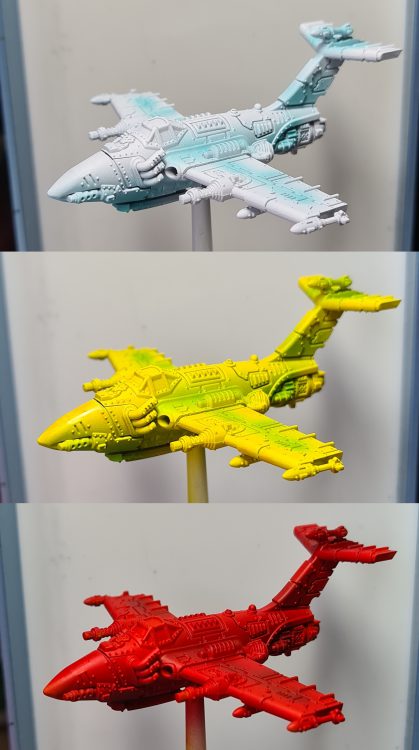 VMC Red is a very rich magenta colour, so the yellow brings it to a classic bright red through additive colour theory voodoo, with the green becoming shaded dark areas. 
I finished up with some watered down VGC Hot Orange along the leading edges, and the metallics were brush painted in VMA Gunmetal then washed heavily in Nuln Oil.
Bonus: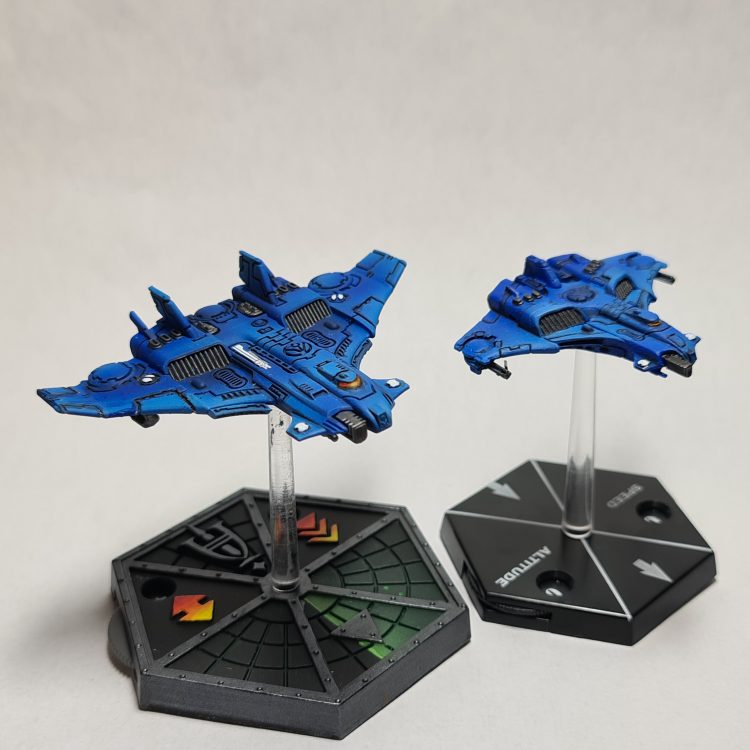 Ceri's Method 
Playing some games of Dawn of War with Coda (Goonhammer cool and good guy!) I messed around with the colour scheme of the T'au I was using. I ended up with a crazy bright blue and red colour scheme that everyone hated and thought "here's an opportunity". Who doesn't want to fight against an army that is so bright you need sunglasses! So I looked through my paints and was drawn straight to my Instar Paints. The Alpha range was perfect for wanting bright colours, so I picked out a few, threw together a Barracuda and got to work.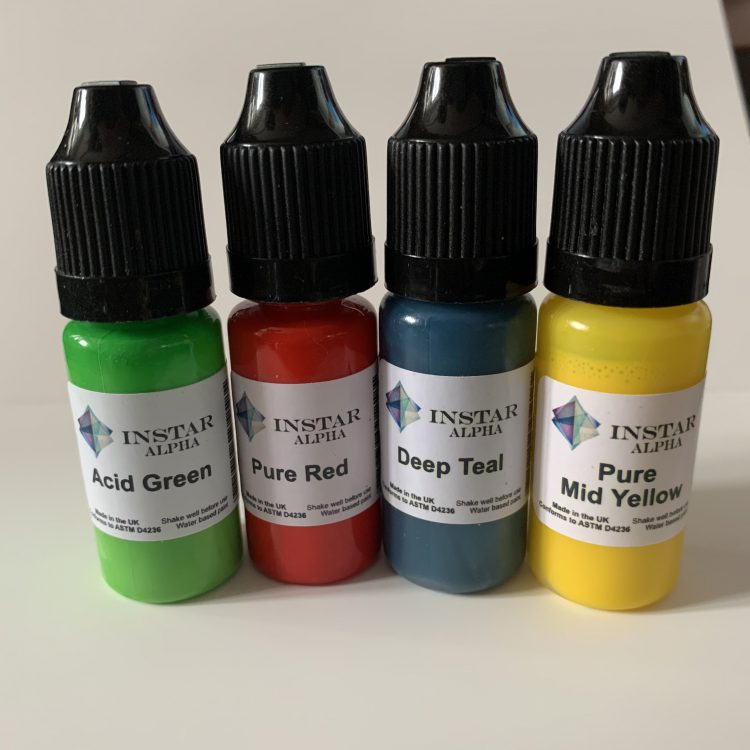 First up I sprayed them with Grey Seer, on a creation I am calling the Spray Glove (totally gonna trademark this).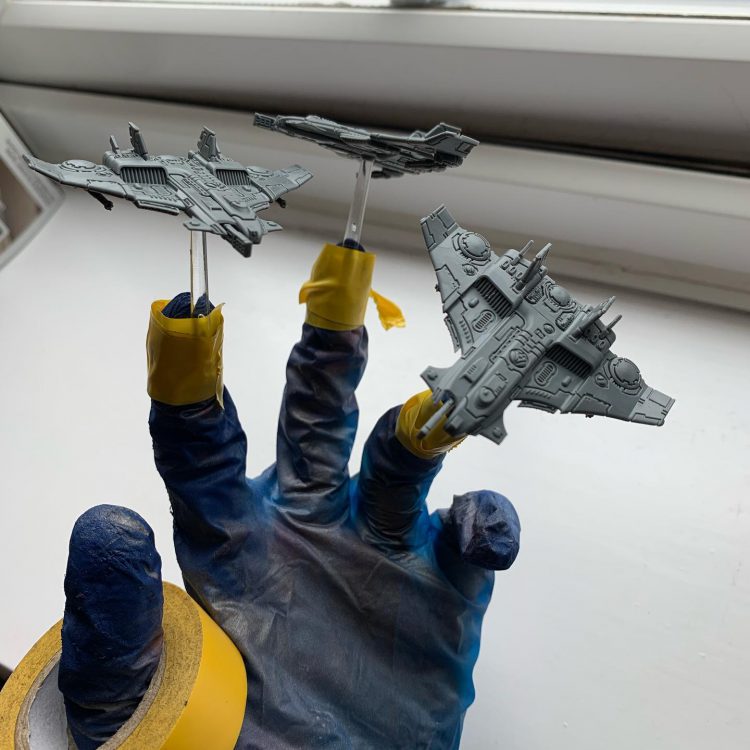 The Acid Green was such a great base tone, making the model stand out from even the brightest background. I shaded it down with a concoction made of greens, yellows and browns, and highlighted up with Pure Mid Yellow. The Deep Teal helps create some depth on the darker areas and a spot of Pure Red which will feature on every T'au symbol. Look out in the future as this will also be the colour scheme for the new Warhammer 40,000 T'au army I will be creating!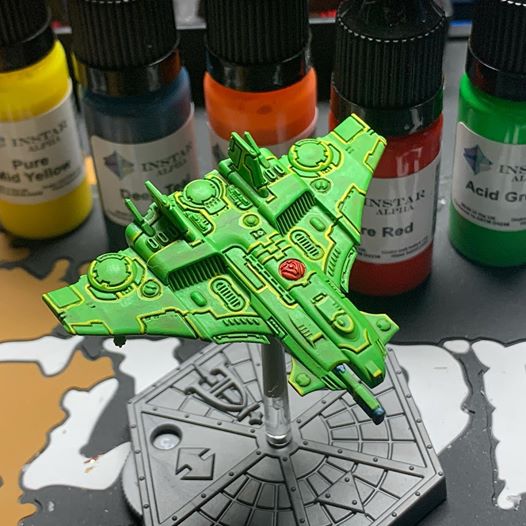 Ceri is one half of The Hobby Room – you can check out her channel here, or find her on Twitter at purplemonkey790.
Wrap-up
That's it for HTPE: T'au Air Caste. As ever, if you have any questions or comments, or just want to show us your own tiny T'au jets, hit us up on Facebook, in the comments section, or e-mail us at contact@goonhammer.com!