It's a massive Kill Team weekend! For more coverage of the upcoming Kill Team: Annual 2022 or Into the Dark, check out our main review page here.
Kill Team: Rogue Trader first debuted back in 2018, bringing with it three interesting new concepts:
Close quarters games of Kill Team
Commanders and characters in Kill Team
A more narrative-focused version of the game
Of those, the first two got a significant push in the form of Arena and Kill Team: Commanders, while the third never really saw much more traction. The box released with two kill teams – The Elucidian Starstriders and the Gellerpox Infected – and while people generally liked those teams, they weren't particularly competitive and vanished almost entirely when the boxed set went out of print and the teams from it saw no support in the following Kill Team Annual. While many players had asked whether we'd ever see these teams updated for Kill Team 21, I don't think many players actually expected then to get a second release.
So we were pleasantly surprised to find that the Kill Team Annual 2022 includes rules for both the Starstriders and the Gellerpox Infected. In this article I'm going to run through the new rules for the Gellerpox, what they're capable of, and how they stack up. This one's a doozy too – I think the team has some play.
Before we dig in, we'd like to thank Games Workshop for providing a preview copy of the Annual for review purposes.
Today's Kill Team Coverage:
KT Annual: Gellerpox Infected Kill Team Review (This article)
Before we dive in, we'd like to thank Games Workshop for providing us with preview copies of the Annual and Into the Dark boxed set for review purposes.
Gellerpox Infected Kill Teams
Gellerpox Infected Kill Teams don't have any options; you just use most of the models from the original Gellerpox set, and the ones you don't use you can add as Equipment. That includes Vulgrar Thrice-Cursed and his three massive friends – the Bloatspawn, Fleshscreamer, and Lumberghast – plus three Gellerpox Mutants and four Glitchlings.
Abilities
Gellerpox teams have two abilities to be aware of: Techno-Curse and Revoltingly Resilient.
Revoltingly Resilient will be familiar to anyone who's seen the Death Guard in action; each time an operative with this rule would lose a wound you roll a D6 and on a 5+, that wound isn't lost. This basically increases the wound total of your bigger guys by 50%, and makes the Gellerpox Infected pound-for-pound the biggest wound kill team in the game.
Techno-Curse is a debuff. While an enemy operative is within 3″ of one of these operatives or within 6″ of a Glitchling, they get -1 attack with their ranged weapons. This is also very solid, and helps make it clear what role the Glitchlings actually play: They're here to annoy the crap out of your opponent and mess up their plans until the big guys arrive.
Additionally, the three big operatives who are not Vulgrar have the Nightmare Hulk ability, which is more like a drawback – an operative with this ability has to spend an extra AP to do mission actions or Pick Up actions, and can't get Cover from light terrain or operatives with fewer than 16 wounds.
Operatives
Gellerpox teams have four massive operatives, 3 guardsmen-like mutants, and a quartet of Glitchlings who are more a distraction than real threats. Their big monsters have very high wound counts and can hit like a freight train, though the bulk of their prowess is in melee – the team has very little shooting. The entire team are APL 2 and have 5+ saves. Additionally, every operative has the Techno-Curse and Revoltingly Resilient abilities.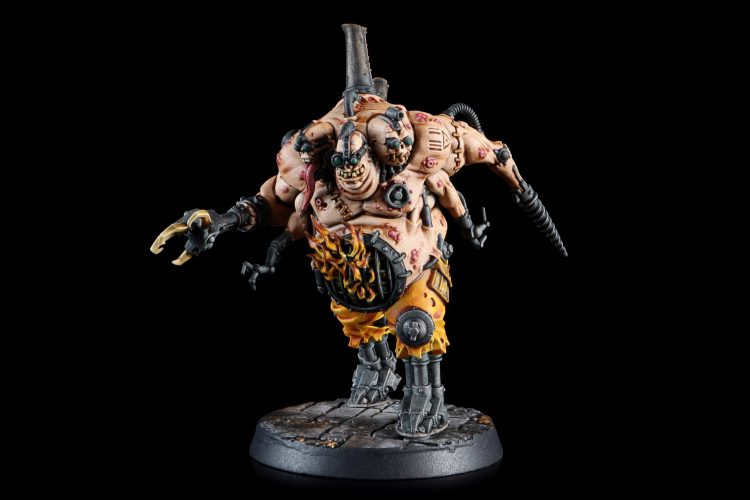 Vulgrar Thrice-Cursed
The head honcho of the Gellerpox Infected now no longer requires you play an unbalanced add-on mode of the game no one likes in order to field him. This behemoth has standard 6″ movement, and comes with a whopping 19 wounds, plus Revoltingly Resilient for an effective total of 28.5. That said, because of his size, Vulgrar has trouble taking cover – Light terrain and operatives with fewer than 16 wounds don't give him Cover.
Vulgrar comes iwth one of the team's only ranged weapons – Pyregut, a 6-attack flamer flamer that does 3/3 damage. That's deceptively nasty, and can help you put out some real hurt when you use it as a precursor into melee. And speaking of, Vulgrar is a beast in melee. He gets 5 attacks with his Fleshmelded weapons which hit on 3+ and do 4/5 damage but have the Engineered rule. When you deploy Vulgrar you pick two abilities for him to gain on his weapons from a list that includes +1 normal damage, +1 crit damage, balanced, brutal, Lethal 5+, and Rending critical. For my money Lethal 5+ and either +1 critical or Rending are the strongest plays, though I could see taking Brutal to prevent opponents from parrying away all your attacks. It makes him a versatile threat who can adapt to whatever the opponent has going on.
Finally, Vulgrar's other special ability is Lead the Infection, which has him automatically taint nearby objective markers during the Generate Command Points step and net you extra CP – a nice way to boost your operating total and a good reason to use him aggressively.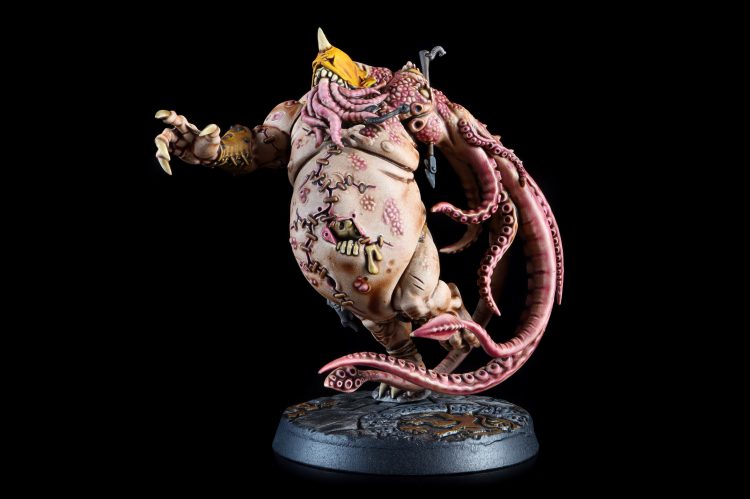 Bloatspawn
The Bloatspawn is only slightly less resilient than Vulgrar, sitting on 18 wounds that will feel more like 27. He comes with the team's other ranged attack – Mutant Tentacles is a 3″ ranged attack that does 6 attacks which hit on a 4+ for 3/4 damage with Fusillade. It's not amazing but it's not bad, either – and a good way to surprise someone who thinks they're just out of reach.
The Bloatspawn is pretty much just a close-ranged fighter, however – its Nightmare Hulk ability forces it to spend an extra AP to perform mission actions or Pick Up objectives, and similar to Vulgrar it can't get cover from smaller operatives or Light terrain. When it gets into combat however, it's very nasty. Its mutant claw & tentacles have two modes – Grasp and Slash gives you 6 attacks for 3/4 damage hitting on a 4+, while Writing Swipe gives you 3 attacks but lets you fight again against another enemy operative in Engagement range, basically getting one fight per enemy next to you. And if the enemy doesn't want to be there? Well the Tentacled Grasp ability prevents enemies frrom falling back on a 4+ (or a 3+ if they have 8 or fewer wounds).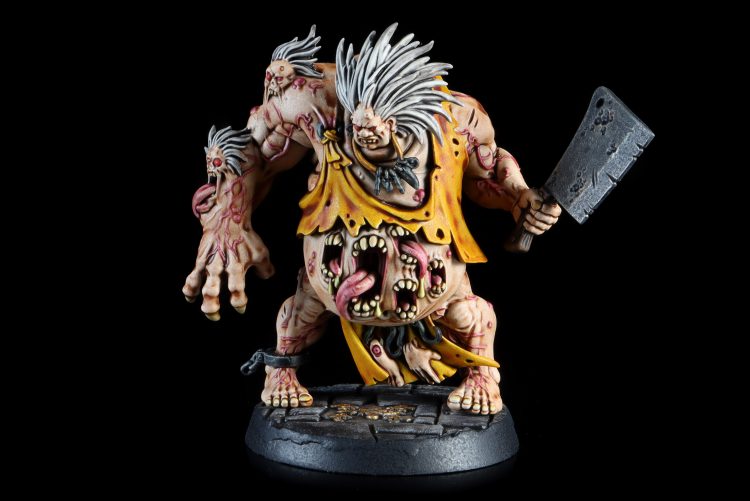 Fleshscreamer
Next up is this walking ball of mouths. The Fleshscreamer is another 18-wound monster with similar stats, but he carries a massive cleaver. The cleaver has two modes: Bash and Slash gives him 5 attacks hitting on a 4+ for 5/6 damage. If you're feeling lucky, Lopping blow gives him a single attack at 3+ to hit and 8/9 damage with Lethal 5+. That's a big enough risk I'm not sure it's worth it, but if you absolutely need to kill a guardsman or other small infantry target without taking damage, it'll give you a 1 in 3 chance, or 56% if you hold a CP to re-roll.
The Fleshscreamer also justifies his name by having the Horrifying Shrieking ability, which forces enemy operatives within 3″ to spend one extra AP when performing the Pick Up action or a mission action, and reduces the APL of enemy units by 1 for the purposes of objective control while they're near an the same objective as this guy. Not bad, and gives this guy more of a defined role as your midtable objective grabber, even if he's not actually good at physically grabbing the things.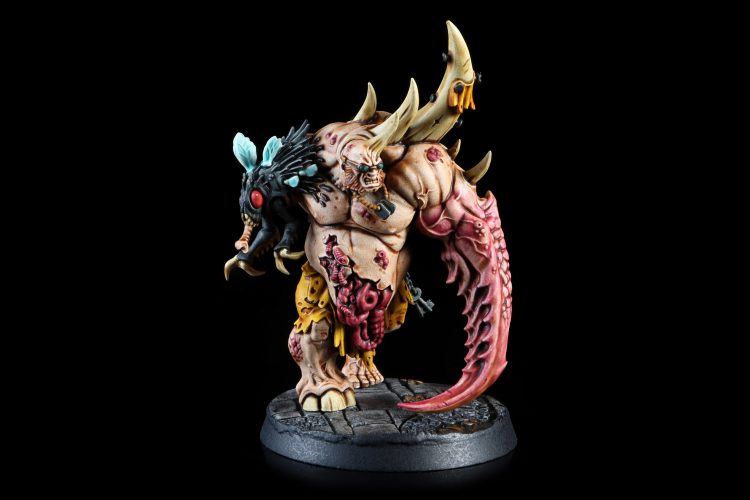 Lumberghast
Next we have the Lumberghast, who has possibly the weirdest anatomy of the bunch. He's yet another Nightmare Hulk with 18 wounds. His melee attack is a mutant claw with 4 attacks at 4+ to hit and 6/7 damage, plus the Brutal ability just to make sure you can't parry it. He has  unique action – Spiked Charge (1 AP) gives the Lumberghast a "free" Charge action, at the end of which every enemy operative within Engagement range suffers D3 mortal wounds. This is absolutely brutal and incentivizes you to make multi-charges on the chance you can kill two operatives by landing one hit on each after doing 2-3 mortals. Even if you only charge one, this can help you easily get to 13+ damage.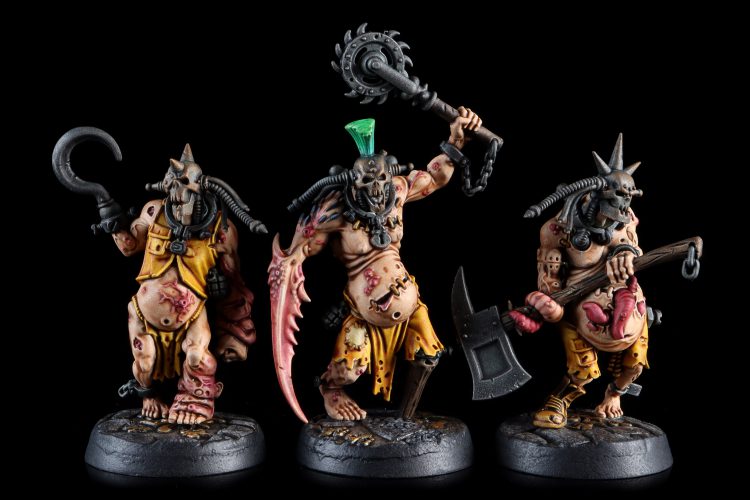 Gellerpox Mutants
You get three of these yabbos on your team; one with a heavy axe and two with frag grenades and mutant limbs. The Axe guy has 3 attacks at 4/5 damage with Brutal, while the other two can lob a single grenade and have 4 attacks at 4+ 2/3 damage with Relentless. They're OK in combat, and they have a group activation of two, but they only move 4″, meaning they'll probably lag behind your bigger operatives and end up doing more clean-up work. They're incredibly tough, however – their Gellercaust Masks basically cause all critical hits against them to just do normal damage, so while they only have 7 wounds, when you factor that in with Revoltingly Resilient, they'll feel more like they have 12-13.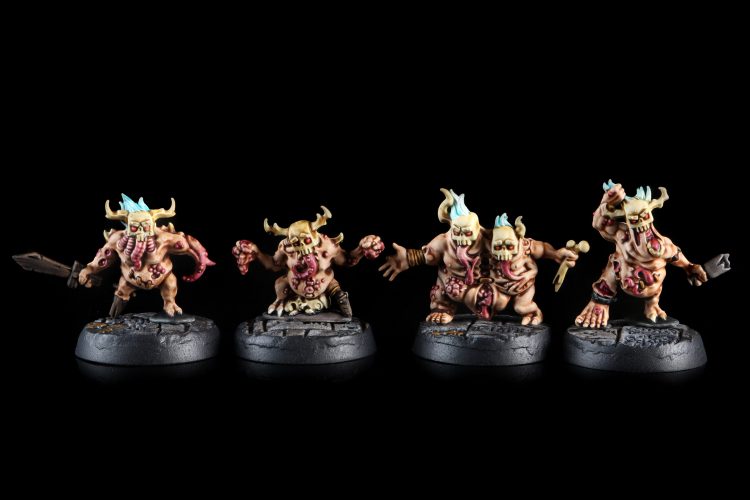 Glitchlings
Finally we have your four Glitchlings. These guys only have 3 wounds apiece, can't have equipment, and only do 1/2 damage, either with their ranged (6″) or melee attacks. On the upside they have a 5+ invulnerable save and they count as always being Concealed when under a Conceal order, so they've got that going for them. The primary purpose of these guys is to run ahead and annoy/debuff your opponent, giving them -1 attack with Techno-curse or charging them and forcing them to either fight a nothing unit or Fall Back.
Equipment – Mutoid Vermin
This is my favorite part of the team by far – the Gellerpox don't have Equipment, instead they add additional operatives called Mutoid Vermin. All those other little goobers on the Gellerpox infected? Here's how you get them on the team. Mutoid Vermin cost you 3 EP for the first one you add of a specific type and then 2 EP for each additional one of the same type. They can only perform universal actions, and they can't control objective markers or tokens, and they can't score you victory points.
One upside is that these critters can Fall Back for 1 AP. Though if they're in combat with an operative, that operative can Fall Back for 1 less AP as well (unless you have another operative in the mix). Also, none of these guys have Revoltingly Resilient or Tech-Curse. They all have 2 wounds and a 5+ save.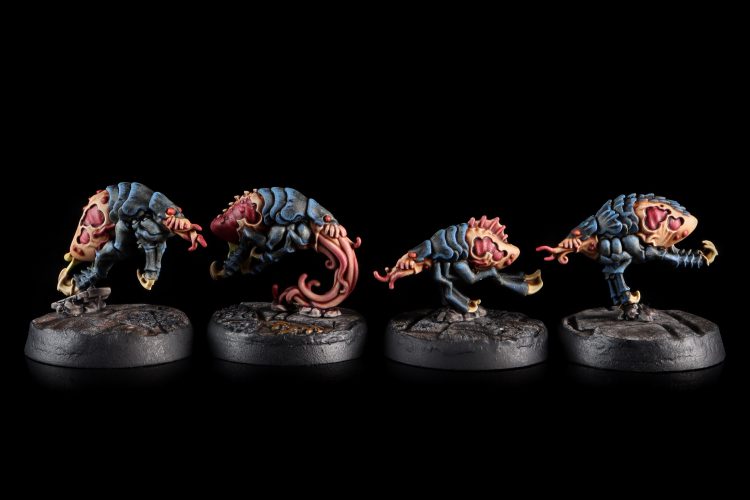 Cursemite [3/2 EP]
These goobers come with 6″ movement and the best melee attack of the lot – Their bloodsucking probiscii give them 2 attacks at 4+ to hit with 2/3 damage and Rending on Crits, plus if they fight an enemy operative who's lost any wounds, they get +1 attack and Lethal 5+. This makes them potentially nasty little jerks for piling onto an opponent who's already taken a wound or two from shooting attacks.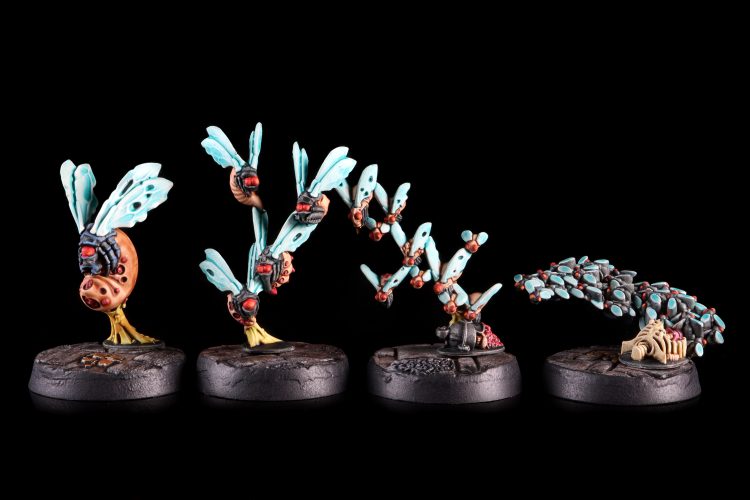 Eyestinger Swarm [3/2 EP]
The flies have 6″ movement and come with a ranged attack. Well, kind of – they get 5 shots at a 6″ range with the No Cover ability. These hit on a 6+ and do 0 damage but have the Stun critical rule. So basically you're angling to get one 6 to hit with your 5 shots to stun enemy operatives. Their sting does 5 attacks hitting on 5+ for 1/2 damage with Stun as well. This makes them more ideal against enemies that are vulnerable to Stun. which ironically includes other Gellerpox teams.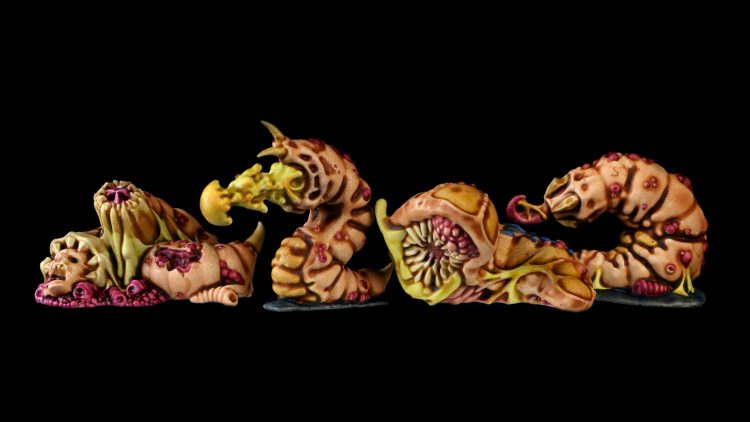 Sludge-Grub
Finally we have the sludge-grubs, who are slower than the other vermin (4″ movement), but come with an actual ranged attack – their Acid Spit gives them 4 attacks that hit on a 4+ for 2/2 damage with the Splash 1 rule. What you're really doing with these slugs however is charging them into combat, where they can do 1/3 damage with their mouths and, more importantly, explode on death. Every time one dies, roll a D6 for each visible enemy within 2″ – on a 4+, they take a mortal wound. This isn't a ton of damage but remember that this guy's just a piece of equipment.
Ploys
Gellerpox Infected teams have 8 ploys they can use and they're likely to use them a lot if they can get Vulgrar to snag them 1-2 extra CP per game.
Strategic Ploys
Gellerpox have some nasty tricks here. My favorite is undoubtedly the one that will be the most annoying for opponents – for 1 CP Blessings of Pox lets you retain one failed save as a success every time you're shot if the total dice value of your failed saves is 7+. Given that you're on 5+ saves this is a big boost, but only if opponents are scoring 3+ hits on you at a time. This makes it better against marines and custodes. On a similar note Blessings of Infection (1 CP) lets you do the same with your melee attacks if your discarded hit dice total 3+, which makes it pretty easy to get with a single miss. Drawn to the Hum helps you mitigate your lower movement values by giving every operative a free Dash move toward a single objective marker of your choosing. It starts at 1 CP and goes up in cost every time you use it. And Rust Emanations forces every enemy operative within Engagement range of a non-Vermin Gellerpox Infected operative to act as though they're injured, even if they can't normally be injured.
Tactical Ploys
On the tactical ploys side we've got some weird ones – and not necessarily in a good way. Pollute Stockpile is unique in that it's used during the Select Equipment step to make one piece of equipment cost 1 EP more for the battle and they can only take it once. This one can be terrifyingly strong, but using it well requires you to know a lot more about your opponent's kill team than I suspect most players will.
Barge is a more fun one on the other hand, letting your operatives move through other operatives as though they weren't there. Putrescent Demise gives every non-Vermin an explosive death to do 1 mortal wound to enemies within 2″ or D3 if they're Nightmare Hulks. And Frightening Onslaught is the most terrifying of the bunch, letting a Nightmare Hulk fight again as long as it's still within Engagement Range of an enemy after fighting once.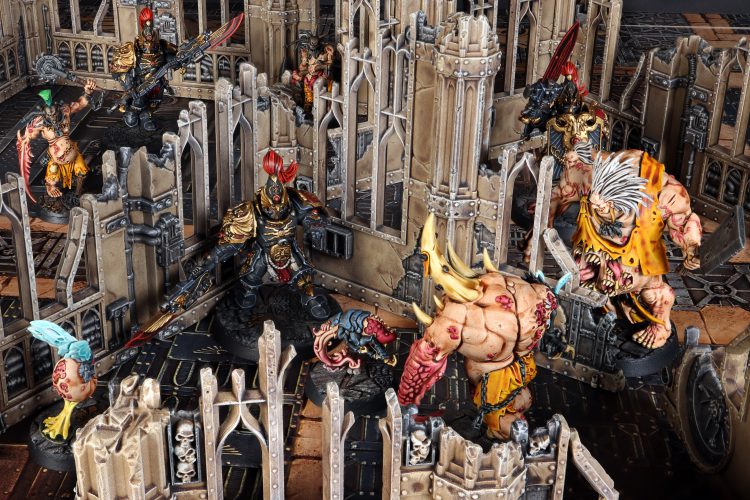 Tac Ops
Gellerpox Infected have the Security and Seek and Destroy roles, which makes sense for them. Their Tac Ops have you keeping judicious tallies to score points. Rampant Nightmare has you tally the total wounds taken by enemies within Engagement range of your Nightmare Hulk operatives during the battle. Score 30+ to get 1 VP and 50+ to get another. Pestilent Hosts has you place markers each time you incapacitate an enemy after the first for your operatives to pick up. Holding these scores you VP. And Tech Infection has you perform an action on objective markers to corrupt them for VP.
Final Thoughts
I honestly don't know what to make of the Gellerpox Infected as a kill team; they seem fun as hell to play and completely monstrous to take down, but they also seem a bit ponderous and slow in some regards. A lot of their games will depend on their ability to tank hits and plow into opponents early, which may be tough with lots of vertical terrain against faster opponents who can FLY. They're also going to struggle a lot against enemies who can Stun them and make their massive wound pools mostly worthless. On the other hand they'll also eat a ton of wounds and stay in the game and it'll be interesting to see how that works out.
Have any questions or feedback? Drop us a note in the comments below or email us at contact@goonhammer.com.