Magic's newest Un-set is Unfinity, releasing in October 2022. This set features a number of new mechanics and a major twist, in that the set no longer features the trademark silver borders of traditional Un-sets. Instead, the entire set features black borders and a large number of cards which are legal for play in Eternal formats. Cards which are only legal in Un-play are instead denoted by an Acorn mark where the holofoil security stamp would normally be found.
What this means is that Unfinity is the first Un-set to have a major impact on the Commander and cEDH formats, releasing a number of cards and mechanics which are legal to the formats. Some of those mechanics are pretty bonkers, adding a ton of complexity to games that use them, so today we're going to check out what we think the most relevant cards being added are!
The Cards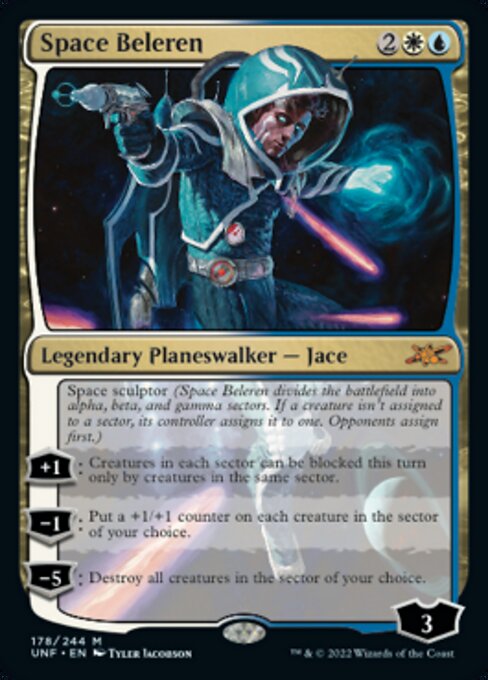 Space Beleren
FromTheShire: This creates a fun sub-game which I'm always a fan of, and cards that further mess with combat like Pramikon, Sky Rampart seem like a good place to be here. It's kind of a shame it only impacts your turn really. It also lets you hand out buffs and selectively board wipe which is solid as well.
Rocco Gest: I think this card is great fun and could see some niche play in an Azorius weenies deck. Forcing your opponent's to assign their sectors means you can react by putting your creatures into the sector that would give your opponent's the least benefit when going for the -1 or the ultimate. As far as being a Jace card, it kind of misses for me. The +1 loyalty ability is the only one of the 3 that really does something that Jace Planeswalkers are known to do, mess with blocking creatures. If we get some Jace's in the future with board wipes then that's a different story. This just sets a weird precedent for the planeswalker in my mind.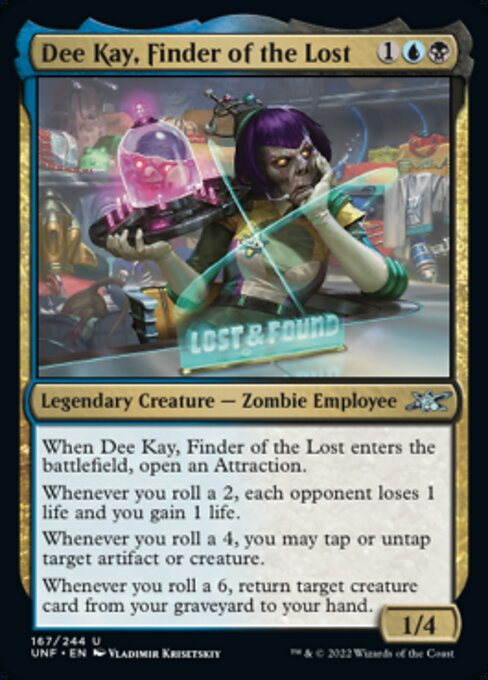 Dee Kay, Finder of the Lost
FromTheShire: Really like that this opens an Attraction each time you recast it as your Commander, and if you can get out one of the dice roll affecting pieces you can probably be triggering this a sizeable percentage of the time that you're rolling. All of the effects are quite useful in the format which is great, a lot of time cards like this end up only really being useful in Limited.
Rocco Gest: This is a pretty cool commander to run a dice based strategy around. The abilities don't trigger as often off of larger dice values found in the Dungeons and Dragons sets, but they still trigger.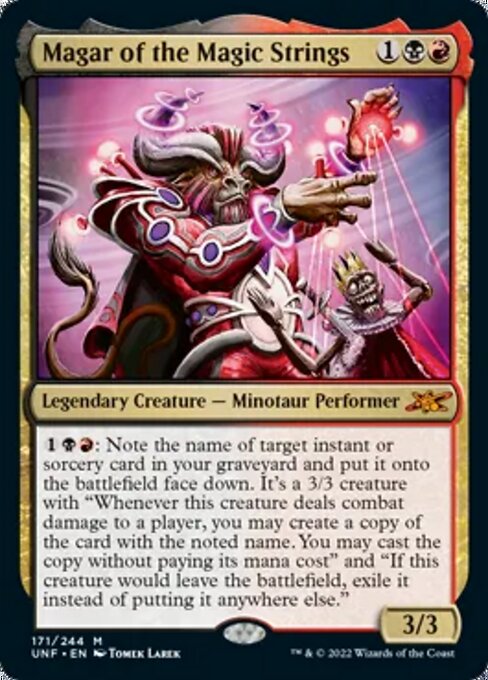 Magar of the Magic Strings
FromTheShire: This uh…. this is A Thing. Played fairly I can't wait to see the fun wacky things it can do buuuuut a lot of time you're going to see this built stuffed full of extra combats like Aggravated Assault, Savage Beating, etc that just goes infinite. Not a massive fan of 2 card combos where one half is in your Command Zone, especially when it only costs 3 each to play and activate. You're in the right colors to either tutor or rummage your way into what you're looking for in your graveyard quickly as well with things like Entomb and Faithless Looting.
Rocco Gest: Cool so he just gives you a 3/3 token with the instant/sorcery ciphered onto it. That's pretty nuts and I'd honestly like to see cipher return in a future set.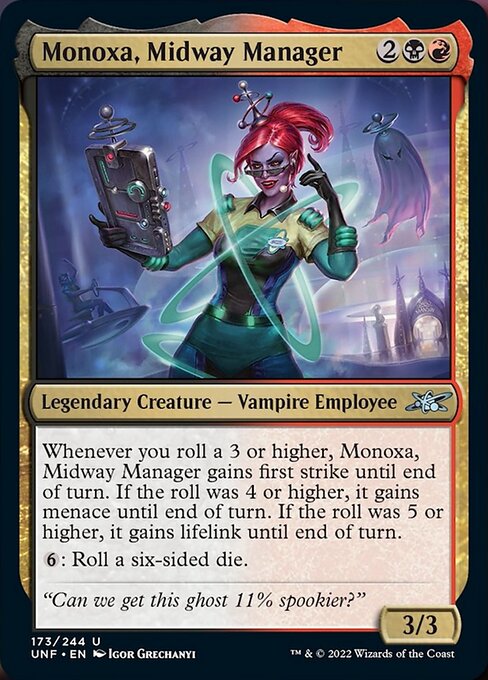 Monoxa, Midway Manager
FromTheShire: Again, once you get a dice manipulator out this is triggering useful effects on a 2+ most of the time, and that's strong even with just d6's. Toss some d20's in the mix though and now you're really here to party.
Rocco Gest: Very cool Rakdos legend for a dice based strategy. Combine it with dice cards from the Dungeons and Dragons sets and you're probably getting her ability to trigger most of the time.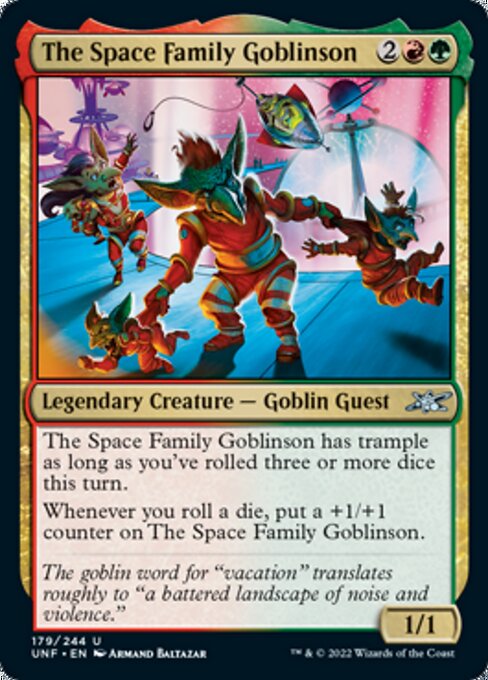 The Space Family Goblinson
FromTheShire: 3 seems like a reasonable bar to get trample at the rate this family is going to grow honestly – it seems a bit much at first glance but once you start getting effects like Barbarian Class out you're going to be hitting it every turn in no time. Great signpost card too that instantly tells you you want to be rolling lots and lots of dice.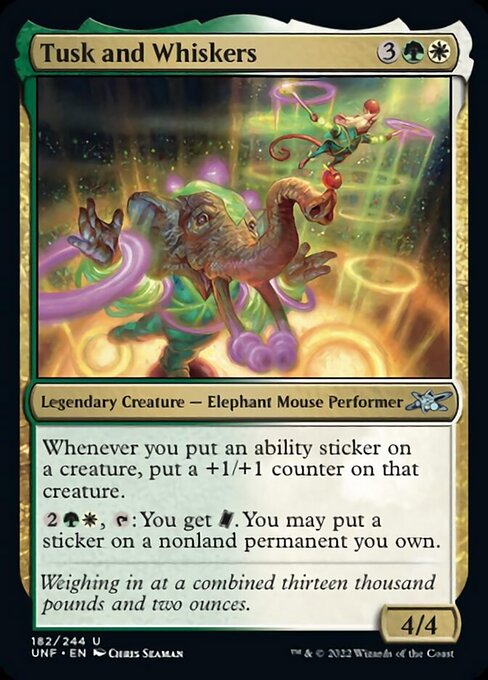 Tusk and Whiskers
FromTheShire: Now we're getting into more of the bookkeeping side of the new mechanics with tickets and ability stickers. This dynamic duo gives you the tickets you need to pay for ability stickers, lets you actually place the stickers once you have enough tickets, and then gives the creature a nice little boost as well. A fun, self contained package if you want to go wild with stickers in these colors.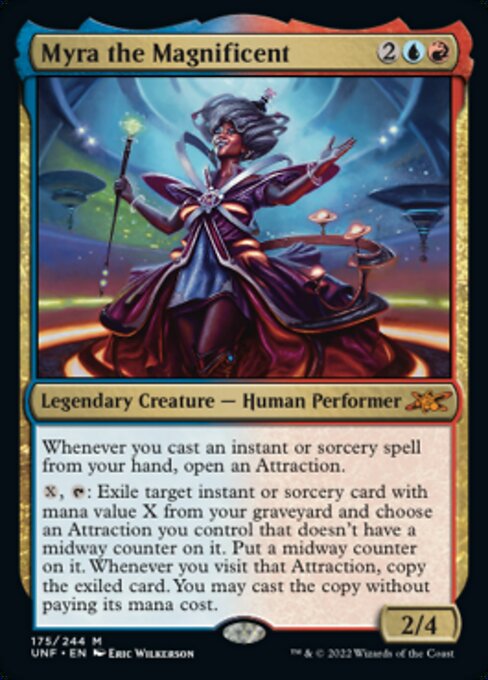 Myra the Magnificent
FromTheShire: Great way to churn out all 10 of your Attractions quickly as you spell sling, and then give yourself a chance to keep getting those effects again and again as you visit them. Ideally you're putting the counter on an Attraction that has 3 lights lit up so you have a 50/50 of getting the exiled spell each turn.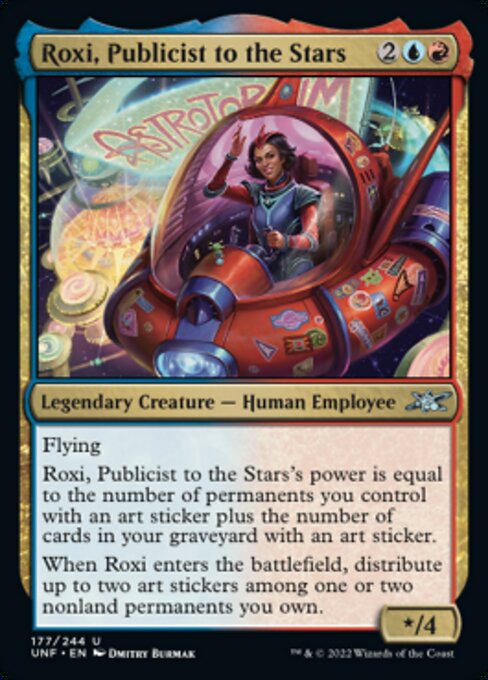 Roxi, Publicist to the Stars
FromTheShire: With the limited number of ways there currently are to give out art stickers it's too bad this doesn't have white so you can go full flicker mode, but blue will get you a long way by itself, turning this into a dangerous flying threat.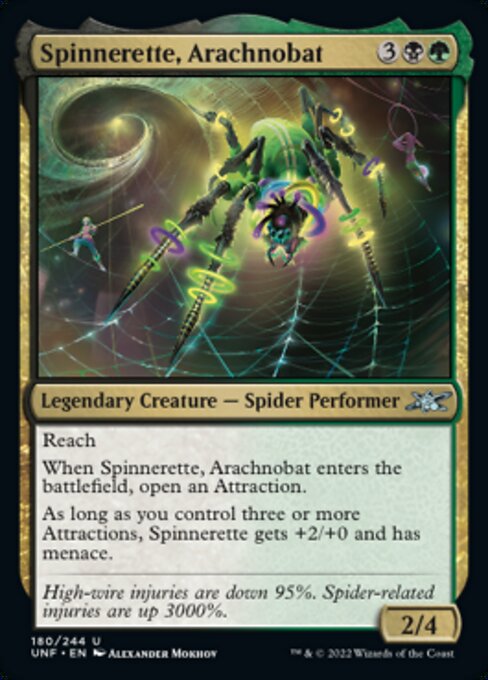 Spinnerette, Arachnobat
FromTheShire: Opening an Attraction is solid, and these are good colors for playing with them. Somewhat of a shame it doesn't do more for you once they are out though.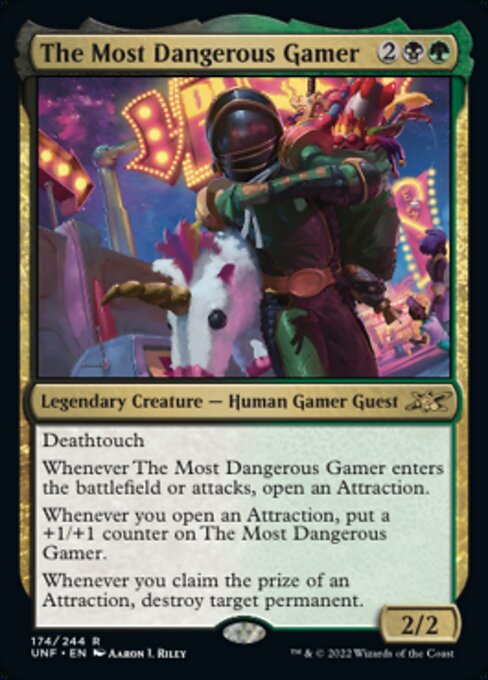 The Most Dangerous Gamer
FromTheShire: Now we're talking! Opens an Attraction both when it enters and when it attacks, has deathtouch and a self buff to make it more likely to survive making those attacks, and then starts blowing up permanents. Not even nonland permanents either. Realistically this isn't going to destroy that much stuff, but chasing that sweet feeling when it DOES is what you're here for if you're playing any of these decks anyways, and this is one of the best payoffs when it happens.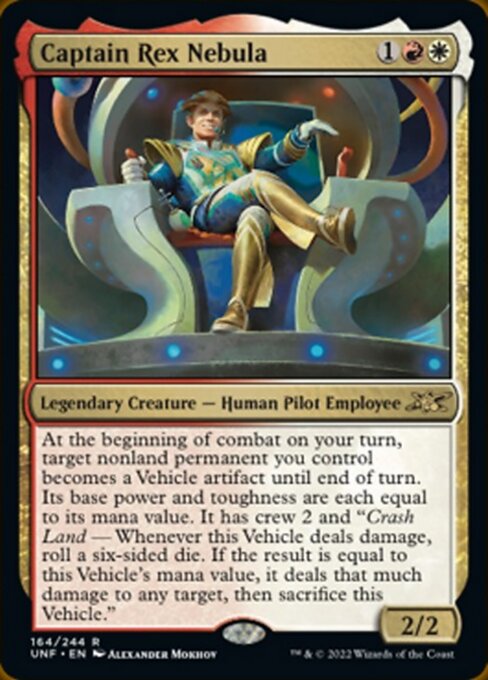 Captain Rex Nebula
FromTheShire: He is the man with no name. Rex Nebula, at your service. Time to find out which of your permanents is built like a steakhouse but handles like a bistro as you pilot it straight into that weapon of mass disgusting your opponents call their faces. And if you hit that bullseye, the rest of the dominos will fall like a house of cards. Checkmate.
Rocco Gest: Bosh the Iron Golem? That commander is for sissies. Now here's a deck strategy with some chest hair! It's Zapp Brannigan the MtG card! He may not be the best way to run an aggro artifact deck in Boros, but he is definitely the BEST way.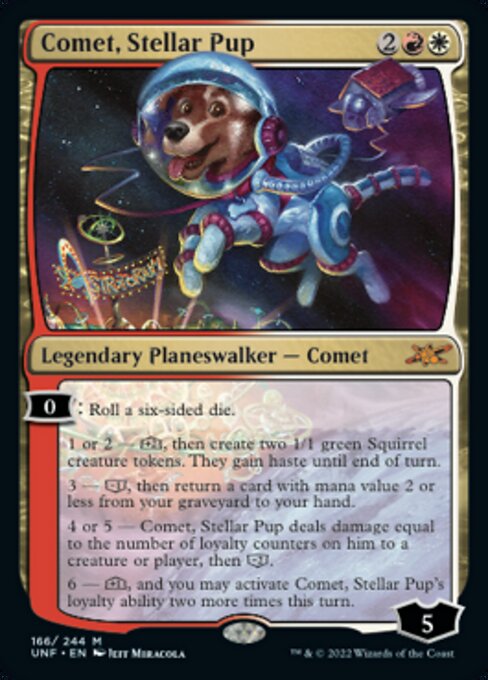 Comet, Stellar Pup
FromTheShire: Interestingly, while this is kind of whatever for Commander, though you will definitely see it in Rin and Seri, Inseparable decks, there's some amount of buzz around it for Legacy since the effects are all solid. Going to 7 loyalty and making 2 1/1's means it's unlikely to die, the 2 CMV return can get you a bunch of useful creatures or fetchlands back, the damage either pings off troublesome creatures or goes face, and the 6 means you get 2 more shots at any of the above.
Rocco Gest: Just roll 6's and activate your dog forever. He's a good boy and he wants to gain loyalty counters for no real pay off.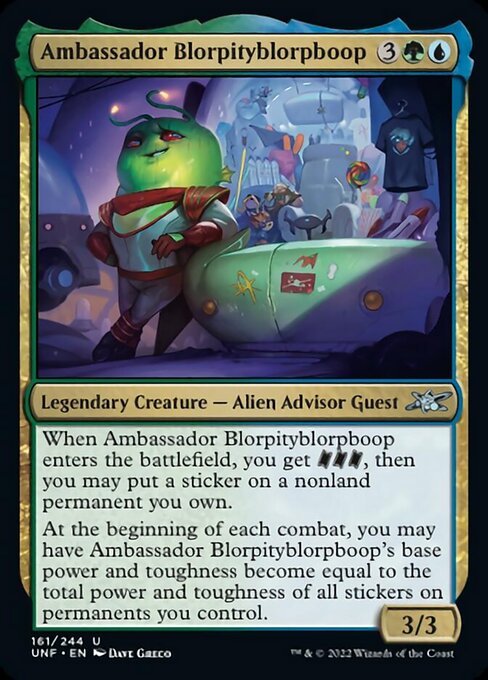 Ambassador Blorpityblorpboop
FromTheShire: This seems like it can get pretty threating relatively quickly, especially with blue having some good tools for evasion. Nice to see a change in what your Simic legendary is doing.
Rocco Gest: Oh a Simic commander shaped like a friend and has a fun name! I'll gladly take his ticket and make his name dumber.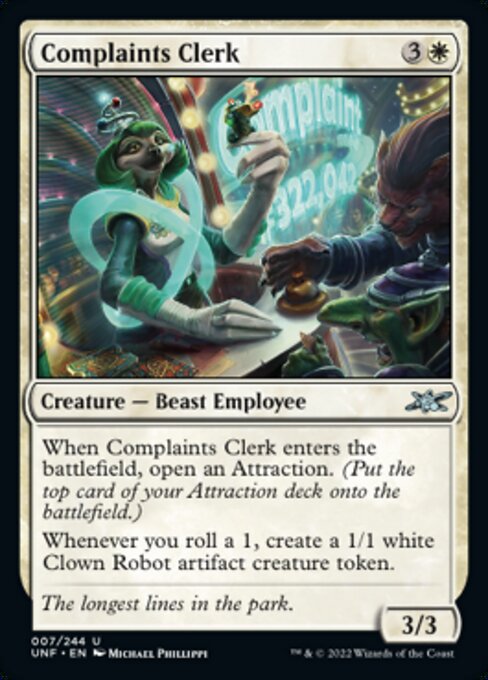 Complaints Clerk
FromTheShire: Opens an Attraction, and then gives you a consolation token whenever your attempted visit auto-fails. Solid.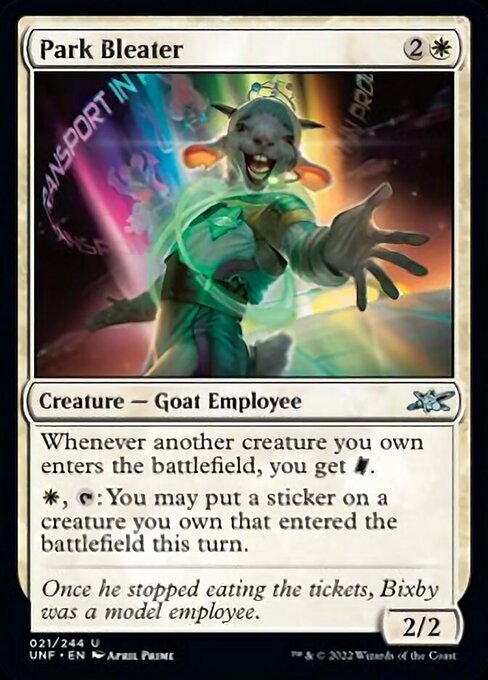 Park Bleater
FromTheShire: More often than not you're going to be looking for ability stickers and power/toughness stickers, both of which require tickets, and this helpful employee is going to fuel you in that direction quickly, especially if you're going wide as it does not specify nontoken creatures. Even better, they also give you a method of putting the stickers on.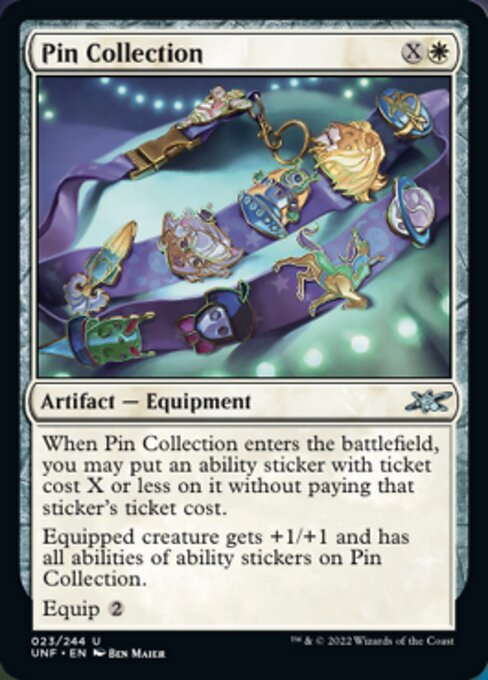 Pin Collection
FromTheShire: Obviously it will vary depending on which set of stickers you randomly draw before the game, but a lot of the abilities are something you'd like to have, and even more so when it is attached to an Equipment you can keep passing around.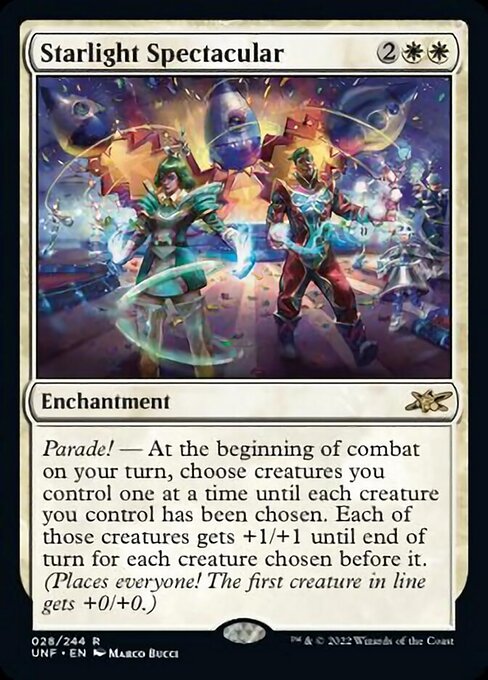 Starlight Spectacular
FromTheShire: Somewhat like an oddball Coat of Arms or Cathars Crusade, in go wide decks this quickly becomes terrifying.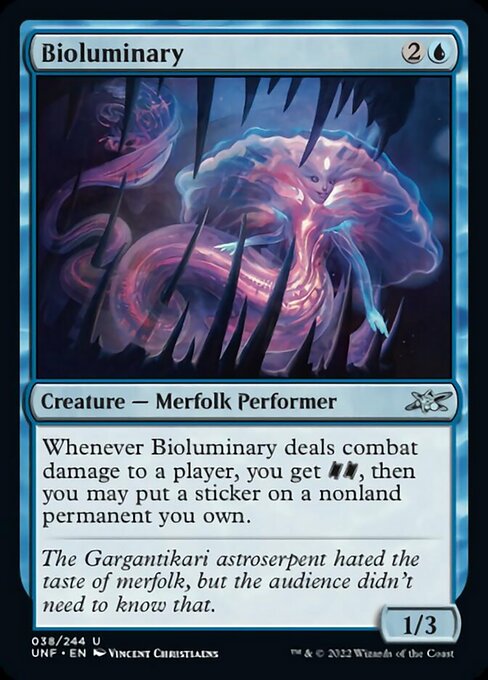 Bioluminary
FromTheShire: Two tickets at a time is a solid chunk, and then in addition it lets you place a sticker. Now you just need to connect with it.
Rocco Gest: An interesting way to do a Coastal Piracy for stickers. Shame it doesn't have any evasion.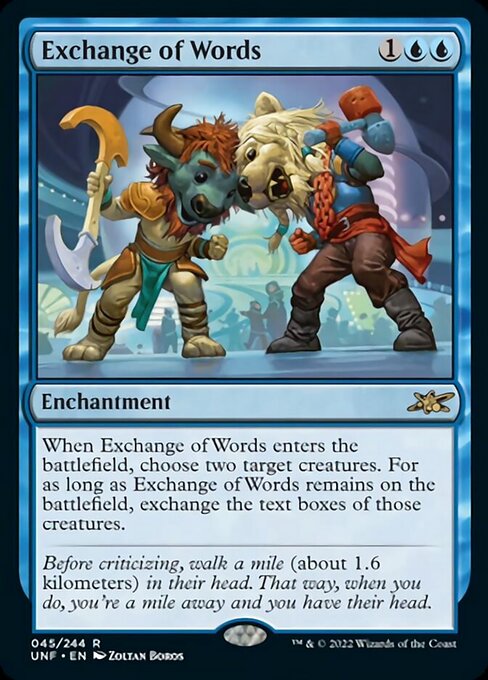 Exchange of Words
FromTheShire: Cheap, and there's a ton of text boxes you are going to want to steal, whether it's some nasty Annihilating Eldrazi or simply someone's Commander that you really think should have the text of a Saproling instead of whatever nonsense it was doing a second ago. Love it.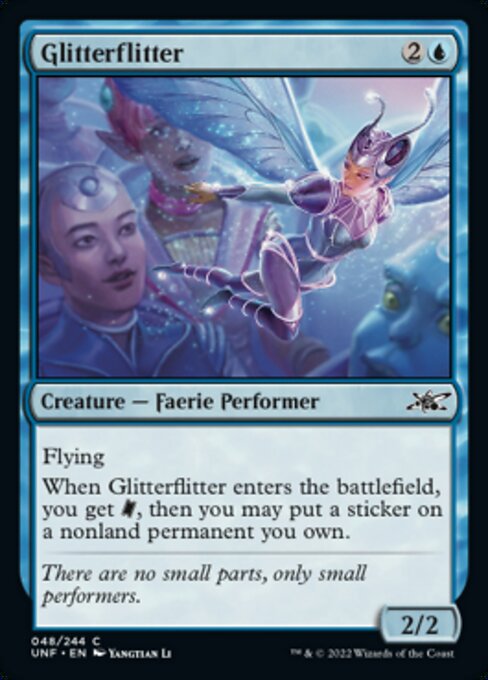 Glitterflitter
FromTheShire: Another ticket and sticker enabler – there's a whole cycle of these but this is arguably the best since it only costs 3, flies, and is in blue so you can do blink shenanigans with it.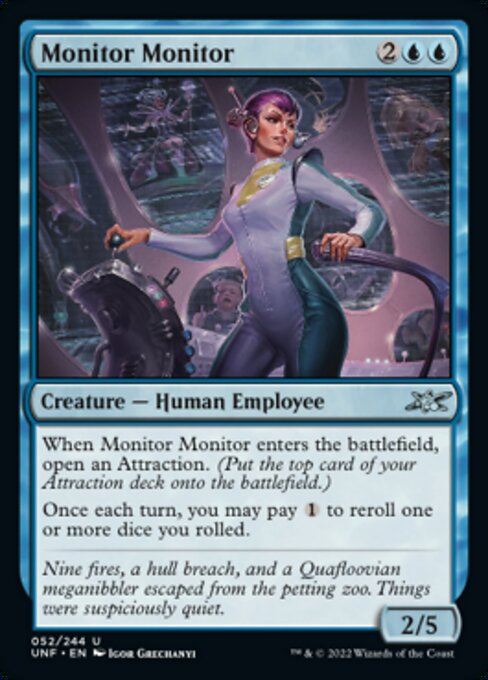 Monitor Monitor
FromTheShire: The Attraction is nice, but being able to pay for a reroll is the real star.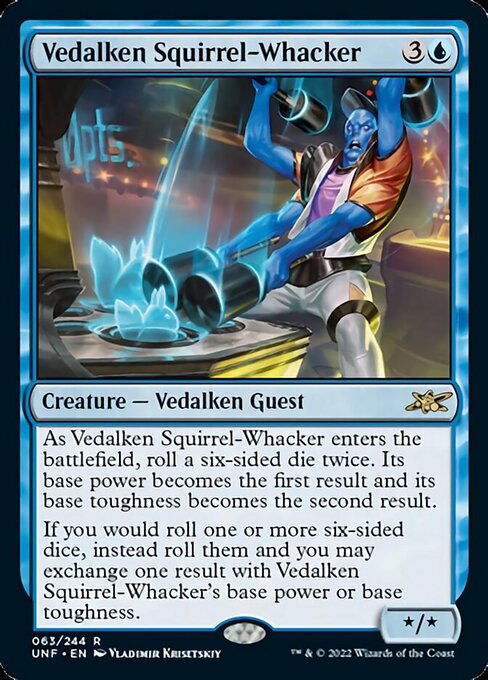 Vedalken Squirrel-Whacker
FromTheShire: Speaking of dice manipulation, this is an outstanding piece for getting the number you need in the clutch. Really good, auto include.
Rocco Gest: If you're running a dice-based strategy you definitely want to be running it with blue for this guy, being able to Tetris hold dice values for later use is HUGE. Sometimes you want that 1.
Black Hole
FromTheShire: I don't hate it but sorcery speed, 4 mana, and an unknown number of targets isn't going to get you there frequently.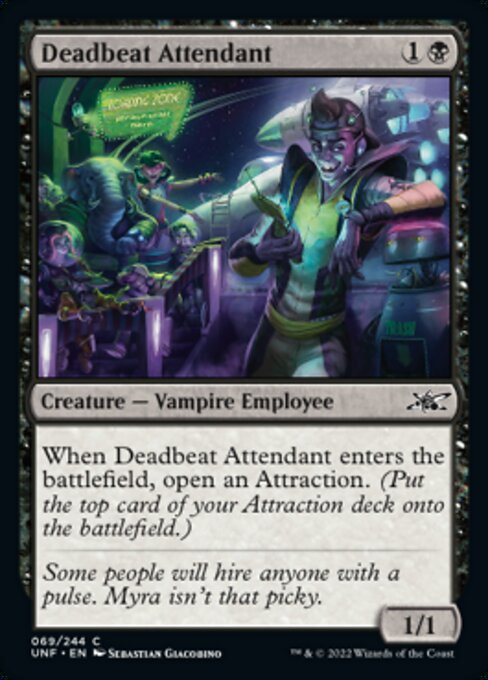 Deadbeat Attendant
FromTheShire: Likely doesn't get there in Legacy since the Attractions are so variable but there has at least been a moment of thought about it.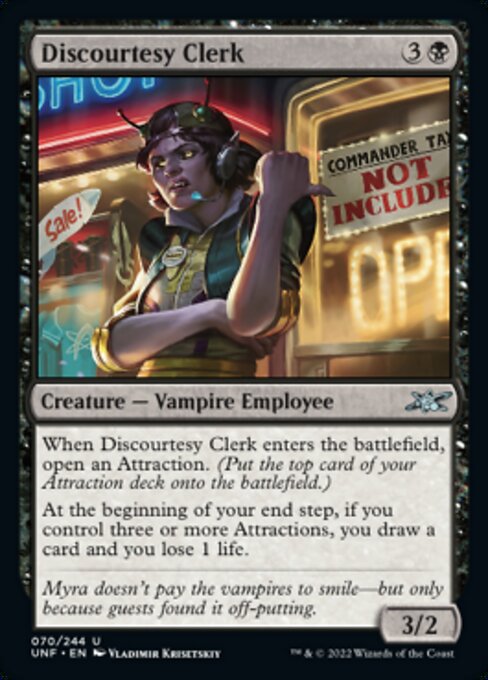 Discourtesy Clerk
FromTheShire: Phyrexian Arena is an incredible card, and even doing a weaker imitation of it will be valuable in a deck building around Attractions.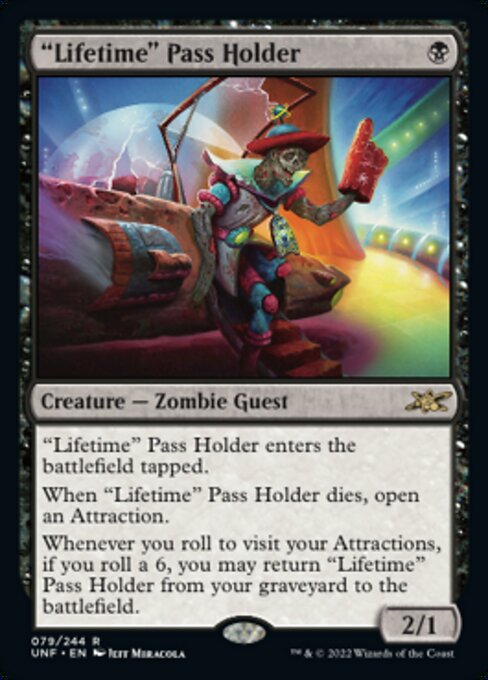 "Lifetime" Pass Holder
FromTheShire: The cheapest Attraction enabler, though it does have to die to open one. Returning to the battlefield is nice as well, and I could see this getting Skullclamp attacked to it frequently.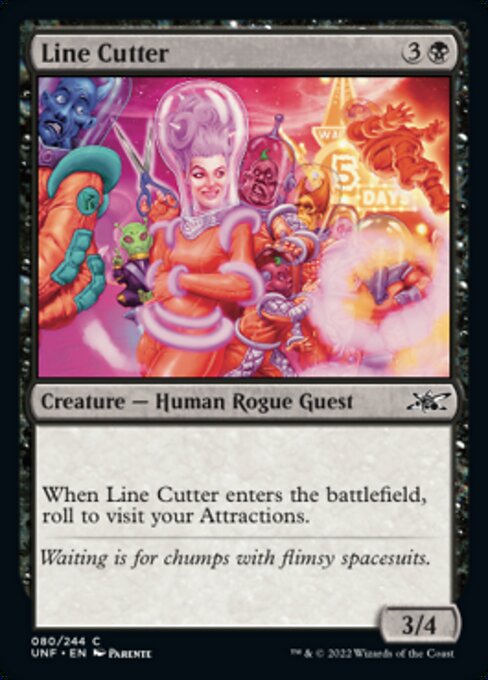 Line Cutter
FromTheShire: Is this worth reanimating over and over to get another crack at your funhouse? Probably not, but also you're probably going to try if you build the deck.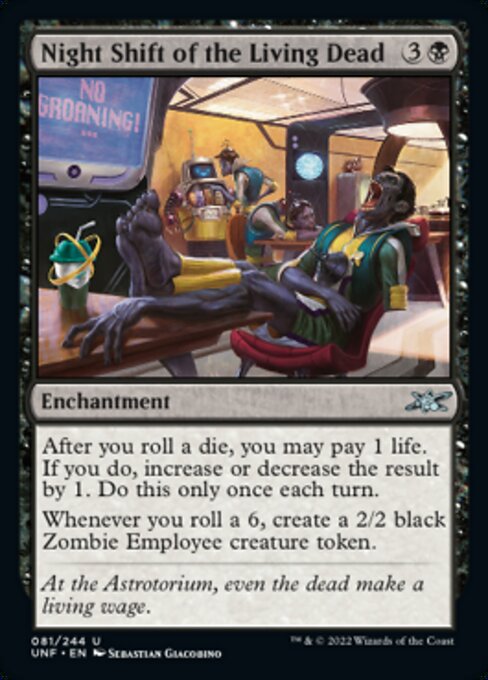 Night Shift of the Living Dead
FromTheShire: Really good manipulation piece which would probably be worth it just for that, but it also comes along with a token creator which is even better.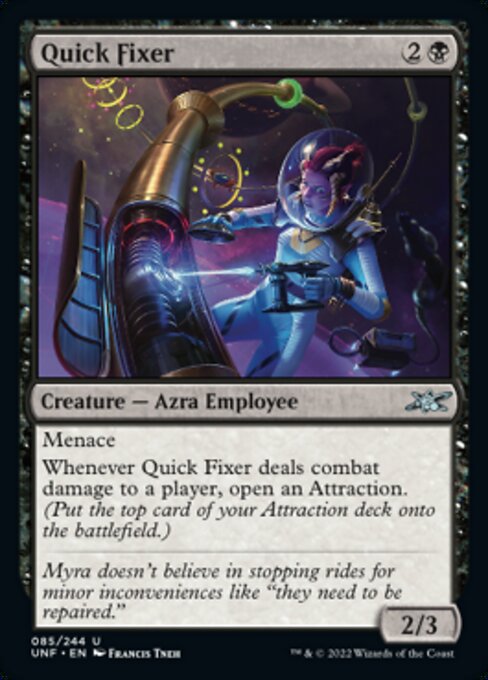 Quick Fixer
FromTheShire: Another combat damage trigger which is always a little dicey, this one at least has built in menace for a small amount of evasion.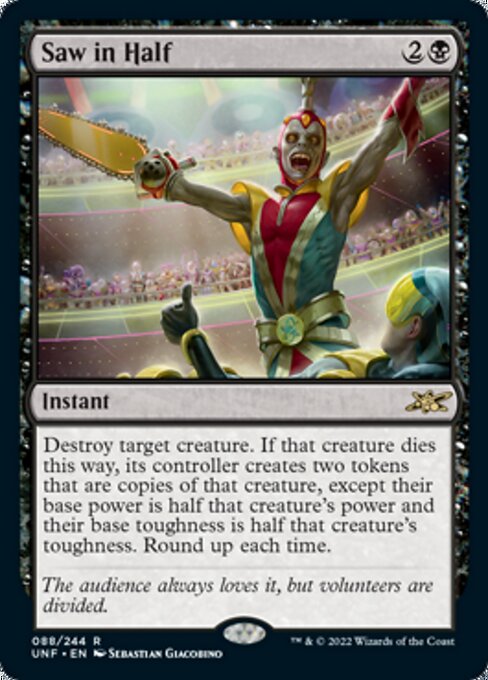 Saw in Half
FromTheShire: More often than not I think you're going to use this to buy back your best ETB twice which is great, but in a pinch this can also save you from a big attack which is great utility.
Rocco Gest: Great way to mini-Rite of Replication in black. Also a decent way to slash an opponent's big stompy green creature in half, just don't do it to one with a good ETB trigger.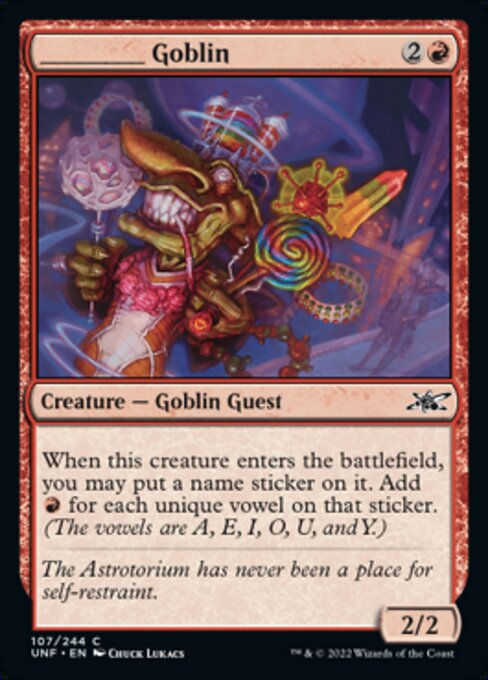 __________ Goblin
FromTheShire: This is another one that people are doing some math on for Legacy for Goblin Stompy lists. If you can get out a Muxus, Goblin Grandee a couple of turns early, that's hugely powerful.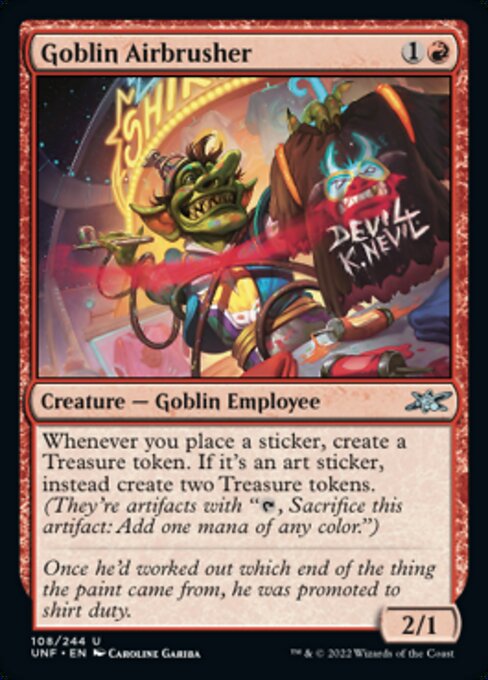 Goblin Airbrusher
FromTheShire: Since it doesn't enable itself I don't think this makes the cut in the list mentioned previously, but for Commander this is an excellent ramp piece in a sticker deck.
Rocco Gest: Amazing red ramp if you are going with a sticker based strategy and have a good engine. You might not go for the art stickers in Commander, but if you really want those extra treasures then I'm not gonna stop you.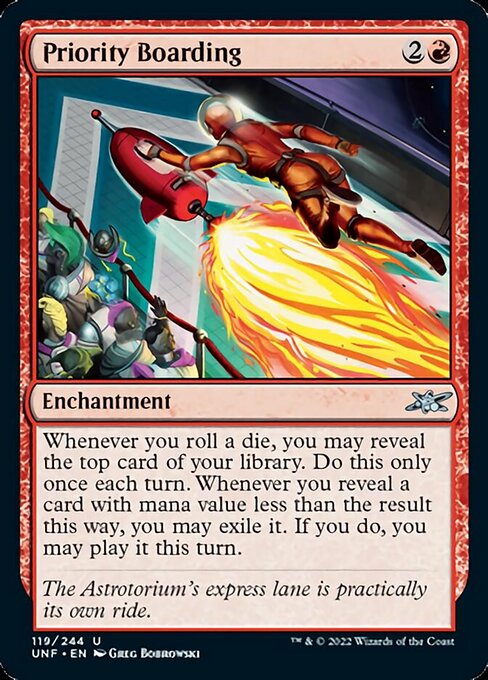 Priority Boarding
FromTheShire: While it's unpredictable, this is a great, on theme way of getting card advantage.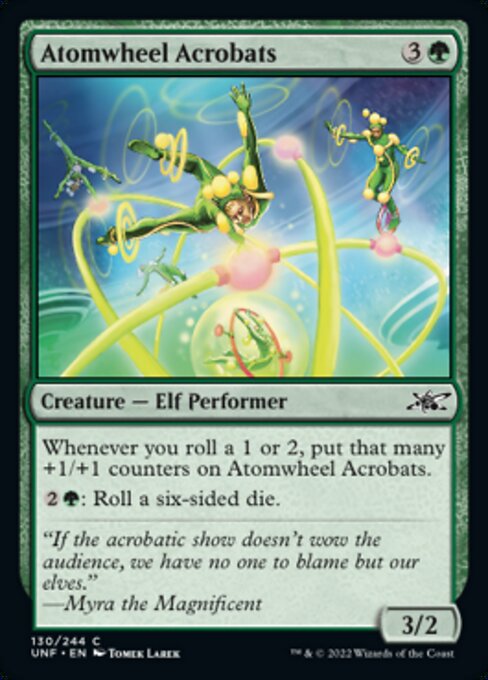 Atomwheel Acrobats
FromTheShire: If you're able to pull off the go ride dice strategy, this thing can get big quickly. No evasion does hurt a bit but you're in green, find a way to give trample.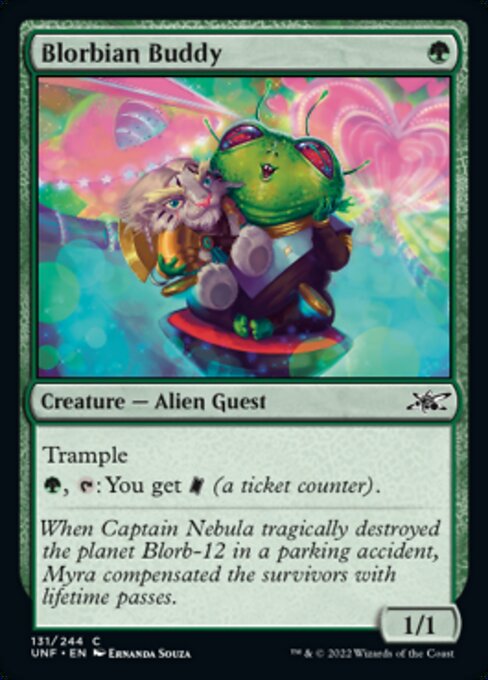 Blorbian Buddy
FromTheShire: Cheap, repeatable ticket generation, what's not to like?
Rocco Gest: He is shaped like a friend and I will gladly accept his tickets.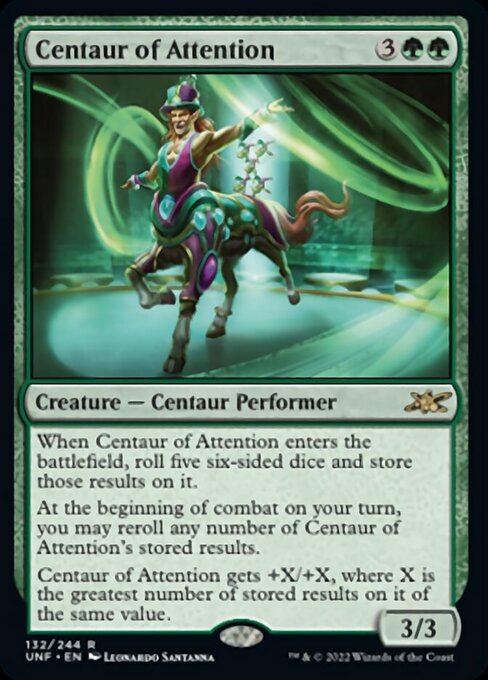 Centaur of Attention
FromTheShire: Can give itself a solid buff, but what you really want this guy for is all of those other creatures that key off of multiple dice rolls, since this can give you 5 new triggers on each of your combats. That makes for a biiiiiig The Space Family Goblinson rapidly.
Rocco Gest: YAHTZEE!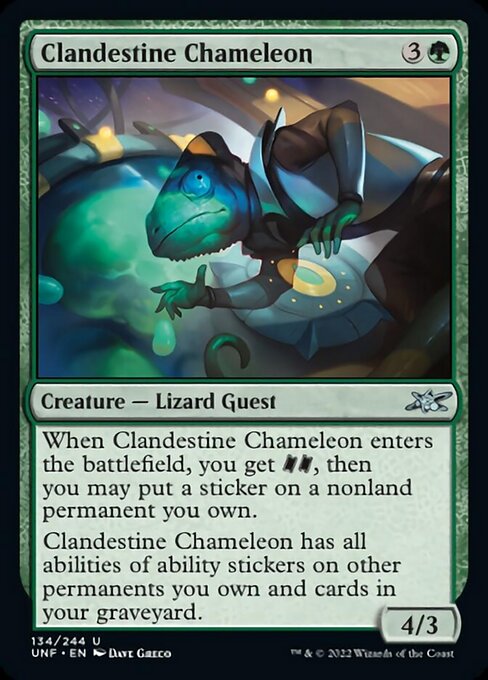 Clandestine Chameleon
FromTheShire: 'Has all abilities' cards are always fun, and this counts both in play and in your graveyard which is great.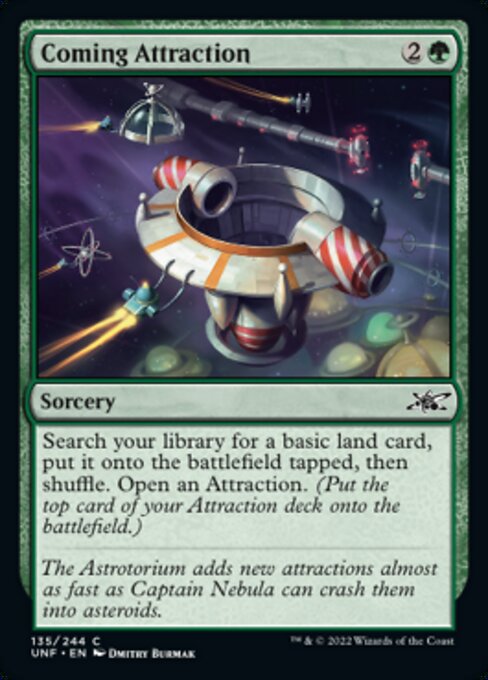 Coming Attraction
FromTheShire: Nothing fancy but a good roleplayer in the deck, doing two things you want to be doing anyway.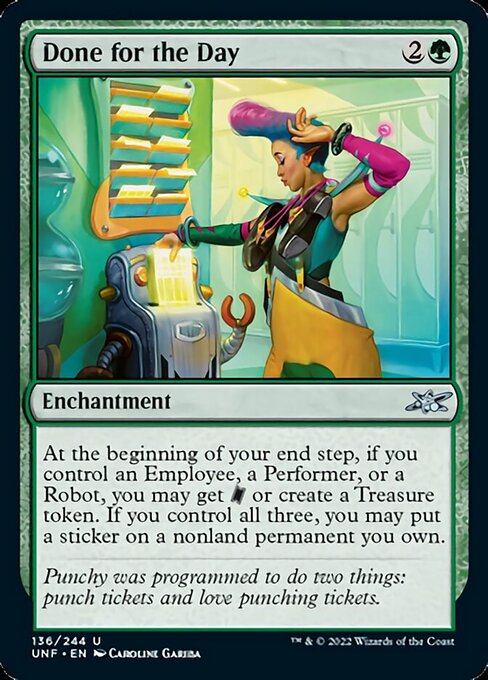 Done for the Day
FromTheShire: Lots of flexibility here to get exactly what you need in a given situation.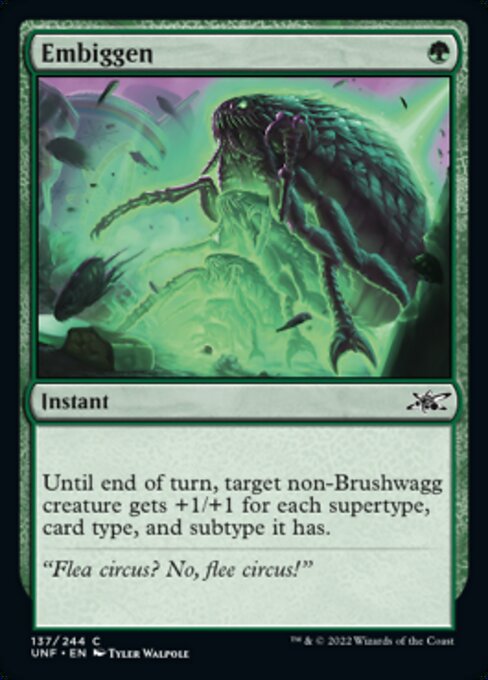 Embiggen
FromTheShire: Might see 1 or 2 of play in Infect decks since with the recent errata to include Phyrexian in the creature type of Infect creatures, this is giving +4/+4, or +5/+5 to Inkmoth Nexus .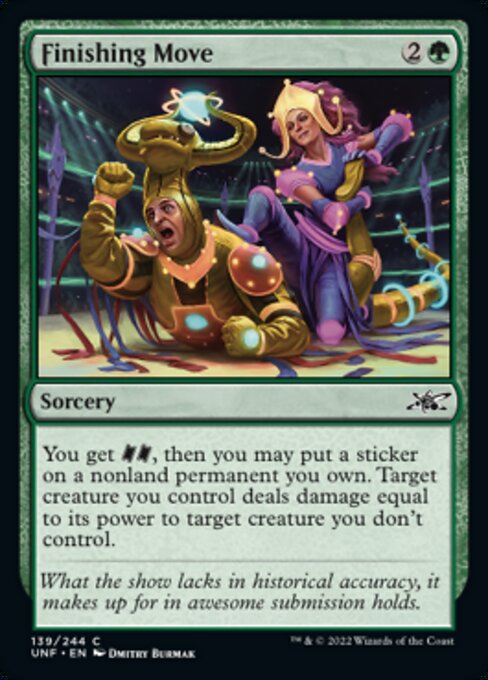 Finishing Move
FromTheShire: Gives you a couple of tickets, a sticker, and then also lets you kill a creature, pretty solid.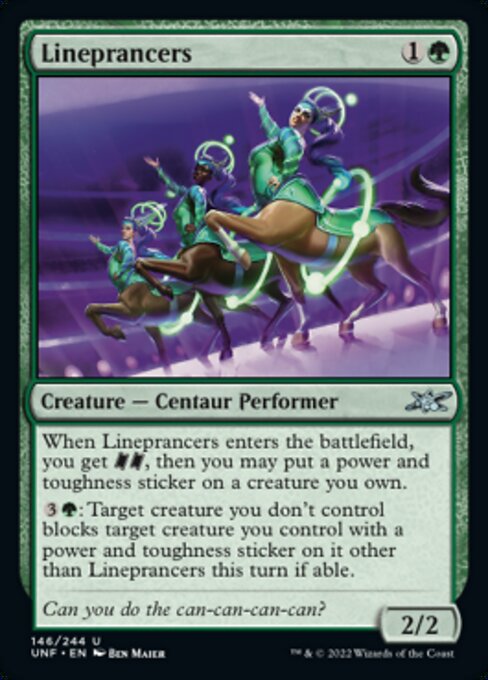 Lineprancers
FromTheShire: Cheap way to get a couple of tickets and enable you to place a power / toughness sticker, and then you can use the Lure effect to pick off annoying utility creatures and the like.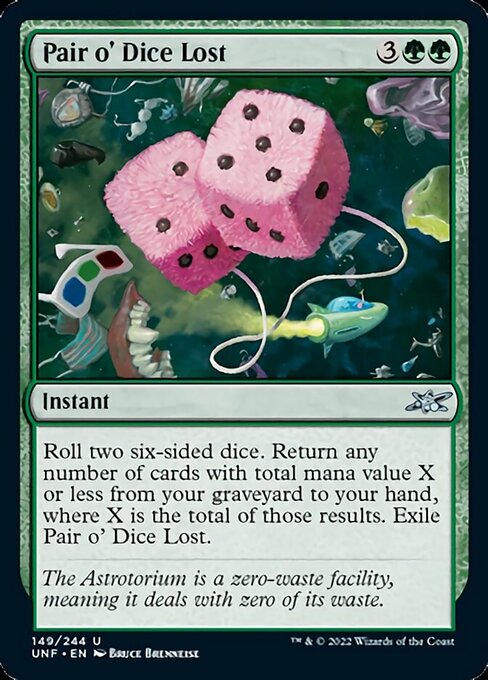 Pair o' Dice Lost
FromTheShire: Instant speed recursion is nice even if it is variable, and this is great for picking up a bunch of fetches, Lotus Petals, and Dark Rituals.
Rocco Gest: This may not seem very good until you realize that regardless of your dice result, you can add back all of the lands from your graveyard to hand. That's nutty. Borborygmos Enraged loves this.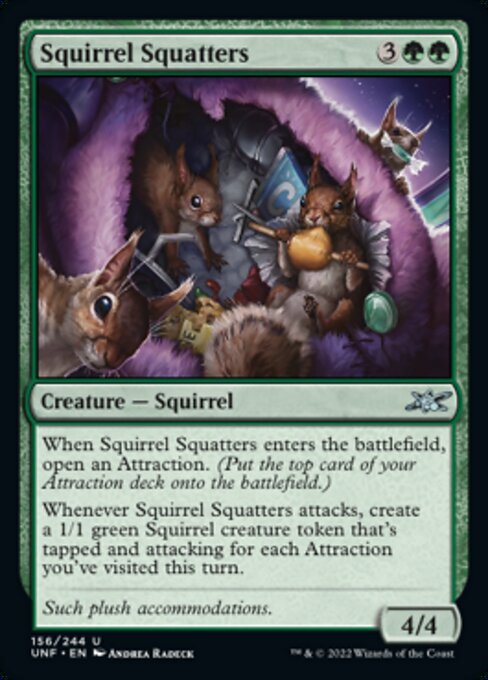 Squirrel Squatters
FromTheShire: It's fine not great, but how were we not going to show a Squirrel card in an Un-set?
Celebr-8000
FromTheShire: Another enabler for rolling buckets full of dice, this little bot isn't going to get a lot done but by god he's doing his best and having a blast doing it and that deserves some damn RESPECT.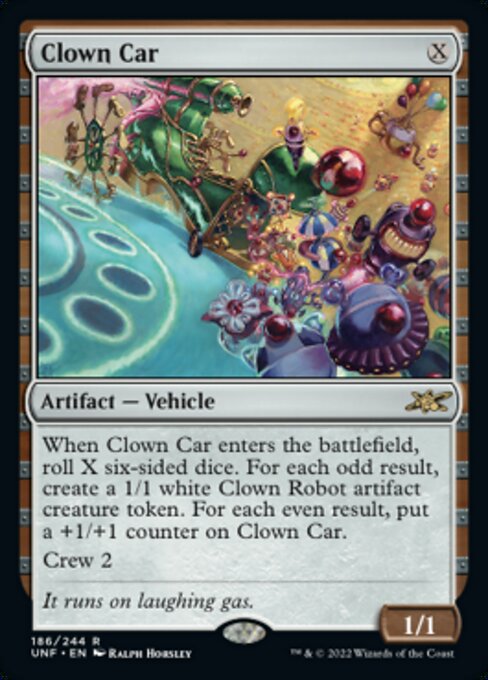 Clown Car
FromTheShire: The more mana you have, the more fun you get. Another good one off enabler.
Rocco Gest: May God have mercy on our souls.
The Attractions
In no particular order, here are the cards we would use as the starting pool for selecting your 10 Attractions from: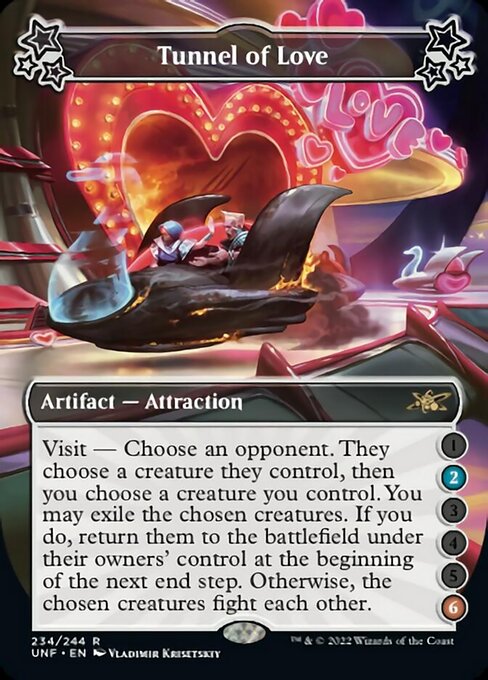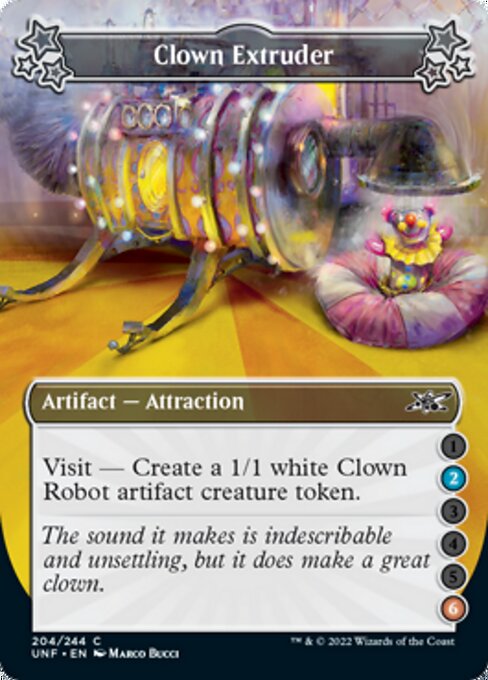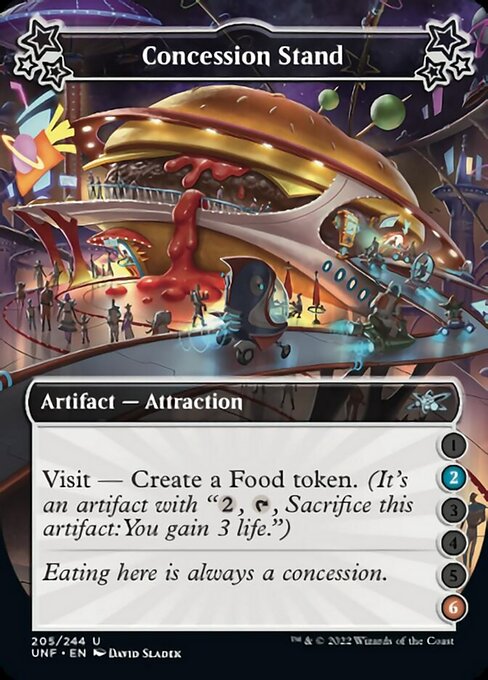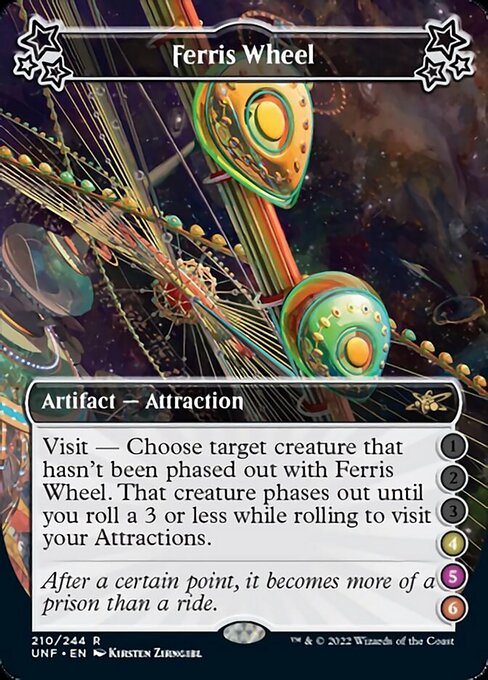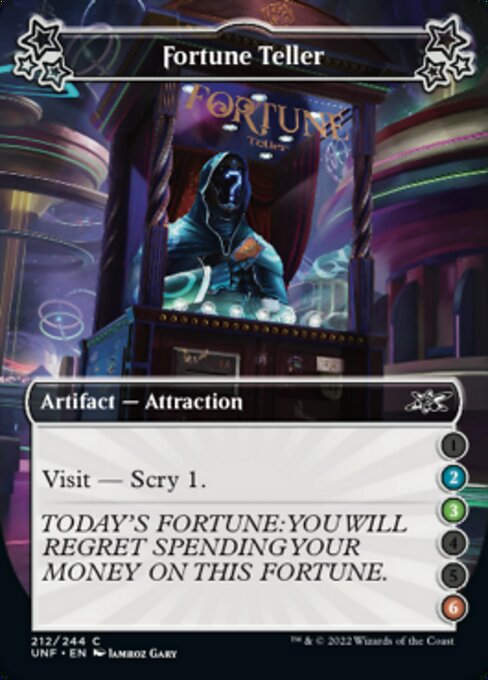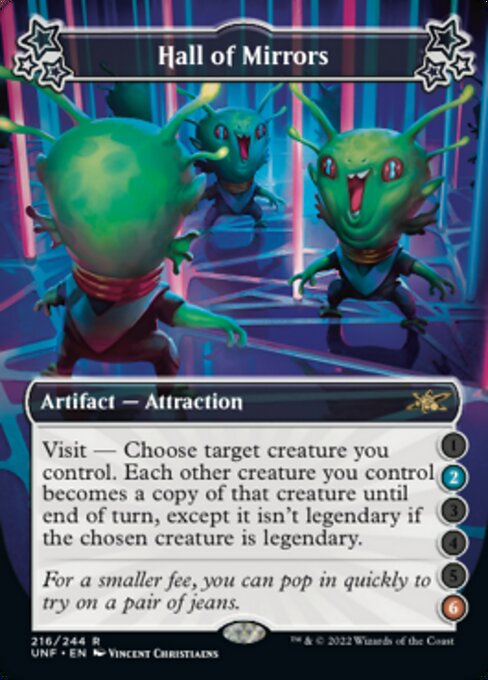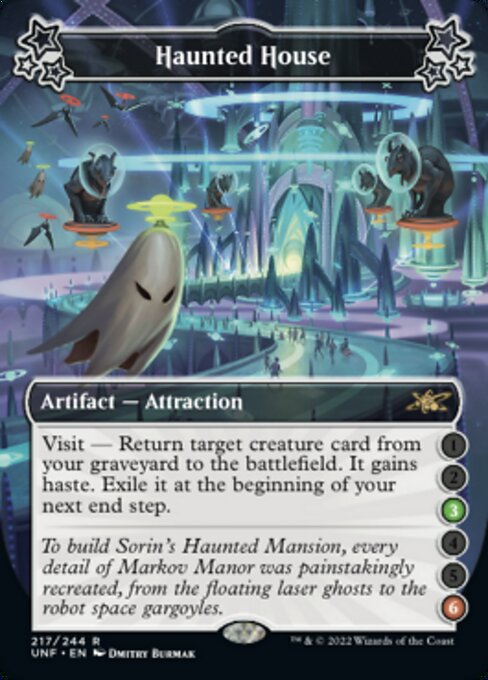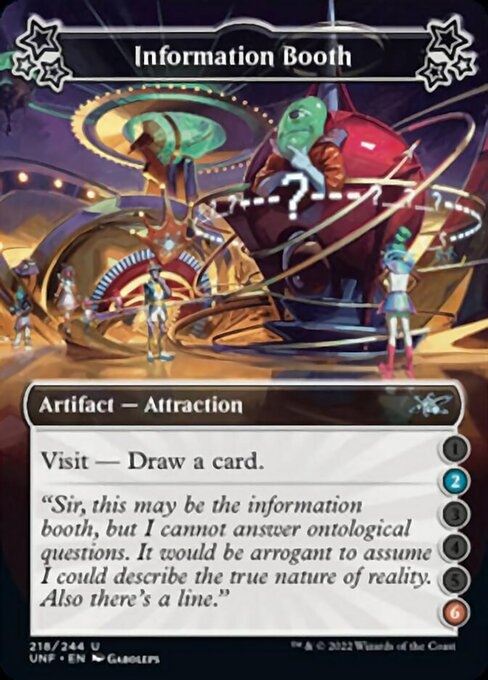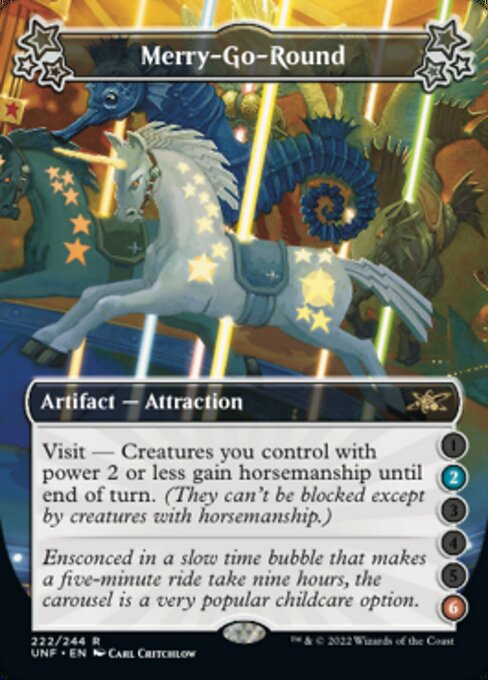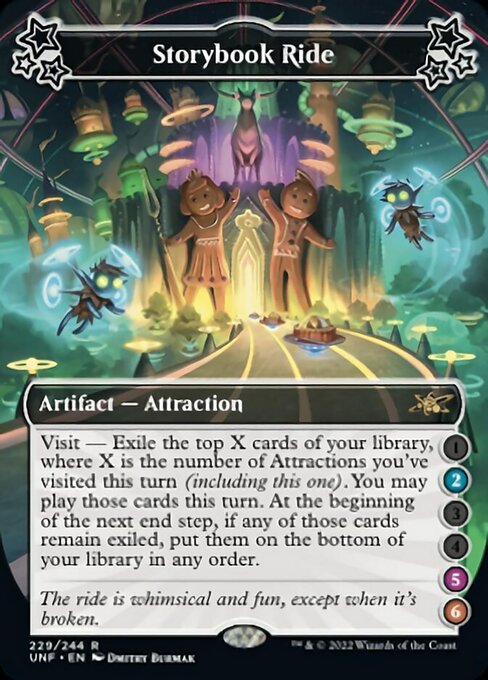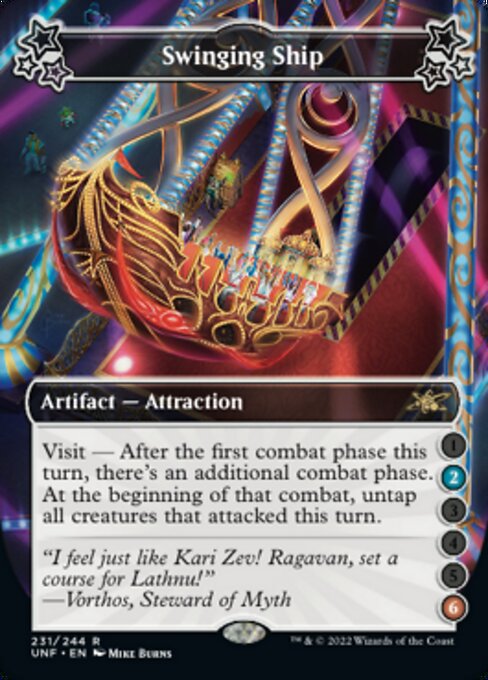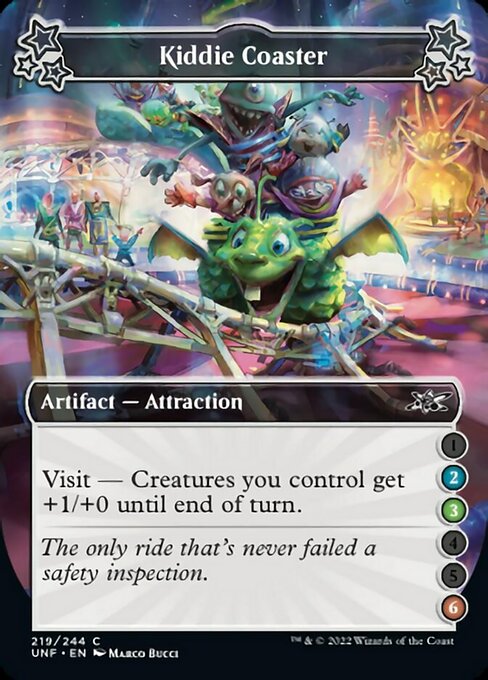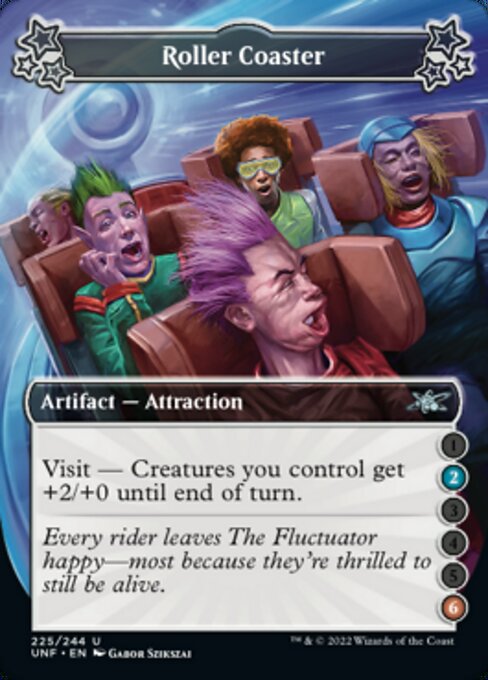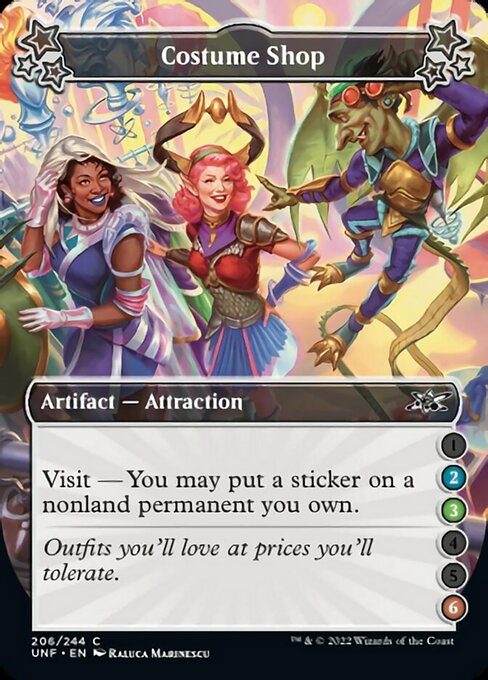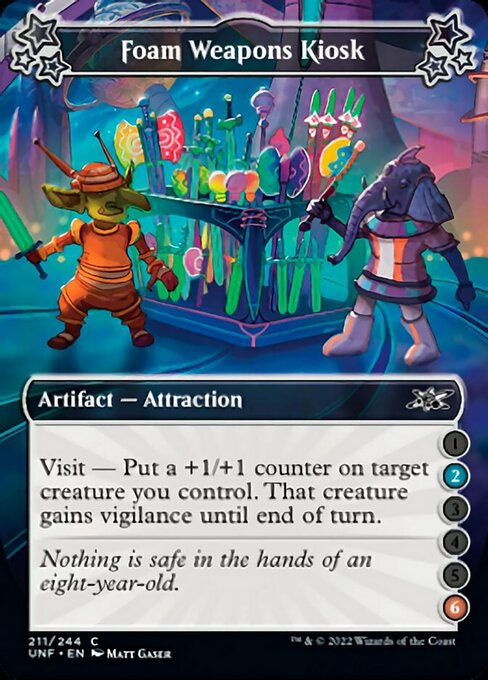 That wraps up our coverage of Unfinity so next week we will be returning to more standard Magic fare!
Have any questions or feedback? Drop us a note in the comments below or email us at contact@goonhammer.com.