As our faithful readers may have heard, Adepticon happened this weekend. After a pandemic-related hiatus from conventions, Atomic Mass Games returned to the Adepticon show floor in force. AMG filled the entirety of Exploration Hall every day of the convention with huge events for Marvel: Crisis Protocol, Star Wars: Legion, Star Wars: X-Wing, and Star Wars: Armada. In addition, AMG's booth hosted a consistently packed demo area for their soon to be released miniatures skirmish game, Star Wars: Shatterpoint as well as their painting competition, The Path of the Worthy (overall winner pictured below).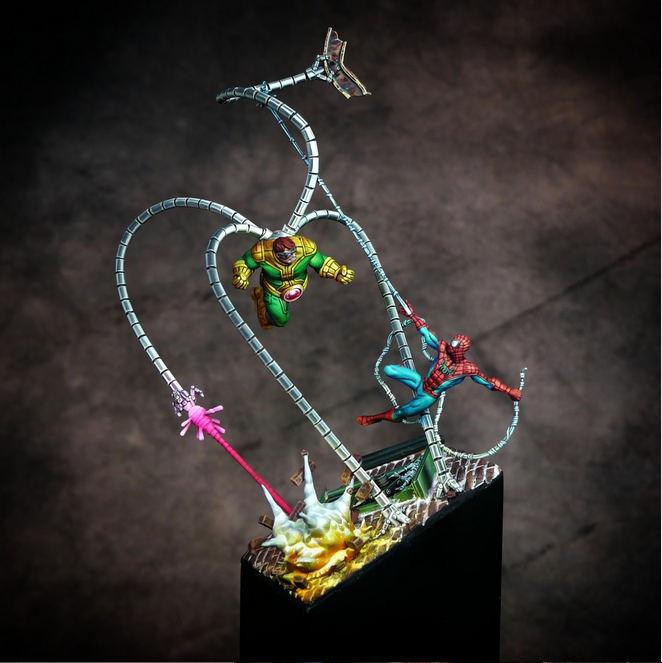 On Sunday, AMG hosted a preview panel where they gave us a glance at upcoming products across their games. Here, we'll be focusing on the many upcoming Marvel: Crisis Protocol releases that were previewed by AMG staff.
First up, AMG showed us the character stat cards for two heroes we'd already seen models for: Gwenpool and Squirrel Girl. The models are classic dynamic AMG style that really capture both characters' attitudes, along with good old hero rocks and explosions for basing.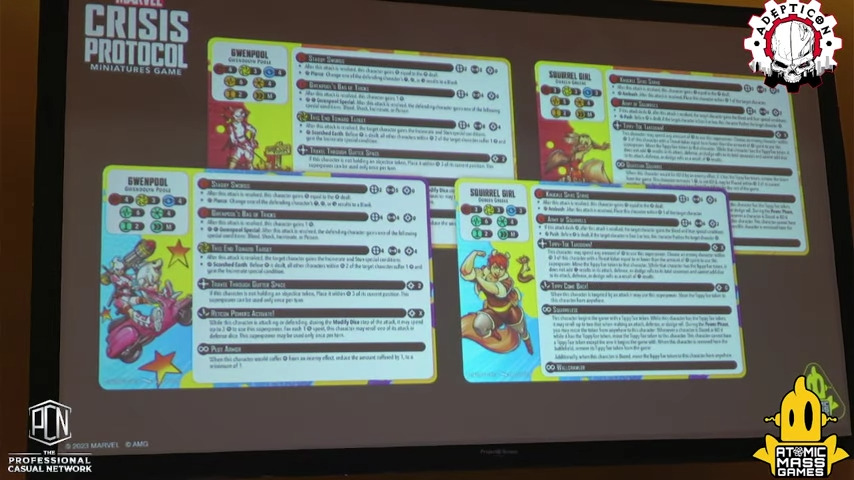 AMG's designers know how to play to their audience, and releasing two internet-popular characters in one box set will definitely move some product! AMG has since released a 'From Panel to Play' article about Squirrel Girl, with non-potato quality card art: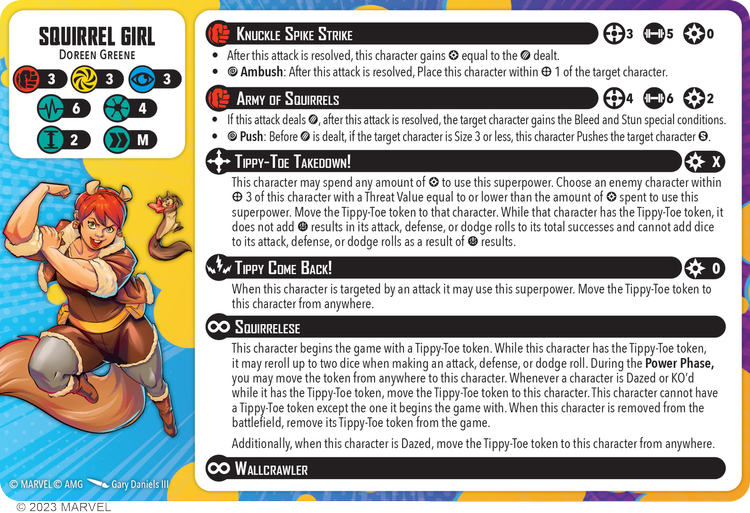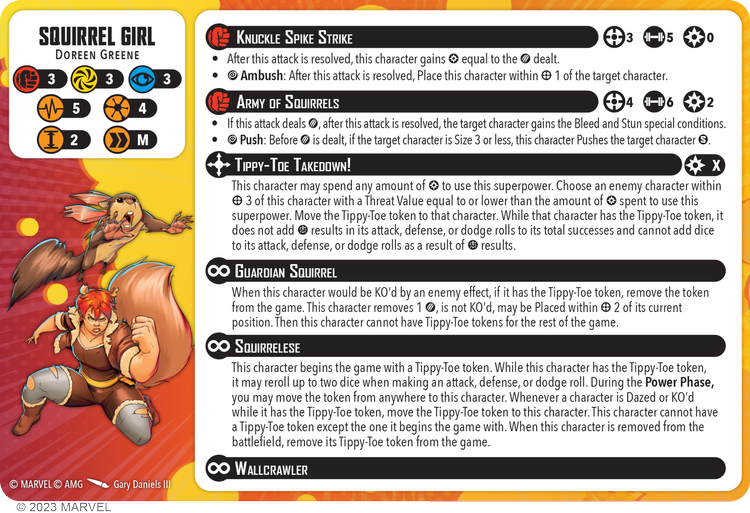 Squirrel Girl, aka Doreen Greene, seems like a potentially solid pick especially if you favor a debuff style of play. Her attacks aren't terribly exciting, but the Wild Ambush and Push effects are always a nice bonus for her mobility and scenario play. Her defensive stats are initially underwhelming for a 4 threat, but Doreen's buddy Tippy-Toe (represented in both model and token form) allows her to reroll up to two dice for an attack, defense, or dodge roll. So she's somewhat more resilient than she looks. She can also use her Tippy-Toe Takedown Superpower to move Tippy-Toe to an enemy model. This prevents the enemy character from benefiting from Critical results in attack, defense, or dodge rolls. Amusingly this power is a hard counter to previous meta-bender Malekith as well as any other characters who rely on crit results. (Though admittedly she'll need 7 Power to lock down Malekith.) Where Squirrel Girl really gets interesting is her Injured side. If the Tippy-Toe token is on Squirrel Girl, Tippy-Toe will martyr himself to prevent her being KO'd. Played correctly, this can be a game-winner, especially with the Range 2 place!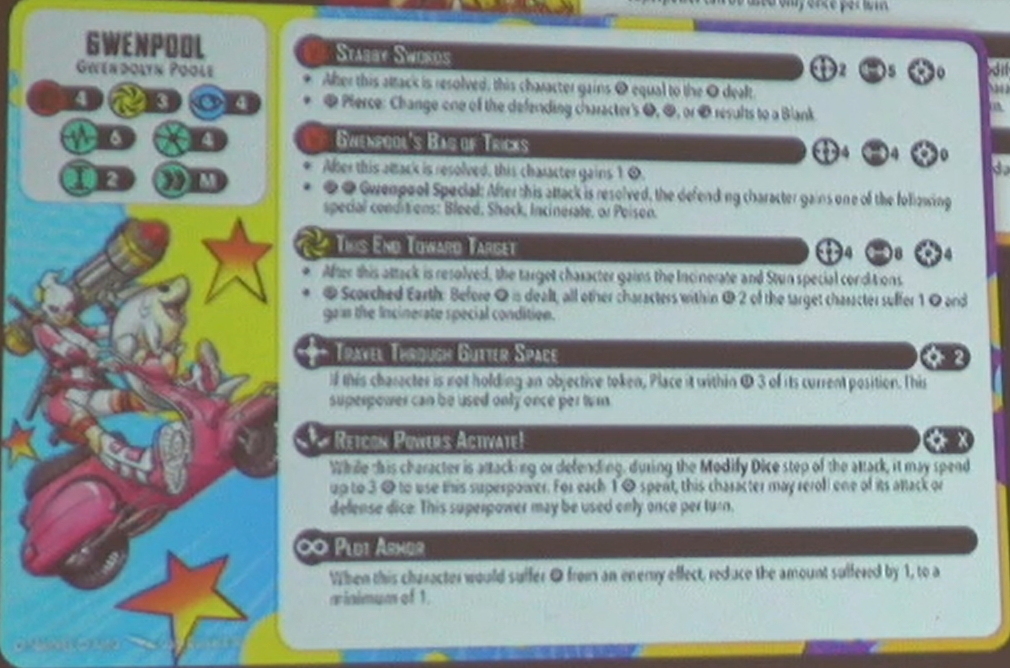 Gwendolyn Poole, aka Gwenpool, is another popular character now translated to the tabletop. Like Squirrel Girl, she's a 4 threat model, but unlike her rodentlike gal-pal, Gwenpool's character card is much more straightforward. (Jeff the Land Shark is featured prominently on the base, but has no rules on her character card. Here's hoping he gets a Team Tactics Card at least!) She has reasonable defensive stats for her cost along with a pretty standard Strike and ranged attack. Her spender attack is more interesting, however. It's a  Range 4 Strength 8 Energy-type attack that also Incinerates and Stuns the target. In addition, a Wild result means all characters within Range 2 take 1 Wound and suffer Incinerate as well. It's a potentially spicy attack for a respectable 4 power.  Rounding out her abilities, she has a self-Place, 'pay to reroll', and damage reduction Superpowers. Nothing groundbreaking here, but a solid set of utility rules.
With both Squirrel Girl and Gwenpool, we see two more 4 threat characters, currently with unknown Affiliation(s) and TTCs. Historically, 4 threat characters have been the toughest design space for AMG, with models tending to be either under-tuned (looking at you Daredevil) or somewhat overpowered (paging Dr. Voodoo) for their cost. AMG Director of Product Development Will Shick did hint that the TTCs would be "even wilder" than the stat cards. The typical AMG marketing cycle should show us these within the next few weeks, so we will have a fuller picture of their worth then.
Next we saw a series of releases slated for further out, with models only. First up, we got treated to an updated version of Ultron, accompanied by Drone Grunts: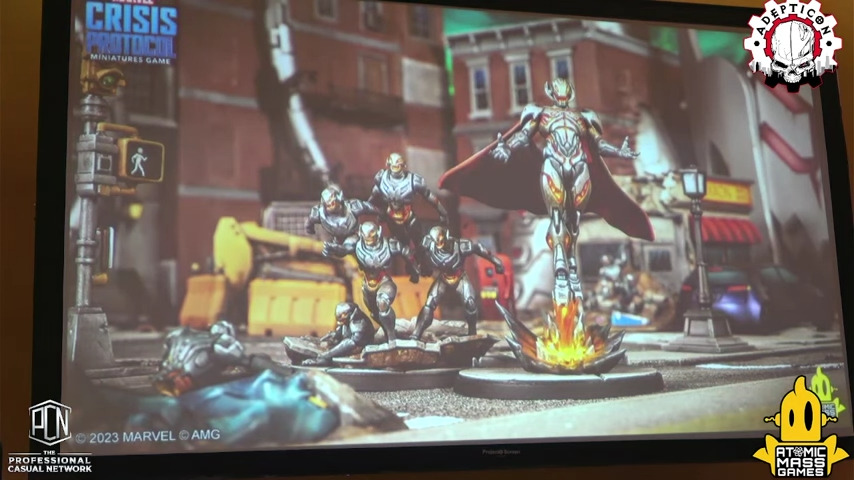 Unfortunately, no hints about rules for this new version of Ultron. The sculpt is certainly much higher quality than the starter box Ultron, and looks like it should be fun to paint. I'm personally not wild about the Grunts mechanic in general, but it certainly seems an appropriate way to go with Ultron.
Next, we move on to an absolutely ridiculous (in the best possible way) model, Frank Castle aka Galactic Ghost Rider aka Herald of Galactus aka one of the wildest characters in modern comics: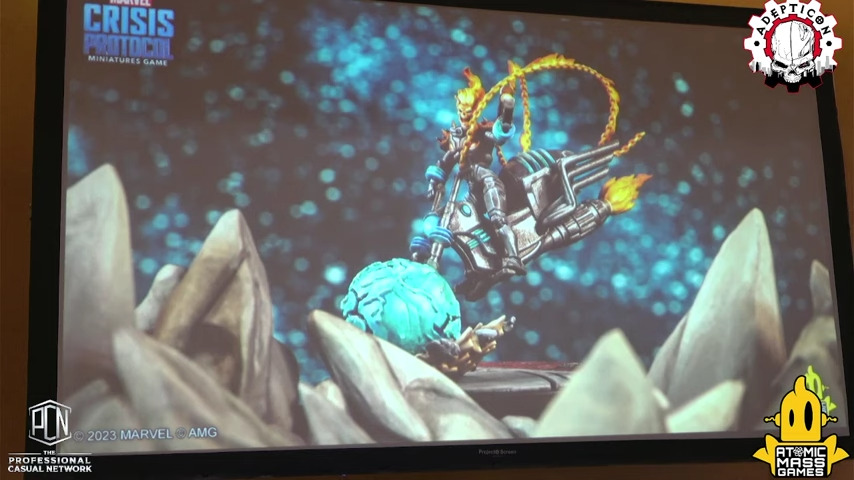 Again no rules or spoilers for this guy, but hopefully those will be incoming soon, with rules to match the absurdity of the character and model!
Next, AMG made a hard swerve for a visit to Wakanda: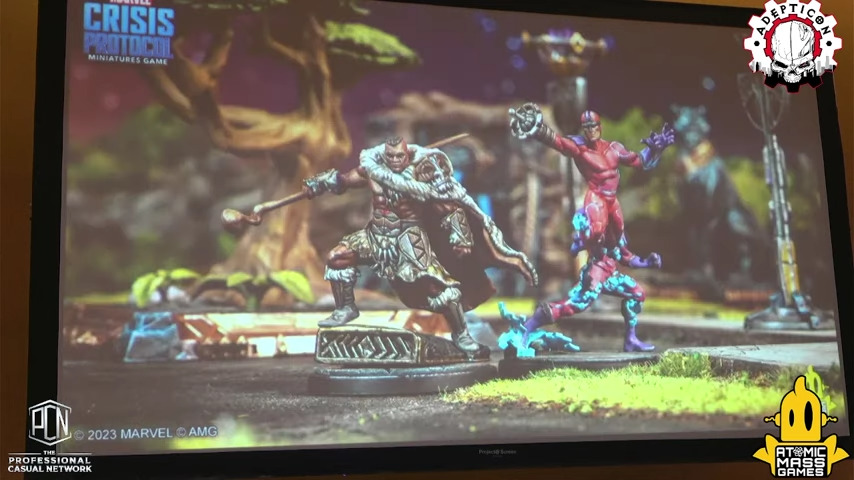 First, we see character models for M'baku and Klaw (sadly, not an Andy Serkis version). Klaw's model represents him emerging from a psionic echo, which presumably will be represented in rules form as well. For M'baku, Will Shick reported that they got to work directly with Marvel to create a new look for the model, which resulted in an impressive tabletop version. No hints about rules for these two other than the mention of the psionic echo.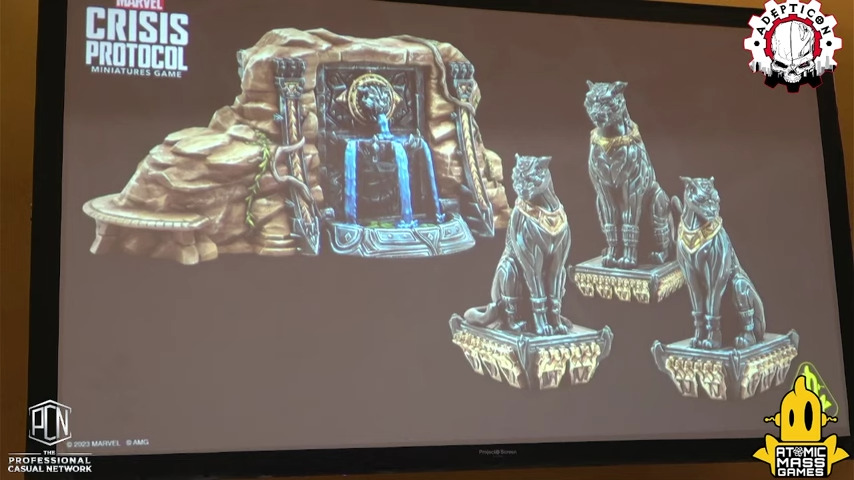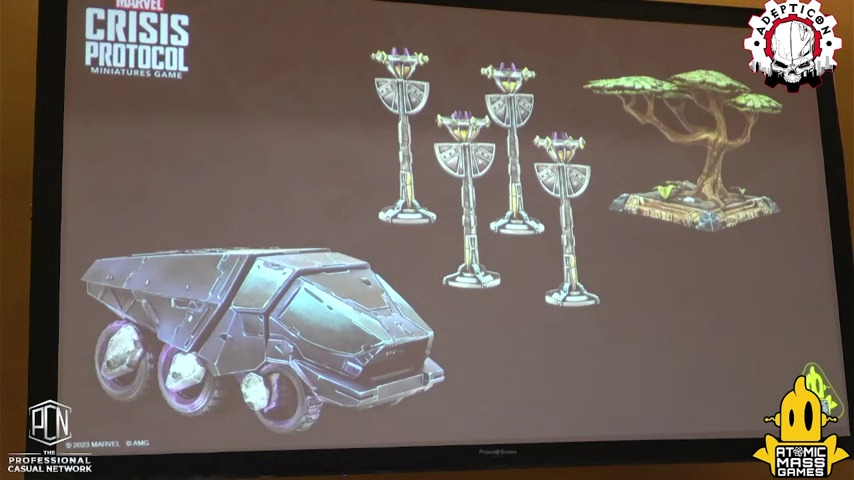 Next, we got previews of Wakandan terrain. This definitely appears to draw from the amazing MCU Wakanda aesthetic, and should look great on the tabletop. Interestingly, these new sets will come with special optional rules for terrain effects on the battlefield. They can affect threat level or add new flavor to the tabletop. Will Shick mentioned that they may go back and add rules to existing terrain, as well.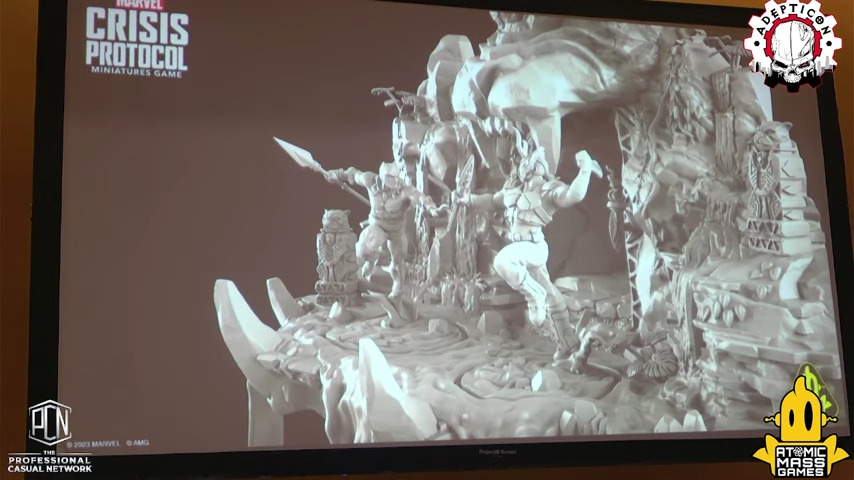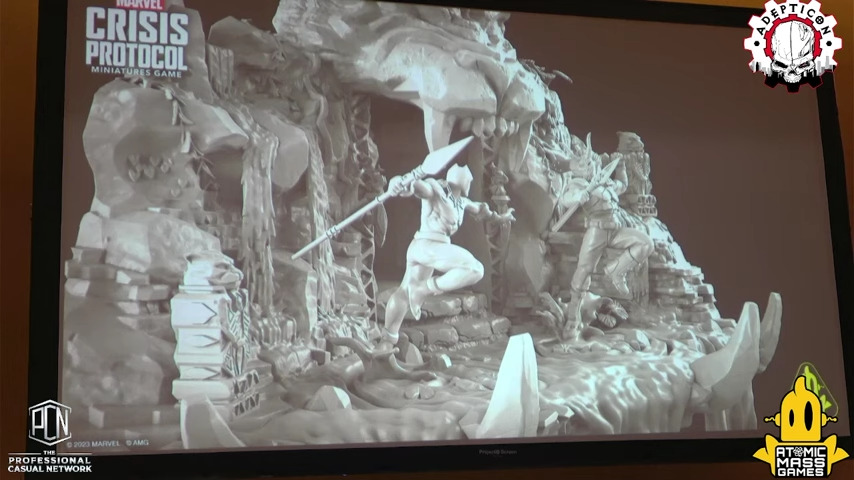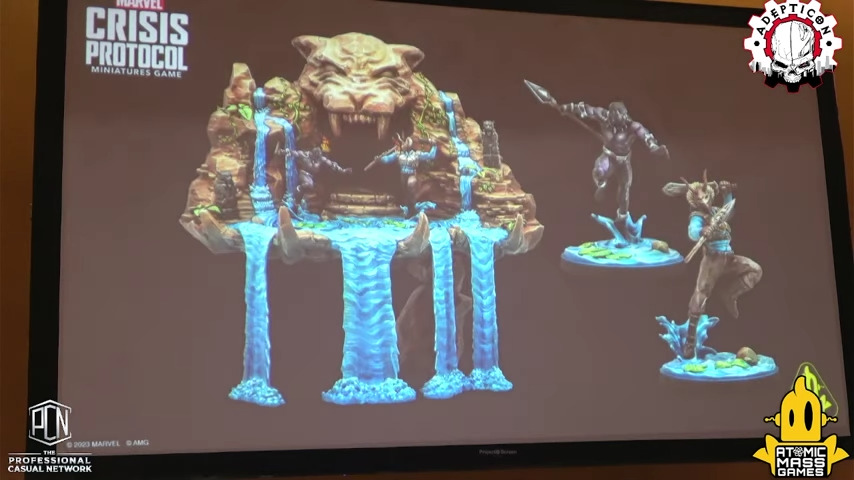 Rounding out the Wakanda section, AMG revealed the third in their "passion project" series of Rival Panels showdown sets: a Battle for the Throne set featuring new versions of Black Panther and Killmonger battling at Warrior Falls. The models and terrain look absolutely beautiful. But it's disappointing to see AMG continue to release new rules locked behind these expensive Rivals packs. We will likely see more about this set towards the end of the year.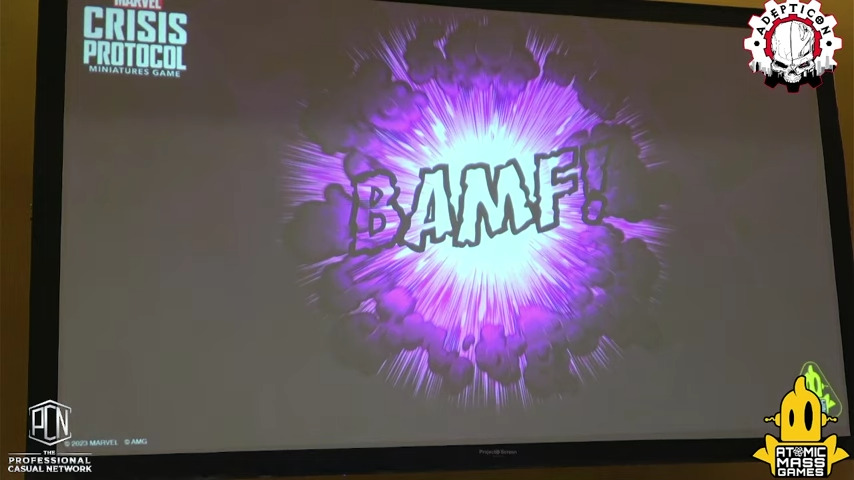 Next, Head of Studio Simone Elliot joined Will Shick in introducing a series of new X-men adjacent characters coming to the game, including some long-requested characters: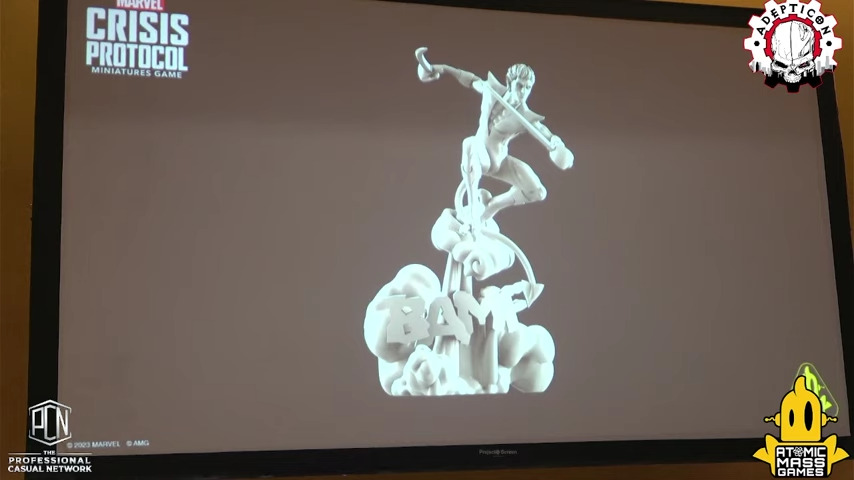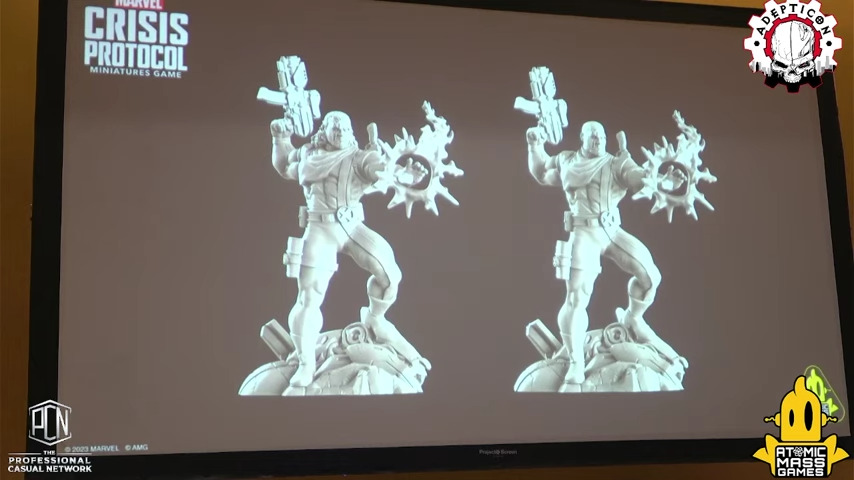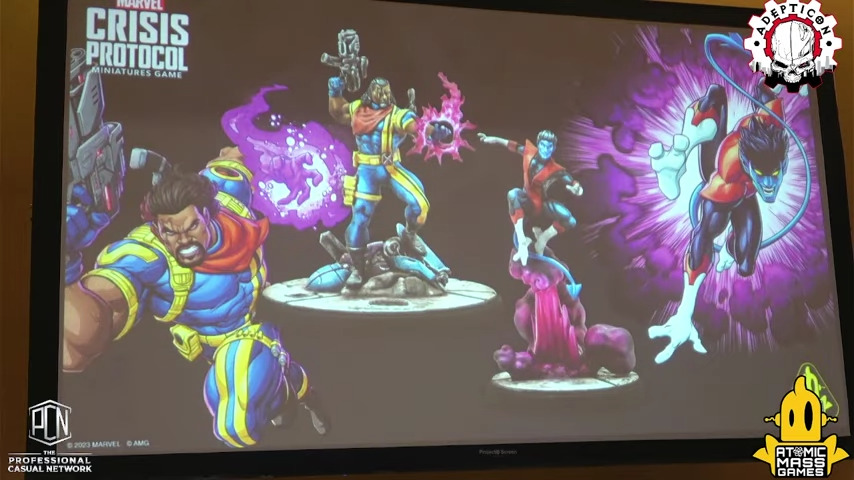 Nightcrawler (with optional BAMF) has finally arrived, and will be joined in the expansion box by Bishop. Nightcrawler has options for open hands or swords, as well as the aforementioned BAMF basing detail. Bishop appears to have multiple head options as well. It's great to see AMG provide more options for character models. Hopefully this trend will continue! These two are slated for early 2024.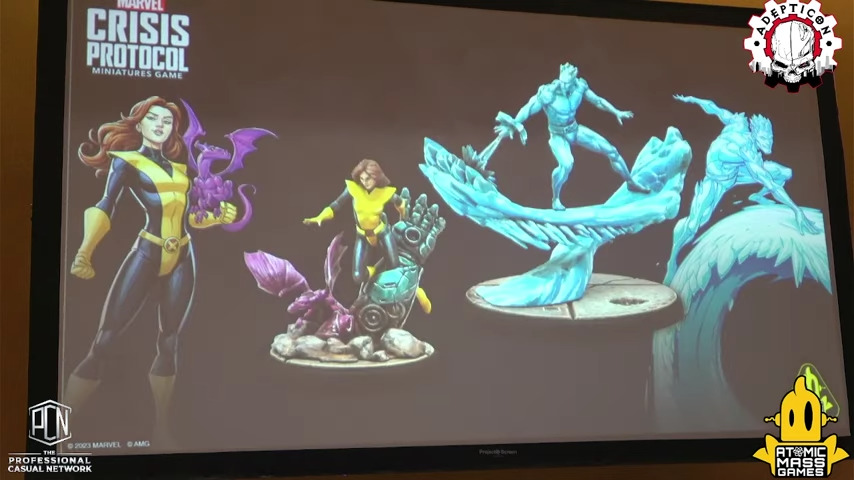 Next, we saw classic X-men Iceman and Kitty Pryde. Iceman is surfing along on a wave of ice, and is on a larger base. Kitty is appropriately phasing through the remains of a downed Sentinel. There were no details about these, but it's sure to be another popular expansion box!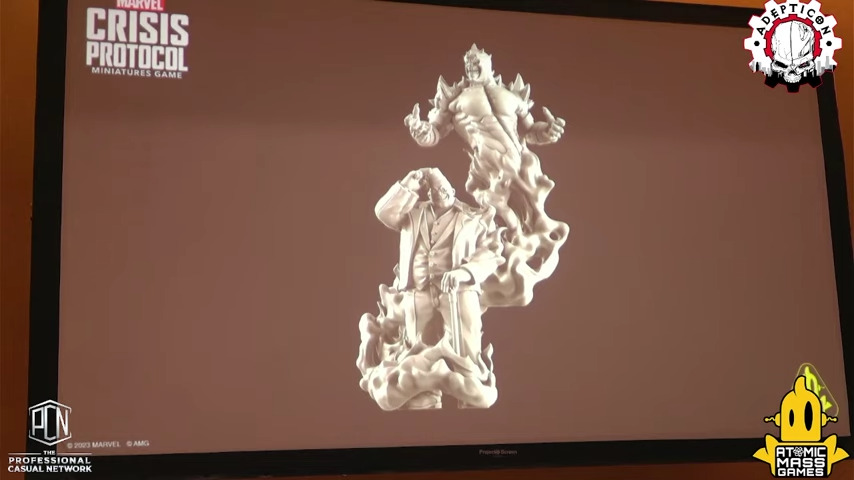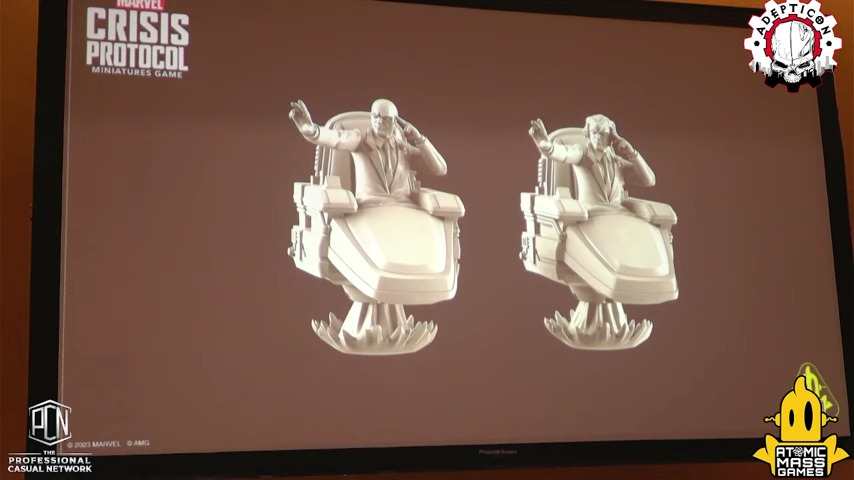 Finally, one last pack was featured in render form only. First we saw The Shadow King, in an absolutely wild sculpt that looks fun to paint (and hopefully not too annoying to build). Paired with him we of course finally get his rival, Professor X. The good Professor's model, like many of the X-men, is heavily inspired by the classic animated series. (Again, they know their audience!) The model features options for Cerebro or non-Cerebro heads, and should look great in that classic animated series color scheme. Appropriately, AMG reports he will also bring a new Leadership to the X-men Affiliation, joining the Avengers, Cabal, and (soon), Criminal Syndicate in the '3+ leaders' club.
AMG staff definitely know how to market to their audience and judging by the massive crowds and huge marketing push at Adepticon from AMG and Asmodee, we can look forward to a continuing robust game and even more exciting releases for Marvel: Crisis Protocol.
Have any questions or feedback? Drop us a note in the comments below or email us at contact@goonhammer.com.