The first thing anyone who talks about when they talk about Peacemaker, the HBO Max show starring John Cena and directed by James Gunn which spins off the antagonist from Gunn's debut DC property The Suicide Squad into a full-fledged 'hero,' is the opening sequence. So let's get right to it:
No notes, really. Perfect combination of the weird syncopation that's evocative of the season-long villain of the show and the goofball here-we-are-doing-our-thing flair from guys like Rizwan Manji's janitor Jamil, Steve Agee's prissy dirtbag comms tech John Economos, and Robert Patrick's father of our hero, Auggie Smith, among others — pretty much the entire season one cast is in here as a kind of teambuilding exercise. The song is Wig Wam's "Do Ya Wanna Taste It?" off of their album Non Stop Rock'n Roll, released in 2010. It is first a song about sex, then a song about drugs, and then, finally, a song about power, the thing that makes most sense as the title's elided 'it' — but make no mistake, it's about all three.
It's the best song in the show's oeuvre (at least to me, someone who wasn't listening to this stuff when it came out) and it outlines early and specifically where Gunn's musical tastes are going to land in this show: He's here for glam metal and glam rock, both from its original Eighties period and from revival bands like Wig Wam who fell in love with that sound. The Quireboys, an English rock band who found their original success in the Eighties and sort of soldiered on through it and an ever-changing roster of members, are one of Christopher "Peacemaker" Smith (John Cena)'s favorite deep cuts inside the DC Universe itself; so much so that finding one of their LPs in the record collection of a casual hookup in the show's first episode almost gets him killed. Later, the track "Monster" from Finnish glam rockers Reckless Love — an archetypal dumb horny guy anthem about how hot they find women who have had cosmetic surgery, which actually straight-faced runs with the lines "Real eyes cannot realize / real lies in perfect form" — anchors the best musical montage of James Gunn's career as the season villains reveal themselves fully. It's a welcome return to Guardians of the Galaxy-grade thematic form, since The Suicide Squad's informal mixtape of songs played in-film was a sort of scattershot medley of stuff from contemporary South American or South American diaspora artists such as Jessie Reyez and Céu, then Johnny Cash, Louis Prima, and outliers like The Fratellis and The Decemberists.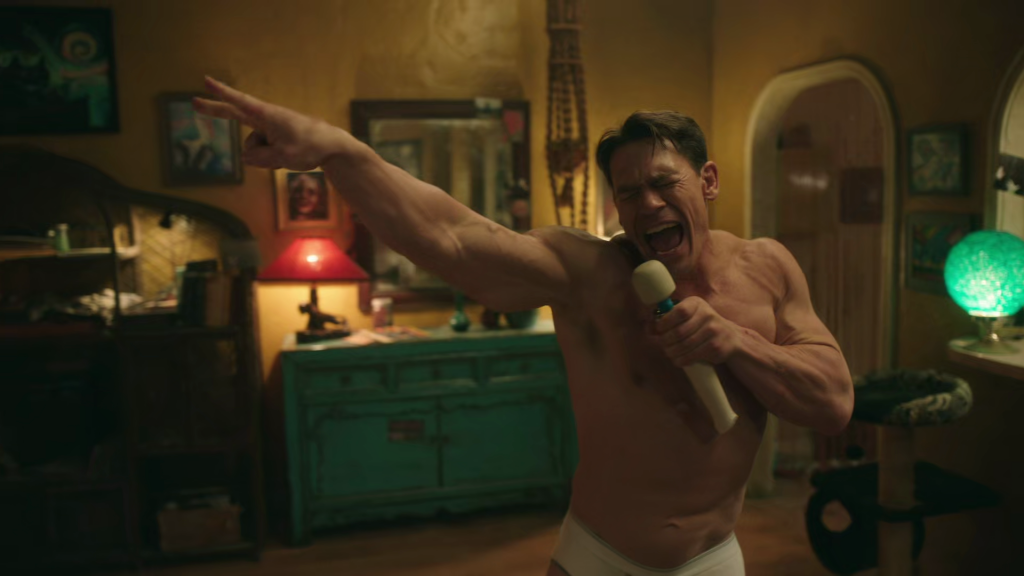 But what is happening in this DC superhero product offering? Well, basically what you expect from James Gunn and superheroes: A bunch of fuck-ups go from bickering, atomized allies-of-circumstance-and-chance to found family, centering on one quirked-up white boy who busts it down sexual style and is GOATed with the sauce. John Cena's Peacemaker is a much better load-bearing dipshit to build this kind of story around than Chris Pratt's Star-Lord was (though this isn't really shade on Pratt; he was perfectly fine in those films, certainly better than he's been in basically all the other leading man stuff he's done since), and Warner Brothers is institutionally so much more willing than Disney ever will be to let a guy like Gunn just sit back and cook. The plot isn't really important or remarkable; there's an alien bodysnatcher threat, a bunch of ultraviolence, and a couple good twists. The action is crisp and brutal in a way Gunn wasn't allowed to be at Marvel, and has more time to breathe than any of the stuff in The Suicide Squad did. This is Gunn refining and perfecting what The Suicide Squad could and should have been; there's less hero-team death in this, but that was always a gratingly top-down imposition on the kinds of stories Task Force X could tell. One thing the lack of neck-bomb drama disposes of is the sort of bizarre third-act deus ex animo command room revolt that Peacemaker has to handwave-montage away in the show's first two minutes, when a character with perhaps three lines in Amanda Waller's entourage clubs her with a crutch. She's not important in Peacemaker, either.
Neither is Amanda Waller herself, which is one of the few slight missteps the show makes. It's only a slight misstep because while Viola Davis is absolutely still part of this whole cinematic nonsense — she appears in three or so scenes, even if Waller is as much of an observer of this season's events as we are — Chukwudi Iwuji steps in ably as the authority figure who can't quite understand why his direct reports behave they way they do. In that role he's perhaps the most thanklessly underserved of the cast; Adebayo (Danielle Brooks), Vigilante (Freddie Stroma), Agee's Economos and Jennifer Holland as Emilia Harcourt get far more development. This is a breakout role for Holland; she's Gunn's partner and that's why she got the role, and so it goes in Hollywood far more often than last names ever indicate, but she excels and exceeds in it. Nepotism doesn't always have to promote the talentless.
So if the plot doesn't matter in Peacemaker, and the implications for the larger DCEU don't matter either, what does? Well, why do you actually show up to a television show? It's for the characters and the moments, if you're being honest with yourself. Yes, sure, there's the genre of television show that's best characterized as a great force rolling downhill — LOST, Game of Thrones, The Walking Dead — that drag you to the screen via some sort of spell. I say 'you' very intentionally; all of those shows sucked shit. This isn't one of those shows! To the extent that it's bad, and parts of it are bad, especially in the first three episodes, they have to do with indulgent banter that later episodes simply don't have room in the script for. The most important character in the show that isn't played by a former WWE Superstar is Danielle Brooks's Adebayo, who has to carry some rather stupid comedy beats in the front half of the season before the last half coheres her relationships with every other character in the show that's still around. Brooks is great, and in the second season of this show (already renewed) should be permitted to work a bit less broadly. You can only explain what a lesbian is to fratboy dipshits so many times.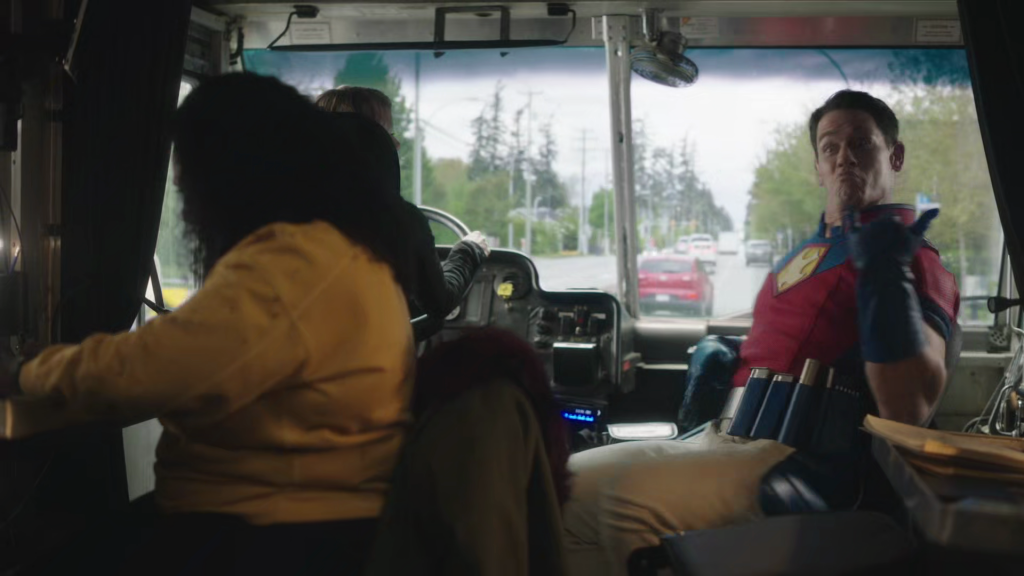 Which brings us to John Cena. He's in his mid-forties and has been an entertainment fixture in this country for the better part of two decades. Besides being WWE's white rapper turned main eventer troop-respecter that never turned heel, he's famous for a number of other things: being the newest glamor-guy in the Fast & Furious franchise; being the surprise cameo in the Amy Schumer comedy Trainwreck; publicly announcing the death of Osama bin Laden via American special forces and introducing the phrase 'compromised to a permanent end' as a euphemism for 'brutally executed' to the American lexicon. It's unclear how aware he is of that last one, at least in public; Cena, who owes his entire life trajectory to WWE scion Stephanie McMahon overhearing him rapping on the travel bus one afternoon and deciding to tell someone not to fire him, is very careful in the ways he speaks about his benefactors. And that's fine! That's something that will continue to make him a lot of money. It has also led all of us who have experienced that fealty to somewhat underestimate him. This is not the first time Cena and Robert Patrick have shared a screen, after all. The previous instance was The Marine, the 2006 offering from WWE Films, and to be kind: back then, Patrick was the draw.
Not this time. Cena is brilliant in the skin he and James Gunn have concocted for him; there's a GQ interview where he talks about how he originally wanted to play the character like the silver screen incarnation of George Patton and Douglas MacArthur, before Gunn had him to stop mid-take while filming The Suicide Squad and told him the character should best inhabit "douchey Captain America." In the interview, you can hear Cena talk about how he'd have loved to have played his wrestler character as a bad guy, but WWE never let him. James Gunn did. Cena delivered.
The character is a sad mad bad chad (not dad, at least not yet, though a surprise child is the most obvious complication to introduce in season two) and that kind of character is fundamentally boring unless the person playing him and the actors around him are having fun with it. Everyone is; Holland's Emilia Harcourt in particular is fantastic as the fellow agent that Peacemaker wants to fuck, and who wants to fuck him, but who both find very credible reasons to keep the will they/won't they going for another episode order. But it's the male supporting characters, Stroma's Vigilante and Agee's Economos, who really define the kind of guy Peacemaker is on the rebound from his very intense interactions with Adebayo and Harcourt. While the show has the trademark issue a bunch of James Gunn's stuff has where jokes tend to run five to seven lines too long, especially in the first half of the season, the fact that Cena has worked this character in a previous inferior film and has a director who loved his performance there enough to put an entire series behind him leads to some real great stuff. This is an outtake from improv banter between Agee and Cena, much of which was used in the actual scene:
This is all, broadly speaking, good-to-great. At least three breakout leads between Cena, Holland, and Brooks? Great! Musical montages? Great! A fantastic late-season coherence of the heels into actual scary forces (I need an excuse to shout out Annie Chang without giving spoilers)? Great! What puts Peacemaker over the top?
Pacing. Peacemaker is eight episodes and it is designed specifically to be eight episodes. We're not talking about a Netflix Marvel situation where the order was five episodes too many. We're not talking about a Disney+ Marvel situation where they have no idea what they're doing other than the cynical generation of content. We're talking about an eight episode show that has the correct starts, the correct finishes, the correct montages, the correct cliffhangers and the correct flashbacks. The structure is perfect. It is a beautiful machine. There is one wasted scene in the entire show. It's when we meet Detective Sophie Song's uncle, who is a judge, and never see him again. That's really the only fat to cut, unless you hate Nhut Le's Judomaster. And that guy rules.
There's going to be a second season of this show and, if we're placing bets, it would be wise to bet on a third as well. The second, at least, should be good. Maybe — probably — not as good as this one. And beyond that who knows what will happen. There's a progressive degradation with these things; they come together in the crucible of a moment, and in that specific moment, they lead to John Cena ending an episode emotionally for-real nailing a great piano solo. They lead to a CGI eagle being one of the show's most beloved characters, such that you look up the actor that plays him, and fall down the weird noise hole that is Dee Bradley Baker's resume. They lead to getting to see what it would look like if Captain America's shield had a lethal edge, and Cap was willing to decapitate people. Then they lead to vamping and callbacks.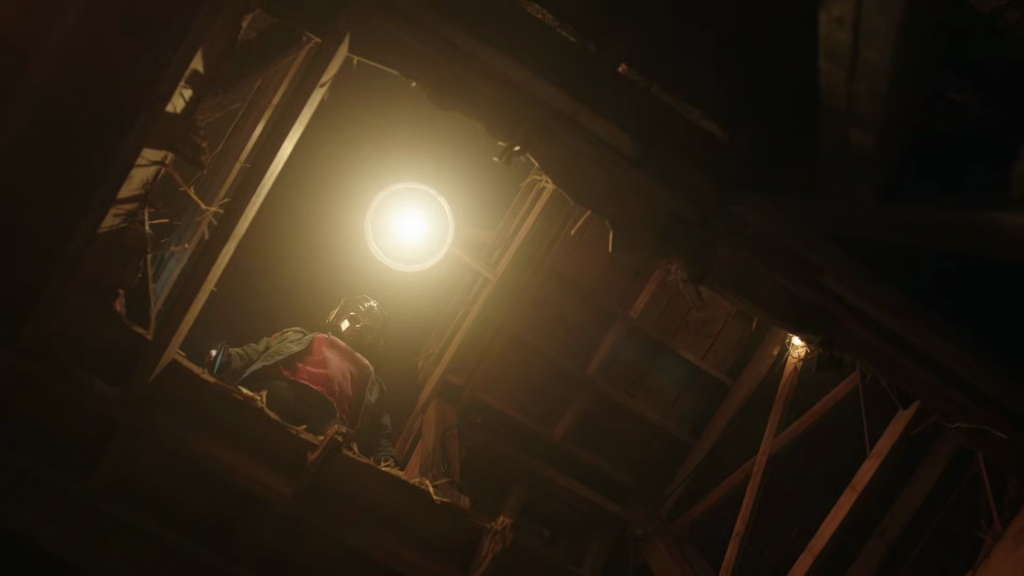 Peacemaker is probably the best superhero show you'll see on streaming unless you're a huge fan of The Boys; both shows are anchored by great lead performances, and while Antony Starr's Homelander is a career-defining tour-de-force, the rest of that show just has so much bloat that Peacemaker doesn't. Perhaps that's unfair, since The Boys has had to soldier through a second season while Peacemaker remains, at the moment, pure in its single-season statement. Being fair is not the point of this feature, however; the point of this feature is to tell you that Peacemaker is one of the best pieces of media released in 2022.
Also Robert Patrick plays Iron Man, but he's a mulleted Grand Wizard of the Ku Klux Klan. At the very least the show is more honest than Marvel is.
Have any questions or feedback? Drop us a note in the comments below or email us at contact@goonhammer.com.