After months of waiting and betas, it's finally here, folks. We're proud to announce the full launch of the Tabletop Battles app, now out of beta and ready to make its way onto your phones and into your hearts.
Note: If you already have an Administratum account, that login will also be your Tabletop Battles login – just use the same account you've already made. If you are creating a new account, you can use that account for Administratum later!
What if I already have the Beta version of the app?
If you've already got the beta version of the app installed on Android or iOS, here's what you need to know:
On Android you don't need to do anything, it will always pick the newest of beta or prod to install – you're good to go!
On iOS, you have to go install the app from the App Store manually, but when you do so it will replace the TestFlight version and keep all of your data.
Why Switch from ITC Battles?
There are a ton of reasons to switch – the first and foremost being that this is the version of the app that will be updated moving forward – but the best reasons are that the new app is just way better. Here are five reasons to download the app right now:
1. A New, Cleaner Interface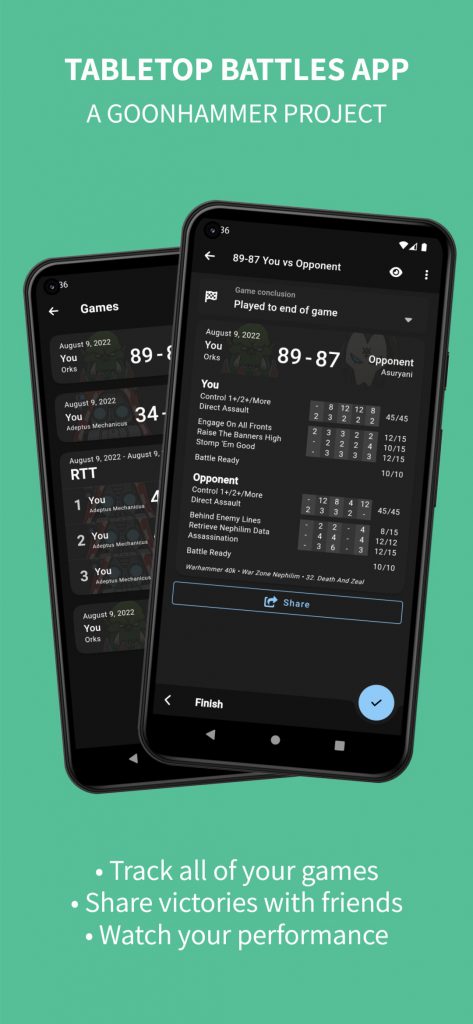 The new app has a cleaner, more appealing interface that's easier to navigate than ever before. On top of that, as we mentioned before, your Tabletop Battles account is now shared with Administratum. Now you can log into Tabletop Battles with your Administratum account, and vice versa, and if you create an account, it'll work on both.
2. Support for More Missions – Tempest, Boarding Actions, and Arks of Omen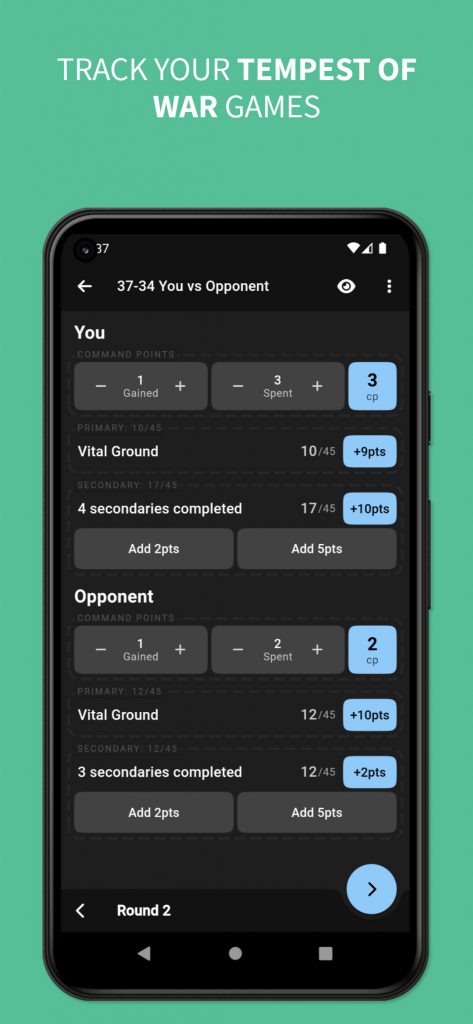 The Tabletop Battles app has missions and scoring for every Matched Play game mode and plenty of more casual formats. We've already got mission support built-in for Arks of Omen and Boarding Actions. Or, if you're a fan of  Tempest of War, the other matched play mode Games Workshop released cards for, we've got you covered there too!
3. Better Tournament Support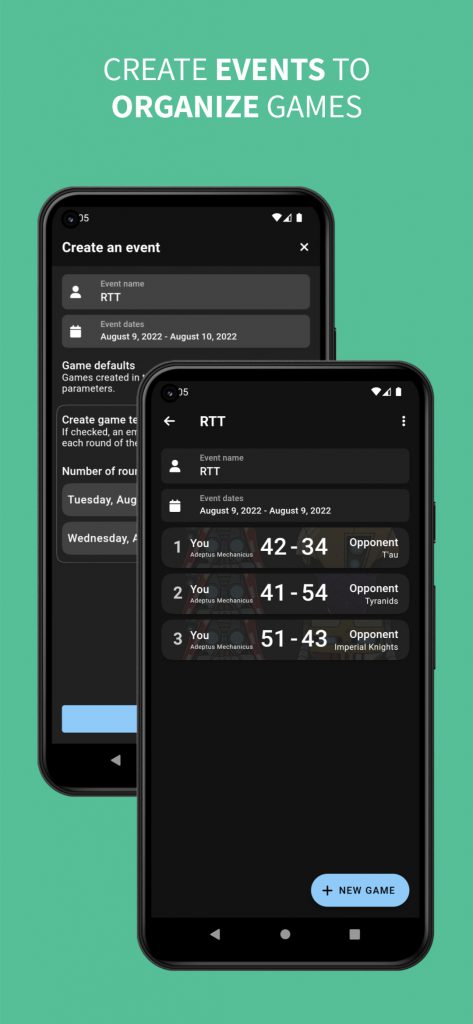 Ever get tired of re-entering your faction for every game of an event? With the new app you can create events ahead of time, set your faction and the number of rounds, and the new app will automatically create the games ahead of time for you.
4. Improved Smart Scoring Prevents Mistakes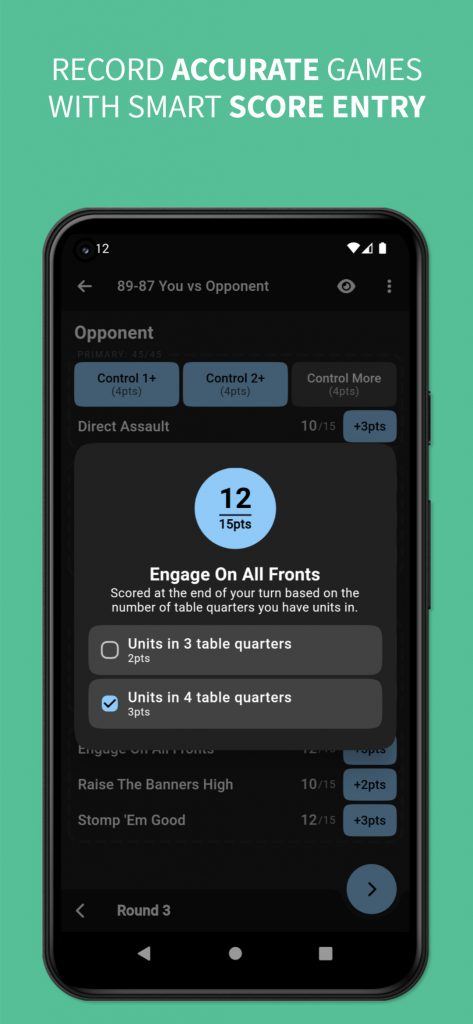 The new interface makes it easier than ever to ensure you're scoring secondaries correctly. Ever have a player accidentally pick two secondaries from the same category? Avoid problems like that with the new app and get helpful, persistent reminders of the current score for both players – no more surprises on round 5.
5. Track Your Personal Stats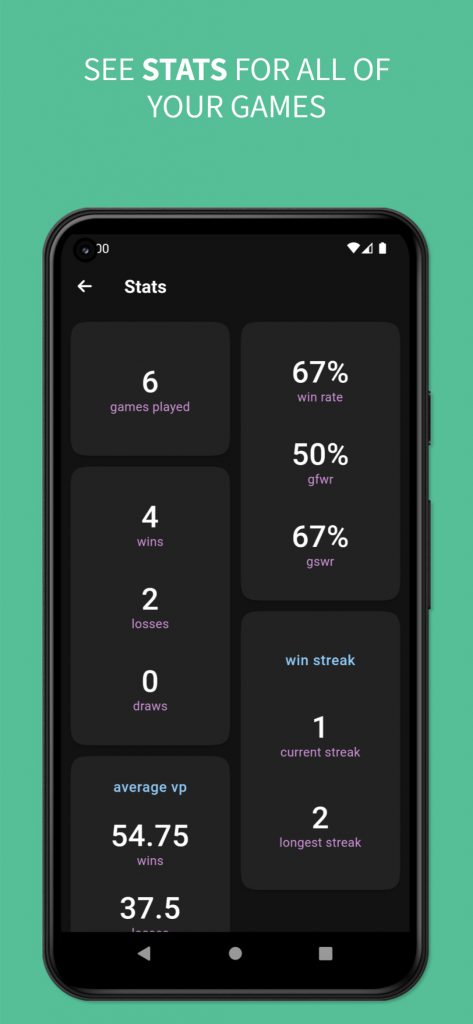 In addition to tracking your games, you can also track your personal stats – the new app will help you track your average VP, win rates, and current streaks. And this is just the beginning – stay tuned for improvements in this area.
So whether you're just looking for an app to track games or a holdout still using ITC Battles, now is the time to switch. Download the app today and let us know what you think!
Have any other questions or feedback? Drop us a note in the comments below or email us at contact@goonhammer.com.