In this new semiregular blog series, we're following along with Shane Watts as he converts, builds, and paints his Leagues of Votann army, then sets out to take on the ITC with them.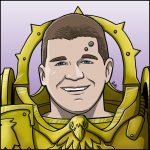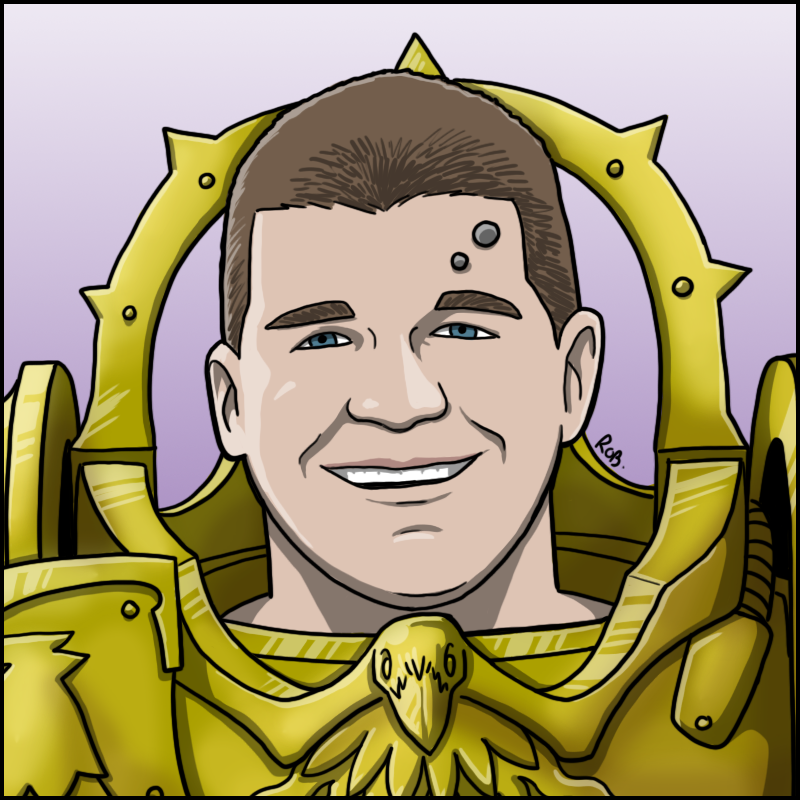 First, an introduction, since it's been a while since my last article and many of you may not know who I am: I'm Shane Watts. I've been playing Warhammer 40k off-and-on for nearly 30 years now. I've been playing almost solely competitive for the last 8 years, and in that time I've finished in the top 100 of the ITC rankings five times. At this point I've played every army and own most of them (though some are more painted than others). I tend to prefer unconventional or "off-meta" builds, and if I end up playing a meta darling, I tend to put my own personal spin on the lists I play. Prior to the Votann release it had been a long time since I was truly invested in an army and as a result it's been a long time since I'd really thrown myself into a hobby project.
That all changed with the Votann release. Through the first half of 2022 I'd found myself frustrated playing the same army over and over, running into the same challenges. But as I was helping write the review of the new Votann codex I started to get excited about the new faction – and not just because they were stupid strong. I decided it was time to leap into something new.
One of the best things about playing something new is not having any expectations. This is very freeing from a morale standpoint; you have no real idea how interactions are going to go so when something terrible happens you can easily shrug it off. When something amazing happens – like the first time I used Reactive Reprisal from my 9 surviving Hearthguard with full hit re-rolls on the Silent King, who had dared cut down one of their number, to kill both his Menhir and deal him 10 wounds – it's just that much cooler.
I was also inspired creatively – I wanted to flex my hobby chops to bring Chaos Dwarves back into the Warhammer universe. Chaos Dwarves were my favorite faction in Warhammer Fantasy, and have basically been uh, squatted (is that still the correct term?) from the Sigmar universe, so bringing them into the 41st Millenium seems pretty damn cool to me. It's definitely not a challenge for the faint-of-wallet: If you want to follow along with a similar project at home, you'll want to have either a deep bench of chaos bitz on hand or be prepared to fork over some cash.
I got so interested in running Chaos Dwarves again that I even started coming up with some of my own headcanon on how these Votann came to be. The general concept is this: A Votann Core on a planet engulfed in warp storms emerged in the Realm of Shadow and has been blessed by Hashut, a minor Chaos deity. Now its purpose is to bring flame and shadow to those who would stand against its benefactor. The chosen champion of Hashut goes by the name of Drina, and she is the bearer of the first Blacksteel Daemon Weapon born into the physical world in this era. The weapon is named Gravitas, a mass flail that steals the souls of those crushed under its might (say "hello" to my evil version of the Exactor Relic hammer).
The Pre-Nerf List
With this initial idea in mind I built my first list so that I could work toward a very specific set of models and conversions without having to flail around much. Building a list is always an important task for any army, and you have to take a few things in mind:
What secondaries can you accomplish?
Are you denying your opponent kill secondary choices?
Can you play the mission effectively?
Can you prevent your opponents from scoring effectively?
After digging through the Votann codex it seemed like the army was a mix of Tau shooting, Sisters mid-range and melee threats (beserks are just thicc repentia, fight me), and Death Guard durability. So with this in mind, I ended up with this list:
Urani-Surtr Regulates Battalion
HQ
High Kahl, volkite, mass gauntlet, teleport crest – 120pts
Einhyr Champion, Warlord, mass hammer, weavefield, Exactor, Warrior Lord – 100pts, 2CP
Troops
Hearthkyn, ion, rail rifle, medic, scanner – 149pts
Hearthkyn, ion, rail rifle, medic, scanner – 149pts
Hearthkyn, ion, rail rifle, medic, scanner – 149pts
Elites
10 Hearthguard, volkite, swords, Warpstryk – 350pts, 1CP
5 Hearthguard, volkite, swords – 175pts
5 Beserks, axes – 110pts
5 Beserks, axes – 110pts
Fast Attack
3 Pioneers, Rotary Cannon, scanner, searchlight – 110pts
Heavy Support
Land Fortress, rail cannon, bolt cannons – 230pts
Land Fortress, rail cannon, bolt cannons – 230pts
1982pts, 3CP
This list should look familiar, it was the one included in our codex review.
Building the Army
Now that I had a list, and conversion ideas in mind, I needed to figure out a paint scheme… and Hoo Boy figuring that out wasn't easy. The only thing I knew for certain was that I wanted to make the main armor either a bronze or copper color and have red as an accent color, to kind of fit with the older style scheme. I decided to stick with black cloth, although sometimes it isn't the easiest to implement in my experience. Did I mention that I am not a great painter?
At this stage I had gotten my hands on some 3rd party models and 3d prints to use for stand-ins until the real models released and I had a Local RTT coming up. But with most of the army still unreleased at the time, there was a legitimate question as to whether I could even run the army – many events had either banned Votann altogether, or had banned the use of unreleased models. Which was fair, but it meant I couldn't practice with my army in a competitive setting until some (then unknown) future date.
I reached out to the TO to ask what their stance was on using LoV and initially they were undecided. I offered to count all my games as losses regardless of the actual outcome if that would assuage other players, because I was just interested in getting in more games. This was satisfactory – the TO agreed to let me run Votann and the morning of the event asked the players if they wanted my games to count or be automatic losses. No one dissented, so I was allowed to play normally. I matched into Death Guard, Creations of Bile + Daemons, and Valorous Heart Sisters.
Lessons Learned
The event was a good learning experience. Here are a few things I noticed during my games:
The DG game was a bit of a slog – early on I noticed that we were barely doing any damage to each other.
I took the Grudge Match secondary in the Creations of Bile match-up due to the fact that my opponent had gone deep on large units – 10 terminators, a bloodthirster, etc., and the fact these units needed to be in melee to impact the game. This ended up working well even though my opponent tried to hide as much as they could all game, by trying to deny my secondary scoring they gave up points on primary.
In the Sisters match up, I got to watch a bunch of multi-meltas bounce off my T9 Land Fortress (thanks URSR) due to wounding on 5+ with no wound rerolls, so that was neat.
ITC Progress
One of the highlights (or lowlights, depending on your POV) of attending this event, was that it put my first LoV ITC score on the board. Much to my dismay, however, someone was already beating me.
So it was that after sharing the news of my first tournament win with Votann with the GH team, they immediately wanted to know how it felt to be the worst-ranked Leagues of Votann player in the world.

Sigh.
Hobby Time
I primed a couple of Hearthkyn to use as test models, grabbed my various bronze/copper/goldish colors, and did some initial painting. Nothing fancy, just trying to see how things will look. I went ahead and added a few spots of red as an accent color to see how well it would work and to see if it showed up well enough alongside the bronze/copper. I also determined that instead of a traditional flesh tone like the original Chaos Dwarves I wanted to go with more of a Duergar look (the Deurgar are a largely evil race of underground dwelling dwarves in Dungeons & Dragons for those unaware), and got prepped to paint my Votann with gray skin, white hair, and red eyes.
…And that's when the NERF bat hit. Games Workshop dropped an FAQ for the Votann codex along with a points update that dramatically increased the faction's point costs and nerfed the auto-wounding mechanic on Judgement tokens. This required a huge change to my list; my list was 2,445 points now instead of 2,000 and the Ion weapons Stratagem was basically nerfed out of existence. I knew I wanted to keep the core of my old list so I had to figure out what to cut. Eventually I decided to downgrade one of the Land Fortresses to a Sagitaur, cut the 5-model Hearthguard unit, and drop all the ion guns in the Hearthkyn squads down to bolters. I ended up still needing to cut 5 more points, so I cut the scanner from my Bike unit since I was using the unit more for its utility than damage.
After adjustments, here's where the list ended up:
The Post-Nerf List
Urani-Surtr Regulates Battalion
HQ
High Kahl, volkite, mass gauntlet, teleport crest – 130pts
Einhyr Champion, Warlord, mass hammer, weavefield, Exactor, Warrior Lord – 120pts, 2CP
Troops
Hearthkyn, bolter, rail rifle, medic, scanner – 150pts
Hearthkyn, bolter, rail rifle, medic, scanner – 150pts
Hearthkyn, bolter, rail rifle, medic, scanner – 150pts
Elites
10 Hearthguard, volkite, swords, Warpstryk – 450pts, 1CP
5 Beserks, axes – 150pts
5 Beserks, axes – 150pts
Fast Attack
3 Pioneers, Rotary Cannon, searchlight – 120pts
Sagitaur, MATR autocannon – 130pts
Heavy Support
Land Fortress, rail cannon, bolt cannons – 300pts
2,000pts, 3CP
Now that my list adjustments were done it was time to get back to the hobbying. I asked a couple of friends for their opinions on the different bronze type colors and decided to go all in on the reddish copper color. I had an event coming up just under two weeks days after figuring this out so I knew I had to finish building my army ASAP. During the build process I was rotating models through priming to just decrease the amount of time needed. Once most everything was built and primed I started painting. I set aside some time to focus on my Champion and Sagitaur, since my Champion is more or less a center piece of the army, and the Sagitaur for our model review. A few days before the event I realized I was running out of time so I had to batch speed paint the majority of the rest of the army to make sure I would meet the battle-ready standard for the event. I finished at around midnight the night before the event.
The DC area can be a nightmare, traffic-wise, so I packed everything up the night before and made sure to budget some extra time to make the drive from Maryland to Virginia.
I knew ahead of time that Joe from Wargames Live was going to be streaming the event so when I got settled in I went by to say hi and chat. The event was a relatively small one (which I believe was mostly due to it being on the weekend right before Halloween), so I knew that with a small pool of players there was a good chance I would end up on stream. I made sure to let Joe know that my army wasn't all that much to look at, but if I ended up on stream and he was gonna zoom in, he should zoom in on the Sagitaur since it was the best-looking. Joe assured me not to worry and that everything would be fine.
I'd end up on stream for my round 3 game against Goff Orks at the end of day 1. You can find the game here. And generally speaking it's worth checking out Wargames Live, who I believe do the best Warhammer tournament streams out there.
I ended up in 5th place at the event with a 3-2 record; my round 1 opponent that I beat would end up in 2nd place, with his only loss being to me. Also as a side note, my round 1 opponent was the Sisters player who I had played at the previous RTT, so he got a repeat game against my now reduced-size LoV army.
Lessons Learned
A few things I learned from my second event:
I am wayyyyyyyy more comfortable fighting against an aggressive melee army than a true gunline. My two losses were to T'au and a 13-wardog Chaos Knights list. The game vs Tau was absolutely brutal: We played long ways, and my opponent was able to Jump-Shoot-Jump a crisis bomb every turn, and there wasn't really anything I could do to stop it.
In the Chaos Knights game I ended up moving my Land Fortress towards the mid table and into dense cover, under the impression that it would be unlikely that massed S6 AP-2 1-damage guns would be able to kill my Land Fortress. Turns out I was wrong; I hadn't seen the CK strat for all wardogs to get exploding 6s to hit against a single enemy target, and it really hurt.
Looking back at these losses, I ended up serving up my army piecemeal in attempt to mitigate damage, a strategy which entirely backfired and instead allowed my opponent to utilize abilities that increased their damage more effectively against single units. So next time I know to either not give them any targets, or to try and threat overload.
Next Time: More Events, More Hobby Progress
So that brings us to today. I've decided to try out a Grimnyr in the list, even though that puts my list in danger of giving up a kill secondary (3 characters = 10 assassinate points). Toughness 7 and a 6+++ on Hearthguard seems pretty good, as well as bonus CP and potential smite mortals. So I decided to cut 2 Hearthguard to add a Grimnyr. This might be a terrible idea, but we are going for it. I have another event coming up this weekend, so here I am, back to the hobby grind.
See you next time – and be sure to bring marshmallows, because we are gonna make s'mores on this forge.
Have any questions or feedback? Drop us a note in the comments below or email us at contact@goonhammer.com.