Hello there! Tom the Lowest of Men here, making my Goonhammer debut with my first ever written event report for Warhammer 40,000! A massive thanks to the Goonhammer team for taking me on board, showing me the ropes, and letting me distil my event experiences into words. I was an 8th edition baby and pretty much learned the competitive side of the game by reading through Eldar event reports (courtesy of Wings) and it's a format I really enjoy. Let's get into it.
The Event
The Nottingham GT was a 400 person tournament hosted on Zach Becker's UKTC circuit, which runs the largest UK events and currently dominates the UK competitive scene for 40k. The standards set at UKTC events are always extremely high, and the consistency of terrain and mission pack means that it has a distinct meta of its own that regular players are very well prepared for. The size of the event means you really can draw anything at any stage of the tournament, which I find particularly enjoyable. In a game as diverse in factions as 40k, its good to sample and play against as many of the armies out there as you possibly can.
Nottingham used the Nephilim rules for one final hurrah, and I will endeavour to highlight ways in which the match ups I played might change in Arks of Omen in each game rundown. I'd prepped for the event with a few practice games with team mates (cheers Davey and Aarron!), and we had a great time at the exhibition in Warhammer World the day before things kicked off.
The Player
It's me of course! I'm Tom, I talk too much, and I've been competing since the end of 8th edition, and 9th edition has been my first serious and sustained involvement in competitive 40k. I'm a podcast host and a regular player for 6++ Gaming, a 40k Youtube channel and competitive team led by Chris Tull and largely based in the Cambridge area. I play a bunch of stuff but have historically competed with elves in a variety of colours and types, my best run being during the Drukhari era of early to mid 9th edition. This year, however, I am finally knuckling down and having a proper run on my Genestealer Cults (GSC) army the Brethren of the Foretold, a project I started in lockdown in early 9th, and which finally came to fruition last summer.
I love technical, janky armies with fun stratagems and tricks (in the main I am a words player, not a maths player. You know who you are!), and the GSC have that in…. wait for it….. spades. I've had mixed fortunes with the GSC, cursed with a fairly well balanced book in a mid-9th edition meta that was, well, not. This changed recently, when a combination of steadily improving game balance and a masterclass sit-down with hivemind expert Innes Wilson set me on the path to a stronger game plan, and better results. Let's look at the list!
The List
Genestealer Cult Battalion (Custom Cult: Industrial Affinity, War Convoy, Synaptic Resonance, Accustomed to Turmoil)
HQs:
Primus
Acolyte Iconward
Magus (Relic: Unwilling Orb, Psionic Blast and Psychic Stimulus)
Patriarch (Mental Onslaught and Might from Beyond) (No force org slot)
Troops:
5 x Acolytes
5 x Acolytes
20 Neophytes (4 Seismic Cannons, Shotguns, Lying in Wait)
20 Neophytes (4 Seismic Cannons, Shotguns, From Every Angle)
20 Neophytes (4 Seismic Cannons, Shotguns)
20 Neophytes (4 Seismic Cannons, Shotguns)
Elites:
Kelemorph (Wyrmtooth Rounds)
Nexos (Cranial Inlay)
9 Purestrain Genestealers (They Came From Below)
Fast Attack:
10 Atalan Jackals (2 Demo Charges, 2 Incinerator Quads)
10 Atalan Jackals (2 Demo Charges, 2 Incinerator Quads)
4 Atalan Jackals (2 Demo Charges)
Heavy Support:
Goliath Rockgrinder (Seismic Cannon)
My list above leans in to a lot of the best tools GSC currently have in 9th edition, heavily loaded Neophyte bricks with seismic cannons and shotguns, regeneration shenanigans on tooled up Atalan Jackal bikers via an Acolyte Iconward, and a supporting cast of characters in the Kelemorph, Primus, and Nexos. To these usual suspects I've added a Magus and Patriarch for psychic support. I love utilising the psychic phase and The Unwilling Orb relic is a particular favourite of mine, with its two denies from anywhere, and I've talked through these dimensions of the list in more depth for an upcoming article on GSC in Arks of Omen. The Pre-game move on the Purestrains courtesy of They Came From Below keeps opponents honest in deployment, and these offer some crucial combat counterpunch for anything that gets too close to my squishy gunline. A Goliath Rockgrinder rounds out the list – typically this is a launchpad and safe haven for the Kelemorph, who spends the game hopping out of it from behind a wall, firing some guns, sticking his (presumably horrible) tongue out, then hopping back to safety in the truck.
GSC have wonderful passive secondary game at the moment. Broodswarm and Ambush score extremely well with minimal engagement with the enemy, and having a couple of five man Acolyte squads booping around the board means Retrieve Nachmund Data is almost always possible to score well on. I do sometimes utilise Raise Banners depending on the match up, and Psychic Interrogation if it proves too tempting to resist. This, coupled with a very stodgy defensive game, helped on by constant regrowth of bikers and Neophytes via the Iconward, makes the army a nightmare for the unwary. With blips, deep-striking, and redeployment tools I can punish mistakes heavily, and this ensures my opponent has to play a very tight positioning game at all times.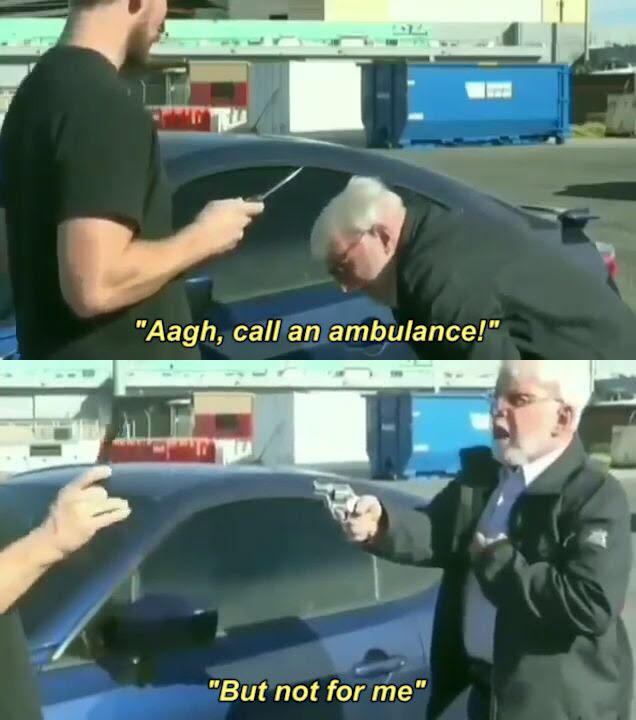 The GSC game plan in meme format
This is only amped up by the custom cult traits- accustomed to turmoil (mini-transhuman, preventing wounds on 1s and 2s) spoils all the anti-chaff and high quality damage the opponent brings to bear, War Convoy (6 up feel no pain on bikers and trucks) enhances the resilience further, and Industrial Affinity (ignore modifiers to hit with industrial weapons) means that the GSC shooting really does work. I bring my own flavour in Synaptic Resonance (reroll 1s and 2s to cast), to round out the list and buff the psykers, but in a post armour of contempt world it will be hard to resist the temptation of added ap in melee on 6s to wound (Cold-Eyed Killers) in future.
The Expectations
As mentioned, I've been on a decent run with the GSC of late, with a couple of 4-1 GT results and a solid local win rate. I knew from experience going in that Armour of Contempt armies of all types are my biggest issue, as my AP-2 heavy list really hates anything exploiting AoC and a 2+ save for its resilience. That said, I've found I have a game into almost anything at the moment with the cults, and this is a big part of their appeal for me as an event army in the last few months. I don't set win targets but I was keen to practice and tighten up my secondary game as much as possible, to play a more patient and passive game when the match up demanded it, and hopefully to give a good account of myself against at least a couple of top players. Let's see if I managed it!
Round One
The Opposition
My round one opponent was Darren, who was running a Poisoned Tongue Drukhari build. The list was heavy on Kabalites, light on melee push (Drazhar, five Incubi and some Grotesques), and packing a lot of shooting in the form of amped up splinter rifles, blasters and dark lances. Ironically it was the former, with its volume of fire, that was my main concern. GSC laugh off low volume high quality shooting (I mean they don't, they scream a lot, but a weapon absolutely murdering one expendable dude is entirely fine by us) and the melee punch simply wasn't going to be enough to push through to the soft underbelly of my castle. Darren was a relatively new tournament attendee, and a delight to play. Its tough out there for a newish Drukhari player at the moment!
The Pregame
The mission was Abandoned Sanctuaries, with it's three central objectives, lack of forward deploy and pregame movement, and lovely late game point swing. I took Broodswarm, Ambush, and Nephilim Data, leaning hard into the potent passive scoring alluded to above. Darren went with Engage, No Prisoners, and Nephilim Data. This confirmed my game plan as a defensive one- to get his points Darren had to come to me, and I was going to be able to score handsomely by farming ambush kills off his many fragile MSU bodies.
The Pattern
The pattern of the game played out broadly as follows. The Drukhari got first turn, and used small units of Wracks to tease the objectives on the flanks in turns 1-2, keeping their Raiders back and looking to whittle the GSC down at range. In return I gobbled up Wracks with Purestrains (hiding them with Return to Shadows to avoid trading down), blasted Raiders open at range with seismic cannons, and dropped one large Neophyte brick down on the right flank to end Darren's ambitions of holding it as I crept my castle of bikes, neos and characters steadily up the left, regenerating as I went. In the end the Drukhari went all in on turn three to force the issue, the Patriarch and Magus invited Drazhar and Incubi to a short stay in Club Migraine, and the Drukhari push collapsed. The game ended with the GSC castle ensconced decisively on the central objective, waving flags and singing rebel anthems into the wee hours, when they were presumably all eaten by their beloved star gods. 97-59 win.
The GSC castle pushing up the left flank in turns 1-2, drawing out the Drukhari
Decisive Moments
The key moments in this game were the early trades on the flanks, and the charge of Drazhar and his Incubi into the GSC castle. The Drukhari came off worst in all of these exchanges, lacking the firepower to win a shootout, and the combat to win a brawl. Tentative staging or trading really plays into the GSC game plan- it only serves us things to score Ambush points from, and between return to shadows and the regrowth of damaged units there are often minimal casualties for the GSC in a limited engagement. Boosted poison shots definitely took their toll on Neophyte bricks, and Draz and the boys demolished one bike squad, but this wasn't enough, and the psychic counter punch of the Patriarch and Magus cleaned up the master of blades and his spiky entourage in a single phase (Mental Onslaught works a treat on a weakened Incubi squad!). I've been on the opposite end of this sort of psychic clean up with my own Druks many times, and it's rough. Fortunately Darren was a fantastic sport and took the defeat like a champ.
"Club Migraine is open for business!"
How Does this Match Up Change in Arks of Omen?
Drukhari / GSC currently feels like a tall order for the dark kin, who struggle a lot into armies that can hit them on their terms at range, and absorb their high quality damage through weight of bodies. AoC going away might mean more Wyches on the table, which would definitely give shooting heavy GSC builds more of an issue when they hit the lines, but it feels extremely hard for the Drukhari to weather early exchanges before their 5++ kicks in more broadly. Hiding, denying score, and waiting for a clearer sense of where the GSC threats are, and some enhanced resilience, or going all in and swamping in the cult castle in melee before help arrives feel like the paths to victory. In the meantime, the GSC will have more weapons, more regeneration, and better passive scoring against opponents that will usually have to come to them. Gulp. You'd better load up on shock prows, boys.
Round Two
The Opposition
My next opponent was Ryan Williams of Warmasters, who I played once many years ago when I was first starting out, and who defeated my Ulthwe heavily at the time with his Salamanders! Ryan is an excellent, technically proficient player and was running an extremely dangerous Twilight Harlequins list, with a number of melee troupes in Starweavers, supporting characters including a tooled up Troupe Master and Death Jester, two big ten bricks of Troupes, and…. drum roll please….. A WEBWAY GATE! This little piece of tech combines beautifully with the trapping power of Twilight Harlequins. The elves can drop out of the gate from reserves into nearby combats, at which point twilight's remarkable piles ins, consolidates, and trap stratagems can keep the unwary locked up indefinitely. It was a beautiful, deadly list, and I knew this would be one of the harder games of the weekend. Fortunately I had some experience of the match up from games against my 6++ captain Chris, and my own short-lived dabbling in quins. Was Ryan quite as prepared for Genestealer Cult? My dear reader, is anyone?
The Pre Game
The mission was Data Scry Salvage, with its clusters of flanking objectives, its brutal hold 2 hold 3 scoring, and its expansive demands on player resources. This mission normally suits both GSC and Harlequins, who love having space to exploit. However, in this match up Ryan's webway gate completely reconfigured the tie, as he placed it on the left cluster of objectives, opposite my deployment zone. This effectively rendered it a no go area for me – once a ten man was stuck into my lines I was in real trouble, and I would have to play a far more conservative game working the southern edges of my deployment zone and harassing Ryan's objective cluster instead. Luckily, I had a tonne of brave boys with shovels, shotguns, and cute little bumpy faces waiting in magical tunnels of their own, which rather repaid the Harlequins in kind for trying to spook me with deployment gimmicks…
I took Ambush, Broodswarm, and RND, because I am predictable as hell, and I can score these without really ever emerging from hiding. I sometimes like banners into quins as a way of drawing them out of their dainty little boats, but Twilight poses too much of a trapping threat and that darn Webway Gate loomed over the objectives I'd normally try and get decorated. Ryan correctly identified that some of the go-to harlies secondaries weren't advisable. Deadly Performance can signpost where they will be early in the game, and Weave Veil was a risk with my all denying superstar Unwilling Orb Magus around. As such he opted for Behind Enemy Lines, No Prisoners (almost always a 15 into me), and Assassination, aiming to crack open my lines, slay my characters, and end my hopes and dreams. A defensive game against aggressive elves you say? We go again.
The Pattern
Ryan's quins got the first turn, which helped me enormously. My plan of hide and wait works much better when there's scope for an end game swing, and in this match up it is vital. Ryan found himself caught in two minds on how to exploit the early rounds of the game, staging two boats on the right objective cluster but leaving the left side (where the webway gate stood watch) entirely clear for the time being. In my turn I inverted my usual approach to the mission to avoid the webway gate, pounced on the half-hearted stage on the right hand side and completely ignored the left flank, cracking open both boats, lining up shots, and yeeting out my Purestrains to gobble up the survivors and then scurry back underground, leaving my four man bike squad on the far right as bait, and a brave(?) bunch of data gathering Acolytes on the far left. Same again, please?
GSC forces steer well clear of the Webway Gate and pick off stragglers on the right flank
Ryan realised the error immediately, and went all in. Harlequins launched forwards from boats and a couple of units made it into some bikes and Neophytes on the southern board edge, such is the speed Harlequins bring to the table. A Troupe Master flew through like A-Train on a mad one and massacred my beloved Acolyte Iconward, cleverly turning off my ability to regenerate core units and making this game very peaky indeed. Things devolved into a fraught struggle on the southern board edge through turns 2-4, as although the Atalan Jackals could flee the combat the neophytes pinned in the southernmost small ruin couldn't withdraw (Twilight quins can simply chase you up to 8 inches and keep you in combat!), and the Magus and Patriarch waded in to slowly blast the harlies off with psychic damage. The Death Jester and some other quins broke through to my home objective in turn 4, threatening a complete GSC collapse, but the Purestrains, freshly returned from the tunnels, arrived in time to slash up the clowns. Despite suffering heavy casualties Ryan very nearly turned this into a harlies victory, but the early set backs had left him too light on assets to overwhelm the horde, who emerged from the massacre to claim some objectives and some much needed primary in round five. 80-67 to the cult.
A right old mess on the southern board edge
Decisive Moments
This game swung on the inability of Ryan's ten man Troupe units to make combat. Having been caught in two minds and left one too far back in turn one he was forced to attempt a long bomb charge to get them into the action in two, which they failed with a reroll. This meant they died in a hail of shells as my first wave of Neophytes arrived from underground, and were then murdered in turn by Ryan's next wave of Troupes due to sloppy placement of my own. The psychic battery of Magus and Patriarch once again came in clutch, helping to blast the elves out of my lines (though Ryan's astute positioning of the Laughing God's Eye made this much harder work than in game one). The Patriarch slew the Troupe Master and Ryan's chief Shadowseer as Neophytes generally flapped about in panic around them, minions style, in a very precarious duel on the southern board edge that helped shore up my late game push. The ten man in the webway gate found itself out of the action, unable to join the fray after I entirely ignored the upper left objective cluster. As a result it too was forced into attempting a long charge from a board edge, and found itself picked up in more or less the exact same fashion by "Neophyte Ambush 2: This Time it's Just as Fatal as Last Time".
Harlequins advance on the GSC home objective
Even with these heavy losses a few desperate plays were required on my part, including a kamikaze effort from the Kelemorph, who begrudgingly skipped into melee combat with a damaged harlequin troupe in order to set up his own shoot on death stratagem and clear them off the central right objective. If Ryan has second turn he can take his time in this match up and the result is almost certainly reversed (most of my primary comes in turn five after the fighting has died down). There was definitely more scope for him to exploit the sticky objectives in 1-3 to mitigate the first turn disadvantage, as there was no way in hell I was riding out to meet him near the webway gate. As it was, we both agreed that he didn't quite stage assertively enough to capitalise in the mid game. Ryan was a tenacious and sporting opponent, asked all the right questions, and this was probably my favourite game of the weekend. He went on to a deserved 4-1.
How Does this Match Up Change in Arks of Omen?
In all honesty, not a tonne. GSC get more weapons and score better on secondaries now, but none of that massively changes this tie, which comes down to how effectively and how quickly the harlequins are able to fly out from safety and shut down GSC primary, eliminate the supporting characters, and prevent the GSC firepower from wiping them out. In much the same way the harlies going to a 5++ doesn't hurt them much- they're trying not to get shot here, if they are it's usually already going wrong. Bikers getting industrial melee weapons built in will be a god send for the melee aspect of the tie (I really cannot WAIT to ignore modifiers to hit in combat). Its a very precarious but thoroughly entertaining match up where either side can do drastic damage to the other in a heartbeat, and I expect it to stay that way. Twilight feels much stronger into GSC than Light- we don't care about hitting on 4s when we fire ten million shots, and the extended melee movement, additional attacks and trapping makes every combat a nightmare for the GSC player.
Round Three
The Opposition
As the pairings came through for the next round, the nightmare scenario presented itself. Black Legion Chaos Space Marines with Abaddon, piloted by an excellent player in Sam Smith (not the singer). Sam had named all his characters and key units in the list- never trust anybody that does this, they're definitely really good and not in fact a hapless narrative player who's out of their depth like they WANT you to think. More seriously though, Sam was a brilliant opponent, funny guy, and his army was absolutely beautiful. Abaddon had brought an array of friends, including a ten man terminator brick (with this cool rune relic that makes them hard to hurt, you may have heard of it), supporting psykers, some Venomcrawlers, Accursed Cultists, and a Volkite Contempor and Decimator to add ranged support. Black Legion, much like Emperor's Children, have the advantage of a trait that makes them better at shooting as well as combat, and the flexibility of Sam's list would prove essential in this tie.
In my recent event run with GSC it has been Armour of Contempt armies, and particularly the chaos ones, that give my list the most trouble. High volume ap 2 doesn't tend to cut it into buffed up Terminators, and played well chaos lists can body my horde off of the primary before I can get a foot in the game. Would it play out that way this time? There was only one way to find out!
The Pre Game
The mission was Death and Zeal, with four corner objectives around a central objective, quarter zone deployments, and a mission reward for killing on and taking objectives. In this match up that favours the Black Legion, who will typically look to begin by dominating the centre ground and, eventually, every objective on the board, and could now expect to score very highly indeed whilst doing so. There was some hope for the GSC in playing the flanks, and looking to stretch out and whittle down the chaos resources at a safe distance from the Terminator brick, Sam's main source of melee push. I took my usual trio of secondaries, and Sam, like Ryan before him, doubled down on aggression with Assassination, No Prisoners, and Warp Ritual. The latter was the more dubious pick, as we would be facing off all game via my unwilling orb denies, but CSM win on the primary, a fact Sam was all too aware of.
The Pattern
The Black Legion took first turn, and in turns 1-3 they moved to threaten every objective in no man's land, with the Terminators heading centrally, Abaddon drifting menacingly towards the top-left objective with Venomcrawler and Legionnaire support, and some Accursed, Possessed and another Crawler threatening the bottom right objective. In reply the GSC largely avoided the central Terminators and played for the flanks, wiping out the Crawlers, Accursed and Possessed in waves of Neophyte attacks, but being picked up mercilessly by hails of bolter fire and volkite in return. A multi-phase damage trap for Abaddon, who had gone solo like a sort of spiky, top-knotted Harry Styles in the top left corner, was sprung in turns 3-4, but sadly fell just short of dropping the traitor commander, who skewered the Patriarch in reply, and the top left objective fell. Having waited patiently for GSC numbers to dwindle, the Black Legion Terminators then redeployed via relic trickery to the GSC home objective and stormed it, bringing the cult's resistance to a sudden, and brutal end in turn five. 92-59 to Sam, and a tabling for the cult.
Black Legion forces set up shop in the mid board turn one
The Decisive Moments
The crucial moments in this game lay in Sam's readiness to be patient, and my over eagerness to try and force the issue and put the Black Legion on the back foot. Sam had astutely stationed his volkite Contemptor in his backfield. With the Mark of Tzeentch ability to intercept via a stratagem it could wipe out any GSC reinforcements threatening his home objective, and this completely neutered my ability to counter punch in any meaningful way. As a result Neophytes were forced into popping up in areas of the board that simply didn't offer protection, or a way to locking Sam down on the objectives and threatening his primary. Sam screened well, drew out my guns with cheap and cheerful assets like the Venomcrawlers and Accursed, and then punched back HARD with the hyper-efficient Black legion shooting. Abaddon narrowly surviving my trap for him (on a rerolled 4++! Damn!) sealed my tabling, but the actual result never felt especially in doubt. Were I playing the match again I'd be inclined to keep almost my entire army back and gum up the two far left objectives for as long possible, playing for score deficit and denial rather than trying to get round and dislodge the csm forces in their own territory, which only hastened my demise for minimal gain here.
Abaddon rerolls his 4++, survives, and punts the Patriarch into the sun
In holding his relic redeploy until turn four Sam played things to perfection, using that burst of movement to correct my efforts to drag his Terminators back and out of position, refocus on my home objective, break through, and gobble up the GSC characters, who struggled to outrun the chaos forces once their defensive lines had broken. Sam went on to finish in the top ten with a well earned 5-0, and it was great to see the potential power of Black Legion when it is played as competently as this.
How Does this Match Up Change in Arks of Omen?
Sam's list is better placed than many csm lists to adapt to Arks of Omen. He can continue to utilise Abaddon in Black Legion, the melee / shooting balance will benefit from free strategic reserves for added flexibility, and the relic teleport gives him a powerful alpha strike potential of his own in a meta that, I suspect, will have more than a few alpha strike builds doing the rounds. Whether the Terminators continue to serve as the centre pivot remains to be seen- I feel much better just sinking a whole army into them if AoC isn't a factor, and it may be those points end up better utilised elsewhere, but only time will tell. The GSC will have a few extra tricks for the match up, but CSM remain a tough nut to crack for them, and for me. Solutions here will require me to learn to play the match up better, rather than hoping for a few extra special weapons to somehow swing what has consistently been a heavy loss for me into a skilled opponent so far!
Round Four
The Opponent
The round four draw always kicks in halfway through your Saturday night social shenanigans, which gives it plenty of time to live rent-free in your head until morning. In my case, several pints of revelry with my 6++ buddies were rudely interrupted when I drew Dark Angels, piloted by James Green. This list went heavy on Deathwing, backed up by a bunch of Attack Bikes and a big brick of Black Knights. Some (but crucially not all) of the supporting defensive buffs were present- James had the -1 damage banner, but he didn't have an Apothecary, which was a huge relief to me as I started working out a game plan. Deathwing pose a similar problem to GSC as Black Legion – tonnes of bolter shots, armour of contempt 2+ saves, and resilience that means your glass cannon reserve punches might not do their job before dying. James was a lovely chap and was just as flummoxed by my horde of gribblies, and we had a lot of fun with this game.
The Pregame
The mission was Tide of Conviction, with its wonky clusters of homefield objectives, substantial empty no mans land, and big end game swing for any enterprising player bold enough to 'just go second'. James took banners, oaths of moment, and assassination. The latter confirmed my plan as a hyper defensive one- this was my best chance to no sell him on secondary scoring and to keep the game tight, and oaths instead of no prisoners felt like habit taking precedent over the match up in front of him, so I set out to exploit that too. In return, I had adapted my game plan – Broodswarm and RnD remained, but Ambush went in favour of No Prisoners. James gave up tonnes of wounds, but the resilience of Dark Angels meant I couldn't rely on my swings from ambush actually killing entire units, so it was safer to shore up scoring by celebrating every wound taken rather than every kill confirmed. In the end this proved absolutely the right move. It was time to play a little game called "Call an ambulance… but not for me!"….
The Pattern
The Dark Angels took first turn…. wait, have I even gone first at this event yet?! Goodness I did have my share of luck this weekend…
Terminators moved tentatively to secure the central objective cluster in James's homefield, and Ravenwing bikes largely hid and waited for their moment. James was thrown by the blip system and reluctant to get too close, and he only stationed a single Terminator five man on his right flank. Two five mans waited in reserves for a better shot at the cult.
Nobody home: Dark Angels with nobody to play with, turn one
I clustered my castle, mirroring James's, and then proceeded to blast his Terminators off his right flank with mortal wounds from the psychic battery and a charge from the purestrains, who scurried back underground in familiar fashion. James then dropped in his reserves and went to town, boltering huge chunks out of my neophytes and bikers, sniping the Magus, who had stuck a head above the parapet and quickly regretted it, and staging the Black Knights ready to launch an assault in turn three.
Sadly for these brave, plasma-toting bikers, the only assault they participated in was a Neophyte ambush that picked up almost the entire squad in a single over charged volley in my turn two. 4++s up against seismic cannons and massed shotguns just don't cut the mustard sadly. I continued picking up my secondaries, chipping away at Terminators wherever I could. James realised he needed to be more aggressive in turn three and pulled off a textbook 11 inch charge with a huge brick of Terminators (expect to see more of this Dark Angels classic in Arks of Omen). I turned this to my advantage when he finished up a bike unit but then tagged a Neophyte squad, bundling onto the objective and wrapping the Terminators up with two regenerating Neophyte blobs whilst continuing to chip away with mortals and Purestrains until only two remained. Dark Angels reinforcements failed to push through to the characters, and the GSC swung the tie with a hold more in round five to carry the day. 77-58 to the cult.
A Trap Sprung! Black Knights in the top right find out what a seismic cannon does
The Decisive Moments
James failing to get a substantive grip on his far right objective was the key to this victory. He had the resources to lock this down and score himself some 8s and potentially 12s in the early rounds, and he stayed too central. The Deathwing charge probably came a turn too early and too piecemeal- he was destroying me at range with bolters and if that had continued I'd have been annihilated. As it was, the Terminators couldn't hack through my adorable mini-transhuman (how do YOU like it, huh?!) quick enough and that meant my home castle regenerated and stayed intact.
The Return to Shadows stratagem was also massive here. My two Acolyte squads blipped around the board scoring RND, and one landed for a cheeky objective theft in five, to seal my end game scoring. Ultimately the GSC passive scoring game here was more robust than the Dark Angels, who took secondaries that would require some serious aggression to score reliably but then lost their best push unit (the Black Knights) before they could capitalise.
Cuddle club is best club
How Does this Match Up Change in Arks of Omen?
God this one gets a lot harder for me. Dark Angels are going to be STRONG in AoO, with even more bodies on the board, free gear, and an armour of contempt substitute in the form of a bunch of boys with hammers and shields. The saving grace for the GSC is that they might run slightly less by way of bolters as a result, but this is already a match up I think the cult struggle in a lot of the time, and it is going to get tougher. Packing some webbers in for mortal wounds might be our best shot of getting through the terminator bricks at range. Free strategic reserves completely redefine the tie as well – units like Black Knights can simply start off the board and wait for their shot. We are ALL GSC now, baby.
Round Five
The Opponent
Having taken a win in a game I was fully expecting to lose, round five felt like a free hit for me. These are exactly the circumstances in which I tend to play best- as soon as there is any sense of expectation I am far more prone to errors and overthinking ties. As it was, I got a very favourable final match up against Brant's Custodes. Brant is a gentleman, and a new(ish) player at Trash Wargaming, where 6++'s nemesis Ben 'crocs' Pearce and a bunch of other reprobates play. His list went heavy on dreadnoughts with multiple Contemptors-Achillus and Venerable Contemptors, a Contempor-Galatus, two packs of Vertus Praetors, some Custodian Guard, shiny Geralt (Blade Champion), shiny everything man (Trajann), and a shiny tank (Caladius) to roam the backfields. Reading down the list I struggled to see where the output and volume to overwhelm my horde was going to come from. It looked a hard sell for Brant, but this was round five playing for a 4-1 so I took nothing for granted and set about building a game plan.
The Pregame
The mission was Recover the Relics, with its sneaky moving objectives, its extremely generous primary scoring, and its otherwise classic 'centre objective and corners' layout. We both opted for defensive objective plays in this game, keeping things back with our objective moving choices. I opted for Ambush, RnD, and Broodswarm (shocking, I know). Brant chose Assassinate, No Prisoners, and Raise Banners. By my estimations this meant that, yet again, a heavily defensive game on my part should produce a positive result for the GSC, as I could pick off one or two of Brant's tough units a turn to keep my Ambush scoring ticking over whilst achieving the rest. With that in mind I kept most of the army on the board, blipped the bikers so I could hide them better, and waited to see what would happen next.
The Pattern
The Custodes took first turn, and Dreadnoughts of all flavours began to waltz menacingly up the board on all sides, clanking magnificently towards my hidden hordes. The Vertus Praetors staged behind ruins, waiting for their moment. In my turn one I deployed a chunk of my force to the far right flank, where I destroyed one Contemptor for Ambush, and whittled the next one down to about half health so it would be easier to manage for my next turn. Brant stepped up the assault in 2-3, flying Praetors down the right flank and staging more Dreadnoughts in the top left, where my priority objective lay, and which I was defending with a large pile of regenerating bikes and cultists. A combination of Rockgrinder, Kelemorph and Neophytes eliminated one pack of Praetors, and a Neophyte pack landed behind Brant to kill one of the bikers in the second group, who then had to backtrack to slay the disgruntled mineworkers.
Praetors punish the Iconward for regenerating about 5 billion of his mates
Dreadnoughts crashed off the GSC castle in 3-5, being slowly overwhelmed by mass fire, their -1 damage making this a real slog, as the GSC ticked off their secondary scoring with minimal interference. A late turn five charge by the returning Praetors slew the Acolyte Iconward, which offered Brant some much needed emotional catharsis, but not in time to stop the GSC castle pushing up 4-5 to take the centre and secure the victory. 97-86 to the Four-Armed Emperor's Finest.
GSC heroes bravely holding the line for the correct Emperor against the shiny traitor hordes….
The Decisive Moments
As I alluded to in the pre-game, this was a tough game for Brant from the get-go, due to the clash between his low volume, high quality output and my huge mass of mini-transhuman bodies. Lack of strong secondary game for the Custodes meant they were up against it on the points too, and the decision to fight on all fronts rather than focusing one of my flanks ensured that the Cults could pick up one or two units a turn all game, scoring well and running away with it on the secondary points. Lack of Armour of Contempt here was enormous – my massed fire goes through Custodes units at an alarming rate, and only the -1 damage on the dreadnoughts kept Brant in the game here. It was a remarkably relaxed, good humoured round five, as Brant had realised fairly early on he wasn't going to get through the horde, and we were able to have fun with the ridiculousness of the match up throughout the game. Purestrains surrounding and bringing down one golden Dreadnought at a time will stay with me for awhile, thanks for the game Brant!
Shiny Geralt takes on five Acolytes, like the big man he is
How Does this Match Up Change in Arks of Omen?
I would guess Custodes will be bringing some infantry bodies to this match up in future! The return of Ob Sec terminators is huge, as they were always a very serious problem for my GSC during the short-lived 'Golden-Era' (lol) of Custodes after their release. Being able to employ Transhuman and turn off rerolls all game will also help to Mitigate the GSC shooting. Additional GSC tech like free flamers and melee weapons etc isn't especially likely to assist them in the tie, so I expect this game to be a far closer one down the line.
The End!
That result saw me finish 46th of about 380 players at Nottingham, on a 4-1 record. It was my third consecutive 4-1 with the GSC, and I was particularly delighted with this one, coming as it did via some extremely tough match ups in the earlier rounds. My list should need minimal adaptation for Arks of Omen, as the Patriarch probably goes in favour of more Purestrains (my event MVPs), as I didn't actually use Psychic Interrogation once this event, so I probably don't need it and it gets worse in AoO anyway. Other than that it is a case of tweaking and refining the horrible Jackal / Neophyte core. I'm extremely grateful to Innes for teaching me the ways of the cult, to my 6++ teammates for being practice partners and sounding boards, and to all of my opponents for being fantastic sports. Only time will tell what Arks of Omen means for the cult in a competitive sense, but I will be back for more games and more event reports with them in the near future as I chase that number one GSC spot in the UKTC. After all, the Brethren of the Foretold have wonderful news!
Thanks for reading. Lowest of Men, out.