Last week I reviewed the Victrix 12mm/1:144 Soviet Infantry, and this week it's the turn of the stalwart workhorse of the Red Army – the T34.
Before diving in, we'd like to thank Victrix for sending these over for review.
There's a lot of discussion about what the greatest tank of the Second World War was, to the extent that if you're reading this you definitely have an opinion. Whenever this discussion comes up, the T34 must as well. By the end of the war neither the best armoured or the best gunned, but reliable, ubiquitous, manufactured in numbers that baffle the mind and, when it was introduced, a terrifying combat opponent. Upgunned to the T34-85 in 1944, it fought (nearly) everywhere the Red Army did during WW2, faced everything the Nazis could throw at it, and, through armour, doctrine and gun, mostly came out on top. Whether the greatest tank or not, it was ubiqutious in one form or another so if you're playing WW2 Soviets, you need some of these. As a result, here they come, T34/76 and T34/85s in 12mm scale to match their excellent Infantry.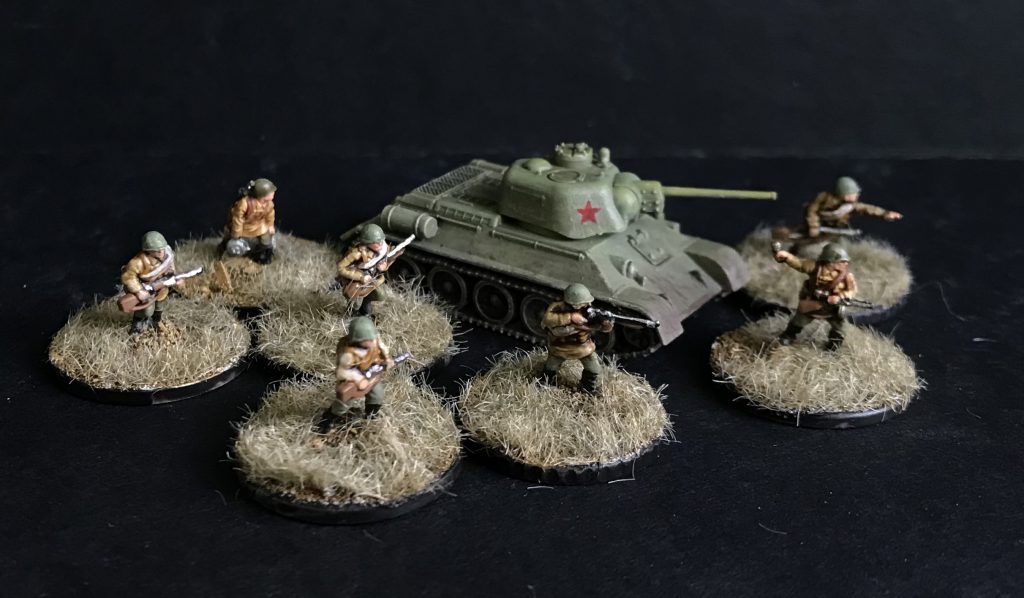 You get six T-34s in a pack, enough to fulfill all your tiny tank needs for most games systems (and then some) if you're playing at reduced scale 28mm-designed games. This is not only a good amount of tanks, but if you're historically-minded (and why wouldn't you be? you're here!) it's two "proper" Soviet tank platoons comprising of a command tank and two others. Commanders peeking out of their hatches support making a clear command tank where that's a necessary or desirable modelling choice. The six hulls in the pack also let you experiment with different stowage positions and I've built each of mine to be at least slightly different from one another.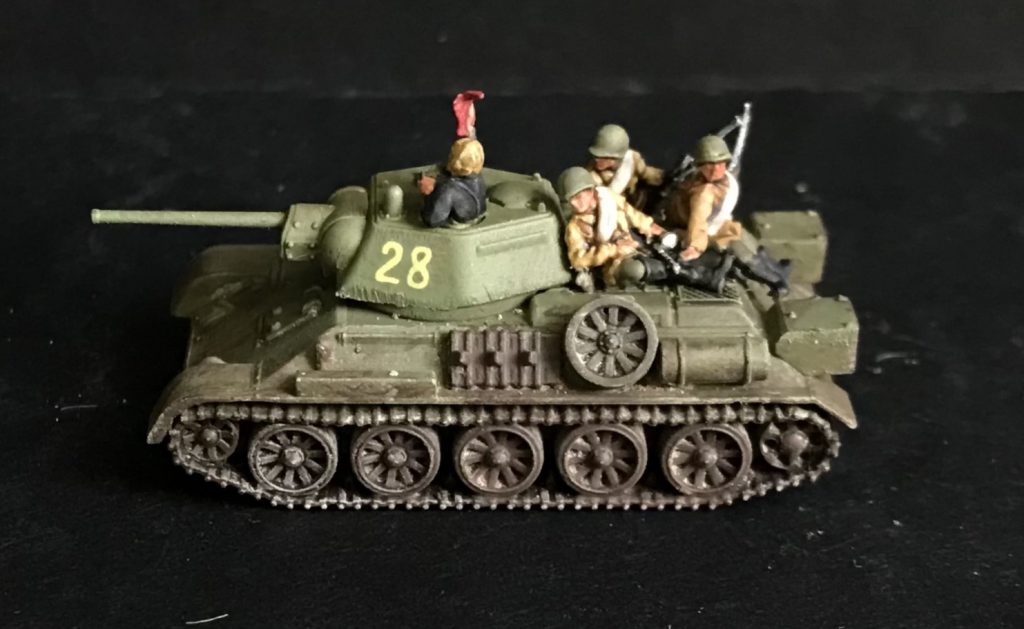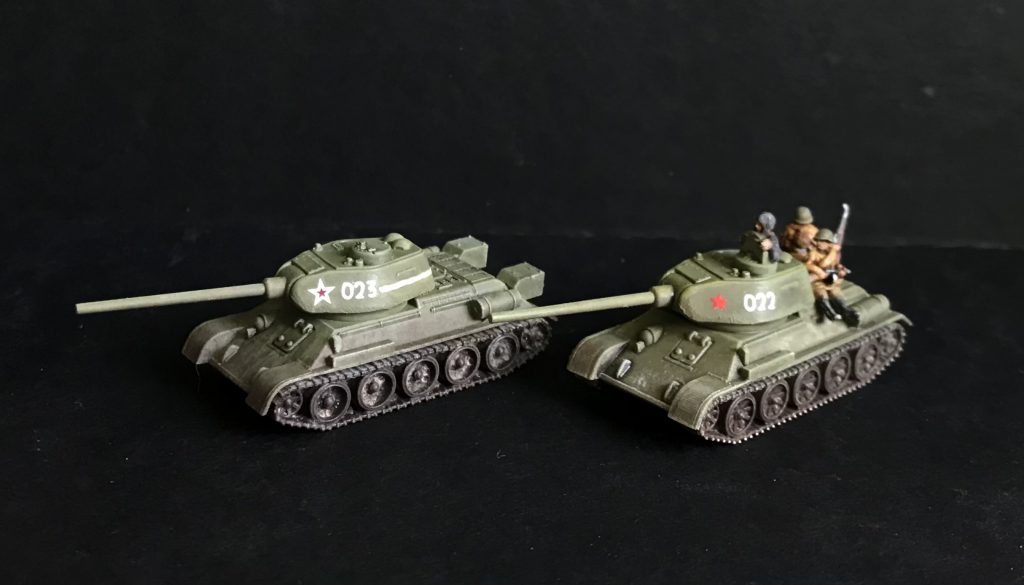 Your six tanks are on two sprues – a T34 and a T34-85 frame – repeated three times in the set. Construction is simple and easy – each tank has a top and bottom piece, track sides and a turret with separate gun. These slot together nicely, with clear locator grooves and slots to make sure the fit is snug, and you can piece all six together within minutes, without use of elastic bands and with no gaps to be seen. There's a little clean up to do on the top plate and all six of my tanks had a small amount of flash on the same top-left corner where the extremely thin, long, and flat track guards have clearly tempted the casting gods. This flash was very thin and easily removed without damaging the tank. One thing to be aware of when building is that the plastic of the turrets is very easily damaged when removing a particularly prominent mould line – I used my big old metal files and at least on my T34 "28" above, the damage is clear to see. I'd advise attacking this mould line with a nail file, or other slightly smoother file, rather than my chunky rasps.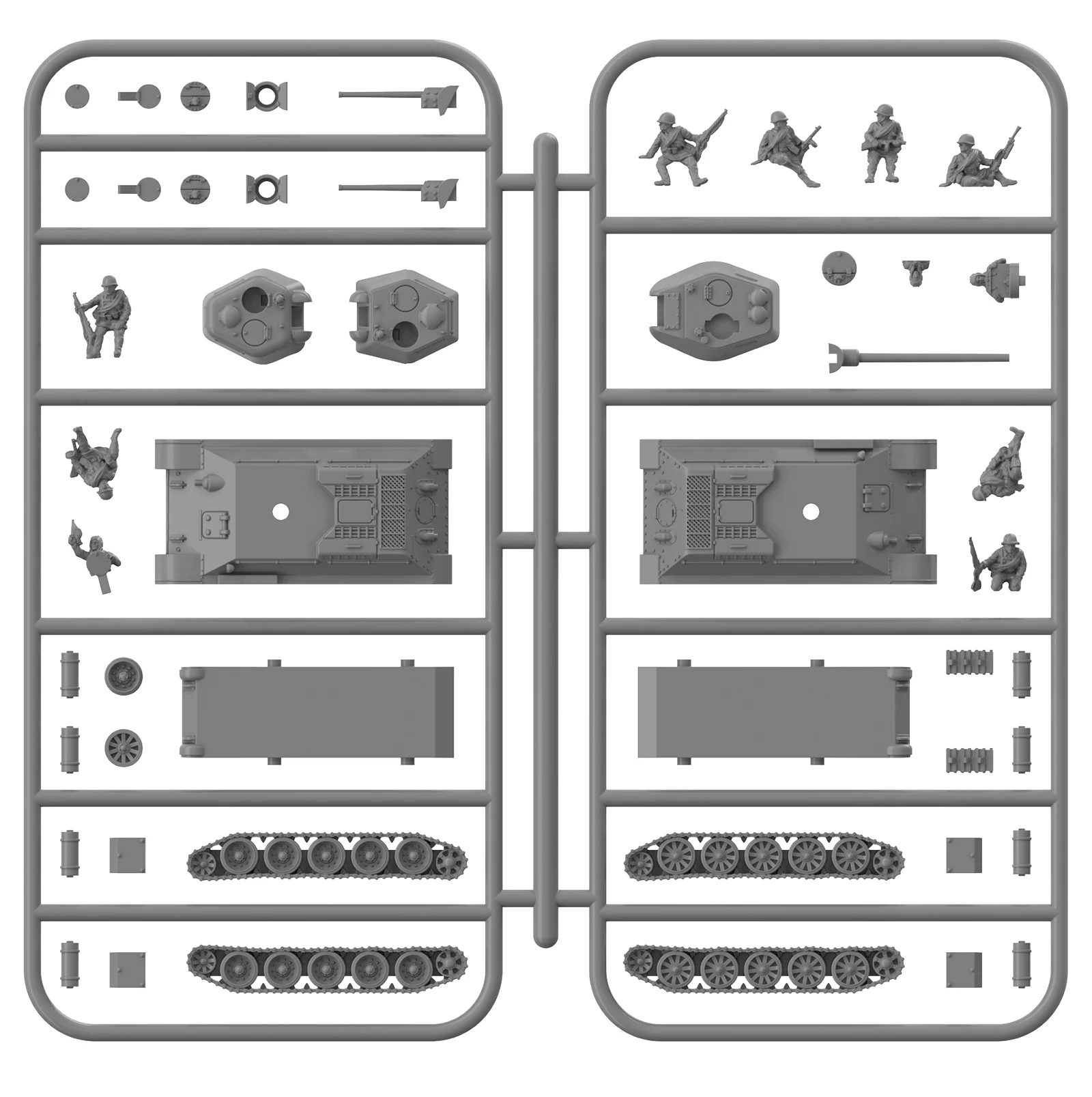 It's not often that I'd go out of my way to talk about sprue gate placement, but I'm going to, so buckle up. Tank track sprue gates are the bane of any modeller's existence – often placed in inexplicably high detail, or prominent, or impossible to access locations. Not so here! Sprue gates are on areas that will either be covered up by track guards or on the underside of the tank, so you're able to sand away to your heart's content and noone will ever know.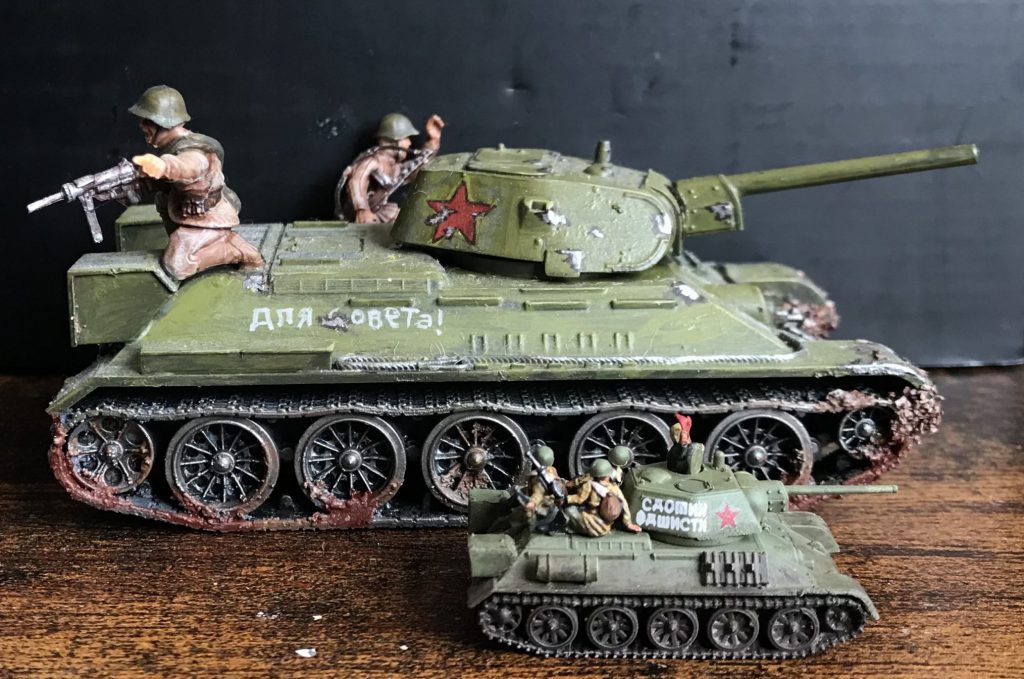 Detail is fantastic and even at this scale you can see the rails, handholds and grilles, rivets and hatches are all present and correct. In the above, slightly ridiculous scale image you can see that scaling down to 12mm doesn't lost much significant detail. What do you not have on the big one that you do on the little? Some points of armour plate detail, and the wheel spokes are a little chunkier – that's about it.
As you'd expect with multipart Victrix models, the sprue is crammed full of options. You're able to make six T34s, or three T34-85s or any combination of the two, and each sprue of two tank bodies comes with three turret options. That gives you two of the classic T34 turrets – the 1942 and the hexagonal 1943 model – both accurately and distinctively modelled. The T34-85 turret is, to my eye, the 1944 version with the distinctive smooth gun collar and riveted top panel. That's a nice bit of detail, and the smallest possible distinction between production versions of the tank you can make at this scale, and I appreciated it a lot. All turret options have one hatch modelled shut, the only downside to this impressively accurate modelling – I'd have liked to have one with both hatches open to show off the "Mickey Mouse" profile! Track options provide both spoked and dished wheels, though with one set of tracks provided per tank, you'll end up using both of them. I didn't check in on when different wheel sets were in use, and just chucked them on (probably should have checked), but as usual when making kits I'm really enjoying, I got overexcited.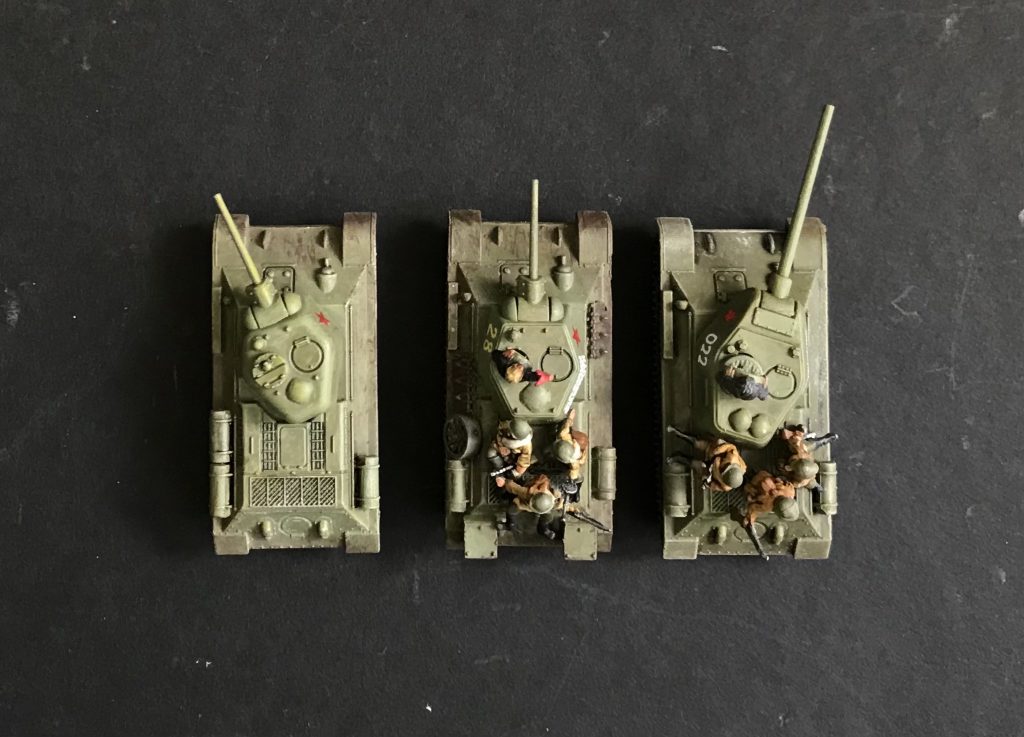 On top of all those turret options, and correcting the single negative we could find when reviewing the earlier Ausf G Panther set, Victrix have crammed the sprue with extras. You get eight different tank rider options, four repeated from the infantry frame, and they're all as delightful as the Infantry are. You also get stowage – both cylindrical and box fuel tanks, spare wheels and sections of track and multiple hatch options for all three turrets. This is pretty bloody great – not only are you getting six incredibly detailed, well sculpted tanks, you're getting enough bits and pieces to make every single one unique, festoon them with tank riders and to model both major variants of the T34 in the second world war.
For those of you who use decals, Victrix provide a comprehensive decal kit with which to adorn your tanks – I would take a picture of it to show, but in my excitement to build models I cut it up to apply! The numbers, stars and slogans you need to make a truly soviet-looking tank are all there, though the turrets have enough space to freehand a slogan if you're truly insane and have a reliable friend who can write things in freehand Cyrillic for you (I do!).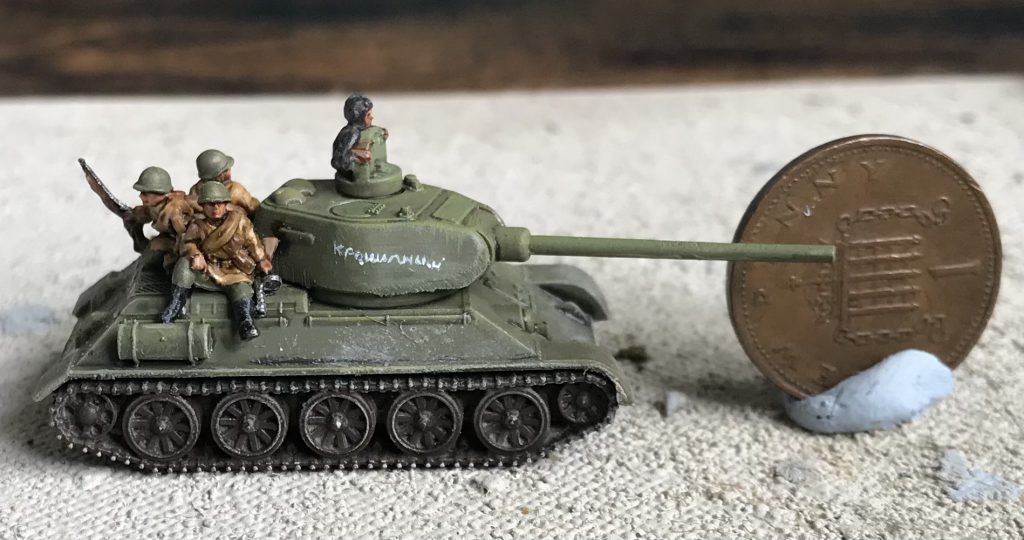 Should you get this kit?
Well, it's a fantastically detailed kit that's easy to put together and has a wide range of options, so the answer is undoubtedly, and emphatically, yes. The T34 with tank riders is such an iconic image of the Second World War that it's difficult to imagine a 12mm collection that isn't going to feature these, and so it's lucky that the kit more than steps up to the plate with excellent detail and options. Again, I recommend checking out Victrix' Company Commander app which we reviewed last month. Now I've got two platoons of infantry and tanks, I'll be doing some training missions for Kursk with Soviets Vs Soviets, and looking forward to it too!
Questions, Comments, Suggestions – contact@goonhammer.com, or leave a comment below.