This article is part of a larger series on How to Paint Tyranids. To return to that series, click here.
You might have seen this scheme recently in either my
Dimachaeron
HTPE or my
army showcase
; either way as a quick intro – Tyranids were one of the two armies I was initially considering picking up back when I started playing 40k in 2017. I was later sucked into the army when their 8th edition codex dropped and since then it's become one of my largest armies, going through a few rounds of expansion.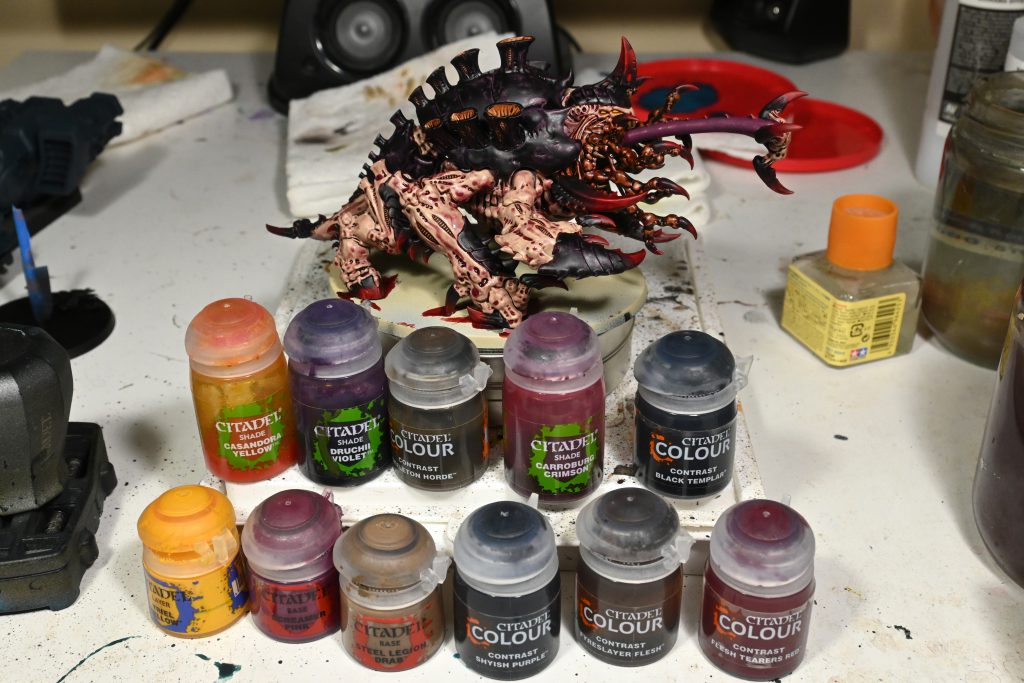 Step 1. Base coats and washes
I start with a base coat of
Ushabti Bone
through my airbrush before applying a wash in
Carroburg Crimson
that roughly covers the whole model but is intended primarily for the pale flesh. Then it's just running around to do all the other base coats and washes on the model:
The many claws and talons are Flesh Tearers Red Contrast Paint
The carapace is Shyish Purple Contrast Paint
The odd fleshy recesses start with Fyre Slayer and then get another coat of Carroburg Crimson
Steel Legion Drab and Skeleton Horde for the teeth
Screamer and Druchii for the tongue
Yriel and Casandora for the eyes
Its helpful to start with the talons so you can later glaze them with heavily thinned Black Templar in parallels with the rest of the base coats. You can often get away with one or two thin coats for the majority of the small claws but for the main claws I would do maybe 3-4 really thin coats to get a somewhat less extreme transition.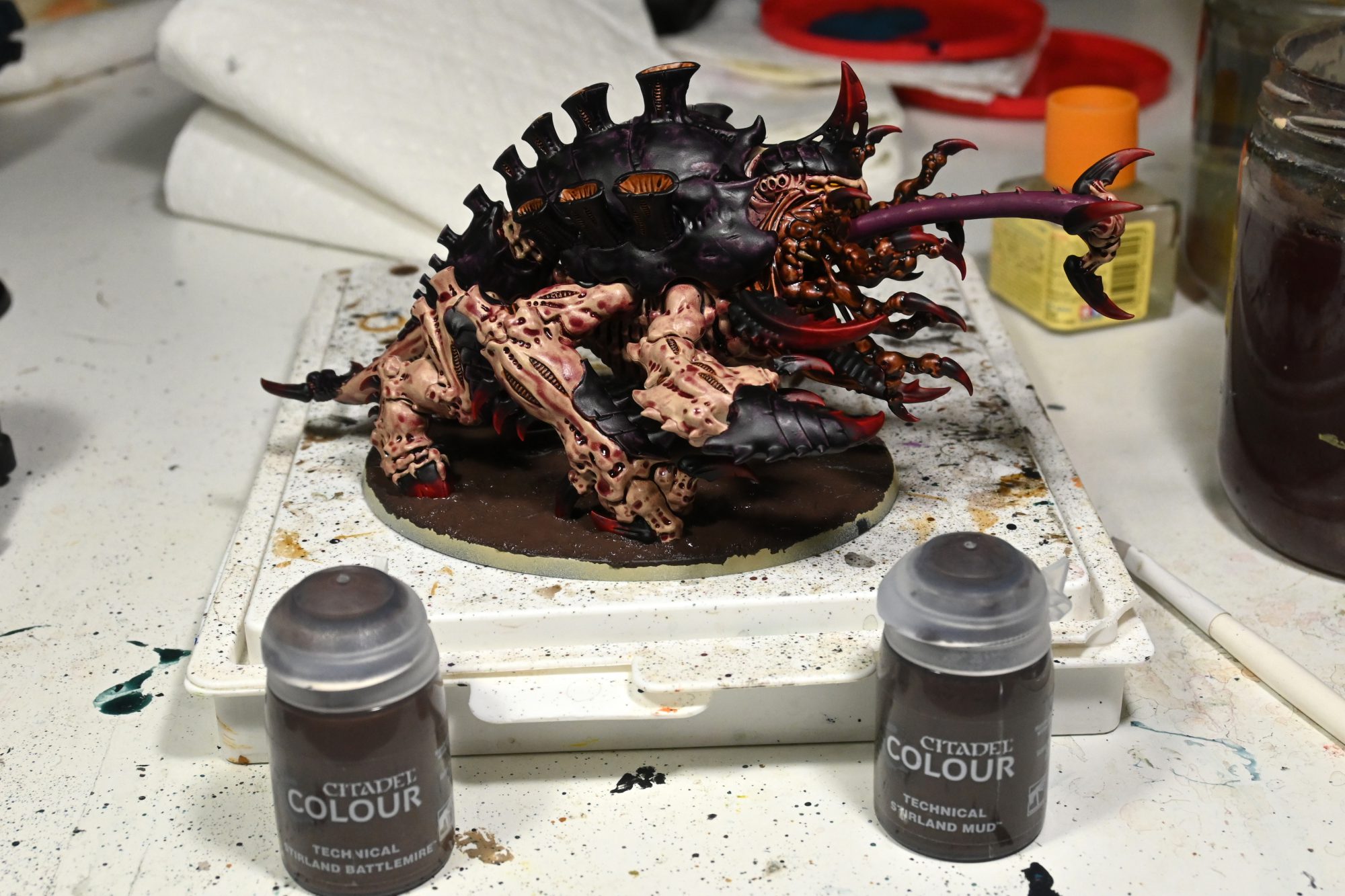 Step 2. Initial work on the base
While doing the base could technically wait until later on, I was going to go to bed at this point and being able to leave the texture paint to dry overnight made it worth doing this ahead of schedule. The earth on the base is done with a couple of texture paints,
Stirland Mud
and
Stirland Battlemire
with the thinner Mud being applied in a weaving path as the river bed and then the thicker Battlemire as the river banks.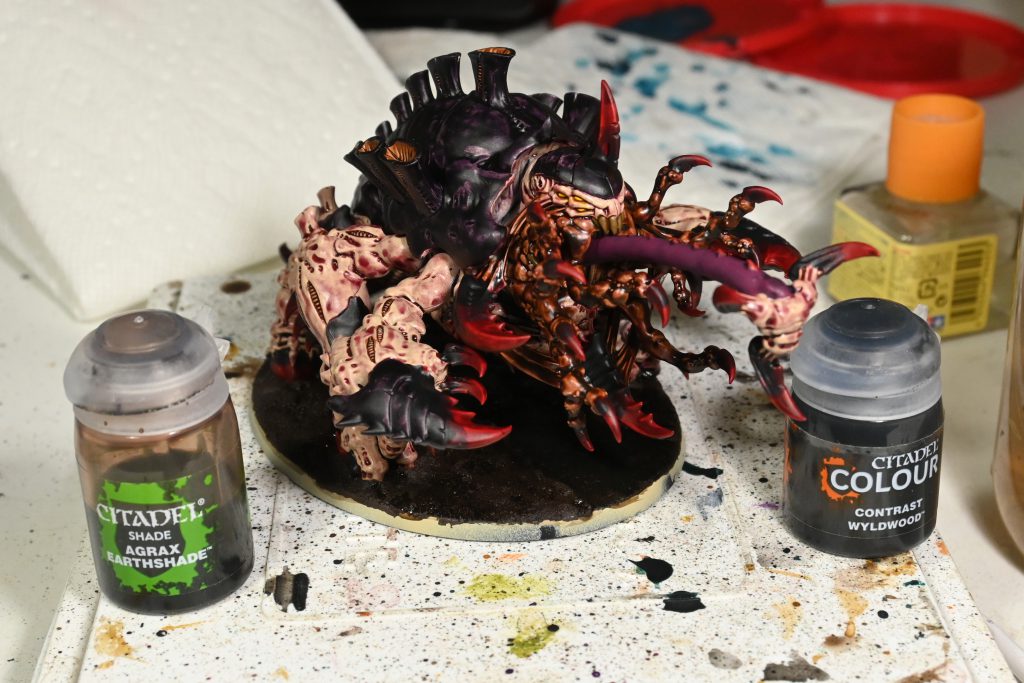 After letting that dry overnight, the next morning I washed the banks with
Agrax Earthshade
and the bed with
Wyldwood Contrast Paint
.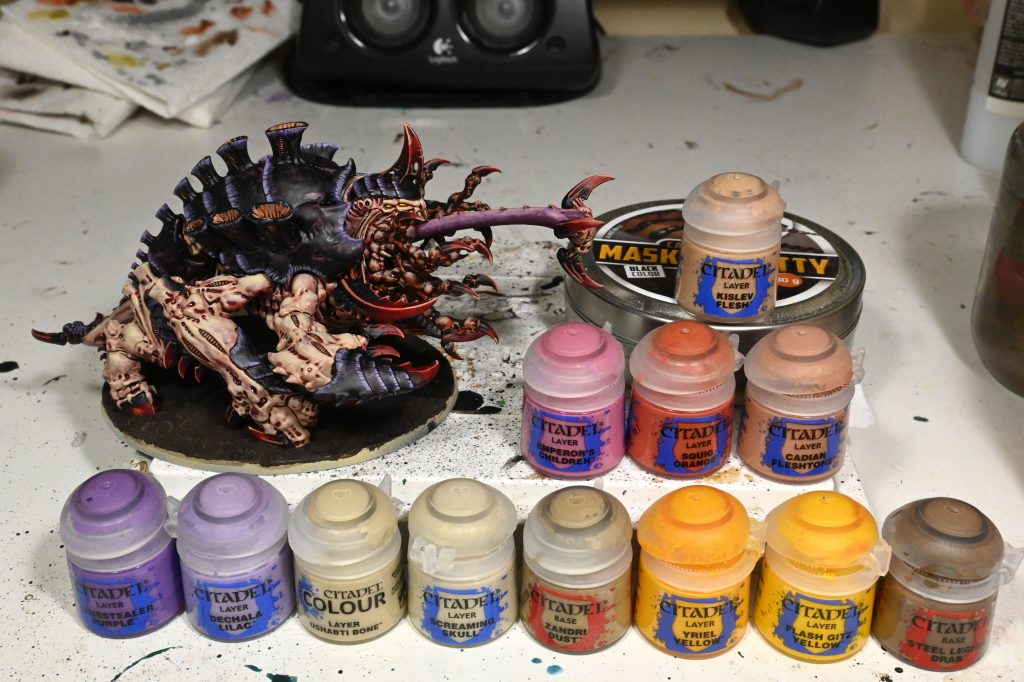 Step 3. Highlights
I prefer to work inside-out when doing higlights, starting with the smallest details first because its easier to hide errors with a later highlighting pass. The detail highlights are often done in a few thin coats of the following colours:
Teeth get Zandri Dust and Ushabti Bone for highlights
The eyes are highlighted Yriel Yellow and Flash Gitz Yellow. I usually skip pupils on the head eyes but I like them on guns and for that you can use either Black Templar Contrast Paint or your choice of straight black – a straight line will give them a more alien/serpentine look over a round pupil.
Cadian Fleshtone and Kislev Flesh on the fleshy bits
Emperors Children on the tongue followed by Kislev Flesh
Squig Orange then Kislev Flesh for the claws and talons
I drybrush the river banks with Steel Legion Drab
With all the smaller highlights out of the way we can turn to the large area ones, the skin is just Ushabti and Screaming Skull in large soft almost glaze area highlights, the largest areas might get a couple of coats of each highlight in successively smaller areas but that's optional really.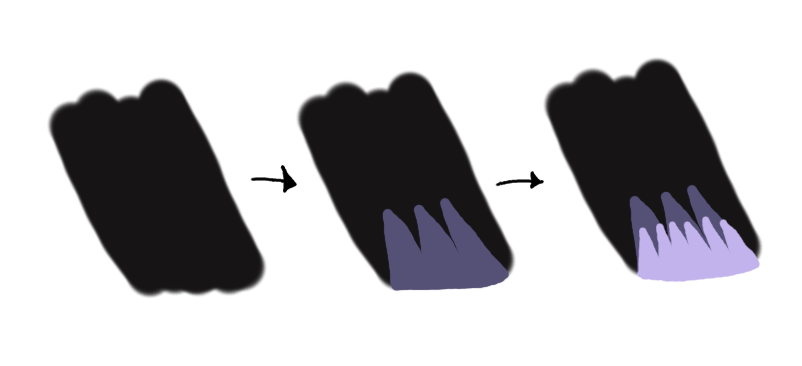 The carapace is highlighted in
Genestealer Purple
and
Dechala Lilac
, in rough little strokes starting a bit into the panel and moving to the edge.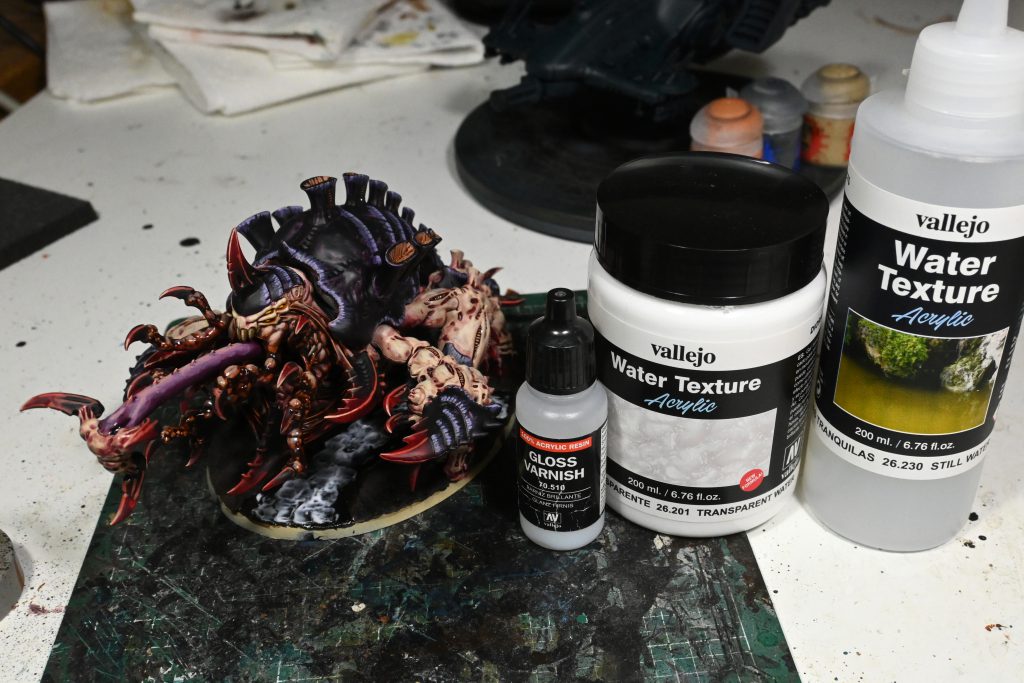 Step 4. Water effects and finishing off the base
The river bed gets filled with Vallejo Still Water, then I apply Transparent Water paste as little ripples in the river once that dries. I also take this opportunity to make the little fleshy recesses and maw a bit shiny with some gloss varnish. Once the ripples are dry I add a bit of white water/froth by drybrushing White, then I paint the rim Dryad Bark and cover the river banks with a assortment of Gamers Grass tufts:
6mm Burned Grass
6mm Dry Green
2mm Dry Green
2mm Moss
4mm Green
6mm Mixed Green
6mm Strong Green
Spiky Green
Dark Green Shrubs
A big pile of assorted flowers
And that's it! You can see some more shots of the completed Haruspex below, along with some shots of other Leviathan models I've painted.
This article is part of a larger series on How to Paint Tyranids. To return to that series, click here.