Games Workshop dropped a big Skirmish Preview yesterday, giving us an hour of spicy previews for some of their boxed games. And as usual, our authors are here to talk about what was shown off, what it means, and what we're excited for.
Today's Round Table
Fowler

SRM

Thundercloud

Wowshawk

Rocco

King_Ghidra
TheChirurgeon
What are your quick first impressions of GW's upcoming skirmish offerings?
SRM: This is a lot of games
Thundercloud: It sort of underlines how many skirmish lines GW have now. 
SRM: I'm waiting for the other shoe to drop and for the Joytoy action figures to be supported by a skirmish ruleset.
Fowler: Lots of exciting logos on all the different products, but all I see are future Necro conversions.
TheChirurgeon: Where the hell is Aeronautica? As the recent owner of a collection of tiny planes, I demand to be pandered to! Also, the models are cool as hell and the knew Kill Team release looks tight. But yes, I agree, there are a lot of GW skirmish games now.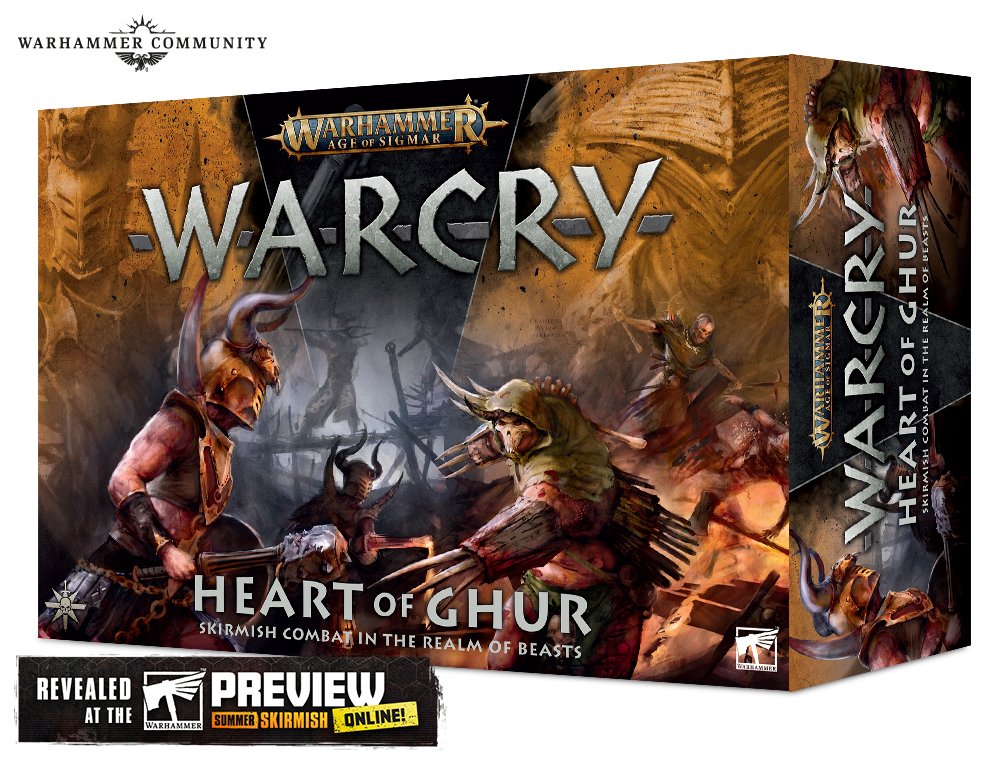 Warcry is kicking off a new edition with Heart of Ghur. The Horns of Hashut face off against the Rotmire Creed. Discuss
Fowler: We have Easterlings at home.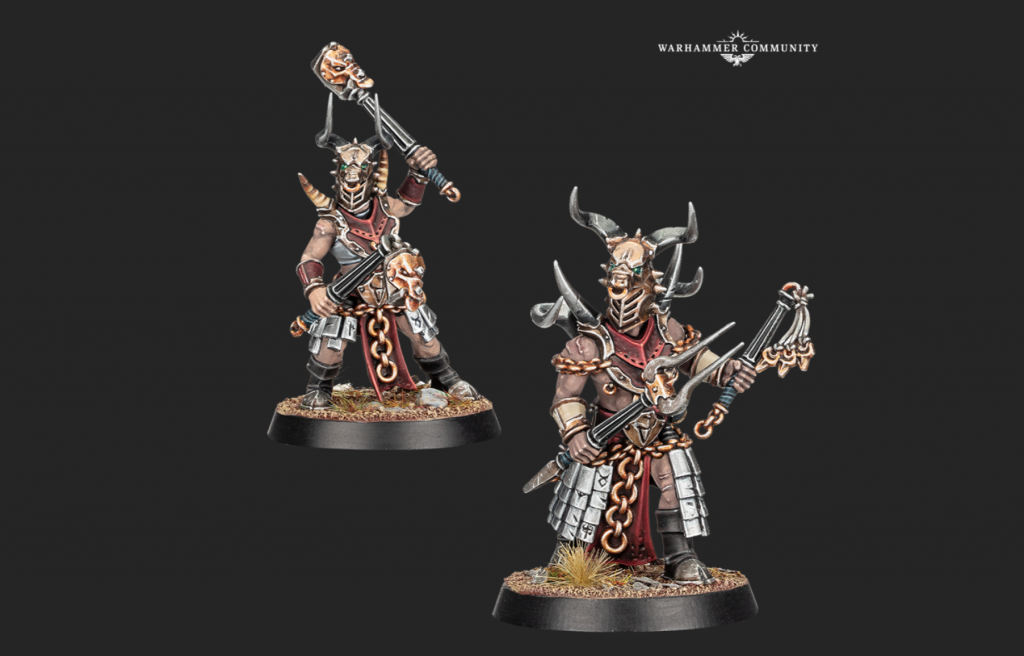 SRM: We have Skavvies at home.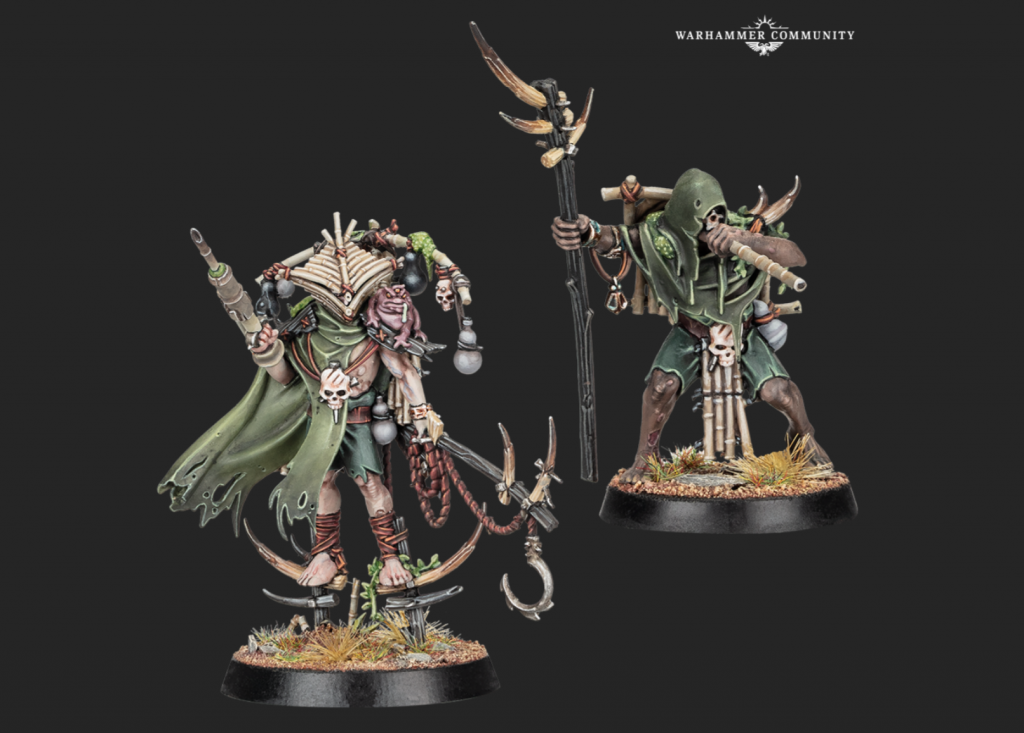 SRM: I can't look at the whole board without calling it "The Bone Zone", which I guess is Ghur in a nutshell.
YOU HAVE COME TO A WORLD CALLED GHUR *whip crack*
Thundercloud: Warcry continues to be even more Conan on drugs. Everything seems fairly solid, and while it isn't a new edition, as rumoured by some, there is a new core rulebook for this new starter set. Everything previously released is still usable, meaning there's a few dozen possible factions, but it'll be interesting to see what's done to flesh out Ghur, and to lay the ground for Chaos Dwarves to return.  
Fowler: I enjoy Warcry and play Nurgle, so this box is microtargeted for me. Very interested to see what changes they have in store for 2.0.
TheChirurgeon: I'm sorry, are those trees made of meat?
We got a preview of the next faction vehicle for Necromunda Ash Wastes, the Goliath Mauler. Is this the ride you dreamed of?
Fowler: Wez from Road Warrior riding a Halo Brute Chopper. Be still my heart. 
SRM: It's like if you turned a bicep into a motorcycle. I had the image of Goliaths riding comparatively tiny Atalan Jackals like Shriners on their tiny pocket bikes, but this is far more satisfying. 
Fowler: In all seriousness, I love the notion of a beefy (and theoretically… melee?) vehicle for Goliath. It fits the aesthetic perfectly and looks like it mitigates the initiative issues Goliaths would face on dirtbikes.
Thundercloud: Well looks like the classic gangs are all getting their own light vehicles as well as being able to take the GSC stuff. That'll make people very happy. The Goliath bike is very very Goliath, so let's hope that strength of theme continues for the other factions. 
Rocco: New guy butting in here. These are extremely cool and I can't wait to see how weird the Delaque vehicles will be, and how cool and punk the Escher vehicles will be. They make me wish I had any Goliath models or actually wanted to play with those meatheads. They give off huge "90's toy car we designed for your favorite superhero that they never used in any comic or cartoon" energy. That shit rules and I'm here for it.
SRM: Van Saar better get Spider-Man's Spider Force Web Car
TheChirurgeon: It won't happen, but I'd love to see Corpse Grinder vehicles that are literally just big meat drills.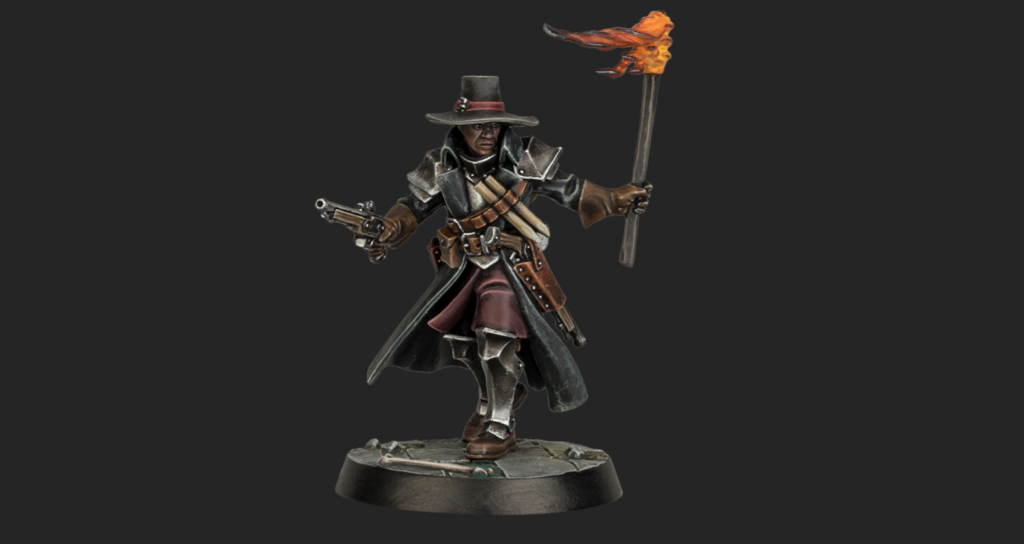 The next
Mordheim
 Warhammer Underworlds warband is Hexbane's Hunters. It's Witch Hunter time!
SRM: I have an absolutely cartoonish amount of WHFB Empire painted up, so it's safe to say this is laser beam focused on my aesthetic and narrative preferences. I'm kinda shocked it took this long for a Warhammer Underpants warband of just normal dudes to drop. Jonah Hex, a big guy I want to call Tiny, The Man in the Iron Mask ft. bomb arrows from Zelda, Revolver Ocelot's sister with a bad haircut, and a pair of extremely buff doggos is gonna be impossible for me to pass up. 
Thundercloud: Well looks like Witch Hunters are back, and the mini designers are in the groove of knowing that Underworlds players want pets (doggos, cats, parrots, squigs, monkeys with knives, crabs) in their warbands and you've got to give the people what they want. 
The whole band oozes character, and gives the Oldhammer crowd a taste of new minis, same as they got with Cursed City. 
I'm very interested to see if Cities of Sigmar get some other new stuff, as the minis studio was obviously looking at Witch Hunters and normal humans given the stuff released. 
SRM: Most warbands precede something resembling an army release, so it wouldn't shock me if they went this direction for Cities of Sigmar or finally turned Devoted of Sigmar into a realass faction.
Fowler: Jokes aside, I am 100% buying this kit to make a Mordheim warband.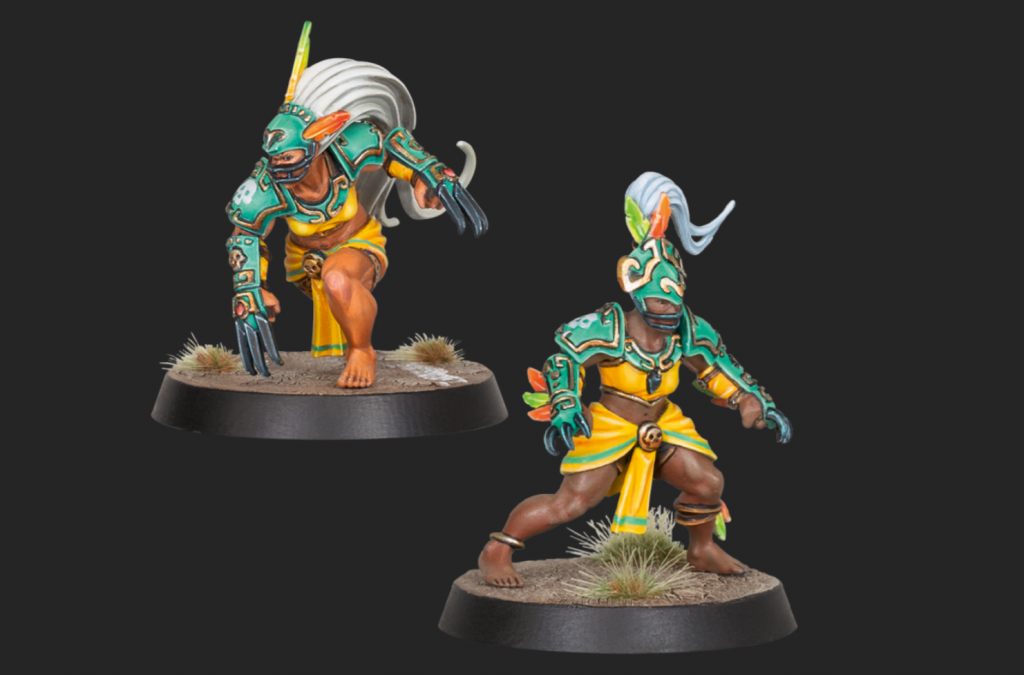 Blood Bowl revealed their next team, the Amazon Kara Temple Harpies. 
King_Ghidra:  Nice minis.  Looks like we are getting two Blitzers, two Blockers and two Throwers in the box, and Catchers are out.  Lots of speculation in the community about how these will be statted and skilled to make the team more interesting, which is the most needed change imho.   I think the snakes on the throwers are a bit silly, we'll see if they have any game effect.  Waiting (and hoping) to see if they get a thematic new Big Guy.
Greg: Blood Bowl is good now. 
Thundercloud: Well a team of big ladies who throw snakes at people is going to be popular. 
Rocco: These are the coolest. The only thing that could make them cooler is a hog with a cask of beer. I want to paint these girls and reign terror down on my local Blood Bowl league. If they have dodge like they did in the previous edition of Blood Bowl, then they are going to be nightmarish and I'm going to laugh all the way to the play-offs.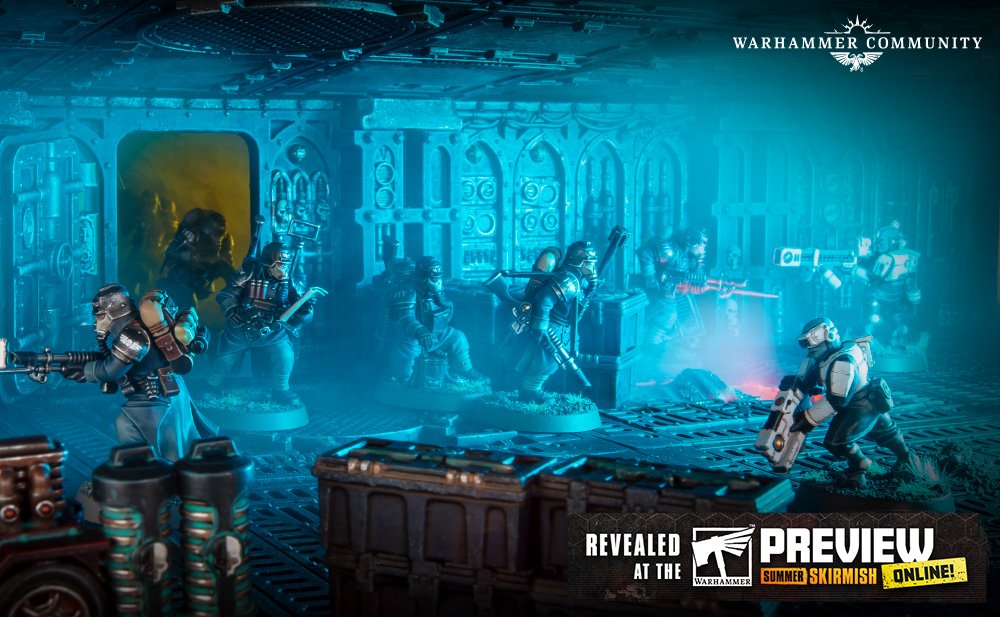 Kill Team 2021 announced their plans for the next year – the game is moving to the confines of a space hulk with the Into the Dark boxed set. 
SRM: Kill Team satisfies my need for GW to just make Dudes With Guns And Armor over and over again, so I'm happy to see the Imperial Breachers. They look halfway between the Elucidian Starstriders from the previous edition of the game, and the one-off Titan Crew Forgeworld made when I was still growing my first teenage dirt-stache. The Kroot models seriously own too, delivering on the promises made with the Kroot character in Blackstone Fortress. I feel like Kill Team boxes like these are perfect for shoring up a range that needs new plastic infantry but isn't due for a codex yet, and I'm pleasantly surprised to see these guys here. As for what this new box means for the game, it sounds like an expansion into Zone Mortalis-style boarding actions and the like. 
TheChirurgeon: Those floor panels and walls are definitely new models we haven't seen before. The ceiling is just a Zone Mortalis panel turned upside down. I'm incredibly hype for new terrain tiles. My hope is that they'll be 22×15, so they actually assemble into a Kill Team board.
Wowshawk: Yeah, that terrain really tickles the builder in me, especially since you can grow it over time. I do wonder if it's Zone Mortalis or some sort of modular Space Hulk style cardboard with doors and bits and bobs. Kroot do deserve a nice non-compendium list that puts them on the map and the models look pretty good. 
SRM: These Boarding Bois are also begging to be Necromunda weirdos, Pauls Blart, or what have you. 
Wowshawk: I was just thinking that Necromunda players will get a lot of mileage out of their scenery.
Thundercloud: I think that this new starter set (which is what this is) is going to be a new way to play. If we're going with a corridor and room based Space Hulk then Vantage Points are out, and we'll see positioning play get more important as it'll be easier to completely block movement routes. 
If we are getting a new ZM tile sized for KT/40k, then there's the possibility of a 40k ZM way to play. The video showed plastic walls, computer banks/equipment, floors and ceilings, so the possibility of an all plastic Space Hulk set up is there, which would open the door to all plastic Space Hulk as a game, along with 40k boarding actions. 
The Imperial Breachers are based on some classic 2nd edition artwork from the 2nd ed starter box, and look to be GW giving us minis for something we know has existed for a long time (Navy breaching teams/ship defenders who get munched by demons/chaos marines/etc when Imperial ships get boarded).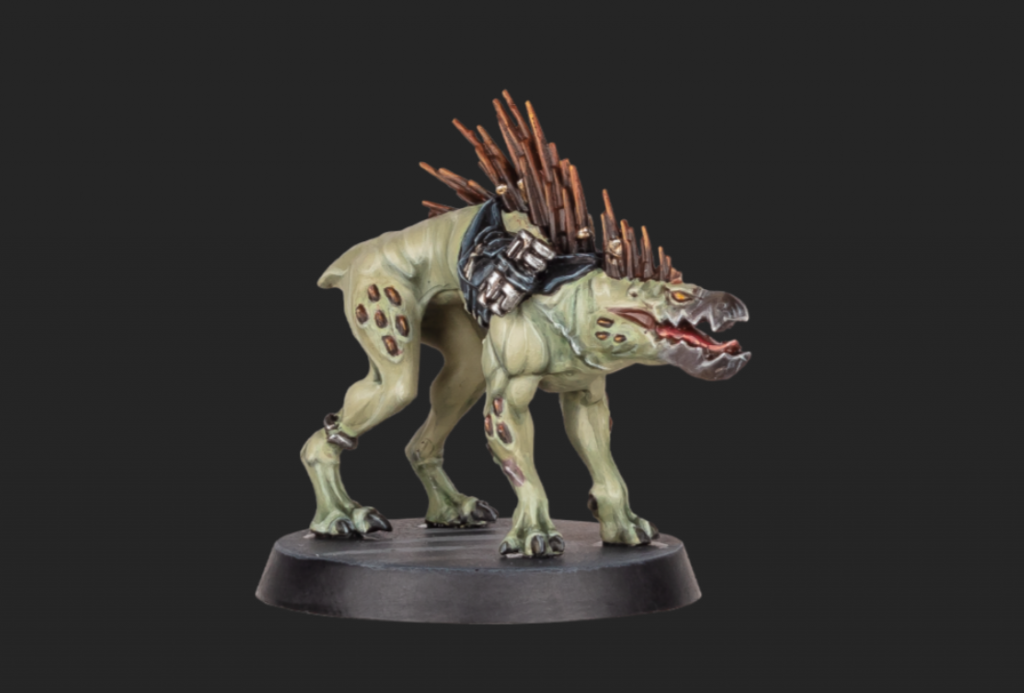 Kroot Farstriders are the mini update Kroot needed, as a) the existing minis are really old and b) the existing minis have no variety in terms of loadout, so broken umbrella gun guy and the pistoleer (mentioned but not seen) add variety to a team that absolutely needs it. I'll be very interested to see if there's a Krootox or other Kroot beastie apart from hounds included. 
So KT2 Arena based on a Space Hulk (who else hangs out in space? Genestealers? Squats? Marines of some kind? Pirates? Alien Mercenaries?) gives a lot of potential releases. I'll be very interested to see where this is going, and I can totally see GW putting less popular choices (Imperial Breachers, Kroot) in the starter with must buy terrain and keeping Marines and Stealers for expansions. It'll also be very interesting to see if they continue with the splash box release model and we see different bits of the Space Hulk (this supplement we've got engine room scenery being fought over by GSC and Squats for example) or if we get book plus being able to buy single teams. 
KT is going to be in a very exciting place, and I'll be putting a couple of teams on Sector Mechanicus bases ready for this. 
SRM: If this is preceding some kind of Zone Mortalis situation, I'd be shocked if 30k and 40k didn't get some kind of rules to go in it. 
Any final thoughts?
SRM: I weirdly wasn't all too shocked by anything they showed off, but I was happy to see it all still. The Kill Team and Underworlds duders make my wallet itch, as does the Musclebike. Since it was all skirmish games I was kind of hoping we'd see some Aeronautica stuff too, but it's not like there was any shortage of cool stuff on display. 
Wowshawk: I think some people were expecting some sort of Space Hulk V2.0 with the new Kill Team box, but this preview does not disappoint. I expect some nice scenarios for close quarters action and maybe a campaign like narrative with following boxes. I may have to start with Warcry now, as those Nurgle survivalists look really cool.
Thundercloud: I was really only looking forward to the Kill Team stuff, but the Underworlds and Warcry stuff is nice as well. I've stayed out of Necromunda to save my wallet, but it's nice seeing them get more cool stuff as they're off to play Gorkamorka in the Ash Wastes (and since there's a ruined hive occupied by Orks on Necromunda they could literally do this). 
Fowler: I was all in on the original round of Warcry, and I'm looking forward to 2.0 – though I hope the existing Index books stay valid. And of course I am all about the Goliath Maulers.
Greg: We love the buff wives. 
Rocco: Buff wives and buff bikes good.
What are you hype for? What were you hoping to see? Have any questions or feedback? Drop us a note in the comments below or email us at contact@goonhammer.com.