Welcome back to Mengel Miniatures – Painting Abroad on Goonhammer! If you missed last week's tutorial on painting the new Saurus Warriors – you can find it here.
First off, thank you to Games Workshop for sending me the Nightmare Quest Warcry box early for review. The Flesh-eater Courts have been a staple of the Age of Sigmar since very early in its life. The lore behind these delusional ghouls has been a fan favorite ever since as well. While typically depicted in either pale or rotting green colors, as is appropriate for the denizens of Shyish, the Realm of Death, there has been one color scheme that's bucked this trend ever since their 2nd Edition Battletome, the Blisterskin! These cannibalistic knights live in the blindingly bright realm of Hysh, the Realm of Light, and are also fans of taking to the air. What they're not fans of though, is applying the appropriate amount of Sun Screen before going outside, giving them a decidedly crispy appearance. This slightly orange look with plenty of burnt skin is unlike anything else in the Death range, and something that I've been a fan of ever since I first saw them. Having never painted any before, this seemed like the perfect time to rectify that. I also wanted to figure out a way to paint this scheme using as much Contrast paint as I could, since their almost wholly organic look is perfect for it. Without further ado, don your sunglasses, find a hat with a big brim, and venture into the wilds of Hysh with me to paint up some Blisterskin ghouls!
The Skin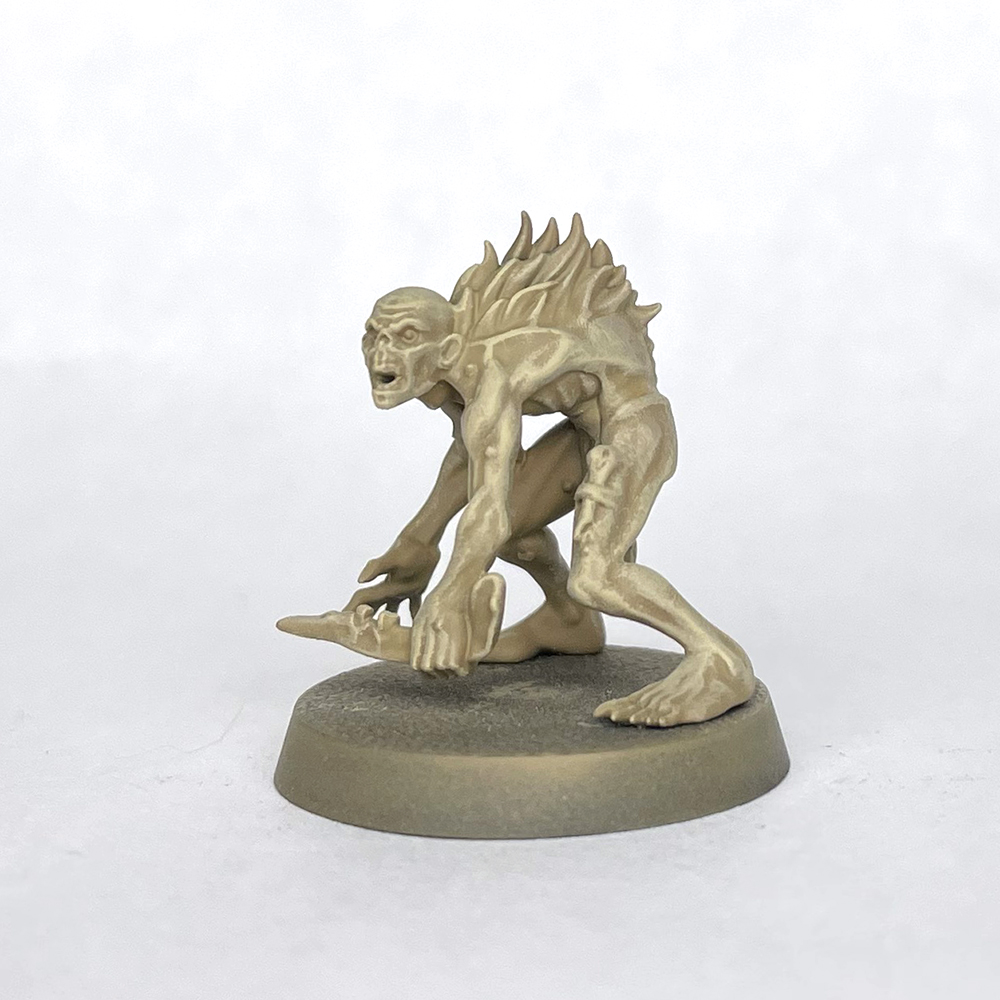 Step 1.
The model was primed with Zandri Dust spray and then given an all over drybrush of Ushabti Bone.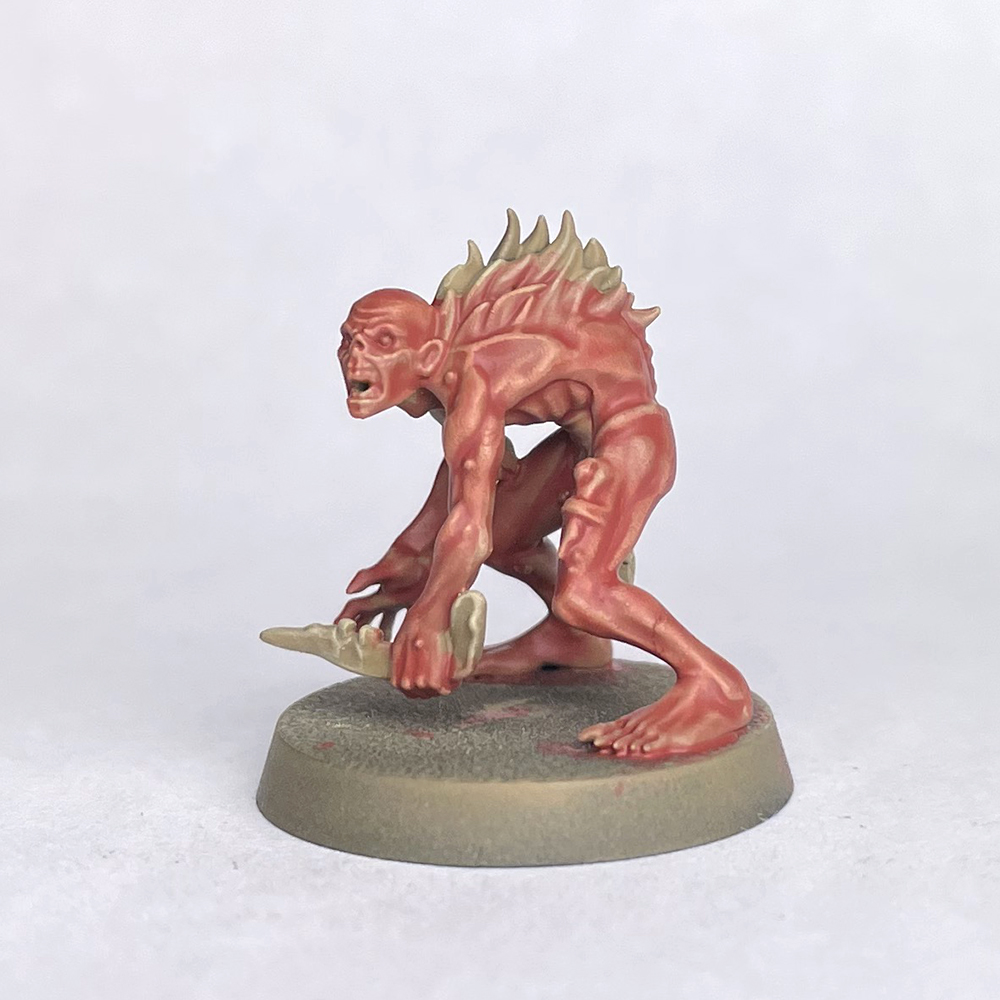 Step 2.
Now comes the fun and unusual part. I could describe this mixture with a mathematical formula, but I think it's easier if I just break it down in a more natural way. I start off with a 50/50 mix of Bugman's Glow and Gryph-hound Orange. Next I add just a touch of Magamadroth Flame. This is what gives it the majority of the orange tint. It's also a really strong color, so start off with just a little bit, mix it in, and then add more of if you need to. I just did a little dab of the brush tip basically for mine. Once that's all mixed I added in Contrast Medium until it was all the the consistency of Contrast paint, then slather it all over the skin of the model! Like all Contrast paint, you want to make sure it doesn't dry in weird pools. I ended up doing 2 coats on the larger model because I made the mixture too thin on accident for him. If you're doing a whole army of these I would recommend mixing up a big batch of this in a spare paint bottle.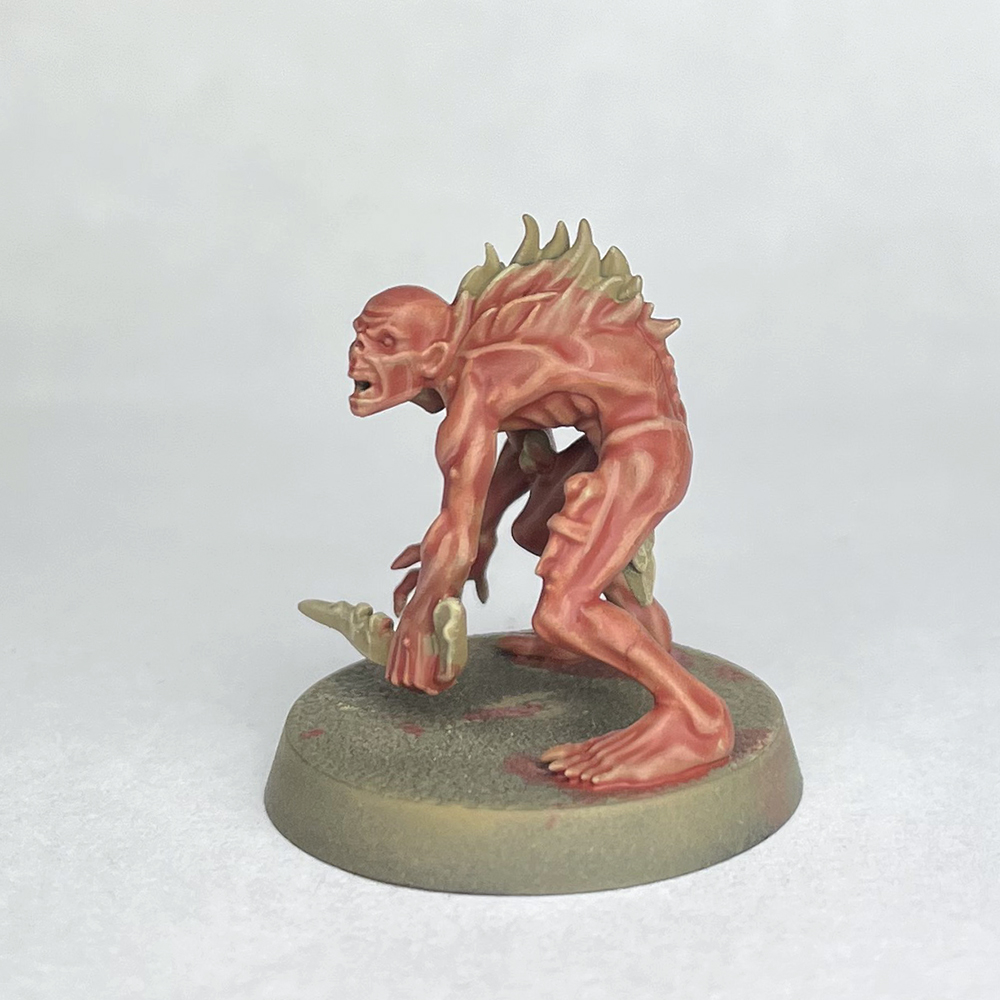 Step 3.
Once this was dry I edge highlighted the skin with Cadian Fleshtone.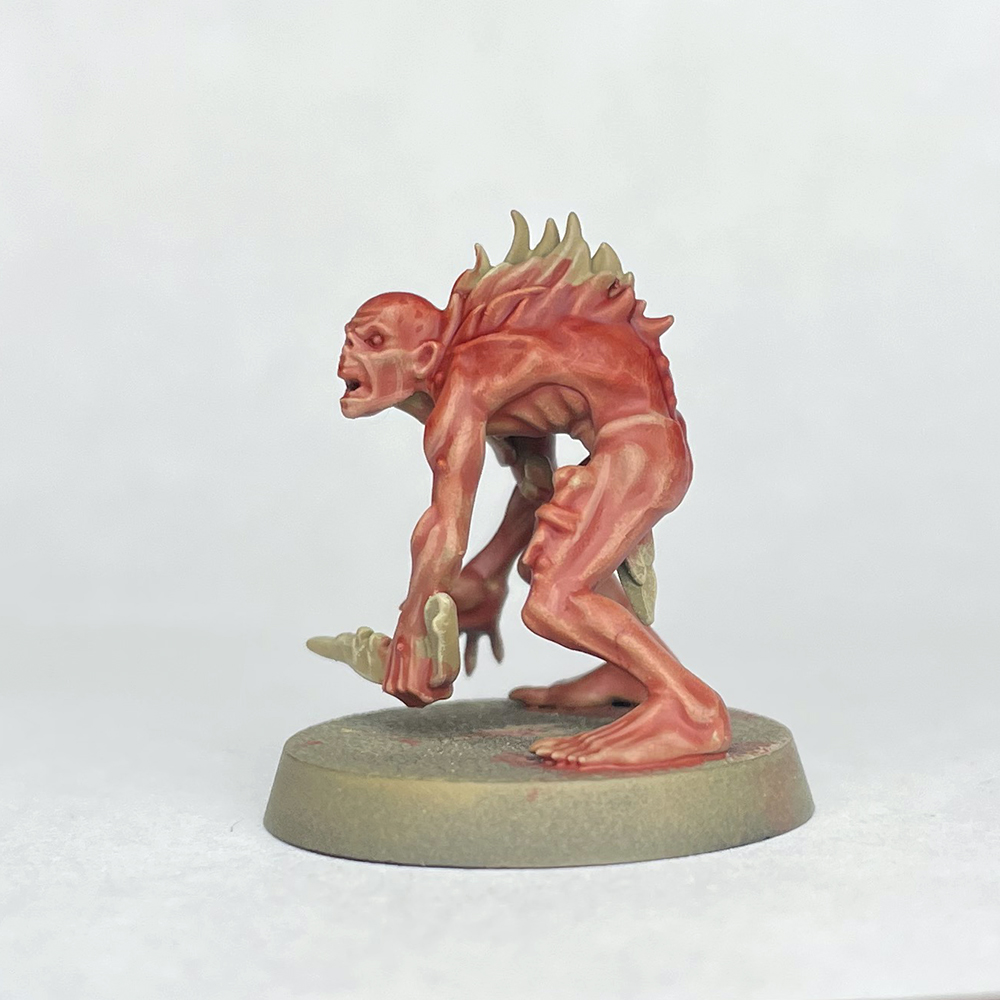 Step 4.
Now we start on the burnt skin of the back. I thinned down some Flesh Tearers Red and started building this up in thin layers on the areas that would be burnt such as the back, shoulders, top of the head, etc. Do this in a few thin layers to build up a gradient. I also did some random blobs of it to look a bit more organic and like patches of particularly burnt skin. I also picked out the boils and scars with this color to make them a bit more raw looking, as well as around the eyes, and in the nose and mouth.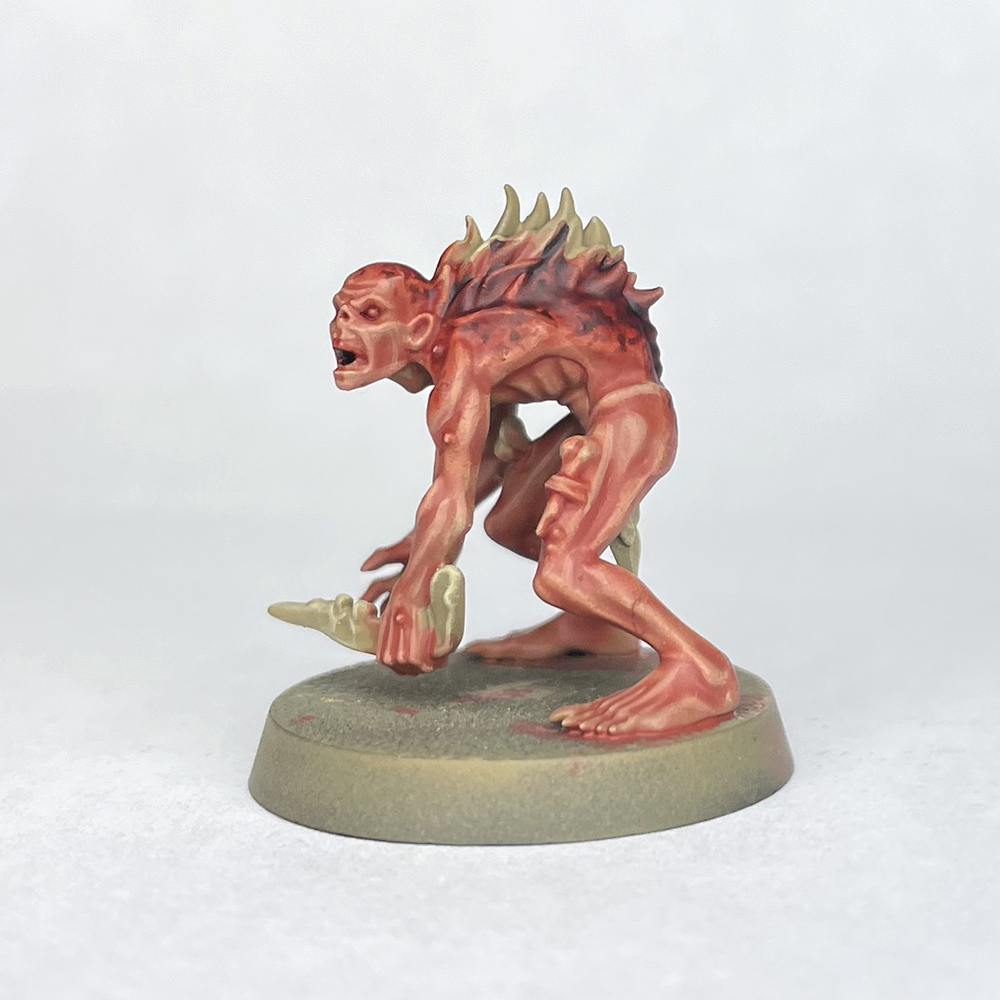 Step 5.
Next I mixed in some Black Templar and continued this gradient and also started doing even more splotches of it. This is finished with almost pure Black Templar for the really charred spots. Go as dark with this as you want. You're preference really.
The Hair and Eyes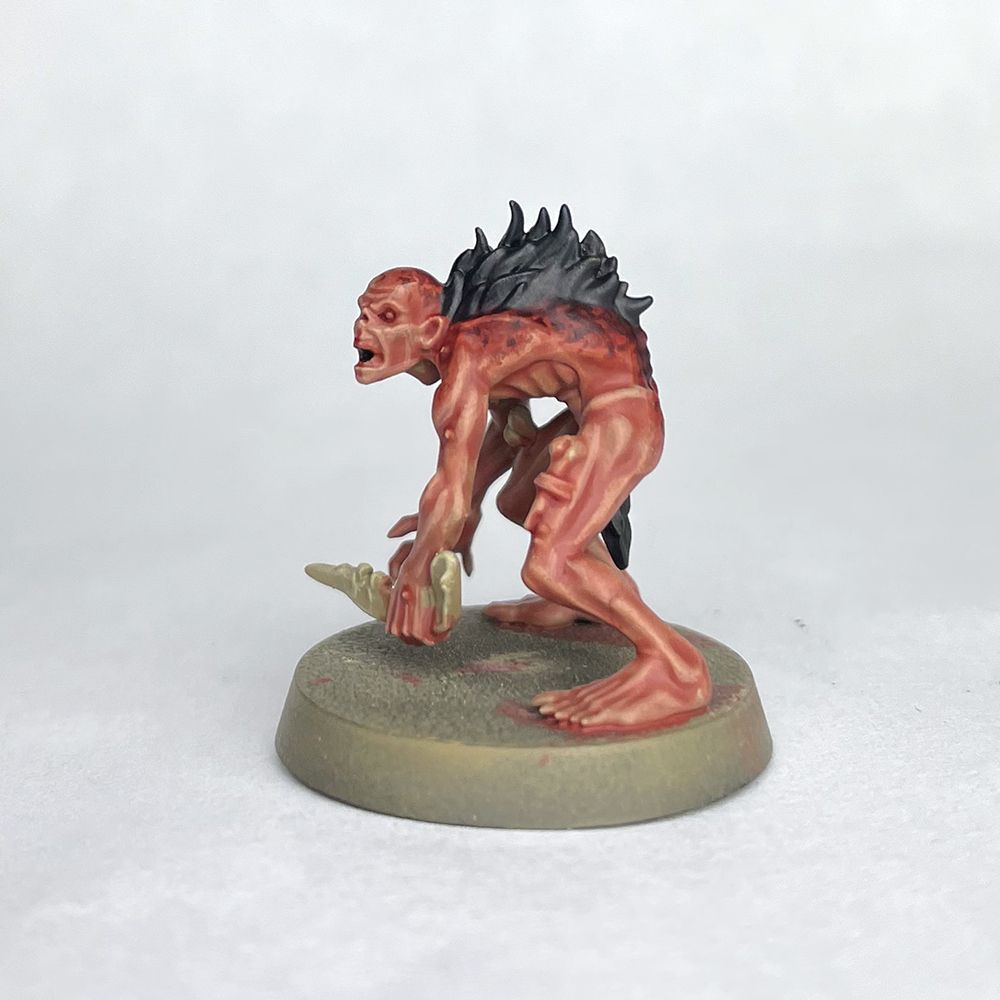 Step 1.
All of the hair was base coated with Black Templar. I did two coats. You could also use Black Legion here, or any solid black really for that matter.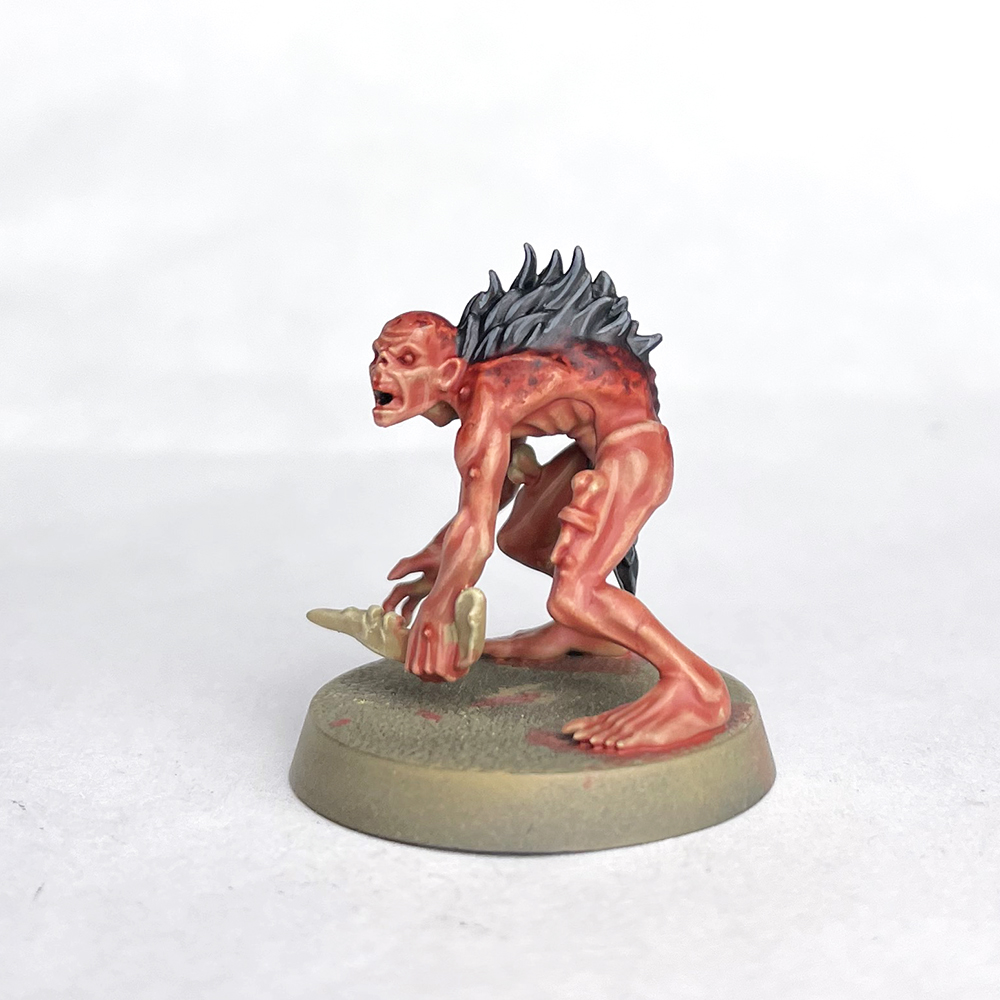 Step 2.
I then highlighted it with Dawnstone.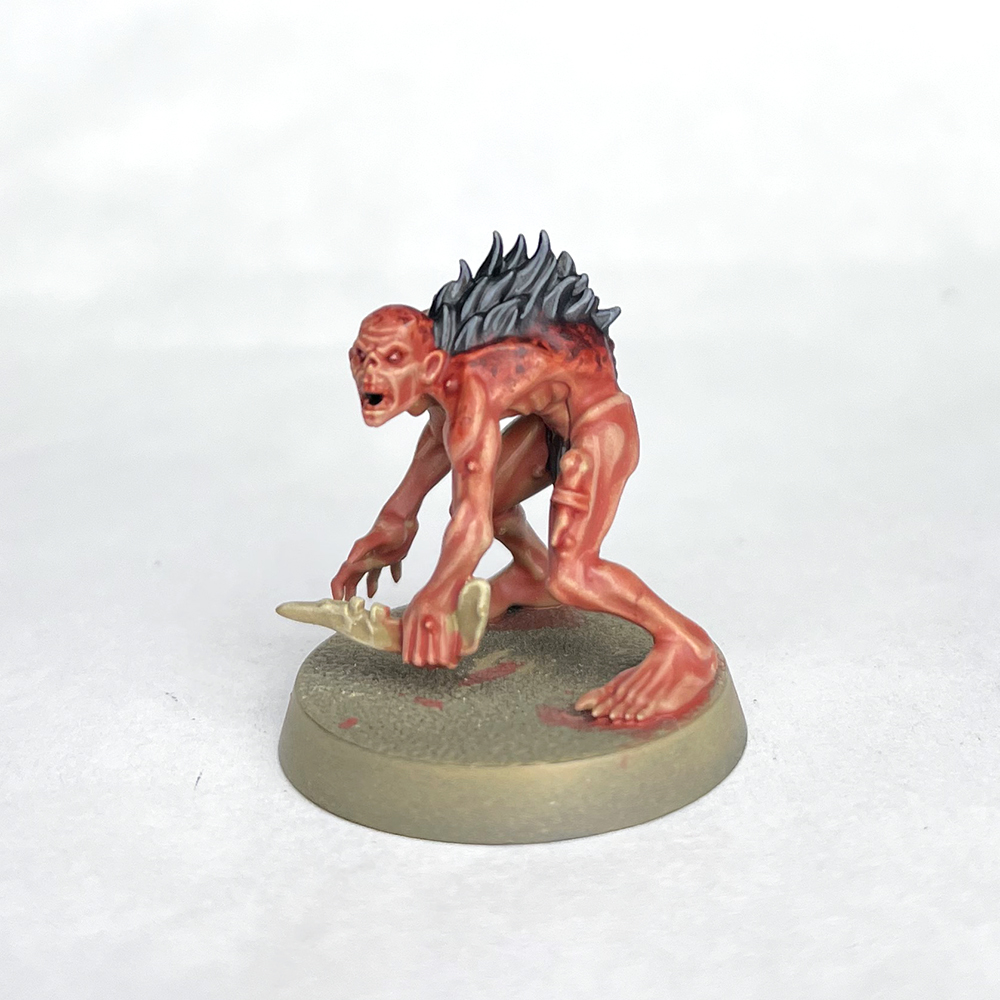 Step 3.
The eyes were picked out with Pallid Wych Flesh and then given a quick glaze of thinned Flesh Tearer's Red to make them look bloodshot.
The Bone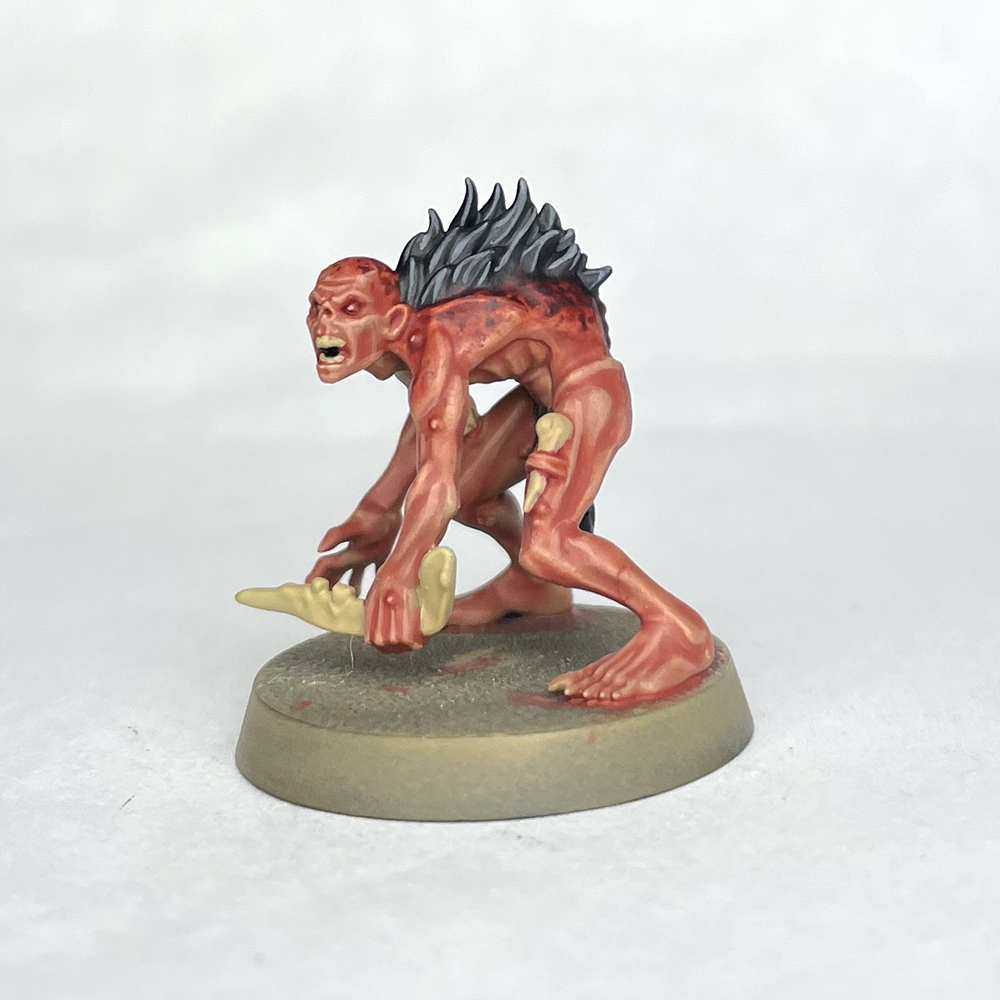 Step 1.
All of the bone was base coated with Morghast Bone, this includes the teeth and claws.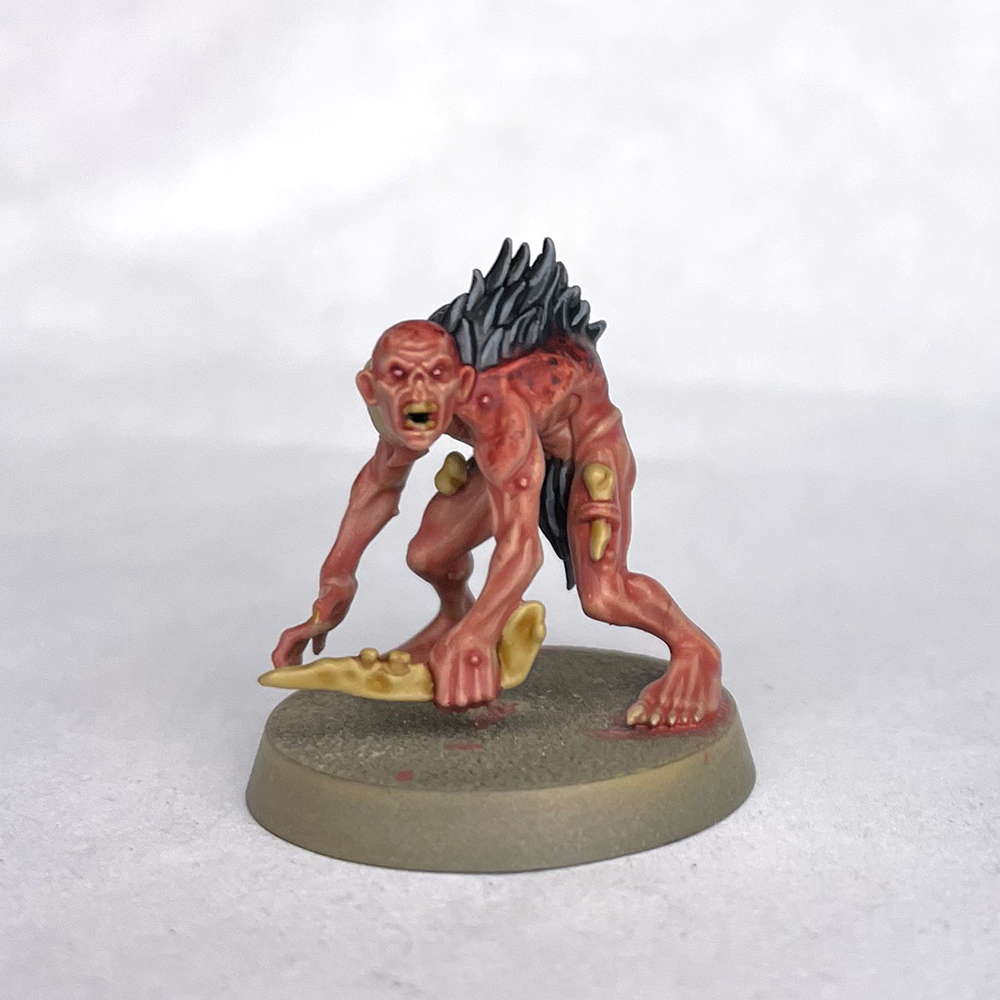 Step 2.
This was then given a coat of Aggaros Dunes thinned with Contrast Medium.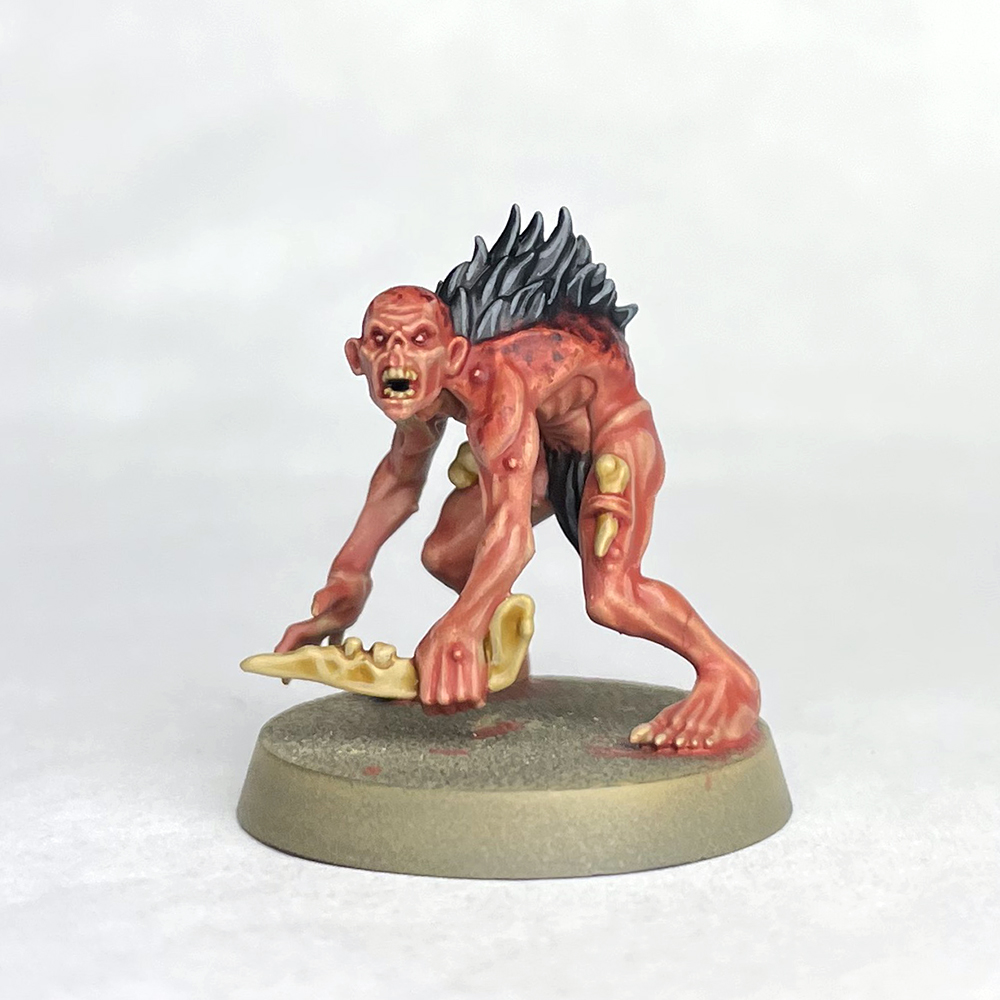 Step 3.
I then tidied it up with Morghast Bone.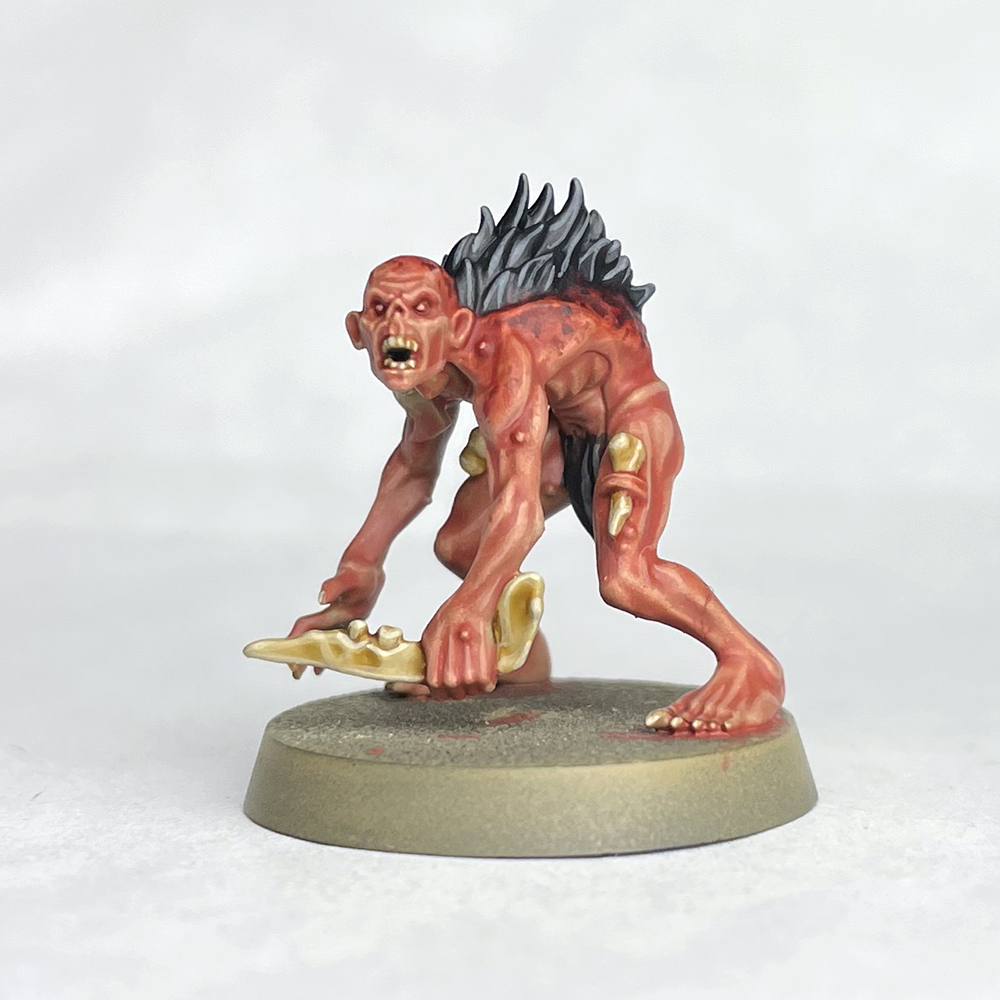 Step 4.
Lastly, it was highlighted with Screaming Skull.
The Metallics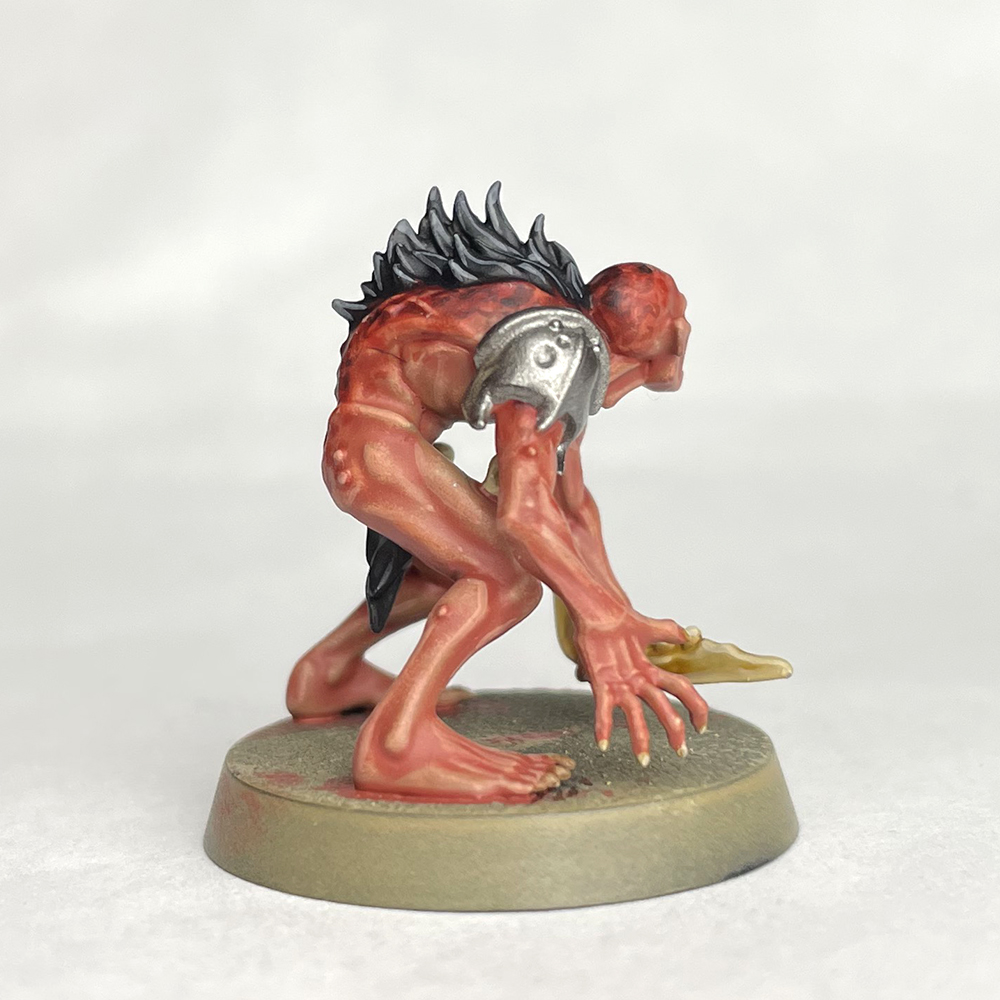 Step 1.
The metal areas were base coated with Leadbelcher.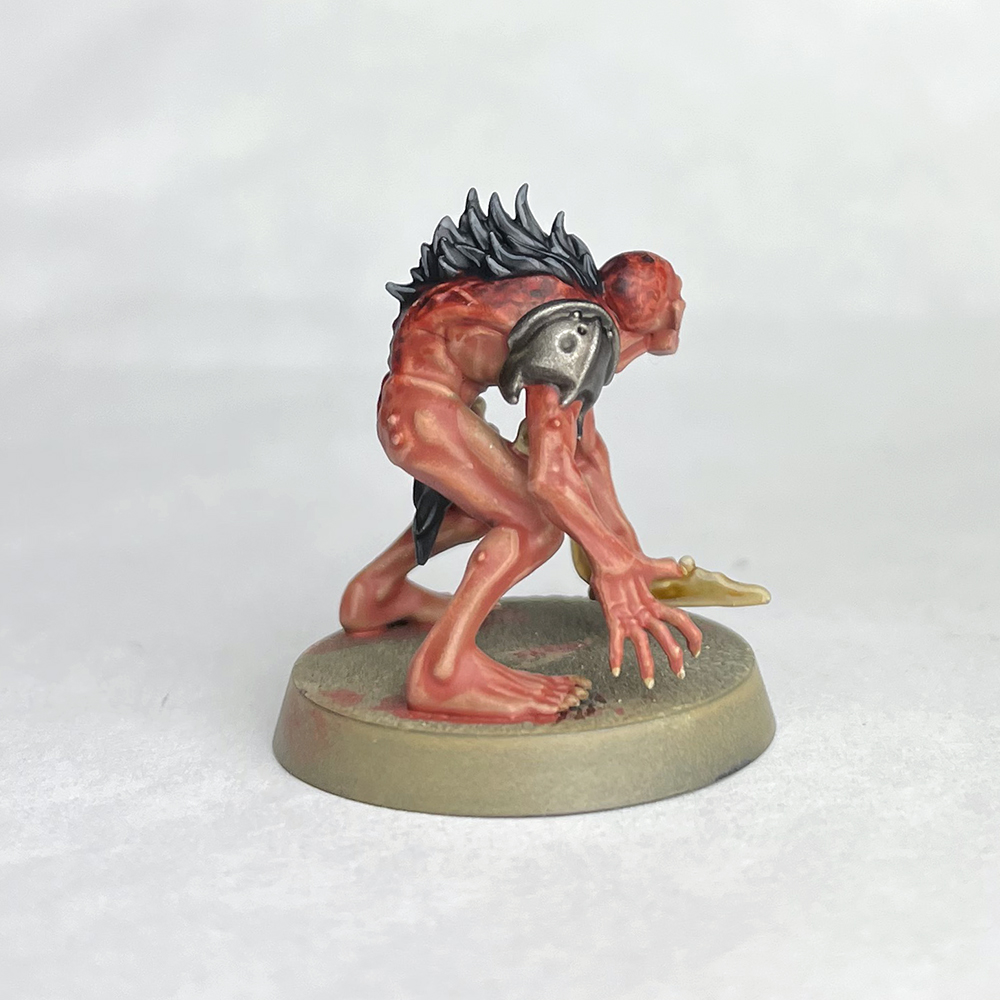 Step 2.
This was then shaded with Ratling Grime thinned with Contrast Medium.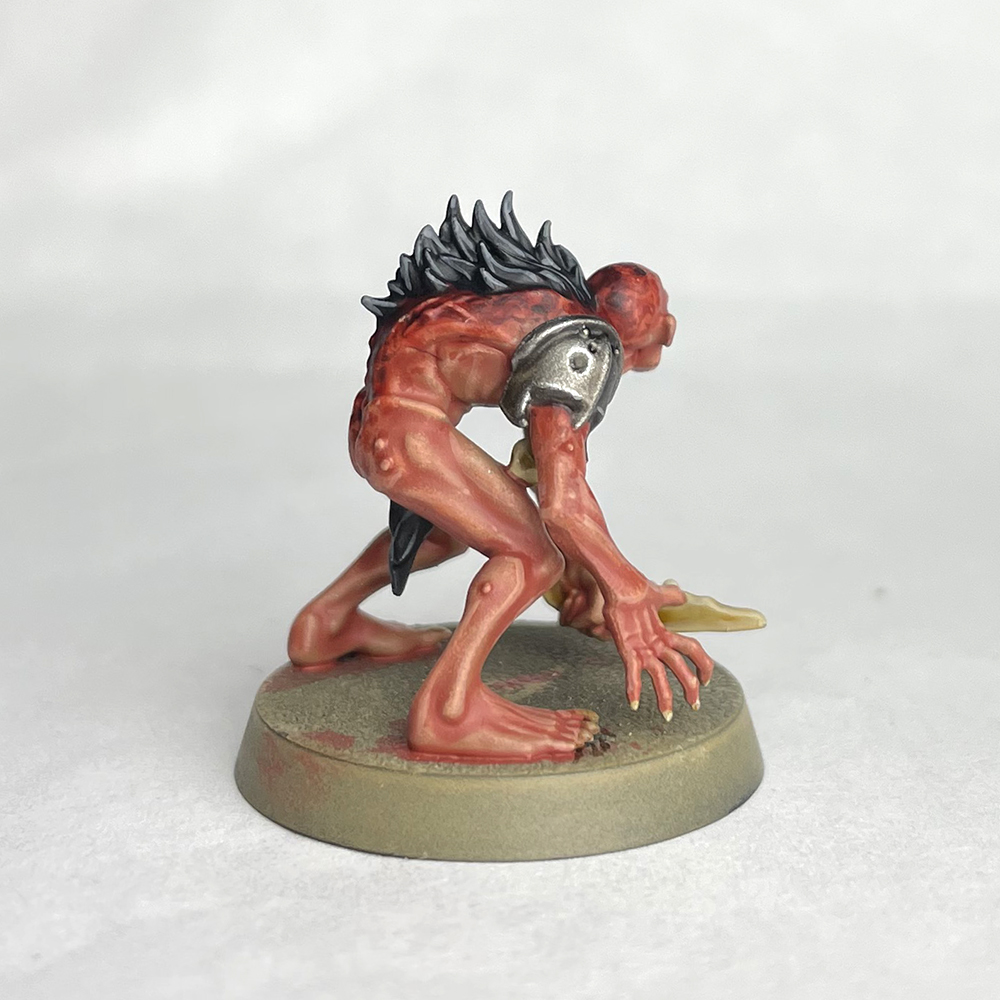 Step 3.
Lastly, I highlighted it with Two Thin Coats Mythril Blade (GW Stormhost Silver).
That's it, you're done! I added some gore to mine using Flesh Tearer's Red and Blood for the Blood God and based them in a suitably arid looking environment. I also added a bit of rust to the metals with thinned Skragg Brown once they were all done.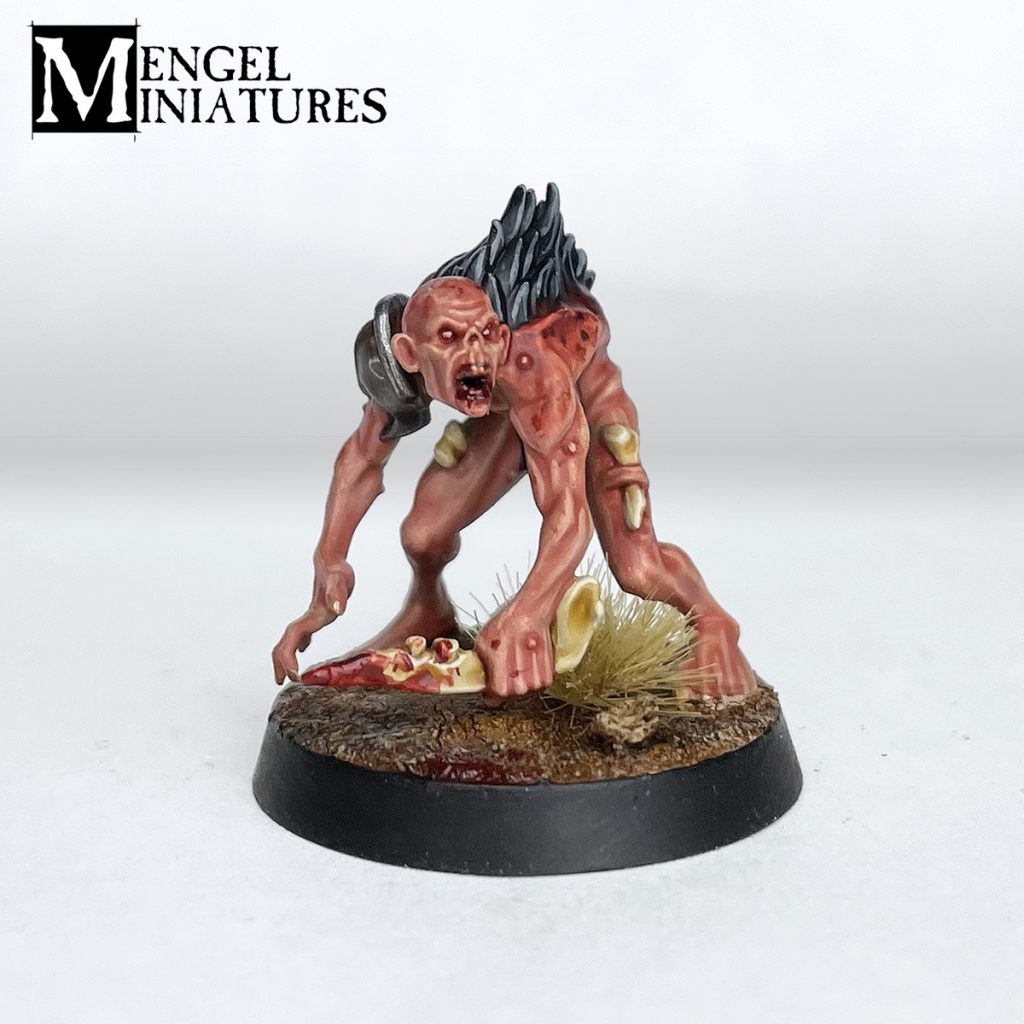 Though the main mix for the skin is a bit weird, the actual process of painting them is super fast.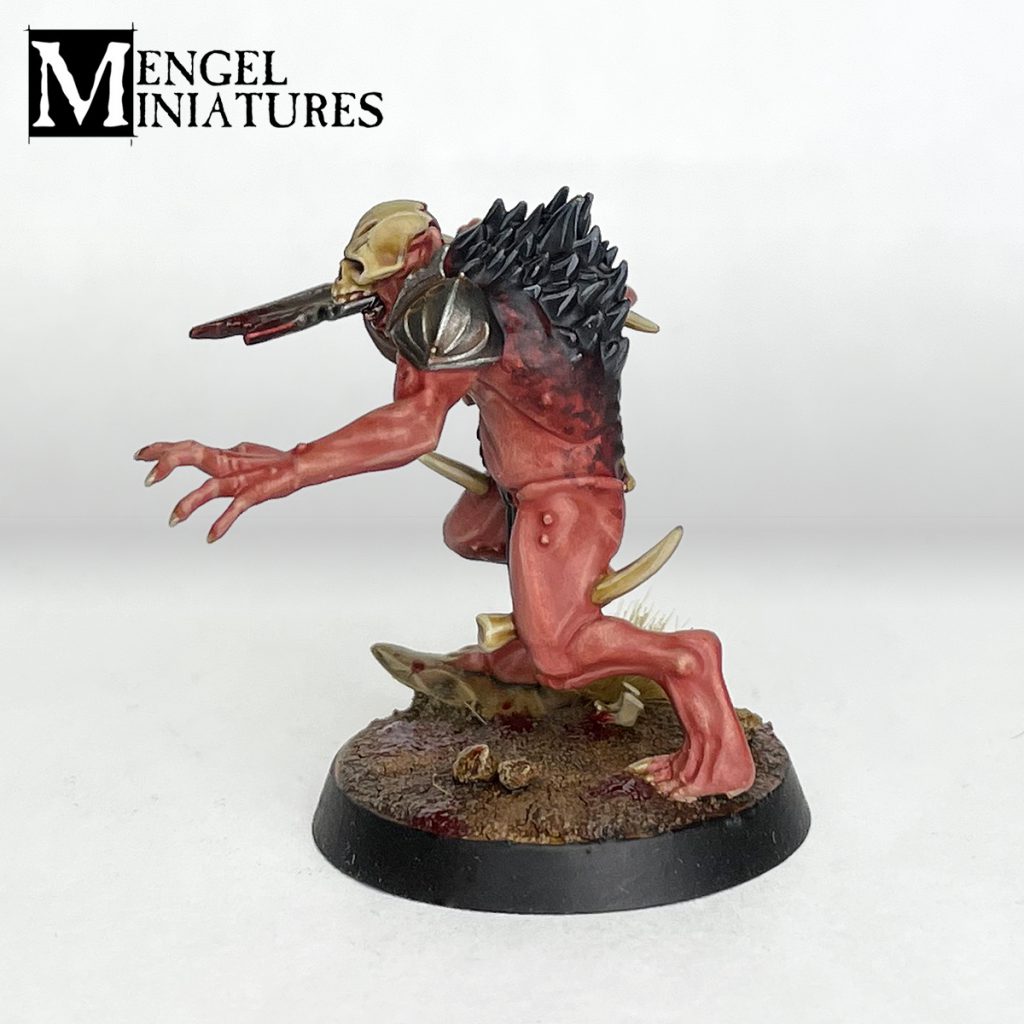 I really like this scheme and think it's one of the more unique of the color schemes for the Flesh-eater Courts. As always, after painting a few test models I tempted to do even more. I don't know if I would do a whole army, but I do kind of want to finish the Warcry warband.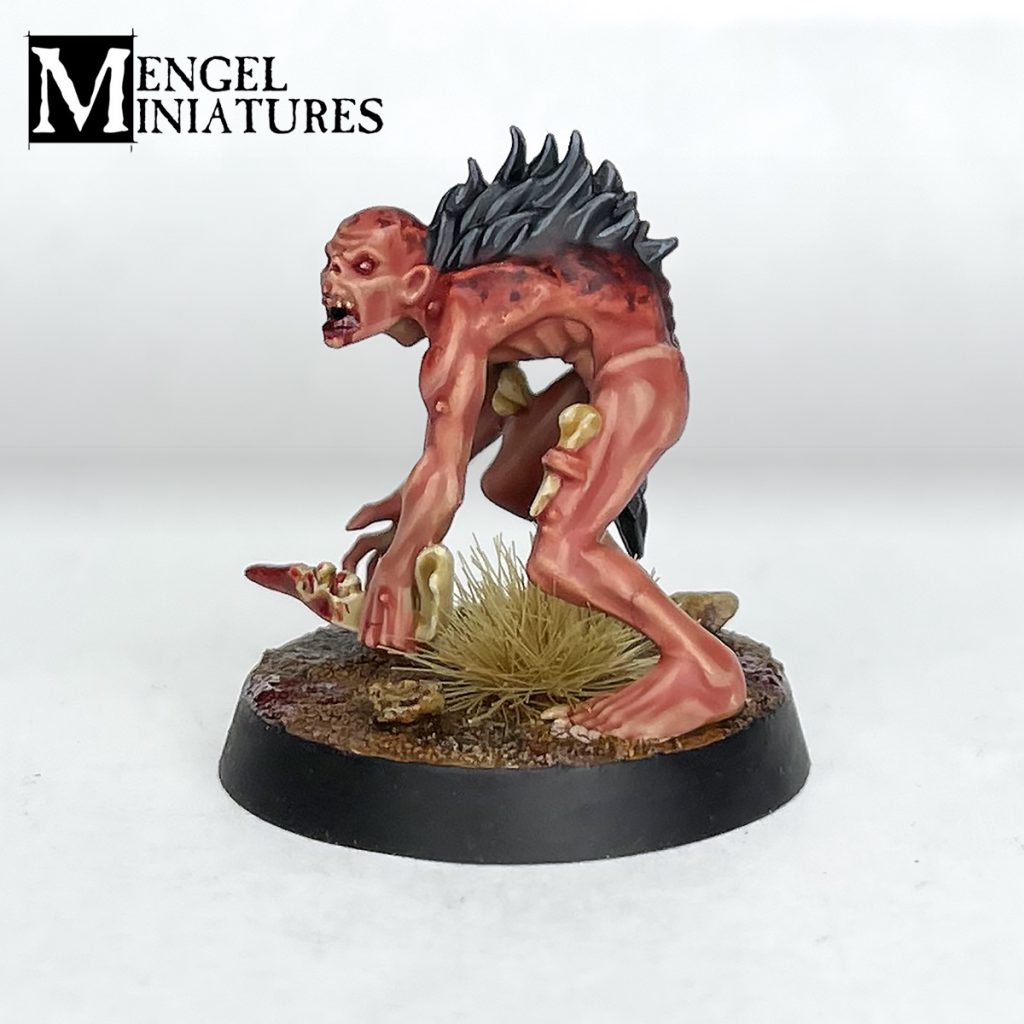 You may have noticed the third model in the group shot is actually from the Warhammer Underworlds warband. That model was my test for the scheme to make sure my idea worked before committing to the new models.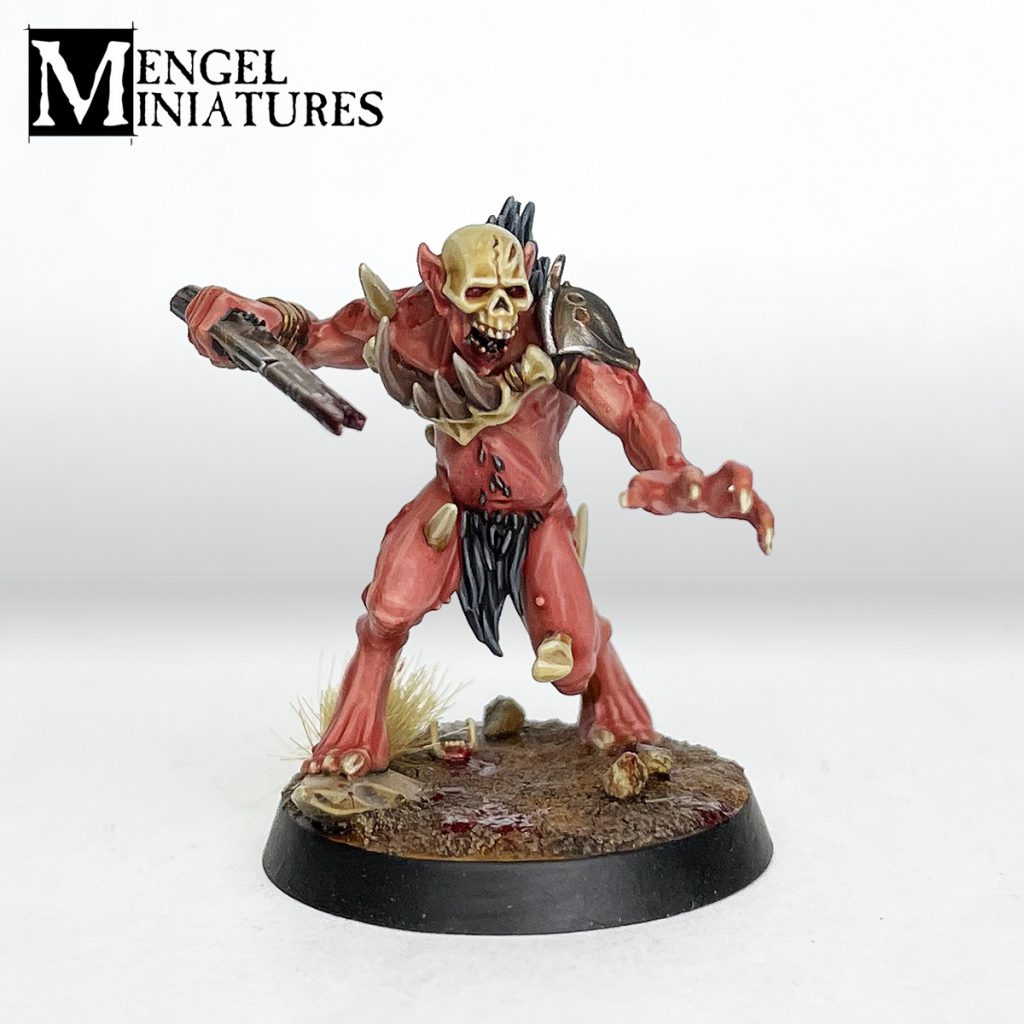 What do you think, should I finish the warband? Are you going to paint some of the Blisterskin up yourself to ravage the lands of Hysh?
| Primer | Contrast/Shade Paints | GW Layer/Base Paint | Two Thin Coats Paints |
| --- | --- | --- | --- |
| Zandri Dust | Gryph-Hound Orange | Ushabti Bone | Mythril Blade |
| | Magmadroth Flame | Bugman's Glow | |
| | Flesh Tearer's Red | Cadian Fleshtone | |
| | Black Templar | Pallid Wych Flesh | |
| | Aggaros Dunes | Dawnstone | |
| | Ratling Grime | Morghast Bone | |
| | Contrast Medium | Screaming Skull | |
| | | Leadbelcher | |
Until next time,
Tyler M. – Mengel Miniatures
Have any questions or feedback? Drop us a note in the comments below or email us at contact@goonhammer.com.