Welcome back, Dear Reader, to my ongoing journey through competitive Warhammer. Last Time around I talked about day 2 at the GW US Open in Tampa, with my first defeat and first two games in the 3-1 bracket. Today I'm finishing the tale – and the fight.
Day 3 only features two games. At this point I'm 5-1 and as I'm pretty sure my chances at Best Overall are dead, my remaining shot at glory is winning the 3-1 bracket. That's a tough beat – the 3-1 bracket is full of players who had aspirations of starting 4-0, but otherwise fell in one of their games, usually to a 4-0 player. It's a tough bracket to be in, but at this point I've won the 2-2 bracket on more than one occasion and this is both more my level and the next step. I'll be happy with one win today and a 6-2 finish.
Norman and I head outside to wait for an Uber to the convention center and other folks staying at the AirBnb are heading out as well. One of them has a skateboard – turns out he's in town doing coverage for a massive amateur/pro skateboarding convention and he laments not being able to skate at all the past few days. I tell him to do a kickflip, because they are rad. I realize too late my terrible deed – I have cursed this poor lad. He tells us he's bad at doing them, then gives it an attempt and doesn't quite stick the landing. That's fine, thanks for trying, appreciate it, guy. Then he tries again. And again. On attempt 4 he falls and catches himself on the pavement. He's OK but as our Uber pulls up I see him going for attempt 7. I suspect he'll keep trying until he gets it, but by that point there will be no one there to witness. I have cursed him with this task and while I'm sure he'll get it, I definitely regret it a little.
Still – same, guy. Extremely same.
We grab another Starbucks breakfast, grab our minis out of Condit's room, and head to the venue. Norman gives another thorough look for his minis case, and once again comes up empty-handed. He enlists some help from Jeremy Atkinson of StatCheck fame, who is also a TO (the best TO) at the event, as well as that of Ryan Schwartz, one of the event staff (the best event staff). Ryan tells him that if he can't find the case, they'll figure something out.
Round 5: vs. David Ozawa's Grey Knights
David's really putting my list to the test running a 30 terminator Grey Knight list. I'm normally great at dealing with infantry threats, though 30 terminators – who can come back thanks to apothecaries – is a pretty big ask, and these are more mobile than any other army I've come across. Before the game Dave tries to tell me he's not very good but I'm not falling for it – I point out that "my guy you are 5-1 right now." Today's matches are going to be tough, and this is the toughest of them.
David's List - Click to Expand

Moving Balls of Light (2000 points)
Grey Knights
Strike Force (2000 points)
Teleport Strike Force

CHARACTERS

Brotherhood Librarian (100 points)
• 1x Combi-weapon
1x Nemesis force weapon
1x Purge Soul

Brotherhood Librarian (130 points)
• 1x Combi-weapon
1x Nemesis force weapon
1x Purge Soul
• Enhancement: Sigil of Exigence

Grand Master Voldus (95 points)
• 1x Malleus Argyrum
1x Storm bolter

Kaldor Draigo (125 points)
• Warlord
• 1x Scourging
1x Storm bolter
1x The Titansword

BATTLELINE

Brotherhood Terminator Squad (420 points)
• 1x Terminator Justicar
• 1x Nemesis force weapon
1x Storm bolter
• 9x Brotherhood Terminator
• 1x Ancient's Banner
2x Incinerator
1x Narthecium
9x Nemesis force weapon
6x Storm bolter

Brotherhood Terminator Squad (420 points)
• 1x Terminator Justicar
• 1x Nemesis force weapon
1x Storm bolter
• 9x Brotherhood Terminator
• 1x Ancient's Banner
2x Incinerator
1x Narthecium
9x Nemesis force weapon
6x Storm bolter

Brotherhood Terminator Squad (420 points)
• 1x Terminator Justicar
• 1x Nemesis force weapon
1x Storm bolter
• 9x Brotherhood Terminator
• 1x Ancient's Banner
2x Incinerator
1x Narthecium
9x Nemesis force weapon
6x Storm bolter

Strike Squad (125 points)
• 1x Justicar
• 1x Nemesis force weapon
1x Storm bolter
• 4x Grey Knight
• 4x Nemesis force weapon
4x Storm bolter

ALLIED UNITS

Callidus Assassin (90 points)
• 1x Neural shredder
1x Phase sword and poison blades

Eversor Assassin (75 points)
• 1x Executioner pistol
1x Power sword and neuro gauntlet
This list can just go anywhere it wants, teleporting onto the table when it shows up, if I get too close, or just at the end of my turn for funsies. They're also 30 wounds each and while I can chew through some of that, chewing through all of it is a tall order. The only upside here is that 11 terminators eat up a massive footprint, making them easier to block out, and the actual number of units is pretty small, meaning Dave can't cover as much of the board as Sean could, making it hard to block me out with my deep strikers.
The Plan
The Mission: D – Servo Skulls / Search and Destroy / Chilling Rain
Contagion: Rattlejoint Ague (-1 to saves)
Servo Skulls. What a terrible mission. I want desperately to go first, as getting two kicks before my opponent can get any, and this is also where sticky objectives are huge, since an objective I contaminate will continue to sail across the board without me having to babysit it – but I need to stay close enough that Dave can't just deep strike back onto it and retake it. Hopefully I can press forward to the middle and hold that part of the table and keep two objectives in Dave's territory most of the game. Holding objectives is going to be hard here – with an ancient in each squad, the OC of those Grey Knights is 3 each, so I've got to kill most of them to win the holding game, or just kick them far enough Dave can't get them back.
This is a mission where I want to start with the Nurglings on the table in order to block out the assassins and control more of the table, but the Terminators are slow enough they want to start off the table and come in to do some damage later. -1 to saves is a no-brainer here as everything in Dave's army has a 2+ save and I won't be able to kill anything if I can't put him on a 3+. My big goals here are to screen him out for as long as possible. I drop the Nurglings in the corners, close enough to block out the Callidus.
I'm Going First.
That is a massive stroke of luck. I want to be a little careful about kicking objectves on turn 1 so they don't end up where I can't sticky them, but some are just going to be impossible to hold with the Grey Knights' OC. I press forward turn 1 but only manage to kill 3 of Dave's Strike Squad with mortars, meaning they can sticky his home objective on his turn. That's bad luck, but not a huge dealbreaker. I get insanely lucky this turn by drawing Investigate Signals, which I can immediately score 6 VP off off with the Nurglings in the corners. Instant gratification! I kick some objectives to myself and pass turn – remember, I want to sticky them if I can, so I want to press them a little closer but stay in range of them.
On his turn Dave decides to have his Eversor wipe out the Nurglings and spikes his shooting, getting triple 6s on the shots to make it a one-turn kill – brutal, but with the Nurglings already having done Signals I'm hard-pressed to care a lot. That said, they would have been a huge help slowing down his Terminators if left alive. He presses forward but doesn't engage yet, hoping to set up for some turn 2 charges. His army can teleport, but they aren't super fast. He uses the Callidus to make CP re-roll cost 2 CP and given how dice go this game, that's a crafty move.
At this point I was pretty confident – having the first turn was big and I'm able to shove one objective deep into Dave's deployment zone while occupying the middle of the table with some units that, while not invincible, will punish Dave for charging in. Of course, my confidence was founded on some kind of expectation of average dice and boy howdy was that not how things went.
I got diced in the middle of the table, and hard. Dave crushed his saves, smashed his attack rolls, and I biffed mine and my saves, turning what could have been a blowout win into a nail-biter. Mortarion only killed a single terminator before dropping to storm bolters and I failed every 9″ charge I attempted with my Deathshroud across two turns, spending 2 CP on re-rolls multiple times. Part of this was crafty play on Dave's part – the Terminators could just teleport away if I got too close, meaning I was stuck attempting 9″ charges – but I expected to make at least one of them. I also end up losing the objective on a key turn when Mortarion fails a battleshock test.
The only upside here was having one sticky objective firmly planted in Dave's deployment zone, moving entirely on its own, though this led to one of the game's funnier moments – apparently one of the Tampa Judges had told Dave that objectives could be "kicked off the table" in this mission, which prompted an immediate judge call from me. Mike Brandt happened to be nearby and thankfully confirmed that, no, this was not the case, and also wanted to know which judge had told him that (I can confirm that this wasn't something Dave made up and a judge had told some players this). That's great, because if this had been about to turn into a "nothing in the rules says a dog can't play basketball" moment, I was going to flip the table.
On the other side of the table the best I could do was stall for time as Dave continued to kick objectives back to my zone and draw secondary objectives that he absolutely needed to catch up. He teleports the two last strike squad marines away after I fail a 9″ charge (with failed re-roll) from Typhus and co to my deployment zone, where the Poxwalkers charge them but largely whiff and only manage to kill one model.
I managed to pull Capture Enemy Outpost on turn 4, and that was 8 points I sorely needed, but there was a real question as to whether it would be enough. Coming into the bottom of turn 4, Dave pulled Cleanse and Overwhelming Force. He used his still full health terminator blob to move forward and kill my last PBC, foregoing cleanse, and with his other unit – just Draigo and an Apothecary – chose to advance away from my terminators, ensuring they'd never catch up after two full turns of six failed 9″ charges. He discards Cleanse for the CP.
This was a huge mistake – Apparently (I had no idea) Dave had a stratagem to Advance and still be able to shoot, and so should have used that to Cleanse with Draigo's unit for 3 VP here. Instead he forgot he had it – and had I known I would have reminded him – and instead scored 0 for it.
Coming into the final turn I get a little luck – I pull Overwhelming Force and No Prisoners. I have almost nothing left in my army, and my Poxwalkers once again failed to kill the final Strike Squad as he passes all his saves. This means if I want any more points it's all up to Typhus – I advance Typhus' unit to get within 18″ of Draigo, pop his Eater Plague ability, and get 5 mortal wounds on the unit, of which 3 go through, killing the last model in the unit. This nets me 5 points total – 2 for No Prisoners and 3 for Overwhelming Force.
That puts me up 13 points on Dave. As long as he doesn't draw Capture Enemy Outpost, he can't win, he can only tie – and that's if he can score a full 5 for whatever the other mission is. He's already spent 1 CP to redraw a secondary back on turn 4 when he pitched Assassination so my odds are pretty good. Then he does, in fact, draw Capture Enemy Outpost, but he draws it along with Defend Stronghold. Even if he scores both – and he does, thanks to a teleporting unit – he can only net 11 points this turn, putting him on a 2-point loss. That's game.

At this point Dave remembers his Stratagem to advance and shoot, and begins kicking himself. Had he remembered and done the action, he'd have scored 3 points, and then won this game by 1. That sucks – if I'd known about the Stratagem or his intent I'd have reminded him but as-is I thought he was just giving up points in order to score more and get away from my guys. I'm sure he'll be kicking himself on the ride home but honestly he had no idea he'd draw Capture Enemy Outpost the final turn and it could have just as easily been a non-factor. Still, a tough own goal that costs him the game.
Result: 94-92, Victory
That was a brutal game, and one I didn't expect to be close after the first turn. Dave really turned it around with some strong play and stronger dice. This will end up being the closest game I play all weekend and just a tough game all around. Dave was a great opponent, bringing my streak from Warzone Houston and Tampa up to 13 great opponents in a row.
I catch up with Norman between rounds. He hasn't found his case, but Ryan has hooked him up with a GW case for him to put his minis in. That's extremely gracious of them and I can't say enough good things about Ryan and Jeremy for the work they put in helping Norman out. He'll have to break a bunch of his heavily-converged knights to fit them in, but at least hey can go home with him. I eat some fast lunch and then it's off to the final round. There's a lot of pressure here – I've never finished better than 4-2 at a 6-rounder and 6-2 is my best finish at the GW events. And my opponent is going to likewise be 6-1 looking for a one-loss finish.
Round 8: vs. Matthew O'Hara's Sisters of Battle
Let me start of by saying: Matt absolutely ruled as an opponent. Great guy, beautiful army, extremely fun to play against. In a streak of wonderful opponents (14!), Matt absolutely stood out and made the final game a blast.
Matt's list - Click to Expand

Tampa Sisters (1995 points)
Adepta Sororitas
Strike Force (2000 points)
Hallowed Martyrs

CHARACTER

Daemonifuge (80 points)
• 1x Ephrael Stern
• 1x Bolt pistol
1x Sanctity
• 1x Kyganil of the Bloody Tears
• 1x The Outcast's Weapons

Dialogus (40 points)
• 1x Bolt pistol
1x Dialogus staff
• Enhancement: Saintly Example

Junith Eruita (90 points)
• 1x Mace of Castigation
1x Twin Ministorum heavy flamer

Morvenn Vahl (125 points)
• Warlord
• 1x Fidelis
1x Lance of Illumination
1x Paragon missile launcher

Palatine (65 points)
• 1x Bolt Pistol
1x Palatine blade
• Enhancement: Blade of Saint Ellynor

Triumph of Saint Katherine (125 points)
• 1x Bolt pistols
1x Relic weapons

BATTLELINE

Battle Sisters Squad (100 points)
• 1x Sister Superior
• 1x Bolt pistol
1x Close combat weapon
1x Inferno pistol
1x Power weapon
• 9x Battle Sister
• 9x Bolt pistol
7x Boltgun
9x Close combat weapon
1x Meltagun
1x Multi-melta
1x Simulacrum Imperialis

Battle Sisters Squad (100 points)
• 1x Sister Superior
• 1x Bolt pistol
1x Close combat weapon
1x Condemnor boltgun
1x Power weapon
• 9x Battle Sister
• 9x Bolt pistol
7x Boltgun
9x Close combat weapon
1x Meltagun
1x Multi-melta
1x Simulacrum Imperialis

DEDICATED TRANSPORT

Sororitas Rhino (75 points)
• 1x Armoured tracks
1x Hunter-killer missile
1x Storm bolter

OTHER DATASHEETS

Castigator (140 points)
• 1x Armoured tracks
1x Castigator battle cannon
3x Heavy bolter
1x Hunter-killer missile
1x Storm bolter

Castigator (140 points)
• 1x Armoured tracks
1x Castigator autocannons
3x Heavy bolter
1x Hunter-killer missile
1x Storm bolter

Crusaders (25 points)
• 2x Crusader
• 2x Power weapon

Crusaders (25 points)
• 2x Crusader
• 2x Power weapon

Crusaders (25 points)
• 2x Crusader
• 2x Power weapon

Exorcist (160 points)
• 1x Armoured tracks
1x Exorcist missile launcher
1x Heavy bolter
1x Hunter-killer missile

Exorcist (160 points)
• 1x Armoured tracks
1x Exorcist missile launcher
1x Heavy bolter
1x Hunter-killer missile

Paragon Warsuits (200 points)
• 1x Paragon Superior
• 1x Bolt pistol
1x Multi-melta
1x Paragon grenade launchers
1x Paragon war mace
• 2x Paragon
• 2x Bolt pistol
2x Ministorum heavy flamer
2x Paragon grenade launchers
2x Paragon war blade

Penitent Engines (120 points)
• 2x Penitent Engine
• 2x Penitent flamers
2x Twin penitent buzz-blades

Penitent Engines (60 points)
• 1x Penitent flamers
1x Twin penitent buzz-blades

Seraphim Squad (70 points)
• 1x Seraphim Superior
• 1x Close combat weapon
1x Plasma pistol
1x Power weapon
• 4x Seraphim
• 4x Bolt pistol
4x Close combat weapon
4x Ministorum hand flamer

Seraphim Squad (70 points)
• 1x Seraphim Superior
• 1x Close combat weapon
1x Plasma pistol
1x Power weapon
• 4x Seraphim
• 4x Bolt pistol
4x Close combat weapon
4x Ministorum hand flamer
The Adepta Sororitas are a bit deceptive as a faction; they aren't extremely strong when it comes to damage output, but they have solid indirect shooting and a number of tricks to spike damage with melta through units like the Triumph of St. Katherine. This means they can do damage when they need to early and cripple you if you can't handle AP-4 shooting. They also have some solid deep strike ability and can get around the table. The downside is they're very vulnerable to mortars.
The Plan
The Mission: E – Take and Hold / Chosen Battlefield / Sweeping Engagement
Contagion: Skullsquirm Blight (-1 to WS/BS)
A lot of Sisters units have decent invulnerable saves but a lot of them also have flamers or the ability to just auto-hit with miracle dice. I ended up opting for -1 to WS/BS here and I'm not sure that was the right call – I might have preferred the bonus to saves, in hindsight. It did make a difference when Vahl and her warsuits charged in, though. With a ton of indirect shooting from the Exorcists I opt to not make the same mistake I did in my game against Sean and put the Nurglings and Terminators in Deep Strike and the Plague Marines with Biologus in Strategic Reserves. The Exorcists will make short work of my infantry but not so much the vehicles, so I want to protect my units until it's time to shoot with them.
I put a PBC on the home objective with the Poxwalkers to prevent a non-sticky situation turn 1 and deploy with a plan to control the middle. I don't think I want first turn here – I'd rather move forward and react to Matt's aggression than make the first move – but getting in reserves sooner will be better.
I'm Going First.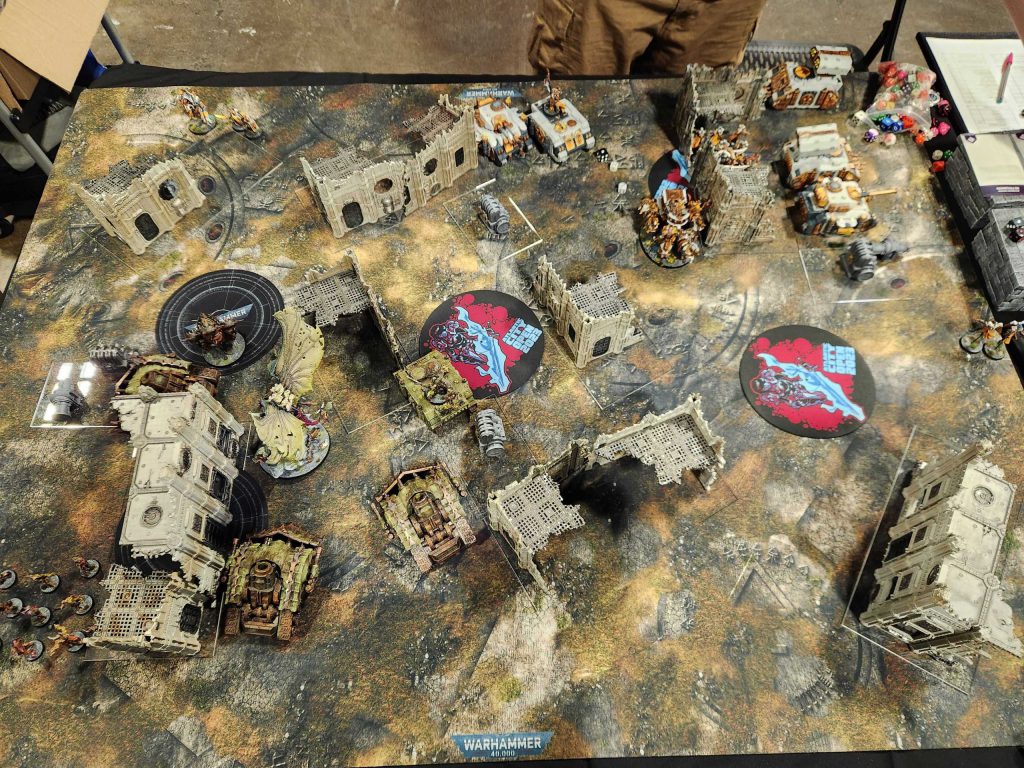 That's not ideal, but it's fine. I draw Area Denial and Assassination turn 1 and while I don't really want to get shot up in the middle of the table, I can't afford not to take the free 5 VP while they're available. The nightmare scenario here is the Sisters pop the rhino and then the Exorcists/Castigator kill the whole unit while they're sitting in the open and unable to Overwatch. My plan is to pop smoke (via the Smokescreen Stratagem) and hope for the best. Meanwhile the Mortars attempt to wipe out the 5-model unit of Seraphim on the table, but I roll crap for shot counts and 2 survive.
On Matt's turn he puts my gamble to the test – and it helps that he drew No Prisoners and Overwhelming Forec. He pops his big Sisters squad out of his rhino, moves them forward, and dumps melta into my rhino. I pop smoke – the -1 to hit here won't matter as the Triumph just forces through 3 hits and wounds on my tank – but what I really need is the save boost from having the Benefit of Cover. My hope is that I can save one of these with a 6 and then get lucky on damage rolls. Instead I roll 2/3 6s against the melta shooting with my Rhino and only take 6 damage from the one multi-melta trying to push through. That is MASSIVE. The Rhino then saves against the Rhino's Hunter-killer missile, tanks the next set of shots from the Exorcist, dropping to 2 wounds, and finally goes down to the last Exorcist. The Plague Marines take no wounds and now this leaves only the Castigator to shoot them. It kills 5 of them in shooting – it's very nasty, but that leaves me more than enough models to do what I need. Matt scores 5 VP on secondaries.
On my turn I draw Bring it Down and Deploy Teleport Homer. Then I press forward, dropping the Lord of Virulence into the middle of the table to start acting as a spotter and holding Typhus and his lads one more turn. The Fleshmower powers forward and kills a penitent engine while the plague marines wipe out the Sisters squad with their snot flamers, and the combo of Mortarion and Entropy cannons kill the Castigator while mortars wipe out Junith's unit. I also drop in some Nurglings in the corners to Investigate Signals.
Wait. Shit. Fuck. I drew Teleport Homer, not Signals. I have made a huge misplay here, essentially going for the wrong secondary and leaving points on the table (those nurglings could have gone to mid-table). It's fine, more or less, but it's 3 points I didn't score that I could have if I'd just double-checked my secondaries. I discard Homers for the CP. Matt rapid ingresses with Vahl and her warsuits, putting them in the upper left and out of line of sight.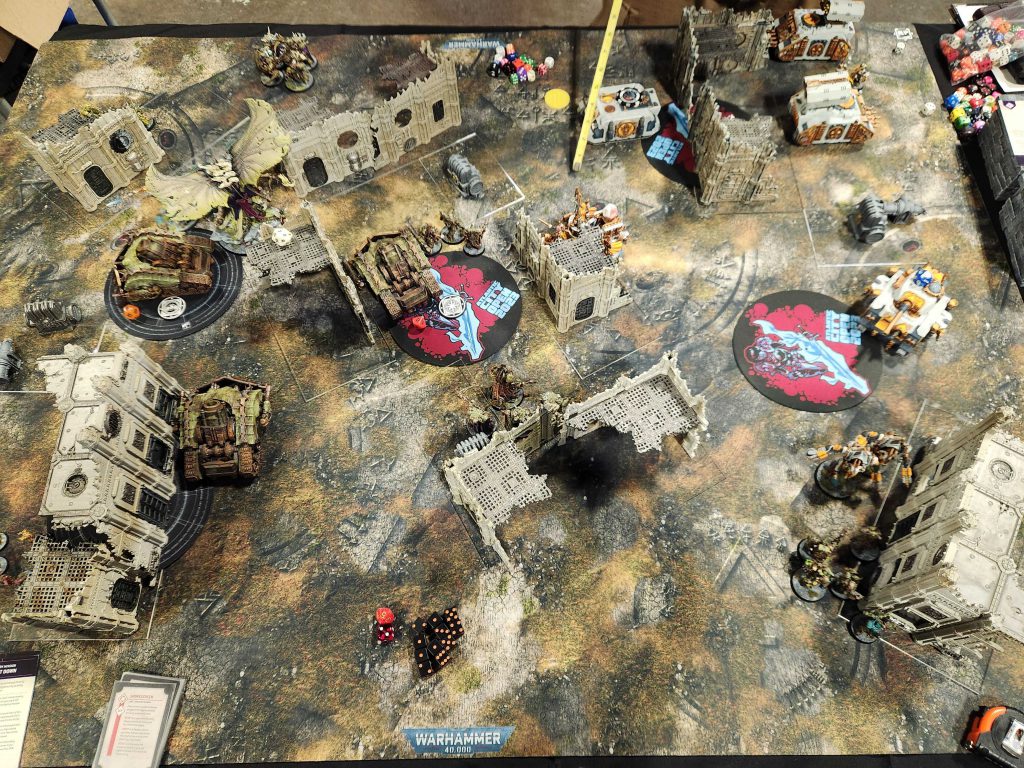 Matt pulls Bring it Down and a Tempting Target. I make it the far left objective, which he's not going to be able to hold while Mortarion sits on it – OC 6 is a hell of a total. He kills the Fleshmower, drops in some of his reserves, and makes for a big swing with Vahl and her posse. They ultimately fail to kill the PBC on the objective and get bogged down with Mortarion, and this is a bad place to be – in combat with two monster/vehicle units.
On my turn Matt scores a lucky break as I pull Storm Hostile Objective and a Tempting Target, and these are both dead secondaries for me. They end up being the same objective and I can't physically get to it with any of my units. I'll score 0 on secondary this turn. Then Typhus and his crew drop in behind Vahl and combine with Mortarion and the PBC to kill her entire unit. She stands back up but will die in melee the following turn after once again failing to kill the PBC. The -1 WS does real work here.
On his turn 3 Matt draws Behind Enemy Lines and Investigate Signals and while I have him blocked out of three corners he can easily score BEL with his seraphim and Stern, so he pulls 7 VP for the turn. His Penitent Engines manage to kill off my plague marines – they did at least kill the rest of his other seraphim unit – mostly clearing me off that table quarter after he kills the Nurglings.
This game is close score-wise but not close board-wise. After some terrible secondaries up to this point I start drawing what I need, and I score 5 each for No Prisoners and Secure No Man's Land on 4 after I kill the other Castigator and 5 each for Secure No Man's Land and Extend Battle Lines on turn 5. Meanwhile Matt draws an unscorable Area Denial but grabs Deploy Teleport Homer (5) and then on the final turn Engage on All Fronts and Assassination, which will net him 8. He's pretty close on secondaries and could have tied me if Stern and Kyganil were a bit closer to my DZ but he's 5 points behind on Primary (though holding 2 objectives all game made it closer than it should have been). We shake hands and just like that, I'm 7-1.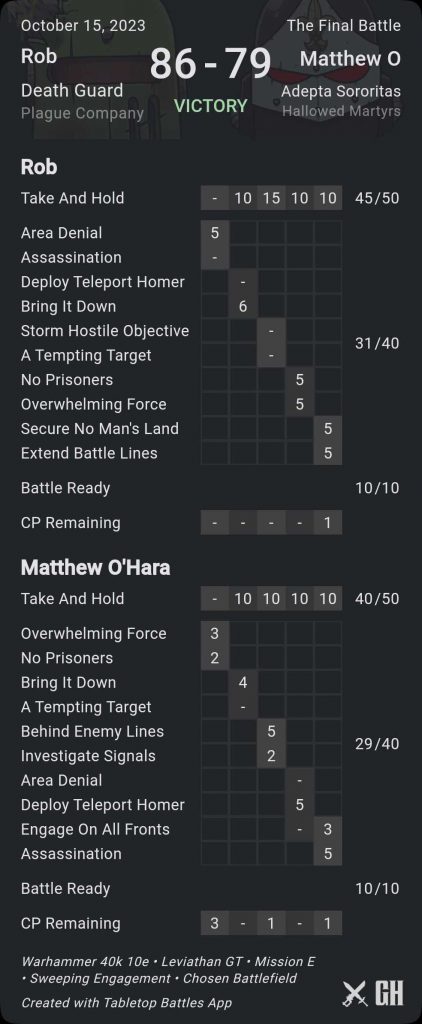 Result: 86-79, Victory
This game could have easily been a blowout but Matt stuck in there, played some smart play, and kept it close. I definitely had some good luck turn 1 but after that? Bad secondary draws and poor shot count rolls for my mortars and flamers plagued me all game, keeping units around on Matt's side to score for him. I also failed two-TWO Battleshock tests with Mortarion, after spending 1 CP to auto-pass. Matt was a hell of an opponent and a great guy and I'm ecstatic to be on a roll of good opponents.
We have to stick around for the awards ceremony. I finished 33rd at the event overall but the more important part is that I'm 7-1 and a winner in the Captain's Bracket and I gotta tell you, after being a 4-2 player for a long, long time it feels FREAKING AWESOME to finally break through that ceiling and get my first x-1 finish. And with Death Guard, no less! They're the army I started this big, dumb competitive journey with back in 2021 and it's cool to finally get the combination of luck, skill, and army strength in the combination needed to punch through.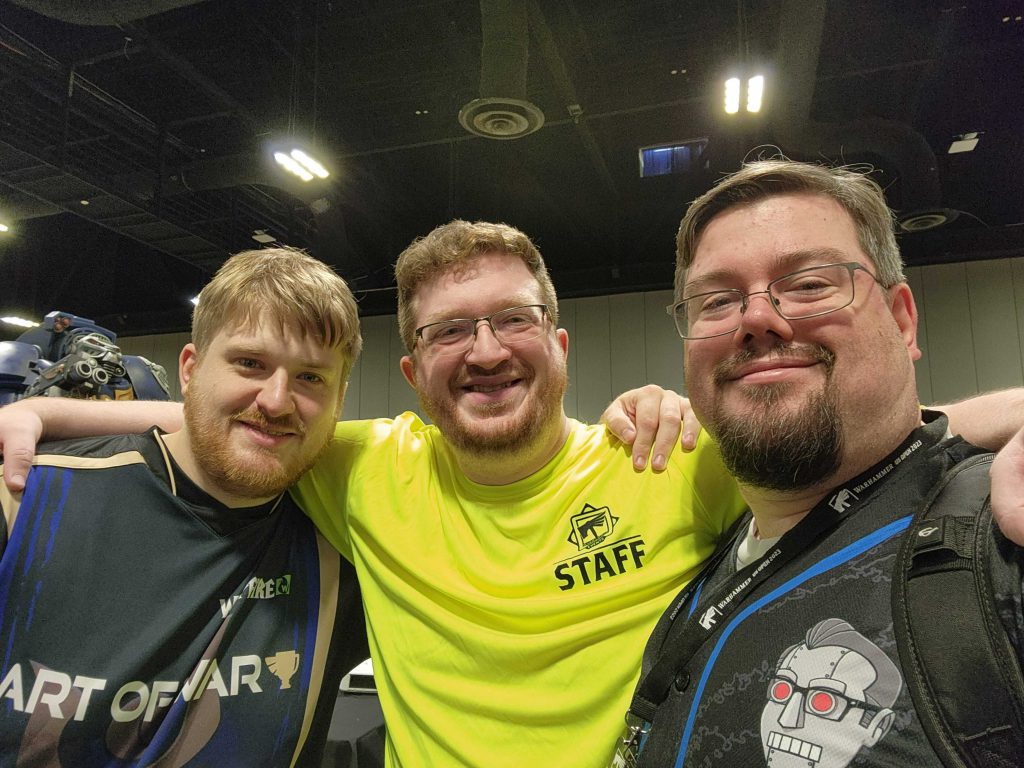 After the ceremony we talk for a bit. Sascha did in fact win Best Overall, and good on him – his Imperial Fists look great, and no – I was in no world a whole win better than him on the painting side. Garrett and Sascha both had dropped opponents the final round and ended up playing and to his credit, Garrett kept it close and I think learned a ton playing against Sascha, who turned out to be an extremely chill dude.
Also on the podium from the Goonhammer crew was Craig "MasterSlowPoke" Sniffen, whose Rainbow Warriors continue to be just gorgeous. He went 4-2 in the Lieutenant's (2-2) bracket, and that's pretty damn cool as well. He's been more of a narrative/paint kind of guy up to this point but I've seen him slowly creeping his way up at events. Alice finished 3-2 on the Age of Sigmar side with her Ossiarchs.
Norman eventually finished had to break his knights apart but he got them into the case Ryan gave him. And props to Ryan and Jeremy for putting in the work to help Norman find his case. Of course, after doing all that, Jeremy flags Norman down – someone in the staff found his case and returned it. We have no idea where it was, but Norman is happy to have it back.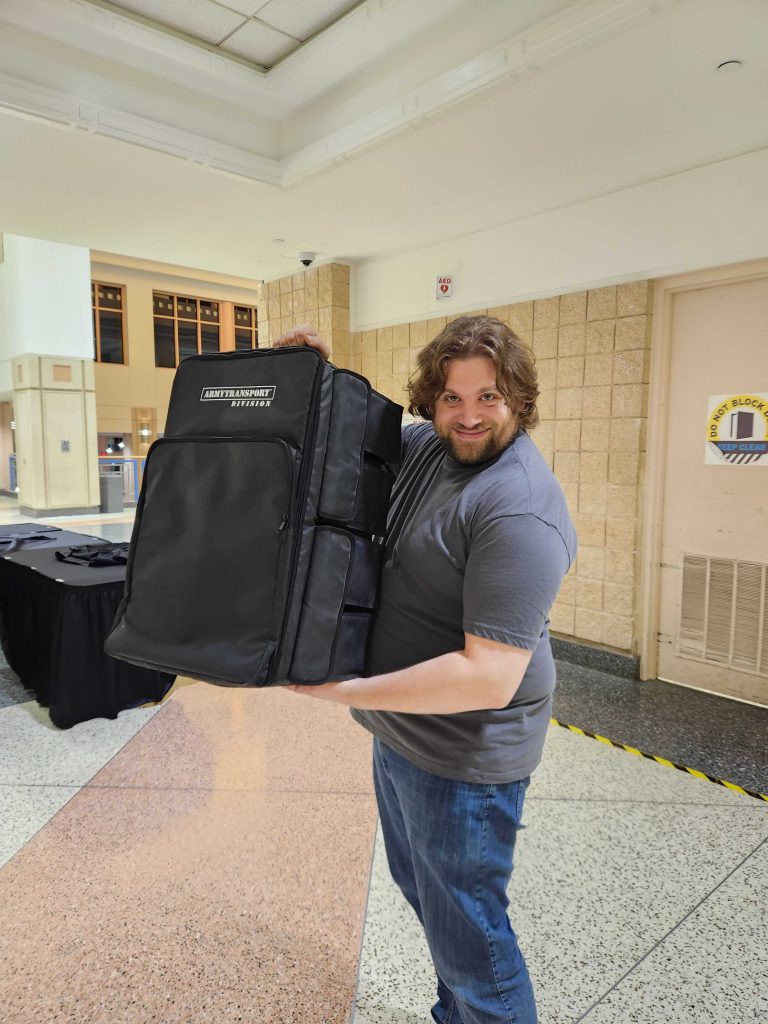 Most of us are flying out the next morning so that means one more team dinner. We hit up a fancier place about a mile away from the venue – Edison Food & Drink Lab is a Garrett pick and while it's pricey, they have vegetarian options and the food slaps. The grilled Octopus is particularly good and I end up having some scallops that are perfectly cooked. We call it a bit of an early night and end up back at the AirBnb by around 11.
Final Thoughts
Is this a GT win? I mean, not really, but also kind yeah, kind of – playing a four-round qualifier and then going 4-0 is just as difficult, if not moreso. Is it the golden ticket to Atlanta? No, but while I very much did want the recognition and glory of going to the World Championships, I am also very much not a good enough player for all that shit and will have much more fun at the Narrative.
Speaking of which, that's my next stop. I might have an RTT before then – Asgard is calling me – but my big next project is going to be around getting an army ready for the Grand Narrative. So stay tuned for another update next week, when I talk about picking an army for that event and putting in the work to try and win Best Painted this time around.
Have any questions or feedback? Drop us a note in the comments below or email us at contact@goonhammer.com.