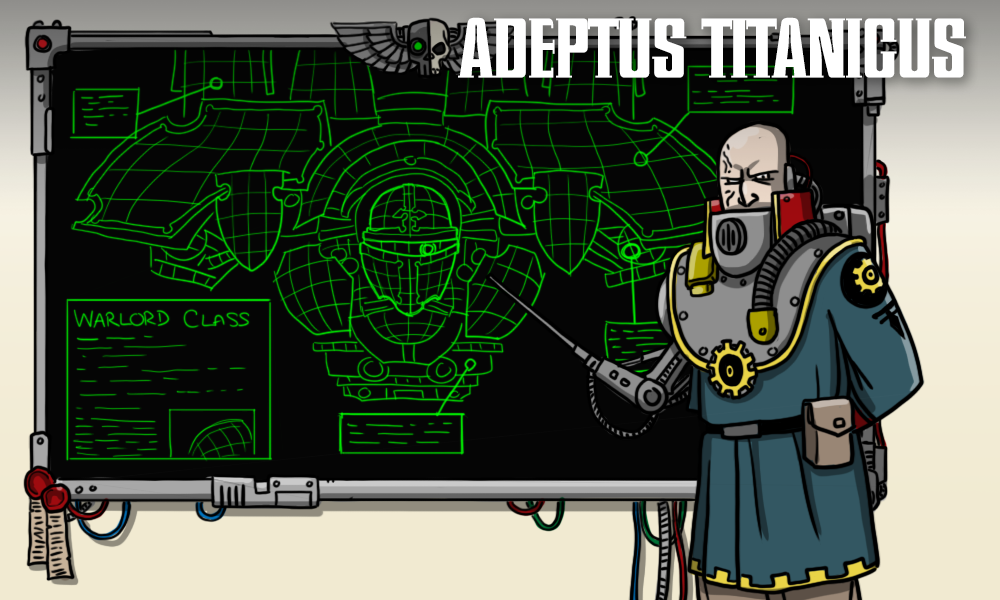 Welcome back to Goonhammer's series for aspiring Titan Principes. We here at Goonhammer's own Collegia Titanica know that Adeptus Titanicus can seem intimidating to players unfamiliar with its particular quirks, but this series aims to equip you with everything you'll need to play out epic clashes on the battlefields of the far future with your very own Titan Battlegroup. In this series, we'll be walking you through how to build your battlegroup and command it to glory, including everything from which Titans to include and how to equip them, through to how to command them on the field of battle to secure ultimate victory.
Following up on last week, we're taking a look at the traitor Titan Legions available to choose from in the various rules sources. As before, these rules will form one half of the core identity of your battlegroup, giving you access to passive legion traits, additional stratagems and wargear you can purchase, and a set of Princeps traits to choose from in lieu of the ones on offer in the core rules. There's an incredible amount of variety here, with plenty of room for you to take a particular legion and make it your own. Some of these are all-in on one particular aspect of the game, while others provide benefits that are more spread out.
After you choose your legion, you'll need to choose a maniple as well. Some legions lend themselves to particular maniple traits or Titan selections, and you'll want to do what you can to take advantage of those synergies. Make no mistake: planning to win a game of AT starts here, at the beginning of list construction. Start thinking of how you want to approach the game as you choose your Legion, and let that plan guide the decisions you make once you've declared your allegiance.
Legio Tempestus – "Stormlords" (Core Rules, p 92)
OK, so if we're being technical here, Tempestus split as a legion early in the heresy, with a significant portion of the legion remaining loyal and fighting against Horus. However, their entry in the Titans of Legend sets (more on these in a later article) comes in the Traitor box, and putting them here also just gives us a nice 50/50 split between this and our Loyalist Focus, so here we are. Regardless of whether you choose Tempestus's crusading traitor faction or their more stay-at-home loyalists, though, they bring a solid selection of rules that won't disappoint.
Legion Traits
When one of your Titans would die, you can make a command check. If you pass, you get to fire with one of its weapons or, if you pass by 3 or more, with all your weapons. Getting an extra combat activation out of your Titan is great, and this all but guarantees that every Titan you own will get to shoot at least one of its weapons each round, range permitting.
Somewhat ironically, Legio Tempestus is also very good at keeping their Titans' machine spirits in check. If your Titan's machine spirit tries to wake, you can re-roll a result of 1, 2, or 3, but you have to keep the re-roll. Not only can you use this to turn what was a bad roll into a free attack, you could also potentially use it to try to fish for a free repair if you've rolled a 1 or 3. The situations where you'd be both willing and able to do so are pretty slim, but it could be an interesting trick.
Stratagem
Legio Tempestus has one unique stratagem, Combat Drop. For the hefty price of 3 stratagem points, you can set aside a Titan of scale 6 or less (as of this writing, that means it has to be a Warhound) from your battlegroup to set up in orbit. When you do, you write down a number from 2 to 4, which is the round it tries to drop in on – though it might be delayed by a turn. When it shows up, place it on the board at least 1" away from any models or terrain feature, then scatter it. It can't do anything that round, but sometimes dropping a Warhound in a big enough swing in momentum all on its own.
Wargear
Chasmata Pattern Laser Destructors upgrade turbo-laser destructors or laser blasters for 5 points per shot that weapon has. It increases the long range by 6" and the short range by 3". Not only does this let you shoot at enemies you otherwise wouldn't be able to, it also gives you a little more leeway to get shots off at short range with laser blasters. Turbo-laser destructors and laser blasters are useful weapons, and this upgrade will let you hit with them more consistently.
Personal Traits
Adamantium Resolve lets you remove Shutdown orders from your Princeps's Titan, effectively cancelling the order. You can also do this right as the order is issued. On the off chance you're forced into shutdown against your will, you can cancel it immediately, which is nice, but unlikely to come up. The most likely way you'd use this would be to voluntarily issue the Shutdown order when your Princeps's Titan is redlining with collapsed shields, then remove the order immediately after getting the free 2-step reduction in heat. If your Princeps is frequently redlining and rolling on the overload table, this could be a neat trick to help manage that. This probably isn't worth spending your trait pick on, but could come in handy on a bad roll if your Princeps has suffered three crits to the head and shuts down from a bad roll. C+
Storm-Born is simple, but strong: when the Titan charges, it can use its boosted speed without pushing the reactor. This not only lets you successfully charge targets that are further away without risk, it also potentially adds an extra die or two to the resulting attack. If your plan for the game involves getting stuck in, this is definitely worth a look. A
Defiant Warrior lets your Princeps re-roll 1s to hit if their Titan's void shields have collapsed. Another simple but powerful effect that could be very useful on a mid-ranged brawler. A-
Final Thoughts
The Storm Lords legion traits give them some serious reliability, letting them avoid awakening their Titans' machine spirits at inopportune moments as well as punishing their opponents for destroying a Tempestus Titan by putting out one more round of shooting before they go down. Chasmata Pattern Laser Destructors gives you additional range on the relevant weapons, letting you hit targets more often and extending the short range of your laser blasters by 3″, which comes in handy more often than you might think. Combat Drop is a unique effect that lets you deep strike a Titan anywhere on the board, and they have two useful personal traits that can turn your Princeps Seniores into a real pain for your opponent to deal with.
Legio Mortis – "Death's Heads" (Titandeath, p 40)
Despite showing up on the back of most of the boxes for the game and having several full-page illustrations in the Core Rules, we didn't actually get rules for Legio Mortis until the release of Titandeath. They have an interesting range of traits and optional choices that they can bring to bear throughout the course of the game. The Death's Heads don't necessarily lend themselves to any particular loadout, but can build in nearly any direction without having to worry about whether their rules will be helpful.
Legion Traits
Reaper's Tally increases the potency of your Titans the more kills they score, letting you re-roll a single 1 during each shooting attack a Titan makes for every enemy Titan it's destroyed this game. This is a simple and useful effect, and since it applies to each "shooting attack," you can use it on either the hit roll or the armor roll. You'll also get the re-roll separately for each weapon the Titan fires, since each weapon attacks separately.
State of Decay lets you choose a Titan and allow it to ignore the effects of critical damage to the head for a round. However, for that round it is not allowed to allocate any repair dice to its head. This is kind of a risky option, but the critical effects on the head location can seriously impair a Titan's ability to contribute to the fight. Having this option available could give you the extra push you need to tilt the later stages of a game into your favor.
Stratagems
March of the Dead is pricey at 3CP, but provides an amazing effect – you forfeit being first player in exchange for getting a free non-boosted move during the first turn's strategy phase. Essentially this lets you issue a free Full Stride order to your entire battlegroup without the usual restriction on activating in the combat phase. This is a very powerful stratagem that will let you move aggressively in the first turn to bring your weapons to bear. Just be sure you've thought it through before you use it – as soon as you reveal this stratagem, your opponent will know they don't have to worry about you having any other unexpected tricks up your sleeve later in the game.
Wargear
Remains of the Fallen is a 20 point upgrade that gives a penalty to command checks made by enemy Titans within 8". As written, it's not clear whether this effect stacks, but we think it probably does – it applies to enemies within 8″ of "a Titan with this upgrade," not "any Titans with this upgrade." In either event, this could be a powerful effect, particularly on Warhounds or Reavers who are likely to be close enough to get the effect out of it.
The Warmaster's Beneficence costs 20 points and upgrades all of a Titan's weapons the first time it fires to add 1 to the strength of all bolter or missile weapons and ignore the draining trait. This is something of an odd one – typically, you'll want to fire bolters and missiles early to take advantage of their high shot-count to pound voids. However, this could be useful on Titans equipping laser blasters or turbo laser destructors – being able to use their Shieldbane trait without having to push your reactor will let those weapons strip shields faster than usual at no risk, and if you happen to have a belicosa or volcano cannon on the same Titan, being able to fire that for free after stripping a target's voids is a nice bonus. This is definitely not an auto-include, but if you think about it and build for it it could be useful.
Personal Traits
Rotten Heart lets you ignore the effect of an awakened machine spirit by advancing your Titan's reactor track two places instead of one. This isn't an incredible effect, but if you're in a Warlord that you expect to be pushing a lot, the added reliability may be worth considering. However, this trait's utility is held back by how unusual it will be for your Princeps to fail the resulting command check in the first place, but if you want to be absolutely certain you can keep control of your Princeps's god-engine when you need it, this will let you do that. B-
Pitiless adds 1 to the strength of your Princeps's weapons when attacking an enemy that has suffered critical damage to all three of its damage tracks. If you've got a lot of high-strength blast weapons, there's a solid chance that you'll pick up a few stray critical hits. If you do, this will let your Princeps tear into that already-crippled Titan and remove it from the board while the rest of your maniple moves to open up other targets. B+
Ancient of Terra makes the Princeps's Titan always roll a d6 on the reactor overload table, even if it's redlining. If you expect your Princeps to be pushing aggressively, this will help mitigate the consequences until you can vent the resulting heat. B
Final Thoughts
The Death's Heads have some useful abilities that let them maintain effectiveness as the game goes on despite mounting critical damage effects and the demands of reactor management. The Warmaster's Beneficence and March of the Dead let you give some punch to your earlier turns, and as you start to rack up engine kills, your Titans will get more and more dangerous as the game goes on. None of their options are particularly incredible, but all have their uses and will come in handy at some point in the game. All in all, Legio Mortis is a solid generalist choice that can be built in almost any direction.
Legio Krytos – "God Breakers" (Titandeath, p 45)
The God Breakers have some gorgeous heraldry and an amazing color scheme. Unfortunately, their rules are a little odd and seem a little lackluster at first. Fortunately, their legion-specific missile upgrade is fairly useful, and they offer the cheapest way to get three Warlords on the board, if that's something you're interested in.
Legion Traits
When fielding a Myrmidon heavy maniple, you may replace the mandatory Reaver with another Warlord. This isn't the best trait, as the Myrmidon's maniple trait is typically somewhat lackluster and it's all but impossible to fit three Warlords into a game at less than 1500 points. That being said, if you want to run three Warlords, this is the cheapest way to do it and probably the best use case for the Myrmidon's bonus in any event.
Stratagems
Scorched Earth lets you add 2 to the strength of all of your attacks while targeting terrain for 1CP. If the board you're playing on is cramped and doesn't have the fire lanes you need to win, you can use this to make them. It's an interesting trick to have in your back pocket, especially if you've decided to use your legion trait to field a trio of lumbering Warlords.
For 1 CP, Iron Endures reduces the strength of any hits your Titans take as a result of dangerous terrain by 2. This seems somewhat uninspiring at first, but can actually be very useful depending on the map and the stratagems your opponent chooses. It's not a first-choice stratagem, but on maps with a lot of dangerous terrain, this will let you get set up where you need to be without risk.
Wargear
Earthbreaker Missiles – For 10 points on a Reaver or 20 on a Warlord, you can upgrade a Titan's apocalypse missile launcher(s). You can choose to fire the AML normally, or give it the Quake trait but cut its number of shots to 1 for a Reaver or 2 for a Warlord. This is a great effect, keeping your AMLs relevant even when you're firing at a Titan with collapsed shields by giving them the ability to halve their target's movement in the next round on a single hit. They also increase their strength by 5 when targeting terrain, which could be useful if you've got nothing else to shoot at.
Personal Traits
Godlike Contempt allows the Princeps to issue an order to their Titan even if another Titan or Knight banner with smaller scale has failed one previously. A Princeps with this trait in a Warlord will almost always get to try to issue an order. This is a neat bonus when it applies, and makes it easier to fit Knights in your battlegroup without having to worry about them completely ruining your order economy. B
With World Bane, any terrain destroyed by the Princeps becomes dangerous terrain if it wasn't already. You're probably not going to be moving through the terrain that you destroy, so this trait allows you to open the fire lanes that you need without creating easy shortcuts for your opponent. If you like destroying terrain, this is cool, but you're probably better off with a different trait. C+
Path of Iron allows the Princeps to make a single smash attack during the movement phase provided it is against a model of scale 3 or less. When performing this movement you can walk through multiple scale 3 models, providing you can clear your base. Basically, you can step on Knights during the movement phase. Sounds kind of weird, but keep in mind that if you used your legion trait, you've got a very low model-count army, so every attack you're allowed to make helps. You can also use this to move through Knights that would otherwise hinder your movement. B-
Final Thoughts
All in all, the God Breakers look kind of mediocre on paper, but wind up being better than you're probably thinking in practice. Earth Breaker Missiles are a useful upgrade for locking down troublesome flankers so you can set up firing lanes and obliterate them, and the Iron Endures stratagem lets you move through dangerous terrain at near-zero risk, potentially rendering the Scatter Mines stratagem meaningless for a turn if your opponent took it. Bring powerful weapons, stop your opponent's from moving, and blow them off the board with superior firepower. They are certainly not the strongest legion on offer, but if you'd rather just go through a building rather than navigate around it, they could be the legion for you.
Legio Fureans – "Tiger Eyes" (Titan Death, p 50)
The Tiger Eyes are a fast-paced, aggressive legion who push their Titans' reactors to the absolute limit, and then push a little harder – the flame-centric motifs in their heraldry aren't just for show. Fureans battlegroups want to move fast and set up devastating alpha strikes, but are racing against the clock to take out their opponents before their own god-engines finally give in and their reactors melt down.
Legion Traits
When rolling the reactor dice, Machine Rage means that the blank side counts as triggering the machine spirit. However, if you do fail a machine spirit command check you get to choose the result rather than rolling randomly. This will result in your titans running hotter, but will allow you to move an extra D6 closer or turn 45* to face the nearest enemy or perform an extra shooting attack. This allows you to be incredibly aggressive with your maniple and turns what would be a potential disaster for another maniple into an opportunity to take control of the game.
In the first round of the game, Many Faces of the Omnissiah allows you to sacrifice either or both of your movement and combat activations on any of your Titans to let them "bank" a re-roll they can use in later rounds for each phase they skipped. An interesting trade-off, as a single reroll of an armour roll or shield save can make all the difference between victory and loss. However, given the importance of movement and maneuvering in this game, you'll want to think carefully before you give up your move. Banking one on Reavers or Warhounds isn't a terrible idea, but we generally advise against banking both re-rolls on anything other than fire support Warlords, and even then it won't often be worthwhile.
Stratagems
For a whopping 3 CP during the combat phase, Offensive Surge allows each of the Titans in one of your Furean maniples may fire one of its weapons twice at the cost of increasing its reactor by one in addition to any other effects. This is a potentially game-changing effect, but will require you to forgo all (or nearly all) of your stratagems to unleash an amazing alpha strike. This is insanely good if you have enough Titans in position to make the most of this, and you could easily find yourself winning a game off of a well-timed use of this stratagem alone.
Wargear
Hunting Auspex costs 20 points, and allows a Titan making attacks over 12" away to reduce any penalties to hit by 1, to a minimum of 0. Use this to ignore light cover, or fire your laser weapons at long range with impunity. If you want to get cute, you can even blind-fire an apocalypse missile launcher at a target over 30" away and hit on 3+. This is an excellent upgrade for your fire support Titans, and is probably worth at least considering for every Titan in your battlegroup.
Personal Traits
Titan Stalker adds 1 to the Princeps's armor rolls when targeting a Titan within 12". Fantastic on a short-ranged or melee Reaver and in combination with the maniples that give an additional bonus to armour rolls such as the Ferrox and Lupercal. A
Humardu Savage  adds 2 to the strength of the Princeps's smash attacks. Your Reaver is now performing STR 11 smash attacks – stronger than a powerfist. Turns a melee-focused Princeps into an absolute monster and gives significant close-range threat to an otherwise longer-ranged Princeps. A
Trophy Taker causes any weapon disabled by the Princeps to require an additional 1 higher to repair during the repair phase. A bit gimmicky and likely not worth it in comparison to the above, but could be useful on a Princeps with a gatling cannon or similar weapon when using called shots to limit your opponent's ability to bring their biggest threats to bear. B
Final Thoughts
Fureans are a phenomenally aggressive legion and one of the best picks out there for builds revolving around Reavers. Their decent reactor track lets them absorb the extra heat from Machine Rage, laser weapons strongly benefit from Hunting Auspex's bonus, and the Reaver's solid maneuverability helps them get into position to make the most of offensive surge. Being able to double tap with a whole maniple in position is going to ruin someone's day, regardless of which maniple you chose – just be careful you don't red-line them all at once using draining weapons.
Legio Vulpa – "Death Stalkers" (Titandeath, p 55)
The Death Stalkers are a proud legion who value victory in combat where they're close enough to look their opponent in the eyes over all else. They specialize in bringing their weaponry to bear in the chaos of melee combat with a lethal precision that other legions struggle to match. If you want to march right up to your opponent and unload when they're too close to miss, Legio Vulpa might be for you.
Legion Traits
The Death Stalkers add 1 to their WS and subtract 1 from their BS if they're within 3" of any targets, but can't target anyone outside 3" if there's a target within 3". Note that this doesn't overlap cleanly with the 2" distance at which voids come into play – you'll want to close that extra inch if at all possible so you can shoot clean through to armor, and be careful that a Titan you don't want to attack right now doesn't stray within that 2.1"-3" band.
Stratagems
For 1CP, No Pity for the Vanquished lets you take another attack with a weapon when it kills an enemy Titan. This seems weird for a legion focused on close-combat, but it's a very useful effect to have. First, being able to fire a belicosa at two targets in a turn can really swing a battle, even if it is a little heat-intensive. Second, your legion trait doesn't just incentivise using melee weapons – it makes using ranged weapons more effective in close too. You could use this to finish off a Titan with a gatling cannon, then shift it to your next target to either bring down shields or try and call shots on another armor location.
Wargear
Disruption Emitters costs 30 points and adds 2 to the strength of Melee attacks and to your Titan's scale for the purposes of smash attacks. This is terrifying – put it on a Reaver with a Chainfist or Power Fist and you're hitting at effective strength 10 or 11 respectively even before bonuses for flanking or other effects. Play this right, and it's not hard to find yourself rolling armor rolls with a bonus of +4 or higher. This is a great tool to help you saw a Warlord in half and makes charging with Reavers as dangerous as another legion's Warlords. For a legion that wants to be within 2" anyway, this is an incredible upgrade to bring throughout your list.
Plasma Gargoyles turns heat in your reactor into potential damage for 15 points. Each time you vent heat, Titans within 3" take a hit at a strength equal to 3 + the number of points of heat you vented. It requires you to build up heat to use, but can somewhat reliably set up S5-6 hits depending on the Titan you equip it on. Just keep in mind that this hits all Titans within 3", not just enemies. Hard to get use out of on Warhounds, but Reavers and Warlords can use the heat they've built up as a side effect of trying to close to try and sneak in a few extra armor rolls here and there.
Personal Traits
Razor Tongue lets your Princeps trash-talk an enemy Titan each round, giving a penalty of 2 to the command rating of a target within 24" for the rest of the round. A neat trick that can really throw a wrench in your opponent's plans if you think they need an order to go off to execute their plan this turn, but held back by the fact it only applies to one Titan at once. B-
Bloodied but Unbroken gives your Princeps additional strength on melee and smash attacks for each point of Critical Damage they've suffered, up to 3. Vulpa is very threatening in close, and your opponent will likely try to focus down a Reaver trying to rush them with a chainfist. This can punish them for doing so if they're not able to finish the job before you close. B
Cruel increases the strength of attacks against targets of scale 5 or less by 2. Simple but effective into lists with a lot of Knights, pointless if your opponent left them at home. With how prevalent and powerful Knights Acastus are right now, though, this might be worth taking as a way to deny them ion saves and fish for crits. B+
Final Thoughts
Vulpa is an excellent choice if you want to get in there and mix it up. Their Legion Trait is powerful, letting their Reavers and Warhounds hit at 3+ in close, and allowing Warlord to hit at 4+ with a macro gatling cannon and 2+ with a power claw. Their wargear and Princeps traits reward you even more for closing the gap and dispatching your opponent face-to-face, while its unique stratagem allows your fire support Titans to be even more effective, letting you finish off one Titan then set another one up for your other Titans to dispatch. Where the Death Stalkers excel is in bringing ranged weapons to bear in close combat – any legion can get mileage out of a power fist or chainfist, but being able to fire a gatling cannon or laser blaster with increased effectiveness in close makes it harder for crippled Titans to hide their vulnerable armor with a lucky 6 in the repair phase. Choose your target, move in close, and finish them before moving to the next.
Legio Vulcanum – "Dark Fire" and "Lords of Ruin" (Doom of Molech, p 23)
Legio Vulcanum are actually two legions, not just one – the Dark Fire and the Lords of Ruin both hail from the same forge world, and typically work together, competing to see which of them can be the most effective in a given engagement. This is further complicated by both legions' extensive use of cloning in building crews for their Titans. Vulcanum lets you bring two Principes Seniores and allows you to pair off the Titans in your battlegroup to compete with one another for glory even as they coordinate their fire to obliterate your enemies.
Legion Traits
Two-faced God lets you take two Principes Seniores in your battlegroup, giving you a second TItan with a personal trait and the other associated rules, but they can't be in the same maniple. The wording on this is a bit unclear, but what is clear is that it will let you bring a Princeps Seniores as a support Titan, letting you bring a second trait without having to invest in the two Titans you'd need to fill out a second maniple. At an absolute minimum, this allows you to include Dominant Strategist in every list you build and still bring another trait along, which is an amazing effect. Just think carefully about which Titans you nominate –  if either falls in battle, the other will have an irreparable Princeps Wounded effect. Also, some traits need to be in the maniple to function, while others are effective anywhere.
For the Fallen gives you re-rolls that accumulate as you lose Titans, making your remaining models more and more dangerous as the game goes on. This isn't something to plan around – getting a single re-roll per round will not make up for losing a Titan – but it does take some of the edge off and makes trading pieces slightly more favorable to you.
Stratagems
For 1CP, Symbiotic Commands lets you issue an order to your entire battlegroup with one command roll. This will help you coordinate the movement of your entire force without having to sacrifice activations. When played right, this is an incredibly powerful effect for a single CP. Potential applications include a first-turn full stride to get everyone set up, a round two First Fire or Split Fire to get maximum effect out of your entire battlegroup's arsenal, or a late-game Charge issued to multiple Titans to try to take out a key target or two and tip the balance in your favor.
Wargear
Twinned Machine Spirits lets you upgrade two Titans for 20 points each, and those Titans become part of a squadron, regardless of whether they would normally be allowed to. There's a catch, though: if either Titan's machine spirit awakens on a reactor roll, both have to make a command check. This opens up some interesting options, such as letting Reavers with gatling cannons take advantage of the Coordinated Strike rules to make those weapons more of a threat when calling shots into vulnerable locations, but keep in mind that every squadron you make costs you an activation in the movement phase. Essentially, this allows you to make your combat phase that much deadlier at the expense of making it easier for your opponent to predict and avoid your attacks.
Janus Pattern Missiles cost 20 points and upgrade an Apocalypse Missile Launcher to let you split their fire without an order. This is a useful upgrade, particularly on a Titan with a loadout focused around breaching armor or going for the kill. You're still required to allocate at least one of the weapon's attacks to your primary target, but being able to put nine dice into another target's voids while you get to work cracking open armor on the more vulnerable Titan. As written, your secondary targets only have to be within 12" of the primary target and be in range and line of sight of the weapon – it doesn't specify that it has to be in the weapon's firing arc, and given how the rules for the Combat Phase are written, we think this is probably intentional. Be aware that a TO or judge could rule otherwise, but as written this would let you repay a Warhound for dodging your arc by giving it up to 9 void saves to make.
Personal Traits
True Born increases your Princeps's bonus to command checks to 3, making them more likely to successfully issue orders to their Titan's crew even if they're mounted in a Warhound or if their Titan has taken critical damage to the head. However, if you roll a 1 on your Princeps's command check, you can't issue any more orders, regardless of special rules or re-rolls. This isn't a particularly amazing benefit unless your Princeps takes a crit to the head, and the downside could be disastrous, however unlikely it is. C+
Divided of Mind lets you take a random order when you fail a command check, with the caveat that if you roll Shutdown you can choose whether or not to apply it. A strictly better version of the Warp Runners' Ancient MIU, but it still comes up a bit short – more often than not, if you needed a given order to successfully resolve to execute your plan, the restrictions associated with other orders will make your plan even harder to bring together. At least you don't have to worry about random shutdowns, though. C+
War's Orphan lets you push a red-lined reactor, taking strength 9 hits to the Titan's body in lieu of moving the reactor level. Interesting for desperation plays, but probably not reliable. C
Final Thoughts
Vulcanum have some really cool tricks that can make you very dangerous – extra Princeps traits are always a welcome thing to have, and the thought of a pair of gatling/melta Reavers in a squadron is honestly kind of terrifying. Add Janus Pattern Missiles to a Warlord to keep it getting the best and highest use out of each of its weapons in every round and you've got a strong and flexible battlegroup that will be incredibly frustrating for your opponent to deal with. Unfortunately, the legion-specific Princeps Traits aren't that great, but you can still make some powerful combinations using the choices on offer in the core rules.
Legio Interfector – "Murder Lords" (Doom of Molech, p 26)
Interfector is another aggressive legion, but this time a bit less restrained. Their legion trait gives your Titans the option to trade their activation in the movement phase for one of three powerful effects applied at random, and they have two separate options that allow them to interfere with the opponent's ability to issue orders to their own Titans. And if you really want to, you can turn your Princeps into a frothing lunatic and charge him right into the middle of the enemy battlegroup with a 60% chance of going critical when he's finally destroyed.
Legion Traits
Creeping Madness is your Legion Trait, and it's an odd one. When a Titan is activated in the movement phase you can instead let your madness take over to gain a random effect from the following list:
gain a charge order, charging the closest enemy Titan or Knight and making a smash attack;

gain the first fire order, randomly choosing what weapon is fired and attacking the closest enemy target with +2 strength and an additional dice. After this the weapon is disabled; or

all Titans and Knight banners (even yours!) within 12" remove their orders, providing they aren't shutdown or repair orders. Any units who haven't activated don't suffer the order's restrictions.
You don't get to choose what effect you get, but all of them are potentially useful. The random aspect of this holds it back from being truly great, but if your Titan is out there on its own this could let you get some extra mileage out of it. Essentially, this trait gives you some flexibility in situations where your opponent does something you wouldn't expect, but limits how useful that flex can be.
Stratagems
For 2CP, Portents of Doom lets you stop your opponent from issuing orders to any Titan or Knight within 12" of one of your Murder Lords. 2CP is pricey, but this is a nasty trick to have up your sleeve if you suspect your opponent is hoping to lean on some key orders in a given round.
Tormented Machine Spirit costs 1CP and helps you out when one of your titans would roll on the machine spirit table: instead of rolling, you make an attack with each of your Titan's weapons at the closest model – friend or foe. As long as you're positioned carefully, this lets you turn what could have been a disastrous loss of an activation into a blaze of glory at the closest target.
Wargear
Static Rounds upgrades the megabolter on a Reaver or Warhound for an additional 15 points. When firing against a target with voids, hit rolls of a 5 or a 6 now count as two hits (providing a 5 would have hit taking into account penalties). This effectively doubles the effectiveness of your megabolters' Rapid trait, making what is already one of the best shieldbreaking weapons in the game even better by upgrading it from an average of 5 hits per volley into an average of 6. Take this on a Warhound with two megabolters and your opponent will be left wondering whether their Titans' crews even bothered to turn their shields on in the first place.
Personal Traits
Dark Fanatic is an all-or-nothing trait: the first time the Princeps suffers catastrophic damage, roll a d10. On a 6-9 it is ignored and has no effect. On any other result, it counts as a catastrophic meltdown. If you're deep in enemy territory and going critical would be as (or more) effective than another round of shooting, you might as well push the big red button and see what happens. B+
Raving Madman lets you count any result on a d10 you rolled of 9 as a 6, or vice versa, within your battlegroup. Funny, but really a gimmick and not that great. This gives you some ability to manipulate the roll for initiative or command checks with . It also lets you turn a roll of 17 with a melta cannon into a 20, which is basically irrelevant anyway as the highest critical target in the game as of this writing is already 17. C
Hollowed Out removes the +2 bonus the Princeps would normally get to their own command checks. Instead, they ignore all effects of critical damage to the head. This is an interesting choice that may be worth considering if you expect your Princeps to draw a lot of fire – Moderati Wounded and Princeps Wounded are two of the most difficult critical effects to deal with in the game, and not having to worry about them will make it a lot easier to squeeze that last bit of value out of a wounded Titan. B+
Final Thoughts
I don't think anyone was expecting subtlety from a legion calling themselves the "Murder Lords," least of all the crews of these Titans. Static Rounds is an incredibly upgrade to your megabolters and will absolutely shred void shields, giving you earlier and more consistent openings to start tearing your opponents apart. Your legion trait gives you some limited ability to react to unanticipated play and potentially punish it with powerful attacks, but you've got to be willing to accept that it will probably not play out as you'd prefer. Portents of Doom can set you up to win a game that your opponent might have thought they had in the bag, and Tormented Machine Spirit lets you channel your Titan's instinctive rage into something at least somewhat productive. Having multiple tools available to cancel your opponent's orders will force them to consider that what would normally be all but a sure thing could be taken away almost as easily, forcing them to play more conservatively than they might otherwise.
Next Steps
Between this week and last week's run-downs, we've covered all of the legions currently available to choose from in Adeptus Titanicus. Once you've chosen your allegiance and your legion, you've got a major part of the identity of your battlegroup covered. Next week, we'll dive into maniples, which will give you the other half of your battlegroup's unique rules and help you determine what Titans you'll be bringing to bear as you work to pry victory away from your opponent. Your choice in legion and maniple will define how your battlegroup approaches engagements with other Titans, so think carefully before you choose. Whichever choice you make, though, we're certain you'll have a blast.