It's that time of year again, when the leaves have mostly fallen and the daylight hours draw short. When your friends and family can come together to celebrate what really matters in life…PURE EVIL!!! That's right! Halloween is right around the corner, and in these dark times the holiday feels more appropriate than ever. With that in mind we have brought you a terrifying Boardhammer selection to see you through this most special of nights. So keep your loved ones close, but not to close…
Armor of Contempt: Greetings all you ghosts and ghouls, anyone that knows me, knows that other than painting Ultramarines I am also a HUGE fan of Halloween and the horror genre. In fact, John Carpenter's The Thing is my favorite movie, and with the recent popularity of the hit video game, Among Us, I have a few games from the "hidden traitor" genre that will hopefully serve to scratch the paranoia itch for you.
Infection at Outpost 31
Infection at Outpost 31 is John Carpenter's The Thing, the board game, there you go, I reviewed it for you. Oh…you want to know more?
This game really is a love letter to the movie, and while it is fun even if you haven't seen the movie most of the game's quotes and style will be lost on you. That being said, an alien shapeshifter with the power to infect and take over other organisms has been discovered by scientists at an Antarctic research and now one or more of your party members (I.E. the players at the table) may not be what they appear to be.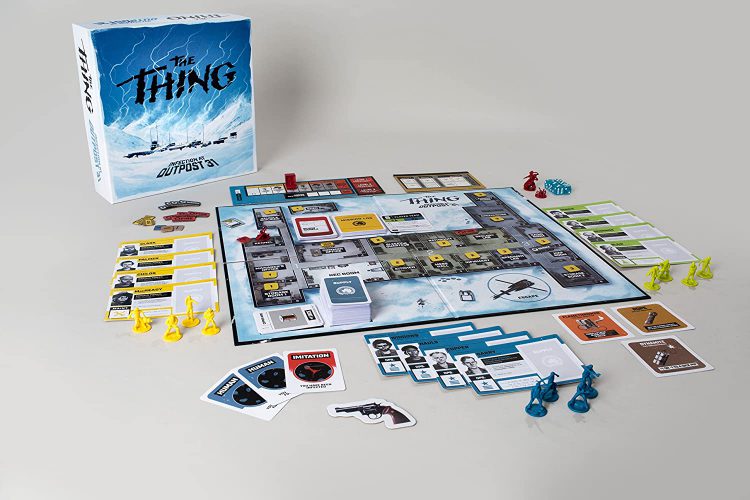 At the very beginning of the game players draw from a deck that determines who is human and who is an Imitation; they are not allowed to reveal their card to any other players except in very specific moments of the game. From there the human players are trying to escape the Outpost—while preventing any of the imitations from joining them—while the Imitations are looking to destroy or escacpe the base with the humans. This is done through a mission-based system where the mission leader rotates through all the players. The current leader will draw a card from a mission deck which will list the requirements for completion, in the form of cards that each player draws to form their hand and will ask the other players if they have any of the needed cards. Based on who they trust the leader will choose who to "bring" on that particular mission, meaning players then hand their cards to the leader, facedown, who then shuffles and reveals them to everyone present (including their own).
If the requirements for the mission are met the team will either be granted a special item required to proceed to different areas of the outpost or must battle an alien organism. Battles are conducted much in the same way where players offer up cards to the mission leader, but who exactly gave what remains a secret.
In this way the imitations are provided opportunities to sabotage both missions and battles, and if enough of these are failed the outpost is destroyed and the human players are considered to have lost.
Assuming the human players beat enough monsters and missions to proceed to the end they face one final obstacle. They must choose a FINAL leader who will then choose who take on the helicopter, and who to leave behind. If the human players have done exceptionally well, they may even be provided with a few blood testing kits that allow them to determine if a player is human or imitation in order to narrow down the final party. The number of starting players determines how many selections the final leader must make, so no choosing no one. This can make for a hilariously tense ending to the game as all the players first make the case as to why THEY should be selected as the final leader, and why they think the person next to them is a liar, and then plead with the person chosen as leader to be taken as well. After the final party is selected everyone reveals their blood test card, and if all of them are human they win, but if even a single imitation manages to sneak their way in, its game over for the humans and assumedly the entire world.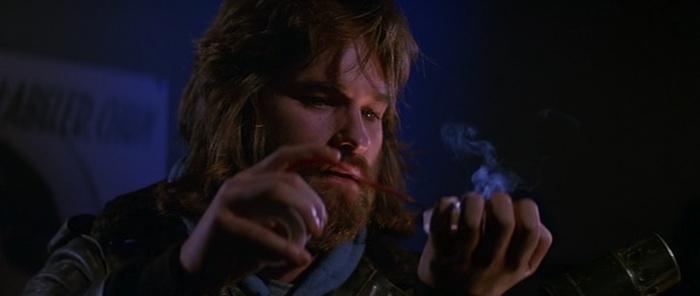 I do have some hang-ups, however. Unfortunately, this game is pretty dense, and anyone looking to play it should take the time to thoroughly read the rules so that it doesn't become bogged down by constantly having to refer back to them. Its not something you should spring on people unless you as the host are intimately familiar with it and can easily shepherd people along at the start until they get the hang of it.
Another issue is that there are a couple balance issues to the game that clever players can use to break it, remove a lot of the suspense and fun. There is nothing in the rules that states that leaders can't ask players to provide them with specific cards. This means that if any of the cards you need to complete a mission are missing—and you only asked for that card from a specific person—everyone will immediately know that either they or you are an Imitation. In fact, this can be so game breaking that it will make the game genuinely unfun, as no Imitations will ever do anything suspicious making the final selection a mere guess. A simple yet highly recommended house rule is that during team selection, after a mission is drawn, the current leader is only allowed to ask if players can provide cards to assist in the current mission, but not ask specifically for cards from specific individuals.
Another issue is that even if the human players do everything correctly, they are rewarded with only a few blood testing kits to reveal imitations at the end. For Example, in an 8-player game up to 3 of the players may be Imitations by the end. However, the game only rewards the human players with 2 blood tests IF they basically fail none of their missions or battles with monsters. This means that imitation players can do nothing to sabotage the missions, and there is still something in the realm of a 50/50 chancec they will be chosen as part of the final mission. Raising the number of kits available at the end coupled with the previous house should be enough to ensure the game remains fun and that imitations are encouraged to try and sabotage while keeping their identities secret.
That said, with those tweaks this game is a blast. It can quickly get out of control as the paranoia sets in over who was responsible for the failure of the most recent mission. Additionally, players who started as human at the beginning can become Imitations at certain points, meaning that if you think you narrowed down who was an imitation at the start someone who you didn't suspect might be working against you. Charisma can go a long way and I've had games where the imitation player successfully argues they should be chosen as the final leader.
This game is the perfect way to end a Halloween Party after everyone has had time to get a few drinks in them as table-talk is key to its enjoyment. Throw on the movie soundtrack in the background and lower the lights and you've got a perfectly spooky and fun time ahead of you.
Betrayal at House on the Hill
So lets say you haven't watched The Thing (why are you reading this article? Go watch it!), but still like the idea of one or more of your friends working against you in secret. Betrayal at House on the Hill is possibly the most well known and accessible of the hidden traitor genre. As the name suggests you play a group of paranormal investigators exploring a haunted house…on a hill. At the end of the game one or more players will be revealed to be traitors with ulterior motives who must be stopped.
This game differs greatly from Infection at Outpost 31 in a few key ways. The house is generated from a set of tiles that are added to one another as the players explore through doorways. Upon entering each new area cards are drawn that present a series of challenges to the players, which they try to survive in order to acquire items and power-ups to prepare themselves for the end of the game. The twist here is until the end of the game no one knows who the traitor is. Once a certain amount of the house has been revealed the players consult a book of scenarios (randomly determined) for the final requirements for victory. These can vary wildly with the traitor being randomly determined and known to everyone, the traitor being secretly determined known only to themselves, or there being no actual traitor and the players having to work together against a clock to prevent their impending doom.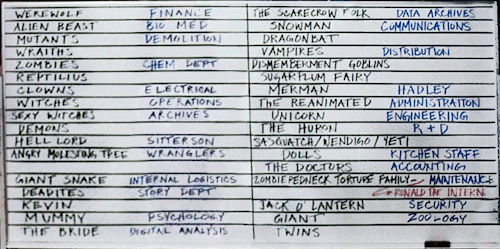 While Infection focuses largely on player interaction and a growing sense of paranoia and tension, Betrayal largely starts off as an easy-going game as you explore more and more of the mansion, which has almost an infinite number of layouts. However, there is still a certain amount of growing dread as the larger the mansion grows the more likely you are to find yourself entering the final scenario. If your character runs into a string of bad luck, or is unable to find weapons/items you grow more desperate to explore and find them before your time runs out, all the while knowing that the more you explore the more likely you are to trigger the game's end.
Betrayal has cemented itself as an all time classic in the industry, however there is one significant issue you should be aware of. The primary portion of the game, exploring the mansion, is very straight forward, and while it's important to read the rules it is a rather easy game to pick up on. This charges rather dramatically depending on the final scenario as they are written by different authors, and thus can introduce wildly different mechanics, which can sometimes be confusing. Also, the balance and quality of these final scenarios also fluctuates greatly, some of them being immensely fun, others seeming almost impossible from their onset for one side or the other.
But is it fun? Let's be real, would I be reviewing it for this article if it wasn't? There is a reason this game can be found at almost any traditional game store. I have played it dozens of times, and always enjoyed it. In addition, there are so many final scenarios that will take an extensive number of playthroughs to get them all. Almost all of them reference a significant horror movie or theme from your typical haunted house to one of the player's being an alien from an alternative dimension who is looking to teleport the house back to his home (which does not have a breathable atmosphere). In fact the movie this game most closely resembled is Cabin in the Woods, another fantastic gem that you might want to put on in the background during a session.
Raf: If the Hidden Traitor genre isn't your jam, I've got a couple of great recommendations for spooky narrative gaming. Both of these games are big on atmosphere; light some candles, put on an atmospheric soundtrack, and settle in for a night of horror.
Arkham Horror: The Card Game
There are quite a few games set in Fantasy Flight Games' Arkham Files setting. It's their own take on a Lovecraft/Cthulhu setting the sheds the insurmountable doom (and racism) in favor of some pulp action. In the Arkham Files setting you can kill some of these unknowable horrors with a tommy gun and a stiff upper lip, but you are going to risk physical and mental anguish to do so. While there are a number of titles you could choose (and most are good!) my absolute favorite is the Arkham Horror: Card Game. I will refer to is as "Arkham Horror" in this article, but please don't confuse if for the board game by the same name.
Arkham Horror is one of FFG's "Living Card Games". You'll start with a Core Set that introduces the game system and provides a pile of cards, and slowly expand your collection as you fall deeper into the horror. This LCG is a cooperative narrative experience; you and up to 3 friends will build a deck of cards that represents one of the many Investigators available. You may choose Ashcan Pete, a local drifter who wrestles his personal demons with the help of his trusty dog Duke. You could also be Daisy—local librarian and knowledge expert—or Agnes, a diner waitress with the ability to channel supernatrual powers into offensive spells. They come at a cost, however.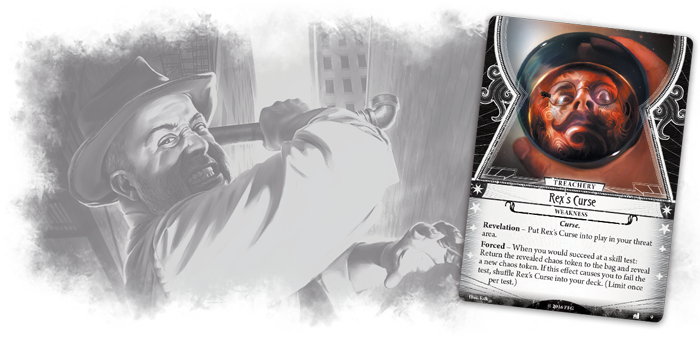 Armed with your deck and your allies you'll then embark on a multi-scenario campaign. The Arkham Horror Core Set includes a 3-scenario campaign that sees you investigate some local disappearances and weirdness that begins in your own house. All scenarios follow a similar broad structure. There are "Act" and "Agenda" cards that provide the narrative backdrop, Location cards that represent the places you can travel to/from, and a deck full of Events and Monsters that you'll have to deal with. It'll take a few rounds to figure out how all the pieces work together, but that isn't important. What matters is how this all comes together to tell an engaging horror story.
Throughout each session you'll have to spend your precious actions moving between locations and investigating for clue tokes. Once you've gained enough, you'll trigger story progress. You may find a hidden trapdoor in an office that leads to the site of a ritual. You could also find yourself in an Asylum trying to break an NPC out. Combats will occur, skill checks will force you to draw tokens from a bag, and all the while your Investigator will be suffering the physical and mental toll of fighting the darkness. On top of that, each Investigator has some personal demons they're battling.
Seeded into your deck are negative cards you'll have to deal with if you draw them. Some could come via choices you make in the story; piss off a crime boss and he'll sick his henchmen on you. Others are personal; one Investigator is obsessed with finding her sister and if you draw the wrong card at the wrong time you'll be forced to decide if you want to help the group or run off on your personal quest. Successes and failures are tracked in a campaign log and its possible to take permanent damage if you fail. The choices are tough, and the atmosphere is amazing.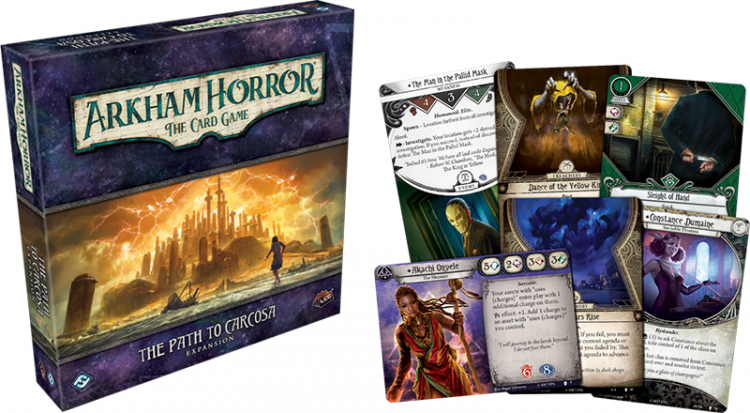 Akrham Horror has a lot of moving pieces to put together but its worth the work. It's a robust system, and the designers manage to tell a variety of stories with a fairly limited ruleset. One scenario involves hopping from train car to train car, and the location adjacency rules force you move accordingly in a race against time. Another scenario is in another dimension, so some locations actually bounce into and out of the event deck simulating in a physical way the unstable reality you're in. My recommendation? Grab a core set and play this season. If you dig it, grab an entire "cycle" at once. You'll find yourself tearing through each scenario, hanging on every story beat.
Psycho Raiders and the Halloween Horrorgame Magazine Series
In a dramatic departure from the glossy production of Fantasy Flight Games, I want to shine some light on Nate Hayden and his Emperors of Eternal Evil outfit. Best known for Cave Evil, a tactical hex-wargame best summed up as Satanic Black Metal the Board Game, Nate's designs exist on the creative fringe of our hobby. Psycho Raiders—and the rest of the Horrorgame Magazine series—are low-fi productions that create an atmosphere from the moment you open the package.
See, Psycho Raiders doesn't come in a box. It's a magazine that comes with some cardstock cards and counters that you'll have to cut out yourself before play. The hand-drawn colored pencil style art pulls you into the game immediately, with graphic descriptions of all the ways your characters might come to a bloody end. At its core, Psycho Raiders is a Texas Chainsaw Massacre simulative wargame; one or more players will play the hapless group of friends traveling through backwoods America and one more players will take on the role of the psychotic murderers.
The friends will be up against it from the beginning; they start with few supplies and no weapons and are attacked in their van by the bloodthirsty savages. They'll have to run, run as fast as they can, into the town and hope that they can scavenge weapons from the various locations on the printed map. There are local NPCs, like the police chief, that can help in a pinch but be careful—they could be part of the murderous gang themselves. The murders have weapons plucked right from the spooky silver screen: flamethrowers, meathooks, and more can be used to brutally murder the hapless heroes. They've also got horror movie appropriate powers, like the one-time ability to simply appear where they need to be to surprise one of the kids.
Psycho Raiders, and the follow up titles FREAKFACE!! and Sea Evil, are atmospheric narrative experiences. The helpless victims in Psycho Raiders begin the game helpless and exposed. They can die quickly and brutally, and it will not feel fair because it isn't fair. Like in a slasher film, you'll start at the mercy of the bad guys and monsters and there will be blood by the bucketful. But if you can persevere (and maybe find a gun) you might survive. All it takes is for 1 teen to run off the far end of the map…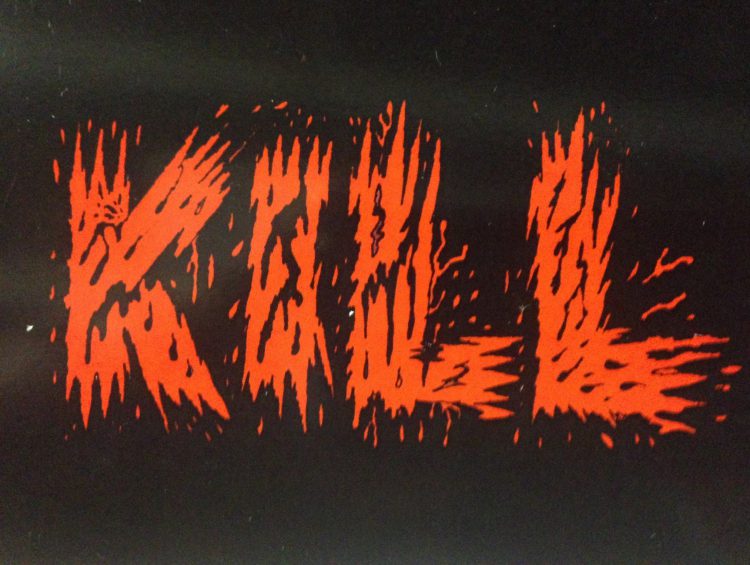 Each of these games is a one of a kind experience. From the way the bulk of the rules are presented in a comic book format, to the way you have to cut out all the playing pieces, it feels like you're part of an underground experience. The designs are raw and brutal, but not less fun for it. Gather a couple of friends, throw some classic slasher movies on a screen in the background, and you've got the making for one hell of a horror game experience. These games are available exclusively through the Emperors of Eternal Evil webstore.
Have any questions or feedback? Drop us a note in the comments below or email us at contact@goonhammer.com.