9th edition is out in the wild, and with it a whole raft of changes to the factions of Warhammer 40,000. Today, we take a glance at the biggest losers of the late stages of 8th Edition. Can they reclaim the galaxy and/or the top tables with the new Edition? Absolutely not, but we're going to talk about them anyway!
It's extraordinarily rare for an entire faction to get brutally and uncompromisingly nerfed into oblivion and for most of the players to shrug and say "fair cop", but that's basically what happened to the Ynnari. For roughly the first two years of 8th they were unholy terrors, abusing the Strength from Death rule to take ridiculous numbers of bonus actions and run rings around even the most dangerous of opponents, all while using the cream of the various Aeldari books. Even an initial round of nerfs (and repeat nerfs to some of the core Craftworld units they made use of) didn't keep them in check, and they were a constant presence on high tables (and a source of a large number of complaints) all the way through to the Spring of 2019 where things, uh, changed.
A completely re-written Index was released via White Dwarf, and to say it was a step down is frankly understating it. While they got a few interesting new tricks, a lot of their dedicated rules were redundant or incredibly hard to use, and they paid for them by losing access to any of the faction specific abilities from the other Eldar books. Since these tend to be really, really good and the Ynnari abilities struggle to even achieve the lofty heights of "OK" that tends to be a bad trade, and use of the Ynnari duly collapsed, especially after Phoenix Rising did nothing to change this other than slightly decreasing the points on the characters. You saw those still,  as the Yncarne and Yvraine are both valuable adds to some Eldar lists and could be added freely, but beyond that you got the occasional Wraithseer and not much more. People occasionally tried some out there lists, but especially once Harlequins got their absurdly powerful Psychic Awakening, none of which was Ynnari compatible, there just weren't any real breakthroughs.
Does that change in 9th? Fundamentally, not really. Ynnari need a complete reboot to be viable as a lone faction, and the core changes to 9th alone haven't changed that, nor have the points thrown up much in the way of new gems. However, there are a couple of things that improve Ynnari's utility enough that I think you'll see them out and about as an Eldar soup element just a little bit more often. Let's look at the damage.
Overview
There are some good things. Honest. Arguably more good than bad, it just doesn't mean that much.
The Good
Characters got very light point increases.
Taking a patrol detachment to unlock the stratagems/bring some relics is much less hateful than it used to be.
Bringing "a melee contingent" is something most lists want to do, and that's the thing they're least horrible at.
Having access to Psykers is useful for Drukhari.
The Yncarne is really, really good in the new edition.
The Bad
Many of the units that were arguably OK in Ynnari got big point increases.
The death of the supreme command detachment stops them bringing pure herohammer detachments.
Smaller armies mean you have less space to be cute by trying to make a weaker faction function.
In pure structural terms, 9th does do a bit for the death elves. One of the real challenges with taking anything beyond a slotted-in named character in 8th was that your detachment slots were actively assets you were aiming to fill, either to earn CP or unlock stratagems. 9th has flipped that on its head – unless you're Drukhari you're likely aiming to take a single detachment where possible. That means that armies tend to have detachments going spare, and also means that if they want one of the Ynnari characters they're less likely to have a slot they can squeeze them into.Taken together, you end up in a situation where taking a Patrol of Ynnari is quite a bit more feasible than it used to be, and there are definitely a few reasons to consider that, which we'll get onto when we look at units (cough the Yncarne cough).
What there absolutely isn't, I'm afraid, is any reason to try and make a pure Ynnari list. It just isn't worth it – especially since Harlequins got their big glow-up, there really isn't any flavour of Eldar or style I could look you in the eye and tell you is better as pure or near-pure Ynnari. Overwhelmingly, expect to see them as either Patrols, the characters slotted into other detachments, or Auxiliary Supports of just the Yncarne.
Units
The Yncarne
Lets start with the very good news – the Yncarne is great in 9th edition, and I expect to see them out and about a lot – mine has certainly jumped a long way up my painting queue.
Just on numbers alone they're pretty obviously fine after Chapter Approved – a 10-point increase on a near-300pts model that was already competitively viable stands them in good stead compared to everything else. However, on top of that 9th actively makes them better in a couple of ways.
The first is that it finally sorts out one of the longest standing rules bugbears of 8th. One of the nasty things you could theoretically do with the Yncarne on inital release was, when your opponent killed a unit in their turn, redeploy the Yncarne to their position and then heroic into them. With its large base, meeting the criteria of "as close as possible" to the destroyed model gives you several inches of wiggle room to play with, letting you catch opponents off guard, butcher their units in their turn, and then move to safety on yours.
Unfortunately, for the last year of 8th edition this didn't work RAW. The big FAQ in Spring 2019 added a rule about what units could do after redeploying, and it whitelisted certain kinds of move, specifically charges, pile-ins and consolidates, as the only ones that could be made, meaning teleport-heroics were off the menu. This spiralled into a complete nightmare because a huge number of TOs decided to rule that it could just…do it anyway, leaving it in a weird meta-space where the power of the unit changed dramatically event to event.
The good news is that this is no longer ambiguous, and Yncarne fans got the answer they wanted. The revised rules for redeploying, rather than whitelisting types of move you can make instead blacklist the ones you can't, namely Normal Moves, Advances, Fall Backs or Remain Stationary.
Looks like heroic interventions are back on the menu kids!
That's great news because here's the part 2 of this – the nature of the 9th Edition missions and start-of-turn scoring means that anything that lets you pull off movement shenanigans in your opponent's turn is extremely high value, and all the better if those shenanigans can be extended to include ripping a tank apart. The Yncarne is pretty near the top tiers of this kind of effect, with really only Custodes Bikers having something definitively better, and that's a great place to be in 9th. The low end of what it can do is teleport in to take another of your unit's places if your opponent manages to blast them off an objective with their last bits of shooting, and there's really only upside from there. 9th games often descend into close-range slug fests mid board, and the Yncarne is a complete headache to plan around in those situations. Even if your opponent does play savvy, having a powerful combat threat you can bring to the board centre and threaten the space is good by itself as well, and with the early indications being a move towards elite units rather than hordes, you should often find good targets for them. Just to add insult to injury on top of everything else, if you do heroic into something that didn't charge, you even get to swing before them now!
Among a weak faction, it's nice to have at least one point of light and the Yncarne is definitely that. I expect to see a lot of people trying the unit. Make sure to keep them buffed up with Ancestor's Grace as much of the time as possible – there's nothing worse than teleporting them and rolling a bunch of 1s to hit as your opponent points and laughs.
The Yncarne is also good enough that you can look at taking them in an Auxiliary Support – they don't really benefit from most Ynnari stratagems, with the loss of Deadly Misdirection (letting them fall back and charge) being the only one that really matters.
Yvraine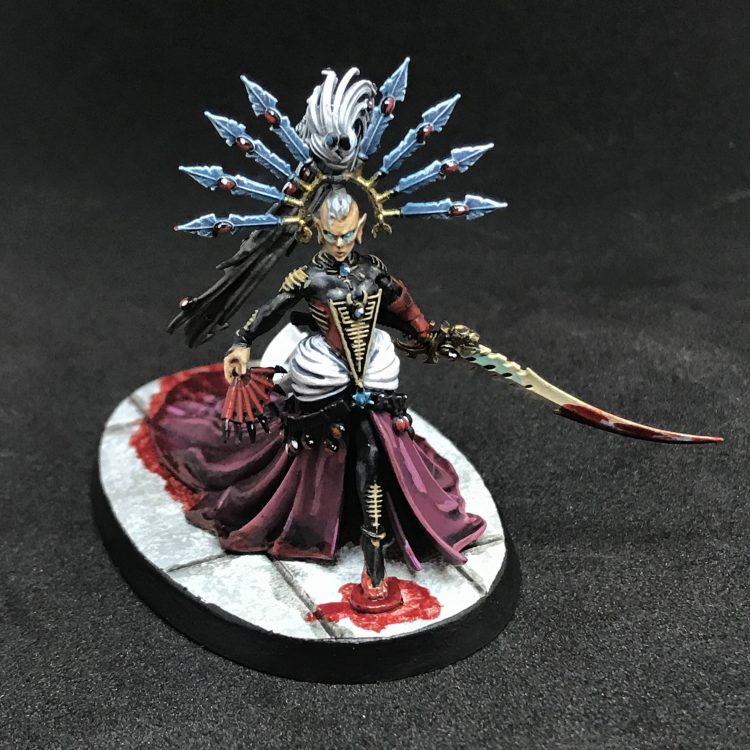 Yvraine saw a modest amount of use in 8th edition (including by me) as a pure value piece – her ability to throw out both a +cast smite and a Gaze of Ynnead every turn was basically always fine at her cost, and especially in Craftworlds helped you reach a critical mass of mortal wounds to really threaten anything that came to tangle in your lines.
She's still reasonably costed (only going up five) but does suffer from being a little harder to slot into detachments. For her, the fact that people wanted to fill out three detachments was a boon, because it often left you with spare HQ slots you needed to fill up with something that may as well be her. That's not so true any more, and you need to make a bit more of a conscious choice to take her. If you want some psychic firepower (or an option on psychic actions) to staple onto a Drukhari force, or want a cost efficient way to bring the Wraithseer of Doom along she can still be reasonable, but I'm calling her stock as down a little. It is worth saying that that probably changes if GW don't take away the ability for casters to cast Smite more than once in the FAQ, just because then stacking her and a Farseer in an Ynnari detachment looks more reasonable.
The Visarch
Poor Visarch. He's a force multiplier for Ynnari units, and basically wants you to be taking a lot of them to be worth it. Like Yvraine he had some value in 8th just as a cost effective thing to drop into a mandatory HQ slot you had nothing better to do with, but was less good in that role than Yvraine and is basically garbage now. He's fine as a random melee dork, but nowhere near the numbers you'd need to slot him in to your now precious HQ slots. Sorry buddy. Maybe next time they revise your rules.
Other Units
The theoretical strength of the Ynnari is that they can draw together elements from across the Eldar roster into a single list, finding the units that can best make use of their unique tools (so melee ones) and exploiting them. This, sadly, runs face first into the fact that a lot of Eldar stuff is highly synergy driven, and Ynnari lose a lot of that. Still, their ability to give charging units +1 to hit, frequently fight first and have melee wound re-rolls on demand via a stratagem is certainly not nothing, and Ynnari players have often had good cause to look at some of the more fringe Aeldari melee units like Aspect Warriors, Reavers and Hellions.
Let's see how they did in the point changes!
---
flip flip
"Hmm, no."
more flipping
"Nope"
more flipping
"Even Striking Scorpions?"
more flipping with increased urgency
"Especially Striking Scorpions?!?!"
---
So yeah "random non-viable Eldar melee units" was apparently a category that needed some heavy nerfs to stop them from dominating early 9th. It isn't totally ridiculous that they ended up on the danger list, because they tended to combine mobility tricks with theoretical melee competency, which is generally powerful in 9th, but unfortunately those capabilities are stapled to units so dramatically below where they need to be stat-wise that stacking above rate point changes on them is just tragic. Of the various fringe-ish melee options, Reavers are the solitary one that might just still be OK despite the big hike thanks to being able to use Ynnead's Net to Advance and charge, but I wouldn't bank on it.
That leaves us with a pretty short list of stuff you actually might want to take, roughly as follows.
Wraithseer
The unstoppable hell-Wraithseer of Doom, being a Wraithseer who has purchased the Lost Shroud and thus halves incoming damage and gets a 5+++, continues to be strong, real and very much not your opponent's friend. If anything they're even better in 9th. First up, they're point winners – they went up by 15 stock, but their Wraithcannon became free, so if you stick that on (a fine random add) the aggregate increase is only 5.
More importantly though, they can actually do something with their Psychic Phase now! The Wraithseer's interaction with the psychic phase is bizarre, one of the many rules in the Forge World Indexes that was a complete hot mess, and was restricted to powers so useless that unless you had Wraithblades it was often better to pass on casting them than to risk a perils.
In 9th you don't need to cast powers to generate value in the psychic phase – you can perform Paranormal Activities Psychic Actions instead! Even better, a near-indestructible hell construct is an extremely good characteristic for an Action-caster to have, as it means you can try for riskier ones like Psychic Ritual without worrying about getting blown off the board. Couple that with the fact that you can still otherwise act normally while using your psychic phase for this, and you have a very, very valuable model indeed – so good in fact that he's an active draw to taking a patrol rather than just slotting in the Yncarne in an Auxiliary. His existence also means you'll likely see the odd unit of Ynnari Rangers out and about, solely as the least objectionable troop choice you can slap into a detachment with him and the Yncarne.
Craftworld Bike Characters
They're fine. They all stayed reasonably priced, Ynnari have some nice relics and warlord traits to slap on them with stratagems, and they're basically just good models. Without a real plan for them, you probably don't take them, but they're not horrible.
Wyches
On the assumption that you want to use the Yncarne in lists. and thus have an option on filling out to a patrol, I'd say Wyches are the most likely Aeldari troop choice for you to decide that you actively want to take. Largely this is down to them filling a role Craftworlds are bad at doing internally, and thus being attractive in soup. With the ability to pop full wound re-rolls on demand via Inveitable Fate, Wyches are OK general purpose melee killers, especially your first unit who can take the +1S combat drug. Once you sprinkle in as many shardnets and impalers as you can, they have both the volume of attacks to hurt a horde and enough high-quality attacks to clear out some Primaris. The shardnet/impaler boost to No Escape is also extremely useful when attached to a volume of ObSec bodies in 9th, letting you trap opponents in a fight they really don't want to be in. Couple that with built-in re-rolls out of Deep Strike from turn 2, and you've got a unit that's kind of fine, and maybe even a bit good?
It isn't all smooth sailing. You really want the three shardnet/impaler models, as they add high quality attacks as well as the anti-fall back effect, but to do so you have to go above 10 models, which opens you wide up to Blast weapons. My inclination on that front is just to say screw it and go all in – bring a big squad, deep strike them, and accept that it's a coinfilp how they'll perform (or alternatively, foot slog them up the board if there's good terrain). You could go for 2×10 with one Shardnet in each squad as an alternative, but here because part of the value comes from stratagem force multiplication, and once you're in combat there's a good chance the opponent is trapped, I'd say it's one of the few potential use cases for going big.
Yncarne and a large squad of Wyches in a patrol does sort of feel like it has potential, especially as the Wyches can potentially provide the Yncarne with a way to zip round the board by picking off stragglers. I think I'm currently marginally higher on Yncarne + Wraithseer + Rangers as a loadout, but they're a close second!
Wraithblades
The remaining "bigger" melee unit that's has some appeal is Wraithblades, These went up a bit in cost, but their schtick of "hard to shift melee killer" is a good one in 9th, and they're also big fans of the Ynnari buffs – +1 to hit is a big deal for the Axe ones, and both flavours like to be able to re-roll wounds. They're also unique among Ynnari options in that you do have a way to boost their charge out of deep strike, beyond just a re-roll – Wraithseers can use their one valuable power to grant 3d6-drop lowest charges to Wraithblades, which combines with the command point re-roll now being a full re-roll to give them a pretty good shot of making a charge out of deep strike (around 77%). Wound re-rolls then let them kick the stuffing out of a lot of things, and while it's certainly not cheap CP wise it's a heck of a threat. It's not cost-free, as you are locking yourself in to deep striking rather than trying to foot slog with Quicken, and you can't Protect yourself up to a 3++, but the spikier damage profile and picking up buffs from a caster you were going to bring anyway are definitely nice. Wraithblades aren't cheap, and if I was trying to get other stuff into my list I might look at taking them with a Wraithseer and Yvraine rather than packing in the Yncarne as well, but I can believe trying an all-in configuration is worth it too.
Army Lists
As we covered at the start, you basically shouldn't try and build a pure Ynnari army in 9th as it stands – you are always losing more than you stand to gain. However, if you've followed along you've probably picked up that there are a few possible detachments that are plausibly of interest, so that's what we'll look at. Obviously just slotting the characters in to other lists is an option too, but in this Ynnari faction focus it would feel remiss if we didn't at least have full detachments in here.
Conveniently, I have broadly three detachments I'd want to try out, and there are three other flavours of elf, so lets see what we've got to work with and work out where they fit best.
Craftworlds and Wyches
First up, we've got the very simple detachment of the Yncarne and some Wyches. This slots pretty easily into the skeleton of the basic Craftworlds list I've been trying out in 9th.
Craftworlds Battalion – Expert Crafters/Masters of Concealment
HQ
Farseer Skyrunner Doom/Executioner/Smite -135
Warlock Skyrunner Protect/Jinx/Focus, Warlord – Fate's Messenger, Relic – the Phoenix Gem – 65
Troops
5 Dire Avengers, Two guns + Bladestorm Exarch – 70
5 Dire Avengers, Two guns + Bladestorm Exarch – 70
5 Dire Avengers, Two guns + Bladestorm Exarch – 70
Dedicated Transport
Wave Serpent w/missiles, spirit stones – 180
Wave Serpent w/missiles, spirit stones -180
Heavy Support
Night Spinner – 145
Night Spinner – 145
Flier
Crimson Hunter Exarch w/ Starcannons, Eyes of Khaine – 200
Crimson Hunter Exarch w/ Starcannons, Eyes of Khaine – 200
Reborn Drukhari Patrol
HQ
The Yncarne, Ancestor's Grace, Gaze of Ynnead – 290
Troops
Wyches x20, 3 shardnets/impalers, +1S drug – 250
Total – 2000pts, 10CP
Finding a source of melee threat has been one of the things this list skeleton has been struggling with, and cool though Shining Spears are this feels like a decent alternative. The rest of this army can handle zipping around the board shooting stuff, but the Wyches will outperform most Craftworld options in terms of throwing down in the mid-board, and with a large unit have the potential to sprawl across a couple of objectives (even with coherency changes) while locking something in melee. The Yncarne also works pretty well in concert with planes, as they sometimes let you pick up kills (or get themselves killed) in unusual places, letting you inflict a nasty surprise on them. All in all, the huge additional headaches that the Ynnari element stacks up on your opponents makes this quite appealing.
Talos and a Wraithseer
Next up, the other Yncarne configuration. It's worth saying that this could easily slot into a list like the above as well, but feels slightly more at home here.
Prophets of Flesh Battalion
HQ
Urien Rakarth, Warlord – 95
Drahzar – 105
Troops
Wracks x5 – 60
Wracks x5 – 60
Wracks x5 – 60
Heavy Support
Talos x2, macro scalpel, chain flails, haywire – 230
Talos x2, macro scalpel, chain flails, haywire – 230
Talos x2, macro scalpel, chain flails, haywire – 230
Dark Technomancers/Dark Harvest Patrol
HQ
Haemoculus, electrocorrosive whip, hexrifle – 85
Troops
Wracks x5, 1 hexrifle – 65
Heavy Support
Reaper – 150
Reaper – 150
Reborn Asuryani Patrol
HQ
The Yncarne, Ancestor's Grace, Gaze of Ynnead – 290
Wraithseer, wraithcannon, buys The Lost Shroud -115, 1CP
Troops
Rangers x5 – 75
2000pts, 7+d3 CP
Ironically given that narrative-wise the covens and Ynnari hate each other, Talos-based covens lists make a great compliment to the Yncarne. Talos also get quite a lot better in the new edition, as one of the best ways to deal with them was just to run away kiting them – much, much harder on smaller boards where holding the centre is key. The plan of floating ominously up the table while daring the opponent to have a go should work out pretty well now. The Wraithseer of Doom slots into this extremely well – he's another resilient, deadly model that can help lock in dominance of the mid-board, and can also be throwing Psychic Actions around while doing so.
Finally, because one of the upsides of Talos lists is that they're very much not reliant on large stocks of CP, we squeeze in an additional detachment to run a couple of Dark Technomancer Reapers, because honestly if you're running Drukhari that starts to feel like a "why not" question rather than a why.
Harlequins and Wraithblades
The final thing I wanted to try out was Wraithblades, and these feel like an interesting combination with Harlequins, as they provide something that can actual take a punch mid-table, something that's otherwise lacking within the faction.
Frozen Stars Battalion
HQ
Troupe Master, Pivotal Role, Prince of Light, Choreographer of War, The Twilight Fang –  65, 1CP
Shadowseer, Pivotal Role, Shield From Harm, Veil of Illusion, Warlord – Player of Twilight, Shards of Light, Twilight Pathways – 115, 1CP
Troops
Troupe x10, harlequin's kiss – 200
Troupe x10, harlequin's kiss – 200
Troupe x5, fusion – 95
Troupe x5, fusion – 95
Elites
Death Jester, Humbling Cruelty – 50
Death Jester, Harvester of Torment – 50
Solitaire, Blitz, buys Cegorach's Rose – 102, 1CP
Fast Attack
5 Skyweavers, zephyrglaives, haywire – 275
Dedicated Transport
Starweaver – 80
Starweaver – 80
Reborn Asuryani Patrol
HQ
Yvraine, Ancestor's Grace, Gaze of Ynnead – 120
Wraithseer, wraithcannon, buys The Lost Shroud -115, 1CP
Troops
Rangers x5 – 75
Elites
Wraithblades x7, axe and shield – 280
Total 1997pts, 6CP
Goodness me building Harlequin lists is a headache. Anyway.
This isn't, ultimately, too complicated in what it wants to do – it has the mobile early threats of the standard Harlequin builds, and wants to combine that with the Wraithblades to deal a knockout blow to your opponent's attempts to seize the mid board on turn 2. With the rest of the army presenting a variety of nasty threats that can strike pretty much anywhere, it'll then be very difficult for your opponent to safely bring stuff to bear to prise them out of that position, allowing you to ride that early advantage to victory.
Wrap Up
Hopefully, if you're a big fan of Ynnari, that's at least given you some ideas to play with until they get the rules revision they desperately need – and the nice upside is that most Eldar players will already have the models to try some options out, even if they don't end up coming together.
If you have any comments, questions or suggestions give us a shout at contact@goonhammer.com, otherwise we'll see you on Monday for more Faction Focus action.