Following the release of the Battle of Osgiliath starter set, GW has followed up with some more Gondor-flavored terrain: a tower, a mansion, and a stand alone package of ruins. Many thanks to Games Workshop for sending along advanced review copies of the kits for us to check out.
As I recently committed to building a Mordor force for "New Year New Army" at my local club, the idea of an Osgiliath table piqued my interest. These sets come in two flavors: the Tower, which comes in a few larger pieces, and the modular sets; Ruins and Mansion. This article will focus largely on the tower.
The Build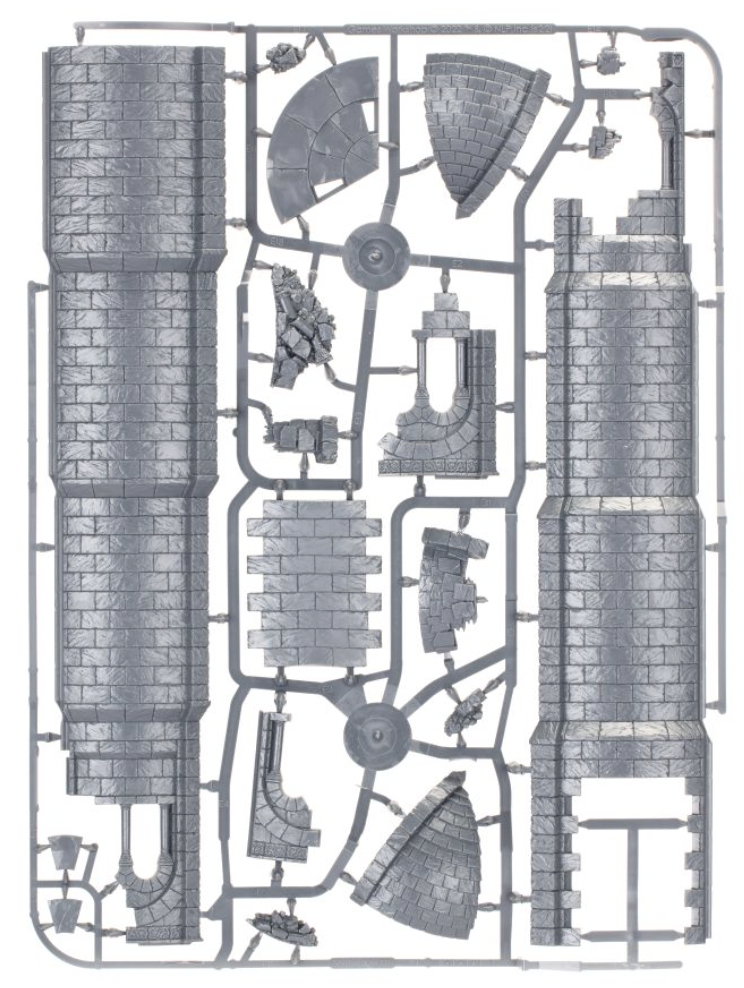 Having spent some recent hours hacking through Sector Mechanicus, Zone Mortalis, Gallowdark, and Gnarlwood terrain, this is a pleasantly straightforward build. Mouldlines are largely hidden away, or in spots that can easily be filed down. There are build options for a broken or complete tower – I chose the intact option as I wanted some iconic blue rooftoops for my table. Each third of the tower goes together pretty easily, and I had the entire tower together surprisingly quickly. The roof doesn't need to be glued on, which allows you to place a mini inside (and easily paint the interior) as well.
Oh yeah, this tower is BIG.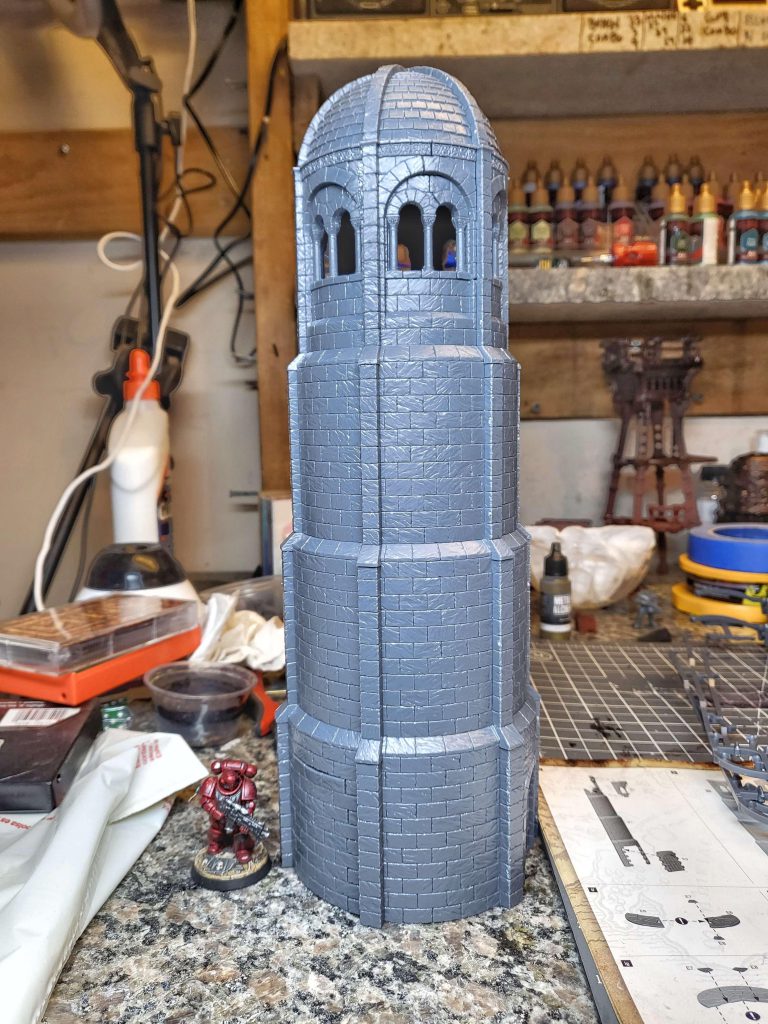 Painting
The aim here is to stay simple. White stone with a bit of grunge, wooden door with a metal frame, and blue roof shingles. This started out with a zenithal prime. Beginning with priming black did mean that there was a whole lot more work to get to that nice white stone color, but there was some method to this madness! When I was working in thin layers of white to bring the brightness up, I left some mottled and slightly darker bits. This variation adds some interest to what would otherwise be big areas of a single color. Then I drybrushed all over with Two Thin Coats Trooper White to bring the edges out just a bit. The roof shingles were painted with Stormfiend Contrast –  varying the intensity here and there to represent some wear and tear – and drybrushed with Lothern Blue. The door was painted with Wyldwood Contrast and drybrushed with Two Thin Coats Wasteland Brown (or Citadel Baneblade Brown). The metal frame was painted with Army Painter Plate Mail Metal and washed with Nuln oil. Some Athonian camoshade was run in some recesses to add mossy details.
You could totally leave it here, but we are going to add a bit of definition!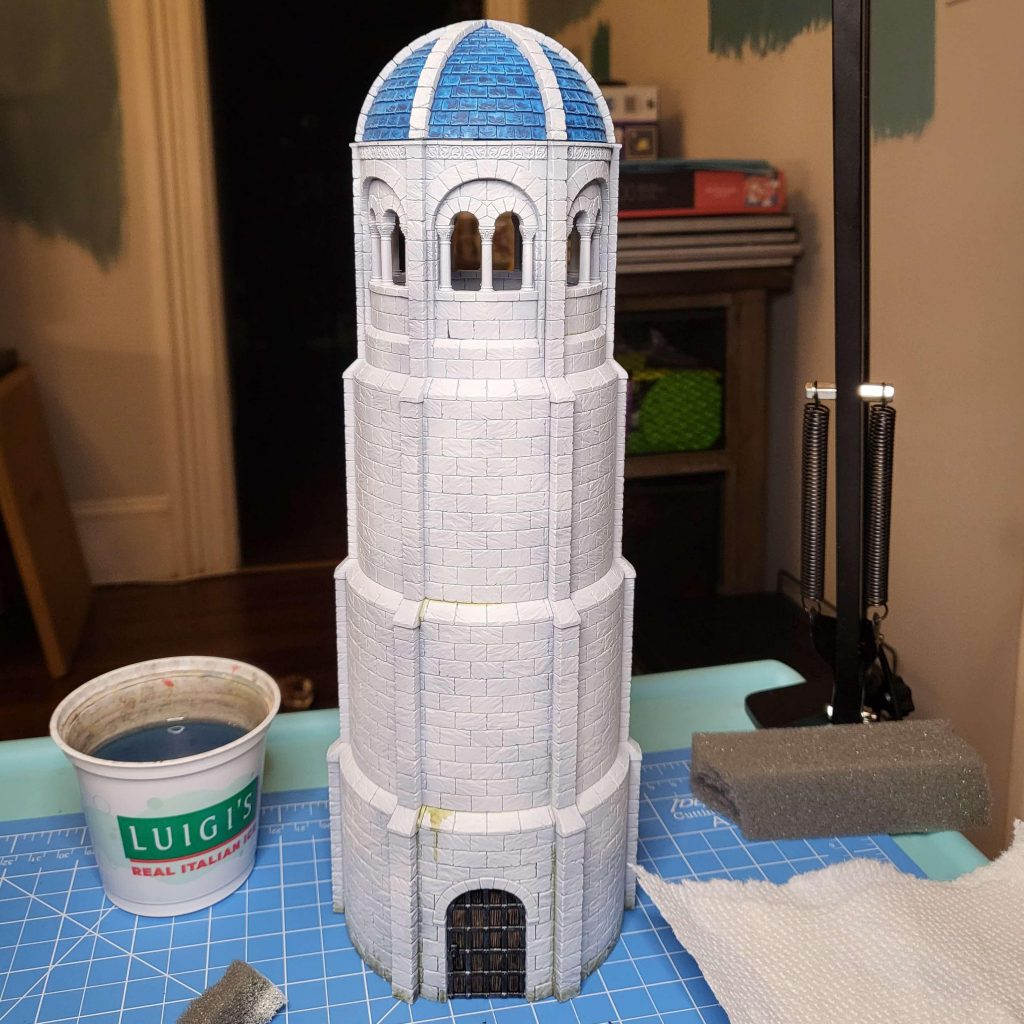 Adding some shade to the recesses of the tower with not only make the sculpted details pop, but it will also make the mottled stone effects stand if (if you have chosen to go that route. You could achieve this a few ways – by creating a dark brown oil wash, using an enamel panel liner, or with our good pal streaking grime. I went for the last option, liberally brushing on grime and letting it dry. Cleanup was done in three passes with thinner – a first run with paper towels and then two sweeps with makeup sponges.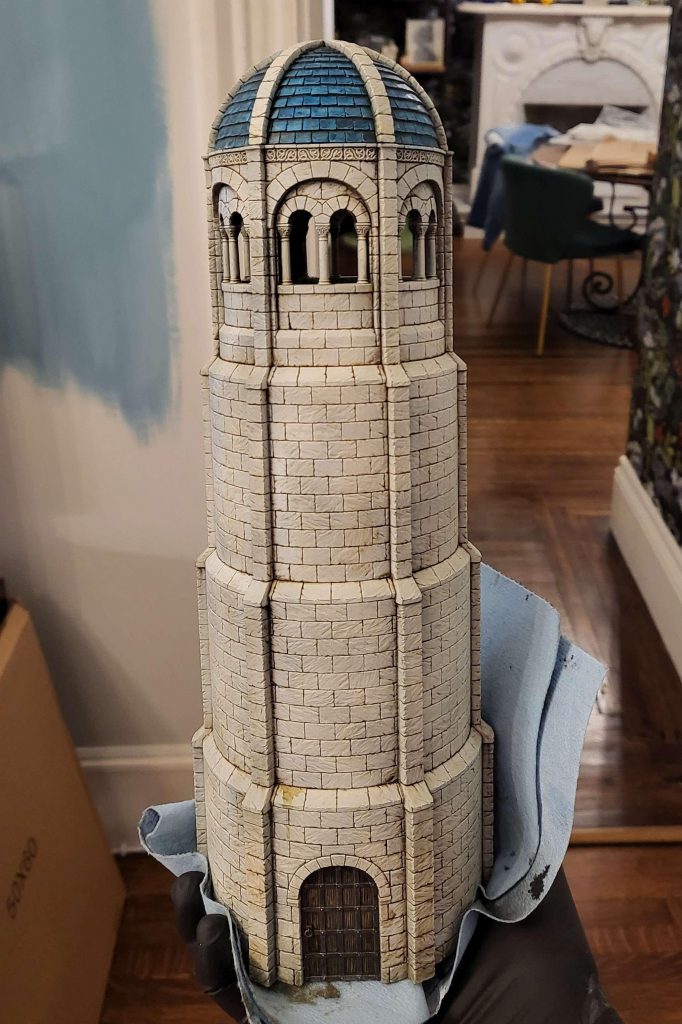 You could simplify the above scheme in a number of ways – just priming white and pinwashing, heavily drybrushing instead of zenithal priming, or leaving out the wash step completely.
The Other Kits
Terrain designer Ray Dranfield just published a phenomenal piece about working with these sets – we highly recommend checking that article out. The modularity is great, but it does make working with these kits a bit more time-consuming. On the plus side, the majority of tough mould lines end up inside of the clips that hold the wall pieces together, making the cleanup process much simpler. Quick note: The Gondor ruins kit contains two ruins – which is half of the ruins that came in the recent Battle of Osgiliath starter. When I have some between-events time later on this year I will revisit this project and knock out the rest of the terrain.
Overall Impressions
The tower was fun to build and a delight to paint. I definitely had a bit of a nostalgia rush getting this one together. It looks pretty imposing on the table and really feels LOTR. The downside to this release wave is also one of its strengths – the modularity of the Ruins and Mansion kits means that getting those together is a somewhat imposing task. I cannot deny the potential of those sets – they are similar in spirit to the Cities of Death terrain, and we have already seen what one absolute madlad can do with 100 sprues of it. If you just want to get one of these kits, I cannot recommend the tower enough.
Showcase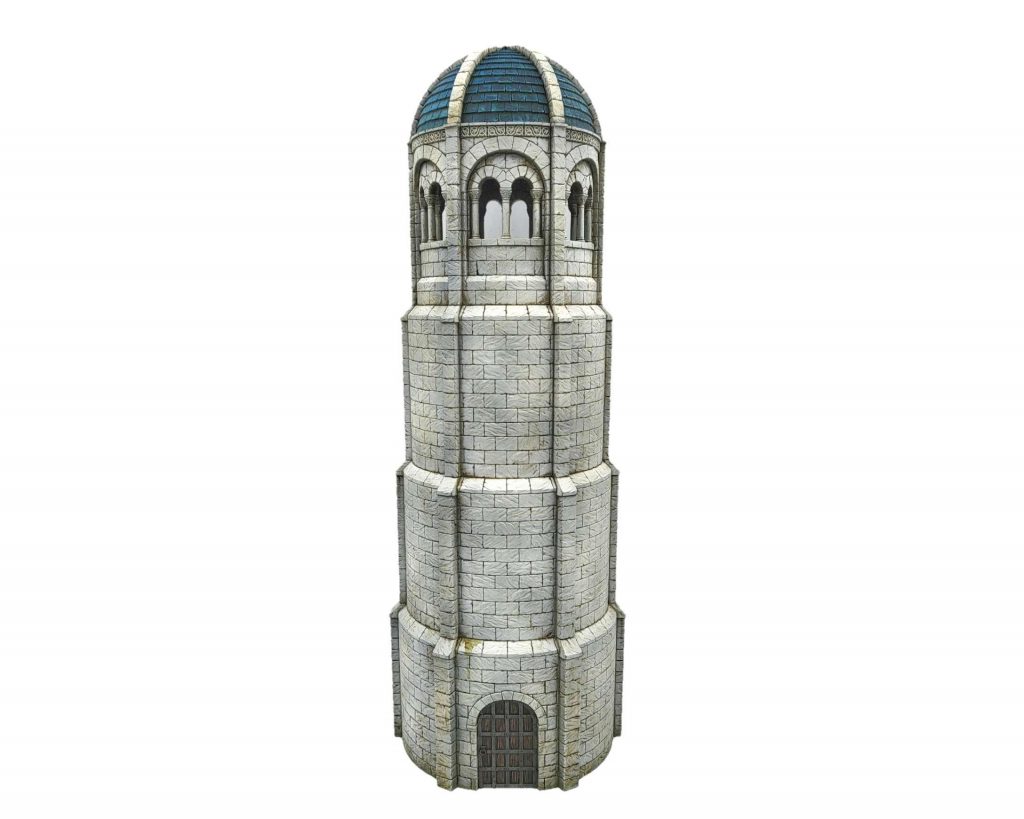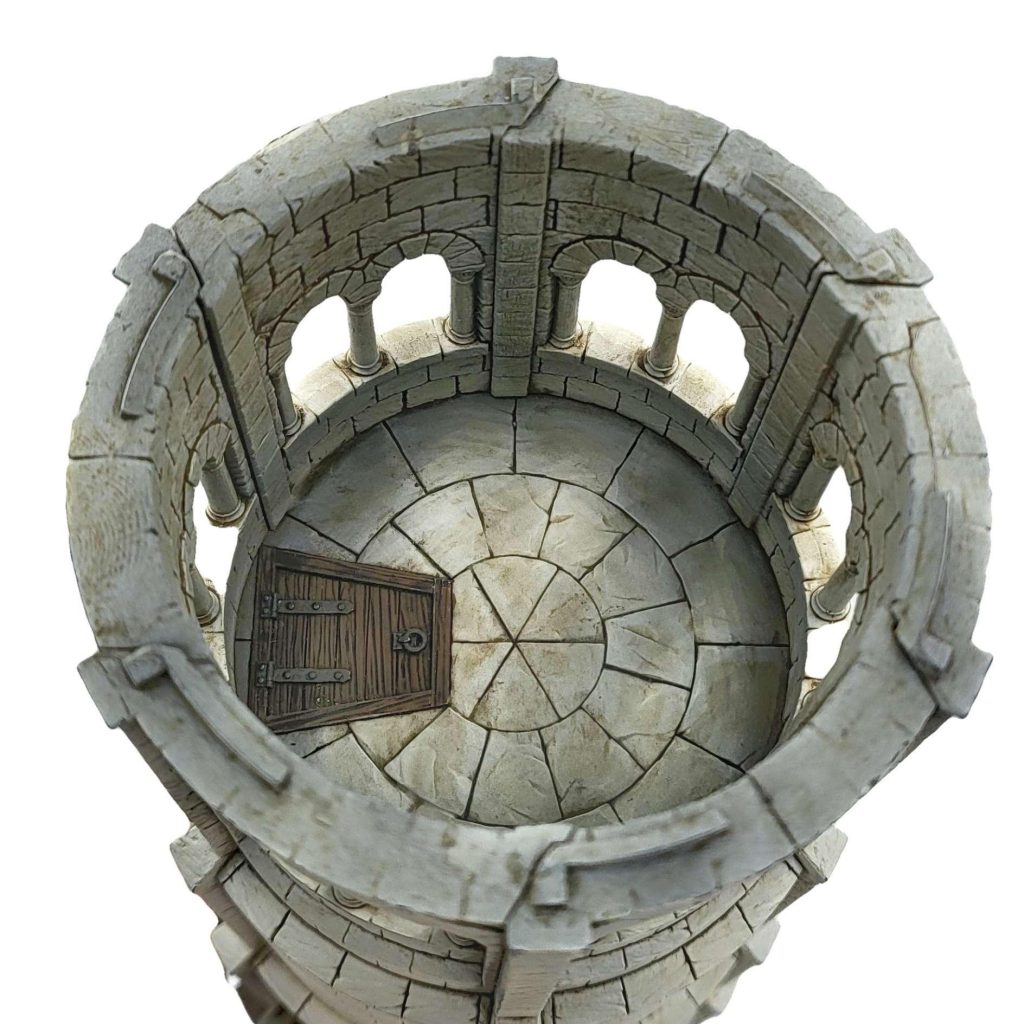 While this is identifiably Gondor terrain, it is nice to see GW make some scenery that could find its way onto a variety of fantasy tables. After slogging through meat trees, and hatchways, and oversized gunk tanks, it is nice to Just Build A Building. As always, if you have any feedback or questions, drop us a line at Contact@Goonhammer.com.