It's been about a month since we wrapped up the 2023 US Goonhammer Open and with the benefit of hindsight it's time to look back at the Narrative event, discuss what worked, what didn't, and what the plan is likely to be for next time.
Narrative events are my favorite way to play and engage with Warhammer. I firmly believe that when done well, they combine the best aspects of the game and hobby – great terrain, interesting missions, fun play, and great players. A well-executed narrative event has players feeling like they were part of something larger, that their games mattered, and that they got an experience they couldn't get anywhere else.
As I've run these events I've come to understand that there are generally a few specific types of player who engage with Narrative Events, the understanding of whom can help streamline the process of designing future events.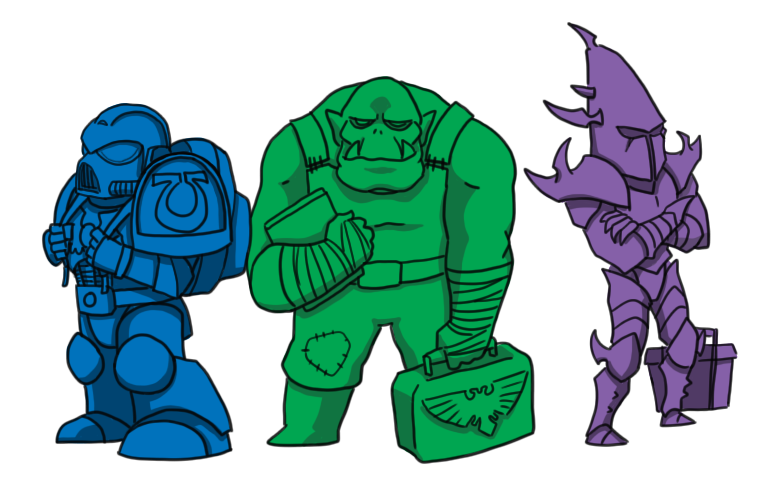 The Four Types of Narrative Player
Generally speaking, there are four types of Narrative player you have to think about and deal with when you're designing an event. Well, really it's only three, but we'll get to that in a moment.
The Newbies – There are always players who are new to the game. Warhammer is very cool, but also very complicated and it can be daunting to make your first event a competitive one. These are players who have at most only played a couple of games and are still learning the ropes. These players are often going to be slightly overwhelmed by any narrative mechanics you add to the event, but will be enthusiastic and generally want to have a good time learning from more experienced players. You're going to have a few of these in every narrative event, though you can help weed them out – we did that this year by having a "Casual RTT" on the first day, which pulled in players who just wanted a more chill experience.
The Aggressively Casual – These players are probably the hardest to pin down. They're more like competitive players, but generally only engage in more casual settings. They dislike losing and are frustrated by it, but lack the skill (and time investment) required to compete (and win) in competitive events. They tend to see narrative events as a kind of "GT for bad players," where they can take decent (but suboptimal) lists and still win the majority of their games, or even take good lists and blow out unprepared players. These players may be more casual, but they also generally don't care about the narrative or the systems you've built. They're just not here to engage with anything but the games, and they're the most likely to get salty about losing a game in the narrative – especially if they think an opponent had a list that was "too good" for Narrative play.
The Narrative Junkies – These are players of varying skill levels who are unified by the fact that they love this shit. These are the players who will engage with all of your narrative systems – they're the ones looking for ways to max out their guys in Crusade, who want to gain the most fame and infamy points, and who will absolutely break your system wide open – but that's a good thing. In an ideal world, all of your players would fall into this group.
Competitive Players – Occasionally you'll have a competitive player cross over. Most of the time they tone it down, sometimes they don't. Whether they enjoy the experience depends a lot on the quality of other players and the missions themselves. These players get the most out of interesting scenarios that allow for tactical decisions, but they'll often ignore the narrative mechanics – especially if it would give them too large an advantage against weaker players. Most of the time competitive players just play in the GT, though.
In any given event I usually find about one half to one third of the players are Narrative Junkies, another third are Aggressively Casuals, and the rest are Newbies, with a couple of competitive players mixed in. Because of that, I'm finding more and more that I need to design events that offer some cruft to the Narrative folks while still staying accessible to the Newbies and being just easy enough that the Aggressively Casual will engage with them. I have some ideas for next time around on how to accomplish this.
The 2023 Narrative
Before we dive into an examination of the event's success and failures, let's recap the event itself. Run over two days, the 2023 GHO Narrative event had two sides, each split into two teams – The Attackers side featured Chaos and "renegade" factions, while the Defenders side had teams of Imperials and "Allies of Convenience," i.e. factions who were unlikely to ally with Chaos. This created a fine narrative edge for how to handle xenos factions who otherwise wouldn't' be involved.
The main story of the narrative revolved around Attos, an agri-world in the Vadinax Sector. Following the end of the Vadinax campaign, a massive piece of Shanker Gord's Ark of Omen, Ten Thousand Lies, crashed on the planet's surface, leading a large number of Chaos and Xenos forces to descend on the planet, both looking for Gord and anything valuable his hulk held. Meanwhile Imperial defenders rushed to protect the planet and destroy the chaos forces.
Over the course of the narrative we set up 8 different battlefields players could battle on, and for the most part those battles were 2v2 games. This let us accommodate up to 32 players, but since we had only 28ish attend, we'd end up closing off one of the battlefields every round. Let's start by running through the campaign design and I'll talk about those elements as we run through them.
The Attos Design Doc
If you're a Goonhammer Patron at the $5 tier and higher – check out our Patreon here – you can access a ton of extra resources from the Goonhammer Open, including the Design Doc we used, image templates for the Agenda cards, and downloadable PDFs and image cards for the campaign's missions and battlefronts. Additional credit and props for developing these resources goes to Norman Greenberg, the other designer on the project, and Andrew Nguyen and Quinn Radich, who have helped on prior narrative events and fall into that #3 player group, and helped refine and finalize some of the content.
The Mechanics and Themes of Attos
We decided that for the 2023 narrative event we were going to jettison the Crusade rules; they're complicated and pretty poorly suited to shorter events. They're also not really set up for most factions right now, with the Leviathan campaign book feeling very focused on a Tyranids-vs-Space Marines conflict. So we created a set of hard and soft mechanics to work with instead. We generally wanted things that would work at both the individual and a team level, and be things that players could choose to ignore (but would ideally want to use). Here's what we were largely working with:
Mechanic: Battlefield Effects
We wanted the tables players played on to feel like real locations they were fighting over, with players able to play multiple games on the same table as they attempted to maintain control of the battlefield. To make this work we needed each table to have a specific visual look and elements, some kind of dynamic element to make it interest for players who decided to play multiple games there, and a custom rule to define the battlefield and make it feel mechanically special. So there are two mechanics per table: the rule change associated with the battlefield, and the way the table changes between rounds to keep it interesting.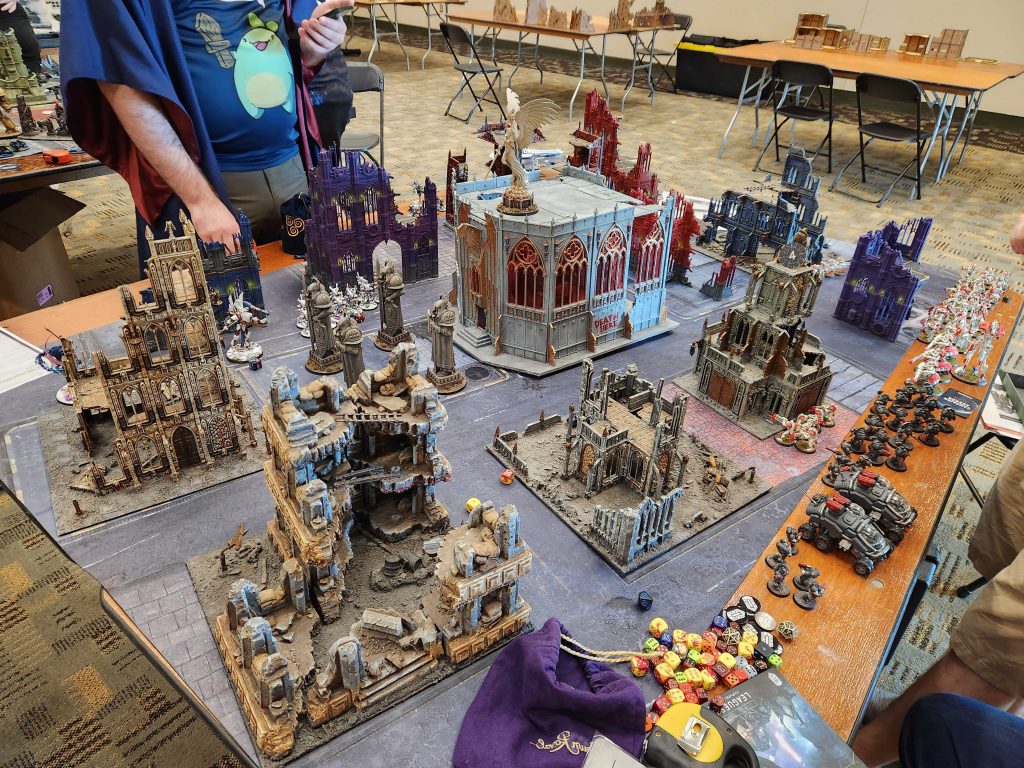 Attos Hive Primus
Attos Hive Primus is a cityfight table. The one rule on this table is a custom Stratagem – Sewer Access, which for 1 RP (more on that later), lets a player deep strike units onto the table. There's a secondary piece as well, which is that the table itself offers a lot of Plunging Fire opportunities. The Dynamic element on this table is that it changes locations every round, going from the cathedrum to the residential block to the palace of the planetary governor in the final round.
What Worked: The terrain was great, this was an easy mission to get, and the sewer mechanic was fine. People generally had a blast playing on this table, and we were able to vary up the terrain on it between rounds to make it feel fresh. The final mission in particular saw players fighting over the mansion of the planetary governor and the changes in terrain here really worked, in my opinion – though next time around I'd want a few more walls for that particular mission.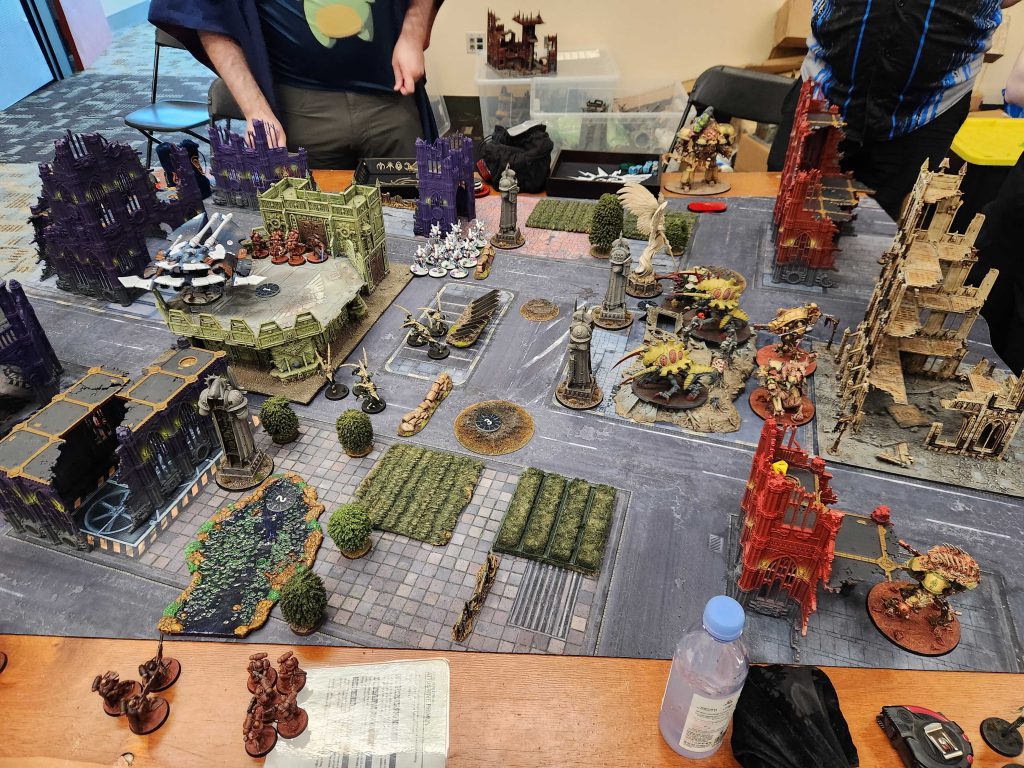 What Didn't Work: This one is mostly on me – I forgot just how shitty the rules for FLY are in 10th edition, and as a result we had several missions focused on getting to high places on the table that were too high for units to reliably climb to – even if they had the FLY rule, as the walls were just too tall. This is something we'll be able to easily fix in the future but it just wasn't on my radar for this one.
Attos Hive Primus Main Gate
The main gate is a custom table housing the city walls and a large gate. The custom mechanic here revolves around the walls themselves – they're destructible and can be rebuilt using a side's RP.
What Worked: The board was great, though we had to expand it to 6'x6′ to really make it work. That was fine, but worth keeping in mind in the future. The destructible walls were great, and generally this felt like a protracted siege.
What Didn't work: Initially the defenders were allowed to rebuild multiple wall sections per game, and that was just insane. We ended up reducing that to a max of 1 section after the second round, and that made things much more tense. This table had some great fighting and we'd close it out for the final round after an epic battle that saw the Attackers (Chaos + Tyranids) narrowly capture the gates.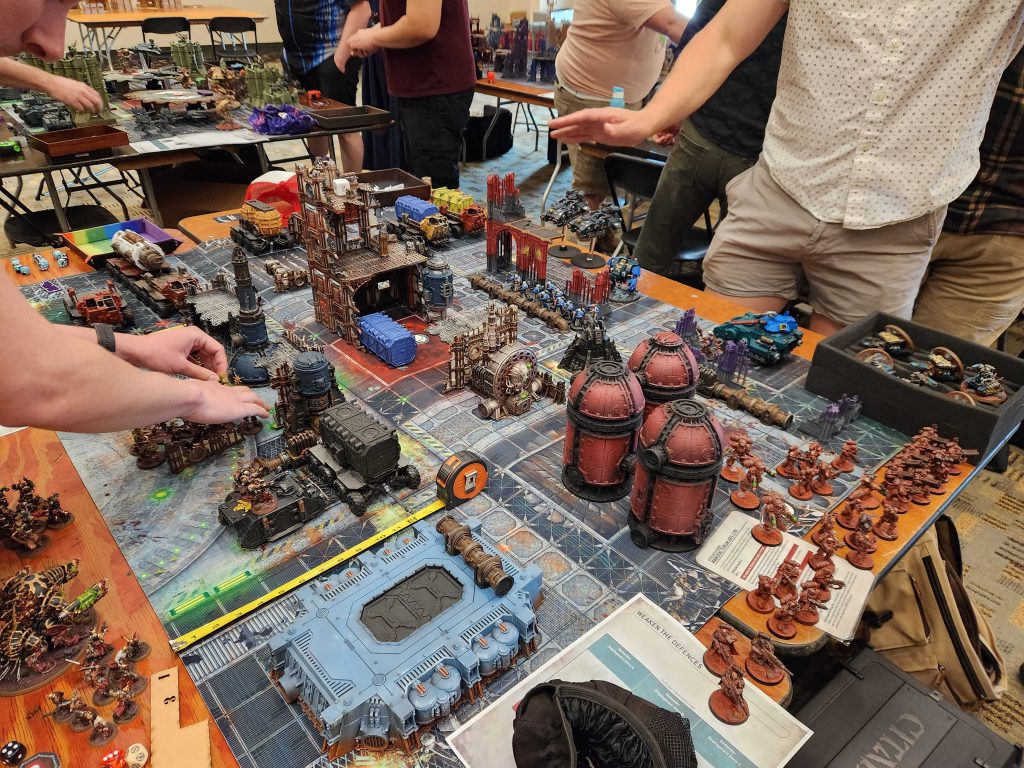 Manufactorum Ars-Lyri
The Manufactorum is split into two parts: the first three games see players attacking convoys on a rolling road mission carrying materiel and security ID tags, which can be captured and used in the second three missions. In those the defenders have automated defenses which attack untagged attackers. Dense smog on the manufactorum table also made it difficult to hit ranged targets.
What Worked: The Convoy missions looked cool and were kind of fun. Players were excited to try them out. The Manufactorum table was solid as a table to play on and the mechanics for it were solid, though the defenses were a bit much.
What Didn't Work: but the rolling road mechanics weren't amazing and the convoy missions needed a second pass to make them more reasonable. Ideally we'll set future convoy missions on a larger table and just let players go hog wild. On the Manufactorum board things were mostly fine but it was also a little boring compared to other tables.
Arender Spaceport
Arender Spaceport runs two large landing pads in the middle of the table. On this battlefield AIRCRAFT can start on the table and units can deep strike closer as long as they arrive on the landing pads.
What Worked: This battlefield was largely fine. The Aircraft mechanics were OK.
What Didn't Work: In the future I think this needs to be a proper 6'x4′ table to really make use of the Aircraft mechanics, and while the table looked fine, in the future I think it needs a stronger visual identity, and ideally some kind of larger main building.
Outpost Bravo-Foxtrot-Golf
The most notable feature of this table is the large gun in the middle of the table. The mission around the gun changes game-to-game, though ultimately the conditions don't. The side holding the gun can fire it at other tables, getting a preliminary bombardment.
What Worked: The big gun is very cool, and the final mission was a four-player free-for-all mission that saw players secretly deciding whether they wanted to destroy or capture the gun.
What Didn't: The missions for this table were a mess, and the table itself wasn't great terrain-wise. The gun is cool but it's very large and we still haven't figured out a good mechanic for firing the big gun. The firestorm mechanic we used was just OK, and ended up being a bit too good if players could use it every game.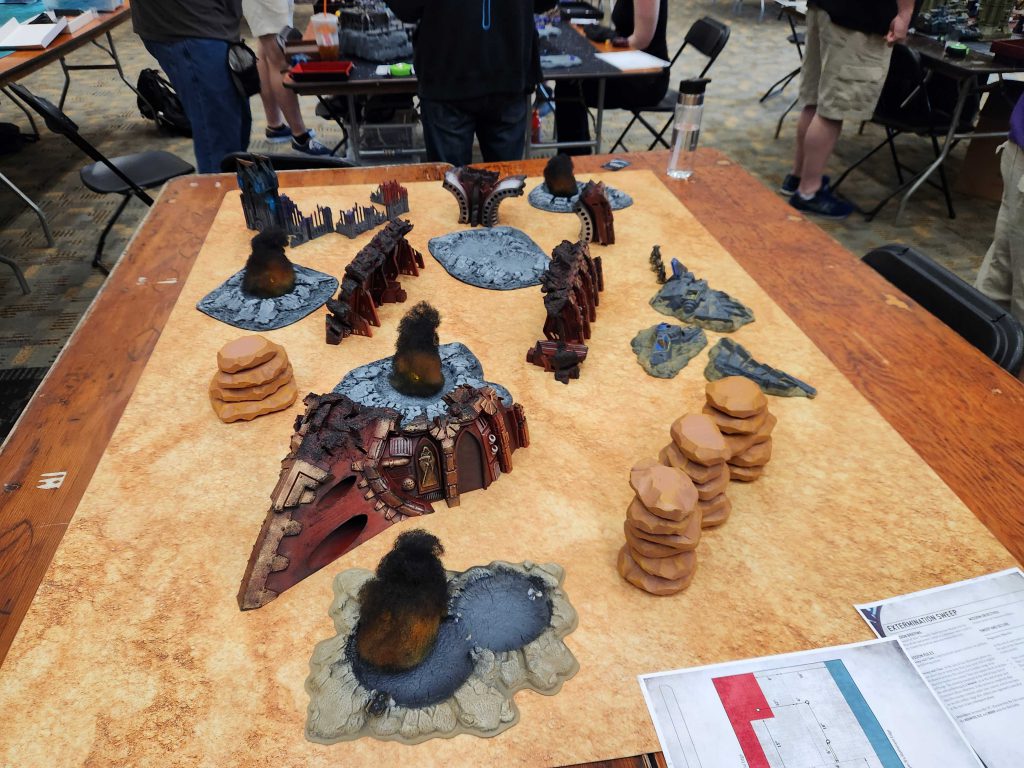 The Tranquilis Desert (Crashed Ship)
This table primarily has the remains of the crashed ship of Shanker Gord. There are weather effects here to represent the harsh desert conditions and irradiated wasteland the skip crashed in.
What Worked: The terrain looked great and the mission itself was pretty straightforward. Not a ton was going on with this table but honestly that's fine for some players and tables.
What Didn't Work: Aesthetically we could have used more crashed ship terrain, and some interior stuff. It's a fine start but in the future I want to have more. Also, thsi table needed a stronger narrative tie to the rest of the campaign. As it was, it was more like a fun set of side missions.
Bantavera Station (Asteroid Mining Station)
This table features a series of rock platforms for the facility orbiting the planet. The battlefield itself doesn't change, but has mechanics for jumping from platform to platform, and also has a debris storm mechanic: Every time a unit explodes (via Deadly Demise), players increment a counter. At the start of the third battle round, the storm created by all the explosions whips through the battlefield, doing mortal wounds to everything on the table. Additionally, the team holding the station can drop rocks from orbit onto battlefields below.
What Worked: This was by far the best table, and I think people loved it. The table looked great and the mechanics were a lot of fun. This table had the most great moments – stories of a Falcon being destroyed and its passengers all flying out into the void, and entire armies torn apart by the orbiting debris storm made for great moments.
What Didn't Work: We needed at least one more big island on the table for units to deploy on, and maybe 1-2 bridges for units to move on. What was on the table was cool, but we needed just a little more space for units without FLY to actually be on.
Nautilus Refinery (Prometheum Refinery)
The refinery is a Sector Mechanicus board set out over the ocean. The board here *is* the mechanic, with only TITANIC and FLYING units being able to end moves over the water. The table itself here is massive – 9′ in length – with a shore on the far end where some artillery can potentially sit and fire at the far end of the table.
What worked: It's a cool table, visually, and players who had TITANIC and FLYing units did fine here.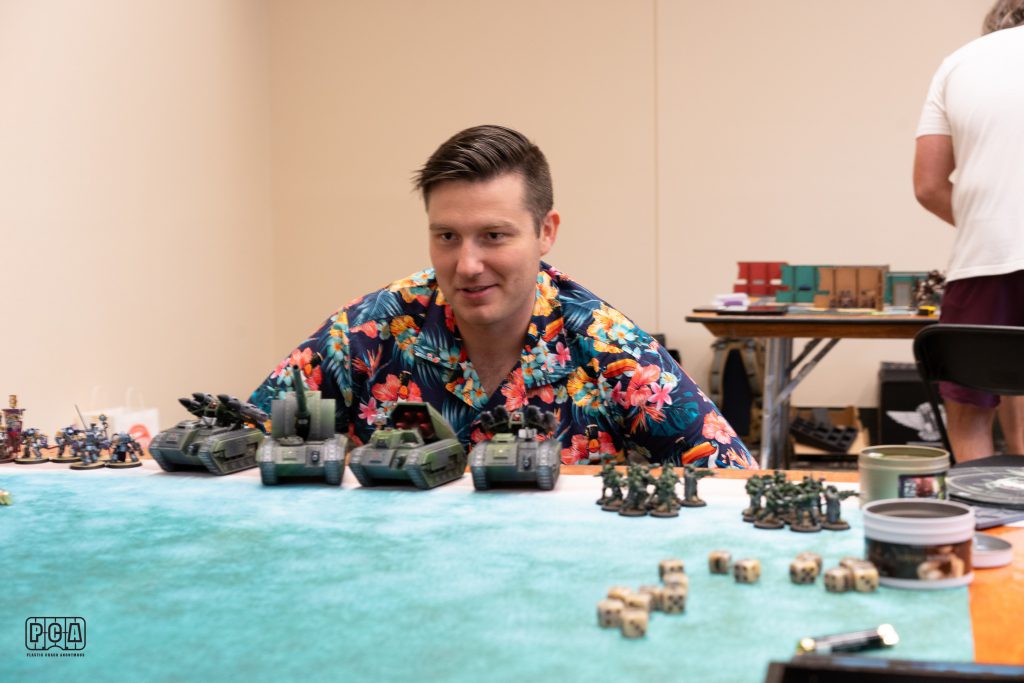 What didn't work: We needed a lot more Sector mechanics terrain than we had, and larger flat spaces for units to sit on. This was mostly a result of us just not having enough terrain to put on the board and if we'd had an extra skyshield landing pad or two it would have really helped on this table. This one can definitely be improved with just having more terrain in the future. The missions here could have been better as well.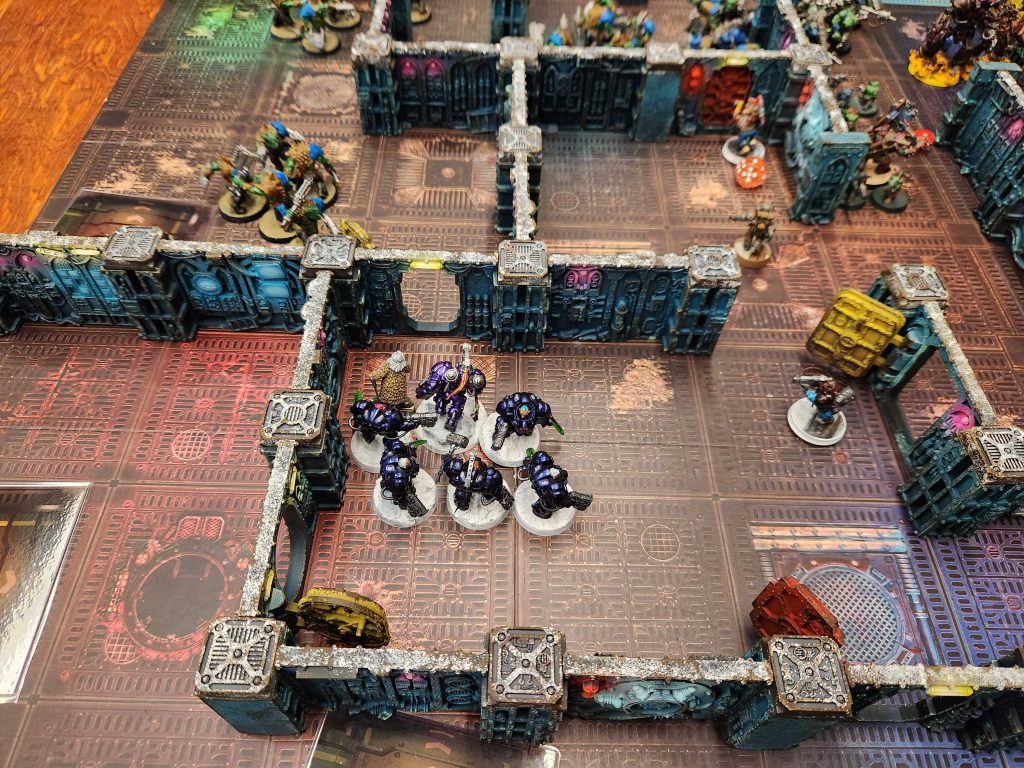 Boarding Actions
We had a few boarding actions missions going on, including the final mission, which was based around attempting to capture the planetary governor.
What Worked: The terrain painted by Crab-stuffed Mushrooms looked great, and having these missions was great – it created an easy way for players to opt to have quicker engagements to make for an early exit for dinner or lunch. The final mission hunting the Planetary Governor was a lot of fun.
What Didn't Work: The rules for Boarding Actions in 10th edition are a mess, and we ended up having to throw all of the faction rules out to make them work. These rules could have been better tied to the overall narrative.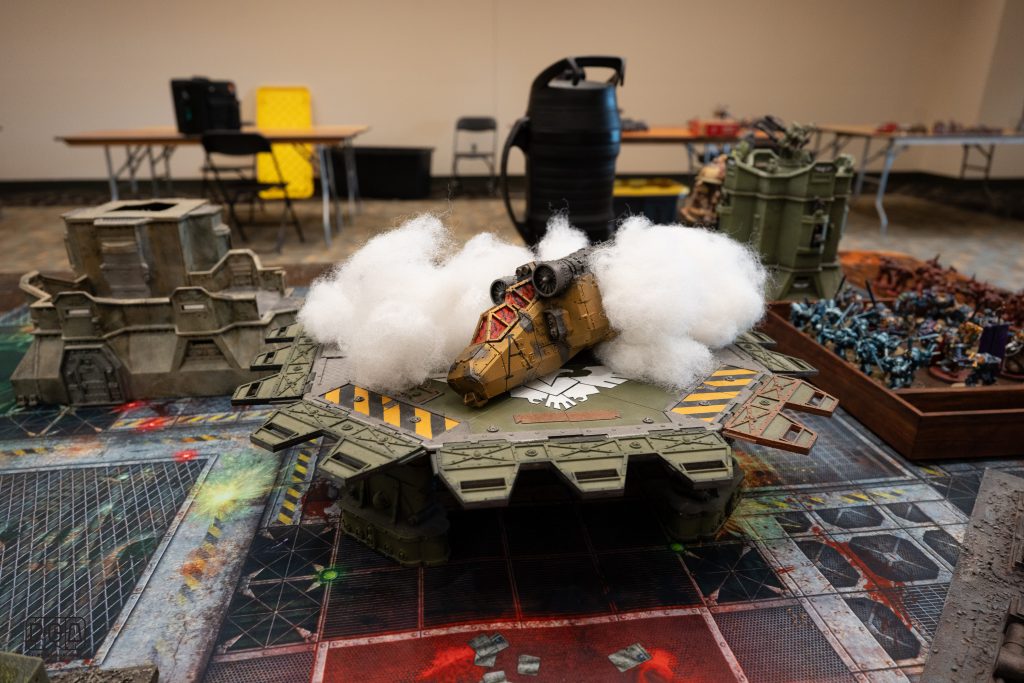 Mechanic: The Storm
Finally, there was the storm, a massive weather event that moved between battlefields each round, adding an extra mechanic to the mix. This was mostly done to shake things up if you played multiple games in a row on the same table. Ultimately I think it was fine, but we needed something to represent it visually.
Mechanic: Resource Points
Each territory grants the side holding it a number of resource points – usually 1. These can be spent on specific effects, such as firing the gun, dropping rocks from orbit, or rebuilding sections of the Hive walls. Ultimately this was an OK idea but didn't really work – it wasn't a resource anyone wanted to manage or track, and just got in the way of creating good experiences. I'm scrapping Resource Points on future campaigns; they just don't work well for these two-day events and there are better ways to make the winning side feel like they're winning.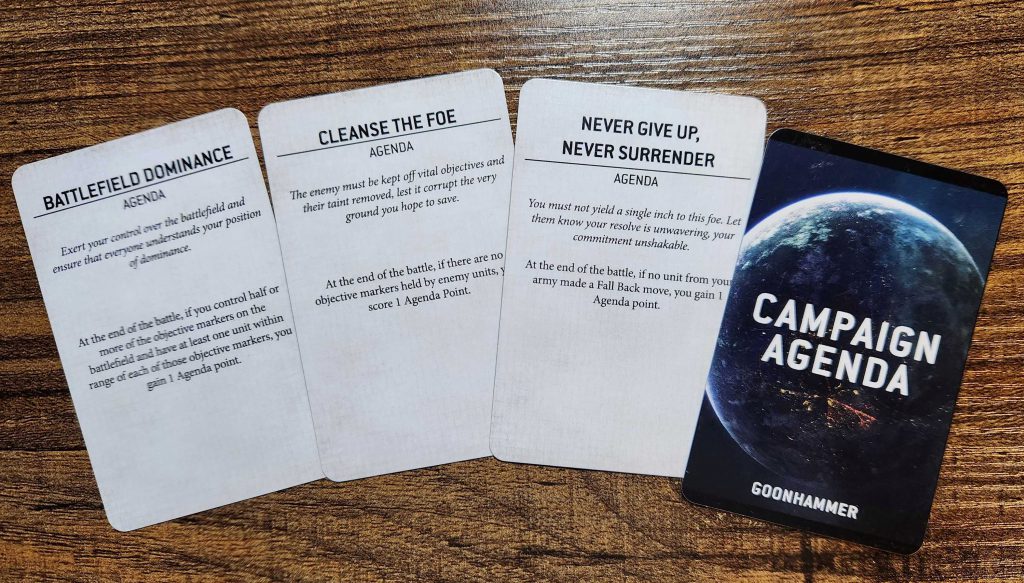 Mechanic: Agendas
In addition to the campaign's main goal, players had separate, smaller goals to work with on a game-by-game basis. Achieving these would award players with agenda points they could use to buy upgrades (see below). The real purpose of these Agendas however was to create friction between players on the same team – we wanted players to have goals they'd pursue that didn't necessarily line up with those of other players, and we wanted to create moments where players might really feel the tension of working with allies of convenience. As a result, many agendas were very selfish, requiring things like being the only warlord alive on the table or occupying the highest point on the battlefield, which could create incentives that might not benefit other players.
On the whole, players liked Agendas, and thought they were cool. The payoff for them, not so much – players liked doing Agendas more than they liked getting the rewards and so in the future I'll be looking to completely rework these rewards while keeping something like the Agenda mechanic. That said, Agendas also could have been better tied to the narrative, but I have a few ways to fix that.
Mechanic: Unit Upgrades
Finally while we weren't using Crusade rules, we wanted to include unit upgrades and so we had a series of skill trees players could purchase rewards from using Agenda Points. Usually rewards took several Agenda Points to buy, so a player might only get 3-4 rewards over the whole campaign. This was a fun idea but it was too complicated and added a bunch of stuff that probably could have unbalanced things in ways I didn't want – mostly by rewarding the type 3 players who were naturally better than their type 1 and 2 counterparts. So in the future I'm scrapping this too in favor of easier-to-track one-off rewards. More to come on that.
Final Thoughts
On the whole, I'm proud of what we did with the event. I think we had a ton of cool stuff, with some great tables and scenarios that offered the kind of experience players can't get anywhere else. I definitely learned a few important lessons for next year, and there's already a ton of stuff we're planning for that particular campaign. Mostly, I want to continue to streamline things and strip out the Crusade elements – they just don't work well for short campaign events with lots of players – and add a stronger narrative theme the next time around. I think that on the whole, the multiplayer format – where every table was a 2v2 or 3v3 – worked very well, and helped reinforce the feeling of being on a team. That said, we need better briefings next year with an emphasis on re-adding team leaders.
We're already planning next year's event – it's absolutely not too early to be planning it – and I'm eager to expand on what we did this year. If you're interested in the work we did and getting access to those assets, head over to our Patreon and download them. Otherwise, if you have any questions or feedback, drop us a note in the comments below or email us at contact@goonhammer.com.