9th edition is on the way, and with it a whole raft of changes to the factions of Warhammer 40,000. With the Munitorum Field Manual out in the wild and the Faction FAQs released, now's a good time to start taking a look at what's changed for all of our favourite armies. Today, Scott Horras "Heresy" is taking a look at the Astra Militarum.
Instead of an intro, I'm just gonna open up with a meme here: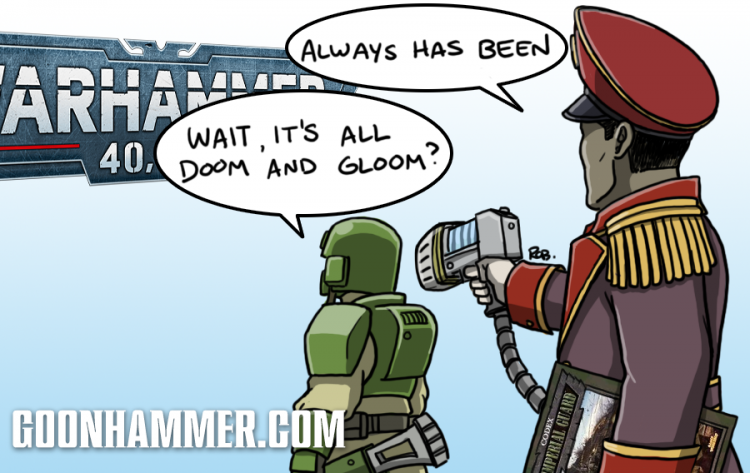 The Roster Breakdown
Anyways, let's go on an adventure together as I break down just how doomy and gloomy it might be for the Guard in 9th edition as an age without Vigilus Detachments. SPOILER ALERT: …maybe it ain't all that bad.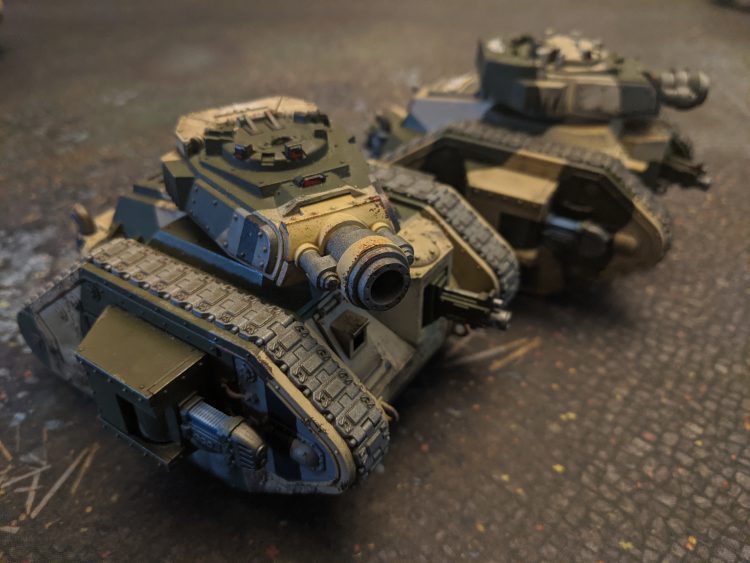 HQs
For the majority of 8th Edition the Guard have leaned very heavily on the HQ slot. I don't see this changing much with 9th Edition. Overall unit costs for HQ choices have increased an average of 12.3% off of the 8th ed equivalent. That's not too bad, especially when you consider that the percentage is primarily driven north by the staggering increase to the Primaris Psyker (whose increase has largely been offset by having his staff now baked into his points). Besides Pask (+8 points), and the Tank Commander (+13 points), everyone else just received the standard +5 point bump that we've been seeing around the neighborhood recently. Guard fared pretty well in this slot, considering that my most leaned-on choice, the Tank Commander, only went up 9.2% on its 8th cost. We'll talk more about this guy later on in the article.
Troops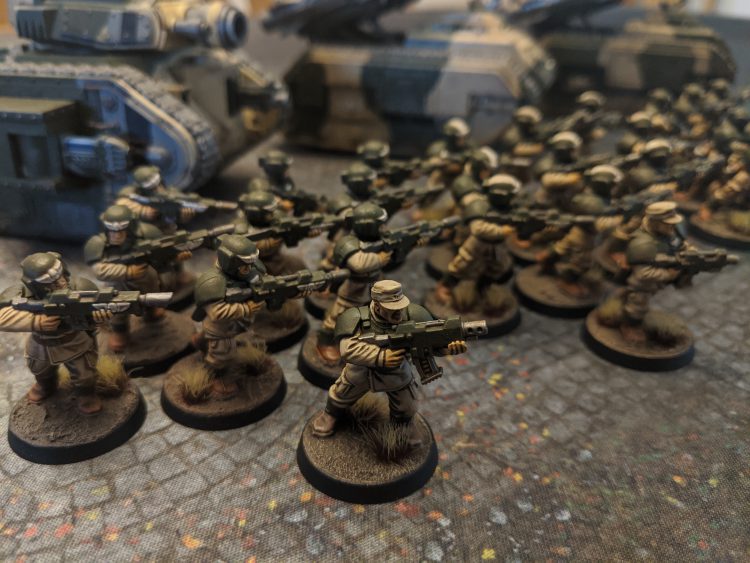 Just going by the numbers, the Troops slot for Guard has taken a big hit with a 26.2% cost increase in model costs overall. It doesn't get much worse than that, lads. Given the seeming new floor of 5 points for a model however it was pretty unavoidable to have at minimum a 25% increase on 2 of the 3 Troops choices in the Guard Codex. This percentage is further driven upward by a "hilarious" +2 point bump on Tempestus Scions (or 28.6% for you math nerds). It's a damn shame too: given the new 9th edition detachment rules Scions also got harder to bake into your army while keeping your delicious Scion detachment bonuses. Is an allied Scion detachment really worth 2 precious CP? I honestly can't say right now. I'm hopeful that someone will be able to prove to me wrong though because I think they're rad. The extra point on Guardsmen is undoubtedly going to make Guard armies a bit tighter than they were in 8th edition, but overall that may not be so bad as you'll likely need fewer of them given the changes to how CP are gained. Hey Conscripts, keep doing your thing guys.
Elites
Our Elite choices also suffered a very painful overall increase of 22% which puts them firmly above what ~T H E A L G O R I T H M~ would've predicted. That said, this is an increase you're not likely to feel and instead something that may have opened up some cheeky opportunities for the faction. The characters in this section have all received the standard +5 point bump (with the exception of the Astropath who also had his staff baked into his points cost), in line with ~T H E A L G O R I T H M~. Again, pretty painful as the most-used characters in this slot, the Platoon Commander and Astropath, took an effective 25% and 66% bump here, respectively. And before you say, "wait the Astropath gets the staff for free now!", I know you weren't taking the staff before and it's not like Astropaths are worth anything in combat with it. It's a pure tax. For the last of the bad news, Ratlings are still terrible with a mystifying 60% point increase. You would think this would be paired with a baked-in weapon cost, but you'd be wrong for thinking that; enjoy your 10-point Ratlings.
Luckily, other popular options like Bullgryn (+3 points) and the Ministorum Priest (+5 points) escaped with relatively small bumps, but may suffer from other new 9th edition core rules changes, such as wound allocation rules, Blast, and Coherency restrictions. I know this is an unpopular opinion, but I wasn't a fan of Bullgryn before (too slow for my taste). I really think you ought to have a good long think before you consider Bullgryn in this new edition over other options. Instead I'm very interested to see how Special Weapons Squads and Command Squads shape up in this edition – they've received the same 1-point bump that Guardsmen have, but their plasma guns and melta guns have both received a drop for BS4+ and BS3+ models (more on that later). This combined with 1 CP to pop them all into Strategic Reserves given their low power level opens up the opportunity for some interesting plays to get large amounts of Special Weapons into position without having them under threat from Turn 1.
Fast Attack
Except for a brief moment of 18-Hellhound lists, the Fast Attack slot has largely been an under-performing part of the Guard Codex. Unfortunately Psychic Awakening: The Greater Good hasn't done a lot to fix that (I'm still salty that Armored Sentinels got a half damage Stratagem over other units). Only the Hellhound has seen a base increase (+20 points), but that has been offset by all of its turret weapon options coming down by at least 10 points for an overall increase of +11 points after you factor in an Inferno Cannon and a Heavy Flamer (109 to 120).
Given that it has gained the ability to fire into combat via 9th edition core rules, Hellhounds no longer turn into completely useless boxes after someone high fives the hull. This benefit is similarly conferred to both patterns of Sentinels. I think there's some serious room for heavy flamer platforms out of this category. A heavy flamer-wielding Armored Sentinel is going to run you 45 points (30 for the model, 15 for the gun), and 9 of these guys hanging out on objectives with a half damage Stratagem could be annoying to shift. Pop on the Gunnery Experts Regimental Trait and have a go. Then if that turns out to be any good, let me know.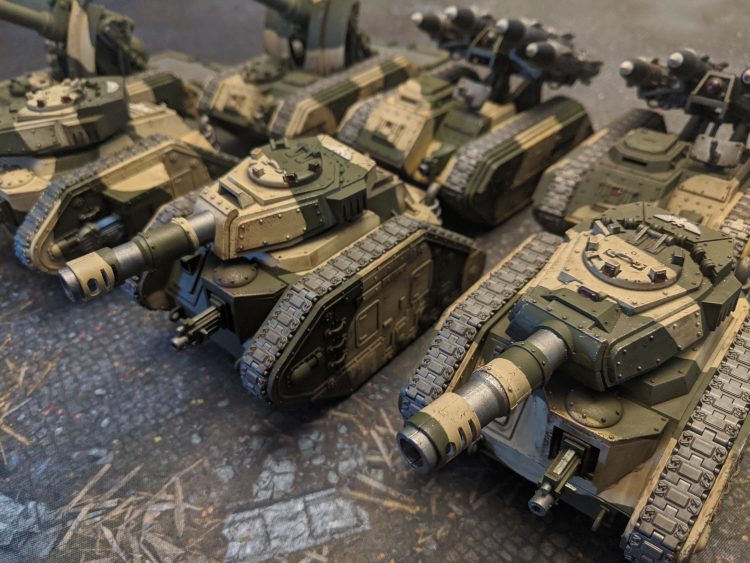 Heavy Support
Ah yes, the ever steady "Backbone of the Guard," Heavy Support. We've fared pretty well here, with a below-average increase of 9.1% overall. However, we've got two sore thumbs sticking out here. First, the base cost of the Leman Russ Battle Tank has seen a frustrating +23 point-increase to 130 points. This hasn't been coupled with any weapons decreases and in fact has been met with an even more frustrating increase on the Exterminator Autocannon of +13 points, bringing it to a 30-point weapon overall. We weren't seeing Exterminators anyways and while they can shoot into combat now, it's still difficult to say that weapon deserved a price hike. Luckily none of the other turret weapons have taken the same hit. As we neared 8th edition's sunset days with The Greater Good I was becoming a fan of dropping in a couple of naked Demolisher Leman Russ Battle Tanks with Gunnery Experts and Spotter Details. Clocking in at 135 back then these guys weren't a bad option; for the same tank you're looking at 165 in 9th edition (+22%). I think you're largely going to see non-HQ flavor LRBTs fall by the wayside with this new pricing. The second sore thumb here is the price of the heavy bolter, but we'll talk more about that in the Weapons section.
The good news is that our indirect fire (IDF) capabilities have not seen the same frustratingly high increase as our LRBT chassis. Basilisks, Deathstrikes, and Hydras have all received a +10 point bump, while the Wyvern went up +15. Surprisingly, the Manticore only received a +5 point bump, which puts it as the shiny new most competitive IDF option for Guard now. With the game shortened by a turn, the Manticore is now spending a maximum of 1 turn NOT firing, which is a massive indirect buff. Furthermore, this bad boy can Tokyo Drift around the corners of the battlefield to get direct LoS on it's target a line up a Direct Onslaught without the penalty from moving and shooting. Again, combined with Gunnery Experts and a Full Payload Tank Ace ability you've got yourself a pretty spicy meatball.
Flyers, Dedicated Transports, and Lords of War. Oh my!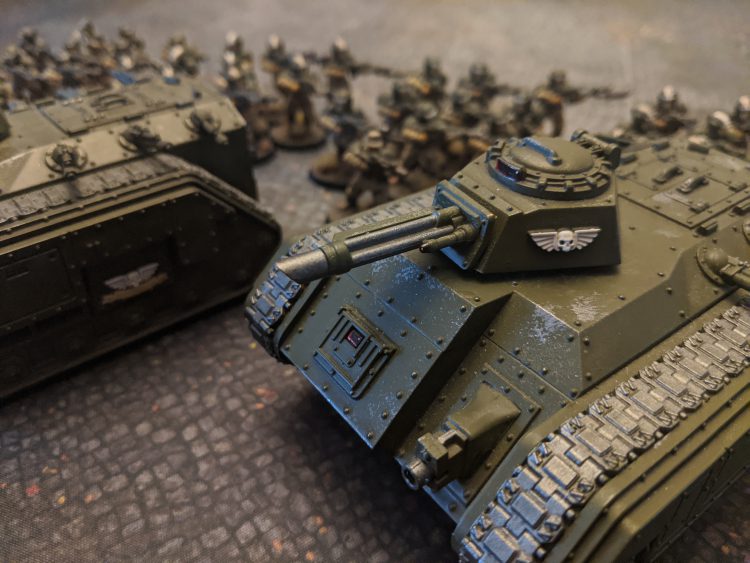 As potentially three of the least-used categories in my personal Guard army building experience, these three categories' relatively small increases are a bit of a dull fart for me. As the base model cost of Valkyries only went up +5 points, if you include Forgeworld (which my previous categories all have even though I'm restricting this review to the Codex), Flyers overall bumped up 6.7%. Transports have gone up 8.8% and Lords of War have gone up 9.1% overall.
Honestly, I don't think there's much to write home about on the subject of Lords of War for Guard. The CP penalty for taking one is already pretty extreme, couple that with the fact that you're going to have to toss a Tank Ace at it to get it to have Regimental Traits… that's a pretty raw deal. So we'll get that out of the way early. Leave your cool big tanks at home for competitive play. Sorry, guys…
On the Dedicated Transport front, you're not seeing much cheerier news. Tauroxes of all flavors have received a +10 point bump, and Chimeras have received a +5 point bump. I don't think I've seen a stock Taurox hit the table in 8th edition yet, and I don't think I'm going to see one in 9th unless the points cost comes down. These bad bois used to run you 70 fully-stocked; now they're going to run you 90, a 28.5% increase. The Taurox Prime had a quick run of it in early 8th, but has since stayed off the table. Their bespoke weapon options have not increased, but I predict we'll still not be seeing them on the table even with a very small overall increase of 5.2% after equipment. I'm ready to be proven wrong on this one though. I personally have not explored mono Scion army building as much as I would like to, but I'd love it if some Big Brain figured it out for me. Chimeras were in position to be a pretty critical unit, but the points hikes on Heavy Bolters effectively relegates them to being budget Hellhounds, clocking in at 95 points for Heavy Flamers or Heavy Bolters. Similar to the Heavy Flamer Sentinels mentioned earlier, taking a few of these guys to hold Guardsmen and rush objectives might see some play.
Valkyries have seen a meager +5 point bump which is offset by a refreshing 3-point decrease on rocket pods. If I ever ran these guys, I ran them with Rocket Pods and a Multi-Laser which will clock in at 120 points in 9th. Unfortunately, they don't do much on their own, and I've struggled to find them a payload worth delivering with their transport capacity. 9th edition hasn't changed that very much.
Weapons
Weapon costs for the Guard have changed dramatically for their Special and Heavy Weapons lists. With the former seeing a notable decrease and the later seeing an extremely frustrating increase.
As is tradition, we'll start with the bad news. Unfortunately, this is rather difficult to work around. Almost every single hull in the codex has, in addition to their base points increase, received a flat additional +7 point bump due to the bump to Heavy Bolters (+87.5%). This pushes the effective increase for almost all of the vehicles in the Guard codex firmly over the predicted +12% number we've been throwing around here at Goon HQ. It's worth pointing out that this MAY be offset by the ability to move and shoot without penalty and shoot into combat in the 9th edition core rules. From my foxhole, I somewhat undervalue the ability for sponsons to shoot into combat as most weapons worth firing from this Codex have gained the Blast rule which means they cannot be shot into combat. The likelihood that your sponsons are going to be able to clear off whatever boarders have clambered onto your hull before you fire that sweet sweet Demolisher Cannon is very low. Notably, Heavy Flamers have not received the same increase and may be the most viable sponson options going forwards.
Good news time: Special weapons have ALL received a points DECREASE, except for those very problematic Grenade Launchers and Sniper Rifles. Whoever keeps rolling up to Warhammer World and dunking on everyone with Grenade Launchers, can you please stop? They're about my favorite weapon on Guardsmen Squads thematically thanks to Dawn of War 1 and I never get to put them on the table. Anyways, I think the most notable decrease here are 5-point Plasma Guns and Melta Guns on BS4+ models. A Special Weapons Squad with 3 of them is going to run you a total of 45 points; season that with 1 CP for Strategic Reserves and you get yourself a pretty nice 'budget' Plasma drop.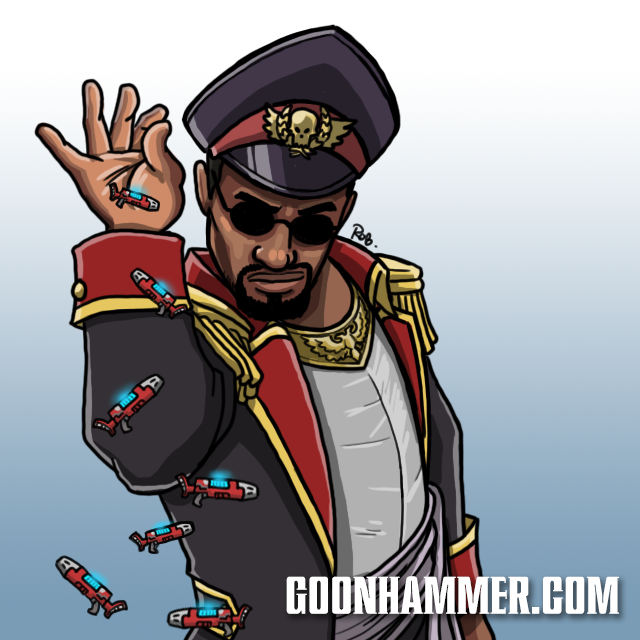 Putting It All Together
Has the Astra Militarum/Guard really shifted from its meta position in 8th edition? Honestly I don't think so – but I have a pretty controversial opinion on this one. For much of 8th edition, I got the general impression that Guard was touted as one of the highest-tier armies around (we'll just ignore the whole 'Marine Meta… that was a mess). I've felt the Guard Codex largely rode the coattails of their preferred allies (Imperial Knights, Blood Angels, and Custodes): In 8th edition Guard was rarely played to great success without allies due it to being outclassed by one or more of said allies' Codexes in either range or, more commonly, melee. Now that you as a player are being measurably punished by playing more than one detachment, Guard may have less room for list building than before.
What this means is that while in isolation, I'd rate the Astra Militarum Codex as competitively upper-middile in 8th edition, in 9th I'd rate it's standing a bit lower thanks to above-average increases on almost every one of its units. Combined with the increased difficulty of bringing allies in 9th edition, this puts Codex: Astra Militarum more at a middle-tier position out of the gate. From a design perspective, the Guard Codex was in a rough place coming into the new edition. With the new apparent points floor of 5 points and general cost of every unit going up 5-15 points, Guard got hit doubly hard. The 87.5% increase to Heavy Bolters hurts just as much since many Guard vehicles come with them.
All that said, I think as Guard players we still have two very viable tools in our toolbox:
Armored hordes with

Gunnery Experts

and

Spotter Details

.

Infantry hordes with

Disciplined Shooters

and

Wilderness Survivors

.
For the Armored hordes you'll want anywhere from 3-5 Demolisher Cannons and a Manticore or two, and the for the Infantry you'll tout as many Special Weapons as you can smash into it. I predict that in 9th edition Guard will still perform best with allies. Given that these two archetypes require different Regimental Traits, I don't think you're going to have room for both detachments unless you're going mono Guard. In general the infantry horde is probably going to be a more viable 'allied' pick due to its cheaper points cost, while the armored horde is going to feel more like the 'main' force of your army. As far as allies are concerned, I'd probably look most closely at Imperial Knights and Custodes, but I'm sure there are more combinations that merit consideration.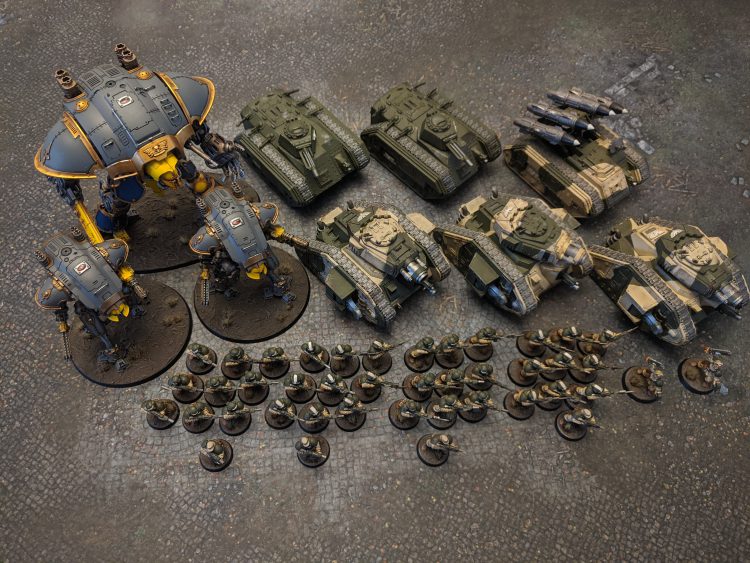 Let's Build Some Lists
So with all that said, it's time to look at some lists I might run in 9th edition.
Oh look, Tank Commanders and a Gallant again
Astra Militarum Battalion Detachment (1,290)
Regimental Tactics: Gunnery Experts, Spotter Details
Command Cost: -3 CP
HQ: Tank Commander, Demolisher Cannon, Heavy Bolter, 2xPlasma Cannon, Storm Bolter
HQ: Tank Commander, Demolisher Cannon, Heavy Bolter, 2xPlasma Cannon, Storm Bolter
HQ: Tank Commander, Demolisher Cannon, Heavy Bolter, 2xPlasma Cannon, Storm Bolter
Elites: Platoon Commander, -1 CP Kurov's Aquila
Elites: Platoon Commander
Troops: Infantry Squad
Troops: Infantry Squad
Troops: Infantry Squad
Troops: Infantry Squad
HS: Manticore, Heavy Bolter, -1 CP Full Payload
DT: Chimera, 2xHeavy Flamer, Storm Bolter
DT: Chimera, 2xHeavy Flamer, Storm Bolter
Imperial Knights Super Heavy Detachment (710)
Household Tradition: Terryn
Questor Allegiance Oath: Questor Imperialis – Vow of Honor (locked via Terryn)
Command Cost: -6 CP
Command Benefit: +6 CP
LoW: Knight Gallant, Heavy Stubber, Warlord: Strike and Shield, Sanctuary
LoW: Armiger Warglaive, Heavy Stubber
LoW: Armiger Warglaive, Heavy Stubber
This is basically the next iteration on the same flavor list that's been my favorite since LVO 2019. It combines a hard-hitting, very speedy, optionally fighting twice Knight detachment with some withering Guard firepower. The biggest change here relative to my late 8th edition lists is that I've picked up Heavy Flamer Chimeras instead of 3 more Guardsmen Squads and my Company Commanders. If I took the exact same list in 8th, this would cost me just under 1,800 points, so I've managed to avoid a lot of the price increases that the Guard Codex has suffered by avoiding Heavy Bolters where I could and trimming down on Guardsmen. With primary objectives shifting to ENTIRELY BOARD CONTROL ON THE TOP OF YOUR TURN, you're going to want some objective holders that aren't going to get blown away by some perfunctory shooting. I've also left my Astropaths at home. This has allowed me to dodge their painful points increase and it also allows me to take the Witch Hunter, which is really nice if you run into any casting-heavy armies and basically a free 15 points if you run into Grey Knights or Thousand Sons. This list is a tad light on CP -you start the game with only 7 CP. You ought to save those delicious CPs for the Gallant here. I think you're gonna need a few Rotate Ion Shields, a few Command Re-rolls, a Full Tilt and a fight twice throughout the game.
Boys and Toys
Astra Militarum Battalion Detachment (1,333)
Regimental Tactics: Gunnery Experts, Spotter Details
Command Cost: -3 CP
Command Benefit: +3 CP
HQ: Tank Commander, Battle Cannon, Heavy Bolter, 2xPlasma Cannon, Storm Bolter, Hunter-Killer Missile Weapons Expert
HQ: Tank Commander, Demolisher Cannon, Heavy Bolter, 2xPlasma Cannon, Storm Bolter, Hunter-Killer Missile
HQ: Tank Commander, Demolisher Cannon, Heavy Bolter, 2xPlasma Cannon, Storm Bolter, Hunter-Killer Missile
Elites: Platoon Commander,Warlord:Free Tank Ace, Relic: Kurov's Aquila
Troops: Infantry Squad
Troops: Infantry Squad
Troops: Infantry Squad
HS: Manticore, Heavy Bolter, Hunter-Killer Missile, -1 CP Full Payload
DT: Chimera, 2xHeavy Flamer, Storm Bolter
DT: Chimera, 2xHeavy Flamer, Storm Bolter
DT: Chimera, 2xHeavy Flamer, Storm Bolter
Astra Militarum Battalion Detachment (666)
Regimental Tactics: Disciplined Shooters, Wilderness Survivors
Command Cost: -3 CP
HQ: Company Commander, Boltgun
HQ: Company Commander, Boltgun
HQ: Company Commander, Boltgun
Elites: Special Weapons Squad, 3xPlasma Gun
Elites: Special Weapons Squad, 3xPlasma Gun
Elites: Special Weapons Squad, 3xPlasma Gun
Elites: Command Squad, 4xPlasma Gun
Elites: Command Squad, 4xPlasma Gun
Elites: Command Squad, 4xPlasma Gun
Troops: Infantry Squad, Plasma Gun, Boltgun
Troops: Infantry Squad, Plasma Gun, Boltgun
Troops: Infantry Squad, Plasma Gun, Boltgun
Troops: Infantry Squad, Plasma Gun, Boltgun
As I've said, I think 5 point Plasma Guns are pretty tight; so I put 25 Plasma Guns in my list. The first detachment works exactly the same at the last list – it goes pew pew as best it can. The second detachment is almost entirely shoved into Strategic Reserves. 18" Rapid Fire, with 6" from the edge and a 44" board width means that on Turn 3 you can drop your spicy Plasma Meatball into Rapid Fire range anywhere on the board. As a bonus you've got cover so you MIGHT survive the rebuttal, but honestly… your plan is to hope you do enough damage off of the drop, because I don't expect Guardsmen bodies to live very long once they start getting shot at.
Here you're gonna start with 8 CP before you take your first turn. I recommend tossing all of the Special Weapons Squads, the Command Squads, and at minimum 2 Company Commanders in Strategic Reserves. This is gonna be a big ticket item at 2 CP (just kidding, it's great value because we have nothing good to spend our CP on anyways). If you wanna throw the whole detachment into Strategic Reserves that's gonna run you 3 CP (go crazy, live your dreams). I'm taking a calculated risk here by having virtually no combat units. I guess do your best and try not to get locked up, but hey… you're a Guard player, you've been doing it all of 8th edition, just do it some more!
What's Next
That wraps up our view of the Astra Militarum, and hopefully we've given you some glimmers of hope if you were previously wallowing in doubt and sadness over the loss of Specialist Detachments. We'll continue to cover other factions in our Faction Focus series, so if you missed one or want to see which ones are coming up, check out our 9th edition page in the navigation bar on the right side of the screen. If you have any questions or feedback, drop us a note in the comments below or email us at contact@goonhammer.com. Or if you're a patron, head on over to our Discord server and shoot us a message and we'll be happy to respond.