This weekend southern California group Squad Games hosted its second All Valley Team Tournament. With over eighteen 3-person teams, the All Valley remains the largest team tournament for Kill Team in the US, and with representation from the large Kill Team crews – BATS, Kell Team, and the Kill Zone – the event was truly anyone's game!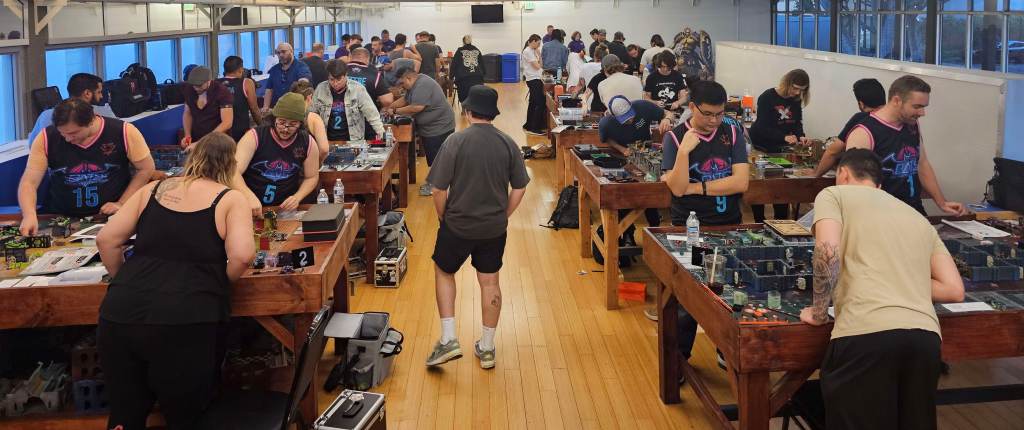 Before we get into the competitive teams, we're going to catch up with Dakotah, SoCal's loveable TO, and the head Kill Team TO for LVO. All Valley is his baby, and I'm sure like any proud parent he's ready to gush.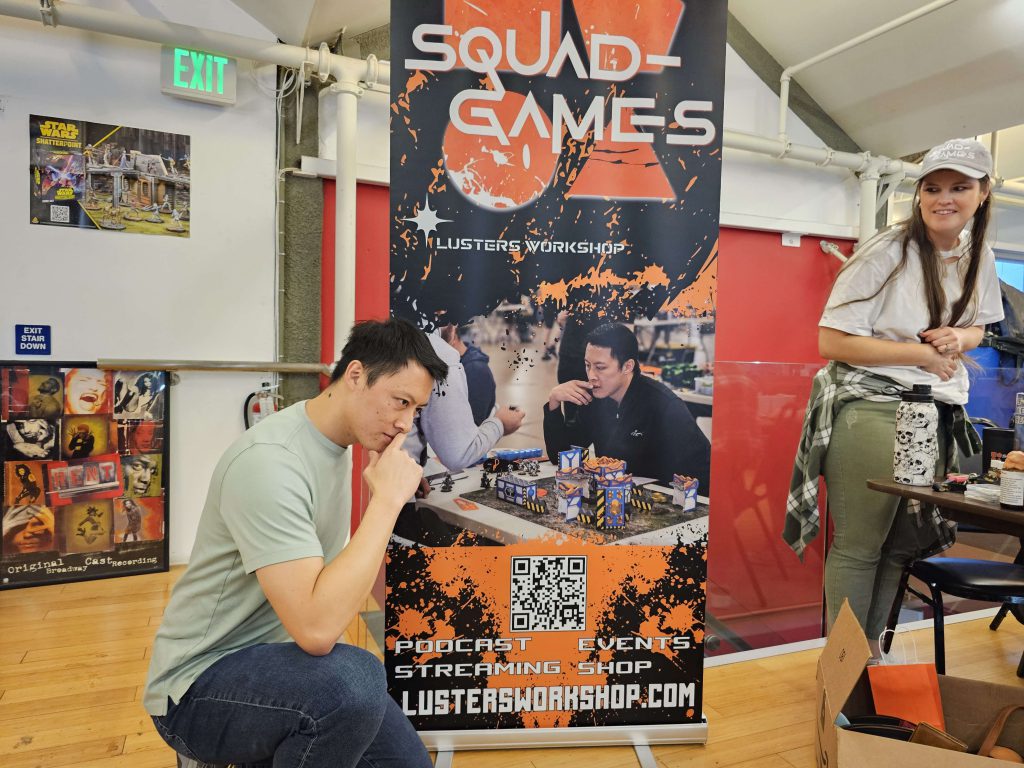 Dakotah, Tournament Organizer
Squad Games Podcast (link), Lusters Workshop (link)
How was the sequel to last year's All Valley? What kinds of improvements did you make from last year?
This year's All Valley Team Tournament was a heartwarming improvement over the previous one. We not only felt more prepared, but we were also genuinely excited to host a larger, more competitive event. Our participant count swelled from 38 players last year to an incredible 54 players this year. What's more, teams journeyed from different corners of the United States to join us, marking a significant expansion compared to the previous year when only Vegas teams participated. The stunning display boards showcased not just exceptional talent but also the passion and camaraderie that make this community so special.
One of the most heartwarming aspects of this improvement was our newfound support from sponsors. We transitioned from having no sponsors last year to forming partnerships with six fantastic sponsors this time around. These included Games at my Place, Goblin's Hut Games, Game Envy, and Monument Hobbies. On top of that, we were fortunate to have Table Top Mayhem on YouTube and Kell Team, both of whom generously contributed a box of Leviathan each. Yes, you heard it right—two Leviathan boxes, plus a treasure trove of approximately $3,000 worth of other prizes and $600 of Monument Hobby paint, graced our event.
What was the team format like? How were maps laid out, players selected, etc.?
The team format followed the classic Sword and Shield selection method. There was one table with all three open terrain boards and two tables with two Into the Dark boards and only one Open Board. The rest of the 7 tables featured 2 open boards and only one Into the Dark to add some variety compared to last year's tournament.
Pairings operated in the standard format used for team pairings in 40k. Both team captains engaged in a roll-off, with the winner selecting the first board, and the loser choosing the second board. Then, both teams gathered to decide who they wanted as the "defender" on that board. Once both teams had made their defender selections, they simultaneously revealed them. The remaining two players were designated as the attackers, and from those two, the attackers decided which one would face off against the defender. The last two remaining players squared off against each other on the final board.
You make your own map layouts right? How have those been received? It seems the community has no shortage of map packs right now.
Absolutely, I do create map layouts, and the reception has been quite positive. We're constantly working on refining and improving these maps to ensure they offer the best possible Kill Team experience. These maps will be featured at LVO this year, and we're committed to making them even better for that tournament. Many players have expressed their appreciation for our Asymmetrical Into the Dark maps, although we've identified one that needs some adjustments. Having a variety of maps is great, as long as they are rigorously tested. With critical operations (crit ops), the role of map making becomes even more critical for competitive play.=
What would you say to readers, are the best reasons to come out to the All Valley Team Tournament?
If you're seeking a fantastic time with your friends and the opportunity to participate in a one-of-a-kind Kill Team tournament, then the All Valley Team Tournament is the place to be. We're in discussions with numerous teams from across the United States and Canada who are eager to join us next year. At the AVTT, whether you win or lose, you'll do it alongside your friends, and the fun is guaranteed. If this article hasn't already piqued your interest, our podcast recap in the coming weeks featuring insights from tournament players might just do the trick!
Third place sees the Kell Team come out strong with 2-meta teams, backing up their team captain on the grumpy Hearthkyn! One wonders if the team format was able to give the Hearthkyn easier matchups, that covered some weaknesses of his team mates? Let's check in and find out!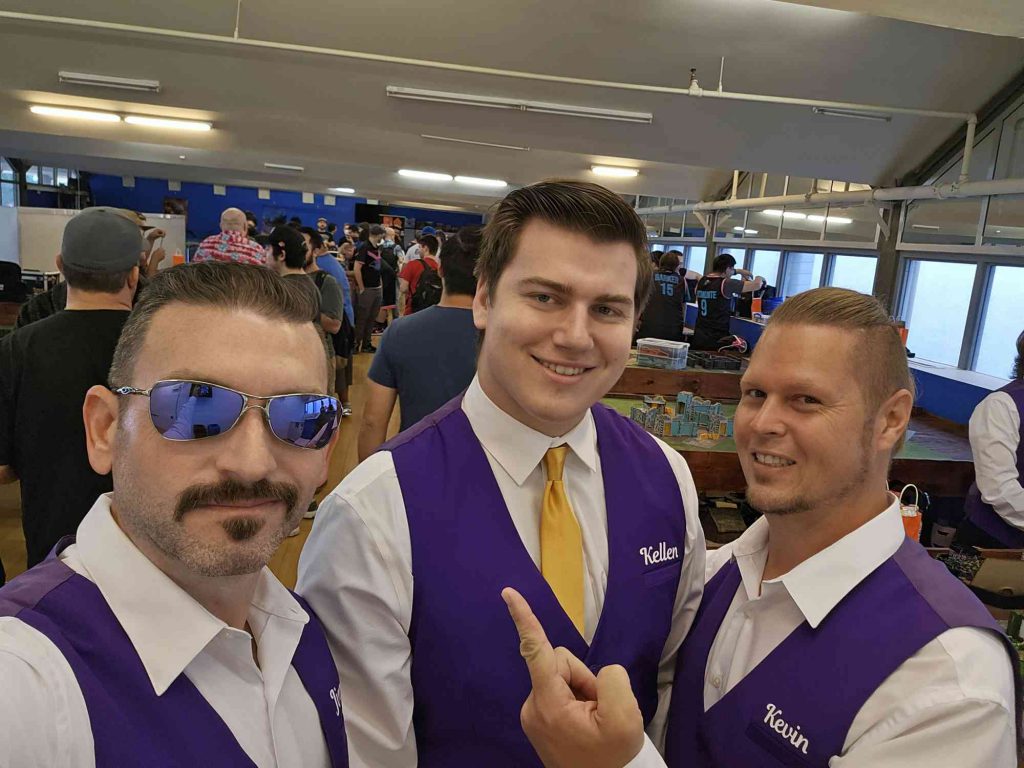 Kell Team, 3rd Place
Captain-Kellen F:Hearthkyn/Jimmy K:Breachers/Kevin B:Kommandos
Hearthkyn leading Imperial Breachers, and Kommandos! How did you all come up with your team composition, and what kind of match ups were you hoping for?
 Kellen – I was on the fence for a while about what I was going to choose. We knew we needed a Kommando team just because of how strong they are at the moment. James was excited to play breachers and we knew they would be strong into most teams on the Squad Games terrain pack – which is very dense and close-quarters centric.
Ultimately I wanted to play as a team that was strong into elites and that not many people would know how to fight. In practice Hearthkyn performed quite well and we figured they could be a dark horse team nobody expected.
Who was the team carry throughout the weekend? Which player got thrown to the matchup wolves? Tell us a little about your matchup spreads throughout the weekend.
Kellen – It goes without saying that Jimmy/James was team carry. You can't ask for much more than going 6-0 with breachers even in matchups that were not supposed to be favorable. My Votann got thrown to the wolves a couple times to keep legionnaires away from our Kommandos, and I took a couple cultist matchups that we didn't think I'd win. We put Kevin's Kommandos into Eldar teams and smaller humanoid teams and kept him on open boards, which worked for the most part.
Jimmy – Our philosophy was actually to avoid ever throwing a player to a near certain loss and rather just try to get decent match ups for all of us when possible.  It's a more conservative approach but we didn't want to sacrifice someone and force both other players to carry the load.  We definitely learned a lot and Kellen carried the team as Captain making the hard choices and trying to get us the best match ups.
Which opposing team gave you the biggest surprise out of the weekend? Was it a player matchup or perhaps a group play that worked out nicely?
Jimmy – Biggest surprise was facing the ultimate champions, BATS – B team round 1.  No easy warm up or time to adjust. Just right into the blender.  Each of us had a really difficult match and our eventual defeat was not surprising.  They were great players running strong teams.  There were many tough matchups and hard games but that def set the pace right out the gate.
Kevin: On Day 1, round 3 we got paired against Killteam and Koffee. My pairing was open board with Kommandos vs Anthony's Wyrmblade. As I'm very familiar with Wyrmblade, I wasn't too concerned. Which was a mistake. My first instinct was to take Seek and Destroy but I was tired and didn't want to change from infiltration, which I'd been taking all day. Anthony countered this very well and killed my tempo for the game. A couple games later I made up for it when we saw just how bad a matchup Kommandos is for a poor Hand of the Archon player.
Kell team has been showing up all over the tournament circuit this year, how has the experience been traveling about as a team?
Jimmy – I love Kill Team and traveling to see different places and people is amazing so it has been a great excuse to get to different areas for Kill Team.  This year some of my teammates have been able to join my kids and me to some of the events and it's been incredible.  Sharing a hobby like this with friends and strangers who become friends is something that brings a lot of joy and fulfillment.  It can be tough too.  Sometimes to make these events, we've stayed in some rooms that aren't luxurious and had long days traveling and missed out on needed sleep sometimes but in the end it all adds to the experience and makes it the adventure that is a great memory.
Kevin: I have not be able to travel as much as others on the team this year. I've had to stick to the events on the west coast and reachable by van. Speaking of, we load up the van with gear, goodies and gamers then roll out. Our goals for each event are to do well while having fun. Sometimes that means we dress up a bit – for team morale and community building excitement. For me, getting the chance to immerse myself in back to back gaming surrounded by like minded hobbyists is a rare treat. Community building, friend making and maybe some memorable in game moments – yay, that's the thrill for many war gamers.
Second place sees the duo behind Strategic Advantage, a blog and youtube channel, as well as part of the The Killzone's podcast, lead their own motley crew, as the only team of four! This team is notable because Alex and Emmanuel are faction specialists. Chaos Cults and Kasrkin are great against specific opponents. Seems like a deep roster here could have paid dividends.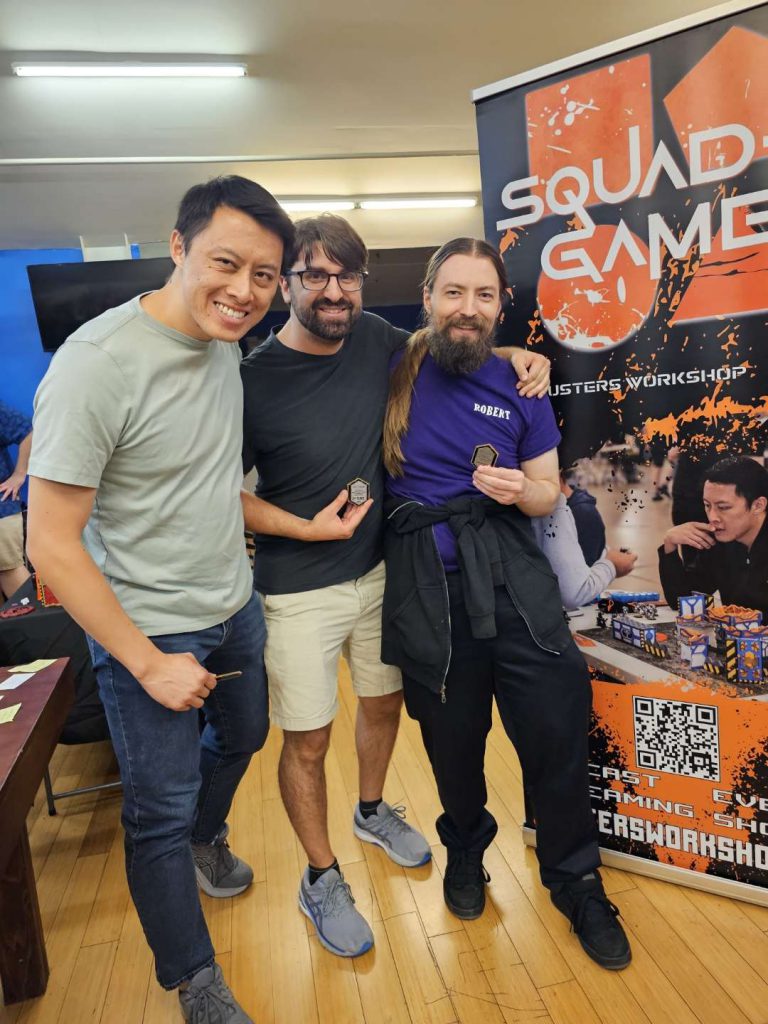 Southern Discomfort, 2nd Place
Strategic Advantage (link, link), The Killzone Podcast (link)
Captain-Alex S: Hunter Clade/Emmanuel M: Kommandos/Jeffrey L: Chaos Cults/Robert N: Kasrkin
As content creators, did you feel some extra pressure getting a team together for the AVTT? How was the experience playing with these two faction specialists, Jeff and Robert?
Alex: Honestly, that concept never crossed my mind. I was just looking forward to getting a solid weekend of games against quality opponents and playing with my buddies.
EM: No, no pressure whatsoever. We were genuinely excited for the tournament and would have been there regardless. Best way to make sure I don't have to get matched up into Alex is to be on the same team! The cheeky git knows all my tricks…
Jeff: I was mostly acting as a substitute for Emmanuel, who last-minute could not make it to all the matches that weekend, so I never played a round with him simultaneously. I know he's a great player though so I'm sure he could have done just as well, if not better, in the rounds that I played. I regularly play against Alex, and his AdMech is refined to a point where I know he will put up a solid fight across the matchup spread. Robert's Kasrkin (as well as Alex's AdMech for that matter) are also somewhat off-meta choices that may have thrown opponents off guard. This was in contrast to my Cults, which I'm sure everyone who was gunning to take top placings had a game plan against.
Robert: It was great having teammates I could rely on. After playing Craftworld for so long, I wanted a new team and settled on a great conversion idea for Eldar Kasrkin. Consequently, I only had a few practice games so I volunteered for the worst match-ups to give the others their best chance. I didn't have any pressure, I was there to score points and show off my models!
How did the team enjoy the AVTT's format? Were there any things that came up that you'd like changed?
Alex: The AVTT's second incarnation was, once again, an absolute blast. For those unfamiliar with the team system, each "table" consists of three boards onto which teams divide their players. The Squad Games crew sets up all the boards ahead of time and the pairing system randomizes tables, so it is highly unlikely that you will ever play on the same board despite never having to reset boards – great for keeping the event moving and not have the TO want to pull their hair out!
As far as changing things, the only thing I would consider suggesting is moving towards an alternate victory system. For the bighammer team events in which I have participated, victory is decided based on total points scored across the team – this means that a team with one overwhelming victory and two narrow defeats will likely win that round. It helps keep games engaging and makes every point matter, giving players on the bad side of a matchup a reason to fight hard for everything they can get. I completely understand the purity/simplicity of true win-loss though, and don't mind it in the slightest.
EM: The best part of a team tournament is the team. Being able to plan and strategize pre-tourney and pre-game with your team is very rewarding. They're also there to celebrate your wins as well as support in the losses.
Jeff: This was my first time playing in a team tournament format, and I do like the extra layer of strategic decision-making that goes into controlling map assignments and matchups. I think this kind of format also encourages a greater diversity of map layouts, as teams can always pick and choose which of their factions they feel will have the best tactical advantage on each map.
Robert: Compared to last year, people were very proactive with the match-up mini-game. It didn't feel like three separate games, it felt like a whole puzzle that you could win or lose with your strategy. And three games in a day is the sweet spot for me too. I just enjoyed the whole thing immensely.
As the only team of 4, what kinds of benefits did that bring on getting up to the top tables? How did you all manage a player needing to chill in between rounds?
Alex: HA. Benefits? Having to figure out how to submit a fourth blank game was kind of a pain in the butt. The team of 4 was the result of sheer panic a few days beforehand (Emmanuel will explain more) – we very nearly couldn't field a team of 3 for all 6 rounds. We never had Jeff and Emmanuel present at the same time, and I made sure that their rosters reflected the rounds they would be playing in by the submission deadline Thursday evening to be as transparent as possible.
EM: Long story short (Edit: long story long…sorry 😂)? Life happens! Due to personal things coming up within days of the tournament, I was not going to be available for the majority of the weekend spare for Saturday evening. Inversely, Jeff (who we reached out to in order to take my place) was available for all games except for that Saturday evening. Dakotah, the TO, was gracious and accommodated us with this situation–with the sole intent of making sure the maximum fun was to be had at his event. We enforced a couple caveats which Dakotah agreed to, (1) we were completely transparent as to which round the sub would happen pre-tourney, and (2) if any other players had an issue I would play my sub-in game but take the L, regardless of the result. The vibe of the event was overwhelmingly positive and no one had the slightest issue…quite the contrary as folks were very happy that I was able to make at least one game and come out to dinner afterwards 🙂. Hats off to the great inclusive community of Kill Team. I had a great time playing my game into Cults on Into the Dark and was able to take a piece of the AVTT with me in the end…namely the Anvil trophy for best overall in the forged brush hobby competition!
What other events are you all looking forward to in the near future?
Alex: The extended holiday season is great for warhammer nerds in our region – I'll be doing the Sunday tournament for the SoCal Open at the end of October (friend getting married that Saturday at a winery in Temecula… woe is me). LVO is a stone's throw from us too, so I'll be at that as well! There's always the constant parade of local RTTs for Kill Team and Bighammer, but I figure those out only a week or two in advance as life allows.
EM: I'm very excited for the next two local events coming up here in SoCal later this year. Unfortunately, I won't be making it to SoCal Open, however Squad Games will be running a narrative event as well as an LVO prep event in the months following. I'm also planning to come to LVO to partake in the narrative event! If you haven't seen the Squad Games narrative boards, they're such a blast to play on…we experienced them at the doubles tournaments and I still think about the "drukari fight pit" board.
Jeff: I'm looking forward to SoCal and LVO, as those have always been some the biggest events for KillTeam (though there seem to be more and more these days!) But as always, life will likely dictate whether or not I'll be able to go.
Robert: There's so many good events, but the ones on the top of my list are the SoCal Open and Las Vegas Open. Fingers crossed, I hope I've got time for a couple smaller local tournaments too!
Are there any other things you want to shout out?
Alex: While the Sportsmanship award went, correctly, to Blood and Plunder (who dressed as pirates all weekend), the level of sportsmanship across the board was fantastic. People seemed to be lovely to their opponents no matter the situation and having a blast. At one point I was asked to weigh in on a disputed rules interaction in Chris Bacchi's and Orion Wilfong's game – hilariously, they were each arguing for their opponent's benefit! That interaction, and the entire tournament, was a great showcase of what miniature wargaming should be: beautiful models playing out mind-bending tactics, upheld by consummate sportsmanship.
EM: Congrats to every single player at the AVTT for having a great time and participating in such a fun event! So many fantastic players, top tier in skill, hobby, and sportsmanship, all in one place. Congrats to BATS-B and Kell Team who our team shared the podium with. And big BIG congrats and big love to the Squad Games team for nailing yet another amazing event. Also, feel free to check out my instagram (link) if you want to follow my hobby journey as I WAAAGH my way towards the top of Kill Team hobby track for the 2nd year in a row…hopefully 😅!
Jeff: Shout out to the Southern Discomfort members for taking the extra effort to include me and work with my weird scheduling for the weekend. Shout out to Dakotah, Saya and the rest of the Squad Games team! I've been going to their events since they had just started out early in KT21's lifetime, and they've done such an amazing job to grow the community. And huge props to everyone who came in from out-of-town to make this event a veritable shark tank of competition. So many new faces that I'm looking forward to seeing again at other events!
First place secured tickets to the West Coast Kill Team Champs (link), with quite the strong spread of teams! Between Cults, Void-Dancers, and Breachers I suspect there were no matches the teams couldn't line up nicely against. I wonder what other secrets went into the team's success at the AVTT.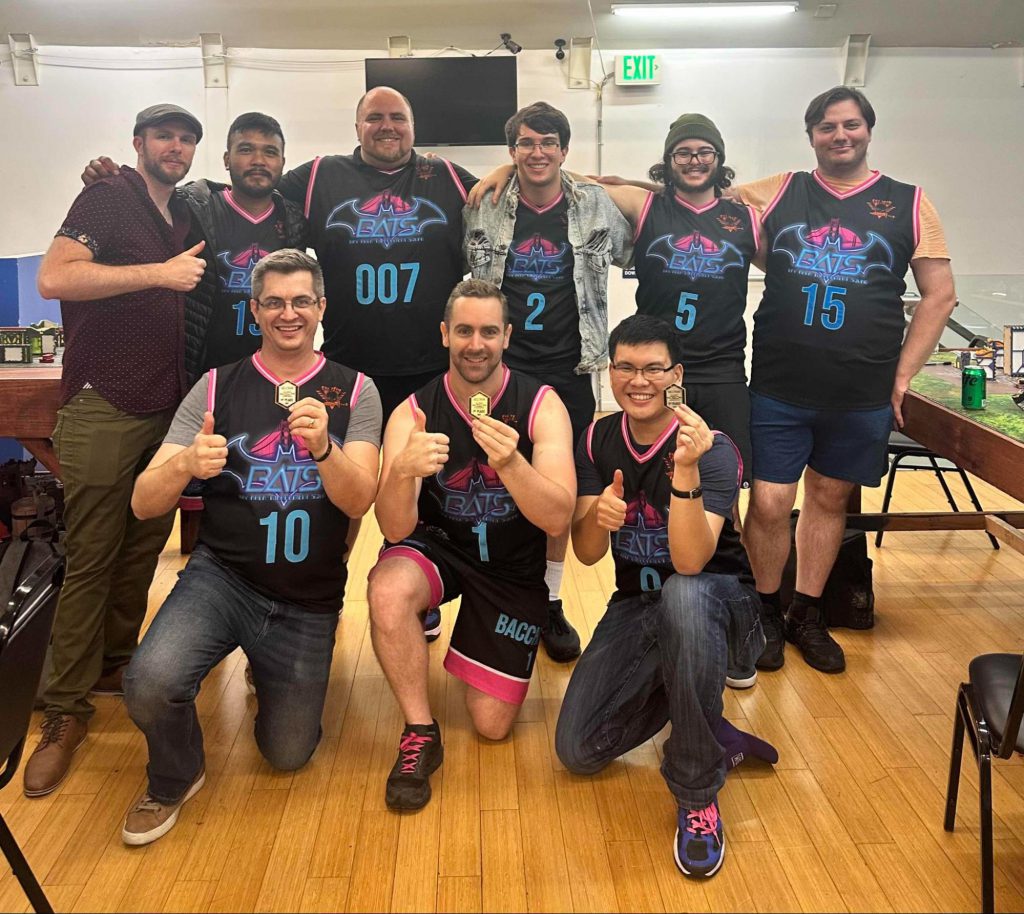 BATS-B, 1st Place
Captain-Chris B: Chaos Cults/Miguel B: Breachers/Sean C: Void-Dancer Troupe
What went into the 3 team choice, for AVTT? Was there actual strategic decision making or was this an example of 3 friends picking their current favorite teams?
Chris: The players (Miguel and Sean) came first in overall deciding on team composition. Sean and Miguel are both veterans of their factions. I (Chris) ultimately went with cult after deliberating on a few options- wanting a team that was native in Into the Dark.
Both Breachers and Void Dancers prefer Open, but are able to perform well in ITD as well. This meant that each round, we had a lot of pairing agency to choose good faction draws (primary criteria).
Our overall strategy was focused on optimizing the pairings for each player, each round. That means we never went into a round deciding to "dump" or "grenade" a player into a purposefully bad matchup to win the other two – instead optimizing to aim to win all 3 games each round.
Where did you feel the most impact of the team format during the tournament? The big draw for team tournaments is playing with and off of your friends, so I'm curious how that materialized for you all?
Chris: Deliberating over the pairings and tables is definitely the biggest distinction between regular tournament play and the team format. Our teams put a lot of prep time into 'gaming' the pairings, with special attention to predicting our opponents moves and decisions and getting ahead of them. The ability to check in with teammates during a round and give tips was definitely neat. I found myself bombarded with questions at the start of each round from teammates curious about their pairings – it was definitely a wonderful and unique experience.
Who got into the team spirit the most in your opinion? Was there a team that ended up being the most fun to play against, even with all the sweaty moments? Any team huddles to make decisions mid-game?
Chris: All our players were decked out in their jerseys, and some even went above and beyond and got team-themed shoes (you can see Miguel's BATS themed shoes in the picture).
While we didn't get to play them personally as a team, the pirate themed team was amazing and added a lot to the ambiance of the room.
We did a big BATS team cheer at the start of day 2, which definitely carried our spirit through the day.
When did you all decide to join up together as a team? Were there any internal storylines for the players that went into joining up? Growth as a player? Being a top BATS player?
Sean: We have been playing together for about a year. Chris held an event in San Rafael and I had recently gotten Miguel into the game, so we decided to attend.  The event was super fun and included a narrative horde mode mission that set your kill team against an army of genestealers.  After that we got to know Chris and Sheldon and were invited to join Bats. Over that period we all pushed each other and grew to an incredible degree, representing BATS at both LVO and BAO.  I was very honored to be chosen to play with Chris for the team tournament!
How hype are you all for the West Coast champs now that your team has secured a ticket later this year?
Chris: We are ready to rock & roll! We did finally retire our AVTT teams – so we are excited to try out some other teams and adapt to the ever-evolving meta.
Any other final words for the Goonhammer readers? Shoutouts to your gaming club?
Miguel: Shout out to my BATS brothers and sisters in arms. Honestly, you never know where your next group of friends will be and going to events is the key to making those awesome memories. I took a chance, going to a random low key narrative event and ended up finding a group of friends who encouraged and nurtured my love of this game and the many different facets of this amazing hobby. They make me drive 2 hours each way to play, and while some may view this as a bit on the extreme, I found it very much worth it.
That wraps up our look at the All Valley Team Tournament but check back next Thursday for more great content on Kill Team. And if you have any questions or feedback, drop us a note in the comments below or email us at contact@goonhammer.com.