Continuing our coverage from the 2023 Ministravaganza from Atomic Mass Games, we look at the latest news on upcoming releases for Star Wars: Shatterpoint. We got looks at upcoming models, including spoilers for some of the first Rebellion era models, new terrain, and (finally) another Mission Deck to choose from.
Model Rule Reveals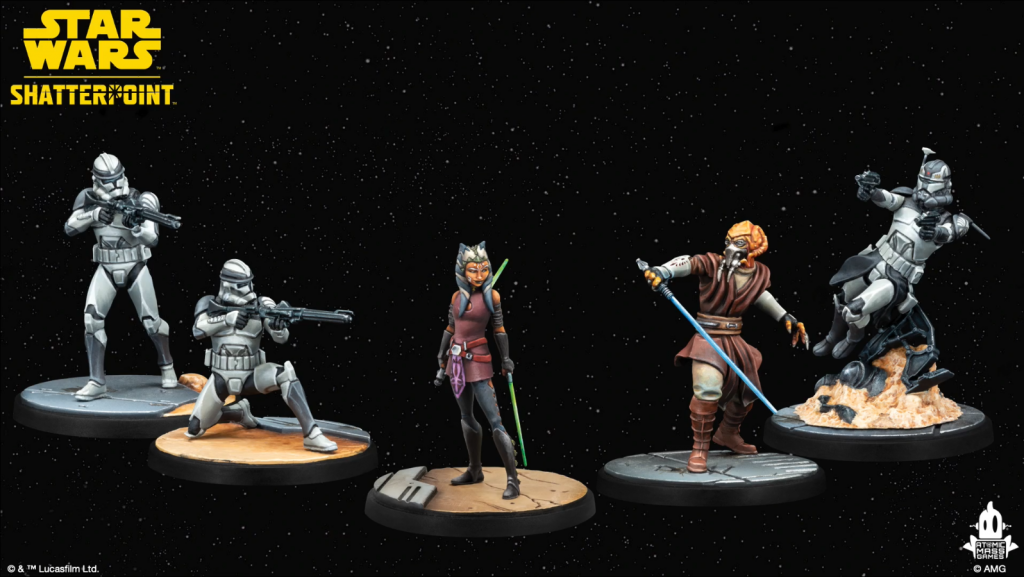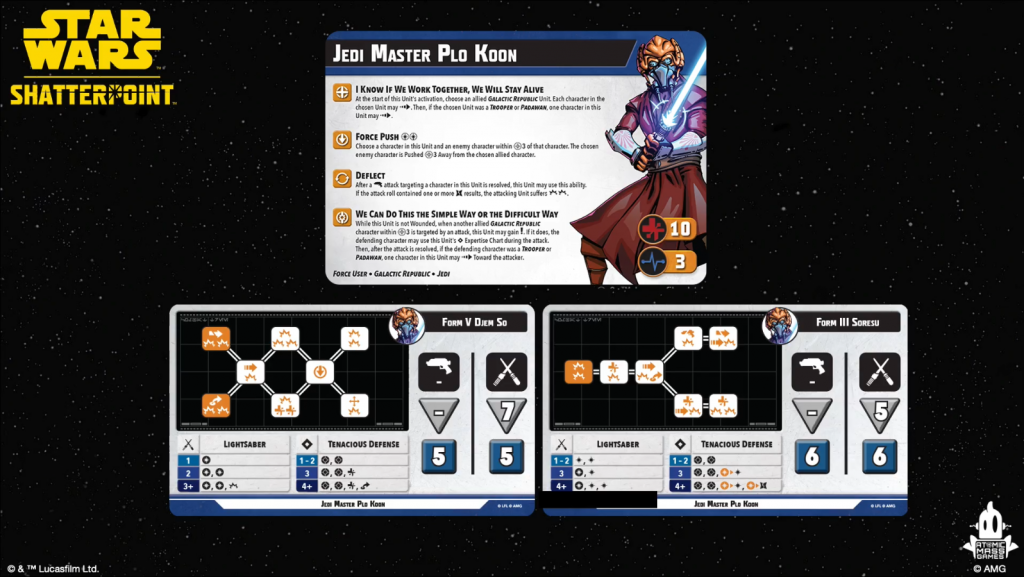 To start out, we got some rules spoilers for an imminent release- the Lead by Example squad pack featuring space-dad Plo Koon, Padawan Ahsoka Tano, and 104th Wolfpack troopers. Plo's pose is meant to evoke classic art of him, and his rules are meant to evoke his "controlled, metered optimism". He wants to defend others and in the process make his way to the enemy. His Identity ability had more iterations than any model to date, apparently. His support abilities will slot in very nicely in a Republic list with lots of Troopers. He's no combat monster, but can do some work. Of special interest is his Force Push ability, a rare and powerful ability in Shatterpoint. Plobi-Wan lists in particular look they could be very powerful when this box comes out, so look forward to that one soon enough.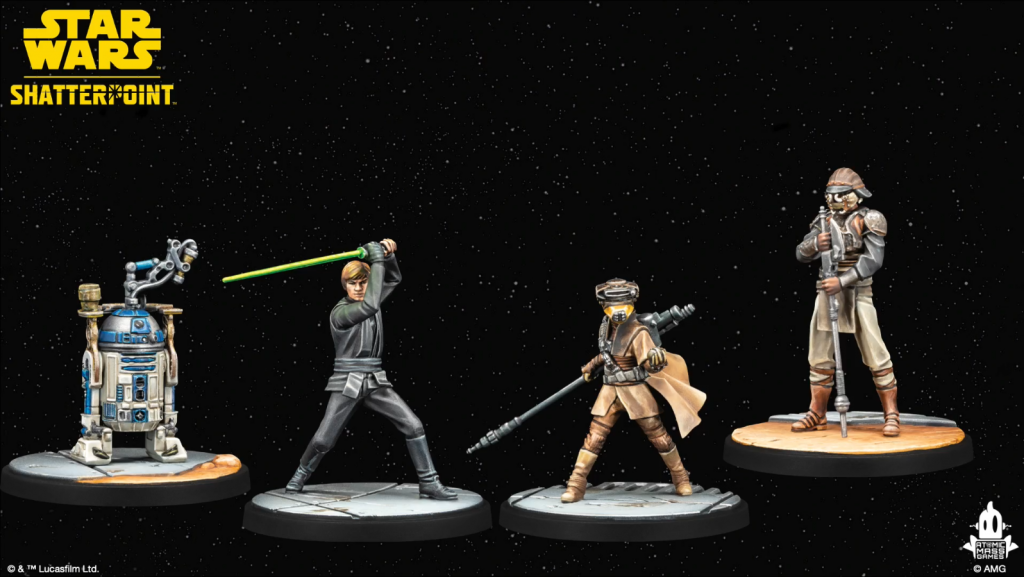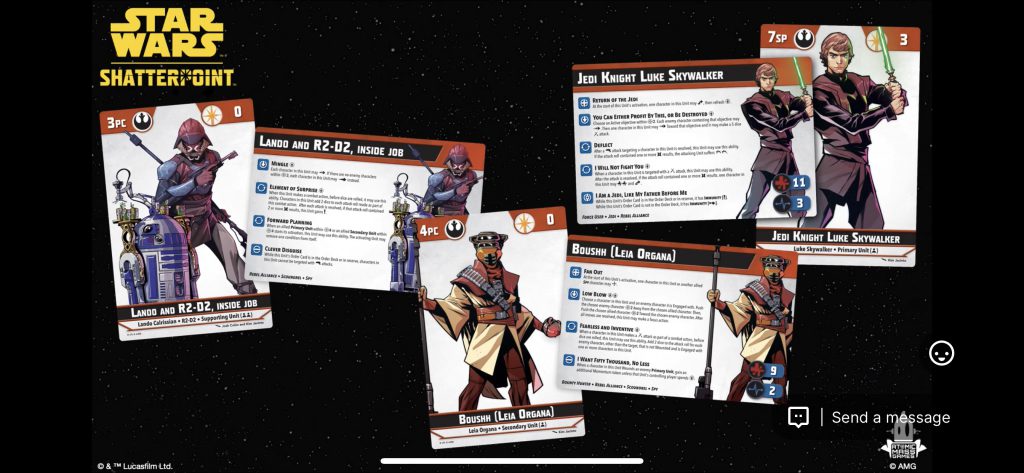 Next, we got to hear more  about the first Rebellion-era squad. (In a subsequent stream later in the event, we got to see actual cards.) Here we have a squad all derived from Return of the Jedi. Apparently the devs hoped to release these to coincide with the 40 year anniversary of RoTJ, but life happens while we make plans, and production is production, so here we are. Luckily these look like they will be well worth the wait. All of the models are lovely, and have options in assembly. R2 can go with or without his drink caddy. Boushh aka Leia and Lando can go with mask or without. Leia also has options for an arm with thermal detonator (naturally) or not. Why you wouldn't choose the detonator arm is beyond me, but hey to each their own. Stat wise, Luke as primary looks powerful for sure. It's nice to see more abilities that interact with the Order Deck here, as well as ones that make his opponent make some tough choices, such as I Will Not Fight You and You Can Either Profit By This, Or Be Destroyed. Leia as Boushh looks to continue the tradition of strong, fun Secondary characters who is designed to be very aggressive with strong control elements, according to devs. We also see her and the Supporting unit of R2 and Lando both with an interesting Spy tag that they promise will become very relevant in the future, with exciting mechanics to come.
If there is any justice in the world, this means Rogue One and/or Andor squads are coming. AMG please make Rix Road squad with this guy included, with option for the single most badass melee weapon to ever appear in tabletop! (If you know, you know.) Brasso Primary, B2EMO Secondary, and Marching Band members as Support. Come on, this designs itself!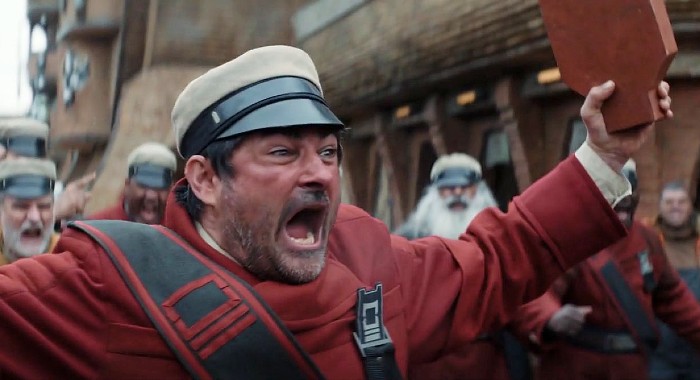 Next, we got to see Rebellion-era Vader and friends (again with additional spoilers later in the event).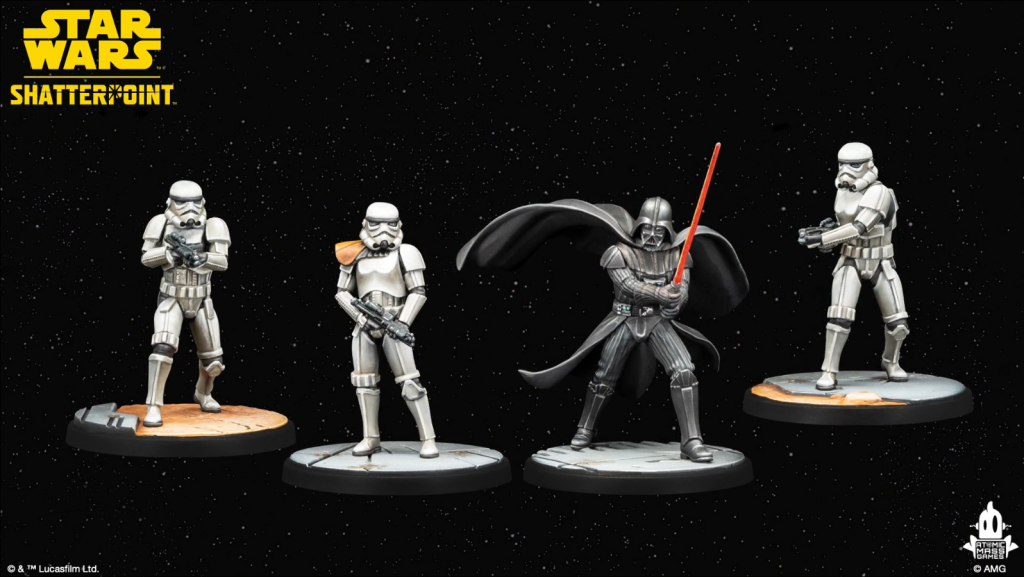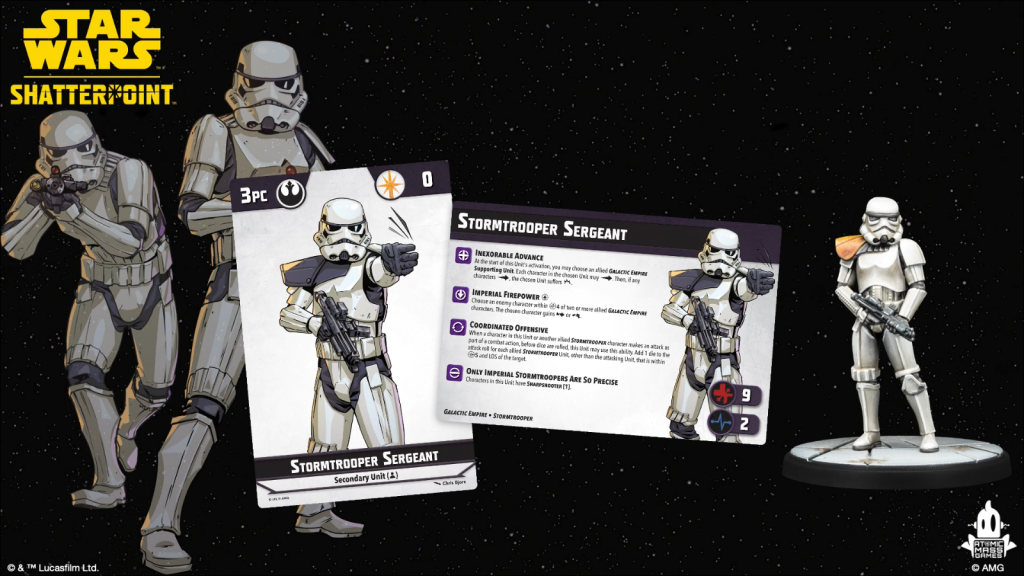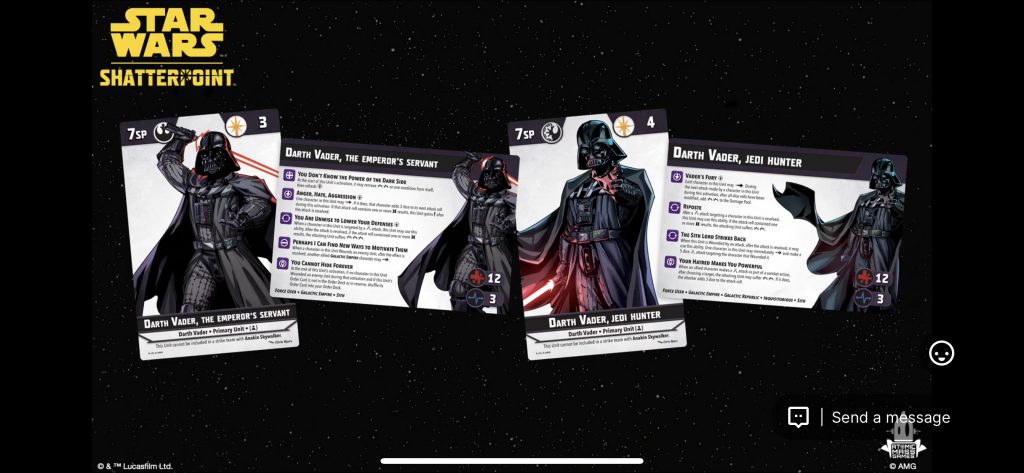 Yes, we're getting another Vader. He's a popular, iconic character so that should come as no surprise. This version represents him grown into his role as the Emperor's right-hand man, enforcing his will across the Empire. We again see mechanics around damage and wounds, which apparently will be a theme for Galactic Empire units. They can be highly efficient and powerful, with the cost of damage or conditions like Expose to themselves or nearby allies. Vader himself won't go down easy, though. Healing and refreshing a Force point when he activates is powerful on its own, but coupled with his You Cannot Hide Forever ability, he looks like an implacable menace on the table (as he should be). No sign of his combat tree card yet, but expect major amounts of damage output. The Stormtrooper Sergeant (with a perfect pose on the model, by the way) continues with the theme of 'grinding authoritarian bureacracy chewing through its own units to achieve victory'. AMG devs did hint at plenty of potential ways to heal such as in combat trees, though. If you're wondering about this squad's name, by the way, it refers to a line from the Vader Down comic event from a few years back: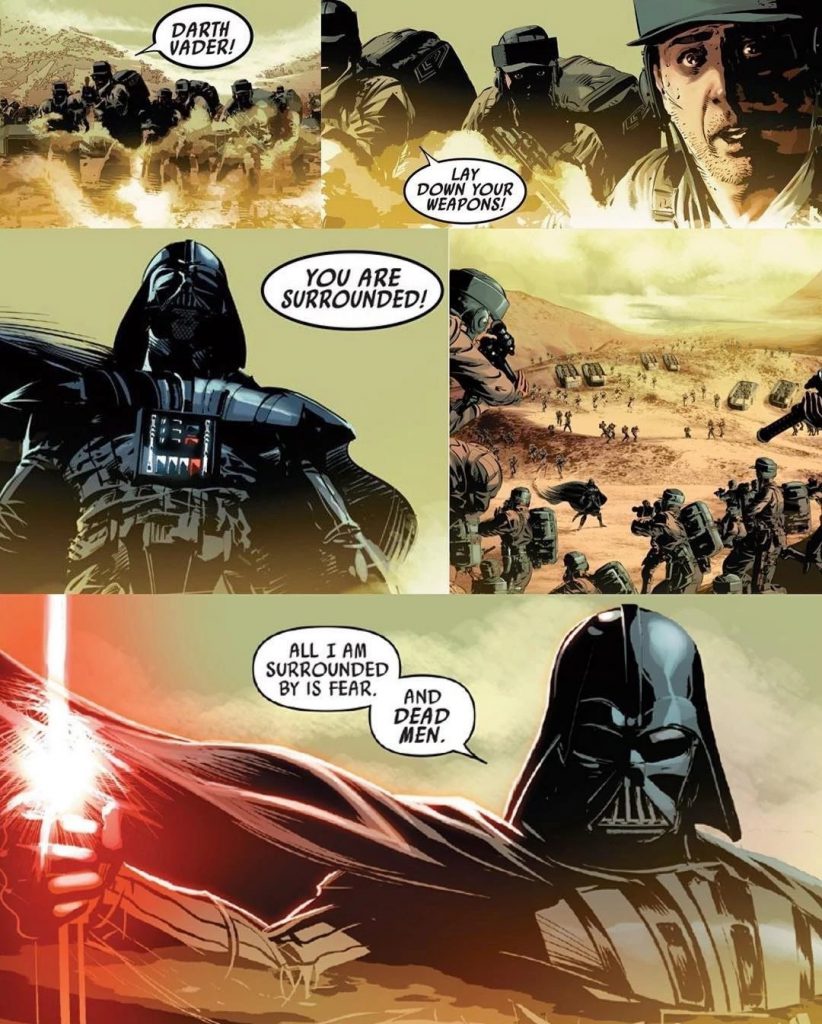 Next, we did a complete 180 on the vibes. It was time for Yub Nub. Or, in this case Yub Nub Squad and Ee Chee Wah Mah Squad. Yes, I had to look those up for correct spelling.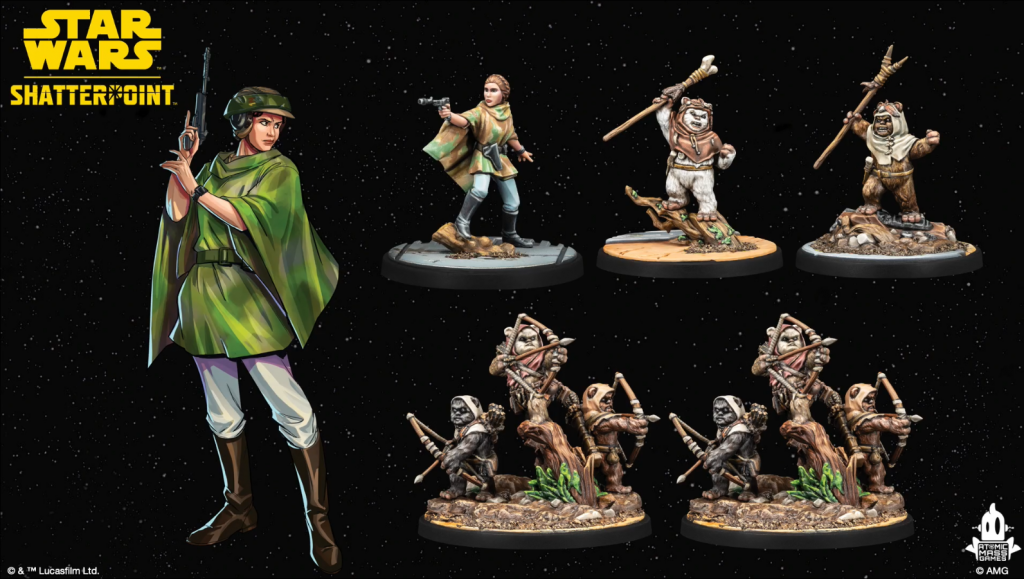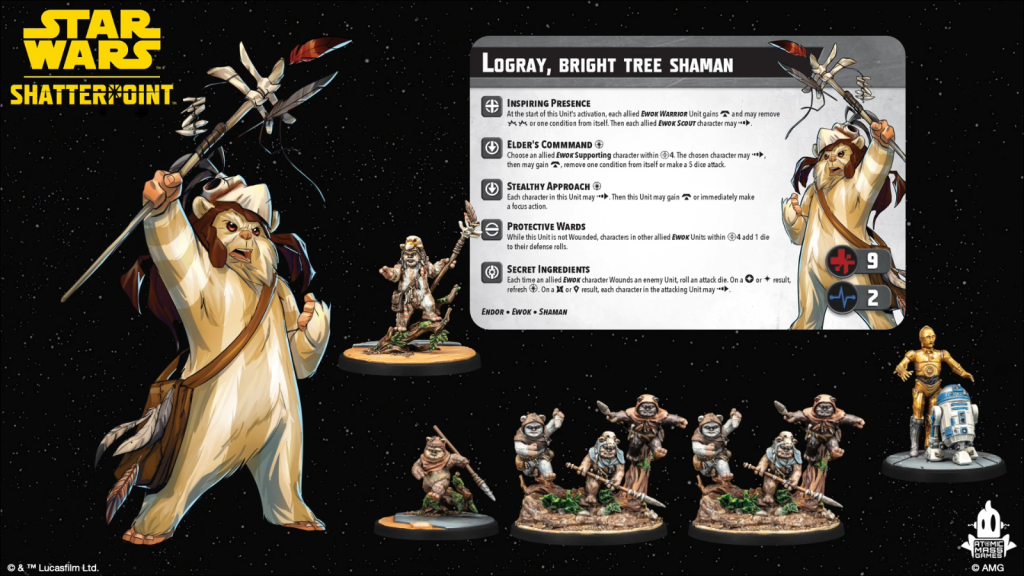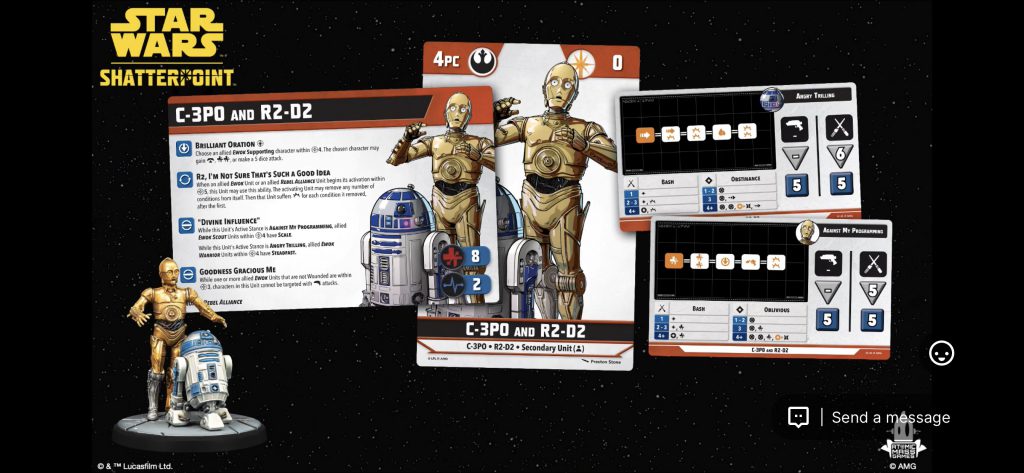 Yes, Ewoks are coming and honestly? They look great. Rules wise, the devs described them as fast, fragile units that want to win the first struggle ASAP, then hope to hold on and eke out one more. Logray really encapsulates this design space. He's a Primary that brings powerful support for other Ewoks. (Secret Ingredients in particular is excellent.) But he has a lower Durability than average. He's accompanied by R2-D22 and C-3PO on one base as Secondary. Nice to see that iconic pairing together as an option. You'll only see this version in Ewok heavy lists, but they definitely help turn the Ewoks on even more. The pack also contains Wicket as a Secondary option along with Ewok Trappers as Supports. We also see our first squad pack with optional Primaries, as the Ee Chee Wah Mah pack contains Leia, Freedom Fighter and Chief Chirpa to choose from. Admittedly, the Leia sculpt here is a rare misfire for AMG. Here's hoping it's suffering from a poor angle or can be improved somewhat with a different painting technique. Luckily, we saw additional models coming out farther down the line, confirming that this was a rare misstep rather than any drop in quality.
Painted Mini Reveals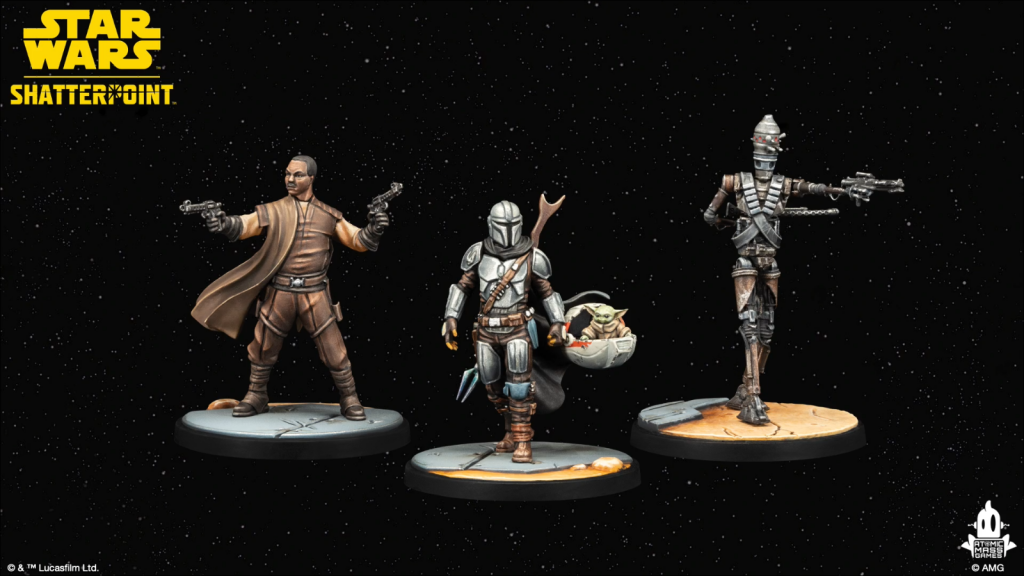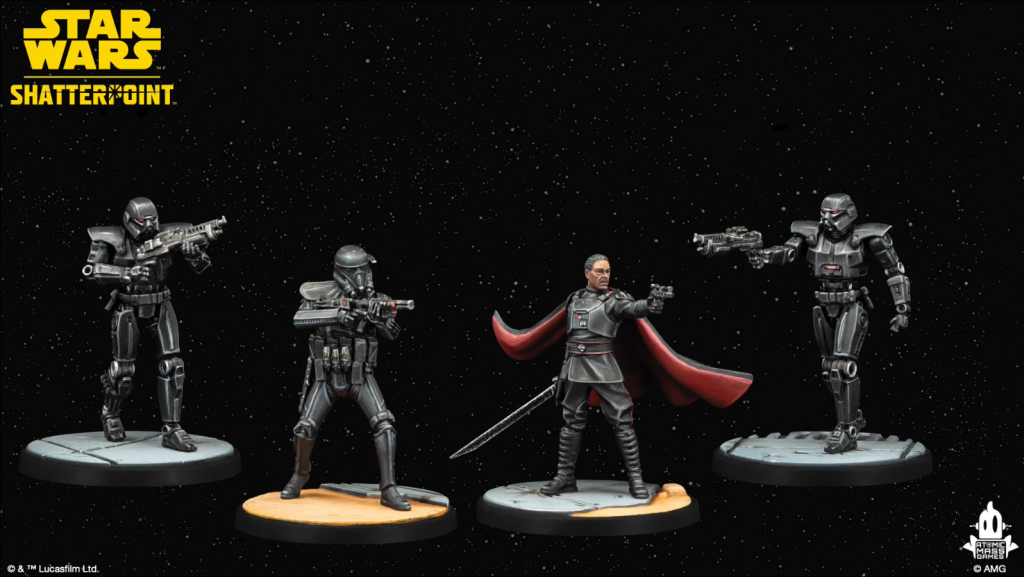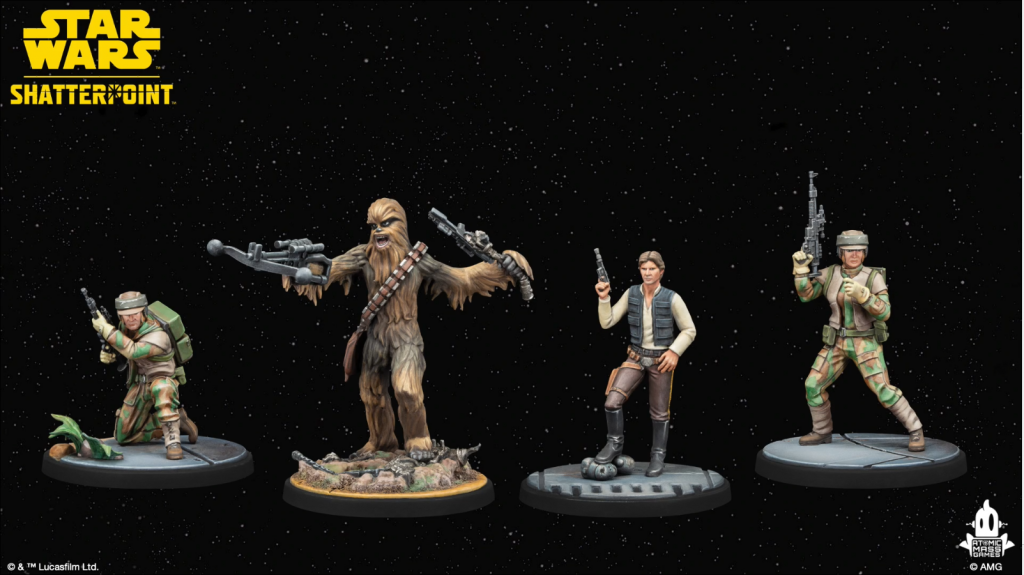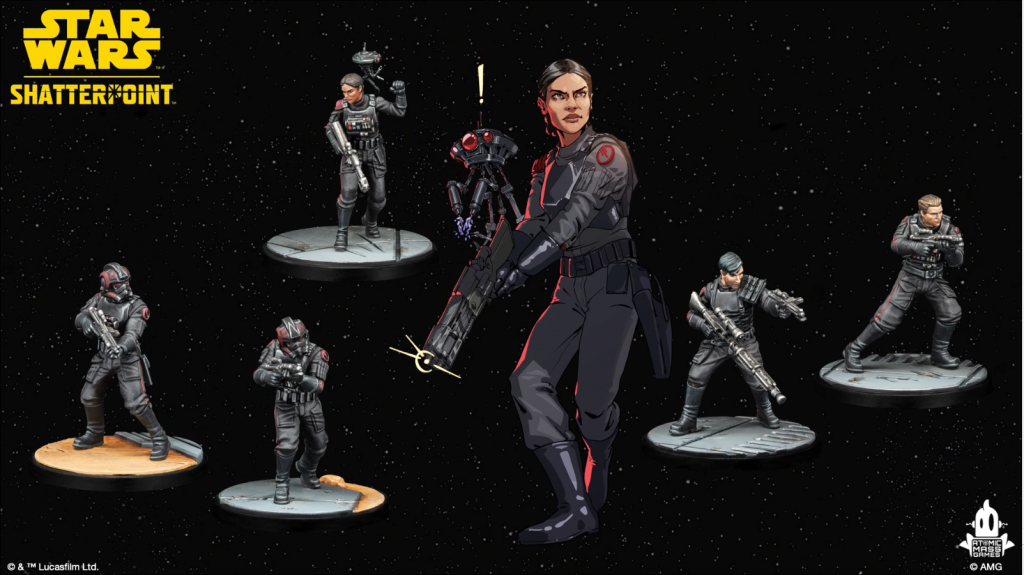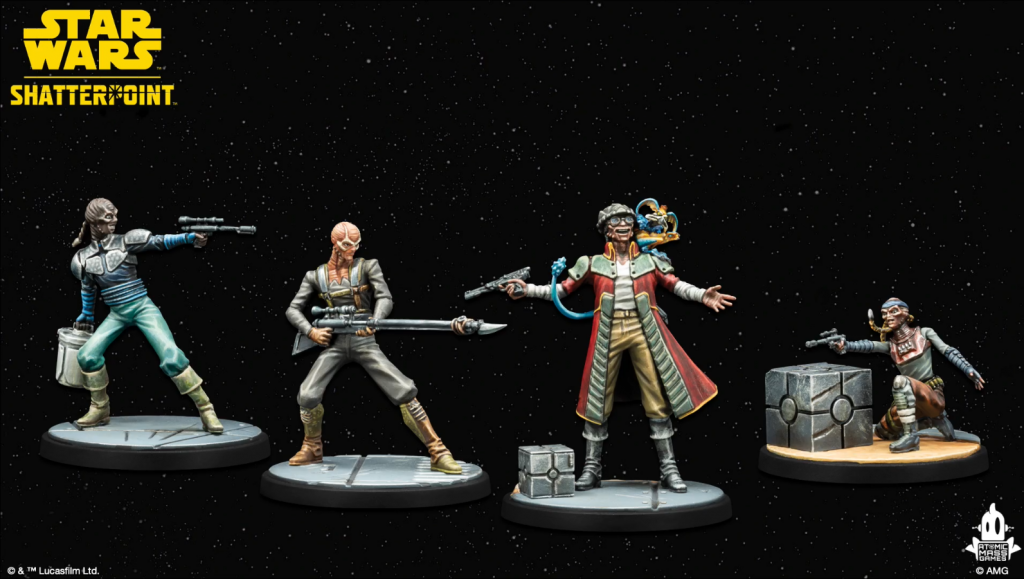 Some of these we've seen, but not necessarily in painted form. No surprise to see Mandolorian themed squads coming, given the popularity of at least the first season or two. Interesting that there's no standard two-base Supporting unit there, so it'll be interesting to see what AMG has up their sleeves. One of the devs mentioned IG-11 has "(his) favorite rule in Shatterpoint to date" so I'm looking forward to what that's all about for sure.
The You Have Something I want pack featuring Moff Gideon is lovely I'm sure, but all I'm seeing there is the Deathtrooper please AMG just give me some Rogue One with Krennic and two Deathtrooper supports. Anyway, moving on to the last new model announcements, we finally get to see Han and Chewie (with some Rebel Commando grunts) in the Real Quiet Like pack. Han looks fantastic in particular. Chewie is well done, but seems to be calling out a more Clone Wars / animated look which is a bit of a weird juxtaposition to the more realistic looking Han and commandos.
Continuing with some deeper cuts in extended Star Wars properties, we get fan favorite Hondo Ohnaka (in a post that according to my notes at the time, "slaps") and friends in the That's Just Good Business pack. (Whoever names all these squads deserves a raise.) The devs definitely were fired up about his rules, especially paired with Cad Bane so look forward to that, scoundrel fans. We also saw Iden Versia and Inferno Squad featured in, well, a squad. Not sure how many people are going to be fired up for characters from Star Wars Battlefront 2, but they certainly look great with that fascist drip.
Other Product Reveals
In addition to models, we finally got to see confirmation of a second Mission Pack. The one pack included in the core set is surprisingly replayable, given how many permutations exist across the potential three struggles in game. But it definitely feels like past time to introduce some new options.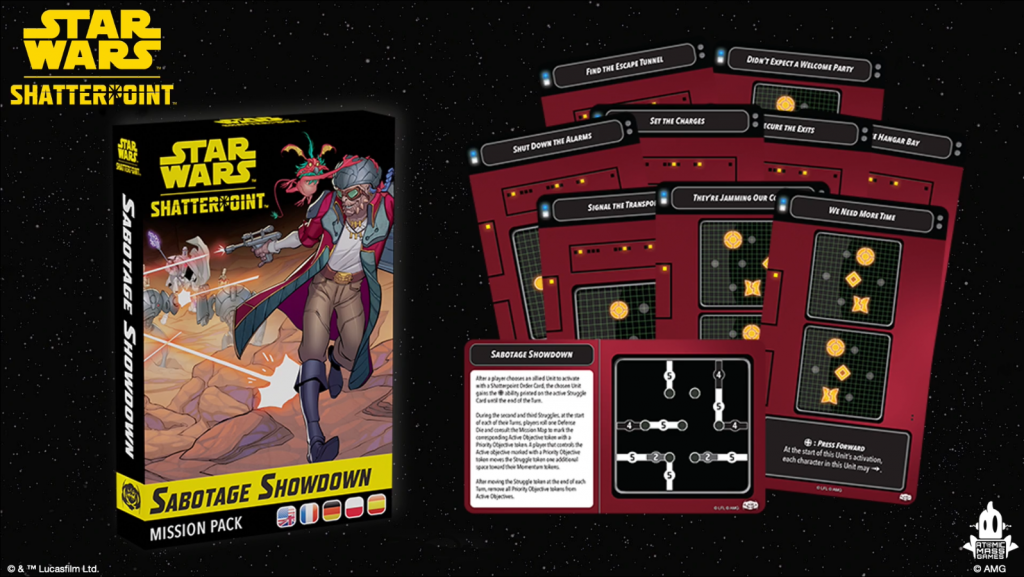 This pack brings the action more central, and also introduces new mechanics around Shatterpoint cards. Different struggle cards will feature abilities that trigger when you use your Shatterpoint card to activate a unit. They don't seem exceedingly powerful but should open up interesting new options in gameplay.
We also got another mention of future Rebels character models, including cool new designs for unit order cards: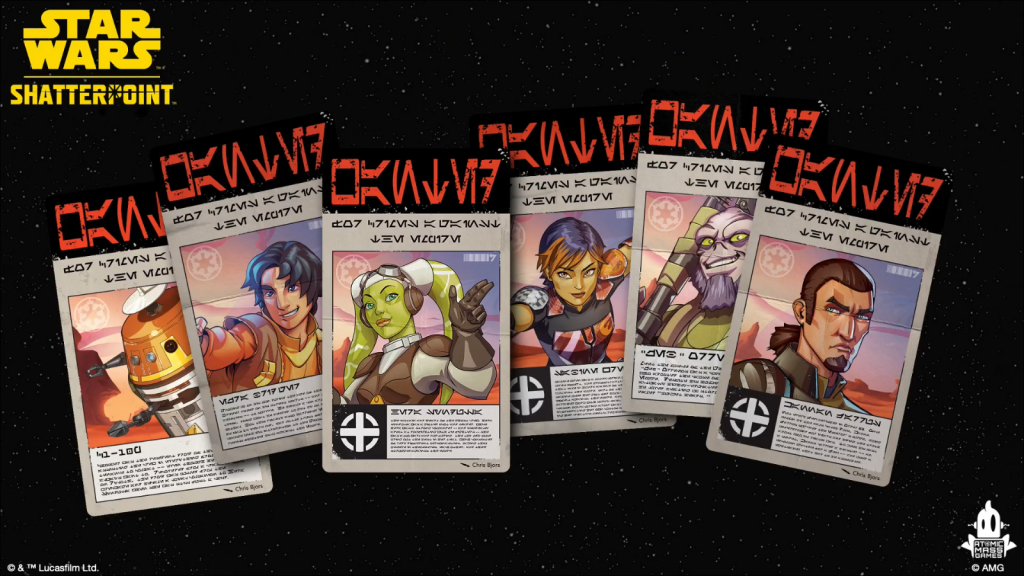 The graphic design for this game has been uniformly excellent (except for you, tiny ability icons my old eyes can't distinguish. Is that a Shove, a Dash? Who knows!) It's nice to see them branching out in creative new ways with their design.
But I've saved the most exciting announcement for the end.

No seriously, this thing lives rent-free in my head now. It's part of a nice looking terrain set and all, but who cares when WOMP RAT.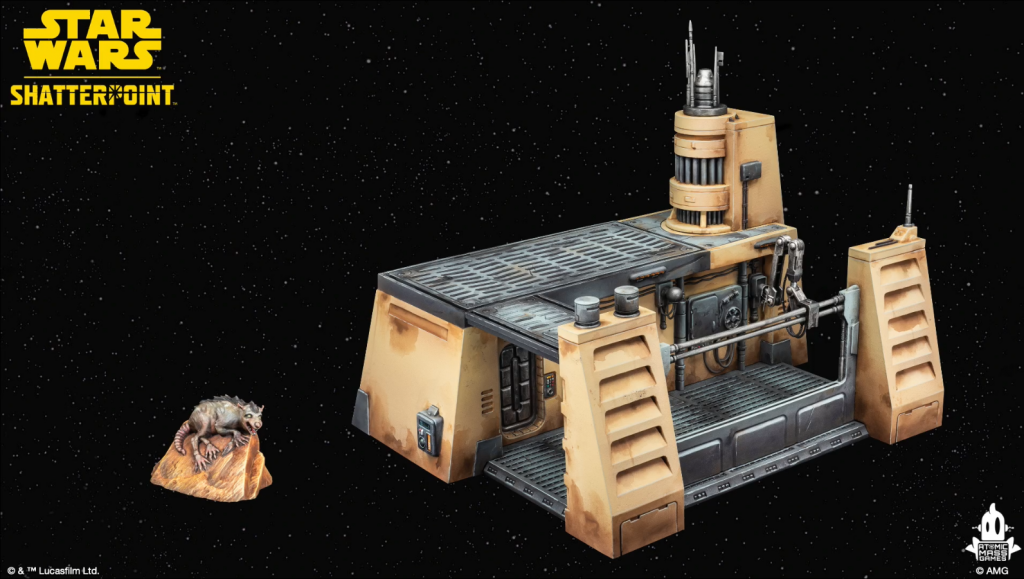 Oh, and they teased this guy too.