Attention Troopers – Officer on deck! We are locked and loaded and ready to talk about important business: The state of the Kill Team Meta. Since our last update we've accrued another three months' worth of tournament data we can use to understand the meta and build a whole new T-T-TIER LIST *airhorn noises* – and even speculate on the new factions. 
Last time around we kicked things off by talking about the examination process – how we build an examination of the meta, what stats we look at, and the potential pitfalls of our approach. If you haven't read it yet, go back and do that. Otherwise, let's take a look at what new threats are set to dominate the galaxy in Kill Team. Before we get started, I would like to thank HotSauceTeddy – your Tableau dashboard is an amazing tool for understanding the current Meta.
The first approach, Q2 Win Rate: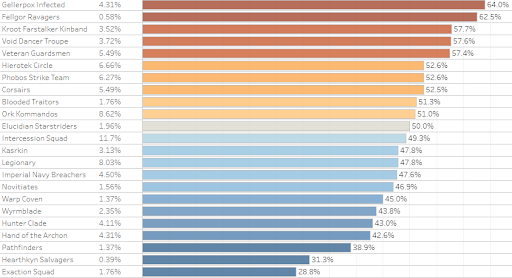 For this analysis we'll be looking at tournaments with 4+ Rounds and 16+ players which ran between April and May, 2023. Doing so shows us three clear winner factions: Farstalker Kinband, Void Dancer Troupe and Gellerpox Infected, with a 55%+ win rate for each. An the opposite end of the spectrum we have Pathfinders and the Exaction squad, with much more dire sub-40% win rates.
Fellgor and Hearthkyn are also on this chart and at opposite ends from another, but sadly with so little data at the moment it isn't fair to make a determination on either. That said, they're pretty close to where they belong in our estimation – Fellgor are very good and Hearthkyn are not.
The Events
We'll be starting with England, which has been a very active region of late. The biggest Kill Team tournament to date in England, with 120 players, was at WarhammerFest. In the top 8 we have 3 Navy Breachers (including the winner), accompanied by Kommandos and Void-Dancer Troupe closing the top 3. An event of exclusively open environments and where the doors and hatches were not enabled, which surely conditioned the experience. A lot of good players in that list with a mix of English, Polish, and Spanish on the top.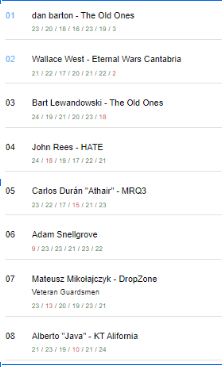 In April we had the 32 player Easter Eggstravaganza with Legionnaires, Veteran Guard and Gellerpox who taking the top 3 spots. The event was in mixed environments.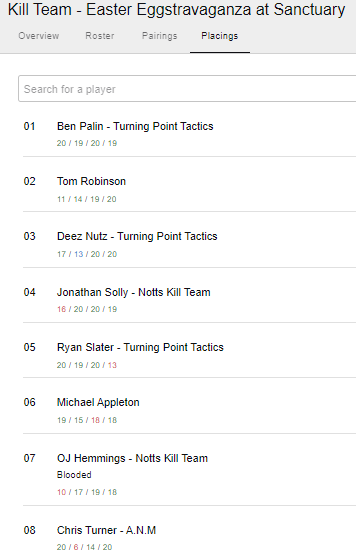 The last tournament in this region was a full Close Quarters tournament with 34 players. Legionnaires took the top spot with Starstriders and Harlequins right on their heels. Well known names in the Northern Europe scene attended and dominated in both tournaments.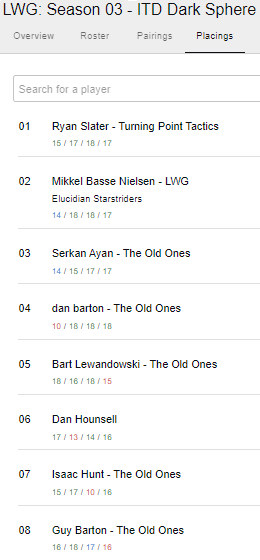 Moving on to continental Europe we will start in my home country of Spain with The Major held at Kingdom Wargames in Madrid one of the largest tournaments of the quarter with 7 rounds and a top cut final bracket.
As you can see there is a varied top 8 where with only Navy Breachers repeated and the appearance of Phobos as tournament champions followed by Kommandos and Legionaries. 
A tournament held in mixed environments whose final was decided by a few points.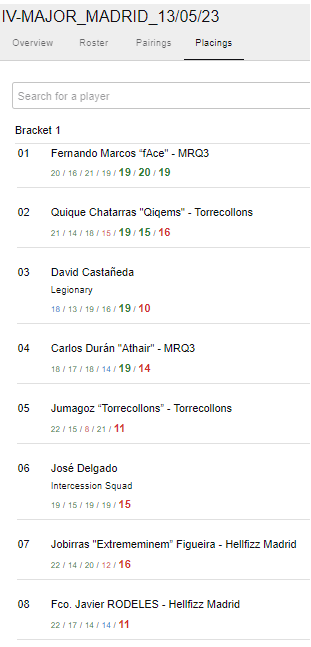 Next up we'll move on to France, who also had one of their largest events of the year, featuring 30 players over four rounds. This tournament was won by a Farstalker Kinband team followed by Legionary and Navy Breachers teams. As a fun additional note, a Hive Fleet(!!) list made the top 8, showing that the Compendium still has some legs (claws?).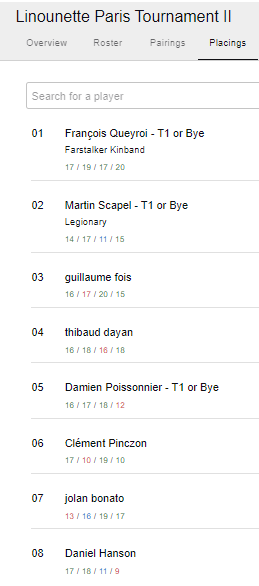 Moving Eastward we have 38-player tournament in Poland that went an incredible seven (7) rounds. The tournament was won by a player running Intercession Squad followed by Kommandos and Legionnaires. This tournament had three faction repeats in the top 8.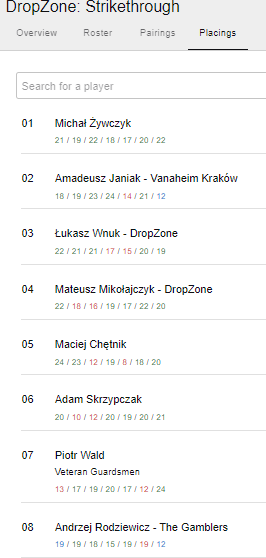 Last but not least, before leaving Europe we must look at Russia where the Evildice April's NotFool Day event ran with 32 players over 4 rounds. There Veteran Guard took the top spot followed by an Intercession Squad and Karskin team. This was a very tight tournament when it came down to the final scores with two Starstriders players making it into the top 8. 

Crossing the Atlantic to the Americas we come to an Argentinian event. Mixed environments and a Silver ticket at stake resulted in a Phobos victory followed by Wyrmblade and Navy breachers. We see that in this top 8 many of the usual suspects such as Intercession and Kroot.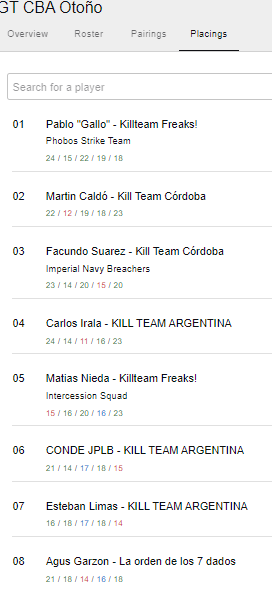 Finally entering North America we have 2 tournaments to study. 
Firstly, the Bay Open Area, with 6 rounds and only one winner, with top 3 going to Kasrkin, HOTA, and Navy breachers, with a remarkable top 8 that included Fellgor with no repeats.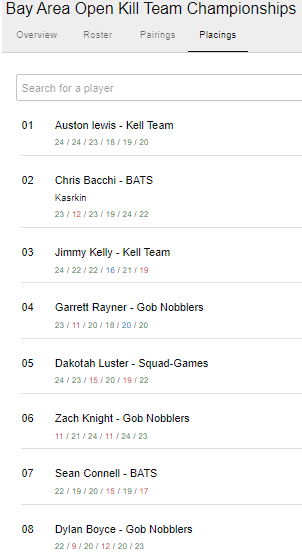 In addition we have the KCO which has been the last tournament studied with 48 players and 5 rounds, where we can see the rise of the new cultists followed by Phobos and Wyrmblade. In this final top 8 we find Chaos Cultists, Fellgor and the Inquisition implying that at least 3 of the 4 teams released (looking at you Hyrthkin) are very strong.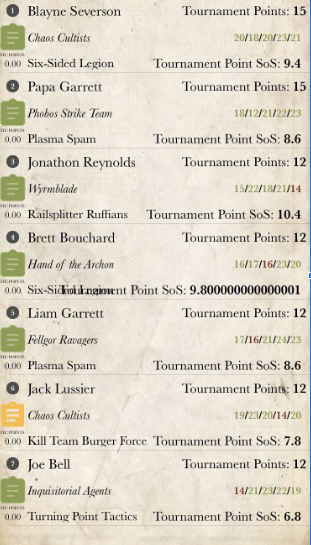 What Does it Mean: Analyzing the Data
So what does the data tell us about team representation at these large events? Keep in mind that this is a small sample, but we have enough common factors to start making some observations.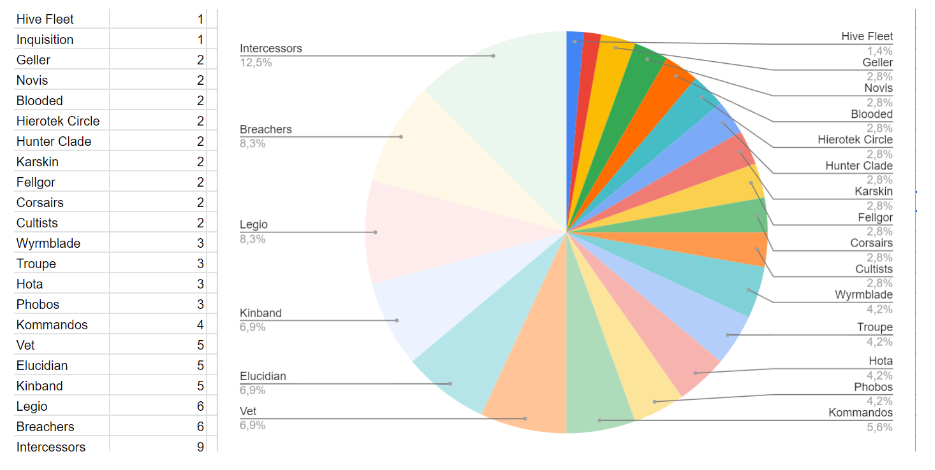 Our sample of five GTs gives us top 8 showings for 21 out of the 25 non-Compendium teams. There's some over-representation here: The numbers for Imperial Navy and Intercessor teams stand out most glaringly (Again on this Q2, but with less dominance than in Q1), and Legionary, Kroot and Elucidian are following them very closely. 
This creates a huge discrepancy with what we saw at the beginning with the win rates. Gellerpox and voidancer troupe only get 2 and 3 wins, respectively; however Intercessors, Imperial Navy Breachers, Legionaries and Elucidian, despite having a much lower win rates, even below 50%, show that they are still desired factions by the big players. What this shows for the second month in a row is that the win rates are not as reliable as they should be, and although they are a good indicator, they are not the only thing that matters. Good players always find ways to play with their favorite factions or are able to handle factions that are much more complicated for other players and get great results with them.
On the whole, the current Kill Team meta is very healthy, with a solid balance that has 21 out of 26 factions currently showing tournament placings in the top 8.
The Tier List
With all of the data crunched and the wins tallied, it's time to build our Tier List. overall the meta is still in a health place; lots of factions have their place and can compete. Although I expect this to change with Gallowfall and Ashes of Faith introducing powerful new factions into the Kill Team meta.
Today we'll have two flavors of list, one with and one without those last two releases.
Kill team Meta before the last 2 boxes: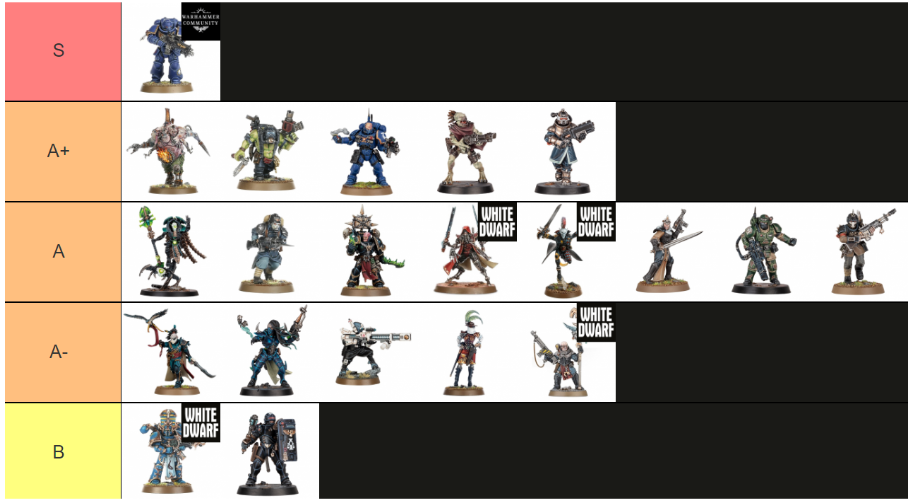 The meta including Ashes & Gallowfall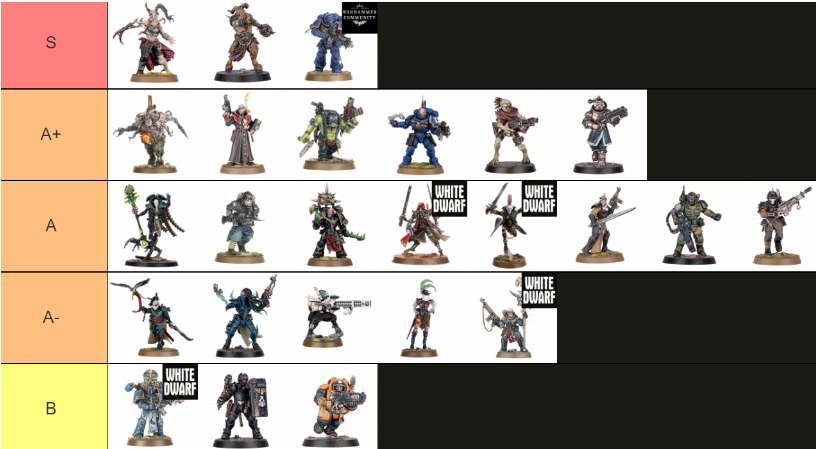 I think the S-tier was pretty clear during our analysis – Intercession Squads kept dominating the major events, and were consistently followed by Legionary and Navy teams. Completing the tier A we can see other factions with very good numbers at the tournament level and above average results (except Navy and Legionnaires). These are all teams where skill and proper play can propel them to a tournament win, and these teams can scrap with anyone. The rest of the A-tier are teams that can (And are) winning events.
The B tier really needs help and I won't be surprised if they receive it on the next DS.
Finally the second tier list is quite speculative, but if they don't receive some adjustment in the next data-slate I think both Cultists and Fellgor will stand out from the rest of the factions and everyone should be prepared to face them. Even so, there is nothing to indicate that we are not in a game as healthy as ever, but it seems that little by little the gap is opening up between simpler factions or those that demand more from the pilot. It will be very interesting to see how the meta develops in the coming months with the introduction of 4 new factions. See you in 3 months (or maybe less). Until next time! 
Have any questions or feedback? Drop us a note in the comments below or email us at contact@goonhammer.com.