PierreTheMime
Well, folks, it's pre-October which means everyone is making every excuse to release the ghouls and goblins early. For that reason, it's back to Nighthaunt for me! First off, I've finally dragged myself out of a painting slump to finish off my Grimghast Reapers which had been sitting at my desk–MOCKING ME–for ages. Even though the paint scheme is basically my standard ghost-look by now, there was something particularly draining about them. Maybe just that they were bigger without much added detail?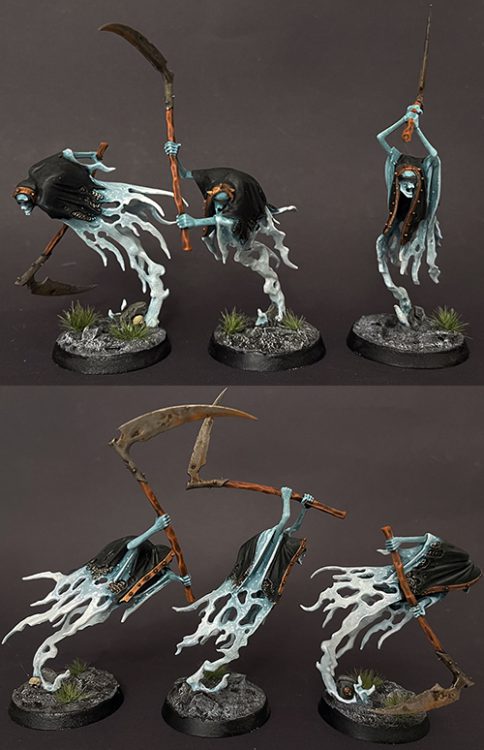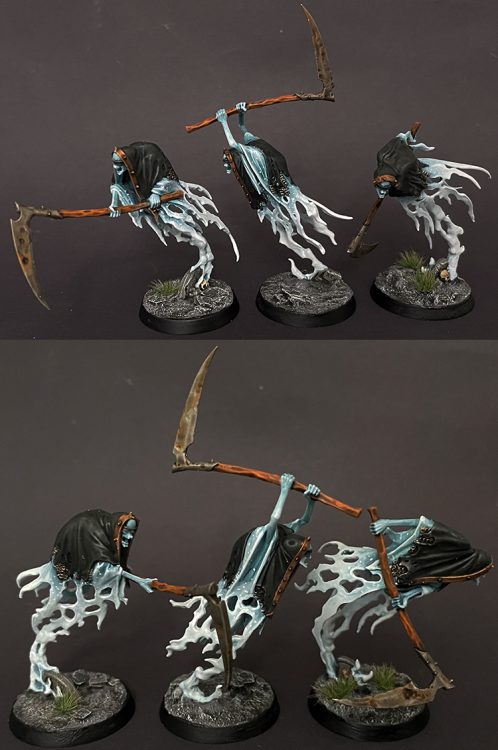 After finishing off some battleline models, I rewarded myself with a particularly spooky Guardian of Souls model: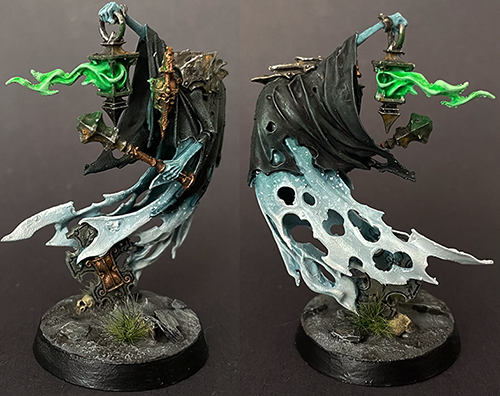 Finally, another five Chainrasps were unceremonously plucked from the massive Mortal Realms pile: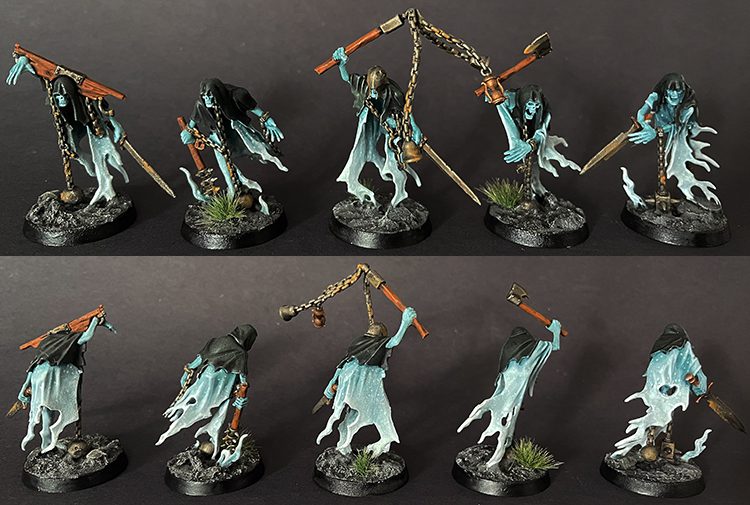 Given that I have about a third of a Nighthaunt army left to paint (plus tons of spare Chainghasts that will forever haunt me), next month is gearing up to be frightfully productive.
Rockfish
I have been painting a bunch, as usual! I did some Orks…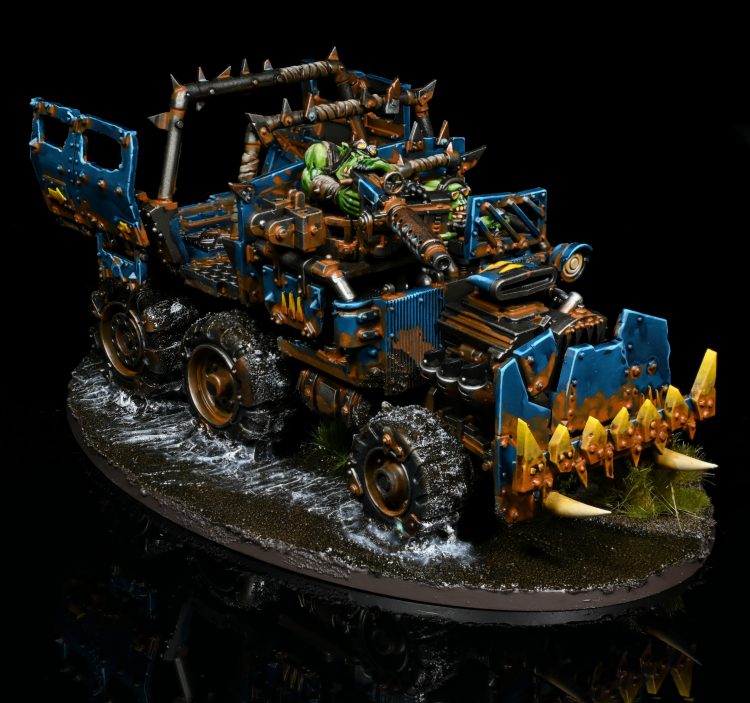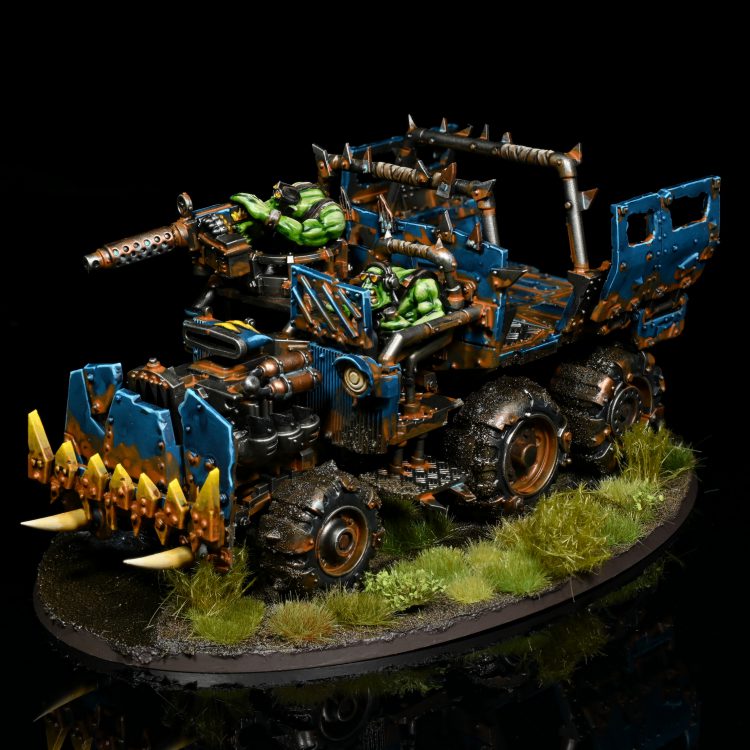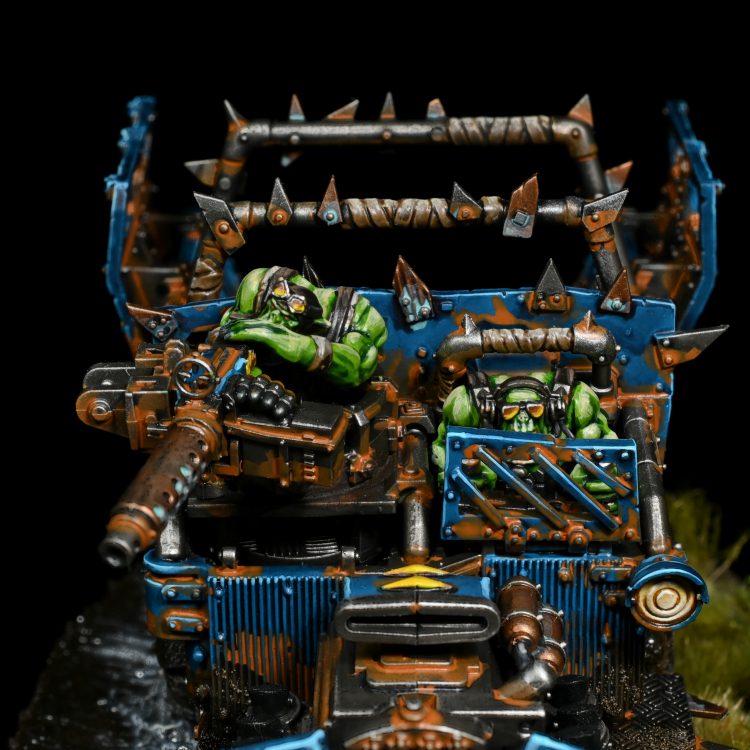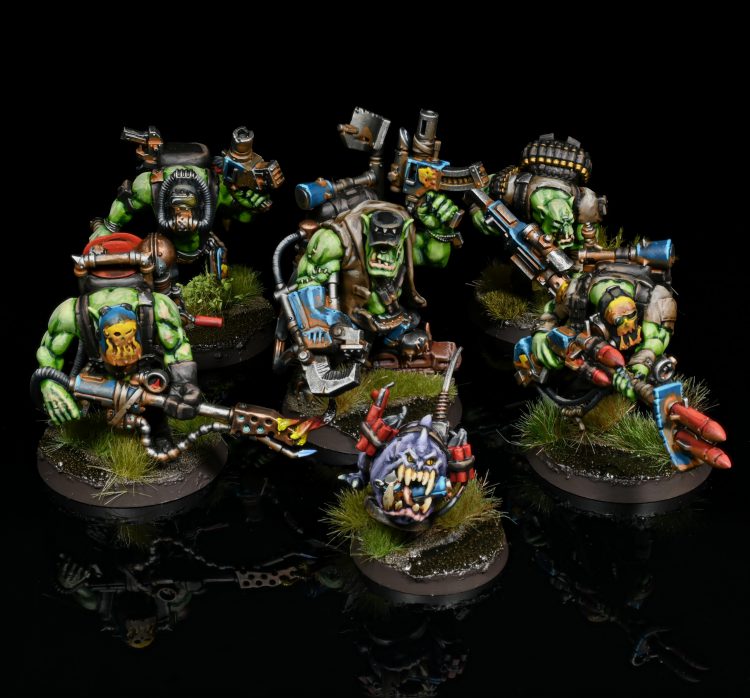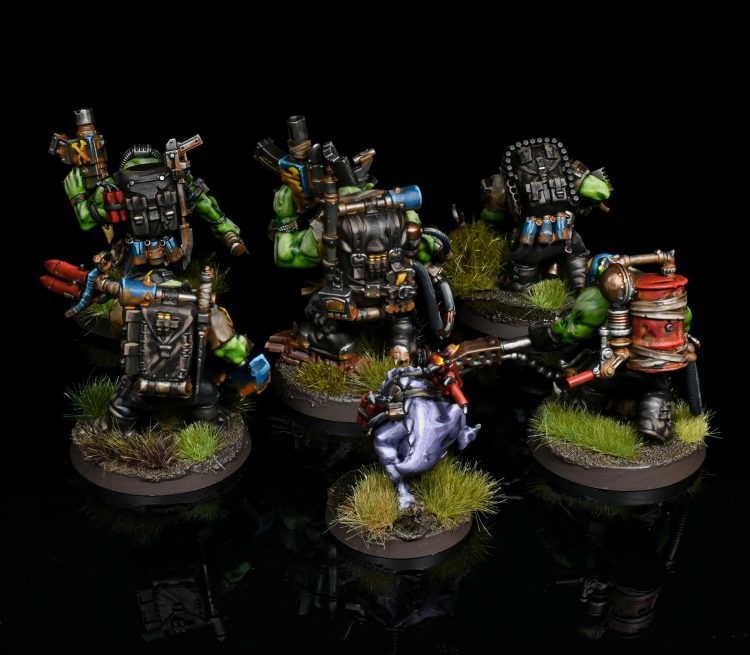 Some guard…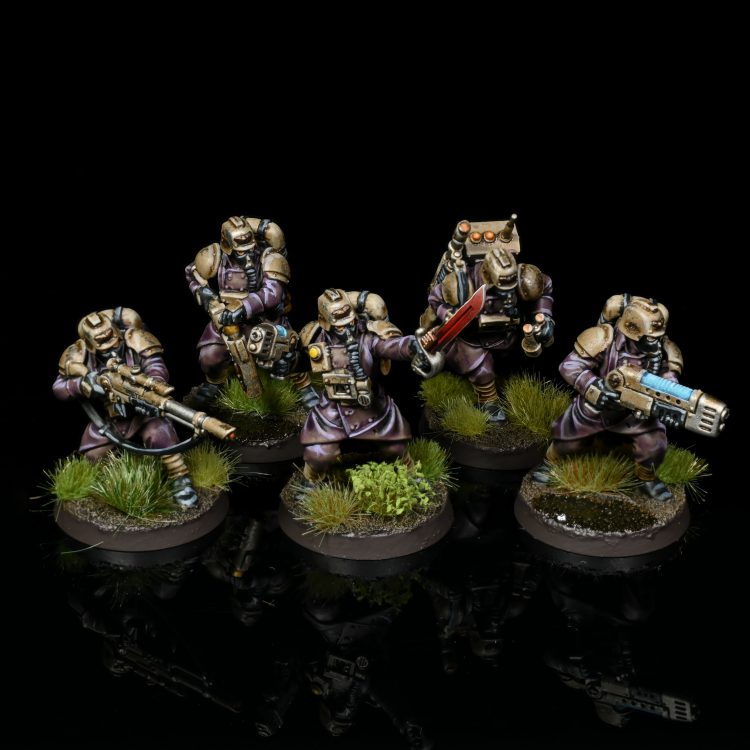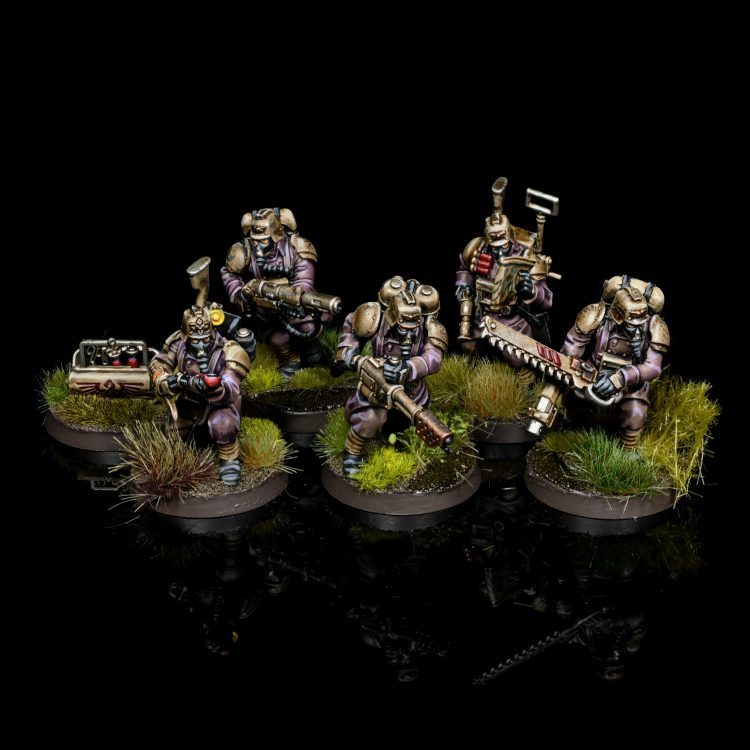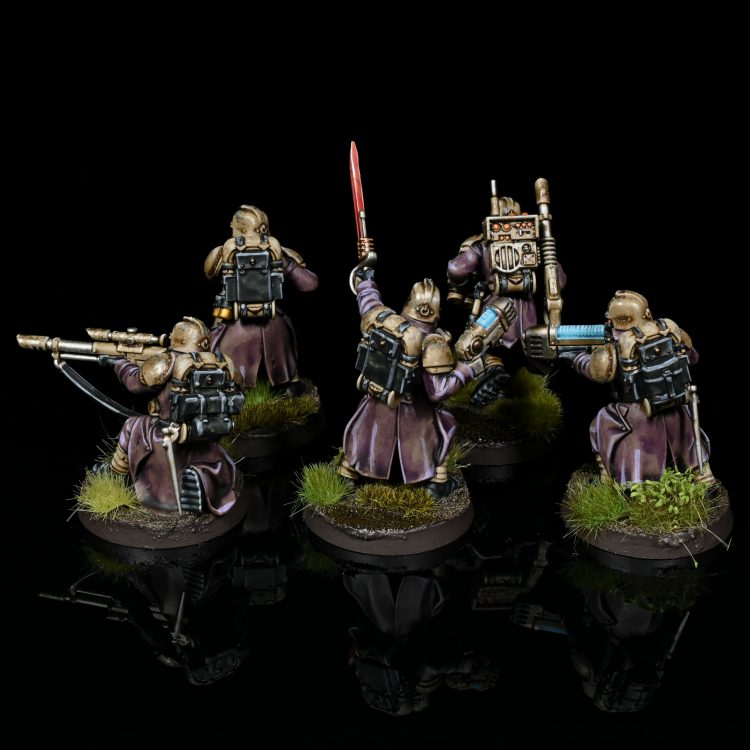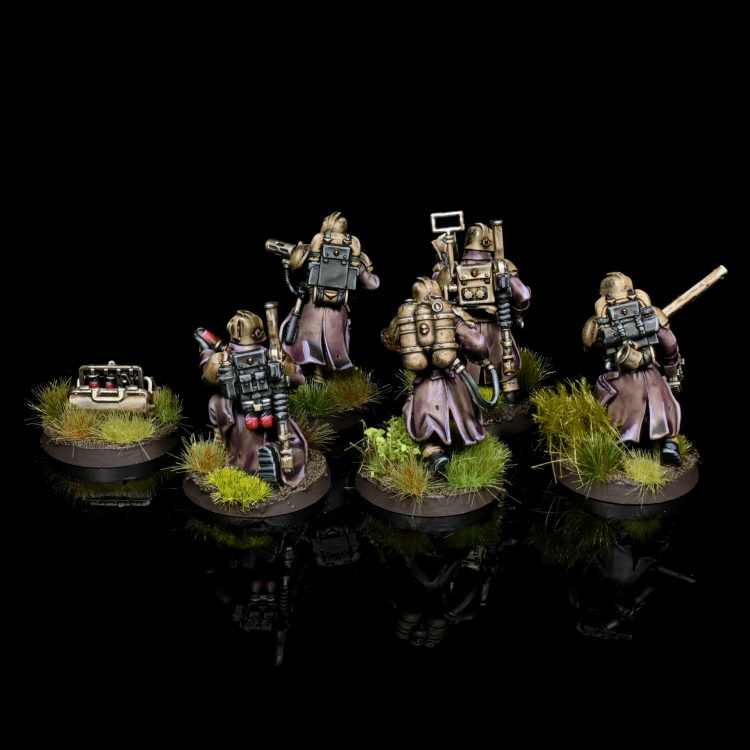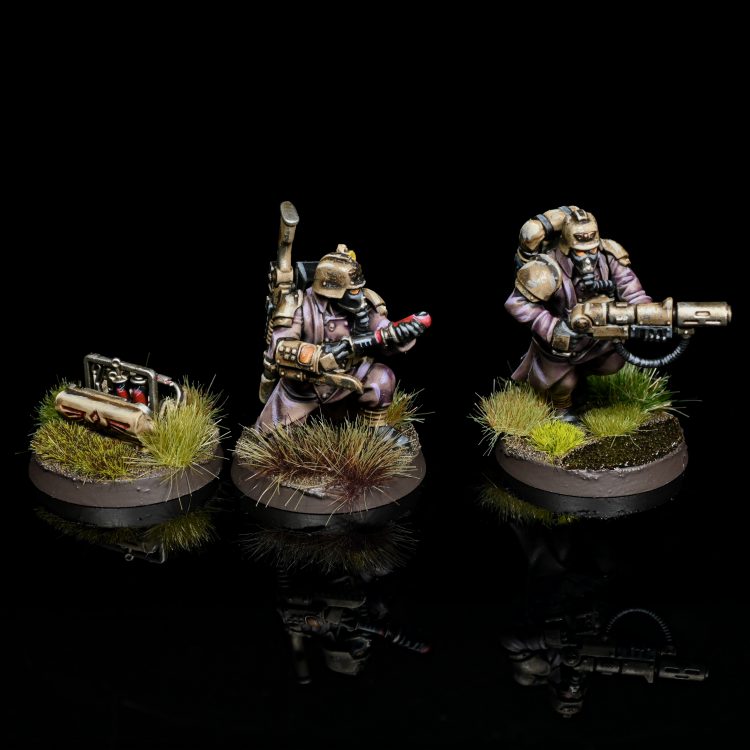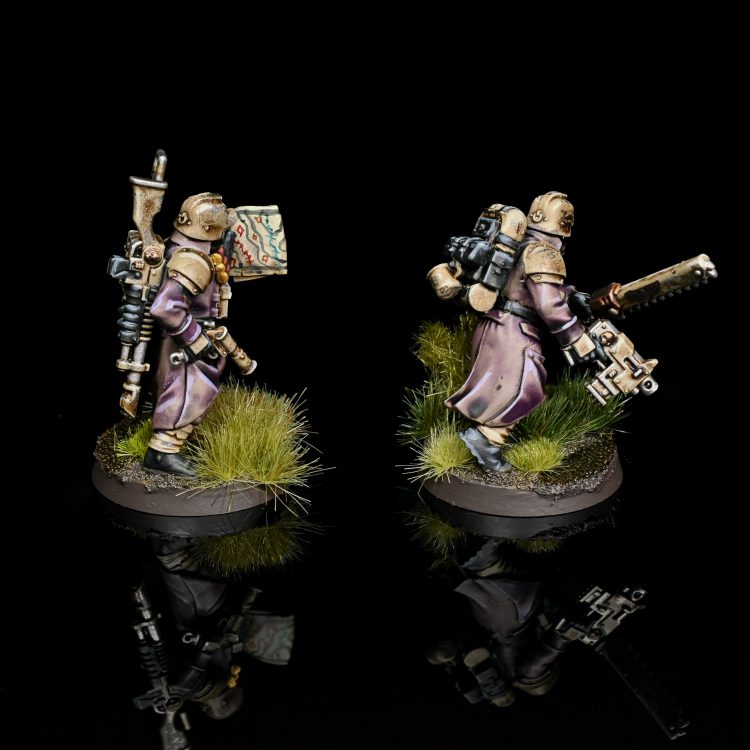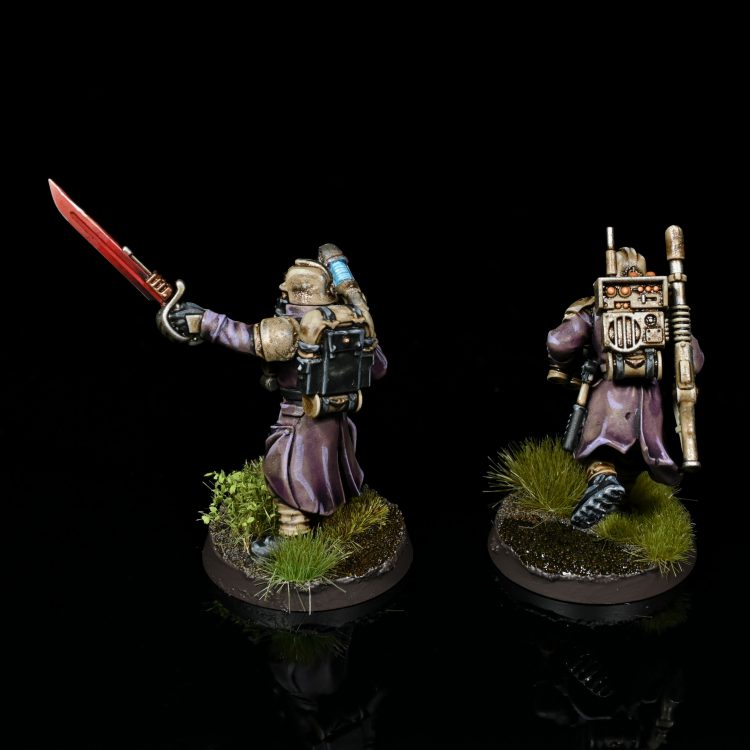 and of course I started another game system, this time Dropfleet Commander! I am already in 3 factions deep, including UCM…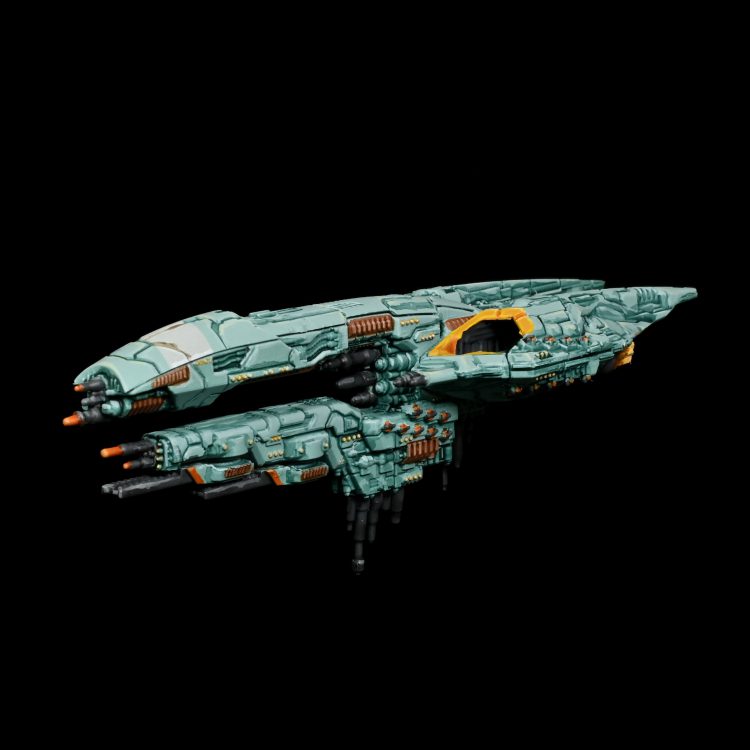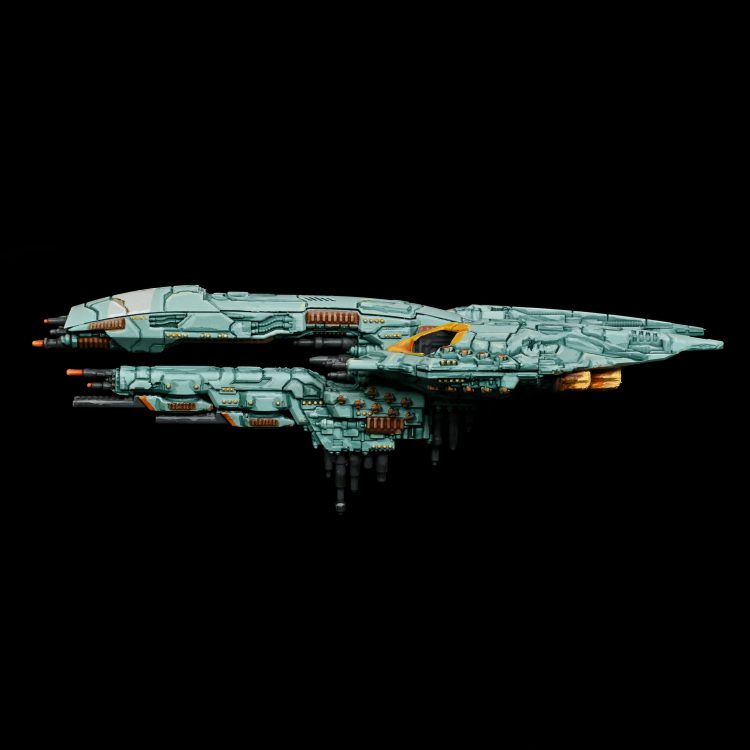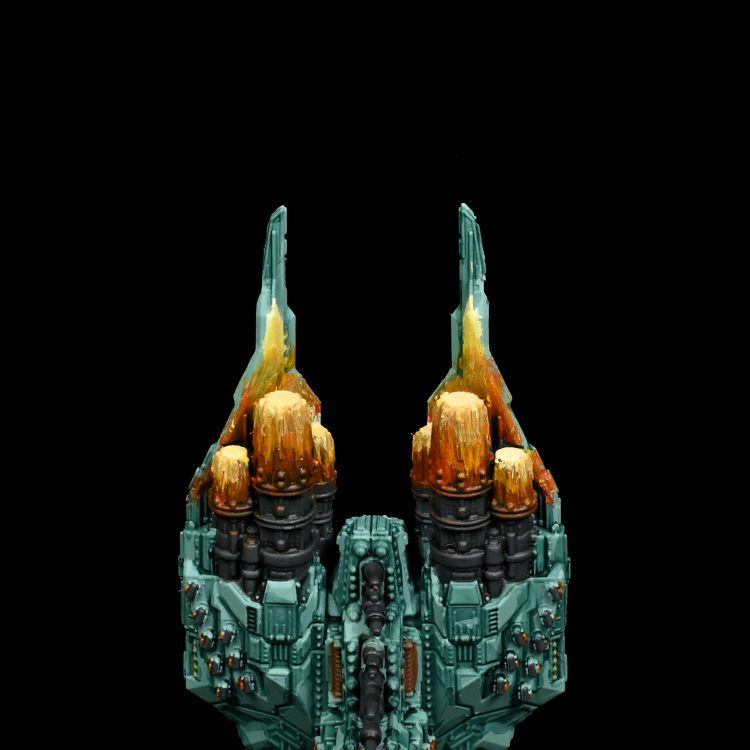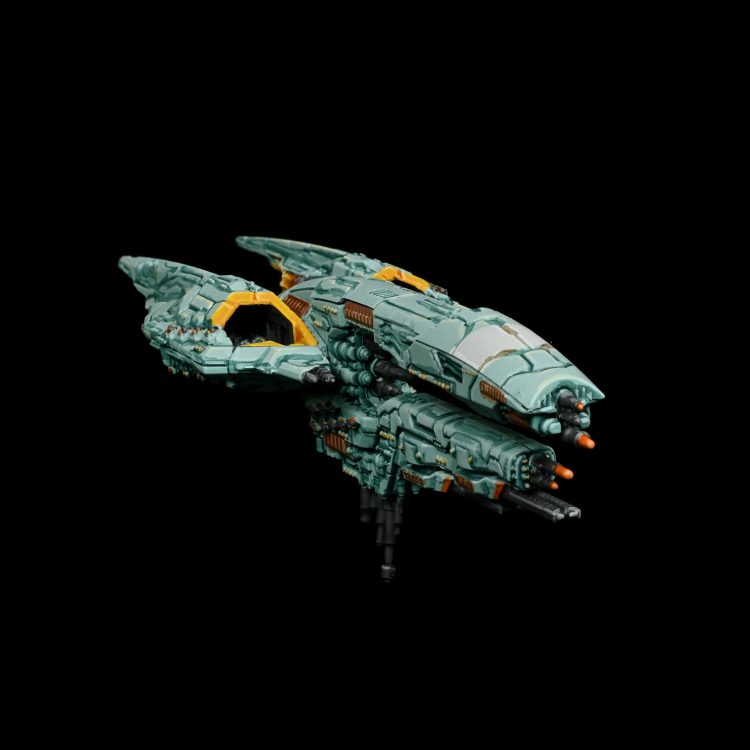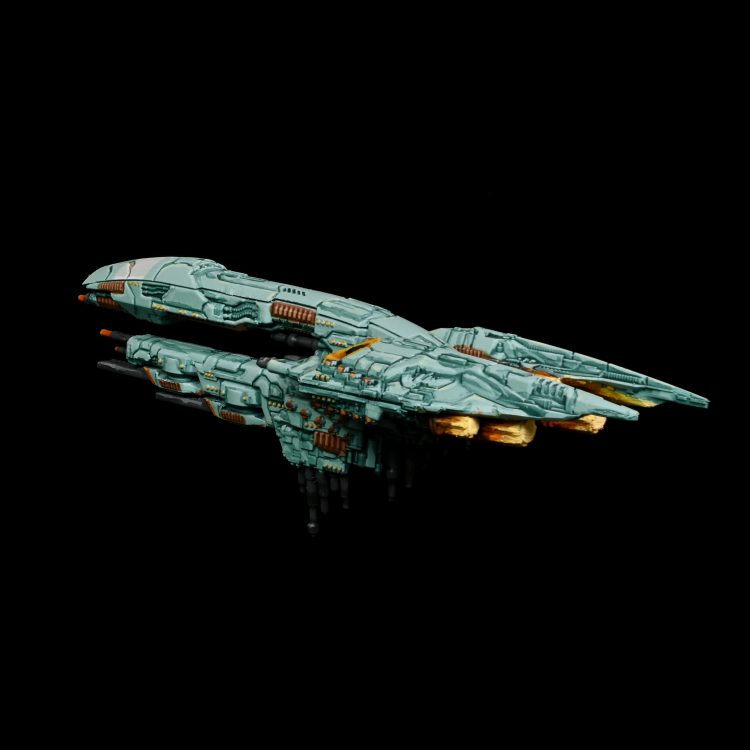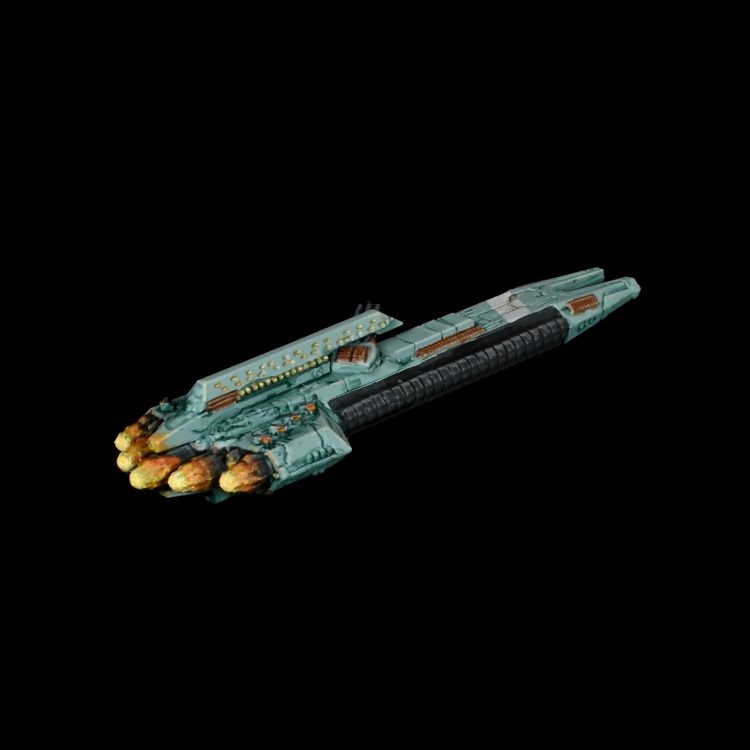 Resistance…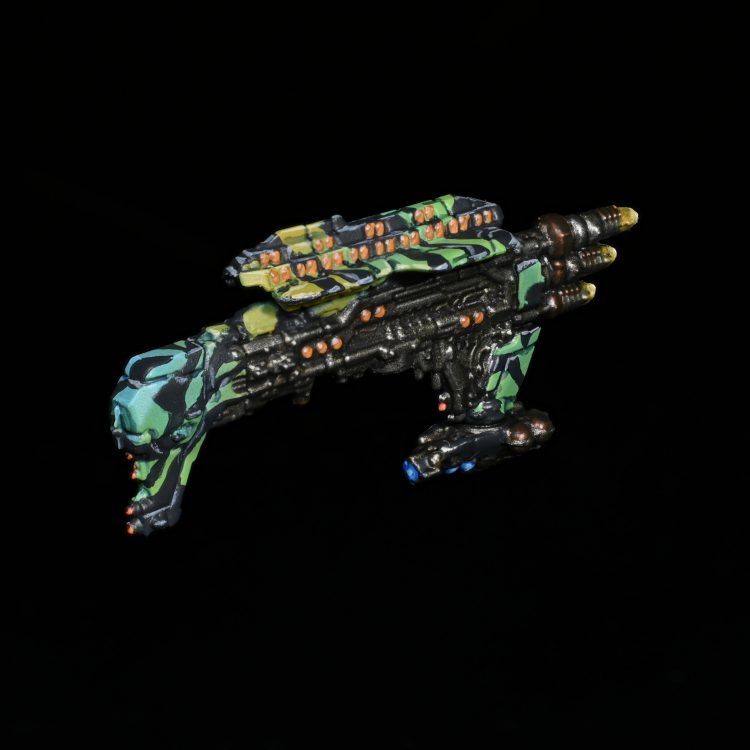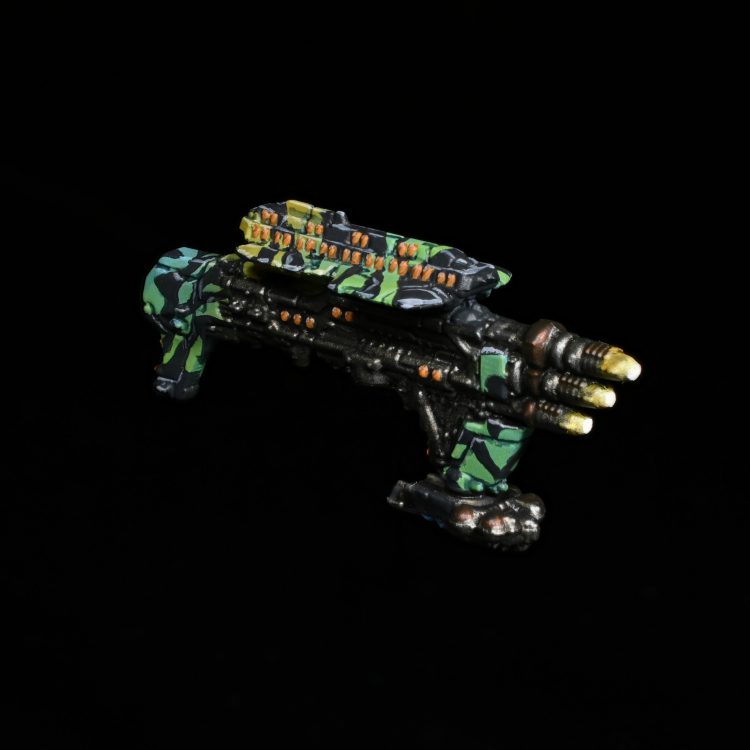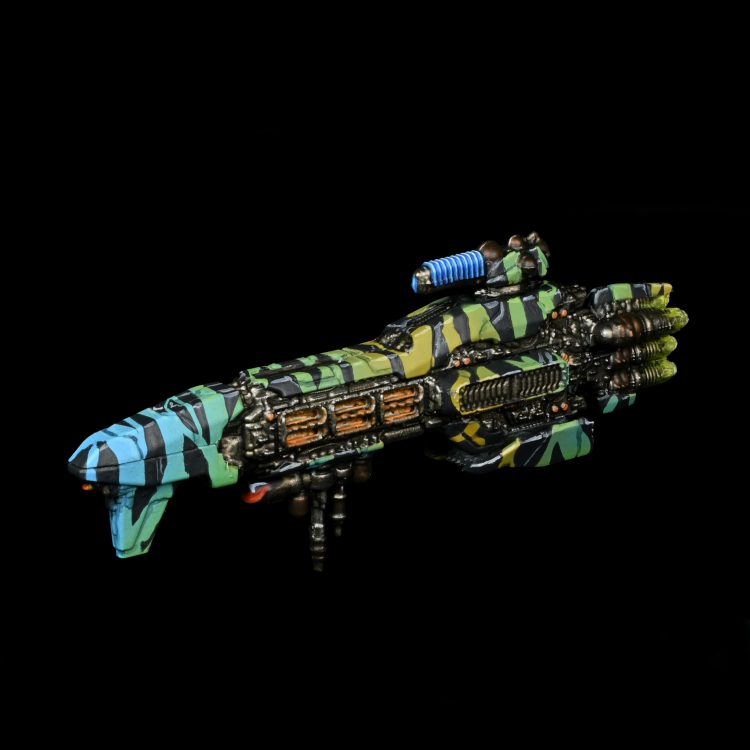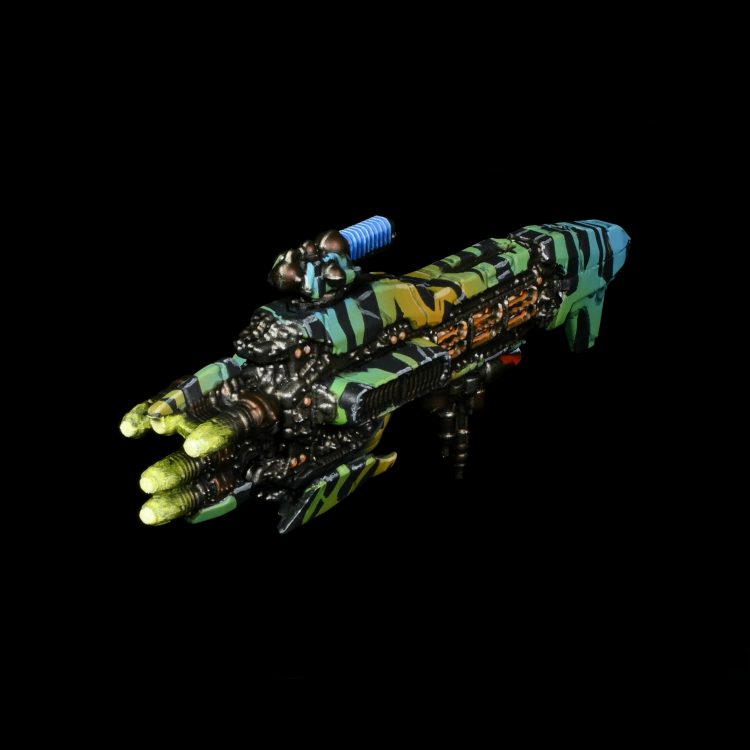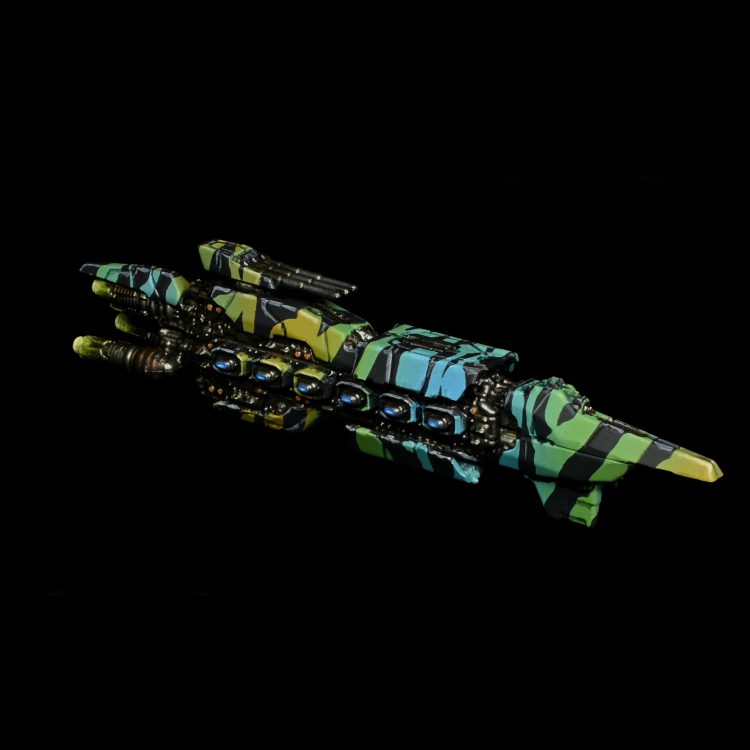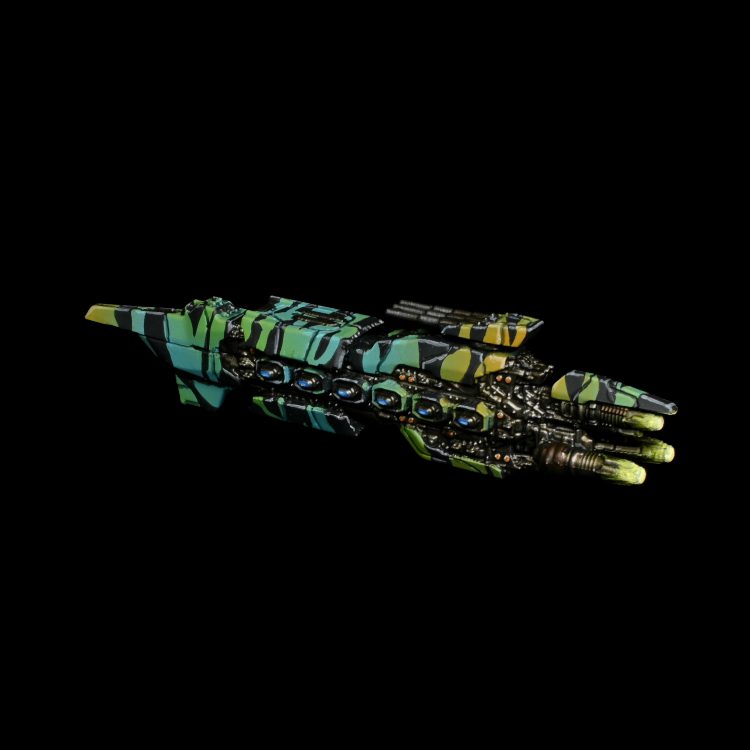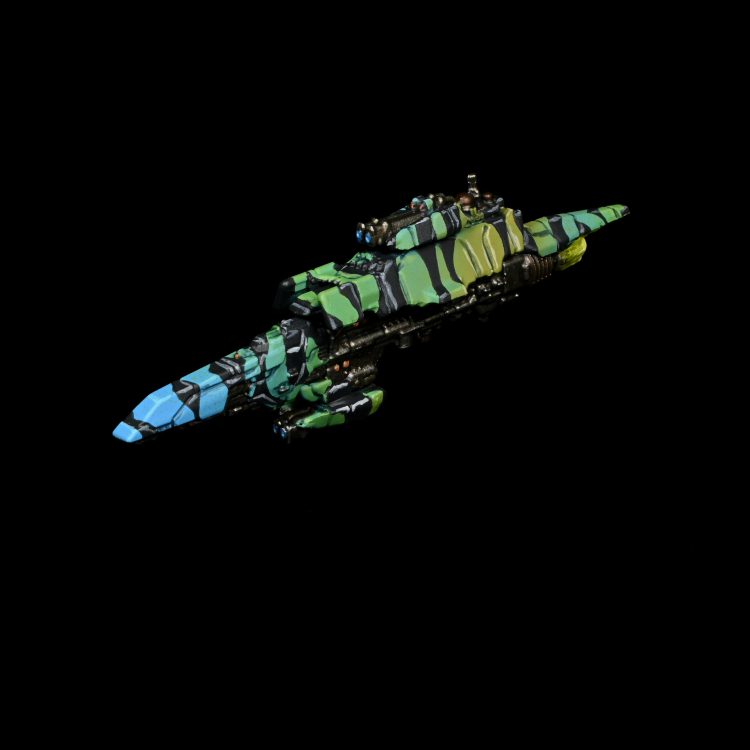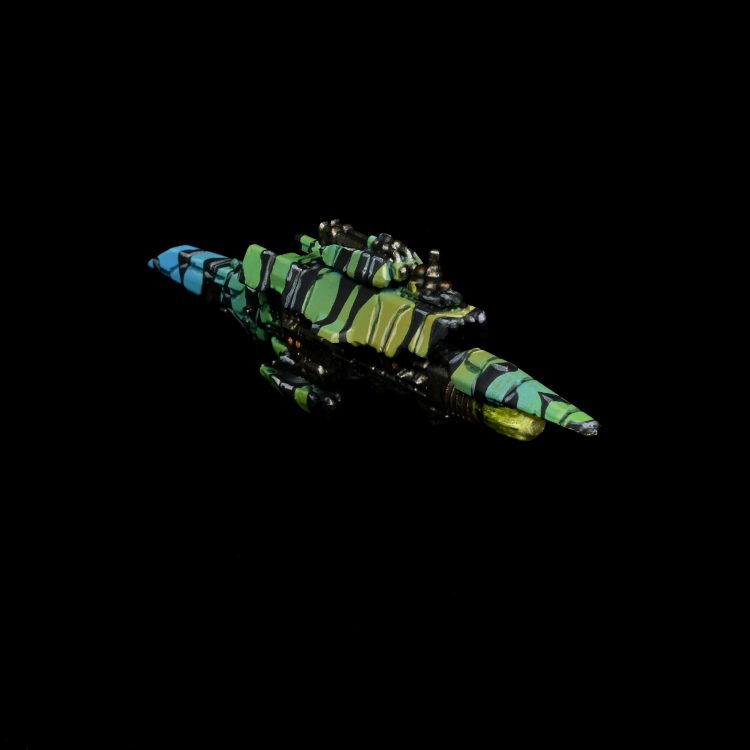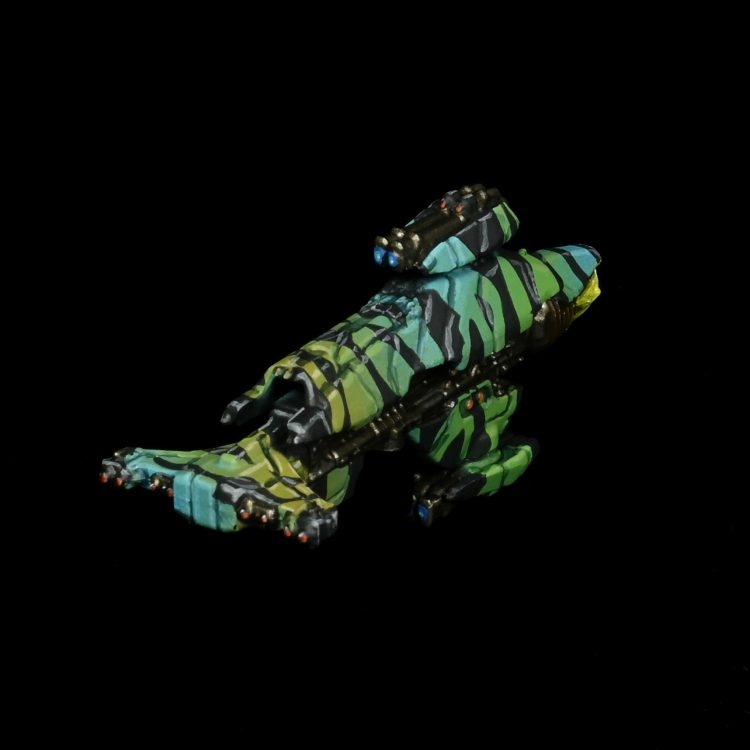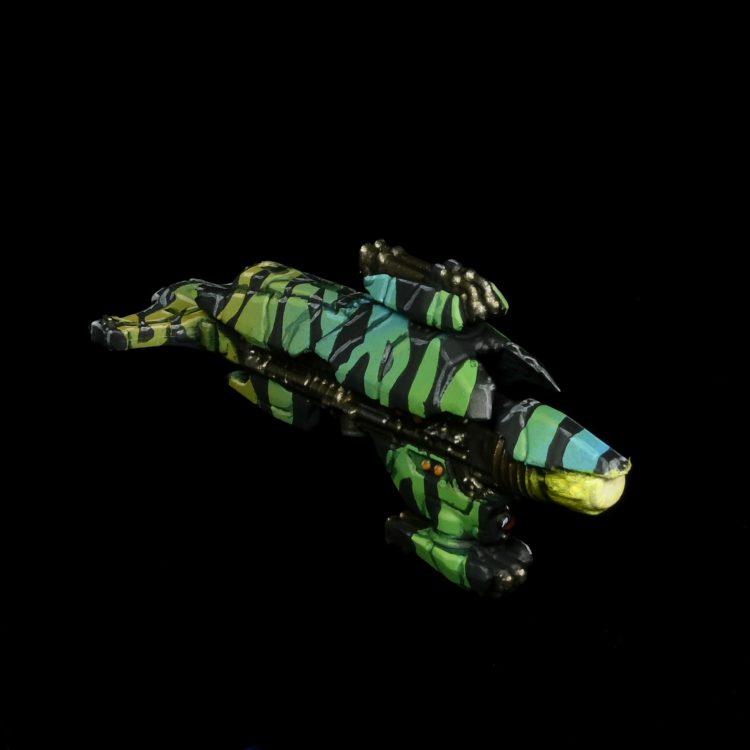 and Scourge!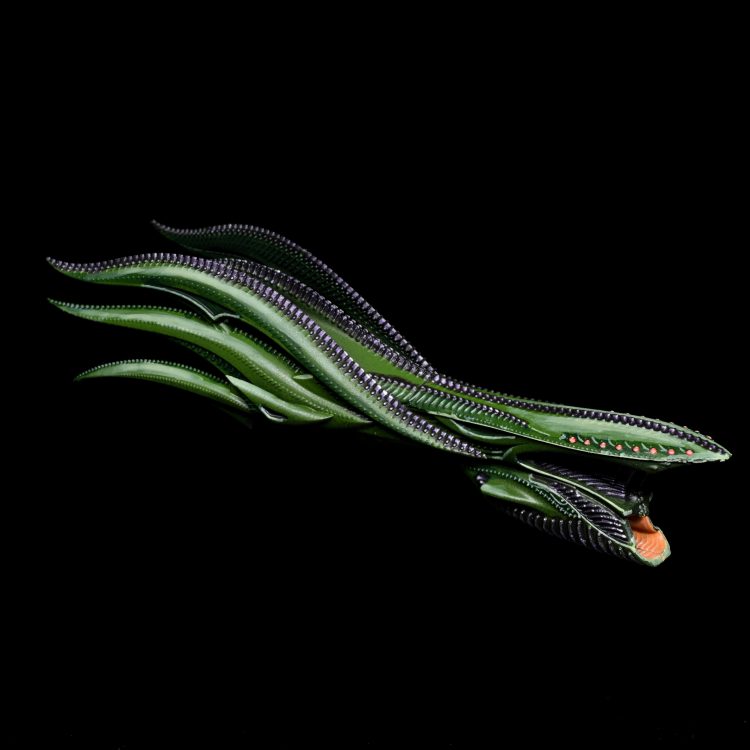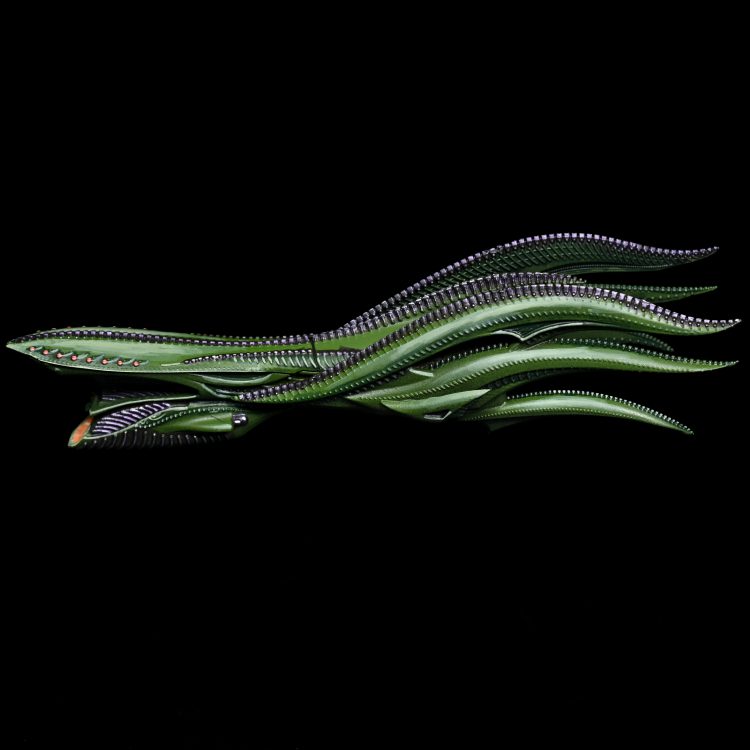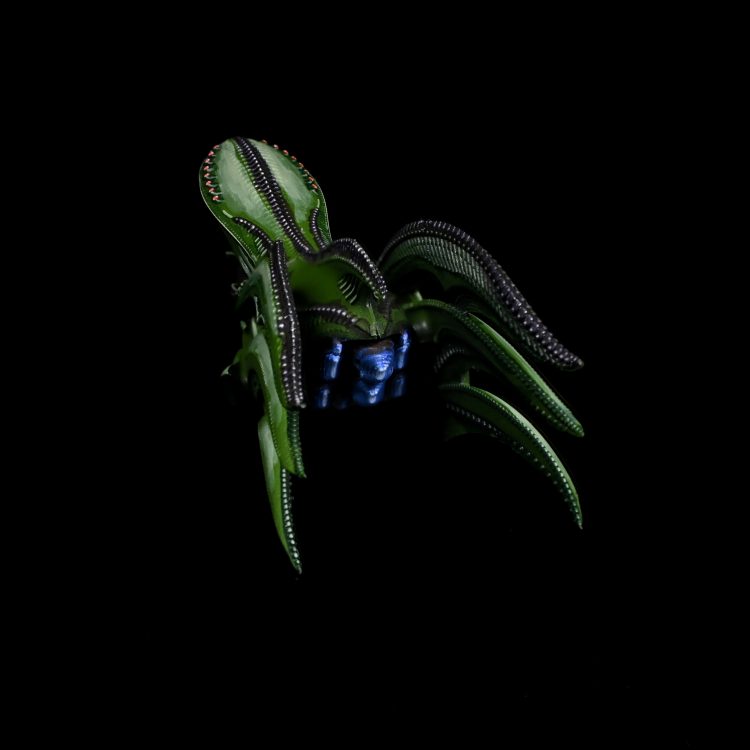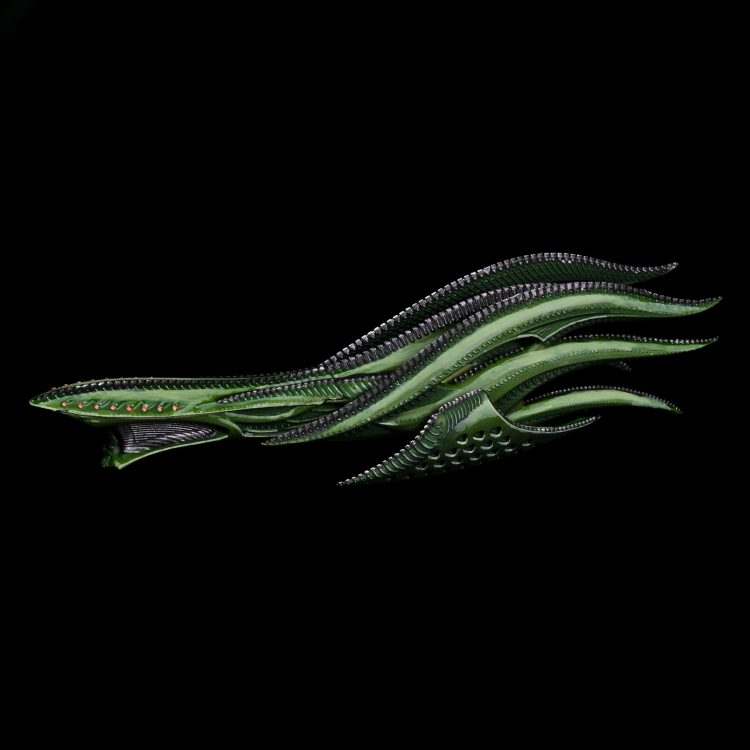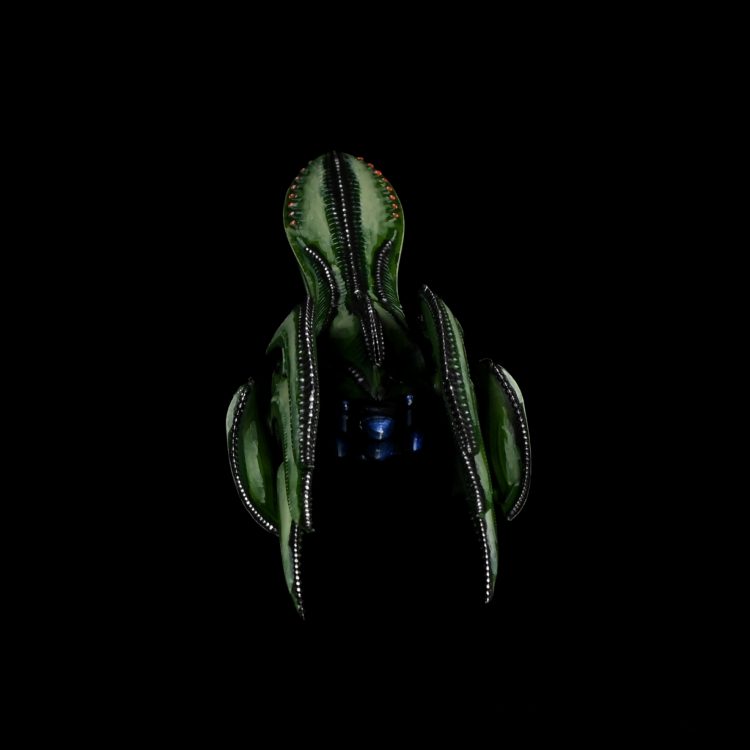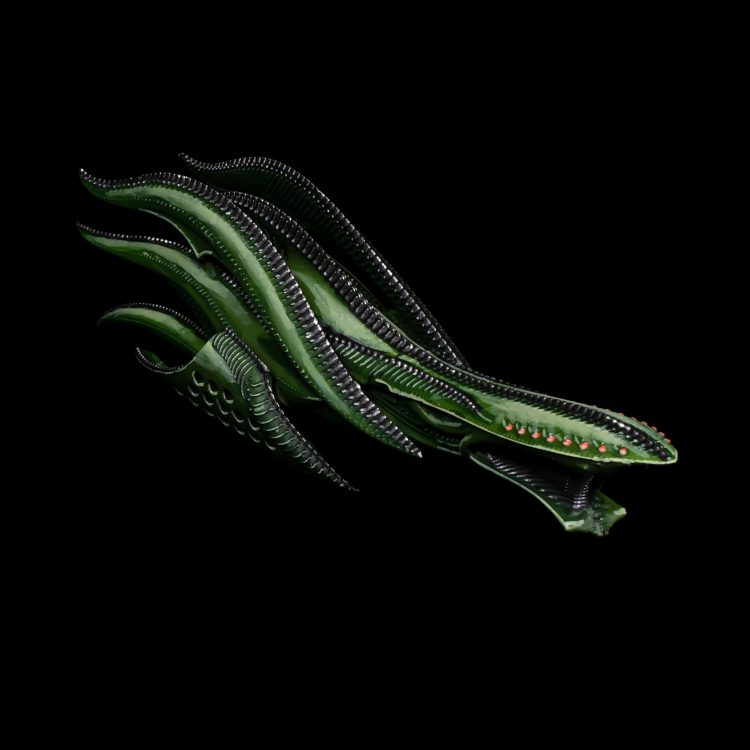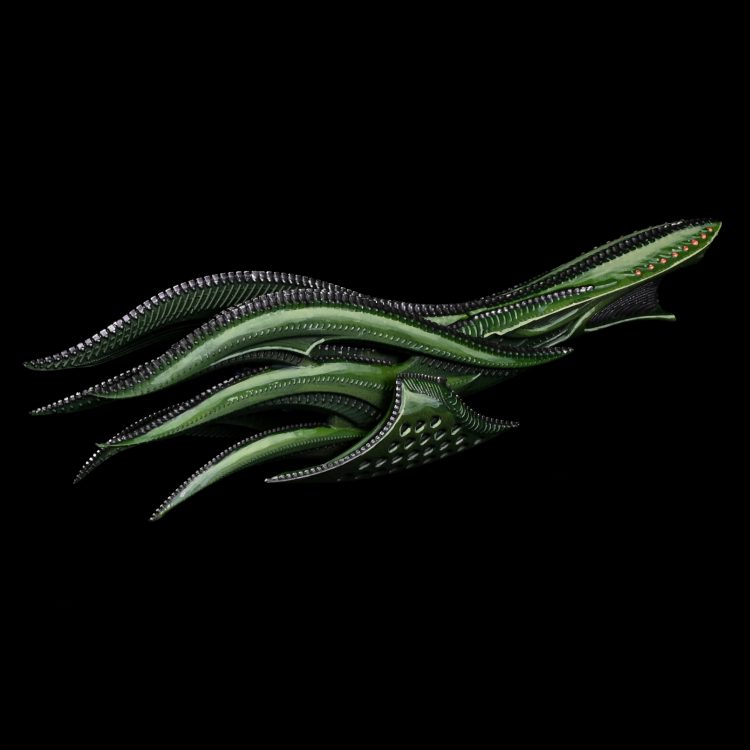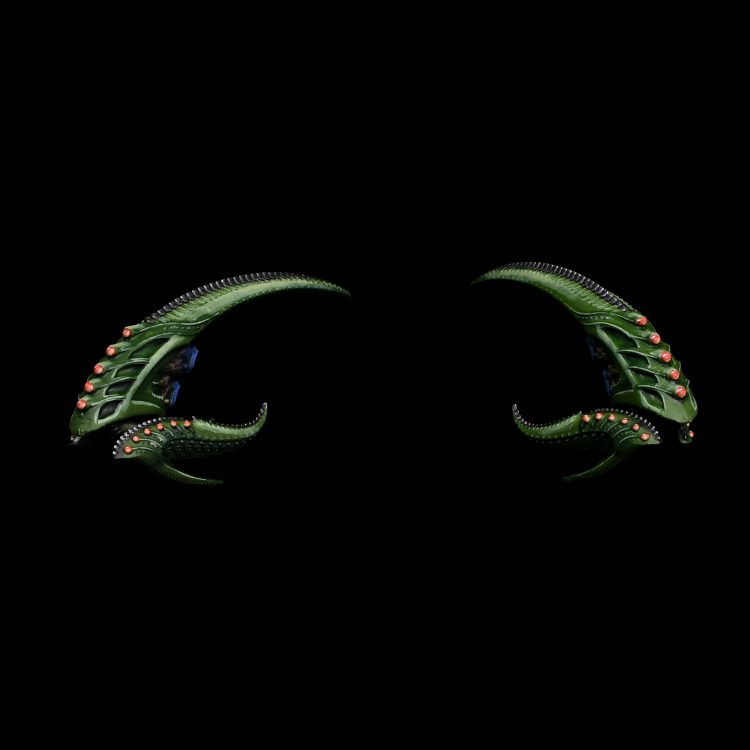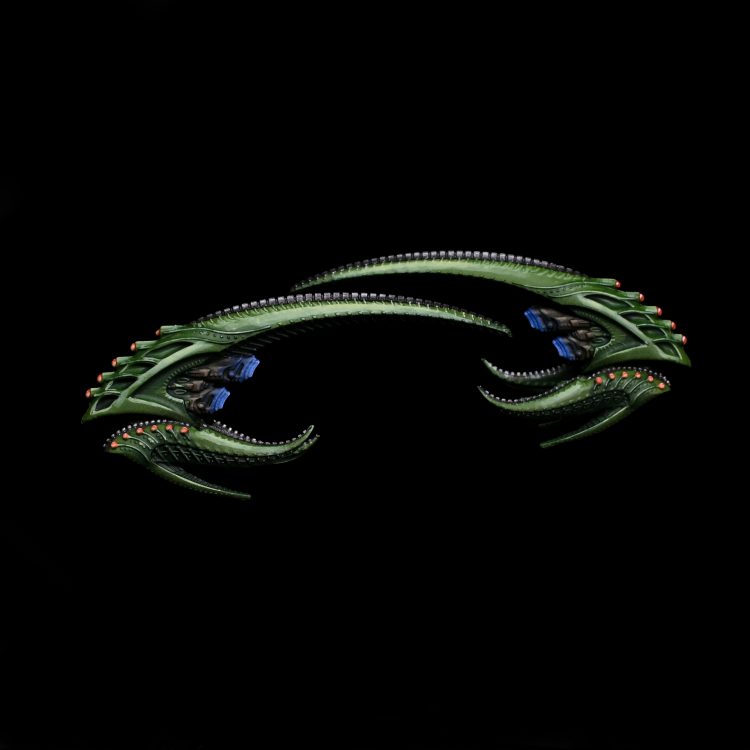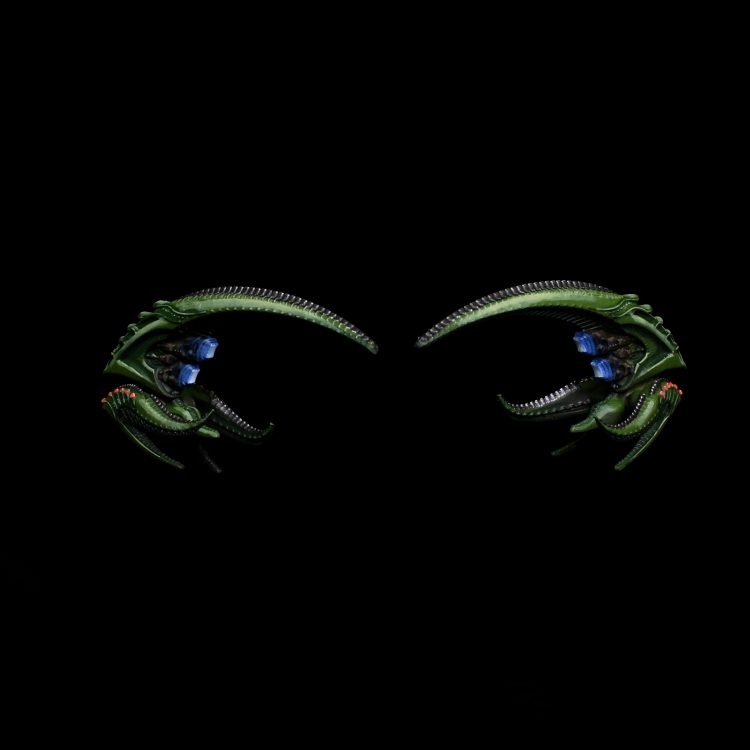 and I also started messing around with photogrammetry!
Soggy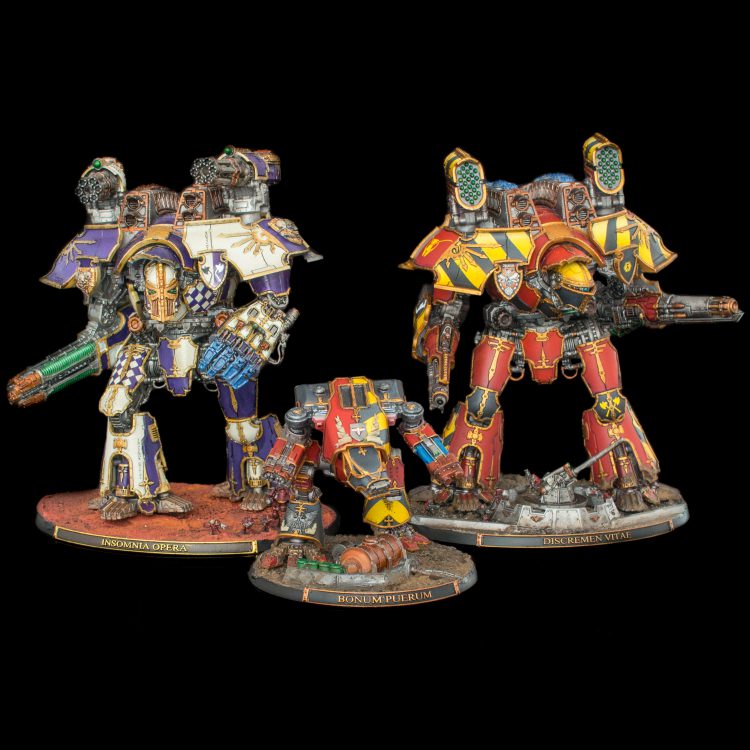 The past month has been reasonably productive, despite being scattered across several different projects. Battlebling were kind enough to send out some sample accessories for Adeptus Titanicus, including nameplates and bases – a great way to complement  your God-Engines on the table. We'll have a review of these coming out soon with any luck.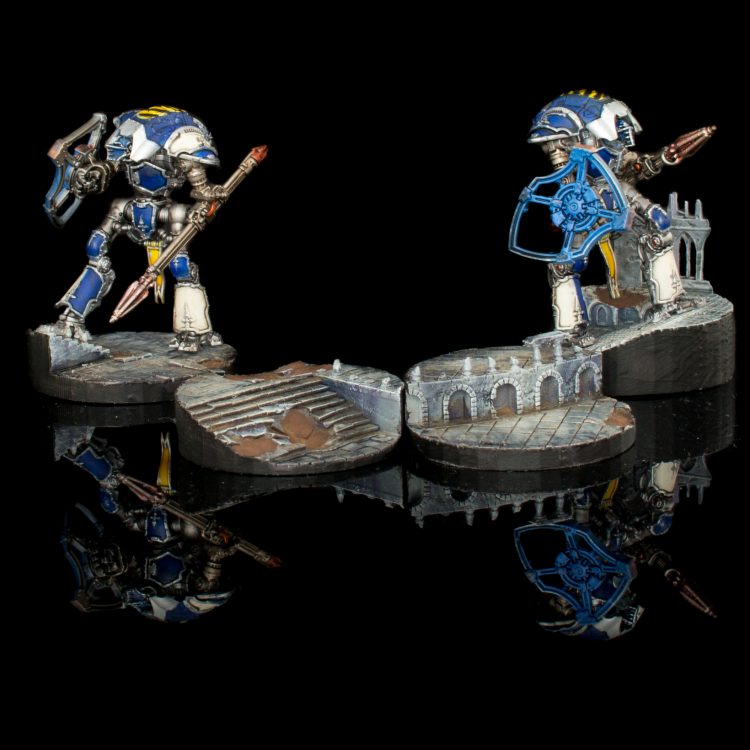 Given the cobbled nature of the bases I gave the wetwipe marble approach a go, which I've always been meaning to try. I thought it came out great. I've been hungering for a new project for some time now, which would keep me occupied for some time. I had been flirting with the idea of getting my parents, who live on the antipode to me, to send over my old Warhammer Fantasy Battle Empire army. This didn't pan out thanks to massive shipping costs and lack of international travelling mates at the moment for some reason… That said, I did find and fall in love with some alternate sculpts from Highland Miniatures on Patreon and nagged a mate with a 3D printer to print some off for me.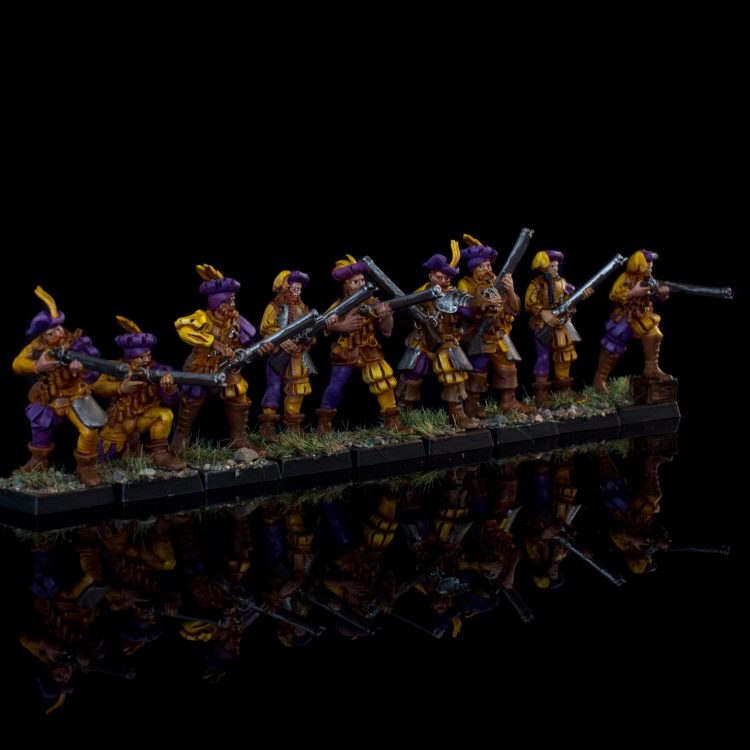 I painted them up in the colours of my old Ostermark Empire army, bringing back loads of fond memories of 7th edition.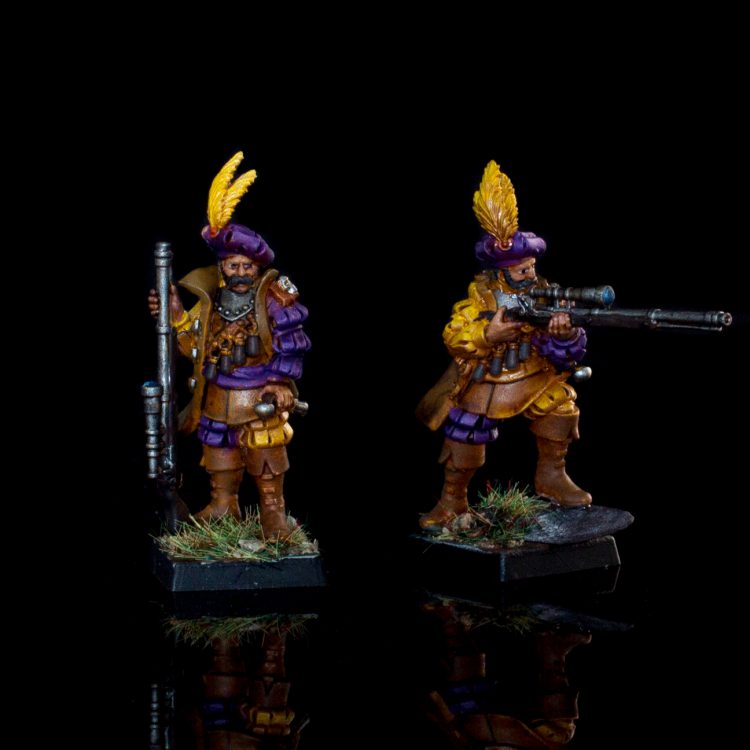 @ArtistsEmpire on twitter has been featured in WhiteDwarf for their amazing digital paintovers of miniatures. He does weekly streams where he asks for interesting photos and thanks to the character oozing from these models, he was kind enough to bring them to life. Check them out on twitter as some of the work they do is insane.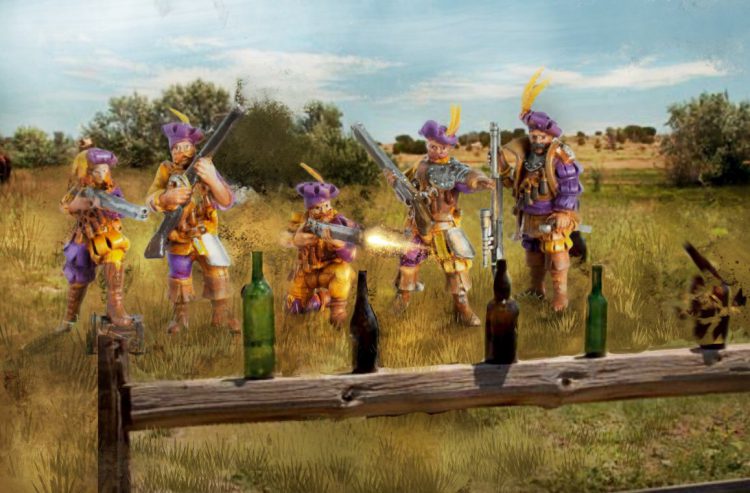 Changing gears, with some sense of normality returning my local club has a friendly 40K tournament next month which I've signed up for and starting working on some units for. Still not exactly sure how to play 9th edition, I've been working on a bunch of newer releases, unfortunately I did manage to drop the bike chaplain and break their crozius in two different places.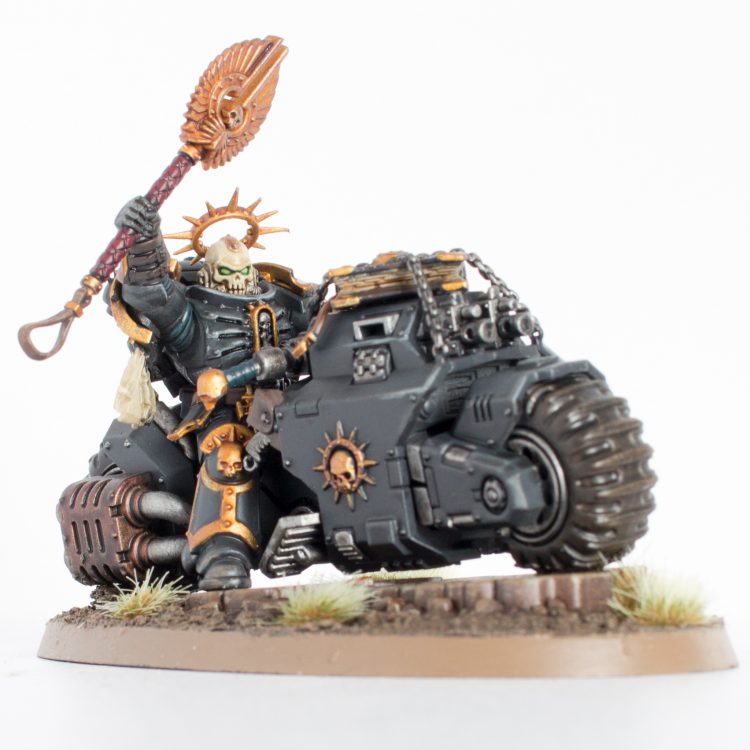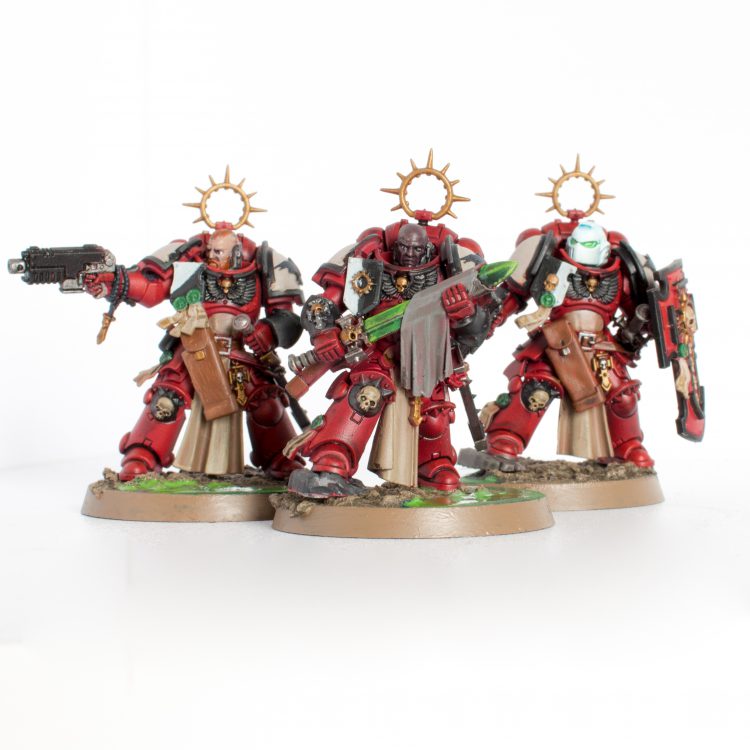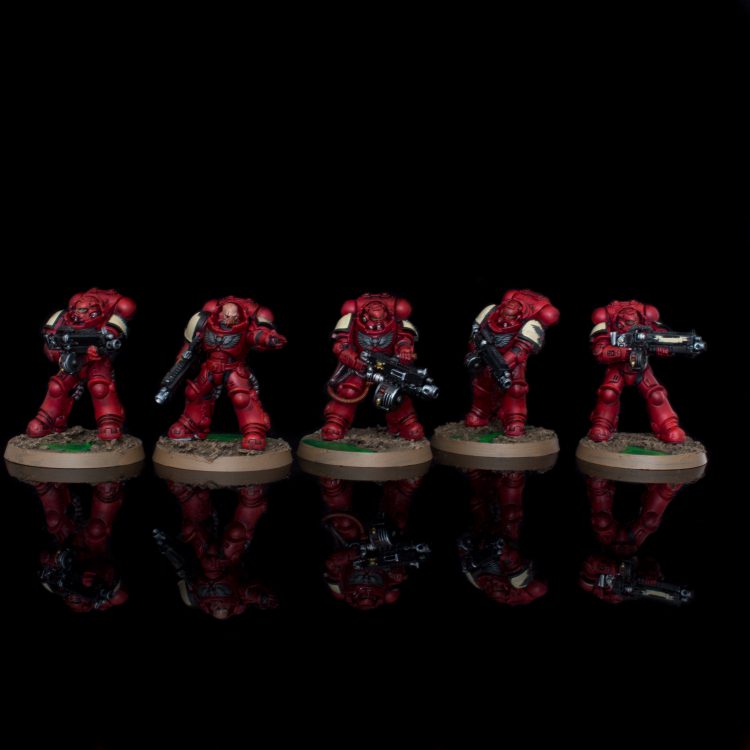 At this point my backlog was running dry, so I decided to scrape the bottom and work on an ebay rescue of ten hellblasters I got a few years back. I'm not sure if they'll ever see the table but they should look better than the ones I painted back when Dark Imperium dropped at least. These aren't finished yet but aren't far off. Next month I'm starting a new project, for a system that no one in my local area plays – 10mm Fantasy. A few of the UK Goonhammer have jumped on this bandwagon and I've still got a hankering for an Empire army so this was a very easy sell. I'm very curious to see how I'll manage painting infantry at this scale, but it should make for an interesting project.
Pendulin
Goodness me, goodness my, it has been a long time hasn't it. And while I've kept the hobby furnace stoked, I've kept the updates behind bars. Let's let them free, shall we.
First up is an absolute absurd number of Sicarians I painted for Goonhammer Open. That's forty Sicarians. That's as many as four tens. And that's terrible.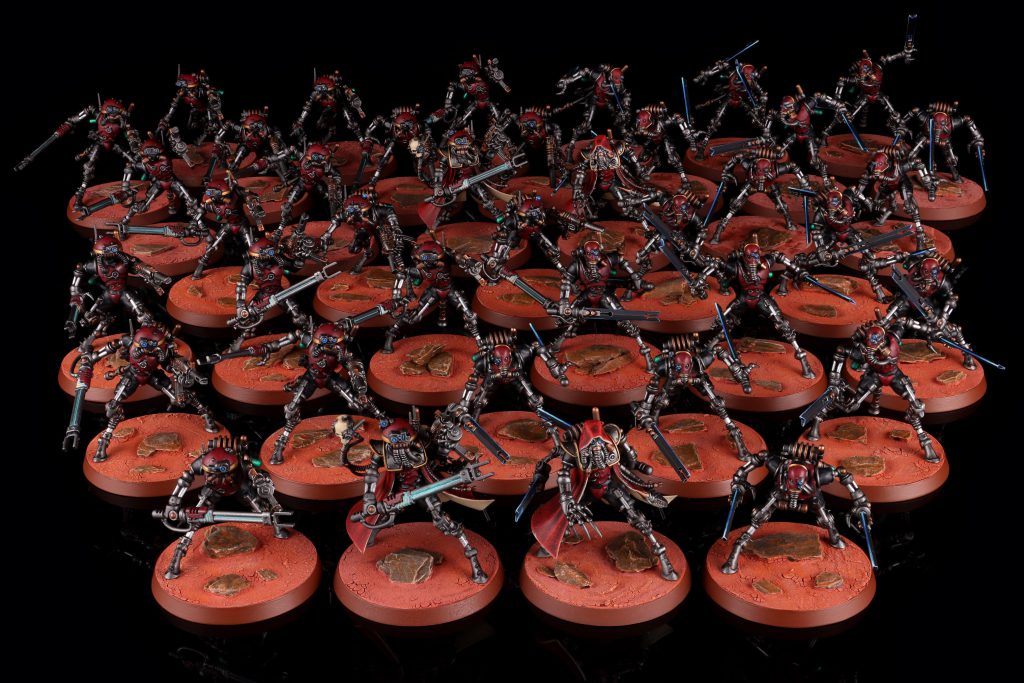 However, that wasn't the end. This last month I also finally finished my Silent King. It's been in the queue for quite some time, but I'm happy beyond belief with how it turned out.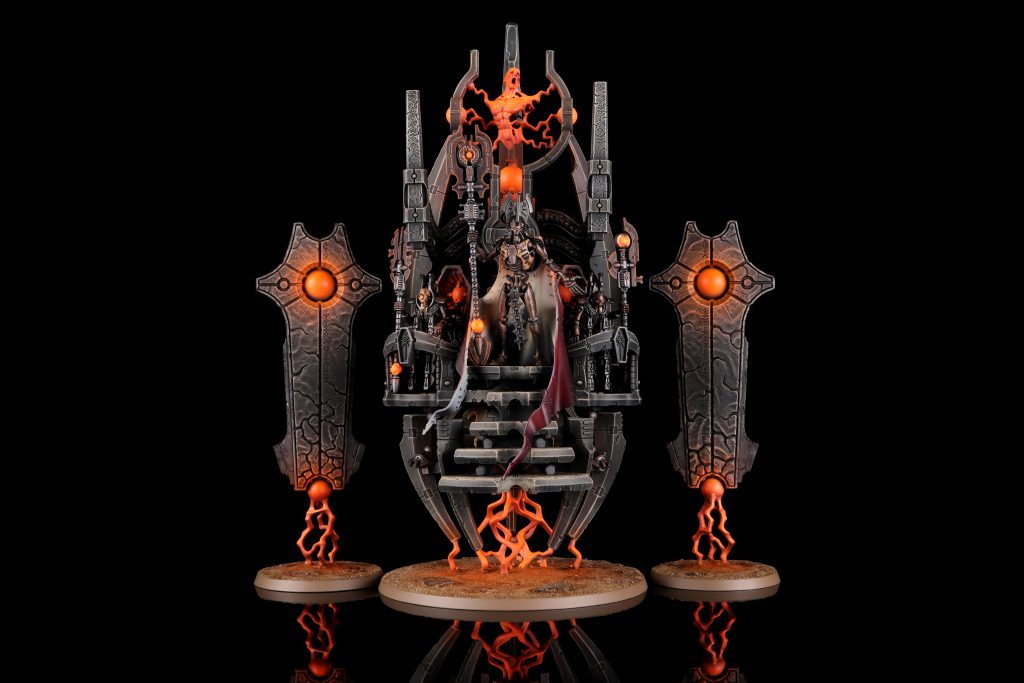 And just over this last weekend I painted up an an Armiger Helverin. I've got three more Imperial Knights in the backlog, and they are shockingly fast to paint. I figure that now is as good of time as any to work my way through them.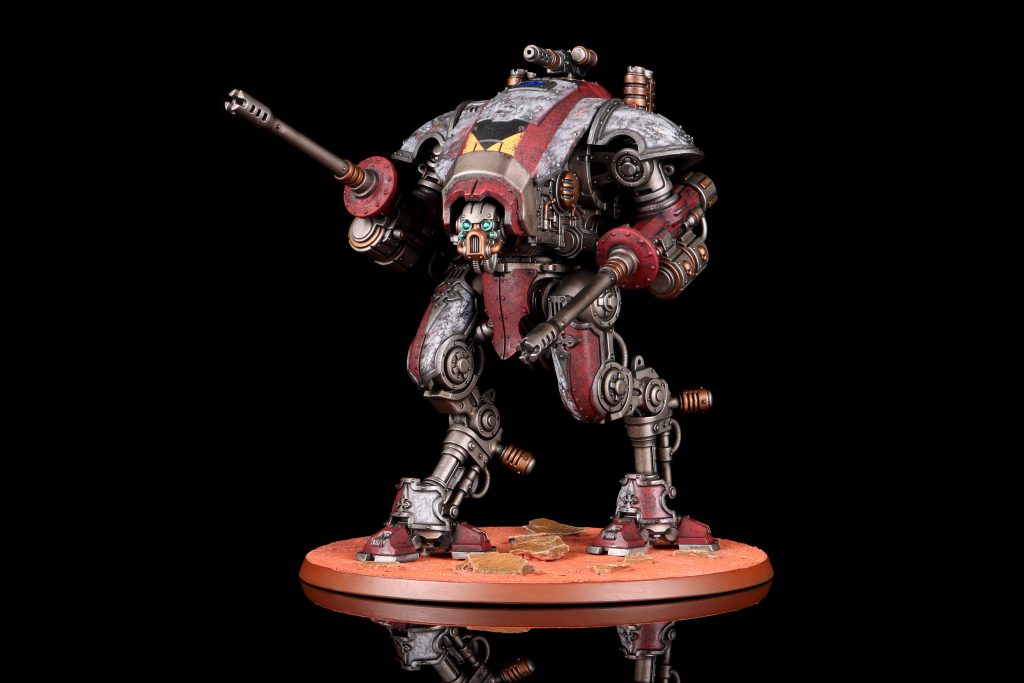 Last, but not least, you may have seen my recent article series on Photogrammetry. I've been working on it for months and months, but it's finally out of the gate. However, a piece of bonus content for you readers astute enough to check our Hobby Round-Up articles is an early look at the Umbra Legates model directly. I'll be editing this into the photogrammetry article in the future, but this right here is the Goonhammer debut of it.
Magos Sockbert
Welp, I've finally done it. Turns out all you need to be super productive at painting is for it to be illegal to leave you home. Yay for Covid lockdowns!
Starting off is this test model I did for my 30k Alpha Legion. You may notice that he is, in fact, an Imperial Fist. This is true. And also false. And also I am Alpharius.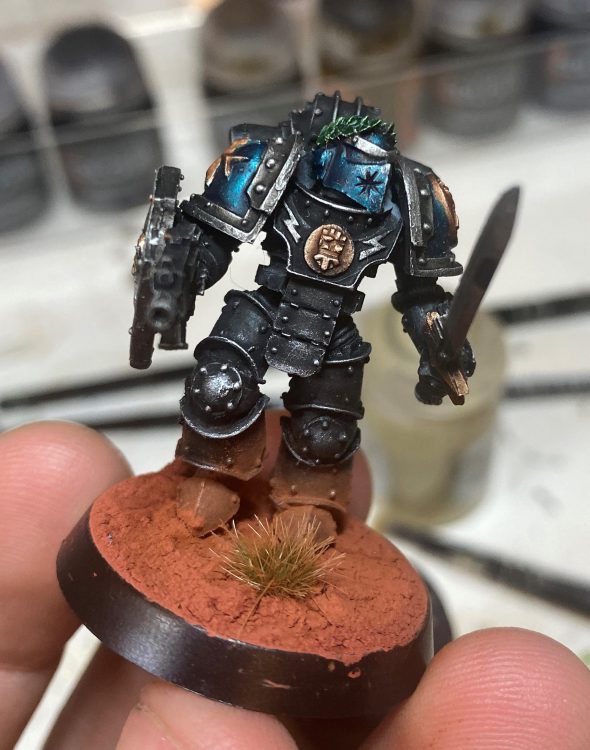 Beyond that, I do believe that I have done some fairly spectactular work on my new orks. I've always avoided layering and highlighting like the plague (strategically placed washes, drybrushing and weathering are all you need to make it in live), but for these fellas I've done completely the opposite. There's too much darkness in the 41st millenium, so I've tried to bring a spot of light with what I am told is a fairly old school vibe. Being a hale and hearty yoof myself, I wouldn't know, but I am really quite proud of how they're going and how eyecatching they are. Hopefully next month's roundup will have a Kill Rig or two in there! This is also my first xenos army and second non-Imperial project ever, so it's very much out of my wheelhouse. But you don't learn anything if you don't try anything new, so let's get all this squggly beast goodness going!
I've also been experimenting with a new photo backdrop from Tablewar. It's… quite good, actually, but it isn't really quite big enough for what I need it to do. One of my recurring issues is quality of photography, and this is my first real attempt with doing it 'properly'. Let me know what you think!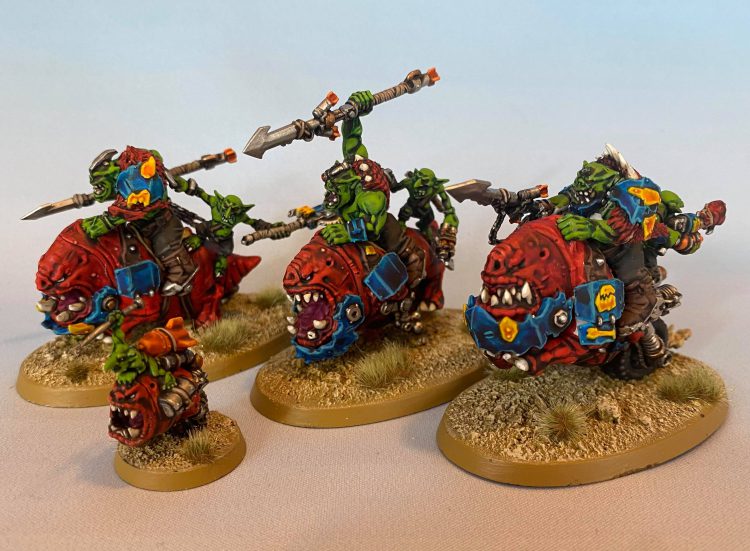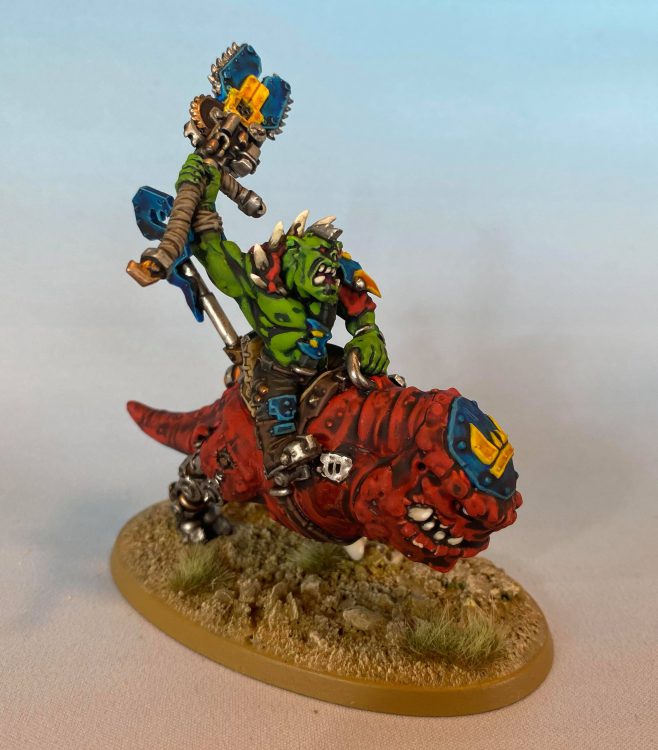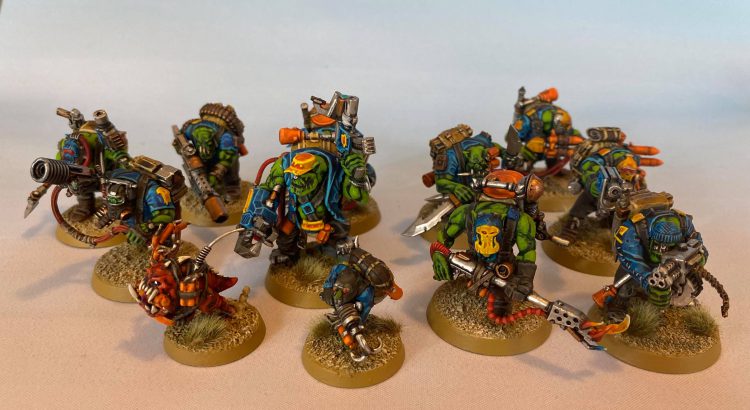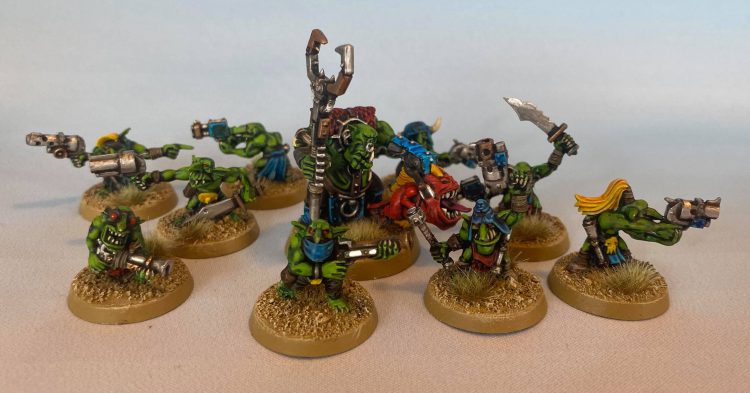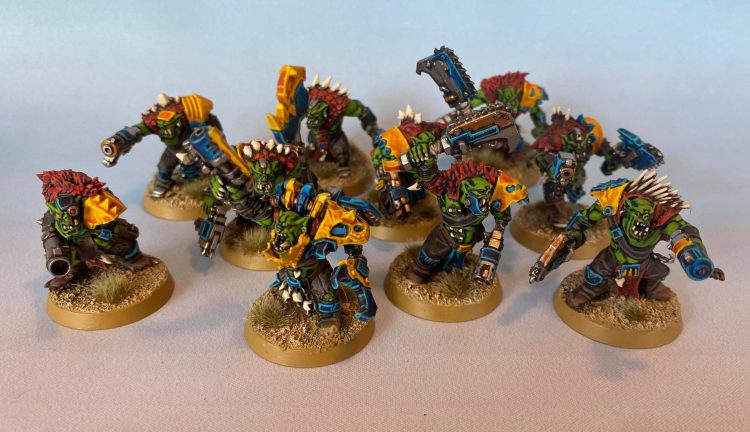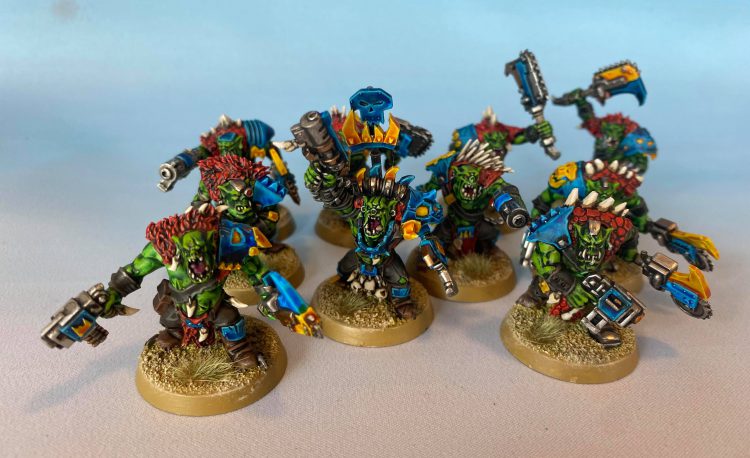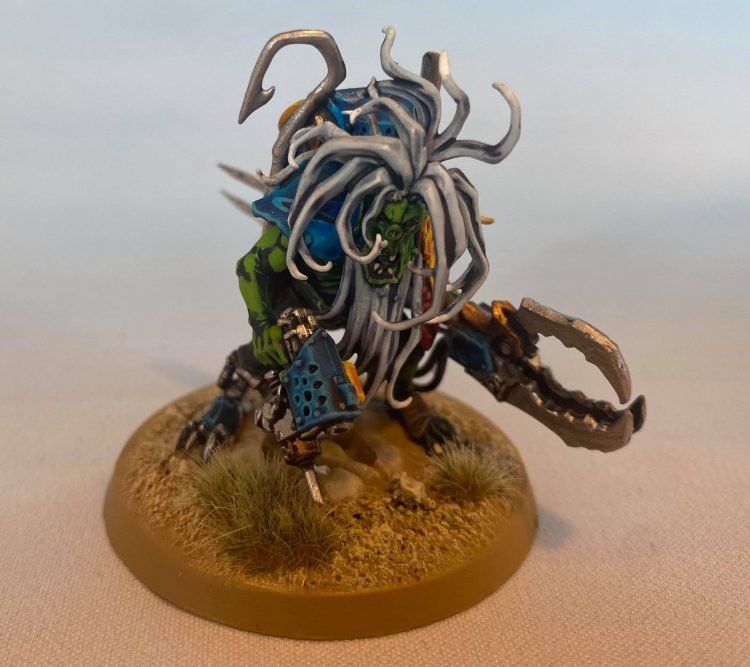 Skails
This month I painted up Be'lakor for a friend, so I stuck as close as possible to box art colors except for switching out a Blood Angel for the Ultramarine.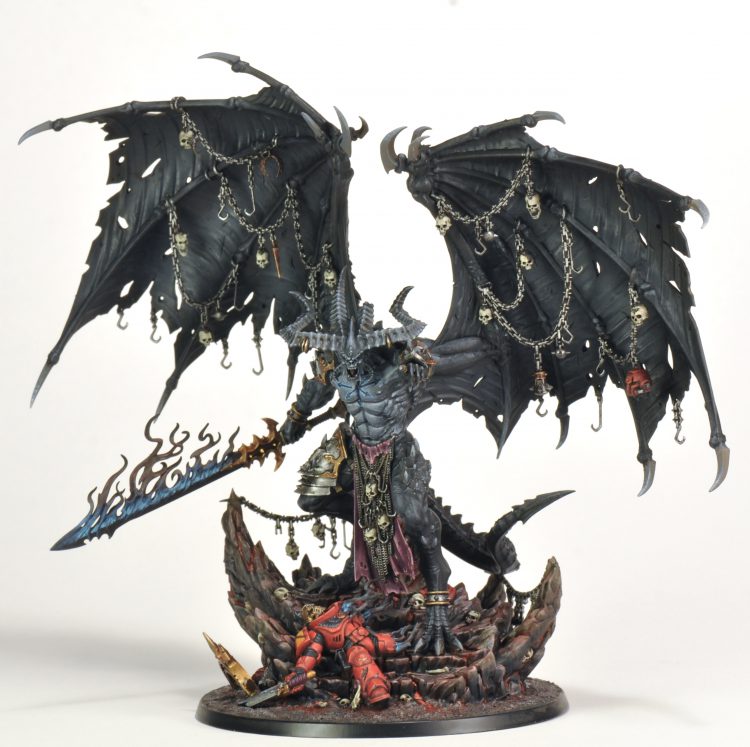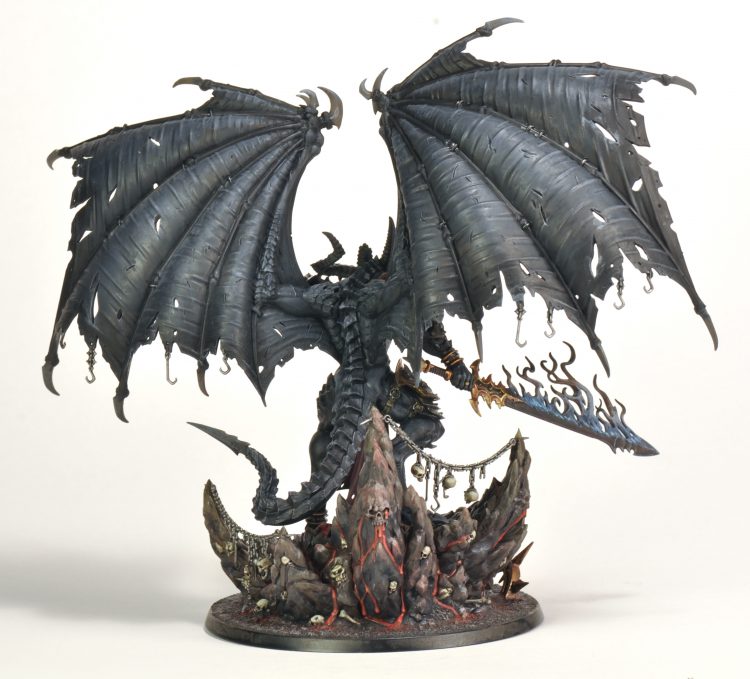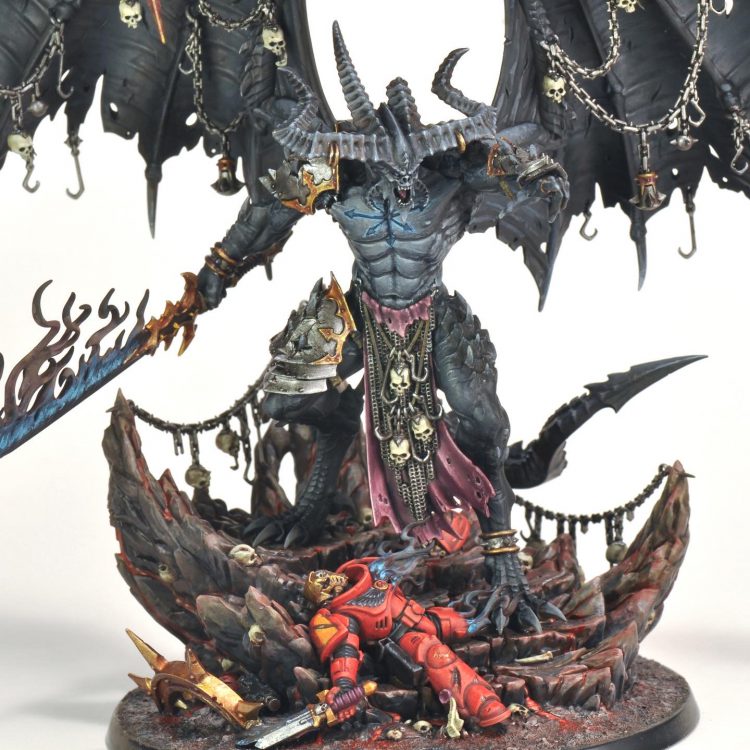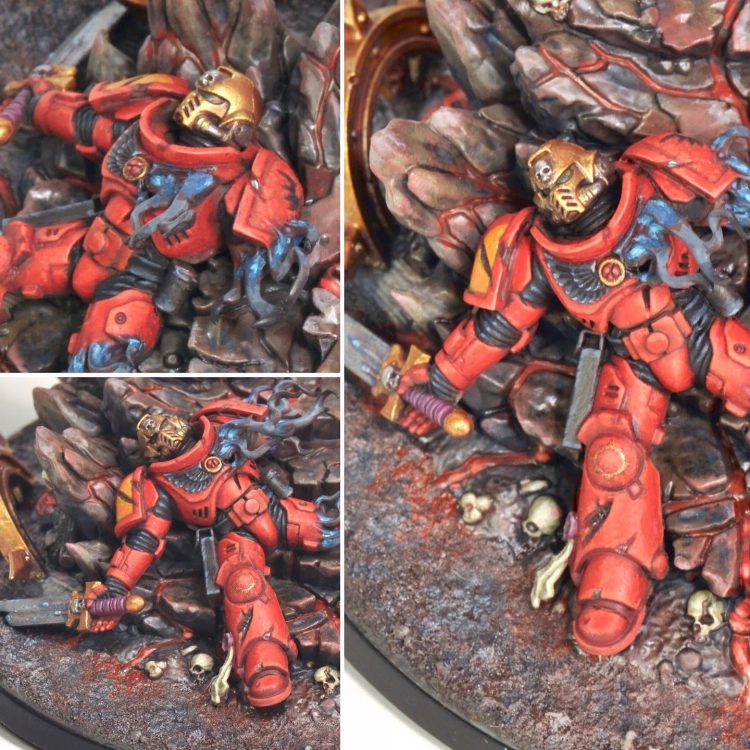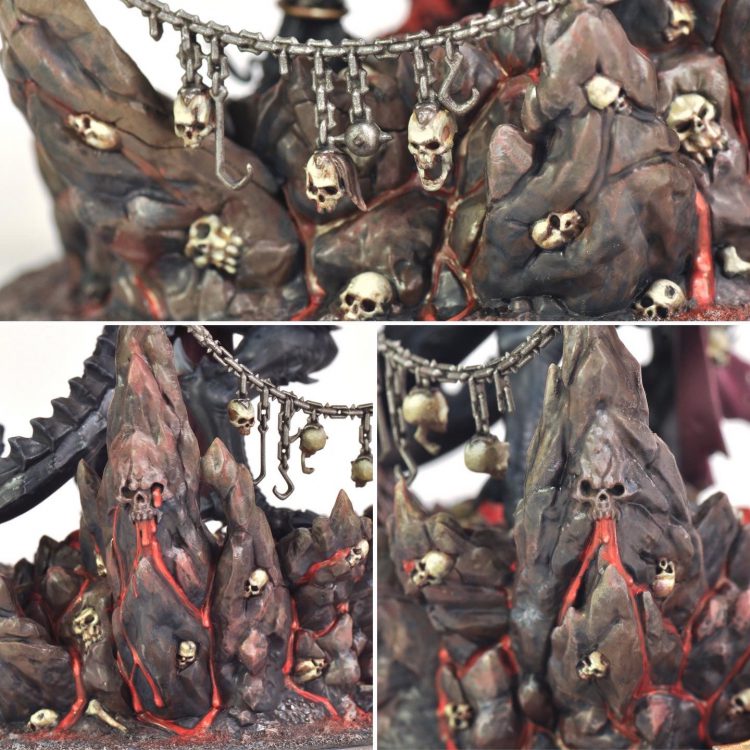 SRM
I have been derelict in my duties of contributing to our hobby round-ups, but I've been painting up a storm nonetheless. Here's most of what I've been up to since August: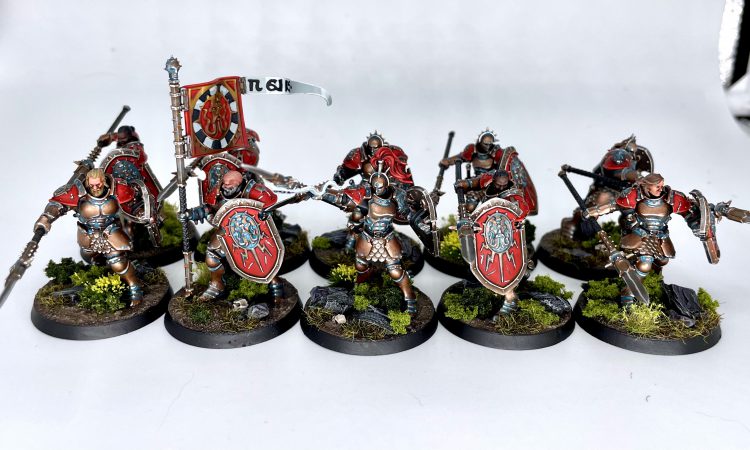 With my scheme decided and process established, I blitzed through Dominion and knocked out the whole box in like 2 months. I started with the Vindictors since they'd really set the tone and speed for painting the set. Painting the shields separately was the pro move here, and I went for as many unhelmeted heads as possible, largely because the bare heads are just such good sculpts.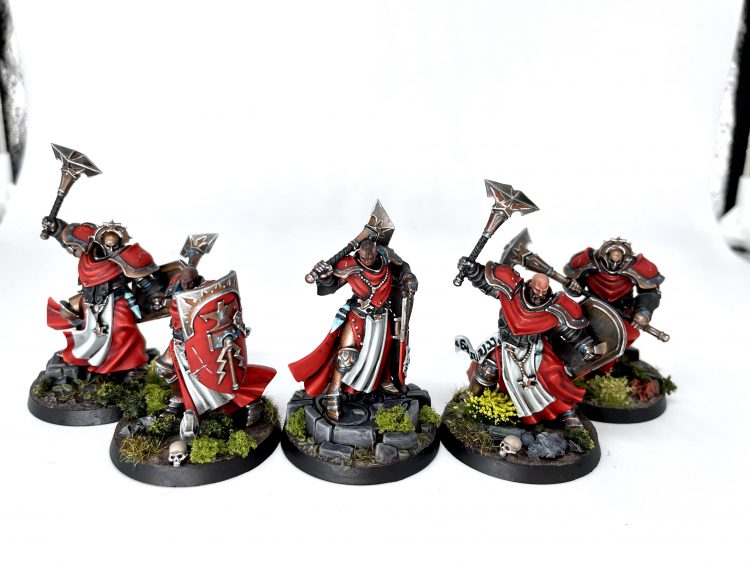 I knocked out the trio of Easy to Build Sequitors because I figured they'd be a good testing ground for the red robes I'd be painting on other models in the set. They also look cool as hell. I had to flesh them out to a legal unit with an eBay purchase of two more Sequitors, but it's no big deal. I used some spare Dominion heads because they're just such good sculpts and I didn't want the bits to go to waste.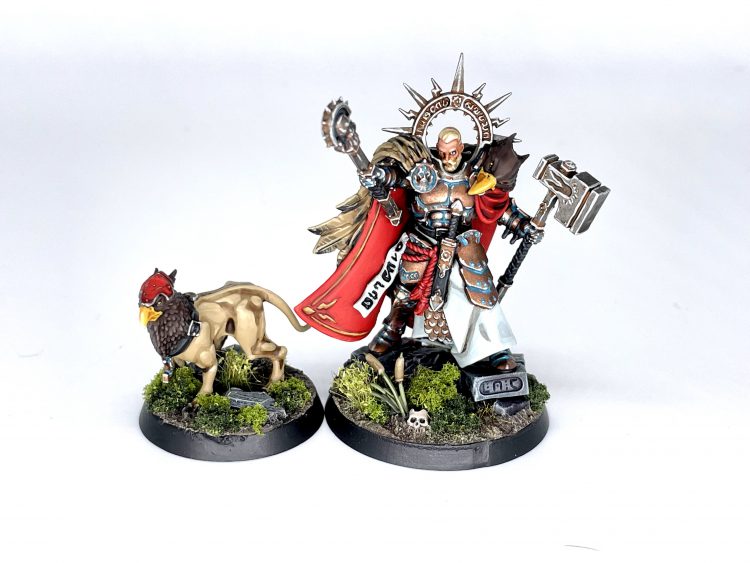 I cleansed my palette with the birbdog and baton twirler hero from the set. I enjoyed doing some subtle NMM gold on the lining of his cloak, as I did on the banner for the Vindictors. He's got borderline too much going on, but I enjoyed the variety of textures he's got going on. As for the birbdog, that was an easy single session model to knock out. With this army I'm hoping to make the sundry animals and monsters look grounded with some color schemes based on real animals. Basically if you see feathers, wings, beaks, or whatever in this army, know that it involved enough of me googling Cool Bird Pics to make my podcast cohost proud.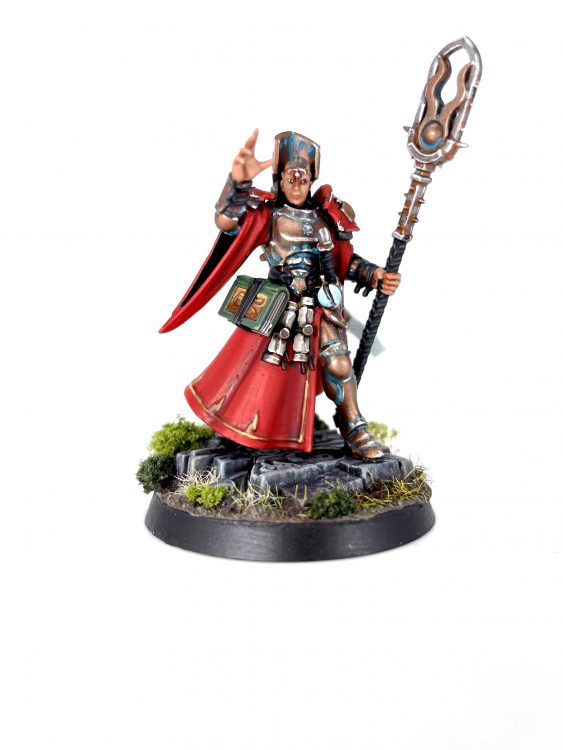 I fucked up slightly on this one. While unhelmeted heads are the cool move 90% of the time, the Knight-Arcanum deathmask is extremely fuckin cool, and I didn't realize I'd used the bare head until the primer was already dry. There were also some gnarly gaps on the cloak that involved sprue goo and green stuff to fix. All that aside I think she looks fine, and I'm very happy with the NMM gold on the book.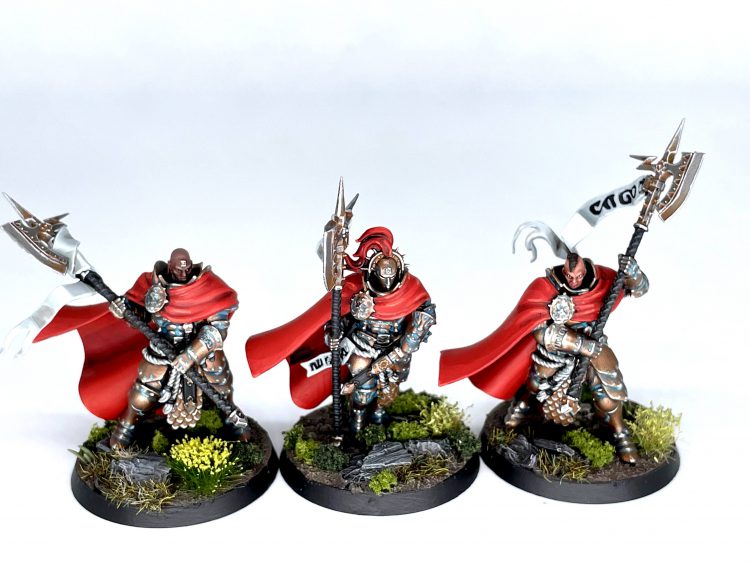 With the capes figured out, these guys came together rather quickly and effectively. I also got to use Praetors in a test game recently and they kicked ass, so I'm very happy I put the time in on these folks.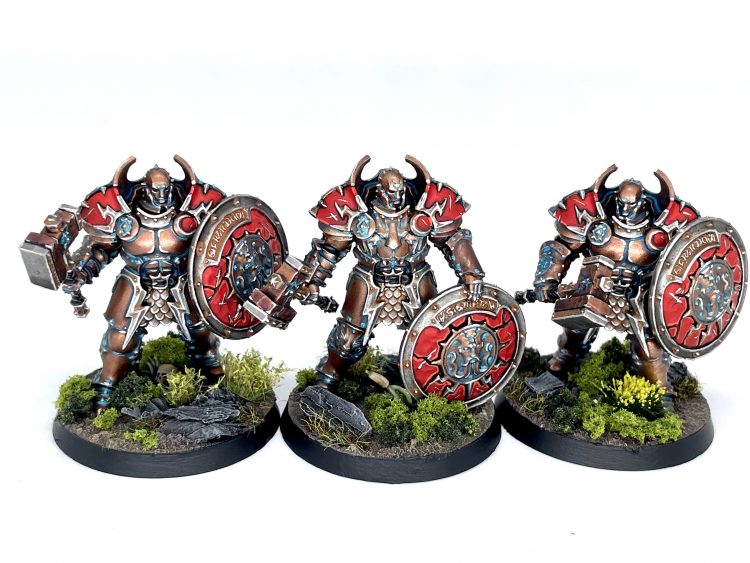 These Bigg Bois were a ton of fun, and while not my favorite models from the set, are still ones I very much enjoyed painting. They also kick ass in game so I'm glad I spent the time on them I did. Since they're mostly platemail it was just the process of verdigris, drybrush, spot highlight that I do on all my other Stormcast, which is fortunately one of the less time consuming processes out there. I again left their shields off because they're the size of some other models' bases.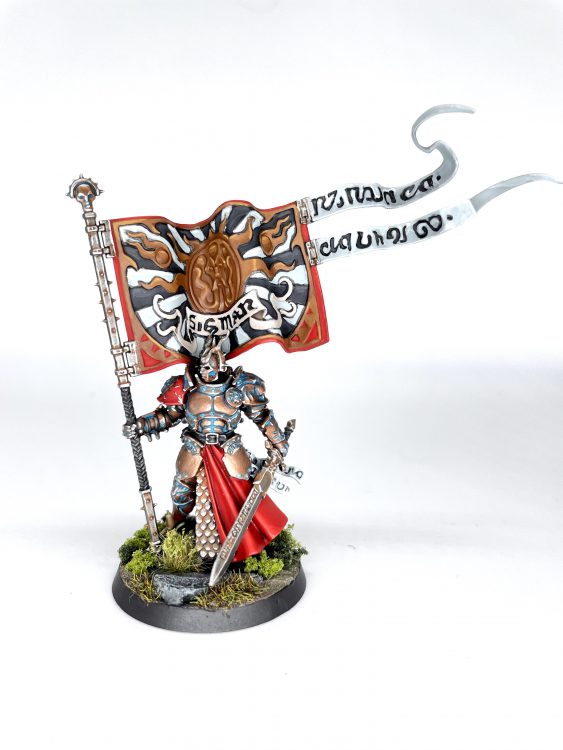 Fuck this model, so hard. Everything up until the banner was easy street, but painting around that spiny helmet, deep in the crevices and fabric folds of that banner, was absolutely miserable. I was planning on finishing this dude before going to the GHO, but absolutely lost all motivation to do so and he had to wait til I was back. I could have pushed the banner more but I value my sanity too much. Fortunately, with him out of the way, I can get to the cherry on top of this cake: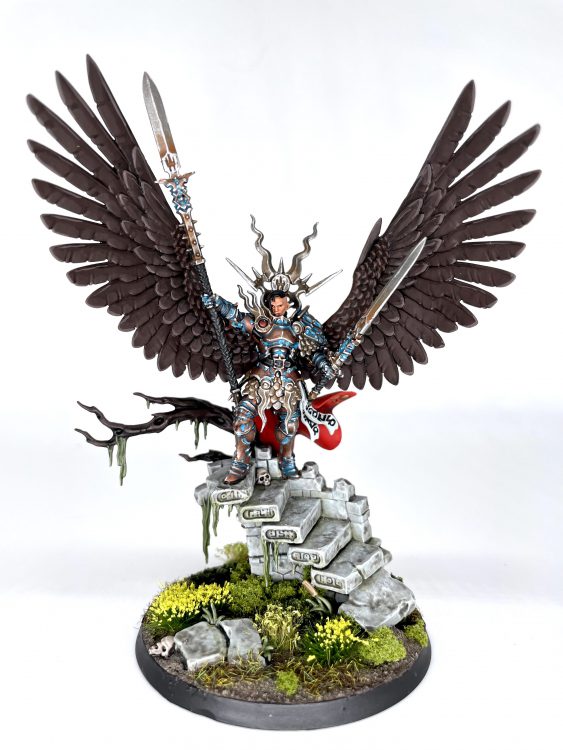 I saved the Biggest Damnedest Hero(st) for last, and I'm glad I did. While the process of layering up each feather was tedious, I'm very happy with the end result I got on her. There's a little weirdness with the sculpt where her eye and collar of her armor get a bit muddy, but aside from that she was great fun to paint. I had to paint the wings separately and found attaching those after the fact to be tricky, but not as tricky as painting around said big birb wings. I also figured out a white stone recipe that was fun and easy for her Hero Stairs, so if I get any of the new AoS terrain I know how I'll be painting them. Anyway, with Yndrasta done, my Dominion box is complete!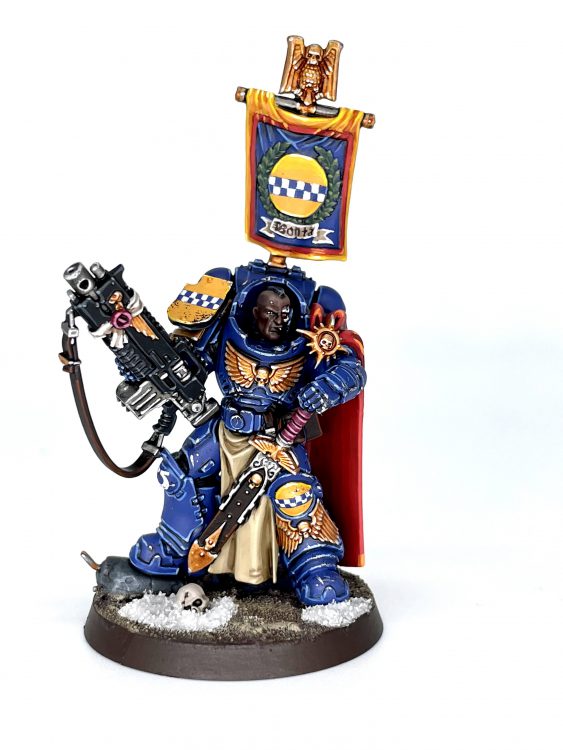 Last, but certainly not least, I got back on my Space Marine Bullshit and painted the lazy sunday captain. The process of edge highlighting those damn Gravis boots is why it takes 45 minutes just to do the Calgar Blue highlight on these models. However, unlike with my Heavy Intercessors, I didn't have to do it 5 times in a row so it wasn't too bad. I gave him the cool Terminator-style bionic head from that set, stuck a backbanner on him, found some historical heraldry I could repurpose, and just went to town. The checks weren't too hard to do, and layering up on the cape came naturally after doing it so many times on my Stormcast. Anyway, I'm back to painting Ultramarines, so keep an eye out for more blue power armor here next time around. 
Crab-stuffed Mushrooms
Posting after SRM? How am I supposed to follow that machine?! These posts are supposed to be from people!
Speaking of machine people, I painted a thing: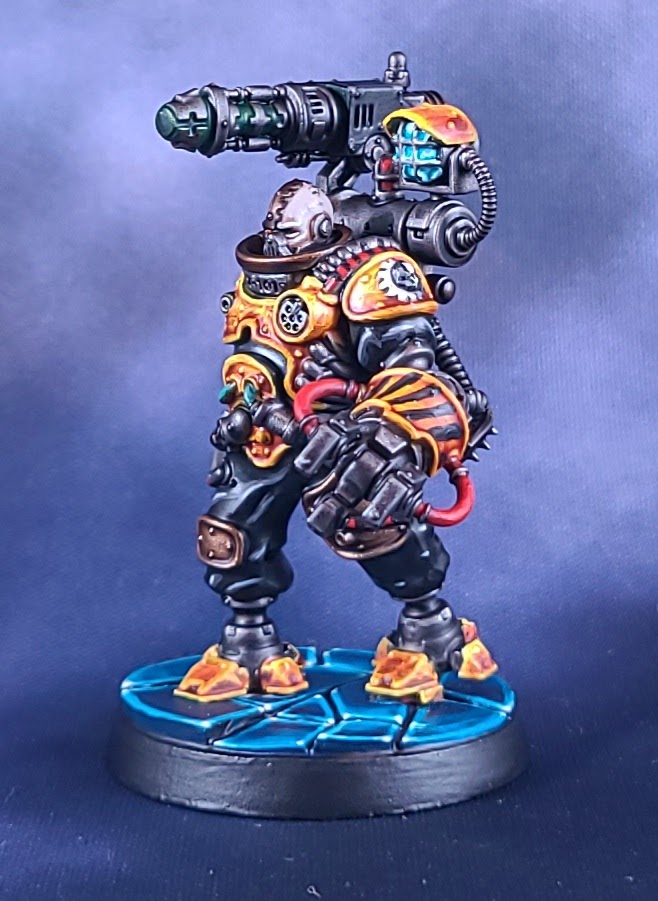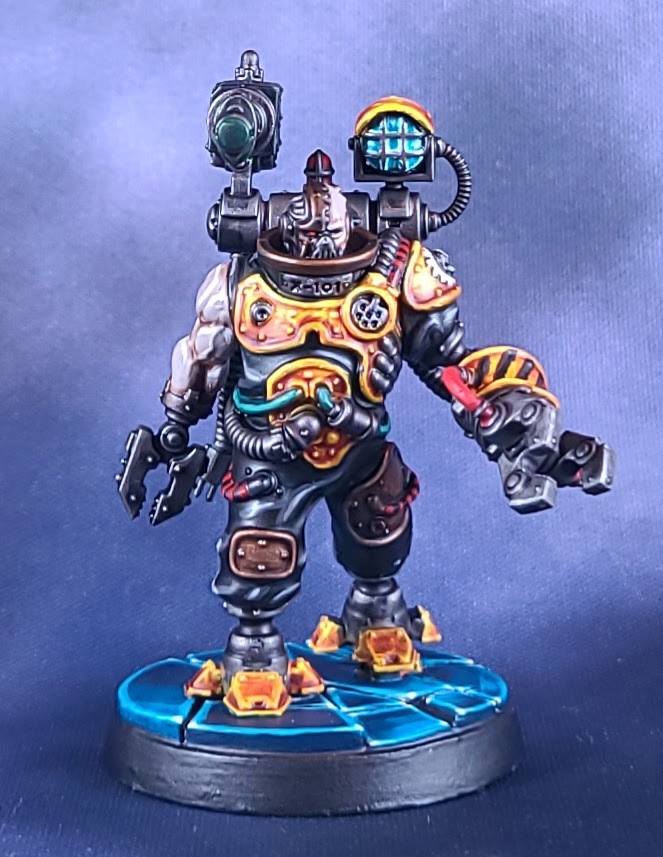 I also finished the mascot for my Blood Bowl Team, "Squealy McScream!" of Da Gitzburg Squealers. Squealy has been delighting fans for generations and shows no signs of slowing down: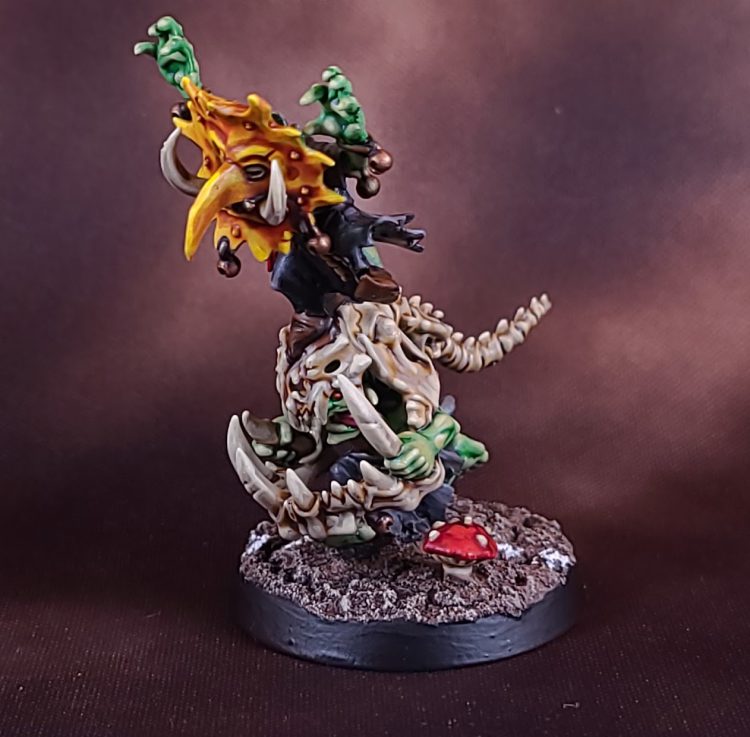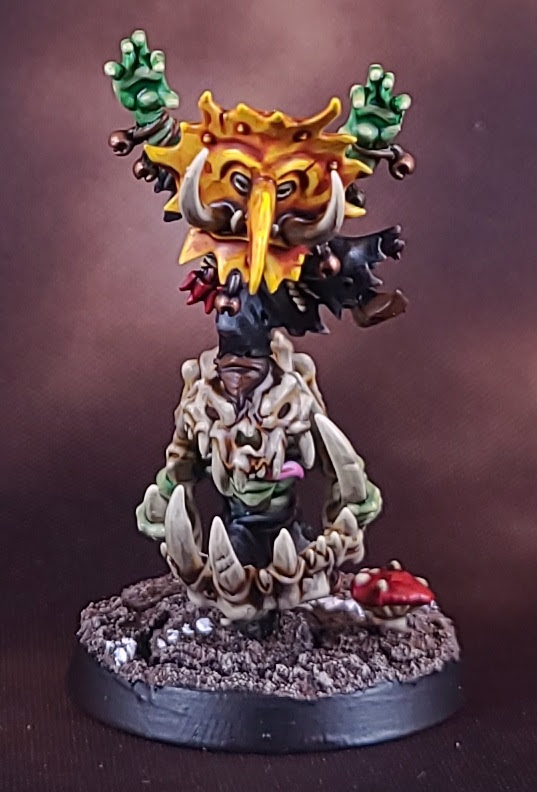 Corrode
A busy September, with some Drukhari for tournament preparation, some Adeptus Custodes for the 22-model army I have in progress, and a few other bits and pieces from the backlog – a Watch Master, a Dogmata, and some bits of Ork terrain.
Credit: Corrode

Credit: Corrode

Credit: Corrode

Credit: Corrode

Credit: Corrode

Credit: Corrode

Credit: Corrode

Credit: Corrode

Credit: Corrode

Credit: Corrode

Credit: Corrode

Credit: Corrode
Colin Ward
September was a particularly productive month for me, as I returned to the Blood Angels with some gusto, and even got a few characters painted up for my growing Kruleboyz army for Age of Sigmar. It's always rewarding to paint such a diverse range of models! Name plates courtesy of Versatile Terrain, as always.
I started the month by finishing off a Librarian Dreadnought for my Blood Angels. I wanted to give the model some more height as it will have to serve alongside Primaris Marines, so I kitbashed the torso of the Librarian box dreadnought with the legs from the Blood Angels Legion Contemptor Dreadnought from Forgeworld. This gave the model just enough added height to hold its own among the bigger Marines and Dreadnoughts.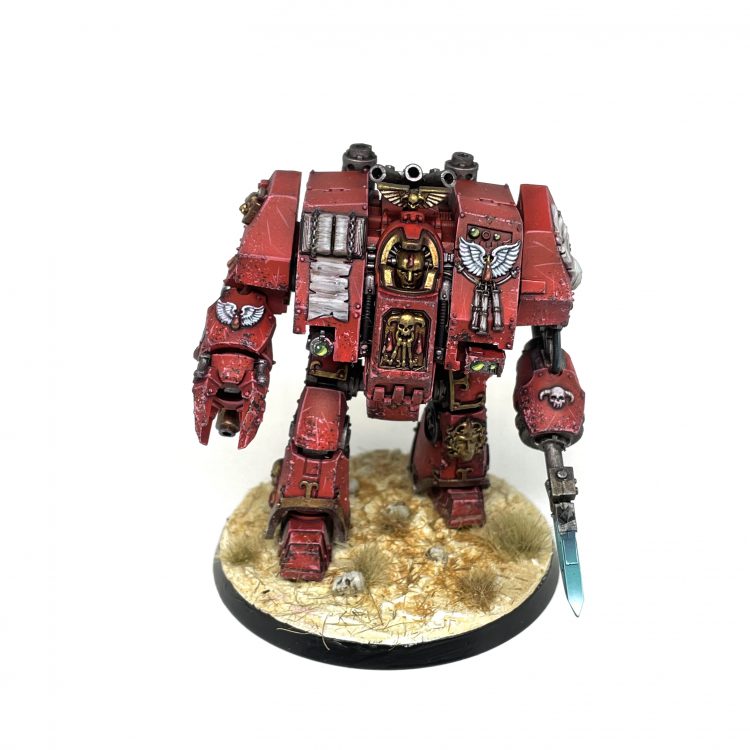 I added to a handful of infantry characters to my Blood Angels as well:
Blood Angels Primaris Librarian. I'm not a fan of the Primaris Librarian sculpt and I had duplicate characters from Indomitus, so I decided to mimic a kitbash I saw somewhere on Instagram (sorry, I don't remember where!). I used the Bladeguard Ancient model, kitbashed with a Grey Knight force stave, head, and left hand, to get a Librarian in a powerful, but passive pose. I love this model!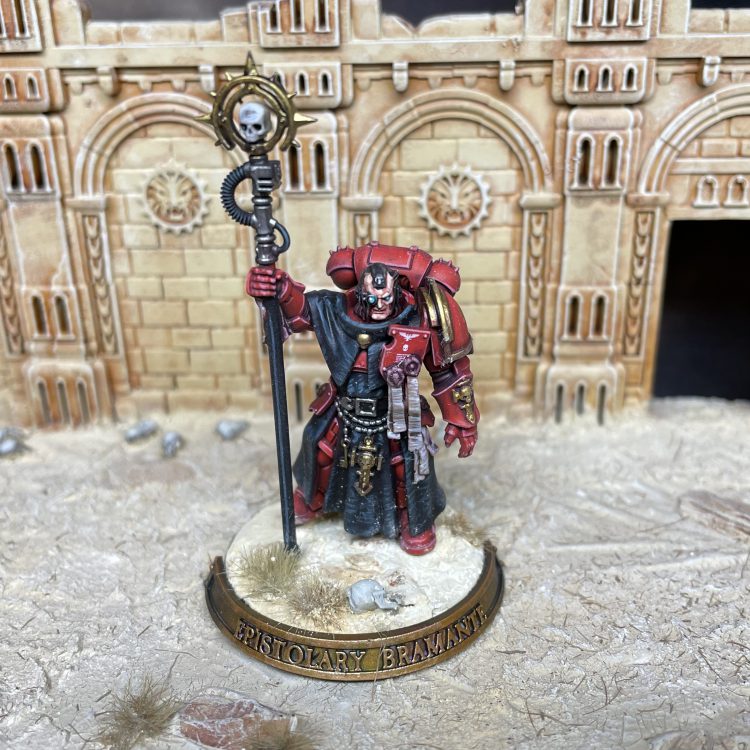 Blood Angels Death Company Lieutenant: Kitbashed by the insanely talented @ingrimmson on Instagram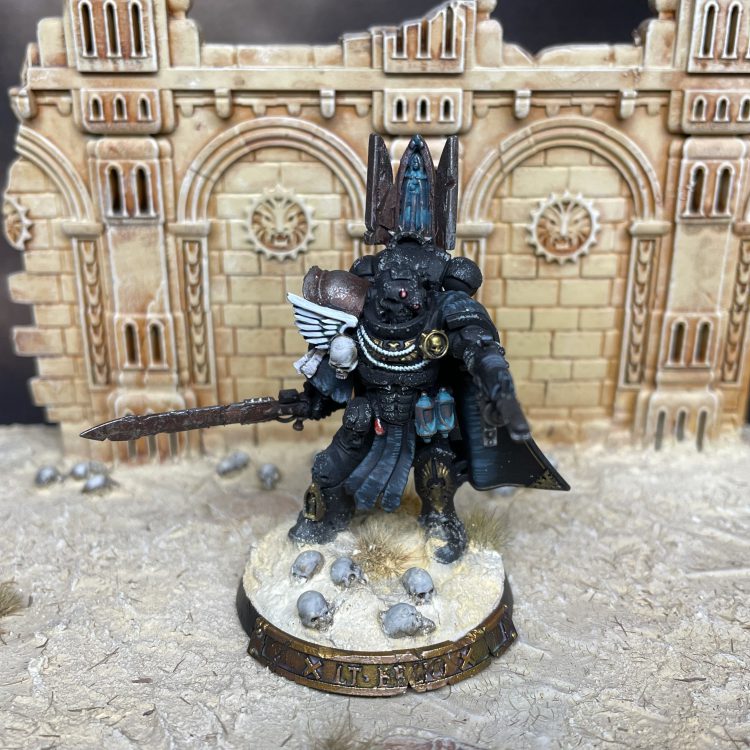 Blood Angels Primaris Apothecary: Other than a shoulder pad swap, this model didn't need anything. Fantastic sculpt.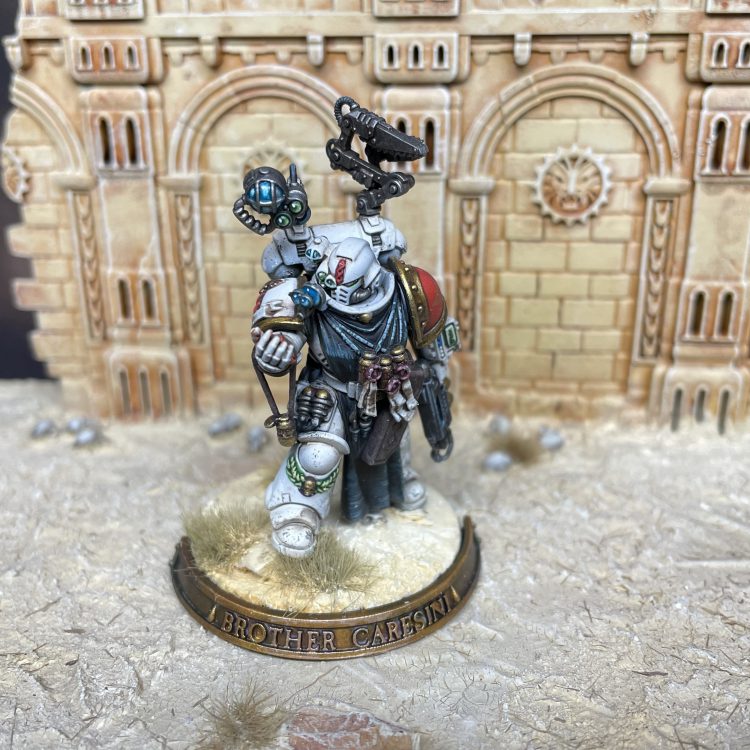 Blood Angels Chaplain With Jump Pack. Another kitbash from @ingrimmson. Totally over the top and weird, it fits perfectly into the army. It was a challenge to figure out how I wanted to approach painting it, but the limited palette and the very matte black serve it well.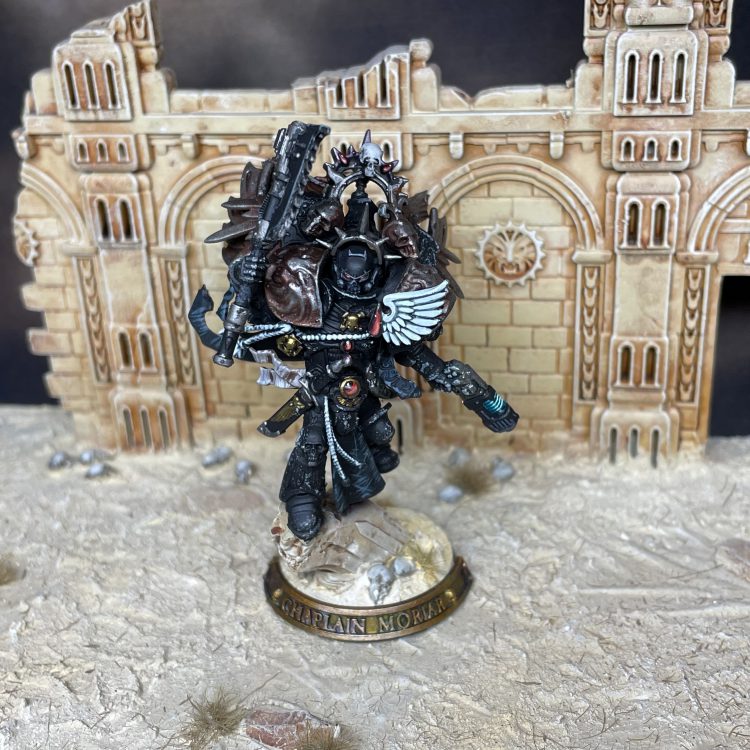 Blood Angels Captain with Jump Pack, Storm Shield, Teeth of Terra. Another Primarch kitbash added to the ranks! I thought I would need a Jump Captain with Teeth of Terra for an event, and even though I ended up going a different direction with the list, I wanted to finish off the model. World Eaters Primarch Angron is the base model, with bits from the FW Crimson Paladin Terminators, BA Legion helmet, Space Marine Lord Executioner Jump Pack, and a handful of other bits. And the obligatory hero rock, of course!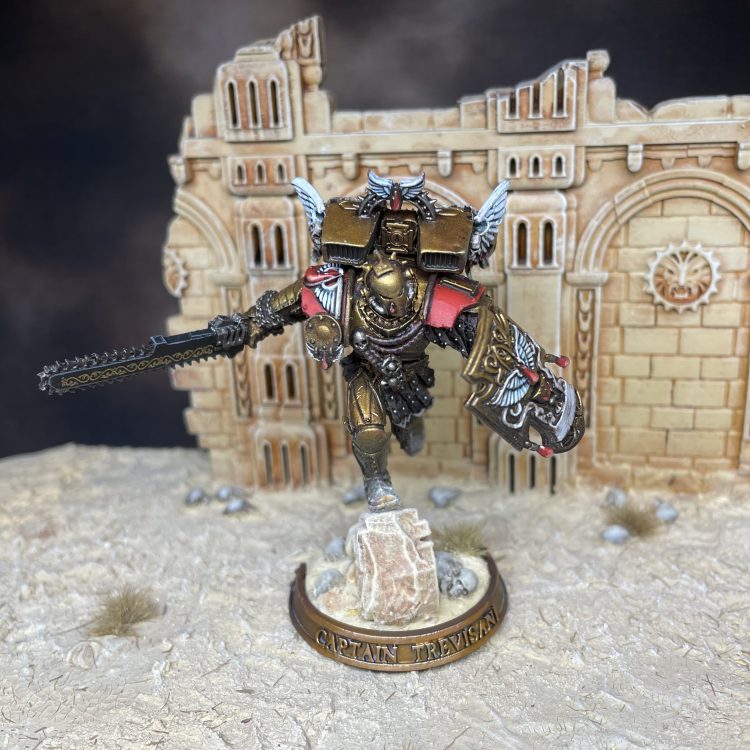 Blood Angels Sicarian Battletank. I love painting Sicarians. Fantastic shape to the hull and turret, old school HH aesthetic, just a great kit. And it's always fun to play with Marble! Click here for a free tutorial on how I did the marble.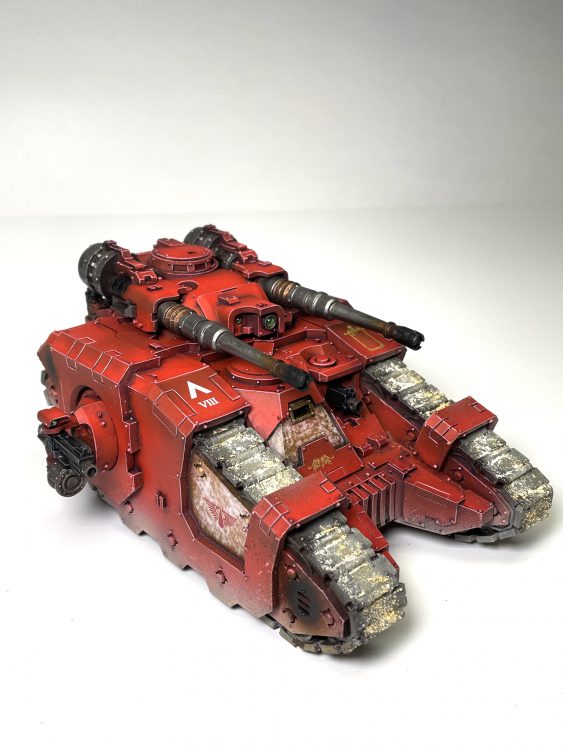 While I was painting the Sicarian, I also tackled the second largest tank in the army: :The Astreus. I love this ridiculous tank. I have since I first saw it. This is the second one that I've painted (first was for a Space Wolves commission), and I have to say that even though the build is always a trying experience, painting the tank is a joy. I feel like I should add the caveat that I really enjoy edge highlighting, which makes painting this tank fun, rather than a chore. I'm ecstatic to have this beast finished and in the case opposite my Mastodon, and can't wait to get it on the table.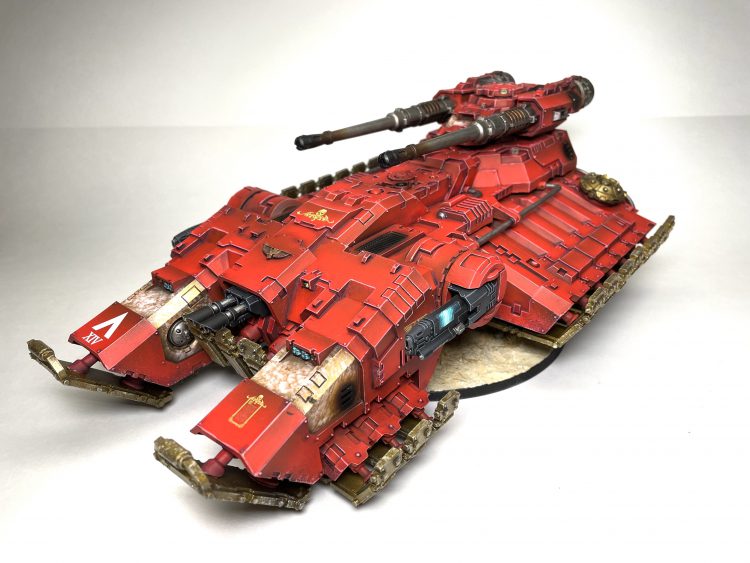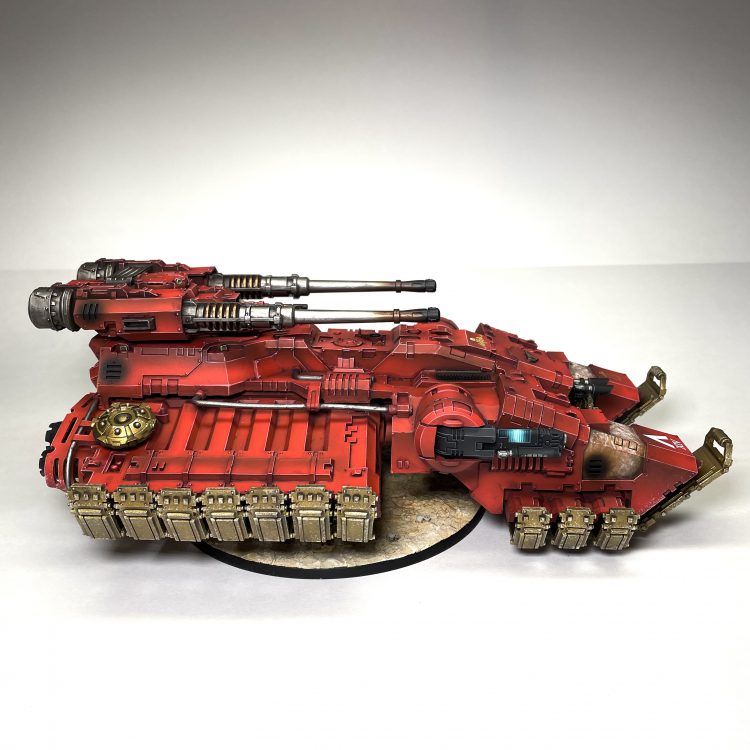 This thing is massive. Size comparison next to a Primaris Intercessor Sergeant below.
To finish up my Blood Angels' reinforcements: 6 Eradicators with Melta Rifles from Indomitus, and another squad of 6 with 4 heavy melta rifles and 2 multi-meltas from the multi-part kit. I love painting Gravis armor, and these chonky bois should ensure that I won't need to look too far for whatever anti-tank needs may arise in the future.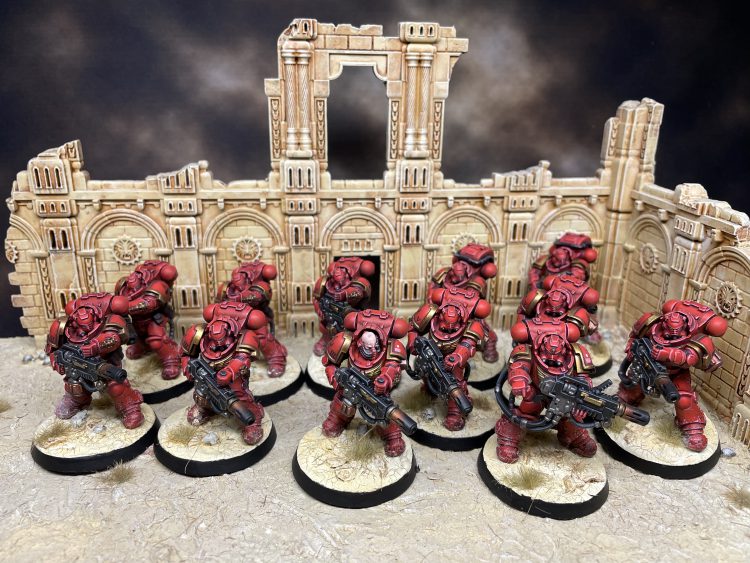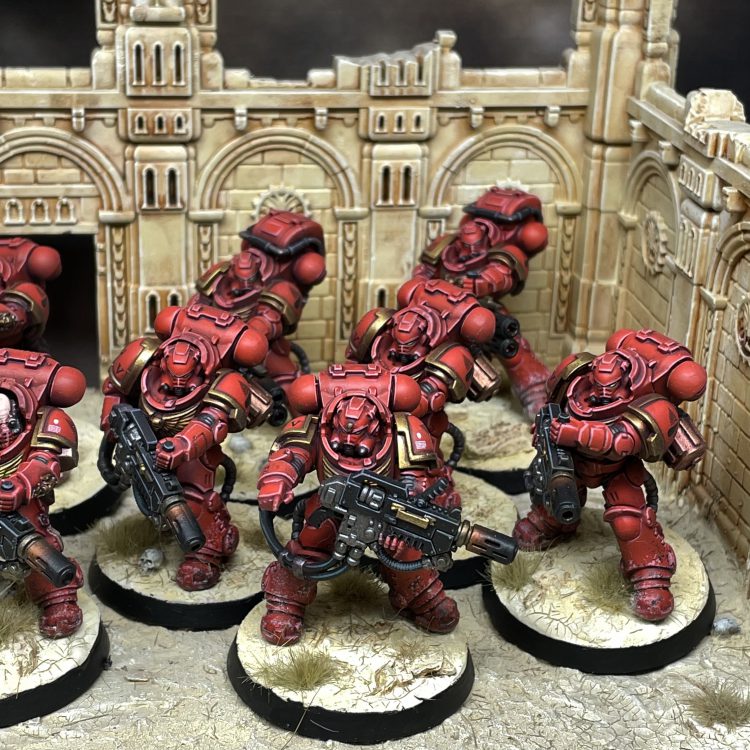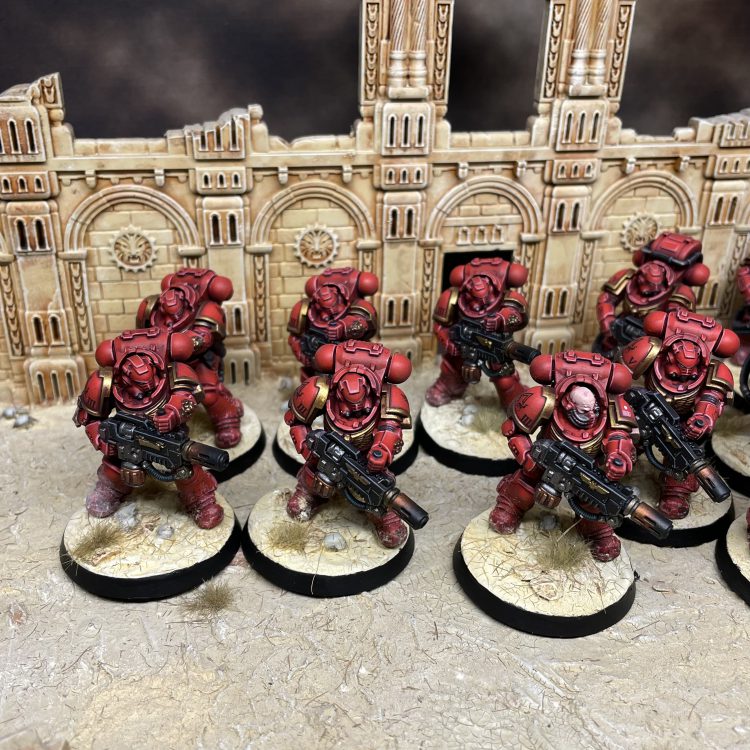 Now shifting gears to Age of Sigmar! Games Workshop graciously sent me a couple of Kruleboyz kits to paint up, and so I set about painting them before the new wave of Kruleboyz releases hit and my backlog expanded rapidly. Though I haven't played a game of AoS 3.0 yet, painting the Kruleboyz has been some of the most fun I've had painting this year. For a look at how I painted some of the elements on my Kruleboyz, check out the How To Paint Everything: Kruleboyz article.
Kruleboyz Killaboss/Snatchaboss on foot. This model was a pretty easy kitbash. I had a complete Snatchaboss torso leftover from building Swampboss Skumdrekk, as well as a duplicate Killaboss from Dominion. I am clearly a fan of having WAY more characters than anyone should ever need, so I did a quick torso swap and mounted the Killaboss shield on his back for an easy 'boss on foot' type. Really pleased with how it came together, as he fits right in alongside the offerings from Dominion.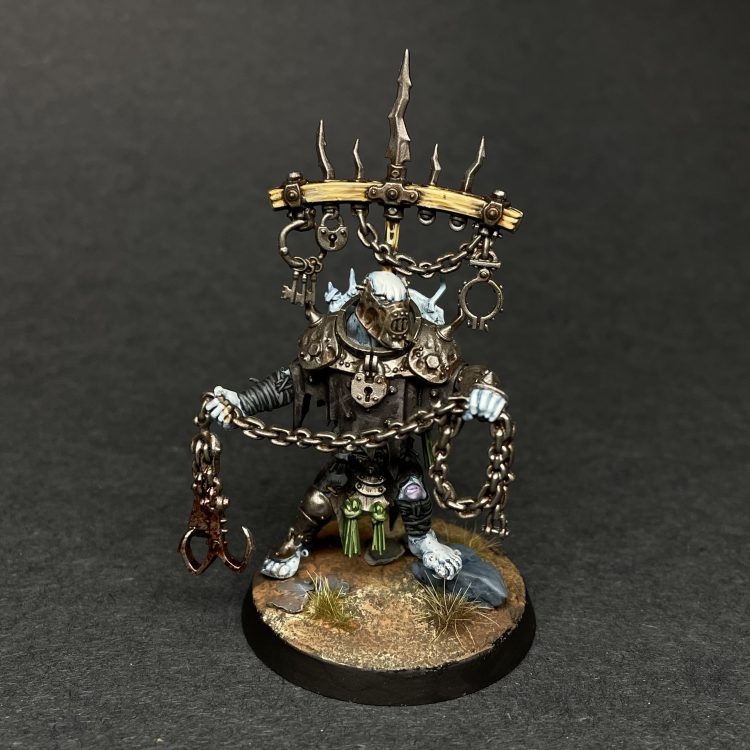 Swamboss Skumdrekk on Sludgeraker Beast. This is one of my favorite models that I've painted this year. I love this weird, creepy thing. I wanted Skumdrekk to stand out in the army, and so I decided to give him a rare albino mount. In an army full of cold, drab tones, the shocking light pink flesh of the albino Sludgeraker Beast really stands out, as well as just being creepy and unsettling to look at. Painting albino skin was a really fun challenge, as was all the woodwork on the model. The sculpting of the gibbet rig is really impressive, as there was clearly a LOT of thought put into just HOW all those different elements would be constructed to make a contraption capable of carrying not only Skumdrekk but a trio of gibbets for his unfortunate quarry. I'm very much looking forward to getting a second kit to make into a generic Snatchaboss on Sludgeraker beast, but I think there's a giant swamp vulture in my future first.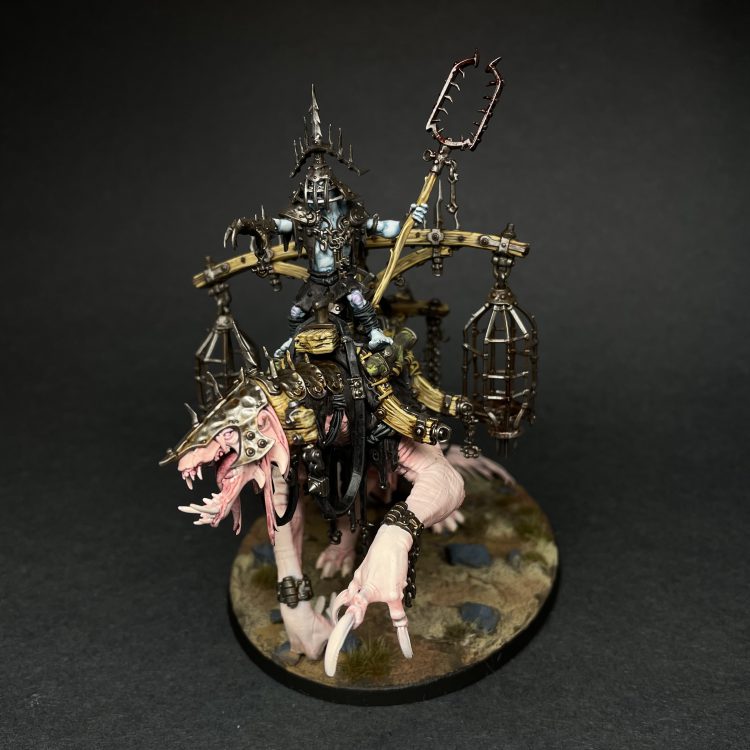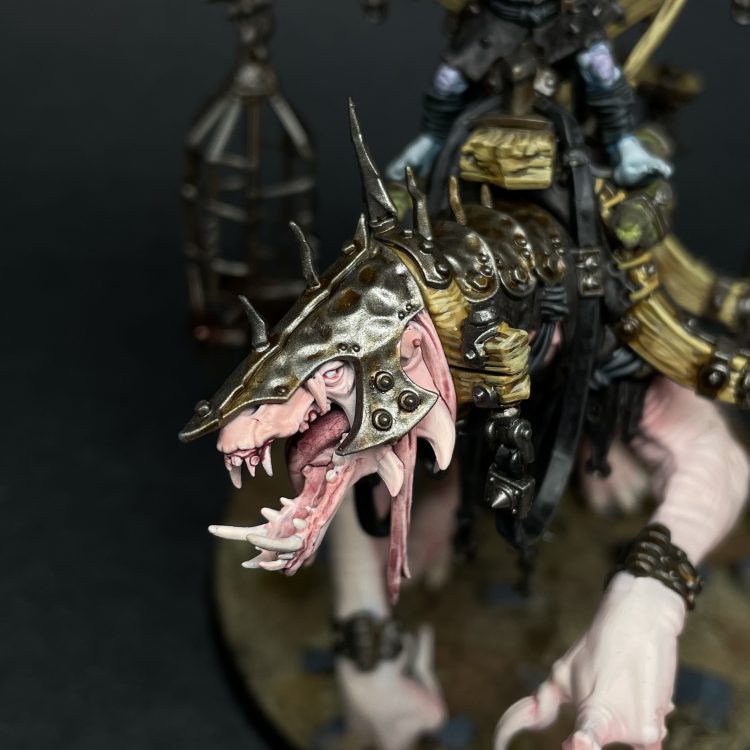 The other model I got to paint was the Breakaboss on Mirebrute Troggoth. The Troggoth gave me another opportunity to experiment with bestial skin tones, and I decided to go a more traditional swampy green flesh for the mount. I love the giant gut plate and the rider's perch, as well as the tree trunk clubs that the Troggoth is wielding. Again I put an emphasis on natural, muted colors for the hides and clubs, with a liberal application of blood splatter for good measure.