This article is part of a larger series on How to Paint Tyranids. To return to that series, click here.

After spending most of 2017 painting Iron Warriors for Horus Heresy, I had a desperate need for colors other than dirty gunmetal, black, and hazard stripe yellow. The teasers for the 8e Tyranid Codex had just started coming out around the time that I was looking for something else to paint, so clearly this was destiny and not simply that I was easily swayed by marketing. Careful consideration bore out Hive Fleet Snagglepuss, which was designed both to be easily painted and to help identify homophobes at my local store.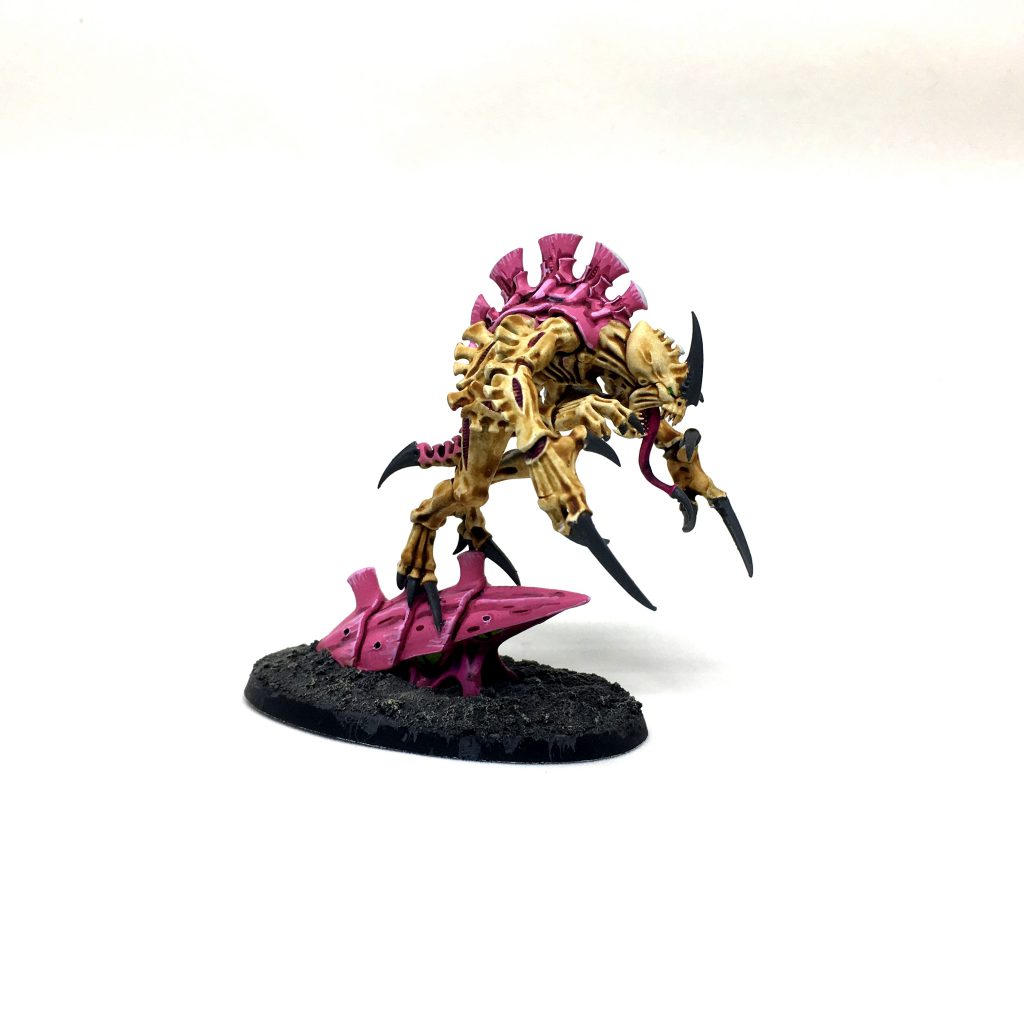 Skin
The entire model starts with a white primer and a thin layer of white over that. The skin is an incredibly simple two coats of Seraphim Sepia over the white. I don't know what you call those weird ribbed bits that seem like they're opened up under the skin layer, but I call them "Screamer Pink with a Druchii Violet wash." That same pink-purple also applies to any other odd fleshy/membrane bits such as spore cysts, adrenal glands, or wing membranes as well as tongues. Teeth are a pretty standard Ushabti Bone and usually get covered in Blood for the Blood God, while eyes are Moot Green with the larger eyes getting a slight hint of Lamenters Yellow around their edges and a cat-style pupil done in black Micron pen.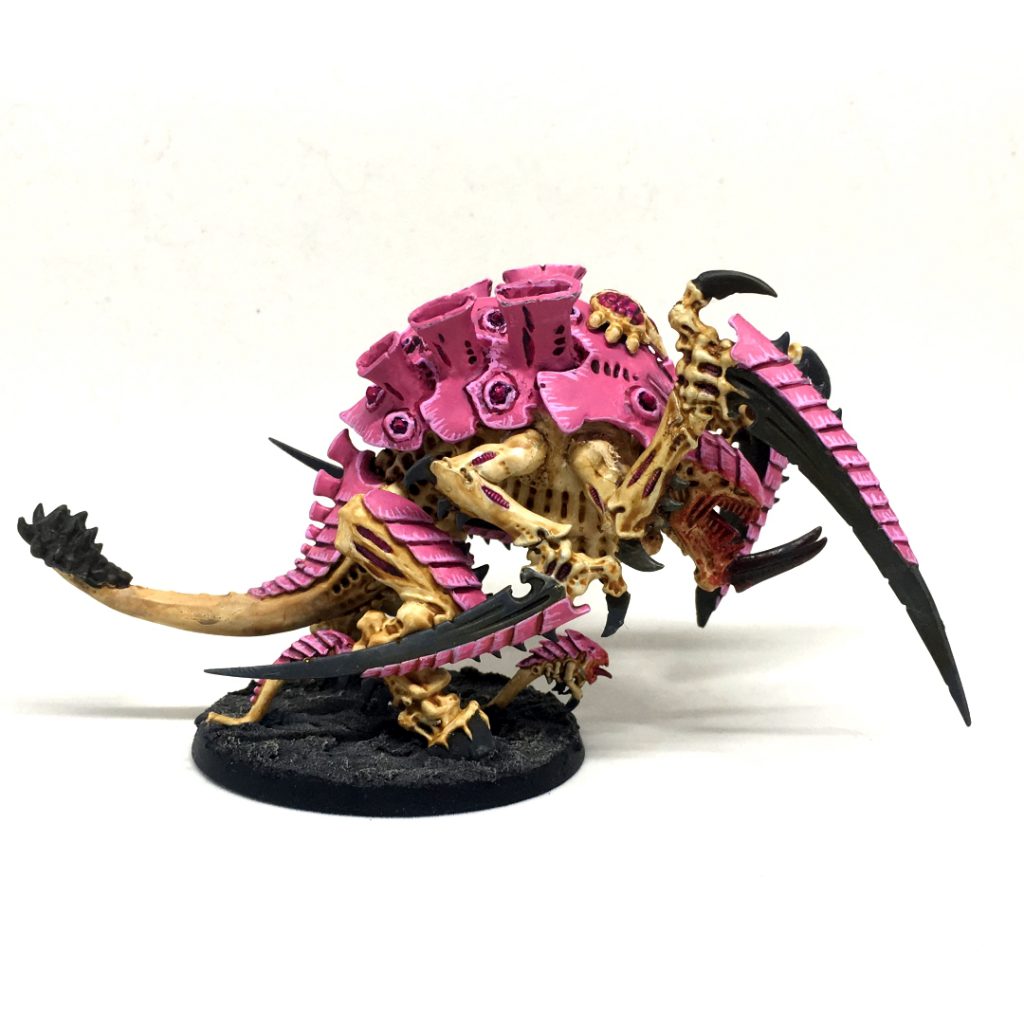 Carapace
This is what I wanted to shine. After comparing various options I settled on a couple of layers of Emperor's Children with Carroburg Crimson lining the joins between carapace plates and other recesses or nicks. The edges and ridges of the plates get a line of Fulgrim Pink and I use a reasonably fine brush to start making thin triangular lines leading to the plate edge much like Rockfish described above. After this, Synapse creatures get a line of White Scar running down their spine ridges to serve as a quick visual guide.
Weapons
I didn't want the weapons to distract from the main colors so any claws, guns, hooves, and other fighty bits are a base of Skavenblight Dinge with a highlight of Stormvermin Fur and recess shading of Agrax Earthshade. Any carapace pieces like on fleshborers get the pink carapace treatment, tendon-y areas get the pink-purple, and Moot Green for any eyes.
Basing
Like everything else, the bases are pretty simple. There's a layer of Abbadon Black thrown down over the primed base and around the rim, then that gets covered by Astrogranite Debris.
After that dries, I put down a layer of Agrax Earthshade all over the base, and follow it up with a drybrush of Tyrant Skull applied lightly enough that the raised areas pop but not so much that it makes the whole thing look like dirty bone. Contrast?! If I had to do it all over again (and with the advent of the 9e Codex I may just have to add some new bugdolls) I would probably start with a Wraithbone spray, Skeleton Horde on the skin, and Volupus Pink in the tendon bits. It probably wouldn't save too much time but frankly I blew through a truly stupid amount of Seraphim Sepia making these and I'd love to avoid that again. I haven't really experimented with the Contrast pinks outside of my beloved Volupus but I don't think any of them would really work to provide the same shock pink. In summary, Contrast is a land of contrasts.
This article is part of a larger series on How to Paint Tyranids. To return to that series, click here.