Innes Wilson is the captain of Team Scotland, a member of Stat Check, and one of the best 40k players in the world. He recently decided to show all of us up by taking Death Guard to an event and managing to cobble together a 3-1-1 finish with them, defeating some strong competition in the process. So we wrangled him here to talk about the list and how it works.
Welcome back, Innes. It's always great to talk with you outside the context of a Blunderdome. Let's start with the big question first: What on earth made you decide to play Death Guard?
In my local meta I have the fortunate position of living very near the rest of Team Scotland. With that, unfortunately comes the burden of living near Team Scotland's Eldar Player; Brian Seipp who has been on something of a tear the last few months. I'm not looking to pick up an Eldar army this close to the balance dataslate changes and wanted a challenge for myself that wasn't directly "let's try and win the tournament", so I opted to pull out some models I haven't used in a while.
As for why specifically Death Guard? Partly because they're sitting at the bottom of everyone's tier list, and partly because they're also incredibly underexplored. There's almost always a competitive advantage somewhere in a faction (whether that's good enough to win games is entirely a different story) and the Death Guard could definitely stand for some more attempts at making them work.
Death Guard also can't stay at the bottom of the pile forever. We've known there's an update coming soon and it's nice to have a ground level understanding of a faction that you're not seeing on the table to have a better perspective on them.
Good point. Let's talk about the list. In case you missed it, you can find Innes' list below:
Innes' List - click to expand

++++++++++++++

Player: Innes "Hazardous" Wilson

Team: Stat Check

Army Faction: Death Guard, Chaos Daemons

Detachment: Plague Company

Total Points: 2000

Enhancements: Living Plague

Warlord: Mortarion

Bring it Down: 18

Assassination: 36

++++++++++++++

 (2000 points)

Death Guard

Strike Force (2000 points)

Plague Company

Death Guard Chaos Lord in Terminator Armour (120 points)

• 1x Combi-weapon

1x Plague fist

• Enhancement: Living Plague

Death Guard Chaos Lord in Terminator Armour (100 points)

• 1x Combi-weapon

1x Plague fist

Death Guard Chaos Lord in Terminator Armour (100 points)

• 1x Combi-weapon

1x Plague fist

Foul Blightspawn (55 points)

• 1x Close combat weapon

1x Plague sprayer

Foul Blightspawn (55 points)

• 1x Close combat weapon

1x Plague sprayer

Foul Blightspawn (55 points)

• 1x Close combat weapon

1x Plague sprayer

Lord of Virulence (115 points)

• 1x Heavy plague fist

1x Twin plague spewer

Mortarion (370 points)

• Warlord

• 1x Rotwind

1x Silence

1x The Lantern

Typhus (115 points)

• 1x Master-crafted manreaper

Death Guard Land Raider (250 points)

• 1x Armoured tracks

1x Combi-weapon

1x Havoc launcher

2x Soulshatter lascannon

1x Twin plague heavy bolter

Plagueburst Crawler (175 points)

• 1x Armoured tracks

2x Entropy cannon

1x Heavy slugger

1x Plagueburst mortar

Plagueburst Crawler (175 points)

• 1x Armoured tracks

2x Entropy cannon

1x Heavy slugger

1x Plagueburst mortar

Plagueburst Crawler (175 points)

• 1x Armoured tracks

2x Entropy cannon

1x Heavy slugger

1x Plagueburst mortar

Poxwalkers (60 points)

• 10x Poxwalker

• 10x Improvised weapon

Nurglings (40 points)

• 3x Nurgling Swarm

• 3x Diseased claws and teeth

Nurglings (40 points)

• 3x Nurgling Swarm

• 3x Diseased claws and teeth
What's the idea behind the list? How does it work?
The basic premise of the list is that Mortarion and Plagueburst Crawlers provide you with a fairly resilient core that has a lot of low-interaction elements. Ignoring modifiers with the Mortar gives you enough damage to start harassing your opponent's low resilience elements quickly, and you have some direct fire to keep tanks and other big damage pieces at least slightly honest. With a 2+ save across the spectrum and Cloud of Flies for Stealth, they have a decent amount of durability even in the face of dedicated anti-tank and there's always that chance for a high roll.
What then to pair with that? The current game environment is very much built to deal with single big things and lots of small things with a lot of consistency. Whether it's Oath of Moment, a full Custodes squad or a Heavy Wraithcannon, big blocks of things are pretty vulnerable to the kinds of tools that are being run. So how do you counter that? My basic idea was to try and "activation lock" my opponents out by just having a clutch of medium resilience things that are very hard to specifically plan damage into.
When 6 or 7 characters are in your face, and they're all reasonably durable with T5/6, and a lot of them being 2+/4+ save, it's easy to over- or underallocate damage and leave me with a lot more assets than your strict damage output should. With the Chaos Lords then also having an end-of-turn (read: twice per round) pulse of Mortal Wounds from Desiccation Conduit to punish that, it was quite potent at putting a problem in front of your opponent.
The Land Raider slotted in as a natural expansion of that. Adding a huge burst of initial movement to the character party bus, it typically held the 4 Chaos Lords (3 Terminator, 1 Lord of Virulence) and the 3 Blightspawn while Typhus utilized Deep Strike by himself. It also added more of the same sorts of toughness profile as Mortarion and the PBCs to overload my opponent, and 4 Lascannons that work fairly well with Mortarion's ignore modifiers and reroll 1s to wound auras. Packing it full of Foul Blightspawn helped solve some of the other problems like short threat range by suddenly being able to vomit out a flamer with 25" threat range on a whim that helped harass and attack objectives.
Typhus proved to be an incredibly valuable solo threat, as he is a Death Guard Terminator with a movement characteristic of 5, he's uniquely equipped to make charges from Rapid Ingress while also having a very potent pseudo-shooting attack that applies D6 mortals on a 2+. He worked very well as an answer to Lone Operatives, resilient models that I couldn't quite convert on, or just dragging my opponent to and away from places on the board. His melee damage is exceedingly fine, and sorely wanted an extra something (either rerolls, AP or just more raw attacks) but was otherwise a standout unit in the army.
Mortarion is the last big question mark. The Lord of the Death Guard aura is possibly one of the best in the game, but the actual damage output coming from your near 400-point model is absolutely anemic. It was very tempting to keep him with the Plagueburst Crawlers, and also to push him super far forward to try and get some melee value out of him. I found the best approach to be to just do both. Entropy Cannons are short ranged, and if they're killing Mortarion they might not have damage to do anything else as the big lunk does at least threaten to hit 4+ Saves and 5+ Feel No Pains and ruin your opponents (or your own) plans. He's not the worst Ingresser in the game, though he does lack native deep strike, so keep that in mind when building your plan.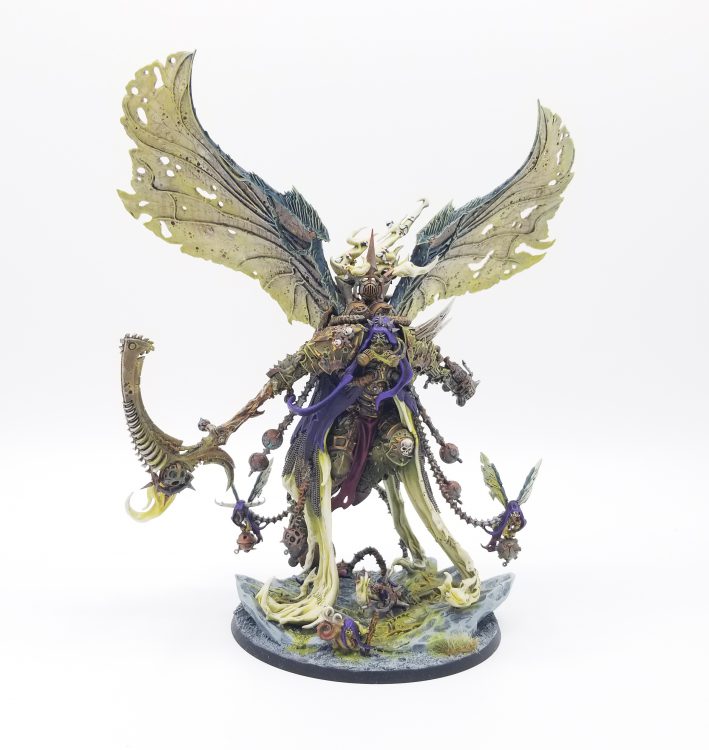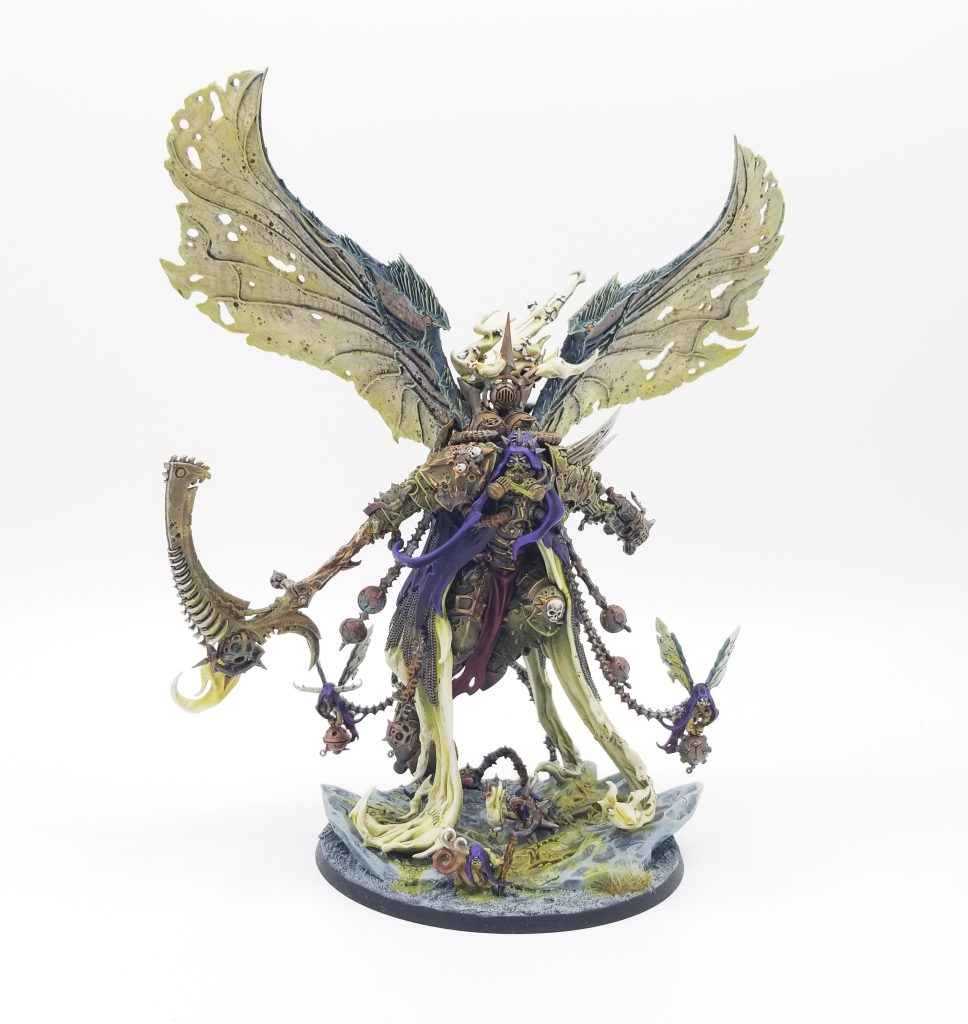 What was your plan for secondary missions?
As far as a general game plan, if there's a good fixed secondary like Bring it Down vs Imperial Knights or Tau, or Cleanse in a mission like the Ritual, slam that with Deploy Teleport Homers and start slamming units into the middle. Nurglings and Random Chaos Lords / Foul Blightspawn love to do actions and it's not like you need to hold objectives due to Spread the Sickness, so go forth and play head down score points. If you must play tactical, focus on the primary denial side of things; you're going to be worse at Tactical than they are, so get ahead when you can.
You had some impressive games, winning a games against double-wraithknight Eldar and another vs Wraithknight + Double Wraithguard. How did you pull that off?
Against Double Wraithknights I took the risk of deploying more or less on the line in a mission with no central objective. I was able to throw units onto the two side objectives and start the process of gaining control of them through Spread the Sickness while also picking up one of my opponent's fast assets and hurting a Wraithknight with Mortarion aided Lascannons from the Land Raider. The return firepower from Two Wraithknights and Two Fire Prisms managed to down the Land Raider and one Plagueburst Crawler, leaving me on both objectives for an early primary lead as I still had too much central positioning to push into.
We both had historic whiffs on our turn 2 (I shot 6 entropy cannons total at a Fire Prism for a sum of 0 hits, missed Typhus's smite and multiple 5-9" charges, Morty tanked two Wraithknights), but all the while I was holding the middle and managing the activation locking that I spoke about earlier. I had Nurgling squads repeatedly charging fire prisms, characters aggressing on my opponent's deployment zone and more, but because he didn't have the physical shots to shoot more than one or two things a turn, I was able to accrue enough points that he had to start doing something about it.
Mortarion eventually made contact with a Wraithknight, and the repetitive damage from Dessiccation Conduit and Living Plague in his backfield meant that shooting could down the other, scraping me through to a narrow 79-66 win. This game was a textbook example of playing to your outs and understanding your win condition. Eldar are a fragile army outside of a few specific units, and being able to attack that and stopping them scoring early gave me enough momentum to withstand getting shot to bits. A good turn of saves gave me the lead, and converting that was all it took. Was it a struggle? Sure. But it's possible when things go right.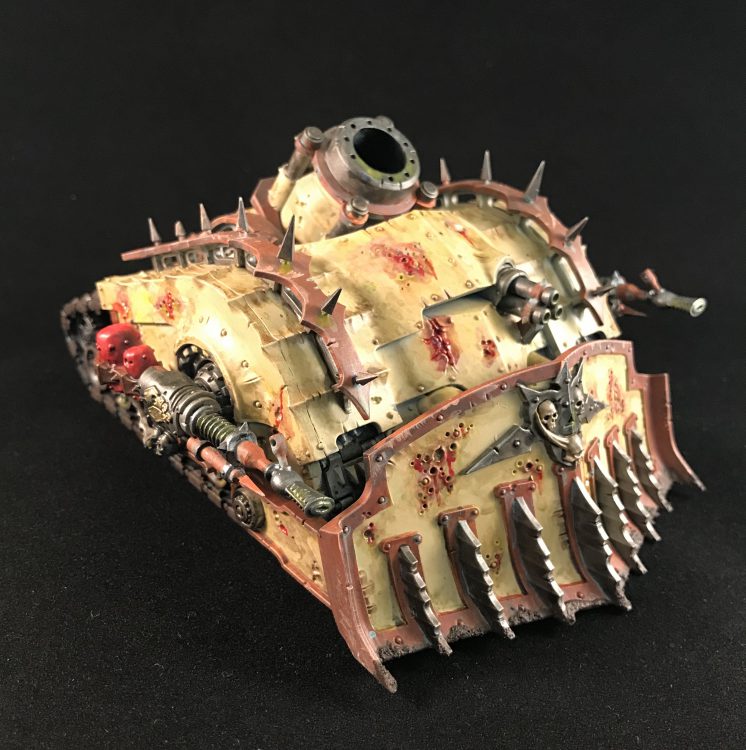 The second game was almost completely the opposite. We played The Ritual here, and I went with Cleanse and Deploy Teleport Homers and basically just played a game of slamming my head on the Action Buttom while tagging up the double Wraithguard as much as possible. Only one unit can fall back and charge, and I made sure to Epic Challenge out both Spiritseers as quickly as possible.
With a line of objectives that I had Spread the Sickness control of, and my opponent bogged down in the midfield, and a unit popping Cleanse on 2 objectives a turn, I was able to near match my opponent's fixed Assassinate/Bring it down, and had significantly better primary control. An eldar army with over 1400 points invested in Fire Prisms, Wraithknights and Wraithguard can have problems holding objectives when you're just charging them on repeat with idiot characters, that again they always have a chance to low/high roll into especially when you kill their +1 to hit and start popping Cloud of Flies.
This one ended up 84-66, mostly off the back of the primary difference that I was able to create going second and the low amount of units in this army making it difficult for my opponent to create objectives in The Ritual.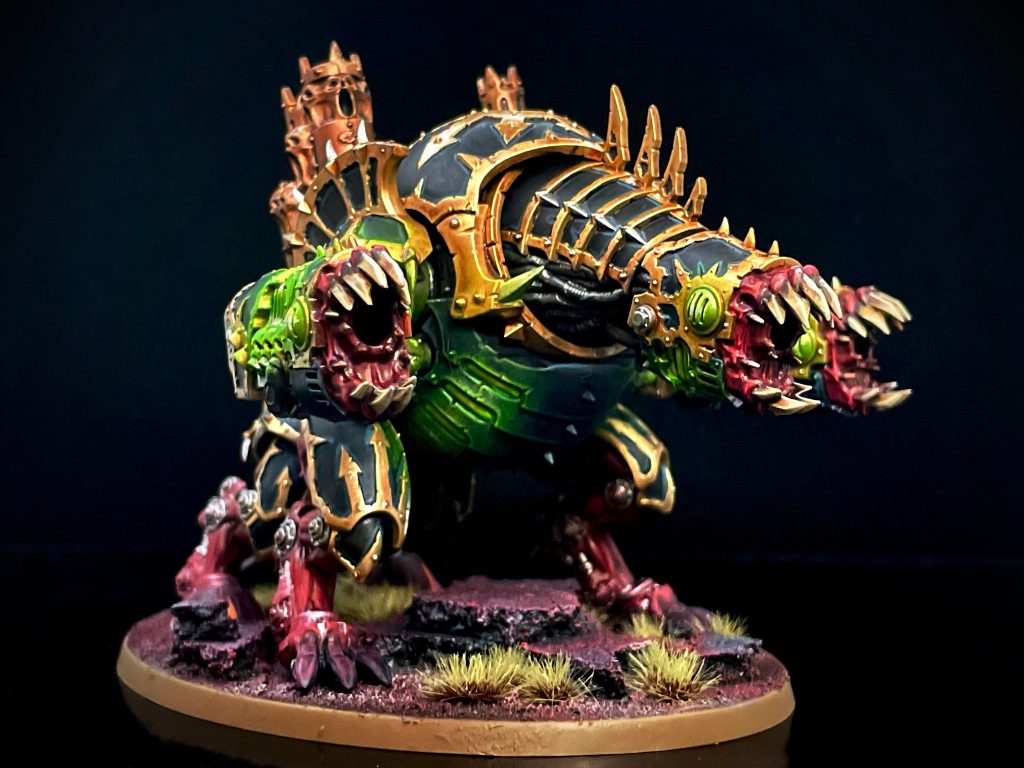 You also seemed to struggle against CSM. Anything you'd do differently there?
This game definitely felt like one that was out of my hands due to power level differences. I went second in Supply Drop against Abaddon, a unit that I functionally can't deal with who gets to stand on the only objective that matters, and Forgefiends both outshoot, and out threat range Plagueburst Crawlers. Lastly, activation locking is difficult vs an army as Multi-phasal and high output as CSM. Ten Chosen were capable of split attacking to pick up 3 characters in one volley on the interrupt even after taking damage.
Mortarion felt forced into Ingress here due to the threat of Forgefiends, and ended up being fairly low impact having one of the saddest slap fights of all time into Abaddon where I managed to kill 2 of his bodyguard and then basically never meaningfully interacted again before dying. This is a game that I'd need to fully redesign the list to have reasonable play into, I think.
There just wasn't a real competitive advantage to approach attacking the game from. Chaos Space Marines simply shot harder, fought harder, moved faster, survived longer, had access to Lone Operatives (plus the Nurgle stratagem) and scored better than me.
How does this list handle other threats – what's your plan for GSC, Custodes, Knights, and Tsons?
Custodes, the plan was to attack with the volume of decent shooting and -1 Damage access in melee paired with Mortarion's aura to ignore modifiers. Foul Blightspawn damage can add up very fast in the right circumstances and it's hard for Custodes to attack any specific threat with the volume of screening and their low activation count. A tough game, but one of the matchups I really wanted to try.
Knights feels like a bit more of a damage check game. Can I get into position to start killing them from within my threat ranges and keep it close, or will they rip me a new one? I was cautiously optimistic about this one also, as Mortarion has the right tools to be resilient in this kind of game, and I have a lot of close range damage that Knights are a little bit pressured into walking into and it gives me a nice fixed secondary.
GSC and Thousand Sons both seem like straight up scam shows. I'd have played these much like the eldar. If the mission gives me something to exploit, take it, otherwise lean into the coin flips and the low % plays as fast as you can to make the game sloppy. You can't let the army that's stronger than you dictate the pace of the game because you're going to lose there. Make the game chaotic. Make it about execution and decision making by trying things that shouldnt work but have high payoffs. Go for the 9" charge, the 10% chance to survive. If it doesn't work, you were losing anyway, and if it does, the game is suddenly about something your opponent may not have the experience to operate around which is where I can try and leverage player skill.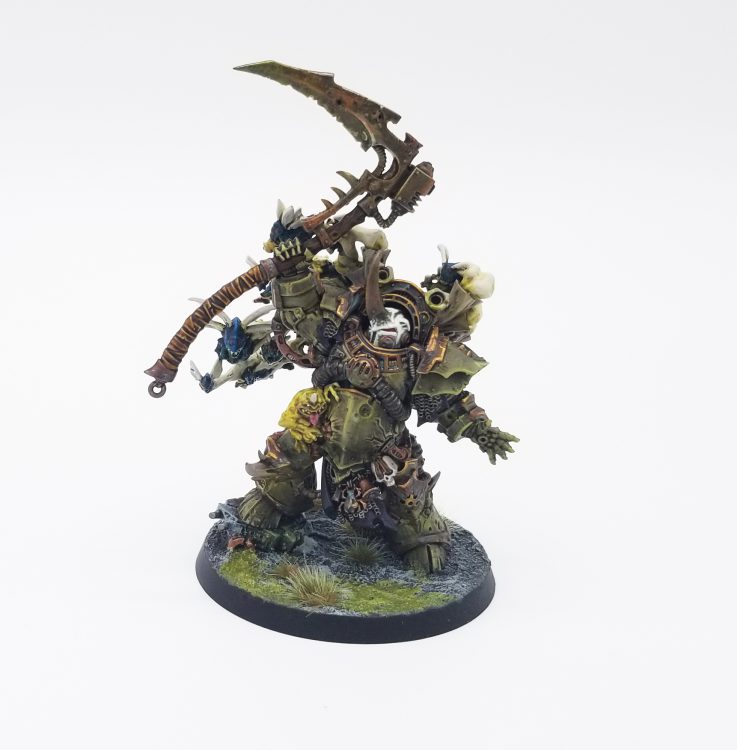 Any chance you play the list again? If you do, would you make any changes?
Overall I'd say I was happy with the list working as I'd designed it, it's just that the design definitely has flaws.
Typhus, Plagueburst Crawlers, Nurglings, Mortarion, Foul Blightspawn and One Chaos Lord with Living Plague all get a passing grade. The Land Raider, the other two Chaos Lords and the Lord of Virulence all get fail grades. I think I'd tweak it around to be something that focussed more on the Predators + Plagueburst Crawlers + Mortarion for a more consistent shooting platorm that uses some aggressive lords to try and get Nurgle's Gift up in my opponents face and to pressure their objectives and backfield.
As for whether I'd play it again, ask me on Thursday. I don't think I'd take this iteration to a GT again any time soon, even if there are some changes to the rest of the game, but for local RTTs and similar, I could see this being a really good time. With the right changes though, the toolset provided here could be a lot closer to viable than the current prevailing wisdom. It was a great challenge and definitely let me flex some different 40k skills and muscles than normal though and I'm glad I tried it out.
Thanks again, Innes! Best of luck in your future endeavors and on a selfish note I absolutely hope the dataslate makes them playable so you end up putting more time into the faction. 
Have any questions or feedback? Drop us a note in the comments below or email us at contact@goonhammer.com.