In our Miniature Review series, we look at the wide world of tiny soldiers for cool stuff to share with all of you. In today's Miniature Review Lupe looks at the Mantic Games Giant, one of the cheapest giant miniatures on the market, to see if it holds up to the competition.
Disclaimer: The miniatures in this review were provided to Goonhammer.com by Mantic Games. 
Mantic Games have a pretty comprehensive fantasy miniatures range to support their games Vanguard and Kings of War. Over time their kits have gone through a lot of changes, with older kits using PVC instead of the more familiar hard plastic sprues of other companies. Their Giant (£24.99/$39.99) is one of these kits, but it's a great demonstration of how this cheaper material can be used to tremendous effect.
The giant arrived for review in some of the most minimalist packaging I've seen: parts loose in a plastic bag, with a wooden square base included. It didn't include any instructions at all, but the good news is that none were needed.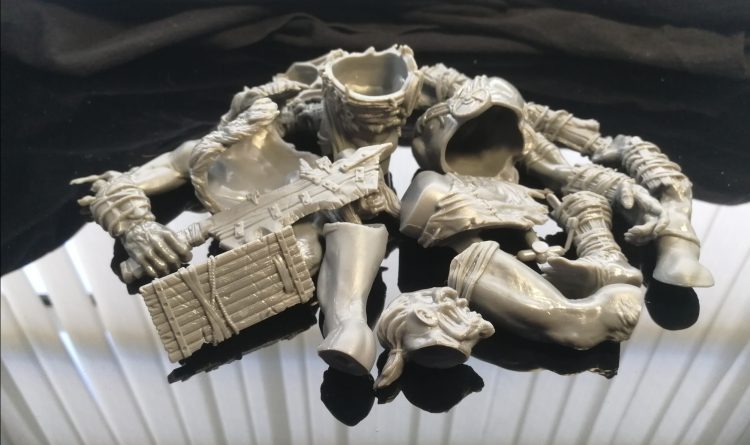 The pieces themselves had a strong odor and I gave them a quick clean with soap and water, which improved things and removed an oily residue. My first impressions of the miniature itself were very good however – the pieces were well cast with very little flash and few mold lines, and the detail was crisp and clean. The sculpt has a lot of character, and I was pleased to discover it had a choice of heads and arms, as well as a a few decorative pieces that were optional. This means I could absolutely include two or three of this kit in the same army without worrying about then looking exactly the same.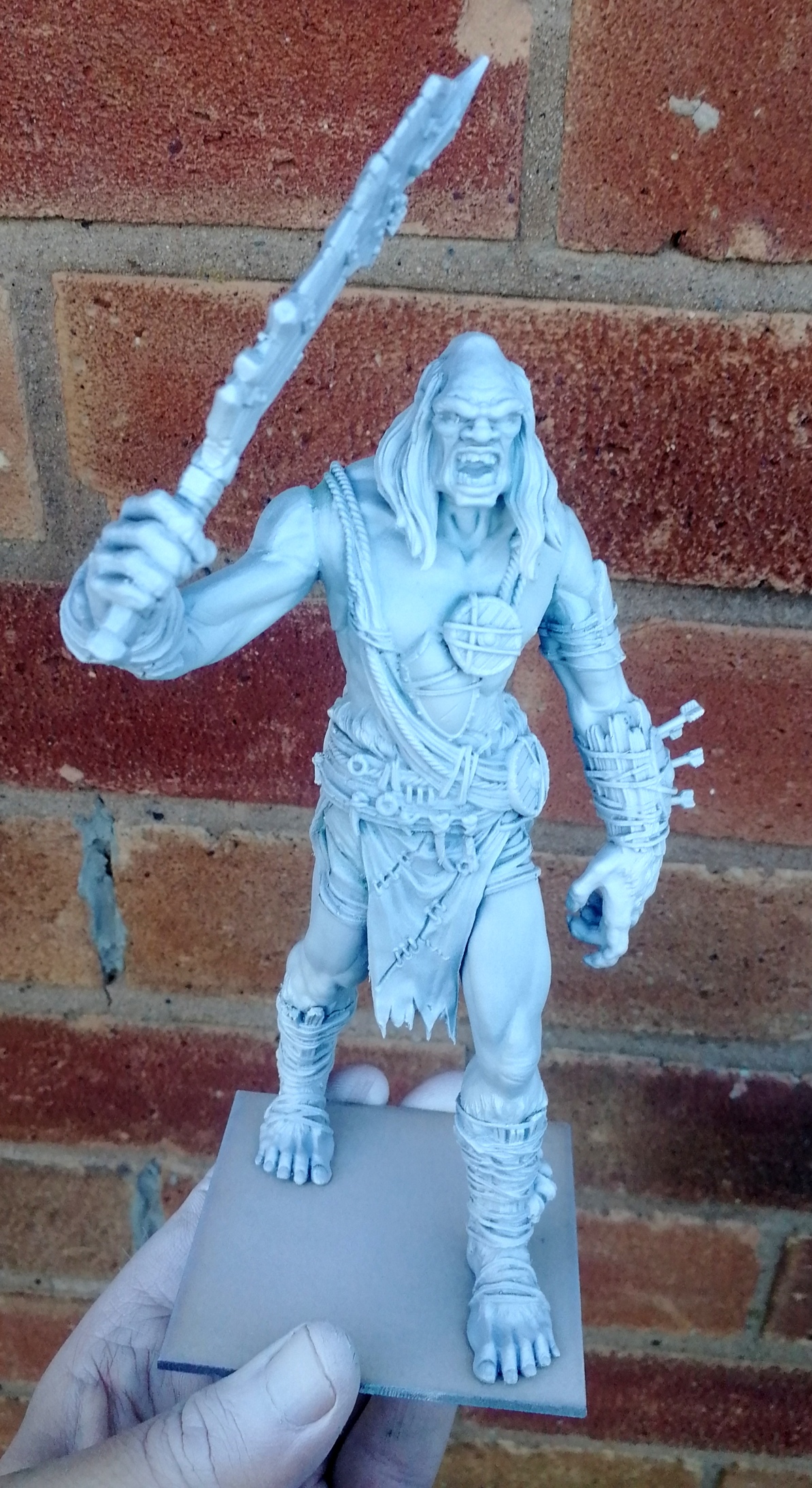 Building the miniature was absurdly simple, the pieces slotting together smoothly and tightly. There was one place (the rest leg) where the join wasn't as neat, and I trimmed the peg down a little to make it sit flush. I also had to do a little filling around the arm joins, but in retrospect this could have been avoided by trimming the seal a little to make it fit better. Other than this, the piece was a joy to get together with superglue.
I wish the same could be said for cleaning up the mold lines and flash. As I mentioned, there was very little of this, but what there was did not clean up easily. I used a sharp scalpel rather than a file or scraper as per Mantic's recommendation, and that made work easier if not smooth.  However, after some effort the pieces cleaned up nicely and I primed the miniature to begin painting.
Assembled it became clear how impressive the kit is. It's enormous – far larger than the Aleguzzler kit that Game Workshop makes – and feels suitably intimidating. There's a lot of great detail to it, but it's not overwhelming, and it is a very well balanced sculpt aesthetically.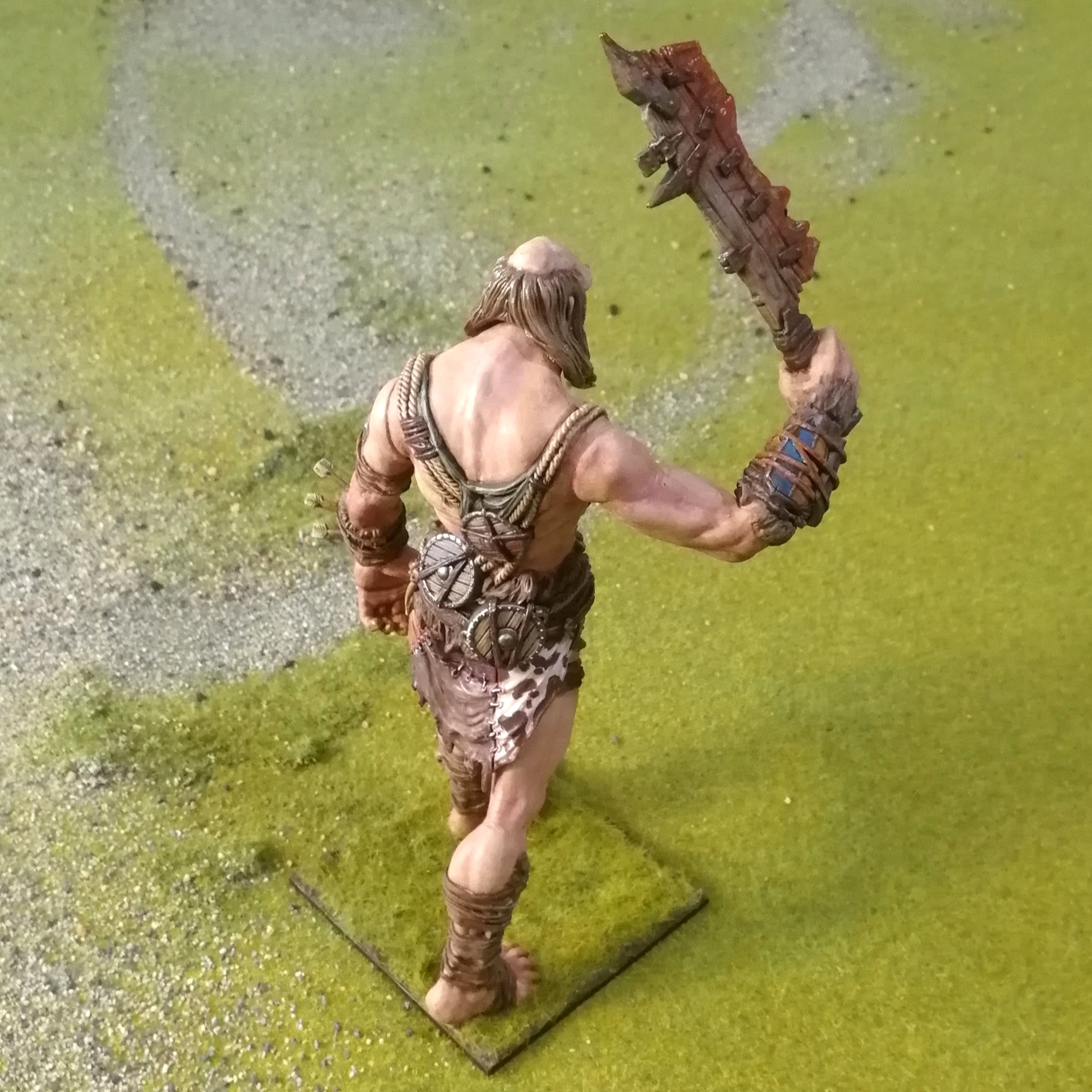 Painting the giant was honestly a joy. I expected to have fun as skin and cloth are some of my favourite things to paint, but I was taken aback by how involving it was. There is so much rich detail hidden to bring to life, and even areas like the shields that are strapped to it are an opportunity to do a huge variety of things. The skin has a lot of nice texture to it, including lines and folds, so took wash far better than I expected, speeding up the process.
In conclusion despite some issues with cleanup due to the material, I have to heartily recommend this miniature. It's a detailed imposing piece that will be a great centrepiece for an army. It's an obvious proxy for Age of Sigmar, but I'll be using mine in all kinds of games including Saga Age of Magic and Kings of War itself. It builds incredibly quickly and easily, and the great textures mean that it would be a prime candidate for contrast paints if you just wanted it ready for the table as fast as possible. This would make it a strong recommendation even if it were not at its extremely reasonable price point – I can't think of any other miniature like this that can be picked up for so little.
Pros:
Easy to assemble

Extremely cheap

Large and imposing model

Great detail and character

Multiple options for assembly
Cons:
Difficult to clean up mold lines

Extremely minimal packaging and no instructions
If you want a fantasy giant miniature, in my opinion this is the most giant you're going to get for your money bar none.