Greetings readers, it has been over 3 months since I graced the website with an article related to my hobby goals, and last we saw I was coming in strong off the Grand Narrative setting my sites towards Adepticon. Well…that time has flown by and now we find ourselves less than a week away from the big event! I have several article series that go into the details of what Adepticon involves, and I suggest you read those instead if that is what you're looking for. Today I will simply catch you up on what I have completed since the New Year hit, and what is on my schedule for the convention.
Finished Models
In the 3 months leading up to Adepticon I have managed to paint a total of 13 Infantry models, basically light speed for me.
If nothing else I held true to my word, and finished my Van Saar gang including: 2 Champions, 3 Cyber-Arachnids, and 1 Arachno-Rig.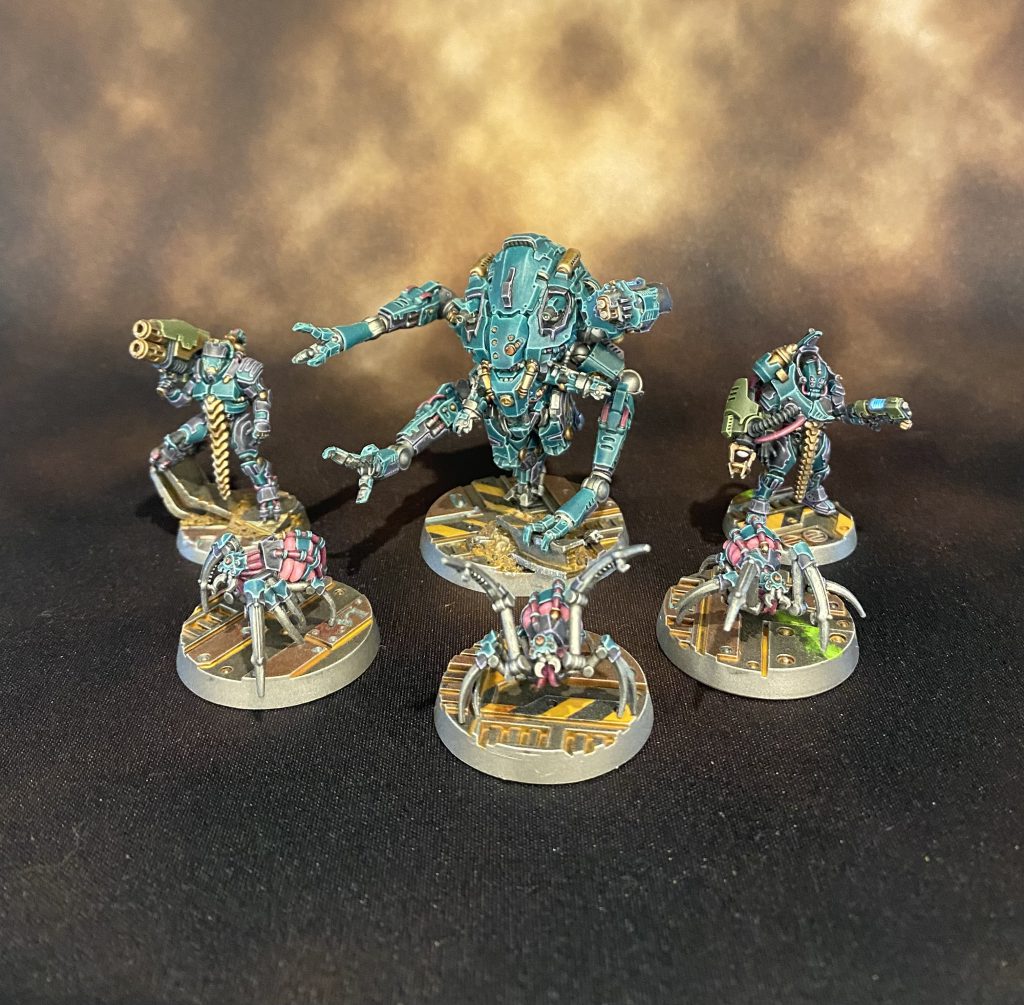 The gang is all here!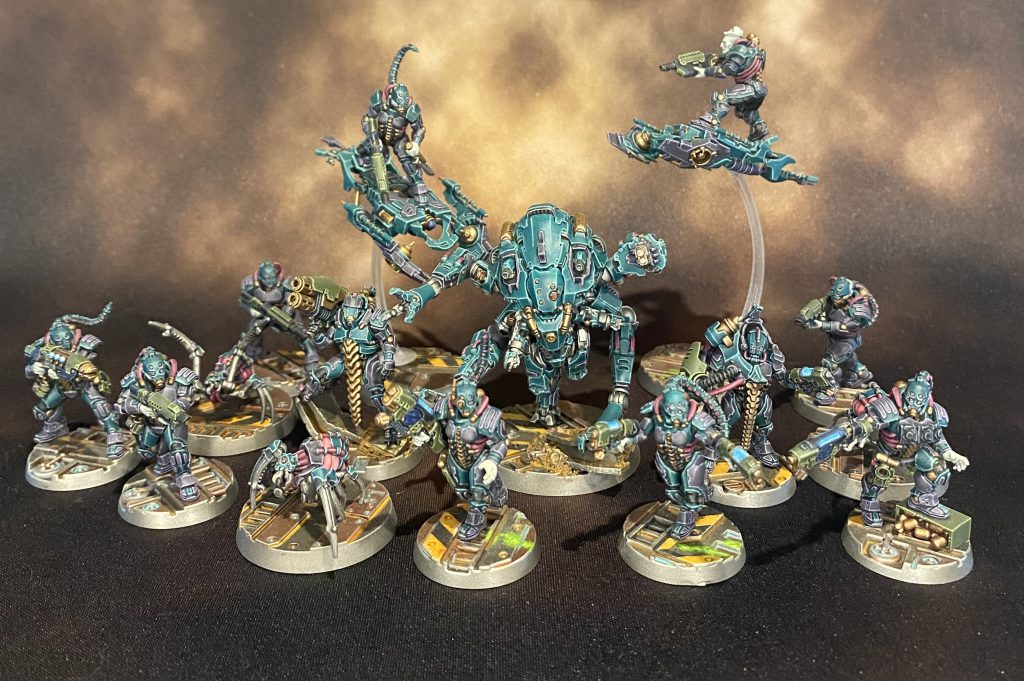 With House needs satisfied I returned to my Genestealer Cultists and began to paint 6 Neophytes and 1 Primus. The goal being two-fold: being fully WYSIWYG for Kill Team and expanding my range for both Necromunda and future GSC Kill Team releases. In addition, I decided I would paint up 3 barricades to fit the theme of my team and the small display I painted for them in March 2022.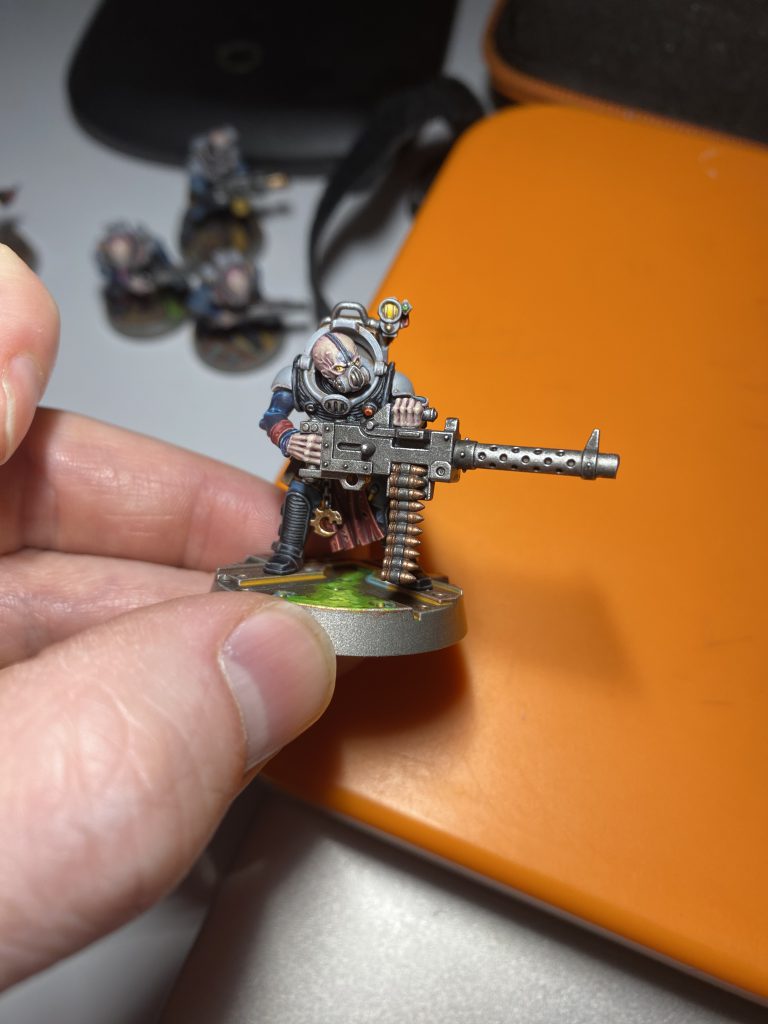 What to do?
Going into 2023 I was not exactly sure what I wanted to do at Adepticon. As I had mentioned standard Warhammer 40K had greatly lost its appeal to be over the course of 2022, and even with the massive points drops for Space Marines, attending our local RTT in February finally cemented my decision to focus on skirmish games for the weekend. Additionally, the theme of the 40K Friendly, required the inclusion of Flyers, which was not a painting commitment I felt I could meet in time.
This basically meant things came down to Kill Team and Necromunda, BUT after the release of the Event List it seemed all these events were in conflict with one another, but the real deciding factor came down to all the Necromunda Events using the Ash Wastes rules. Not confident that I could paint either 4 Atalan Jackals or an additional 2 Van Saar Neoteks in time I decided that I would focus exclusively on Kill Team for the weekend!
The Plan!
Once I arrive I Wednesday I plan on assisting with table setup, something I recommend anyone attending do. The more volunteers the faster things go, and it is a good way to glimpse how these kind of events come together. Afterwards, I will grab dinner, and cut to the front of the sign-in line thanks to VIG sign-up, be harassed by Shawn Gerlinger, and then attend my first event of the weekend! It turns out I lied about doing JUST Kill Team as I managed to squeeze my way into one of the few Narrative Necromunda events being held Wednesday evening. I did this last year, and it was A LOT of fun, and a great way to start the weekend off easy. This will continue my streak of skipping the Warhammer Preview Event, which I have never actually attended.
From here my weekend is rather predictable as I signed up for all three Kill Team Events, Pods on Thursday, a Doubles Tournament on Friday, and a 7 Round Grand Tournament over the course of Saturday and Sunday with a Golden ticket to Atlanta on the line. THATS RIGHT! 2023 is another year of Kill Team Fuckers! This will amount to a staggering 14 games over 4 days, which I am hugely excited for as opposed to if they were regular 40K games would sound like some sort of ironic punishment.
Additionally, I have signed up for the most important event, Warhammer 40K Trivia! Team Goonhammer will return in an attempt to claim the title for the third year in a row, and on Sunday a Poker event is set up to run late into the night, which should a fun way to ring out the convention.
Vibes
To say I am excited for Adepticon would be an understatement, and while the hype for the event might not exactly eclipse the foaming out the mouth I had in 2022 after a 3 year break I have been absolutely humming in anticipation in the weeks leading up. This year the number of Goons and other online acquaintances I expect to see is higher than it has ever been, and the number of people I recognize year to year only increases.
Have any questions or feedback? Drop us a note in the comments below or email us at contact@goonhammer.com.