In the 41st Millennium, Ultramar is still mostly a cool place but it's seen its share of trouble between a Hive Fleet invasion known as the First Tyrannic War (which wiped out the entire First Company of the Ultramarines) or the more recent incursion by the Death Guard that devastated idyllic worlds like Iax and serves as the setting for the Dark Imperium starter box. Most recently, Ultramarines find themselves running point on Vigilus, pushing back Xenos and Chaos forces to prevent the Imperium Nihilus from being completely cut off from the Imperium proper.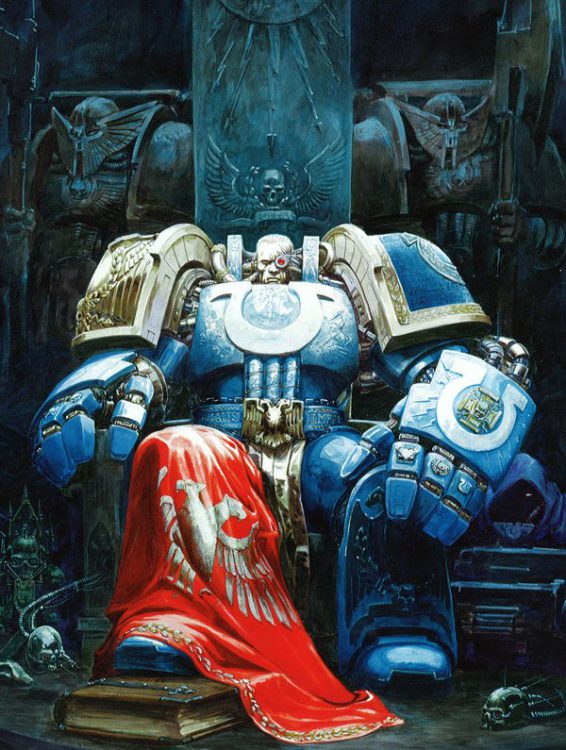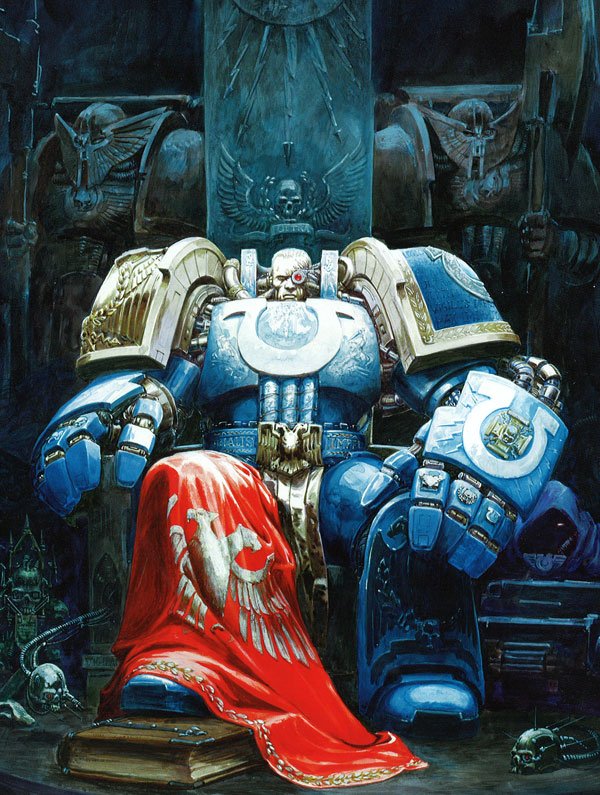 As befits one of the main protagonists of the setting, Ultramarines have plenty of notable characters, many deserving of their own articles. We have covered Roboute Guilliman already but no discussion of the Ultramarines would be complete without mentioning their Chapter Master, Marneus Calgar. Calgar is one of the oldest characters in the setting (real-life old, not fictional old; the latter honor falls to Dante) and is currently on his fourth model incarnation! Marnie is a veteran of the First Tyrannic War and for a while was more machine than man, having lost several limbs and an eye to the Tyranids. He got owned by Tyranids a lot but also did some really cool stuff like holding off an entire Ork Waagh! for a day and night at the Siege of Zalathras (which is covered in detail in one of the books mentioned below). Calgar also holds the honor of being the first squatmarine to undergo the Calgarian Rites and become a Primaris Marine, resulting in a new and improved Marneus Calgar who was promptly owned on his own battleship by Chaos forces while fighting above Vigilus. There's a lot more that could be said of Marneus Calgar but let's just say he's a very storied character with some great models and good rules to go with them. 
Another important consideration was the inside of the cloaks. I chose not to glue the models to their bases while working on them so that I could pull them off and get at the space between their legs. This is good to keep in mind for any model with a cape or cloak. I did not think of this when I built my first squad of Skitarii and it was… not fun.
Because the models consist of two main colors, blue and red, I took some time to think about how I wanted to paint those. I have a standard recipe for Ultramarine armor I use (scroll down) and I of course wanted to stick with that so they'd fit in with the rest of the army, so I needed the red to work with that. I find the red that 'Eavy Metal uses for Ultra's cloaks to be a bit too bold and vibrant for my tastes, particularly since my army is quite battle-worn. I decided to go with a deep purple base for the read in order to tie it back to the purple tones of the blue and create some cohesion between these otherwise very different colors, and then bring the red up all the way to a bright ochre, without tinting it too far towards orange with highlights. The goal was to create some nice contrast between the red and blue while unifying them with purple shadows and also ensuring that the blue was the most saturated color on the model, they're Ultramarines after all. 
If I could go back and do one thing differently, I'd be a bit more conservative in how I welded the seams on the cloaks. I use a mix of Tamiya Clear and melted sprue to create a liquid filler, but I went a bit overboard in my application and you can see actual seam welds in several areas, which isn't ideal. So while the idea is sound, you really want to make sure you're not applying too much and take the time to sand and smooth down the seams to get a nice finish.