The Unified Tournament Circuit is a regional circuit for Warhammer 40k and Age of Sigmar which covers the area between Virginia and Newfoundland. In case you missed our announcement, you can find it here.
You can find the full calendar of UTC events here.
Last Weekend's Events
Last weekend's biggest events were the 40k GT at the Toronto Gaming Expo (TGX) and the GTs at the 2023 Salt City event, covering both 40k and Age of Sigmar.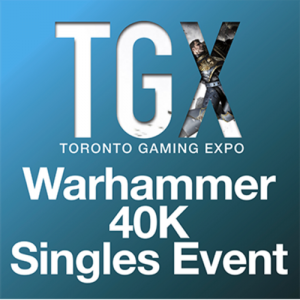 TGX 40k Singles Event
This 87-player event ran over six rounds and two days and was making full use of the most recent slate of balance changes and points updsates. We've already covered the results of this event in this week's Competitive Innovations. Despite the nerfs, Tim Deetlefs took first place with his Aeldari list, winning a close match over Nick Jagiello's Necrons.
Tim Deetlefs (Death or Glory) – Aeldari
Nick Jagiello (Halton Heretics) – Necrons
Adam Houser (Stud or Scrub) – Genestealer Cults
Éric Marcoux (Death or Glory) – Aeldari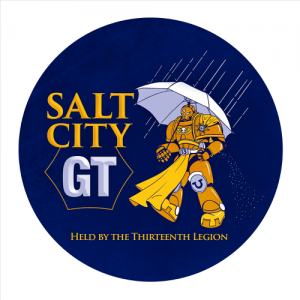 Salt City 2023
Salt City played host to two different GT events this weekend – one each for Warhammer 40k and Age of Sigmar. The 40k even was the larger of the two, running seven rounds over three days and starting on July 7.
The Salt City 40k GT
Salt City used a hybrid approach to the balance updates: They used the updated rules for Fate Dice but chose to not implement the updated points values as the changes dropped too close to the event. We've already covered the results of this event over in this week's Competitive Innovations. This event was notable for featuring six Aeldari lists in the top 10, though first place went to Steven Crawley of Team Death or Glory running Imperial Knights. Steven edged out Brad Chester by the narrowest of margins to take first place, beating Brad's OGW score by 0.01 – both players finished 6-1. Though had it gone to battle points Cullen Burns (5th) would have won with his Aeldari list. Steven had an impressive showing, going 3-1 against pre-nerf Aeldari at the event.
Steven Crawley (Death or Glory) – Imperial Knights
Brad Chester (Death or Glory) – Aeldari
Chris Martens (DMG) – Aeldari
Sam Bouabane (Death or Glory) – Aeldari
Cullen Burns (US Army Esports) – Aeldari
The Salt City Age of Sigmar GT
This 33-player GT played out over 5 rounds and 2 days was hosted by DaBoyz GT events. We've already covered the results in greater detail in this week's Competitive Innovations in the Mortal Realms article. Anthony Trentanelli took home the Golden Ticket with Flesh-eater Courts using a list that was basically the last hurrah of the flying bats archetype.
Anthony Trentanelli (Tough Crowd) – Flesh-eater Courts
Sean O'Shaughnessy (Backwoods Meta) – Hosts of Slaanesh
Madigan Mason – Ossiarch Bonereapers
Devin Courtman (Mistcasters Anonymous) – Soublight Gravelords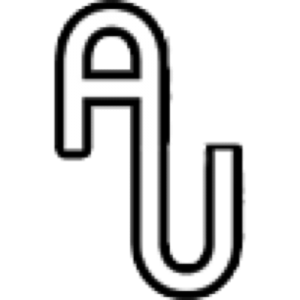 Alternate Universes July 2023 40k RTT
AU hosted their first 10th edition tournament, a 16-player RTT.
Cory White – Chaos Daemons
Kyle Myers (Second Founding) – Dark Angels
Dallas Rapoport (Quality Control) – Tyranids
Huzzah Hobbies July 40k RTT
This 29-player RTT ran a test of the 10th edition terrain layout for the upcoming Goonhammer Open GT. Andrew Gonyo took home the top spot, showing off his switch from T'au to Necrons, though three other players finished with undefeated records.
Andrew Gonyo (Art of War) – Necrons
Brand Van Den Eng (NOVA Elite Wargaming) – Orks
Jonas Beardsley (Plastic Crack Anonymous) – Imperial Knights
Phil Lennon (Kangaroo Kai) – Aeldari
Born to Game July RTT
This 20-player RTT took place at Born to Game, the newest addition to the growing collection of stores and groups who are part of the Unified Tournament Circuit. Todd Coker took first place at this event running Imperial Knights, though two other players finished with 3-0 records.
Todd Coker (Krak Dealers) – Imperial Knights
Troy Strootman (Legion of Extraordinary Gentlemen) – Aeldari
Ken Knox (Team Battle Brothers) – Deathwatch
Shane Watts (Goonhammer) – Genestealer Cult
Palladium Games Warhammer AOS 2k Tournament
This 8-player Age of Sigmar RTT saw Evan Beckius take home the top honors with Flesh-Eater Courts.
Evan Beckius (Middle Table Bulliez) – Flesh-Eater Courts
Marcus Abraitis (Bottom Table Bullies) – Gloomspite Gitz
David Dill – Sons of Behemat
Powerfists and Psykers July 8th
This 12-player RTT saw Ryan Totten finish first with World Eaters, running a list with 10 Terminators and a Land Raider.
Ryan Totten (Curious Degenerates) – World Eaters
Jeremy Atkinson (Stat Check) – Imperial Knights
Jay Lymer (CanHammer) – Imperial Fists
Upcoming Events
Summer's heated up and so has the events calendar. We've got a staggering seven RTTs coming up this weekend and no matter where you are there's likely something within a couple hours' driving distance.
July 15, 2023
July 15th is all RTTs – and a lot of them.
July 22, 2023
July 29, 2023
Have any questions or feedback? Are you a TO interested in joining the circuit? Drop us an email at contact@goonhammer.com.