We relaunched the 40kstats website a few weeks ago and if you thought that was the end of it, you were dead wrong. And frankly, a little bit rude. We've been hard at work behind the scenes on updates to the 40kstats site that add new stats and info far beyond what was on the old site. So let's take a look at the new stuff.
Faction Pages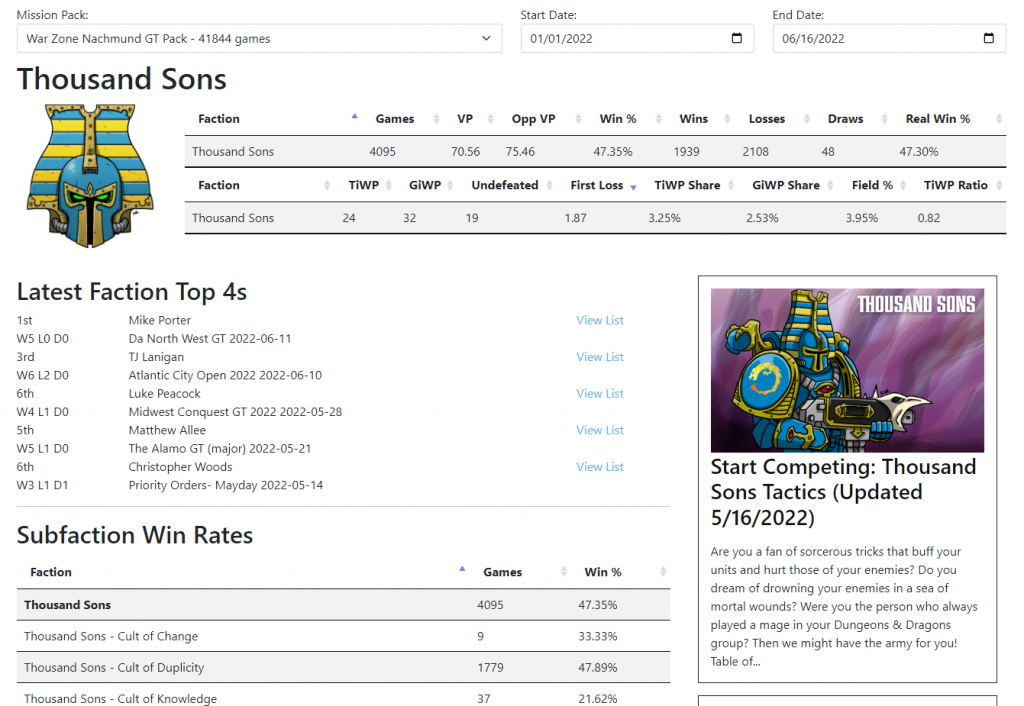 Today we're excited to announce the first roll out of something we've been working on for the past few weeks: Faction Pages in 40kstats. These pages are designed to hold all the helpful stats and information you could want to know about a given faction, including recent top 4 finishing lists, links to competitive articles, win rates and subfaction data.
This is just an initial roll-out of the pages, but we'll be adding more data to them in the future, with stats around go-first win rates, ITC faction standings, scoring, and secondary objectives.
Speaking of which, we've also added…
Scoring Stats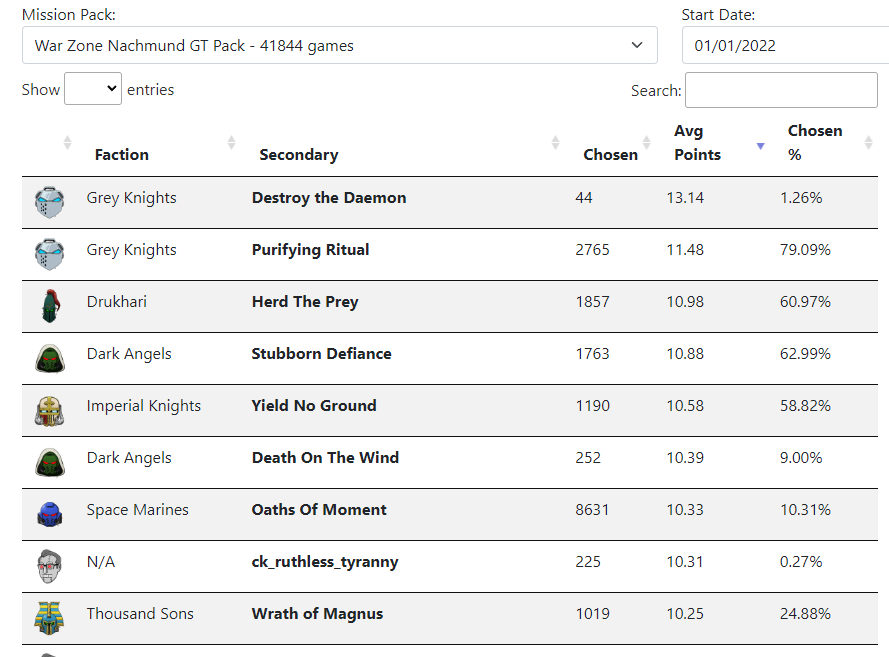 We've written about these recently in Hammer of Math and the feedback was so positive we decided to go ahead and just make them a permanent table on the site. We've got tables now for primary scoring for each faction by mission and scoring on secondary objectives, taken right from the ITC Battles App data. Here you can see how often a secondary objective was picked (with a percentage showing how often it was picked out of the times it was available), plus the average number of VP scored.
There's More to Come
That wraps up this update. We made a few more adjustments, moving TiWP stats to "Event Statistics" to clean things up, but those are the major changes. They'll need some tweaking over the next week or two and we'll continue to build them out and add more data to the pages, plus we'll have to do some major overhauls when Nephilim data starts becoming available. In the meantime, head over to the site and check out all the new stuff (you can click on the logo if you're too lazy to type "40kstats.com" into your browser):

And as always, if you have any questions or feedback, drop us a note in the comments below or email us at contact@goonhammer.com.