I've been messing with an airbrush for a couple of years. I don't consider myself an expert, but I've learned a bit thanks to handy tutorials, helpful videos from manufacturers and our supportive community at large. When the airbrush works, it's absolutely wonderful. When it doesn't (and there have been plenty times when it hasn't), the experience is awful and full of loathing.
I have over my years in airbrushing tested a variety of paints from different manufacturers and paint is one of the biggest sources of frustration with airbrushing. You'll often have to thin the paint you're working with depending on the size of the needle, the air pressure you're using and what you're trying to do with said paint. Finding good paints is a challenge, and one worth undertaking.
Today I'm going to talk about the The Warpaints Air Complete Paint Set from Army Builder. Before we begin, we'd like to thank The Army Painter for graciously providing us with a set for review.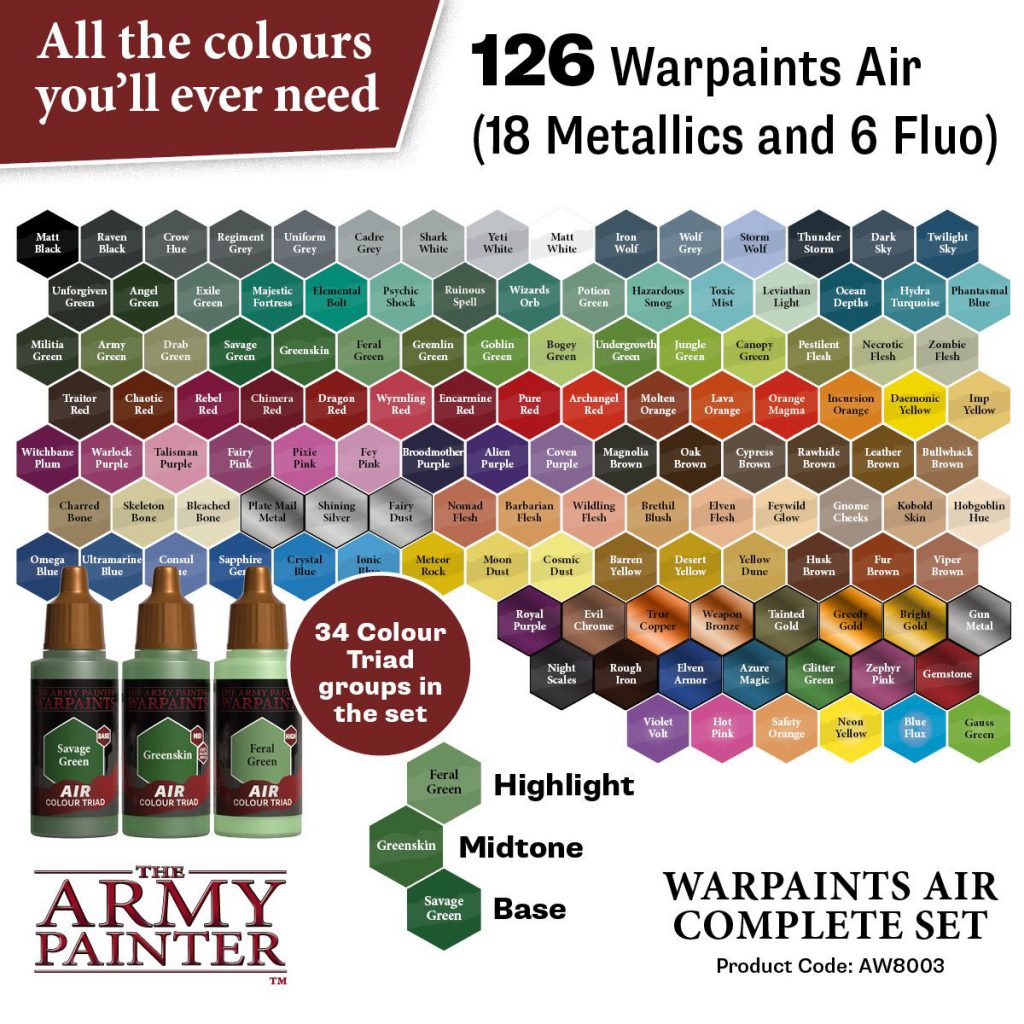 For years, I've been using GW's Air Paints range. They're not the most well-known or the most popular when it comes to airbrush paints in our hobby, but I wanted to start with something similar to what I used with a normal brush. Unfortunately, while GW Air paints have great coverage, they dry quickly without the use of extra medium or retarder. This can result in thick, goopy paint that clogs the airbrush or dries on the needle tip too quickly.
Being an amateur hobbyist, I've lost hours dealing with this and have been on the hunt for an alternative. Enter the Army Painter paints.
These paints come pre-thinned for an airbrush. Finally! No more messing with thinners, mediums, retarders, or whatever! The only downside is that they require a good shake before use – a challenge that's mitigated by the steel balls already included in each bottle.
Getting Stuck In
Experience is the best teacher and I've already sunk my teeth into a few projects with the Warpaints Air range: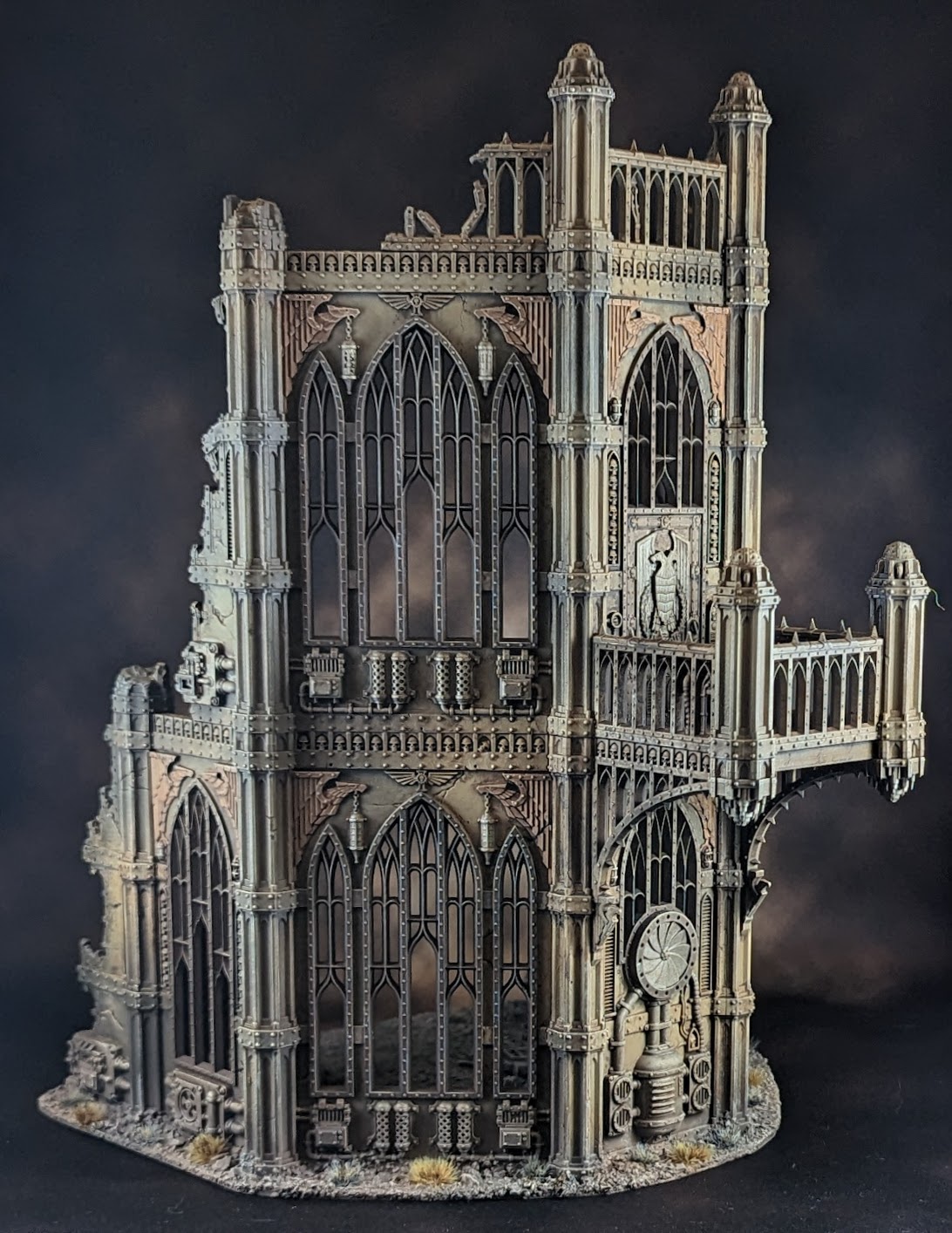 One of the nice features of the Army Painter bundle is that they come with three tones for most colors, a "base" color, a "mid" color and a "highlight," creating a triad that's easy to work with.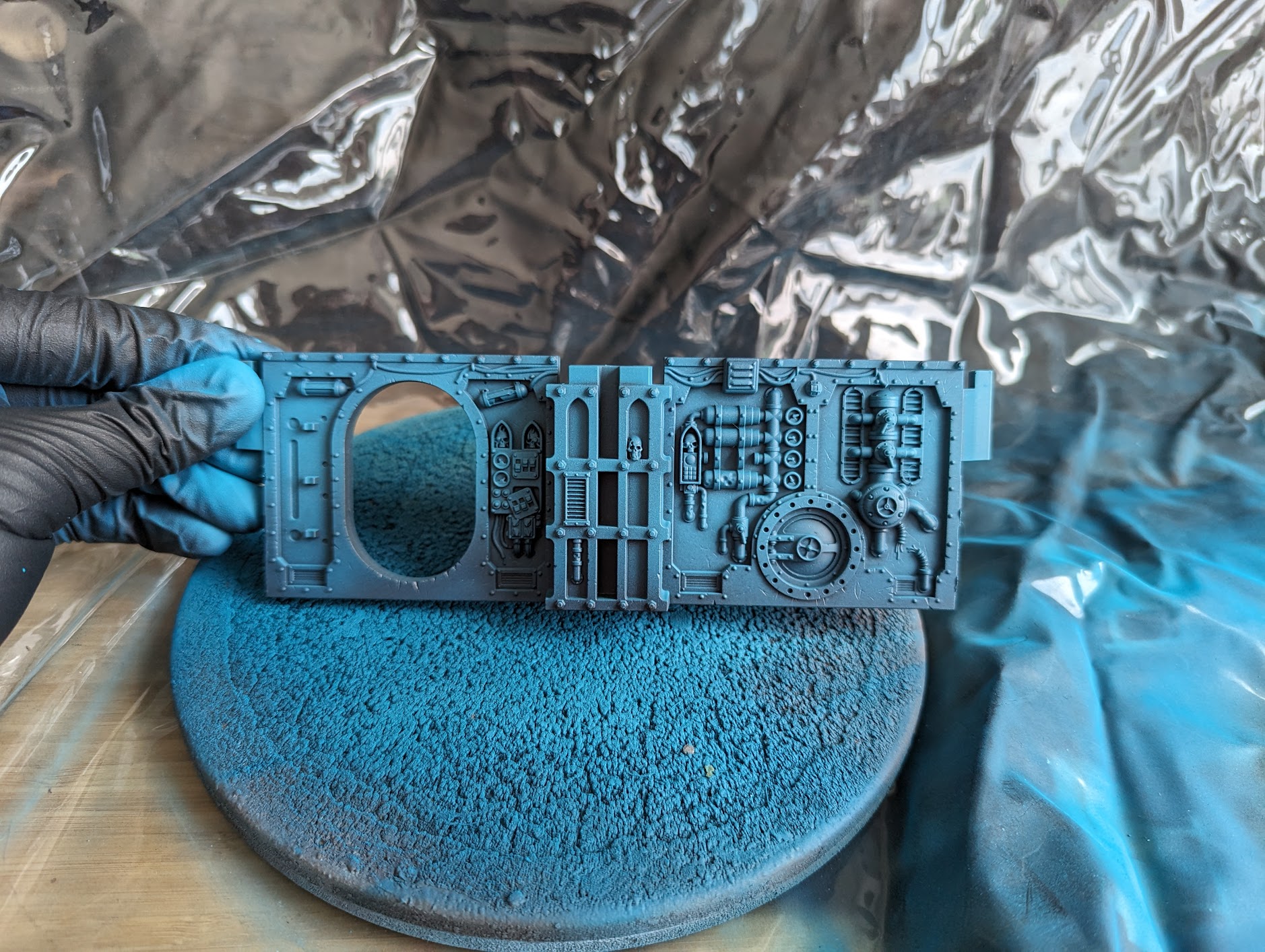 I found I never needed all three tones as the color shift was too subtle. Using the "base" color and the "highlight" color was enough (see Kill Team Gallowdark terrain above as an example).
Whoa, that's a lot of paint
The other nice thing about the set is the sheer number of paints it includes. I've done several projects and only used maybe 10 of them. The variety of shades means that you don't have to do much mixing, which is great when you have to paint a lot of models with the same exact color scheme. I'm eager to give the metallic and fluorescent paints a shot.
Part of what makes these work so well is that The Army Painter's air paints come pre-thinned in easy-to-use dropper bottles. The latter are a godsend when feeding paint into the airbrush. As mentioned the downside here is that paints require a good shake before using, but the bottles themselves come with a metal mixing ball in every bottle that helps speed up this process.
A cautionary note about storage
Nothing's perfect: The storage box these paints come in is pretty flimsy. When I opened my box, the paints were scattered all over the place. If you like being organized like I do, I recommend a third party solution: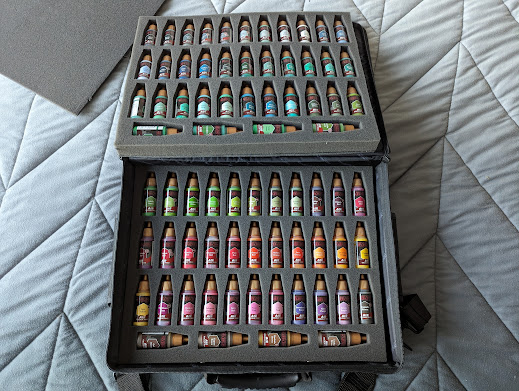 Final Thoughts
If you're new to airbrushing (or frustrated with thinning paints), I highly recommend this set. Being able to skip the thinning stage has saved me so much time with projects. It's still possible for paint to dry on the needle, but this is a challenge for any paint you shoot through an airbrush. It's nothing you can't mitigate with a wet brush on the needle every few minutes. The other downside is that the bottles feel a bit small. I went through them quickly on my larger terrain projects, though admittedly those projects were also pretty big – one of them was painting two full sets of Gallowdark Terrain for last year's Goonhammer Open.
Other Projects done with the new Air Paints: